Magento platform is just outstanding; it is true! But, let's have a look at the search performance of the platform and the default Magento search doesn't stand up to that quality at all. Very often, when customers come to the website for the specific product they do not spend time browsing through all of the products, they simply use search on your your website. In this case, low quality search can become a great disadvantage for you.
For example, if I am looking for Samsung phone on on your site, with default Magento search it displays all phone options with my model somewhere in the middle, I might not spend hours scrolling through.To be short, it means, that If i am searching the Samsung phone, it means i know what exactly i am looking for.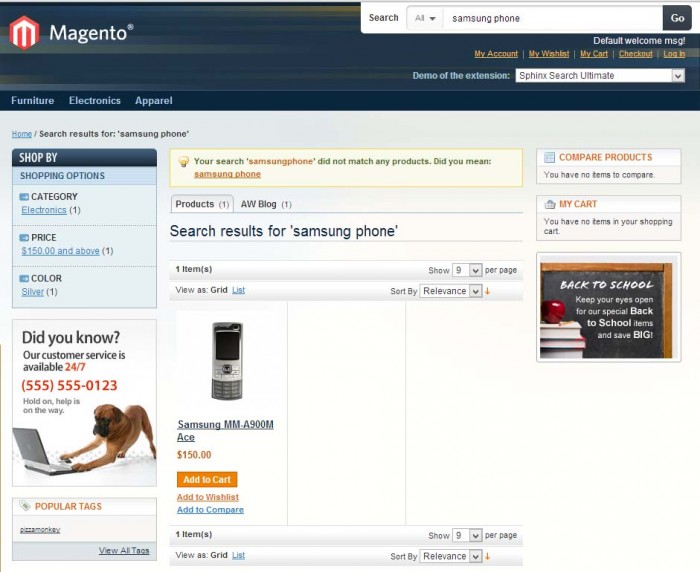 Low quality search leads to losing client and accordingly decreasing sales. Therefore, quality search is exceptionally important!
The solution is rather simple – installing Magento extension Sphinx Search Ultimate. It unites all the products that are vital for the perfect search. Search Spell-Correction, Search AutoComplete & Suggestions and Advanced Sphinx Search Pro – these are all united into a single operating mechanism.
Mistyped product names will no longer be a problem as Sphinx Search Ultimate will drop down a tip phrase, with the list of search phrases and products from the catalog that matches the search, once the user starts typing in.
Even if the customer makes a mistake in writing a search query Sphinx Search Ultimate will present similar products instead of showing nothing at all.
Some of the key features of Sphinx Search Ultimate include ability to set search category, drop-down box with the images of products and their prices, synonym support, stopword support, tag-related search, stemming support, correction of typing errors, etc.
Sphinx Search Ultimate is used by major companies like Meetup, Craigslist, Netlog, Hubpages, Metacafe, Mozilla, Wordpress, Qik and many more.
Those who are already aware of all the advantages of Magento technology platform have to understand how important speed, relevance and quality is for every Magento e-store and particular extensions are the best option for perfecting these features.
Thanks to the advanced search technology Sphinx, the extension can provide highly relevant results immediately. You will be amazed by how improved the relevance and the speed (500 queries/sec against 1,000,000 skus) of your search will become.
As a result, your visitors will be able to find desired products faster and as for you, the conversion will be increased by more than 50%! Now, it should be more than clear why the quality search on any site is just so essential!
Investigate it by yourself!