Automatic Related Products for Magento 2
Don't let your customers off easily, wake their interest, and grab their attention instead. This extension helps your clients by showing them the related products that are dynamically presented and tailored to their activity.
Our smart algorithm is designed to choose the best for your customers, gearing up your profits.
makes the process of related products offering fully automatic
has flexible settings for you to choose
provides you with necessary data and analytics
enhances customer satisfaction and boosts your sales
Free Installation
We will install the extension in your store and configure for your requirements
See it in action!
Pick a quick tutorial to learn about various aspects of this extension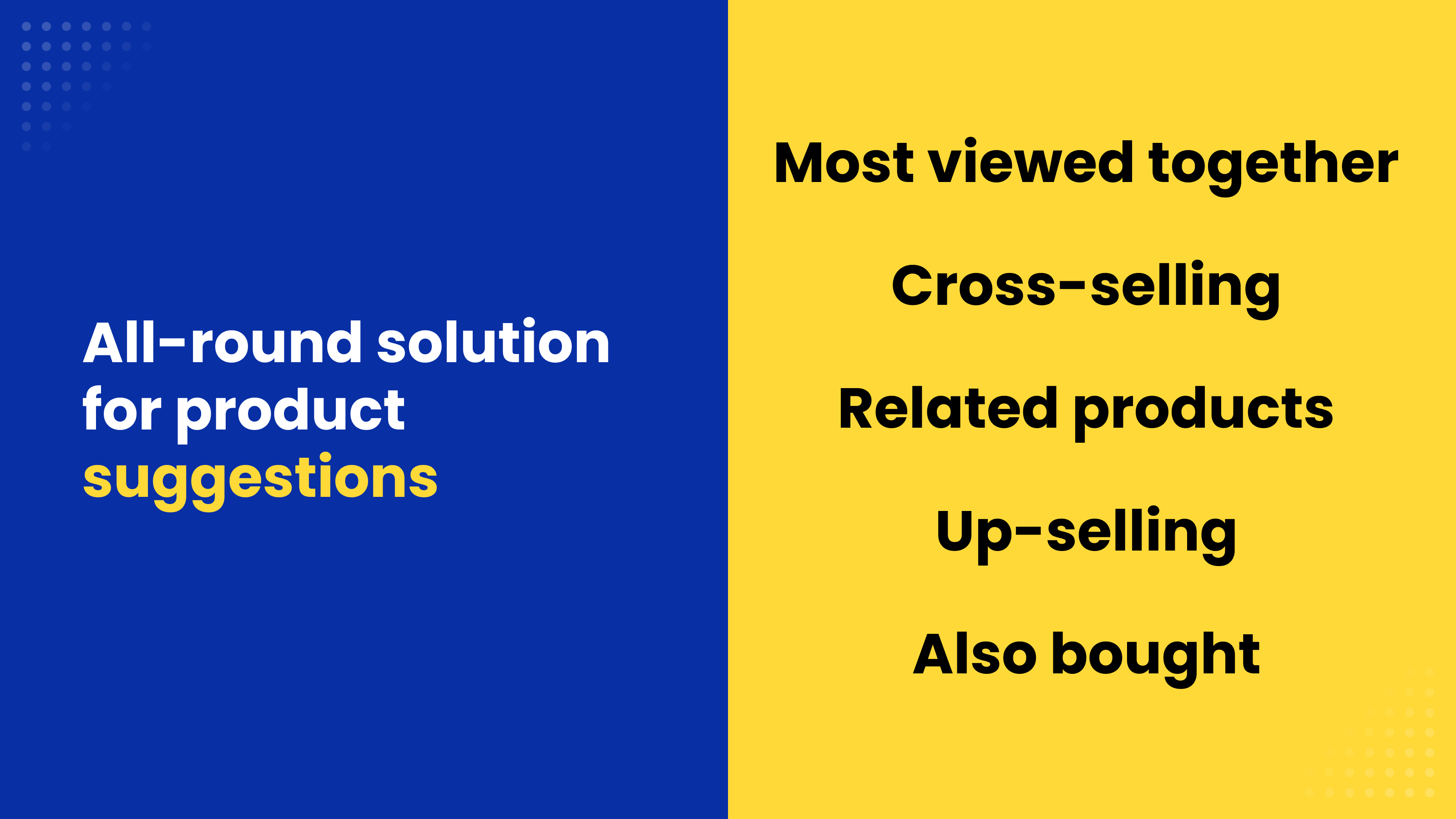 1/6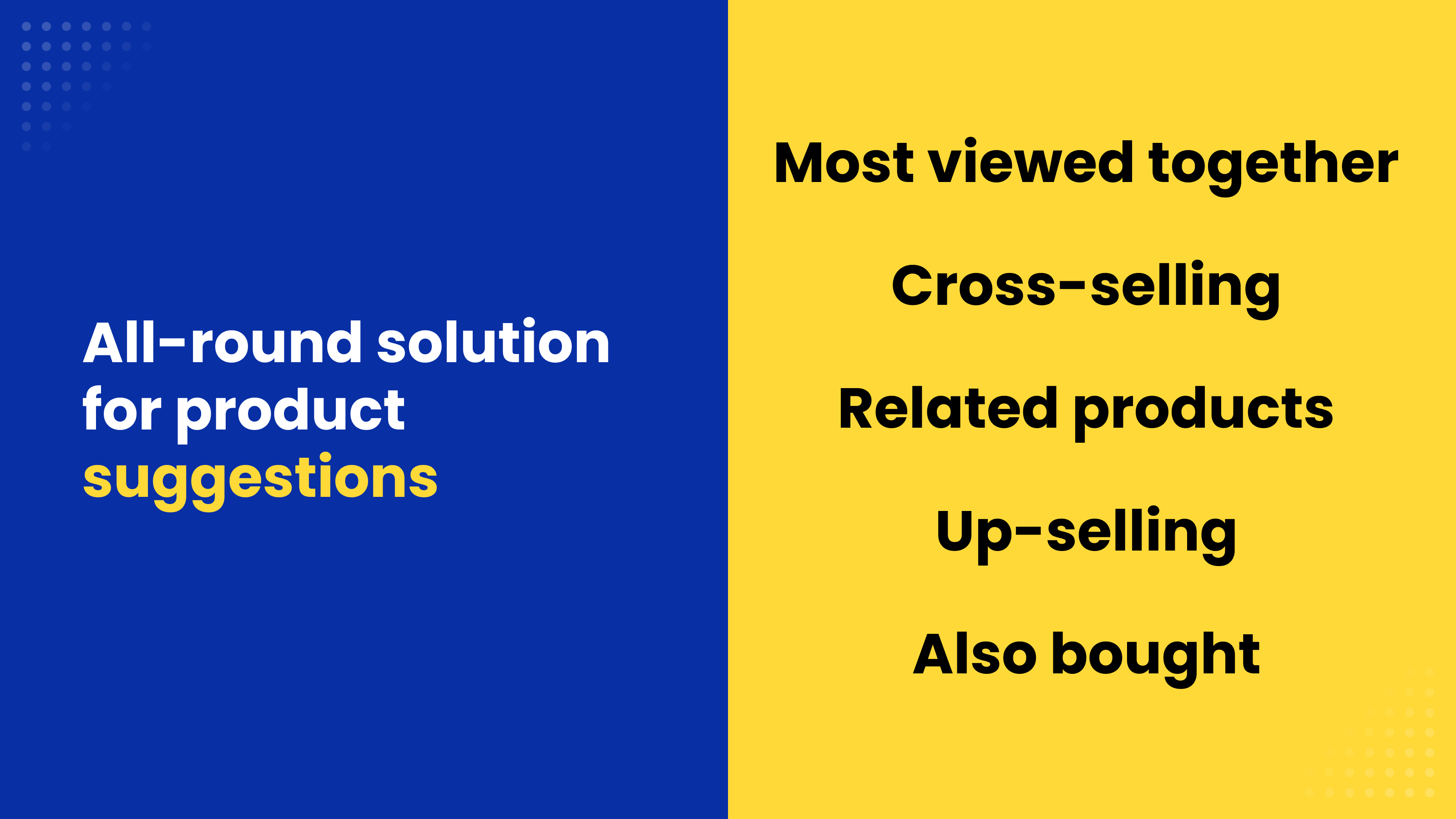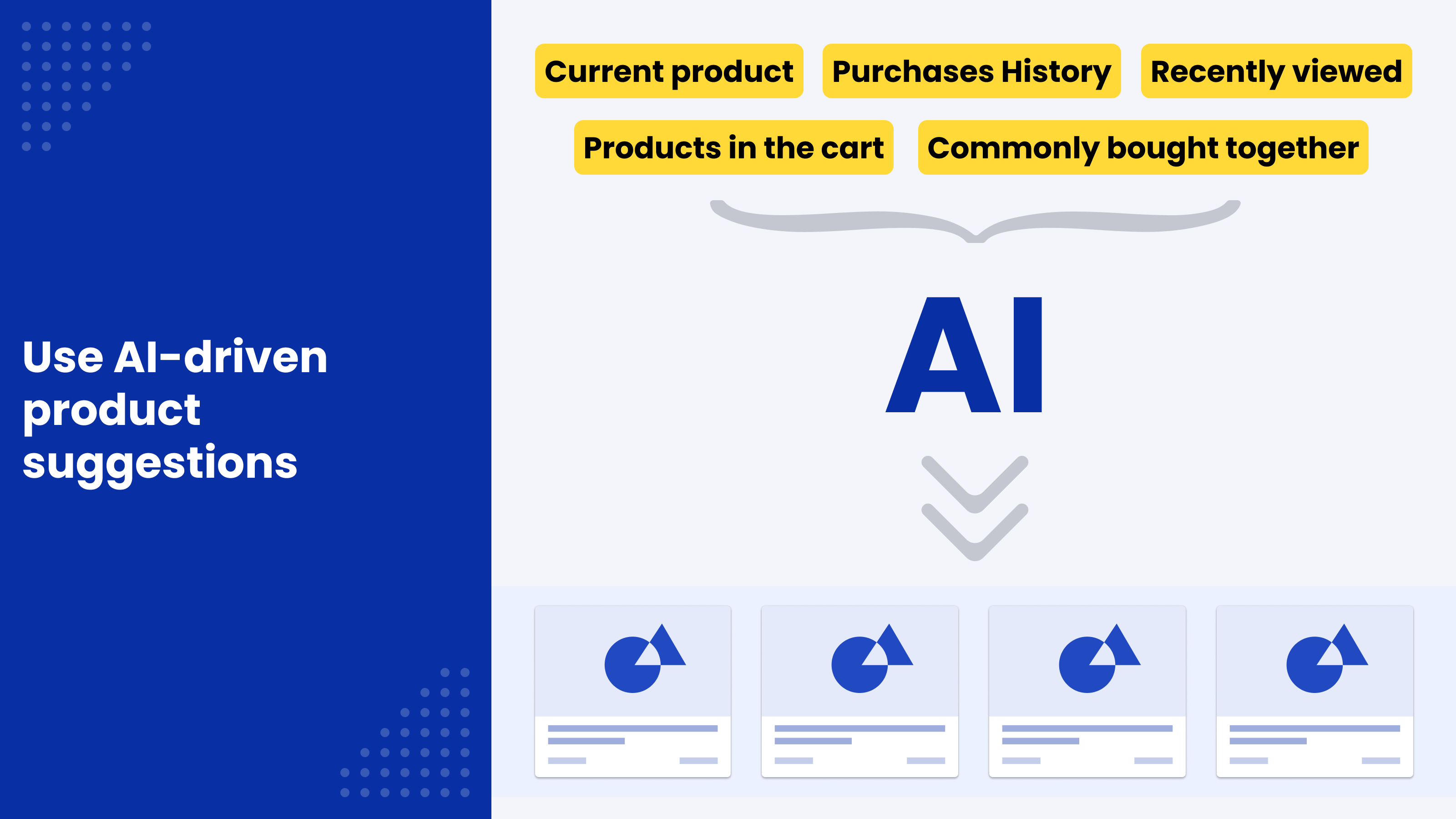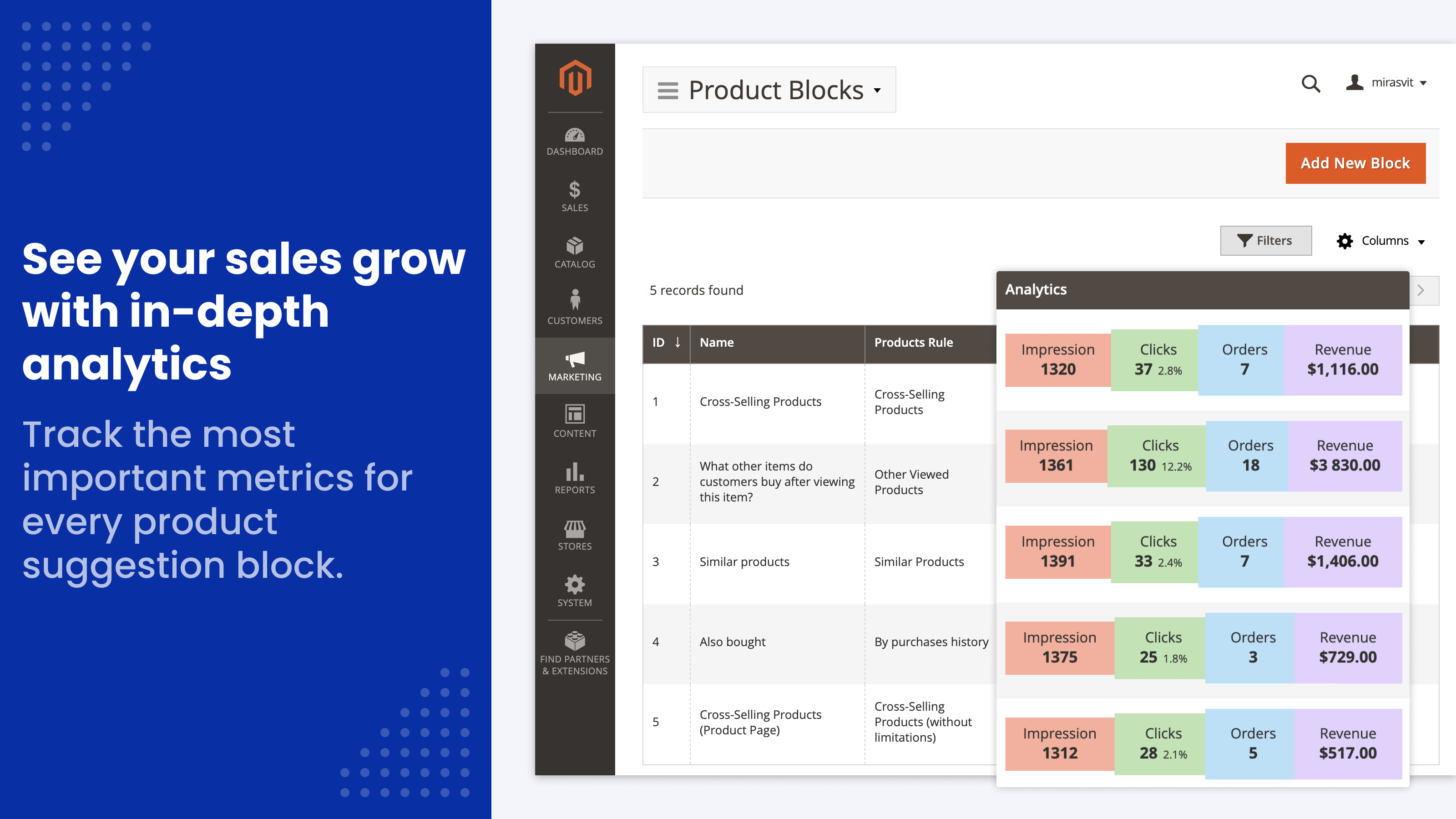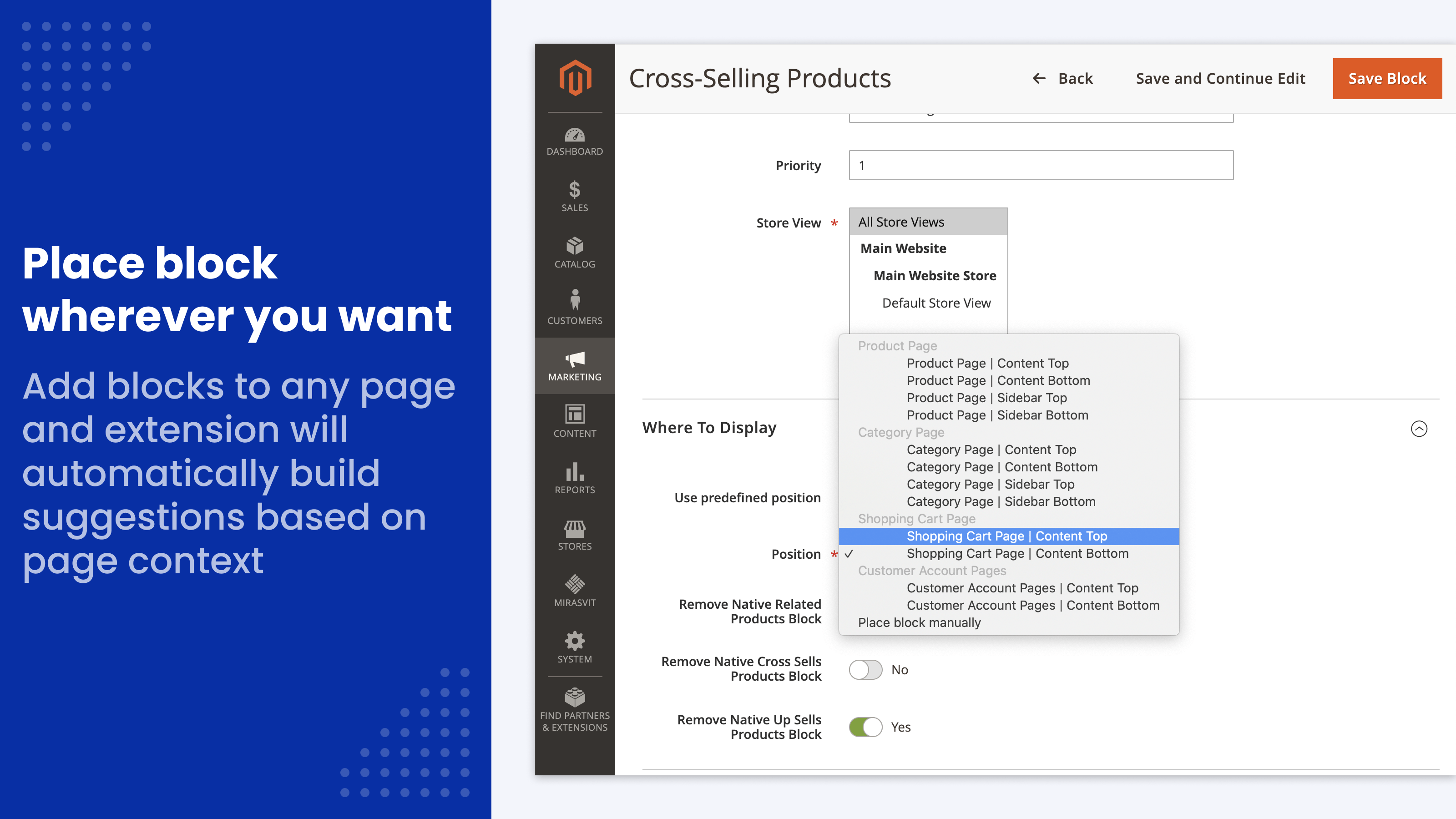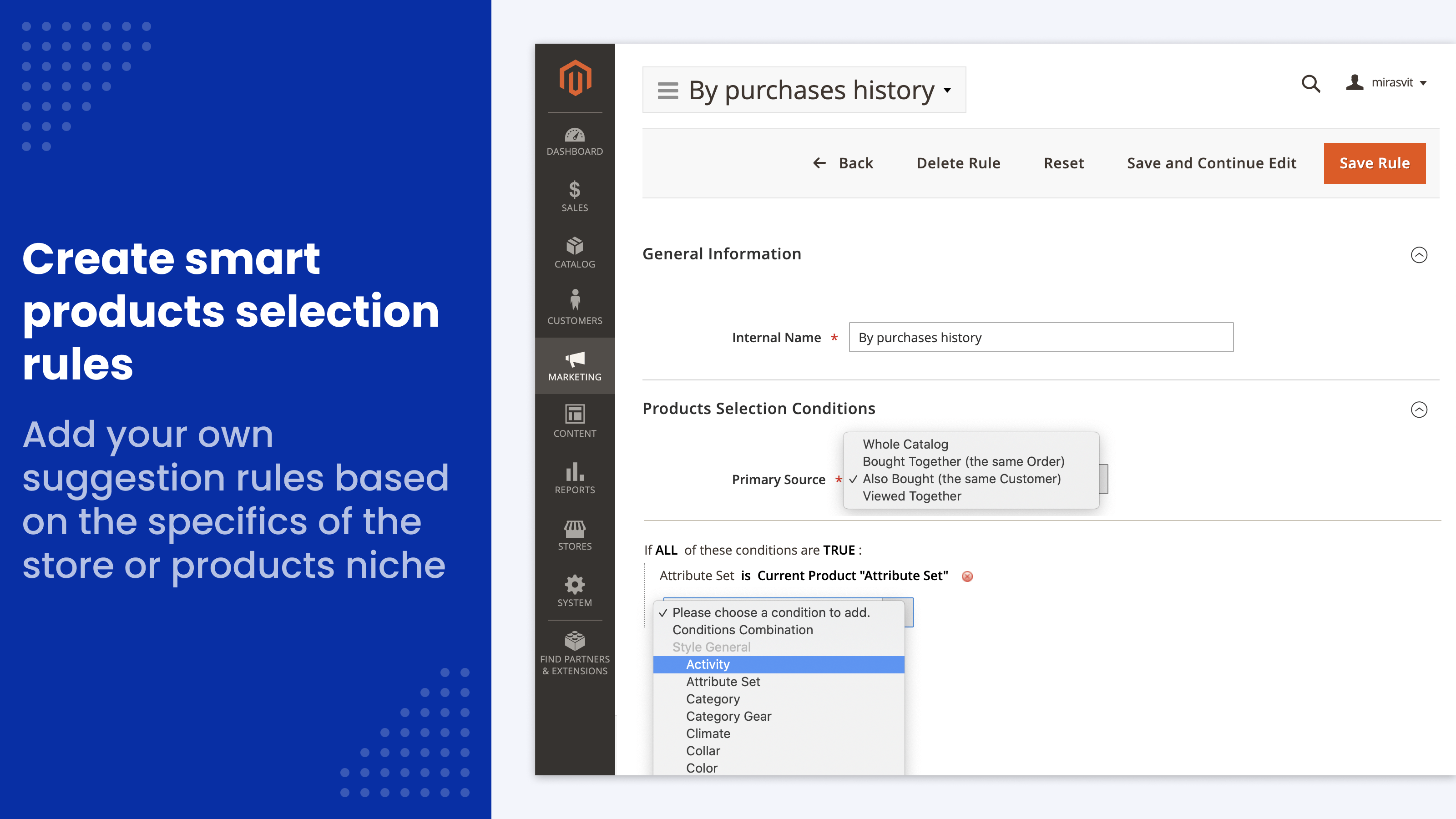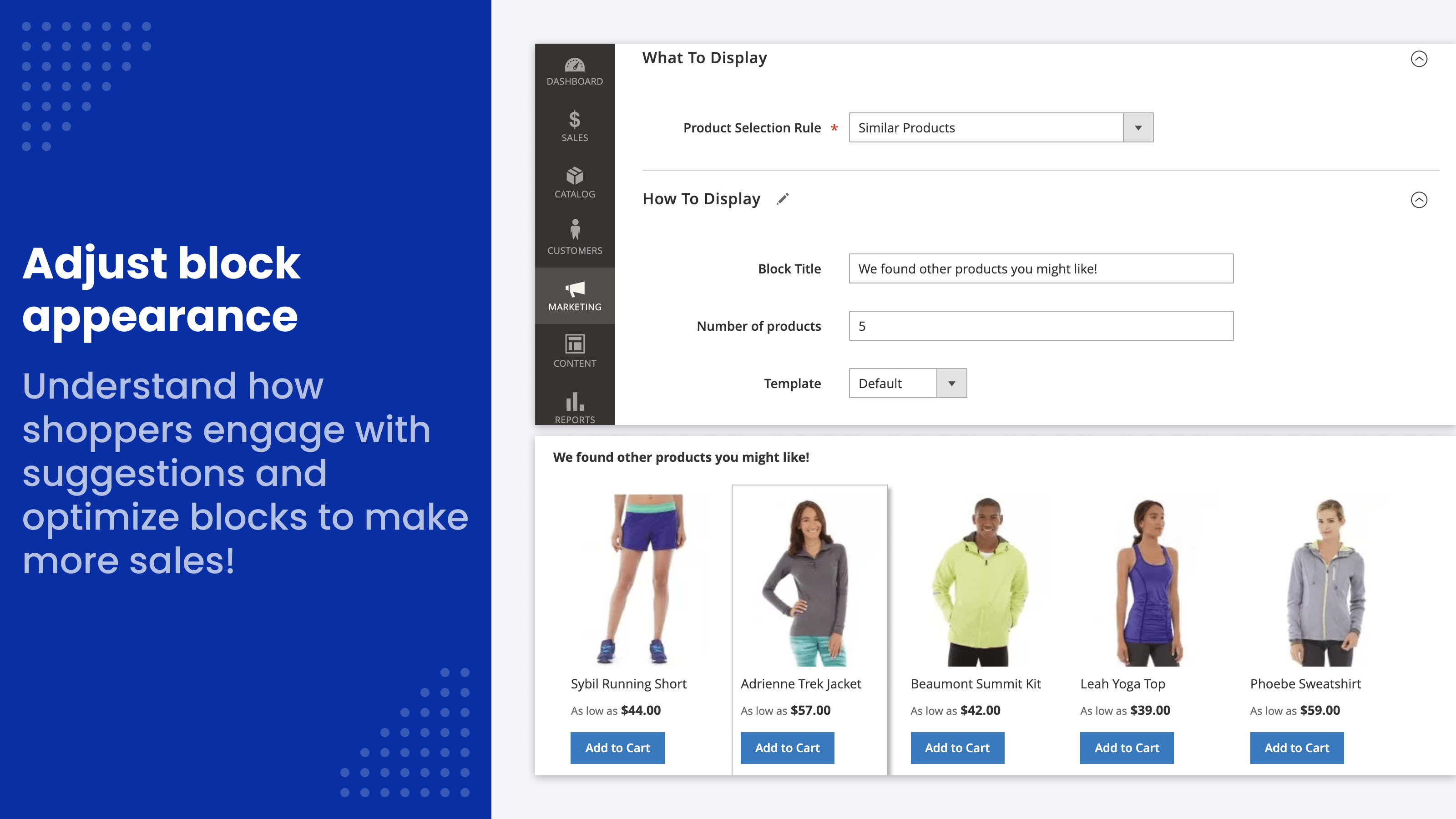 Feature Highlights
Why do you need Related Products at all?
First of all, it is a powerful and efficient tool to increase the average bill in your online-store.
Quite often, customers tend to forget some things they really wanted to buy. Or else, they need a little push or rather a small hint about possible complementary goods that may be required. Suggesting several related products, you help shoppers find what they're looking for and discover new products.
Moreover, you can offer product bundle packs helping your customers to get a comprehensive shopping experience, thus creating a positive image of your store.
Recommending additional products to a customer, you can show them that you care and you can offer them what they really want to buy.
Additionally, you will have analytics available to understand the efficiency of all product offers and adjust them.
As a result, you boost your customers' loyalty - as well as your profits.
Where can I find a Magento 2 Related Products Block in my store?
In the Magento-powered online stores, there is a special block to show related products. That is the goods usually bought with another one. The users typically see this block on the product and category pages.
The goal of the seller, in this case, is to provide customers with relevant offers so that they could make additional purchases.
Suggesting them something totally out of context would be irritating and may drag a customer away from your online store, so one should not underestimate the proper functioning of the related product block.
What is the Related Products module capable of?
Offering related products is an efficient tool to make your customers spend more, thus growing an average bill. Magento-based online stores have an opportunity to manually create related products' links. The built-in Magento tools, however, have limited capacities.
One has to input related products for every item in your store. And, of course, manually update it later. You can only imagine how long would it take, especially if you have hundreds or even thousands of positions.
The extension task is to make the online store running smooth, easy, and efficient.
Magento 2 Related Products extension does all the necessary tasks to cross-link the relevant products, position them correctly for customers, and provide relevant analytics:
impression (number of views)
number of clicks
number of orders
total revenue
How will your store benefit from Automatic Related Products
cross-selling and up-selling will enhance the sales in your store
the conversion rate will grow thanks to the tailored offers
optimize the resources and keep your customers engaged
get real-time analytics of customer behavior
Why smart algorithm is so important?
Your customers' attention span is short. That is why it is utterly important to use these tiny bits of their focus wisely.
For that, you need to show exactly what your customers may want.
Automatic Related Products extension is "well-trained" to determine exactly what goods might have the greatest potential value for the client.
Moreover, the related products Magento 2 extension has built-in fine-tuning capacities to adjust the offering algorithm. With this extension, you can use the following criteria to customize the product recommendation algorithm in the backend:
how the other customers behaved, i.e., which products they have bought/viewed/saved with this one
what the customer has bought before
how the products can be filtered, for example, goods from one category or any other attribute-based condition or rule
how the products should be sorted: best match, bestsellers, etc
Showing related products
You can fine-tune the Related Products block. The module can show related products on the following pages:
product page
category page
shopping cart
customer's account page
Sell smarter!
Magento 2 Auto Related Products extension provides you with enough data to adjust the settings of the module and gives you flexibility, necessary to manage the store efficiently.
Seeing how your customers behave and react to the suggestions, you can fine-tune the extension and optimize your selling strategy using wide range extension features.
Highly recommend this extension!
I will suggest your extension as a must-have solution! Purchased this extension to use on Magento 2.3.4 Installation was easy, and it works great right out of the box! Thank you!
Andrew
from United States
It works perfectly, еhis extension does exactly what it says.
Manual & Support
Need more help?
Save time by starting your support request online and we'll connect you to an expert.
Contact Us Now
Live customer feedback
Latest comments
Jacques Cardinal
Jul 24, 2020
Excellent support! Very patient support staff, especially with people with no programming or system background.
Thanks for your support. GOOD JOB
Frédéric Voyard
Jul 23, 2020
Perfect after sales !
Thanks for the prompt reply and support.
See all comments
The real-time results of the satisfaction survey of our customers
for the last 100 responses
Reasons to choose Mirasvit
Client focusing and satisfaction
It is our main goal. A big part of our new clients come from referrals from our existing clients. Our professional team of developers, marketers and support invest the best knowledge and experience, so you could come back to us again and again.
Remarkable support
90-days free and high quality support. We make an effort to satisfy you with work of every module you have purchased in our store. Helping you with installation, configuration, answering your every question, we do all our best to eliminate any possible problems.
Risk-free Investment
30-days money back guarantee. If you are not satisfied with work of our extension for any reason we provide a full refund.
Constant improvements and upgrades
We provide you lifetime free updates. We constantly add new features to all our modules. We are absolutely interested to hear your opinion and to implement your suggested features in our future developments.
Comprehensive Documentation
We provide an expanded user guide for every our extension, so you can find answers for all your burning questions.
Unencrypted source code of our products
You can customize extensions according to your needs and requirements.
Usability and Performance
Module is easy to install and easy to upgrade, just follow step by step our user guide.
Safe Magento updates
No core modifications. Just copy extension files to store root directory.