Magento 2 Dynamic Categories
When faced with a large catalog size, it can take a lot of time to categorize products and there is a high probability of missing the desired category.
Using the Dynamic Categories extension, you can specify the necessary criteria for including products in a particular category, and the extension will automatically add products to that category, sort them in the established order, or hide them depending on the attributes of the product.
Save time when adding new products and managing existing ones.
Automatically add or remove a product from the selected category depending on available attributes
Dynamic placement of new products based on attributes
Automatic sorting of products
1/5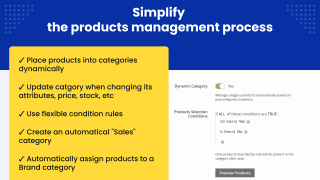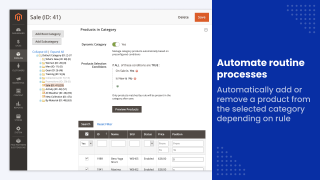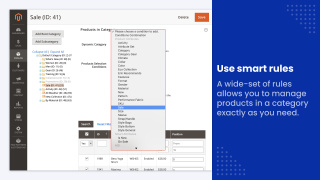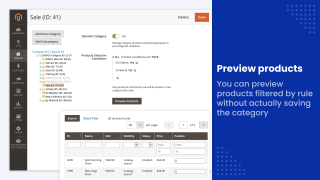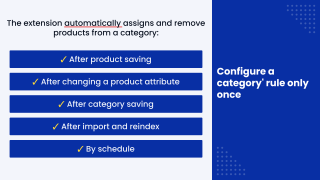 Feature Highlights
The Extension substantially reduces manual work required when placing products in categories and minimizes the chance of making mistakes.
How does this functionality works?
The extension allows you to specify the rules for product selection of any category. After applying the rule, all products that meet the condition are automatically added to or excluded from the category. When adding a new product, if it matches the created rules, it will also be placed in the dynamical category (Magento 2 Virtual Category).
What are the benefits of this functionality?
Default Magento has no special feature for automatically linking products to categories. A product can only be linked to a category manually or by import. In both cases, the store manager will need to manually specify which category this product needs to be added to.
Our extension allows you to:
Place products into categories dynamically, considering the existing rules.
Change the category of a product or hide it when changing its attributes, price, stock, etc
Use flexible condition rules that allow you to implement any requirements
Create a "Sales" category and automatically add the product with a discount
Automatically assign products to a Brand category.
---
Main Advantages
Automatic addition / removal of a product according to the conditions in the selected category
After creating a new category, you can establish a set of rules that will be applied to your product catalog. All suitable products will be automatically added into this category.
Dynamic placement of new products based on their attributes
The extension tracks changes in the attributes of products and automatically places the product in the right category. You can quickly create separate Magento 2 virtual categories for Bestsellers, Promotions, New Products, Sales, etc. When a product no longer meets the selected criteria, it will be removed from the category. This way, you can always show relevant information to your customers.
Automatic sorting of products
After dynamically adding products to a category, the extension allows you to sort them in the order you want, e.g. by price, date of creation, from most popular to least, etc. The rules are very flexible, which allows you to implement tasks of any complexity.
---
Top 5 reasons to use our extension
Quick creation of virtual categories makes the catalog more accessible to customers
Automatic grouping and keeping up-to-date of promotional products or products at discounts and providing quick access to them for customers
Bulk management of products in categories depending on their attributes
Reduces the amount of manual work while increasing quality and speed
See it in action!
Pick a quick tutorial to learn about various aspects of this extension
Michael
from United States
Excellent extension. Import products by schedule and no need to manually assign each product to correct categories.
Manual & Support
Need more help?
Save time by starting your support request online and we'll connect you to an expert.
Contact Us Now
Live customer feedback
Latest comments
Jin Xiangyuan
Oct 20, 2020
Thanck you Very much!
Ivan Dimitrov
Oct 20, 2020
Thank you for the understanding and solving all problems in my case with the affiliate extension. Great support keep up the good work!
Verry good support and module.
Alexander Schatzl
Oct 19, 2020
perfect as always.
See all comments
The real-time results of the satisfaction survey of our customers
for the last 100 responses
Reasons to choose Mirasvit
Client focusing and satisfaction
These are our primary. A major portion of our new clients come from referrals from our existing clients. Our professional team of developers, marketers and support staff have invested the best knowledge and experience in the field into our work, so you know you can come back to us again and again.
Remarkable support
90-days free and high quality support. We go to great lengths to provide maximum satisfaction with every module you have purchased in our store. By helping you with installation, configuration, answering your every question, we do all our best to eliminate any possible problems.
Risk-free Investment
30-days money back guarantee. If you are not satisfied with our extension's performance for any reason, we provide a full refund.
Constant improvements and upgrades
We provide you with lifetime free updates. We constantly add new features to all our modules, and are always interested in hearing your opinion and implementing your suggested features in our future developments.
Comprehensive Documentation
We provide an expanded user guide for every aspect of our extension, so you can find answers for all your burning questions.
Unencrypted source code of our products
You can customize extensions according to your needs and requirements.
Usability and Performance
The Module is easy to install and upgrade, just follow our step-by-step user guide.
Safe Magento updates
No core modifications. Just use the composer or copy the extension's files to the root directory of your store.