Magento 2 Dynamic Categories
Magento 2 Dynamic Categories extension assigns products to categories automatically, greatly simplifying the category management.
Just specify the criteria, and the module will place the products inside the category by itself, saving you time and energy better spent on other tasks.
Optimize your workflow and save time
Set the rules with Magento conditions
Update the categories automatically
Make any category dynamic
Sort products automatically or manually
1/5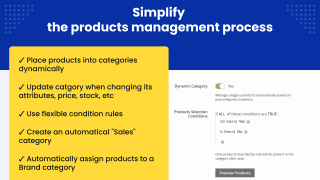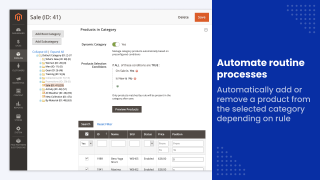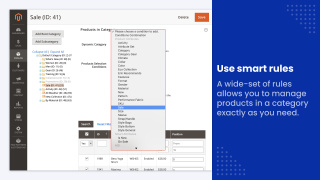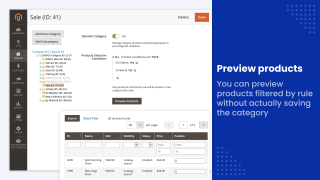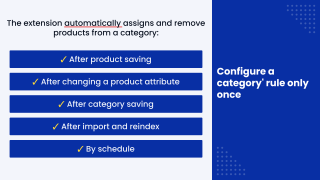 Feature Highlights
Business Value
Quick, Simple, and Reliable
Problem: By default, you have to assign products to categories manually in Magento, which is terribly inefficient. If you have thousands of products in your store, even routine updates will take enormous amounts of time. What's worse, the sheer quantity will make the people responsibile for data entry prone to making mistakes.
Solution: the Magento 2 Dynamic Category extension eliminates all manual work required to assign products to categories. It automatically assigns products depending on the rules you set, saving you an immeasurable amount of time and eliminating any possibility of mistakes.
Streamlined Workflow
Easy Setup
Built-in Product Preview
Zero Mistakes
Assign products instantly
Just specify what kind of product attributes you'd like to include in the category, and you're good to go. No additional setup is necessary!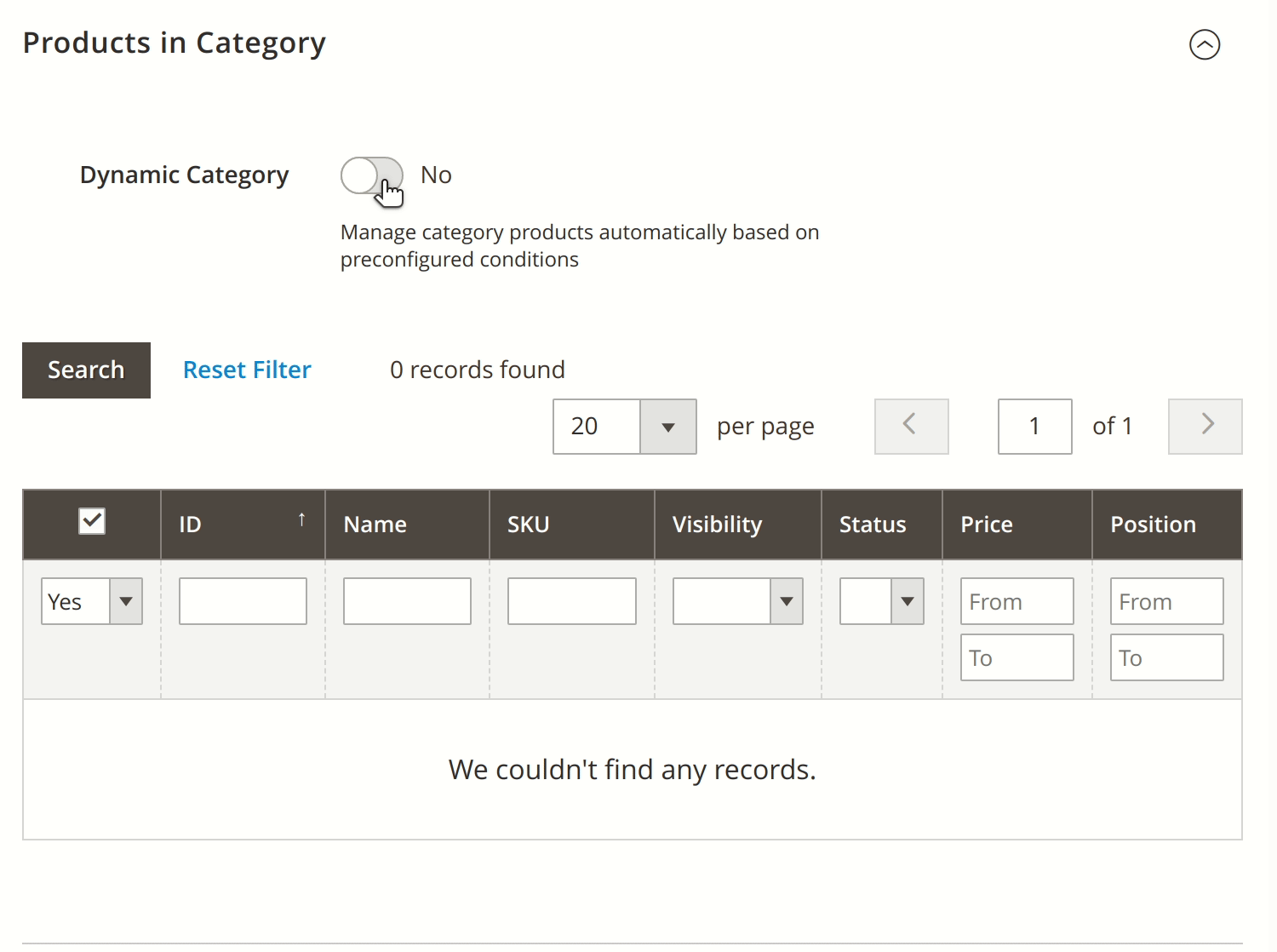 No guessing
You'll be able to preview which products the module will assign to the category before saving the changes. That way you'll always be sure the rules suit your needs.
Even the best of people make them
The more there is to do, the higher the likelihood is of human errors occurring. Algorithms never make mistakes, so you'll never have to check which products you missed anymore.
Excellent Flexibility
Powerful Conditions
No Quantity Restrictions
Conversion to Dynamic Categories
Set any rules you need
Incredibly robust Magento conditions determine the product criteria. The conditions will allow you to implement the rules of any complexity.
Add as many products as you need
There's no limit to the number of products in the category or number of dynamic categories. You can use the module even if your goal is 1000 categories with 100,000 products in each one!
Streamline the management of existing categories
You can make any static category dynamic by toggling a switch. Doing so won't change any other settings.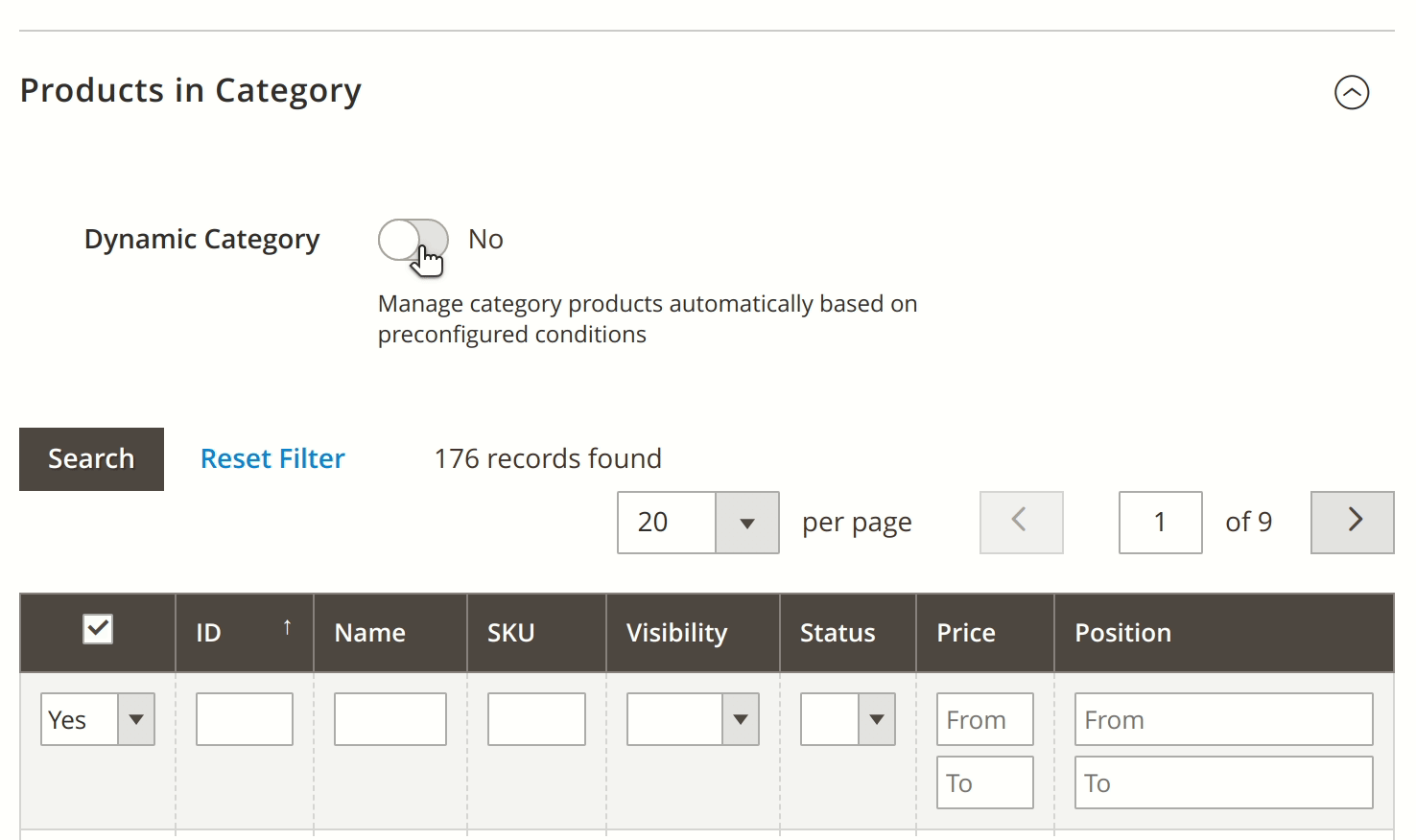 Great for SEO Landing Pages
Make keyword-targeted categories
Category pages aren't only valuable for the user experience. They're also an important SEO resource. With this module, you'll be able to create dozens of category pages directed at specific keywords faster than you can search for something on Google!
Auto-updates
The extension tracks product attribute changes. Should a previously unrelated product meet the category's criteria, the module will assign it to the category. Should a product in the category no longer meet the criteria, the module will unassign it.
You can count on this extension to always show the most up-to-date information to your customers. Besides that, you can take even more advantage of the updates in a couple of ways:
Make the promotions easy to find
Helping the visitors find the current sales faster will make them far more likely to convert.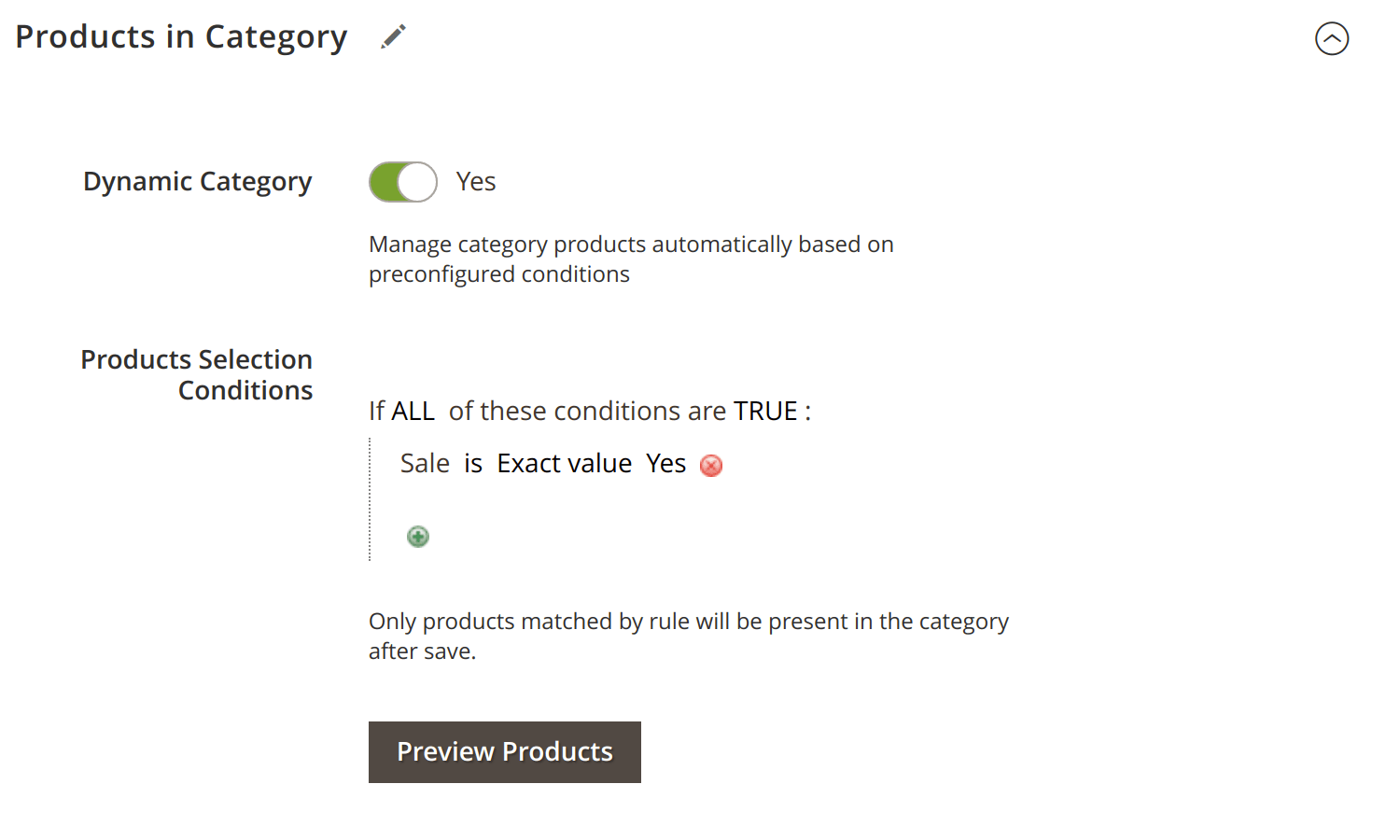 Highlight the latest and greatest
You can promote the new arrivals to improve their visibility.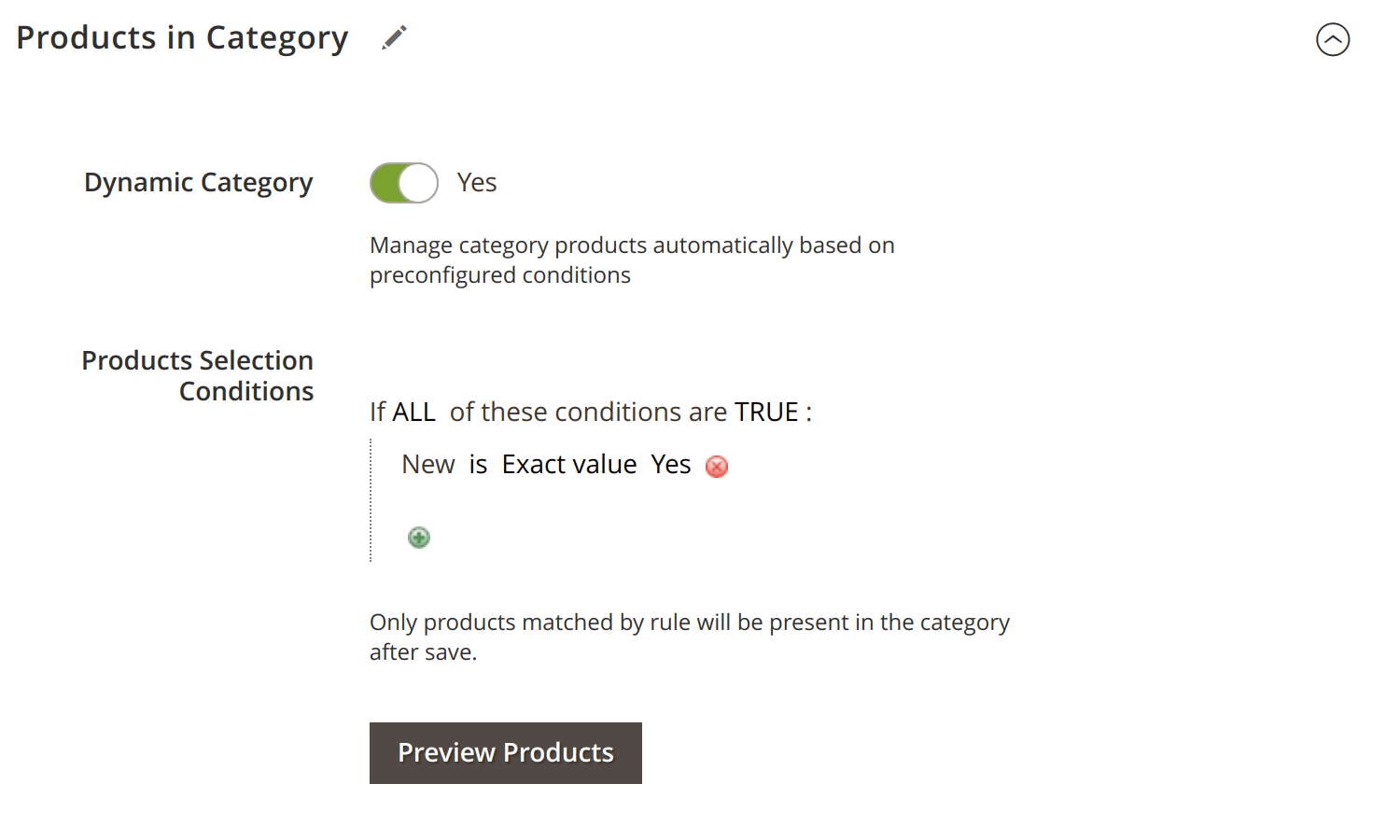 Simple Product Sorting
Automatic Sorting
Manual Positioning
Change the product order at any time
After you specify the products for the category, you'll be able to sort them by ID, name, SKU, visibility, and status.
Make the best-sellers stand out
If you'd like to place your products more strategically, you can also sort your products by position and adjust their order manually.
Time is money. Treasure it – install Dynamic Categories!
See it in action!
Pick a quick tutorial to learn about various aspects of this extension
Very good module for quickly creating product selections to present to the customer.
Tom
from Kenosha, United States
This make adding products to categories 10 times easier! I have thousands of categories and its cumbersome to add new products to categories. I just set a couple attributes and boom the new products automatically go into categories
Installed and worked right away easy to use and setup rules.
Michael
from United States
Excellent extension. Import products by schedule and no need to manually assign each product to correct categories.
Manual & Support
Need more help?
Save time by starting your support request online and we'll connect you to an expert.
Contact Us Now
Reasons to choose Mirasvit
Client focusing and satisfaction
These are our primary. A major portion of our new clients come from referrals from our existing clients. Our professional team of developers, marketers and support staff have invested the best knowledge and experience in the field into our work, so you know you can come back to us again and again.
Remarkable support
90-days free and high quality support. We go to great lengths to provide maximum satisfaction with every module you have purchased in our store. By helping you with installation, configuration, answering your every question, we do all our best to eliminate any possible problems.
Risk-free Investment
30-days money back guarantee. If you are not satisfied with our extension's performance for any reason, we provide a full refund.
Constant improvements and upgrades
We provide you with lifetime free updates. We constantly add new features to all our modules, and are always interested in hearing your opinion and implementing your suggested features in our future developments.
Comprehensive Documentation
We provide an expanded user guide for every aspect of our extension, so you can find answers for all your burning questions.
Unencrypted source code of our products
You can customize extensions according to your needs and requirements.
Usability and Performance
The Module is easy to install and upgrade, just follow our step-by-step user guide.
Safe Magento updates
No core modifications. Just use the composer or copy the extension's files to the root directory of your store.