 Analytics is the number one everyday activity for any e-commerce store. Magento 2 Reports extension utilizes the cutting-edge UI technologies and improvements of Magento 2 to help you to get deep insights into your shop performance indicators. Level up your store analytics flows with Magento 2 Advanced Reports.
22 ready-made reports with real-time data
Mobile and desktop dashboards with key metrics
Interactive charts for your data visualization
Flexible filters by any column
Custom Reports (Report Builder)
Web API
Extension Demos
Pick a quick tutorial to learn about various aspects of this extension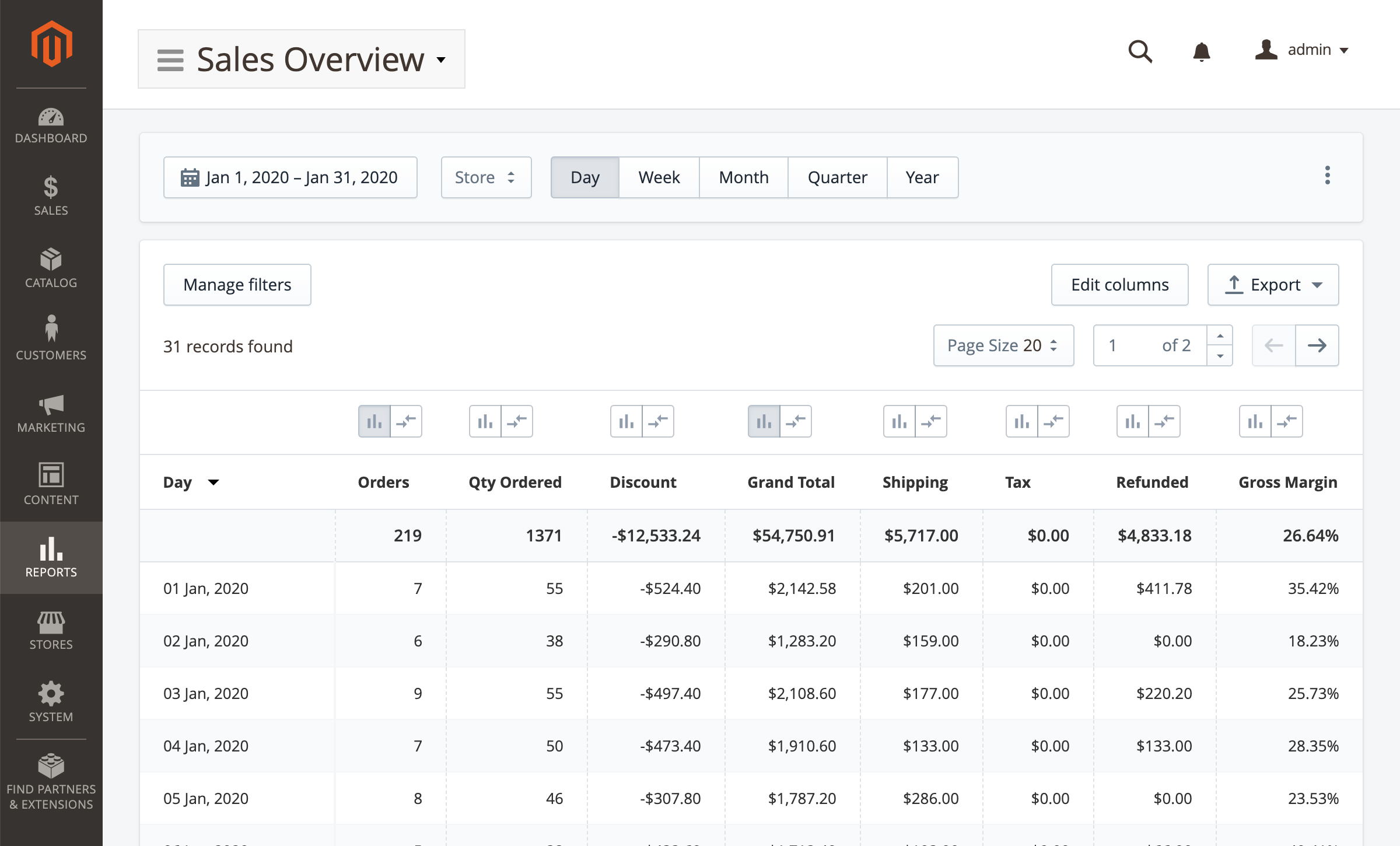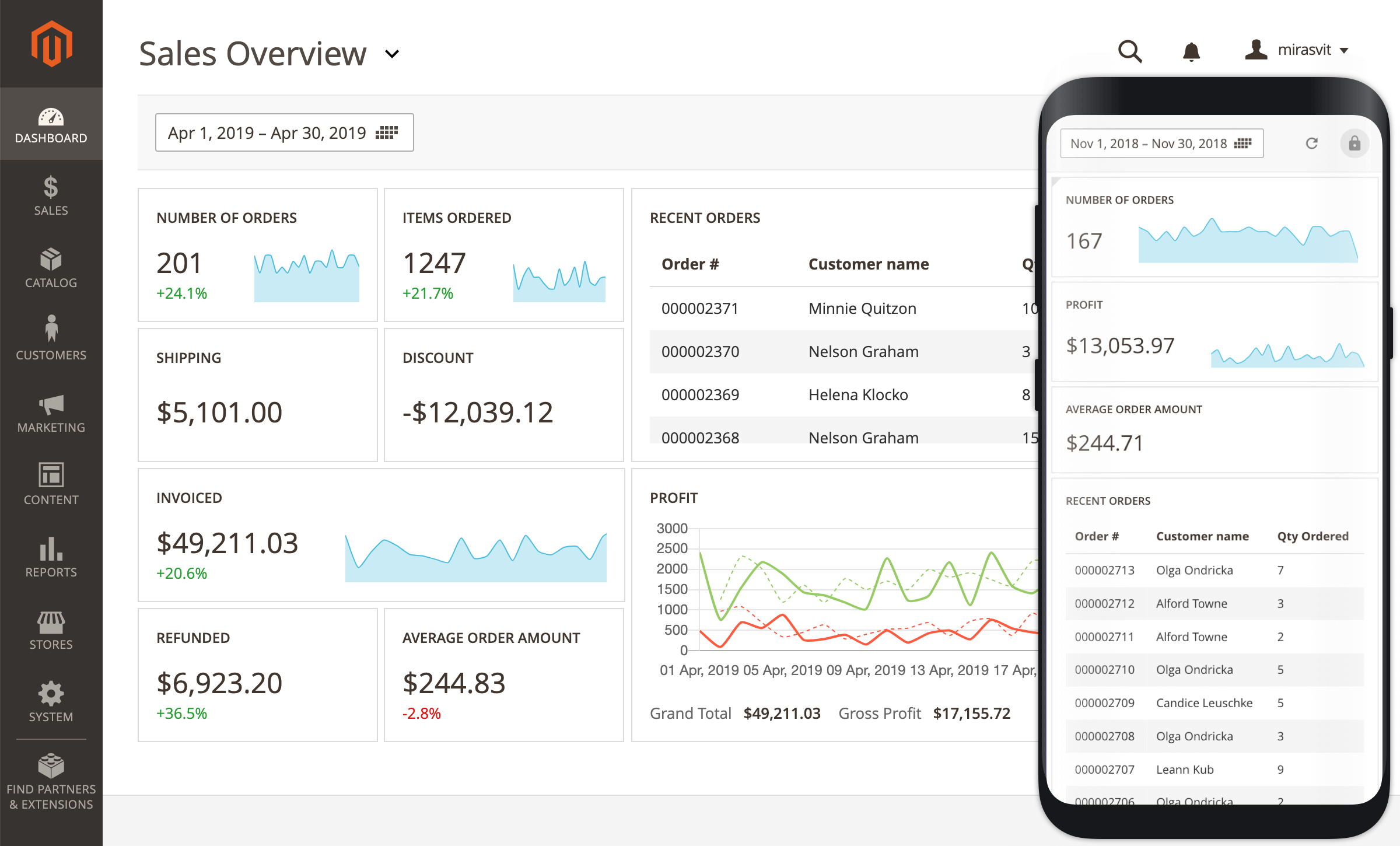 'Advanced Reports' is a powerful Magento 2 reporting extension for performing your online store analytics. Get the most profound insights exploring the following reports:
Sales Overview report
Sales by Hour of Day
Sales by Day of Week
Sales by Coupon Code
Sales by Cart Price Rule
Sales by Customers
Bestsellers report
Sales by Customer Group
Sales by Geo-data (country)
New vs Returning customers
Customers Overview report
Sales by Payment Type
Sales by Tax Rates
Product Performance
Sales by Category
Sales by Attribute
Sales by Attribute Set
Abandoned Carts Overview
Abandoned Carts
Abandoned Products
Our solution allows you to export any report data to CSV or Excel XML file and download it to your PC to perform further analysis.
Advanced Reports extension helps you to find out the most precise performance indicators of your online store!
Feature Highlights
Advanced Reports
Advanced Reports allows you to catch all the most in-depth analytic insights at a glance. On the welcoming page, you may view a Sales Overview and customize the level of details right there.
Reports extension provides you with a clear and intuitive interface that allows you to manage all reports by merely using several standard user-friendly features, like drag&drop, filters, and sorting.
---
Customize Reports On-The-Go

Advanced Reports Magento 2 dashboard extension is flexible and allows you to customize reports on-the-go:
choose data time range manually;
select one of the ready presets (today, this month, etc.)
You can easily customize any report by:
adding/removing columns to a table;
changing column order;
showing/hiding data on charts;
changing/adding dimensions for group data by specific columns.
Moreover, you can use the drag&drop principle to customize your report grid views.
Advanced Reports extension provides you with your reports in the most comfortable view!
---
Powerful Filters
Advanced Reports allows you to efficiently operate all reports data using flexible filters and sorting options.
You may filter reports data by any field by entering the desired date range to show.
Our solution helps you save time by viewing the data you need within seconds!
---
Multi Dimensions
Magento 2 Advanced Reports allows you to group reports by a few columns at the same time. You can group report by Order Date and a purchased product at the same time.
---
Extraordinarily Useful Magento 2 Reports
This Magento reporting plugin allows you to find out the most extraordinary performance indicators of your store.
For instance, Sales by Attribute report shows you the number of orders and totals by the color of your product! Have you ever wonder how many Blue items you sell per month?
Advanced Reports can answer even such questions for you!
---
Analyze Your Store International KPI
Advanced Reports extension helps you in your international e-commerce business!
If your store constructed for multinational visitors, our solution will let you know all the detailed geographical data by:
country
state
place (city, town)
postcode
Know your target audience and improve your store performance with Advanced Reports!
Customizable Dashboard
Apart from systematic analysis, it is essential to have all the key indices in hand. In such a case, one will always be able to instantly access them and check how well their set goals regarding their sales are being achieved.
The Advanced Report module allows placing widgets with all the key metrics in the dashboard of your store. Handy widgets will help you to trace your sales performance in real-time mode.
Advanced Reports for Magento 2 provides you an easy way to access critical sales metrics on a dashboard instantly!
Custom Reports Builder
The extension allows creating different intuitively understandable interfaces by itself. You can create Magento 2 custom report using any data (tables) from your database. It is both a powerful and flexible tool to measure your business success.
Using Report Builder, you can:
Create entirely new reports according to your unique requirements:

Reports can contain any data from any database tables of your store;

Expand the functionality of the existing reports by adding new columns into it:

The values of the columns will calculate the following your business requirements.
Examples of custom reports:
Magento 2 COGS Report (Cost of Goods Sold)

This report contains the inventory cost of products a store has sold during a selected period. The report can be grouped by period (day, month, year), store view, product SKU or any other attribute.

Customers that purchased products with particular attribute

This report returns a list of customers, which bought specific products with filter by attribute (by brand, size, color, etc.). It is useful to collect customer emails for a newsletter.

Accounting Report

This report generates a list of all orders during a specified period with all required billing columns.

Low Stock Report

This report shows the number of products being stored and also apply filter by stock quantity (should be less 10)

Credit Card Sales Report

Also, you can send this report by email (Daily Credit Card Sales Report)
Detailed Feature List
Reports functionality
Sorting by any grid column
Filtration by any grid column
Filtration by any report related attribute
Adding/Removing columns
Sorting columns (Drag&Drop)
Grouping by one or more attributes (multi-dimensional reports)
Filtration by date
Filtration by store view
Making a copy of any default report
Bar, Area, Line and Pie charts
Multi Y-axis Charts (monetary, percentage, quantity)
Showing/Hiding columns on chart
Chart tooltips
Switching by chart types
Exporting report to CSV file
Exporting report to Excel file
Comparison cell values for column
Displaying totals for whole table
Report Builder functionality
Copying/Deleting existing reports
Renaming reports
Changing Primary dimensions (attributes for grouping)
Changing Primary filters
Changing Default dimensions
Changing default table columns
Adding columns/dimensions/filters from all database tables (more 5000 columns/attributes are possible)
Dashboard functionality
Adding/remving/cloning dashboards
Moving/Resizing/Removing any widget/block
Mobile access by direct link
Metric widget with comparison and trend line
Table widget
Setting fixed date-range for any widget
Private and shared boards
Comparison
Feature
Advanced Reports
Other Extensions
Dashboard
Customizable Widgets
+
-all widget types are predefined
Number of Dashboards
unlimitedyou can create unlimited number of dashboards with different data
1
Mobile Dashboard
+
-
Permissions
+shared dasboard - for all admin user, private - only for current user
-
Data Comparison
+
+/-
Reports
Multi Dimensionsgrouping by few columns
+
-
Extra Columns
+
+/-number of possible columns are very limited
Custom Reports Builder
+
-
GEO Reportsby country, city, state, postocode
+
-
Other
Real-time data
+
+/-reindex is required in some cases
Email reports
+
-
See it in action!
Pick a quick tutorial to learn about various aspects of this extension
Awesome reporting with very speedy. Love it!

This is by far the easiest reporting tool to use, and the ability to define custom data point is great. I've tried other reporting extensions from other vendors, but this one performs as advertised when others don't. Highly recommend it!

Great Value

Keylime

from United States

This extension saved us days of development. Great value at great price

A solid, well thought of module to help our business grow

Matt

from Springfield, United States

Mirasvit continues to impress with solid code, modules, and features. This is a must-have for any business that needs analytics and reporting on their Magento 2 site. Thank you Mirasvit Team!

Best reports module i have ever used

Very useful and well-written module. The advanced options in the reports options are particularly powerful.

Very good extension

useful extensions but need more enhancement and more ready-made reports.

Helpful

yeoyeesoon

from Kuala Lumpur, Malaysia

This is a very good extension. However, expecting a more comprehensive tutorials for us to customize the reports by ourselves instead of relying on the support to help us.

Adv Report Review

JP

from West Hempstead, United States

Working very well for our client.

GOOD

ABBA

from Longueuil, Canada

VERY GOOD EXTENSION . THANK YOU

Great module

Great module, recommended for every store.

Good stuff

A

from Melbourne, Australia

Lots of reports in clear manner.

From the moment you install it, you realise you should of installed it sooner!

K730

from Melbourne, Australia

Since its inception the default Magento reports have been lacking, Advanced Reports by Mirasvit fills so many gaps. Once you install this extension and start exploring the report capabilities you quickly realise how much information you were missing before. You'll then question yourself why you didn't install this extension sooner!

Great Data Insights from Magento for Decision Makers

Christys

from United Kingdom

M2 version is even better than M1. Lots of room to customise reports for Directors, Marketers, etc. Awesome support from lifetime update product

Excellent

Steve

from Gurgaon, India

Magento 2 Advanced Reports extension will help you to get the rich look and feel

Much better than Magento Basic Reports

Sam

from Portsmouth, United Kingdom

Reports are important for any e-commerce business and having an overview of the business when I login to our Magento dashboard is great. From a single glance I can see how many sales we have had in any one time period, if any refunds where issued and the year to date. The reports are highly configurable and I have been surprised to find they often pull in information from 3rd party scripts such as our stock information etc. Great extension over all and a must for business owners.

Excellent Reports module

This is a great Reports module that fully met our client's needs.

Stunning reports

This extension produces stunning reports that give you an instant overview into the health of you business and where most of your customers are located.

Works perfectly!

Louise

from Holstebro, Denmark

with nice abilities to create your own reports, very nice :D

good

Allan

from Shepperton, United Kingdom

Magento 2 Advanced Reports extension will help you to get the rich look and feel

Highly recommended

Really excellent extension and support. Thanks.

Amazing product and support

Great product, extremely flexible and AMAZING support. Ran into an issue and it was resolved within 10 minutes of giving access to our environment. Highly recommended.

Cant thank enough- Great Ext Mirasvit

sun

from Lewes, United States

many possibilities to track the sales and to maintain the inventory

Great Extension and Even Better Support

AR

from Lawrence, United States

Very good Reports. I have not yet explored report builder. But I must say that the support is extremely professional and great. For that reason only I have purchased other extensions from Mirasvit. They are the guys to emulate. Good Job!

Clear insights

Mike

from Echtenerbrug, Netherlands

Because the native magento 2 rapports are very limited this gave us much more insights to our orders and customers. Just waiting for support for simple product attributes now and then it will be perfect.

Advanced Reports for Magento 2 - Smooth & Professional

Robert

from Portland, United States

Advanced Reports for Magento 2 helps our clients easily understand trends and dynamics on their sites in a clean and easy-to-use graphical interface. It's very smooth and professional. A great way to get the data you need in a clean, understandable format!

Magento 1: Perfect

Marián

from Bratislava, Slovak Republic

Well coded extension!

Magento 1: Great Plugin

Dan

from Birmingham, United Kingdom

This is a fully-featured and well-programmed plugin. It works incredibly well and has tons of features. Incredibly useful to the point of removing the need to do any outside-of-magento reporting.

Magento 1: Excellent

Justin

from Málaga, Spain

Customer Service was excellent. Prior to me purchasing I showed them what another competitor offers and they helped me compare both products.
They did instalaltion for me.
The product is exactly how they explained.
After service excellent as well. Always on the ball. Helped me personalise the page and graphs etc.
Very happy all round.

Magento 1: Just Brilliant!

Waernjk

from Istanbul, Turkey

This plugin worths every cents and then some.

It gave us amazing insights about our business that would be almost impossible for us to get otherwise.

If you have a decent amount or order size, you NEED to get this extension.

Thanks!

Magento 1: Excellent Product, Excellent Metrics!

Jose

from Mexico City, Mexico

Advanced Reports helped us to get better metrics in an easy way. Every report is very well shown and with good filters.

Magento 1: A "must have" for all Magento store owners

Robert

from Oppegard, Norway

This is really a "must have" for all Magento store owners. Lots of usefull reports displayed in a beautifull and well arranged grapic user interface.
Also the Mirasvit team offers exeptional support if you should experience any problems.

Magento 1: Really useful

Alex

from Barcelona, Spain

I really like the way information is presented, with a few clicks I can get an accurate report with all the information I need

Magento 1: Great product, wonderful customer service

We needed a little adjustment on our advanced reports, we've received a prefect reply and assistance, as well as instructions on how to solve this issue in the future on our own.
Very helpful, and the reports are perfect and very easy to use.

Magento 1: The best reporting tool for Magento

Tomasz

from Chorzów, Poland

This is the best Magento extension for details reports. Profit report is top class. Thanks to many data you will know whats going on. You can sort columns, make them hidden or visible, you can generate great reports.
Feature request: give option to compare time-frames year to year, month to month. To see difference. And timeframe like trailing month/year/quarter/week. YTD is sometimes not enough :)

Very Usefull

FiloBlu

from Santa Maria di Sala, Italy

We found very appropriate for all our needs!

Magento 1: Very useful tool

Leo

from The Colony, United States

Very useful tool, very handy!

Magento 1: The best module for reports

vidal

from Valladolid, Spain

For me was a great experience buy this module. I can show information about all fields or dates. Great module

Magento 1: Very good addon for report

Jiradech

from Ban Bang Phli Nakhon, Thailand

It gives us more powerful comprehensive report. Great extension.

Magento 1: Awesome reports!

Lyle

from Singapore, Singapore

Fantastic and really rich reports!

Magento 1: Great extension

Victor

from Hanoi, Vietnam

The extension improve the our business performance. it is upgraded regularly, great job.

Magento 1: Great Extension

Joseph

from Nanuet, United States

This extension is a must have extension. It gives us insight into a lot of data that helps us daily make the right decisions. The extension has paid for itself 10 fold.


Magento 1: Great

FiloBlu

from Santa Maria di Sala, Italy

Absolutely great!

Good Work

anuwat

from Bangkok, Thailand

Very easy and save my time for report

Nice reports and value

Henry

from Longwood, United States

This extension offers some nice reports with much more detail then stock magento. Mine the js calendar did not work. Support at Mirisvit came to the rescue and fixed in one day. Great company and awesome support always..I'd say best in the business.

Magento 1: very useful

Michael

from Hjortshoj, Denmark

This extension helps a lot giving us all needed information about sales in usegroups. We use it to give our dealers bonus of exactly their customers

Magento 1: We use this extension a lot

Daniel

from Aarhus, Denmark

Works really well and crawls the shop

Magento 1: Great!

Alex

from Berlin, Germany

Great extension! Very happy with our choice!

Magento 1: Awesome Extension!!

Robert

from Berlin, Germany

This extension is very easy to use and gives a lot of very usefull informations! No customisation needed. Just install and use! Thanks for these awesome extension!!


Magento 1: Great Extension

Willian

from Joinville, Brazil

A good module to reports sales.

Magento 1: Good extension and support

We had some requests to customise the extension and the support was quick and effective!

Magento 1: perfect

Alessandro

from Milan, Italy

we use it a lot, great work

Magento 1: Great as usuall

Beatriz

from Haarlem, Netherlands

We have this extension for more than a year now and we are truly happy with it, everything works great and when it doesn't Mirasvit has the best customer service I've ever seen! Thank you

Magento 1: Very good extension and support

Gökhan

from Bad Vilbel, Germany

I m happy with Mirasvit and his extensions...

Magento 1: Best reports extension ever

Milosz

from East Rutherford, United States

This extension has everything I need. Mirasvit is great overall and I will recommend their extensions to anyone in the future. Thanks!

Awesome Features along with outstanding Customer Service!

Viktor

from Steinbach, Canada

What can be felt, not always can be expressed in words, but I will try my best!

1. I bought almost all existing extensions for M2, while offered a very generous discount from a Sales Rep. Then, as all of us know, all the miracles stop right there, but not with these guys.

2. Installed the extensions, and as it usually happens, problems did not wait so long to arise on my horizon.

3. No fear, help is near... that is my personal Slogan... and found out the same attitude from Mirasvit guys. I asked for help, and it was near. I reported PHP7 and other compatibility issues, and a fix was ready in a blink of an eye. I asked for features improvements and suggested new features, and these came in a matter of a few days.

4. Features pack on the extensions is very reach, and these guys are always open to any sound improvements on their extensions.

5. Extensions updates are done via composer, so no manual uploads and unzips on every update release. That makes all my updates as easy like a snap of a finger,.. 10 seconds and I am all set.

P.S. In the end of the day I feel happy to be a respected customer of Mirasvit. I am hooked on this valuable M2 Solutions Provider. My $$$ spent on the extensions are secure... I feel like a part of the Team. I highly recommend Mirasvit to anyone who is seeking peace of mind and stable future for his/her Online Business.

Magento 1: works great

We felt we were missing some reports... this extension has filled in those gaps for us.

Magento 1: Very good extension.

Gökhan

from Bad Vilbel, Germany

Very good extension. I m happy. And the support is good too.

Magento 1: Very Good Extension For Reporting

I bought This Extension...From Mirasvit..For Different Kind Of Product Reporting... and Found..its good....


Magento 1: Great Extension

Joseph

from United States

Is it such a powerful extension for every business.

Magento 1: Useful but room for improvement

Sally

from Royston, United Kingdom

This plug in is useful but there are bits that could be much easier.

We paid extra for instalment and this was fantastic - the team installed it quickly and it didn't effect any of our other plug ins.

However, it's not obvious where things are. To find out what has been sold over a given period, for example, you don't go to "sales" but "catalogue - Products/Bestsellers". Some of the reports don't seem that useful and it's not as flexible as we'd hoped. In addition, navigating the drop down menu is tricky as it goes off the screen. It's better to have it than not though

Magento 1: Easy to use reporting on almost anything

Hannes

from Antwerp, Belgium

Easy to use reporting on almost anything. Drill down with filters like product attributes, on period or website. Great value.

Magento 1: What you See is What You Get ... Not Much to Manipulate

Rudy

from Los Angeles, United States

Overall it is working fine. However you only can select the options based on what are available. There is no way to customize/ remap the layout/ data to fit your custom expectation such as combining some data into one window instead of wasting the full real estate for one value.

Magento 1: Great way management

Flavio

from Presidente Prudente, Brazil

Ideal for monitoring the performance of your store individually looking for rich reports that make information a source of analysis.

Magento 1: Very usefull

Nick

from Groningen, Netherlands

The reports are very usefull and the Dashboard you can customize to whatever you want is very great.

The extension is also easy to install and works perfect out of the box.

Magento 1: need custom sql

Add functionality to create custom SQL record and it' will be the best report extension on the market.

Magento 1: This is a very useful extension

Miguel

from Hollywood, United States

This reports extension, will help you analyze every aspect of your sells.
You can go by day of the week or time.Very useful.

Magento 1: Amazing!

Weverson

from Belo Horizonte, Brazil

Amazing extension, with lots of reports. Also, support is really awesome, we need some changes and they helped us for everything we needed. Highly recommended. ;)

Magento 1: This is not only an out-of-the-box report extension...

....it's also a great piece of code if you want to start writing your own reports - clean and well commented source code ideal for beginners and non-professionals.

Magento 1: Reports that you ever wanted

Nafi

from Fort Lauderdale, United States

As you might all know that magento reports are simple. Our customers wants to see every detail with every aspect such as weekly sales & charts etc. You can buy it without any hesitation.

Thanks,

Magento 1: Very userful, fantastic support

Henning

from Gronau, Germany

We use the Advanced Report extensions for several weeks now and we love it. It gives you more power for insights. But the most important feature is not the extension itself, it is the fantastic support you get with buying it. The developers are open for small modifications and help if they can.
Five Stars!

Magento 1: Reports Extension is Amazing

Tom

from Ventura, United States

The reports extension is able to provide an Amazing variety of reports with excellent graphics. The feel of the interface is like a breath of fresh air and many reports and features are available with this extension that are not with native Magento extension. If your looking for a reports extension get this one and you will not be disappointed.

Magento 1: Very useful extension

Andrew

from Nantucket, United States

This is very easy to use and gives much needed data if you sell a large number of products.

Magento 1: Fantastic!

Edmar

from Aracaju, Brazil

Perfect module. Fair price and excellent functions. Customer service is also extraordinary.

Magento 1: Great reports extension

SN

from Amsterdam, Netherlands

We use it on a daily basis. Good work.


Magento 1: Must have for Magento store owners!

MA

from Maidstone, United Kingdom

Exactly what we needed. There were few problems at the beginning but Mirasvit support team was excellent.

I gave few ideas for future updates and it will be even more powerful after that.

I recommend this extension.


Magento 1: Great Extension

Marcelo

from São Paulo, Brazil

I really recomend this extesion, very flexible .. and gives a great overview. Thanks

Magento 1: Excellent plugin for Magento and support

This plugin is the best that i test. We are very happy with the fast support.
Many thanks for all guys...

Magento 1: Best report tool for Magento ever

Jeroen

from Nijmegen, Netherlands

This is by far best report tool for Magento ever.
Great value for price and best support.
Every question is answered fast and lots and lots of updates.
Our client loves the reporting tool. Nice dashboard widgets and out of box filters.

Magento 1: Much needed reports

David

from Saint Paul, United States

Finally an extension that gives the reports that Magento has been missing. Bravo.

Magento 1: Super extension

mikko

from Espoo, Finland

Very good extensions. It has tons of options and they even added few WITHOUT additional cost (=FREE!). Easy to install and works as descripted.
Mirasvit advanced report has more options than most other reporting extensions, for example sales by attribute. You can also see profit of orders or products by choosen date period.
I checked all of their competitors and this one looked best and we are still very satisfied:)


Magento 1: Best Report Extension for Magento I have found

Magento1.9

from Saint George, United States

After searching for the right report extension, I finally found the one I was looking for that had everything. Great extension and great support. I am very pleased with my purchase!

Magento 1: Best Magento Devloper of the World

These Guys are the Best Magento developer of the World, the Prices for the work of these Products are very cheep and works as descriped, no errors no bugs im very happy with the sulotions from Mirasvit, install is easy, to use the module is easy all is fine. I have no need the support !!!! I hope Mirasvit bring more extensions that work like a charm. Sorry fore my bad english i'm from germany.

Magento 1: Great Plugin with Excellent Support

Matt

from Stoke-on-Trent, United Kingdom

Very pleased with the Advanced Reports plugin from Mirasvit, it's got lots of functionality out of the box and works well. They also helped us add more reporting functionality, included in the support at no extra charge. Would recommend and use again :)

Magento 1: Nice

Eduardo

from Salvador, Brazil

Very useful. Nice support

Magento 1: Very Useful!

Must have extension!

Accurate reports, cool charts, useful dashboard and ... most impressive feature - email notifications

Magento 1: :)

Dustin

from United States

It's an absolutely must have extension.

Magento 1: Just amazing!

This is a great extension, and support people are great too. They always help to install extension in my website

Magento 1: Waited long for this!

Finally a developer understands how reports need to work! And that for even just a first release!
Hopefully much more reports will be added to this extension in the future. If I got some I will share it.
Got a few Mirasvit extension and they are always written in high quality. Highly recommended developer!

Compatibility
The Advanced Reports for Magento 2 is compatible with:
| | |
| --- | --- |
| Magento 2 Community Edition (CE) | 2.0.* - 2.3.* |
| Magento 2 Enterprise Edition (EE) | 2.0.* - 2.3.* |
| Magento 2 Cloud | + |
Have a question? Ask our support team
Need more help?
Save time by starting your support request online and we'll connect you to an expert.
Contact Us Now
Refund Policy
All customers can request a refund during 30 days after purchase of our software, if customer think that our software is not suitable for any reason. To request refund, customer must remove all copies of our software from its store, servers, computers, email, etc and confirm by email such removal. After receiving a request we will proceed refund within 3 business days.
If request for refund is received after 30 days after purchase, it will be rejected. Cost of installation and customization services are not refundable.
Support and bug fixing
Mirasvit offers free 90 days support of all software sold on this site. Customers can report all bugs, which were found in our software. We can solve only the bugs directly related to or caused by our extension. Those bugs must be reproduced on fresh Magento installation without any 3rd party plugins. We will solve that bugs in order of our development plan.
We don't do any type of custom work and we have a right to reject a support request if the issue is store-specific (cannot be reproduced on the fresh Magento installation without any 3rd party plugins).
Mirasvit will not be liable to you for any damages (including any loss of profits/saving, or incidental or consequential) related to our support service caused to you, your information and your business.
Software updates
Mirasvit offers free lifetime updates if they areavaliable. Updates are limited to the Magento version branch (1.x.x or 2.x.x). Customer can download an update and install it by himself. If support period is expired, Mirasvit.com can't solve any possible problems with our software during or after updating. Mirasvit does not guarantee that it will release updates for any product.