Advanced Reports for Magento 2
Analytics is the number one everyday activity for any e-commerce store. Magento 2 Reports extension utilizes the cutting-edge UI technologies and improvements of Magento 2 to help you get deep insights into your shop performance indicators. Level up your store analytics flows with Magento 2 Advanced Reports.
20 ready-made reports with real-time data
Mobile and desktop dashboards with key metrics
Interactive charts for your data visualization
Flexible filters by any column
Custom Reports (Report Builder)
Web API
See it in action!
Pick a quick tutorial to learn about various aspects of this extension
1/9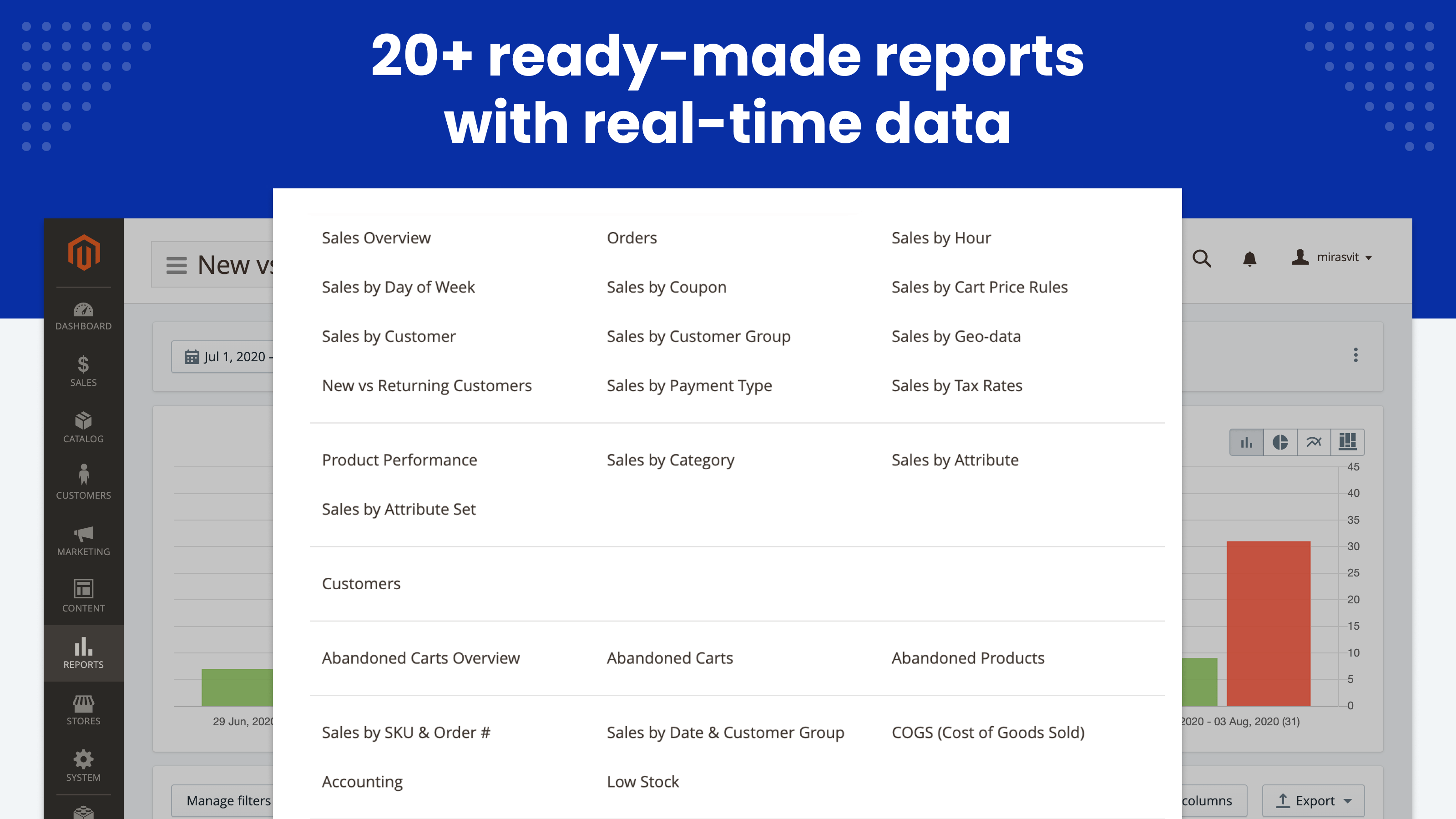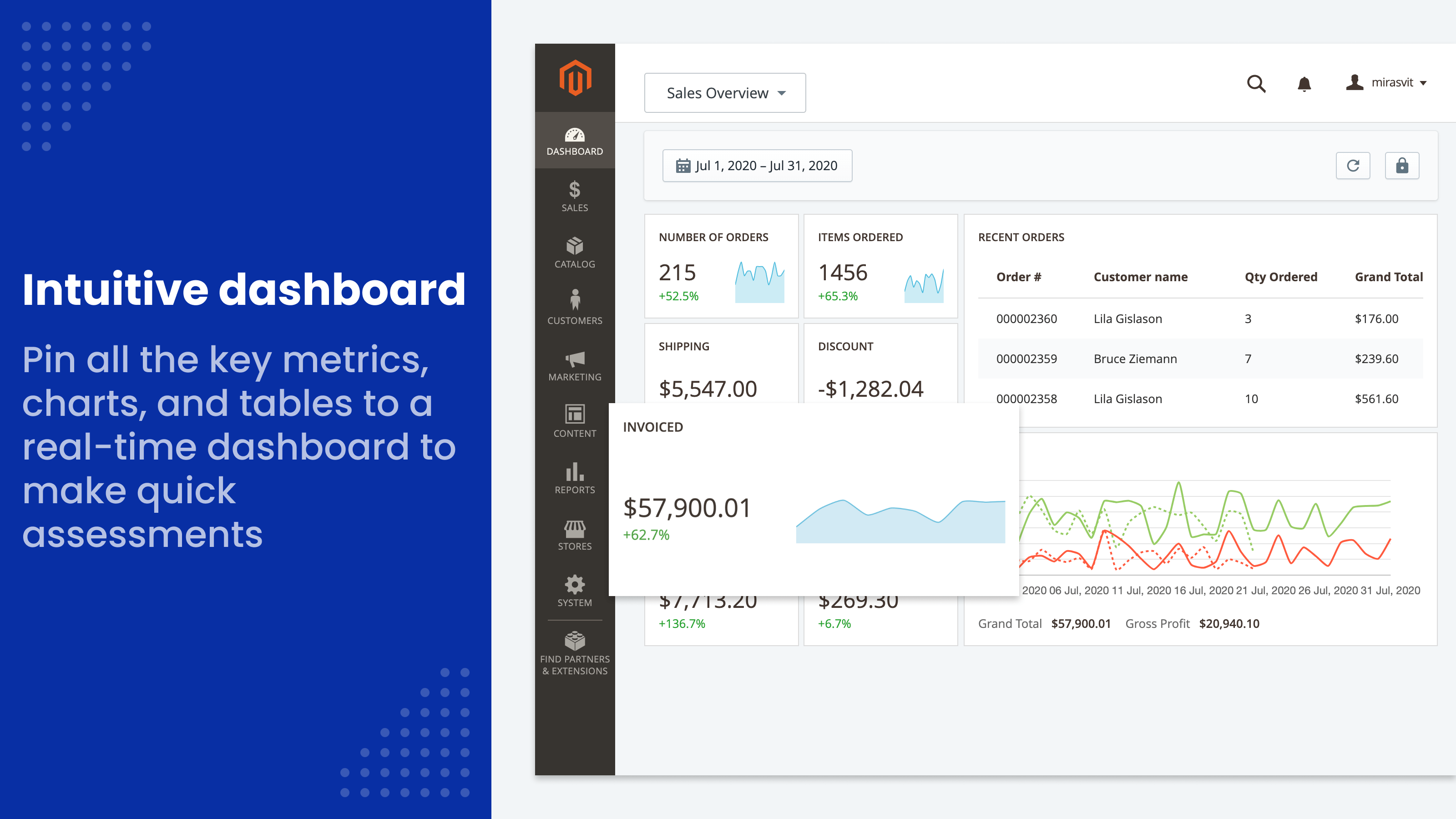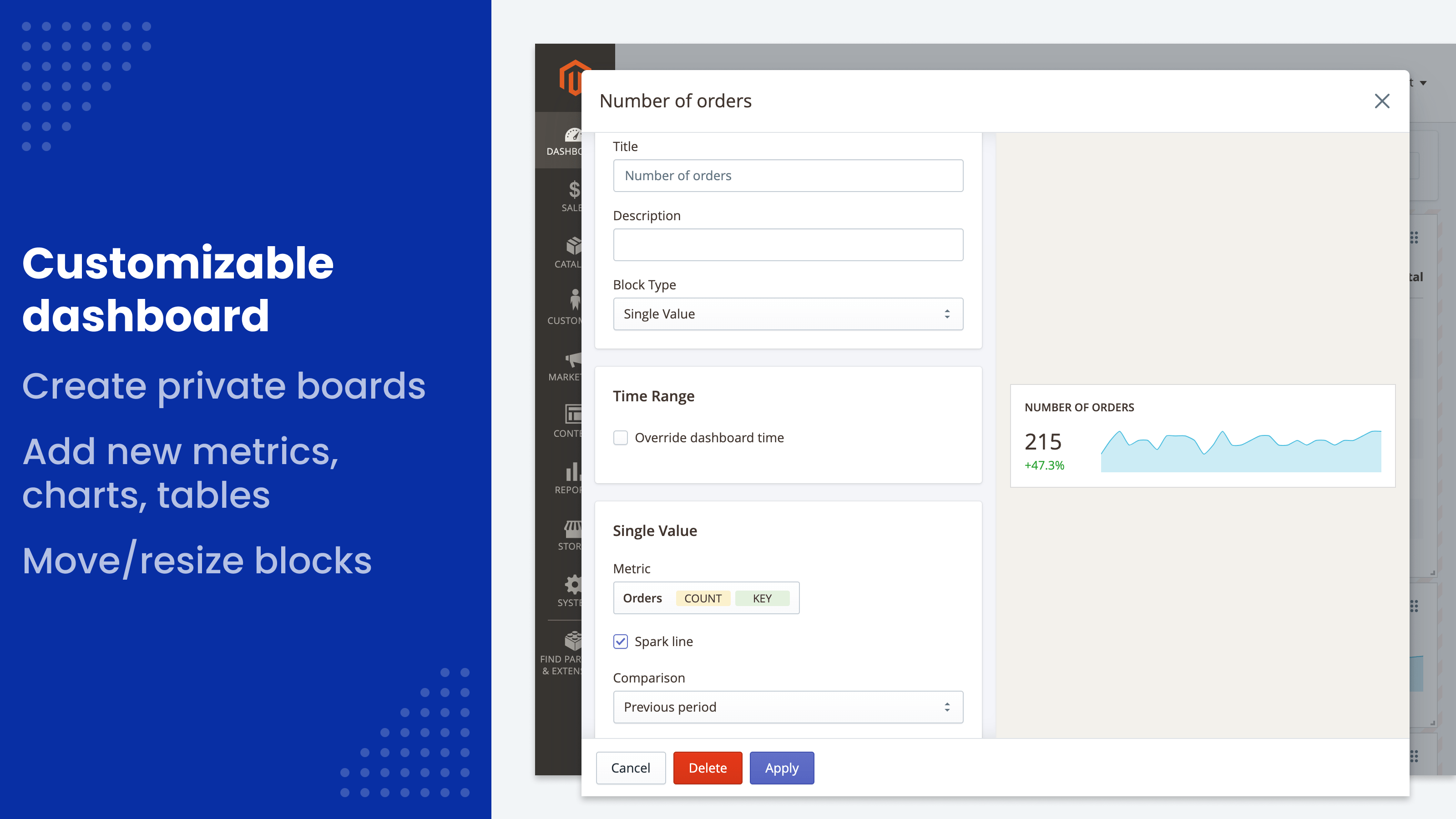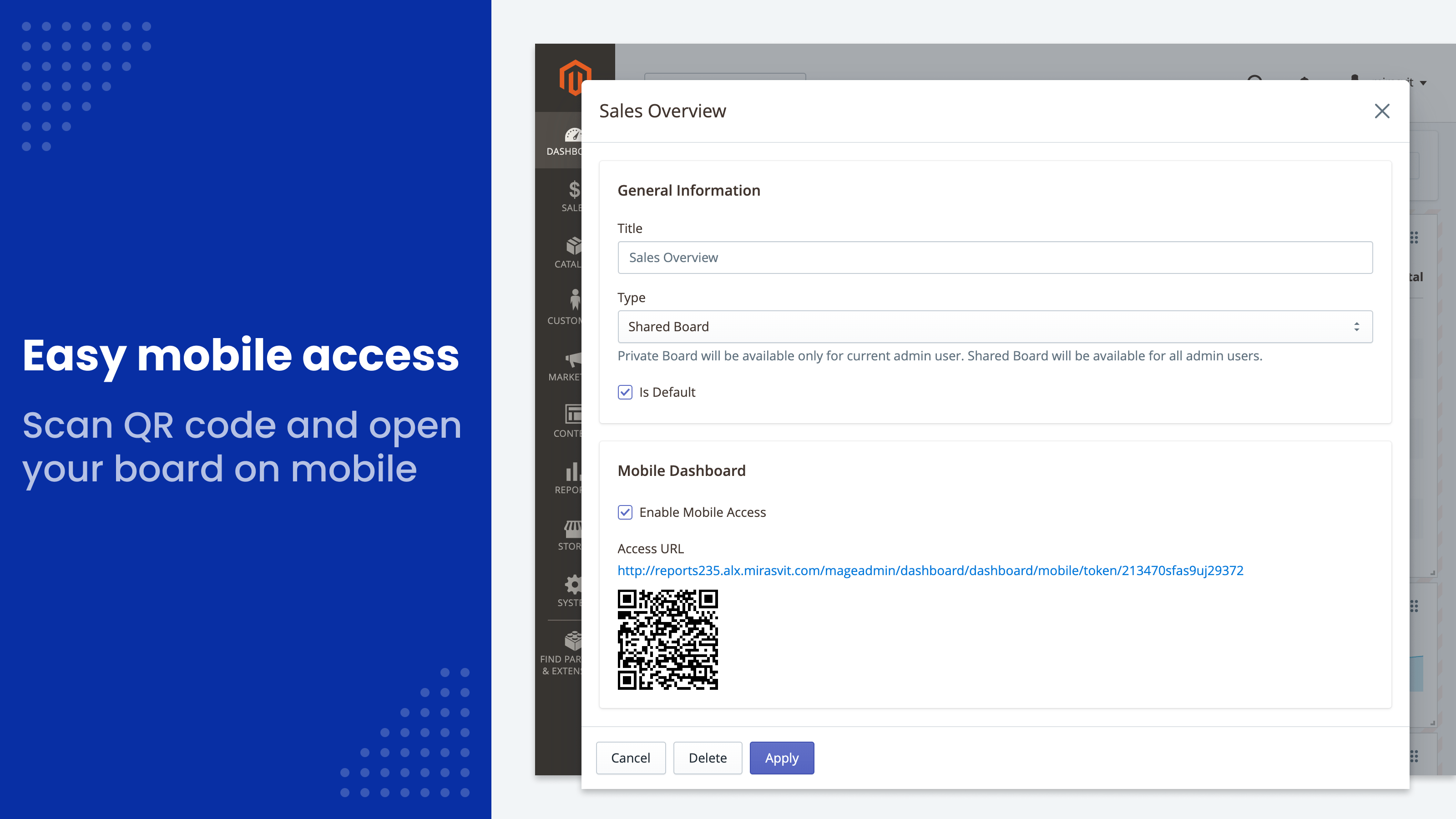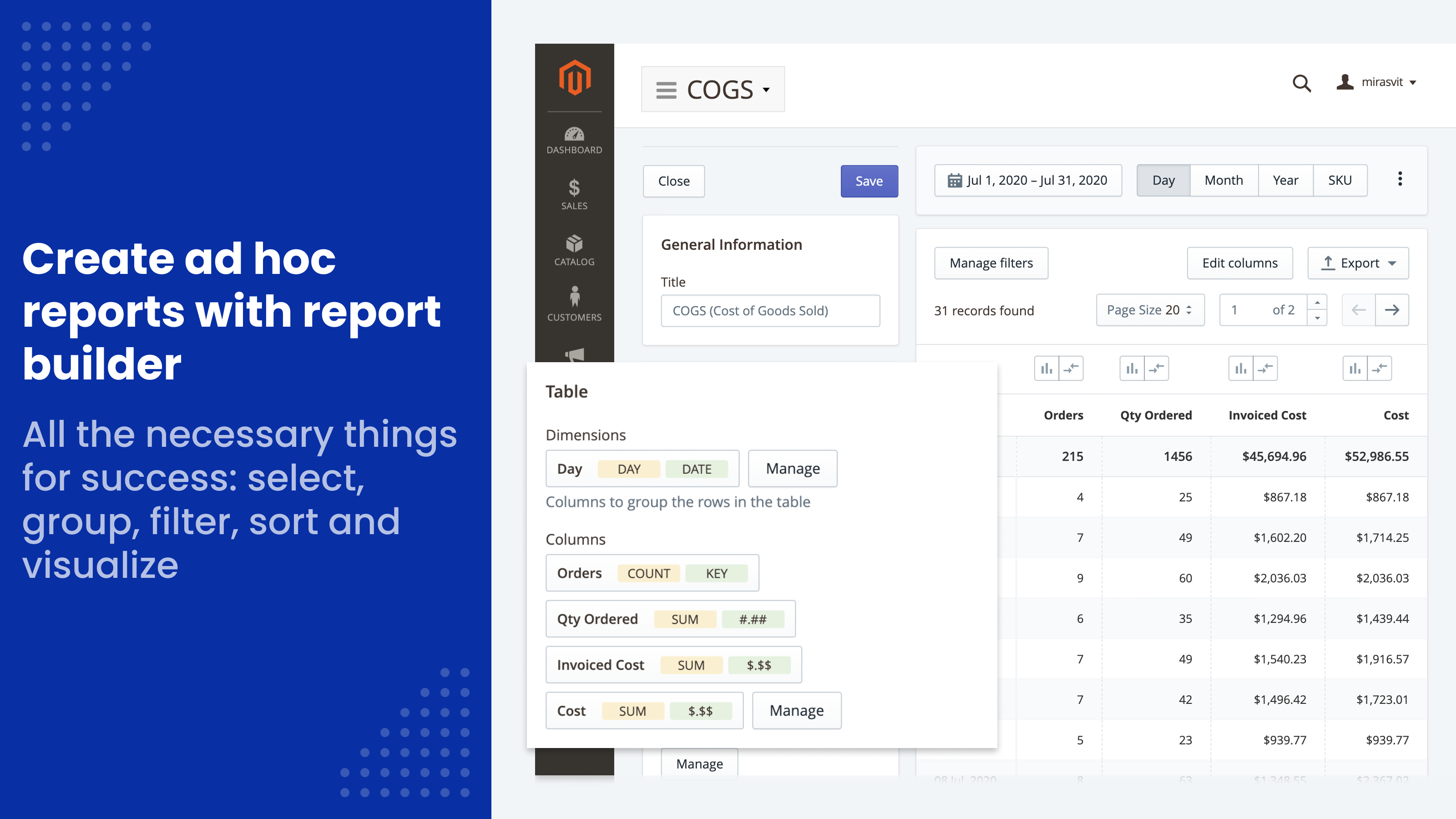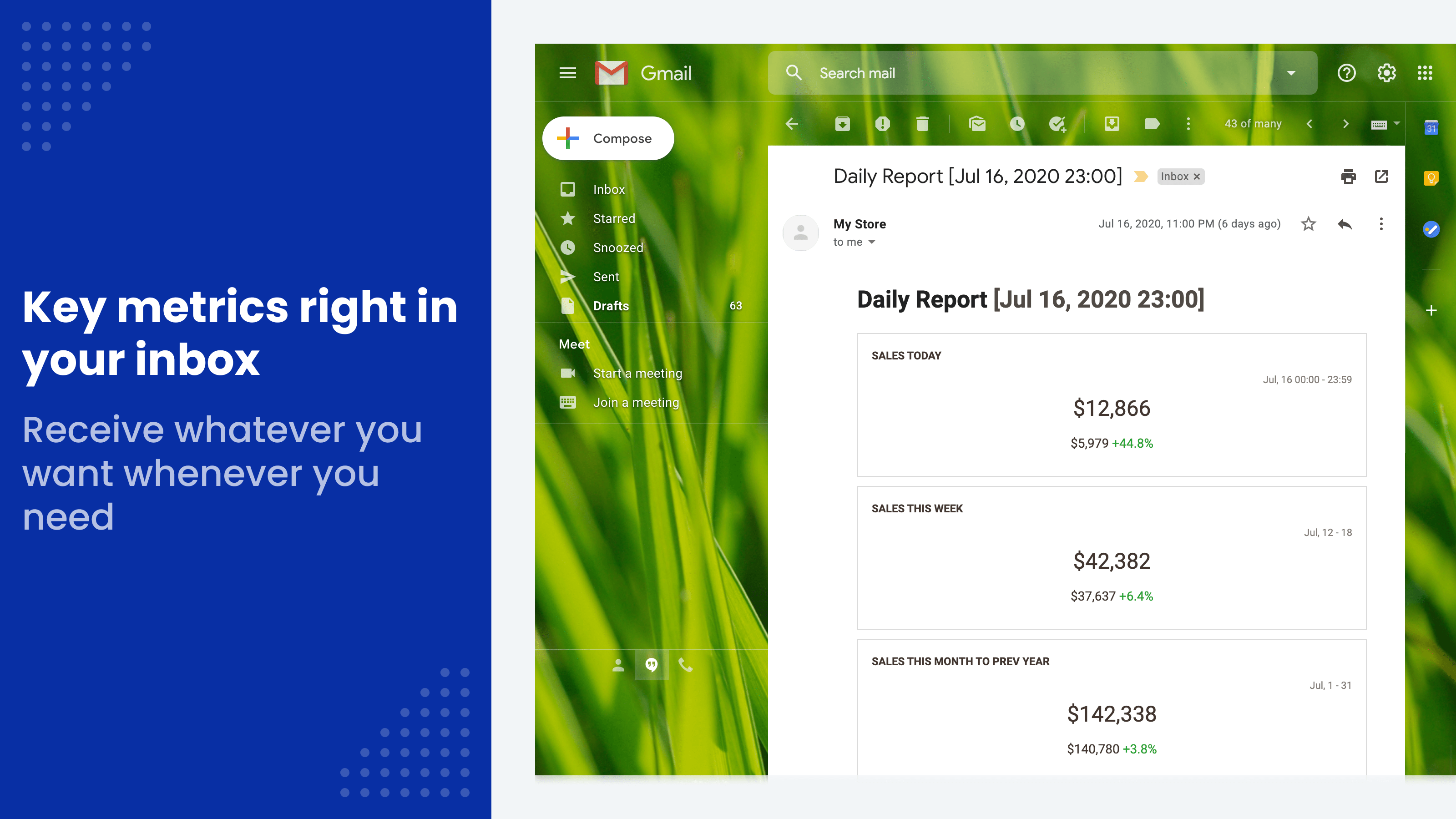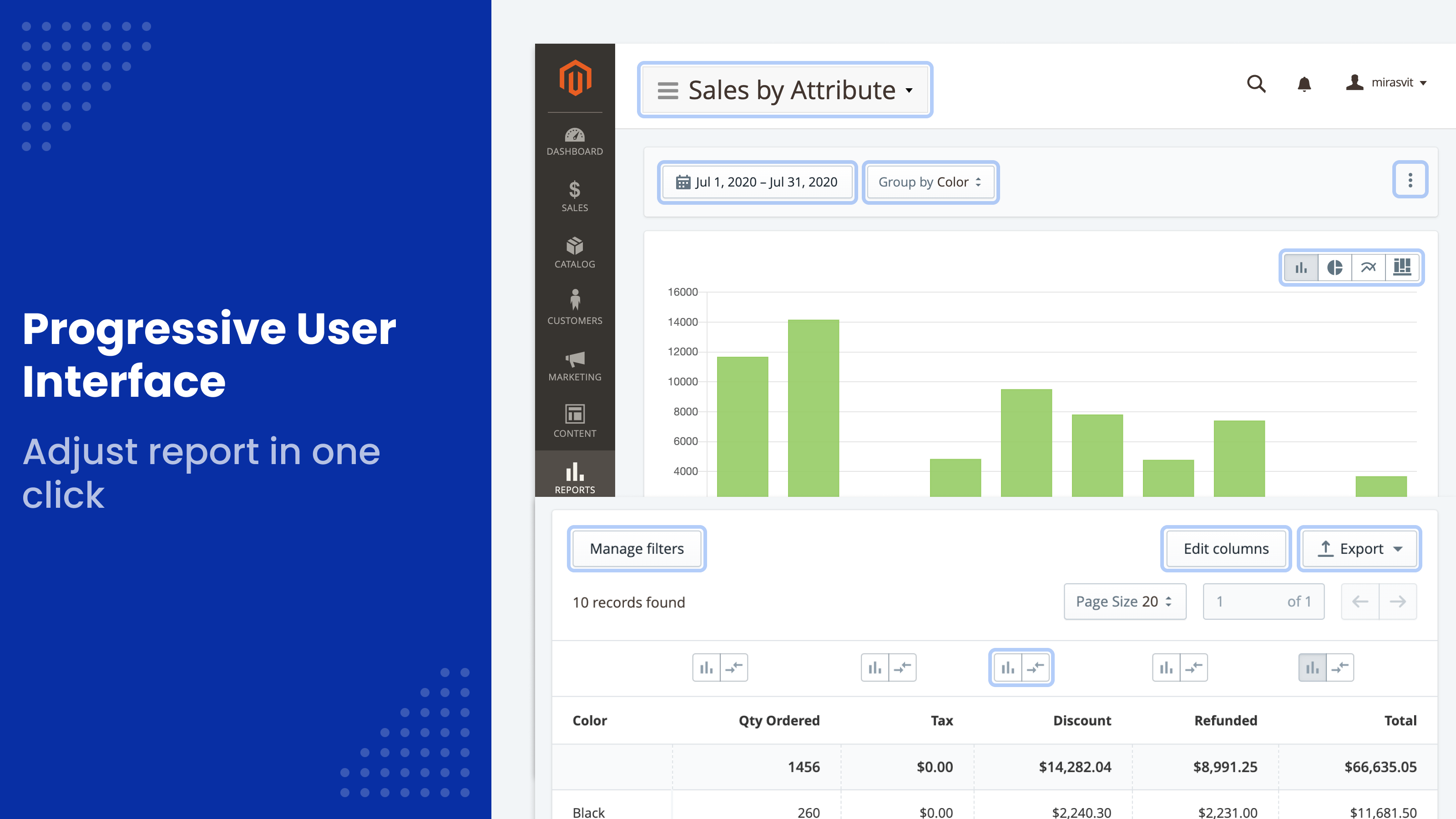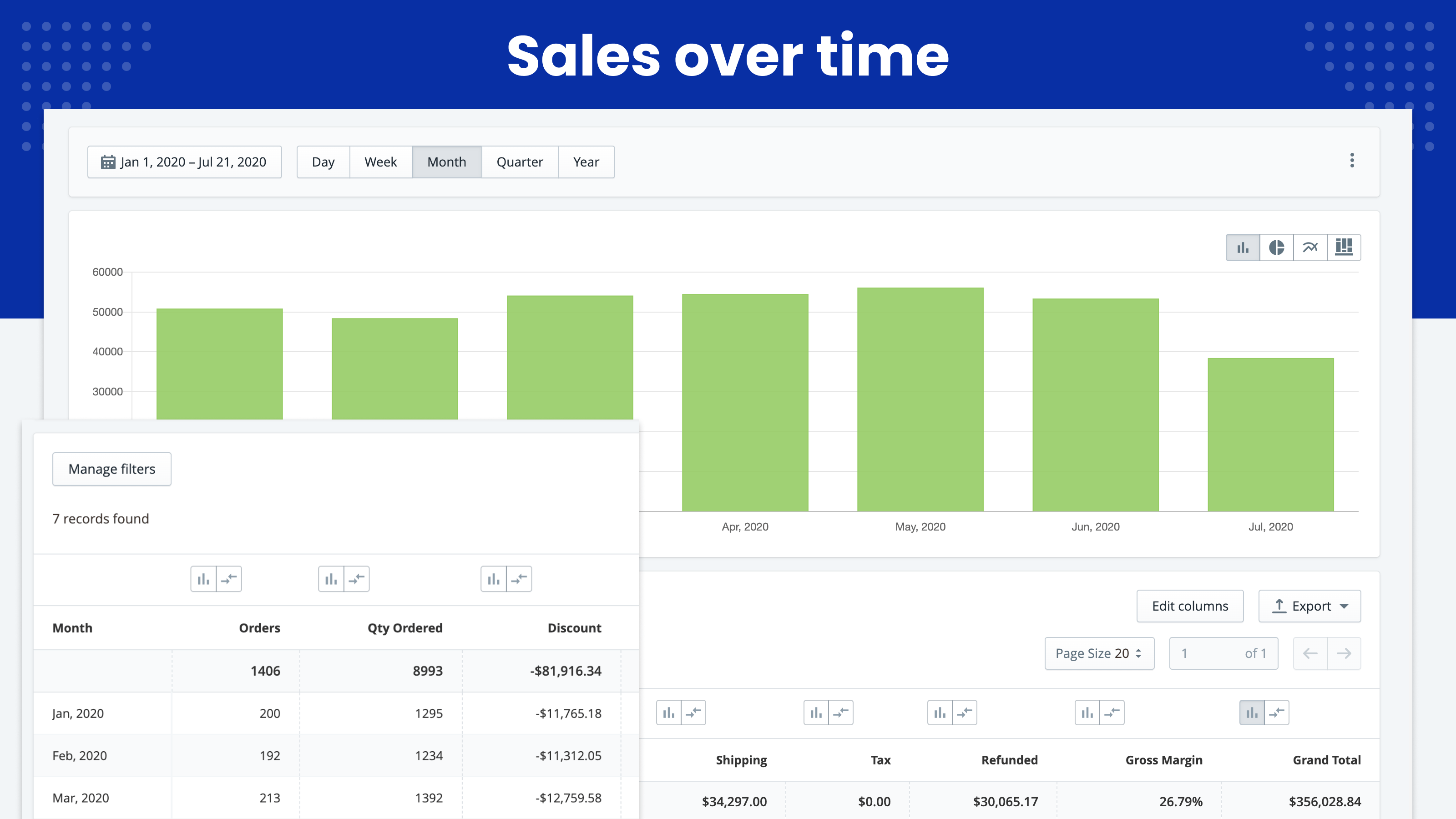 Feature Highlights
'Advanced Reports' is a powerful Magento 2 reporting extension for performing your online store analytics. Get the most profound insights exploring the following reports:
Sales Overview report
Orders Overview
Sales by Hour of Day
Sales by Day of Week
Sales by Coupon Code
Sales by Cart Price Rule
Sales by Customer
Bestsellers report
Sales by Customer Group
Sales by Geo-data (country)
New vs Returning customers
Customers Overview report
Sales by Payment Type
Sales by Tax Rates
Product Performance
Sales by Category
Sales by Attribute
Sales by Color, Brand etc
Sales by Attribute Set
Abandoned Carts
Abandoned Products
Sales Overview report
Sales by Hour of Day
Sales by Day of Week
Sales by Coupon Code
Sales by Cart Price Rule
Sales by Customers
Bestsellers report
Sales by Customer Group
Sales by Geo-data (country)
New vs Returning customers
Customers Overview report
Sales by Payment Type
Sales by Tax Rates
Product Performance
Sales by Category
Sales by Attribute
Sales by Attribute Set
Abandoned Carts Overview
Abandoned Carts
Abandoned Products
Our solution allows you to export any report data to CSV or Excel XML file and download it to your PC to perform further analysis.
Advanced Reports extension helps you to find out the most precise performance indicators of your online store!
Advanced Reports
Advanced Reports allows you to catch all the most in-depth analytic insights at a glance. On the welcoming page, you may view a Sales Overview and customize the level of details right there.
Reports extension provides you with a clear and intuitive interface that allows you to manage all reports by merely using several standard user-friendly features, like drag&drop, filters, and sorting.
---
Customize Reports On-The-Go

Advanced Reports Magento 2 dashboard extension is flexible and allows you to customize reports on-the-go:
choose data time range manually;
select one of the ready presets (today, this month, etc.)
You can easily customize any report by:
adding/removing columns to a table;
changing column order;
showing/hiding data on charts;
changing/adding dimensions for group data by specific columns.
Moreover, you can use the drag&drop principle to customize your report grid views.
Advanced Reports extension provides you with your reports in the most comfortable view!
---
Powerful Filters
Advanced Reports allows you to efficiently operate all reports data using flexible filters and sorting options.
You may filter reports data by any field by entering the desired date range to show.
Our solution helps you save time by viewing the data you need within seconds!
---
Multi Dimensions
Magento 2 Advanced Reports allows you to group reports by a few columns at the same time. You can group report by Order Date and a purchased product at the same time.
---
Extraordinarily Useful Magento 2 Reports
This Magento reporting plugin allows you to find out the most extraordinary performance indicators of your store.
For instance, Sales by Attribute report shows you the number of orders and totals by the color of your product! Have you ever wonder how many Blue items you sell per month?
Advanced Reports can answer even such questions for you!
---
Analyze Your Store International KPI
Advanced Reports extension helps you in your international e-commerce business!
If your store constructed for multinational visitors, our solution will let you know all the detailed geographical data by:
country
state
place (city, town)
postcode
Know your target audience and improve your store performance with Advanced Reports!
Customizable Dashboard
Apart from systematic analysis, it is essential to have all the key indices in hand. In such a case, one will always be able to instantly access them and check how well their set goals regarding their sales are being achieved.
The Advanced Report module allows placing widgets with all the key metrics in the dashboard of your store. Handy widgets will help you to trace your sales performance in real-time mode.
Advanced Reports for Magento 2 provides you an easy way to access critical sales metrics on a dashboard instantly!
Custom Reports Builder
The extension allows creating different intuitively understandable interfaces by itself. You can create Magento 2 custom report using any data (tables) from your database. It is both a powerful and flexible tool to measure your business success.
Using Report Builder, you can:
Create entirely new reports according to your unique requirements:

Reports can contain any data from any database tables of your store;

Expand the functionality of the existing reports by adding new columns into it:

The values of the columns will calculate the following your business requirements.
Examples of custom reports:
Magento 2 COGS Report (Cost of Goods Sold)

This report contains the inventory cost of products a store has sold during a selected period. The report can be grouped by period (day, month, year), store view, product SKU or any other attribute.

Customers that purchased products with particular attribute

This report returns a list of customers, which bought specific products with filter by attribute (by brand, size, color, etc.). It is useful to collect customer emails for a newsletter.

Accounting Report

This report generates a list of all orders during a specified period with all required billing columns.

Low Stock Report

This report shows the number of products being stored and also apply filter by stock quantity (should be less 10)

Credit Card Sales Report

Also, you can send this report by email (Daily Credit Card Sales Report)
Detailed Feature List
Reports functionality
Sorting by any grid column
Filtration by any grid column
Filtration by any report related attribute
Adding/Removing columns
Sorting columns (Drag&Drop)
Grouping by one or more attributes (multi-dimensional reports)
Filtration by date
Filtration by store view
Making a copy of any default report
Bar, Area, Line and Pie charts
Multi Y-axis Charts (monetary, percentage, quantity)
Showing/Hiding columns on chart
Chart tooltips
Switching by chart types
Exporting report to CSV file
Exporting report to Excel file
Comparison cell values for column
Displaying totals for whole table
Report Builder functionality
Copying/Deleting existing reports
Renaming reports
Changing Primary dimensions (attributes for grouping)
Changing Primary filters
Changing Default dimensions
Changing default table columns
Adding columns/dimensions/filters from all database tables (more 5000 columns/attributes are possible)
Dashboard functionality
Adding/remving/cloning dashboards
Moving/Resizing/Removing any widget/block
Mobile access by direct link
Metric widget with comparison and trend line
Table widget
Setting fixed date-range for any widget
Private and shared boards
Comparison
Feature
Advanced Reports
Other Extensions
Dashboard
Customizable Widgets
+
-all widget types are predefined
Number of Dashboards
unlimitedyou can create an unlimited number of dashboards with different data
1
Mobile Dashboard
+
-
Permissions
+shared dashboard - for all admin user, private - only for current user
-
Data Comparison
+
+/-
Reports
Multi Dimensionsgrouping by few columns
+
-
Extra Columns
+
+/-number of possible columns are very limited
Custom Reports Builder
+
-
GEO Reportsby country, city, state, postcode
+
-
Other
Real-time data
+
+/-reindex is required in some cases
Email reports
+
-
Manual & Support
Need more help?
Save time by starting your support request online and we'll connect you to an expert.
Contact Us Now
We found other products you might like!
Live customer feedback
Latest comments
Jacques Cardinal
Jul 24, 2020
Excellent support! Very patient support staff, especially with people with no programming or system background.
Thanks for your support. GOOD JOB
Frédéric Voyard
Jul 23, 2020
Perfect after sales !
Thanks for the prompt reply and support.
See all comments
The real-time results of the satisfaction survey of our customers
for the last 100 responses
Reasons to choose Mirasvit
Client focusing and satisfaction
It is our main goal. A big part of our new clients come from referrals from our existing clients. Our professional team of developers, marketers and support invest the best knowledge and experience, so you could come back to us again and again.
Remarkable support
90-days free and high quality support. We make an effort to satisfy you with work of every module you have purchased in our store. Helping you with installation, configuration, answering your every question, we do all our best to eliminate any possible problems.
Risk-free Investment
30-days money back guarantee. If you are not satisfied with work of our extension for any reason we provide a full refund.
Constant improvements and upgrades
We provide you lifetime free updates. We constantly add new features to all our modules. We are absolutely interested to hear your opinion and to implement your suggested features in our future developments.
Comprehensive Documentation
We provide an expanded user guide for every our extension, so you can find answers for all your burning questions.
Unencrypted source code of our products
You can customize extensions according to your needs and requirements.
Usability and Performance
Module is easy to install and easy to upgrade, just follow step by step our user guide.
Safe Magento updates
No core modifications. Just copy extension files to store root directory.