Advanced Reports for Magento 2
Magento 2 Reports Extension is an amazingly flexible and user-friendly analytics suite. It improves upon default Magento reports in every possible way.
Install Magento 2 Advanced Reports and take your online store's analytics to the next level!
Realize the full potential of your data
Analyze any data in your database
Review 20 ready-to-use reports
Create your own reports and columns
Build custom dashboards
Access your KPIs from any device
Quick Access to Reports & Sharing

New

Google Sheets Integration

New

Magento 2 Advanced Reports Cloud is available too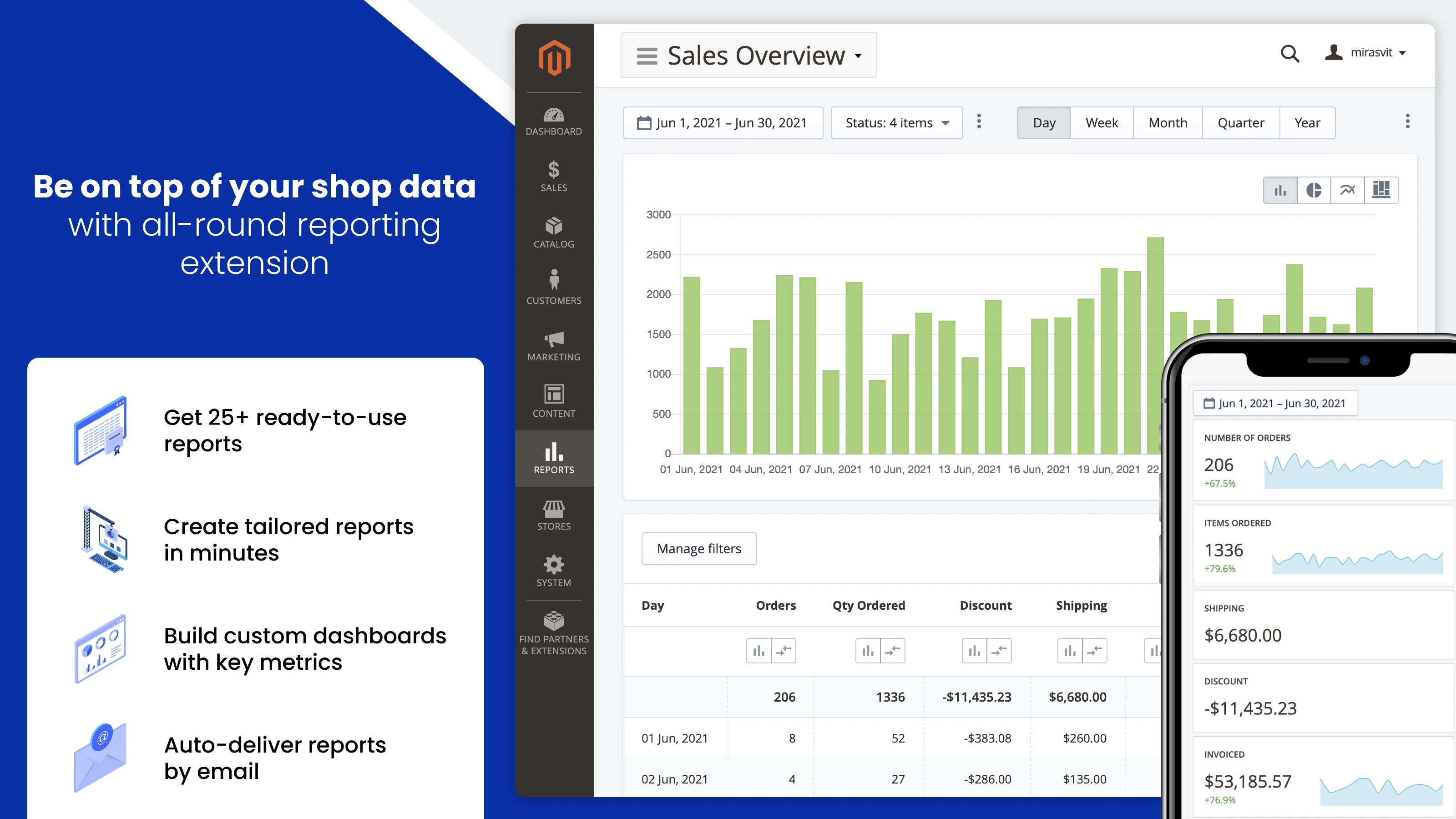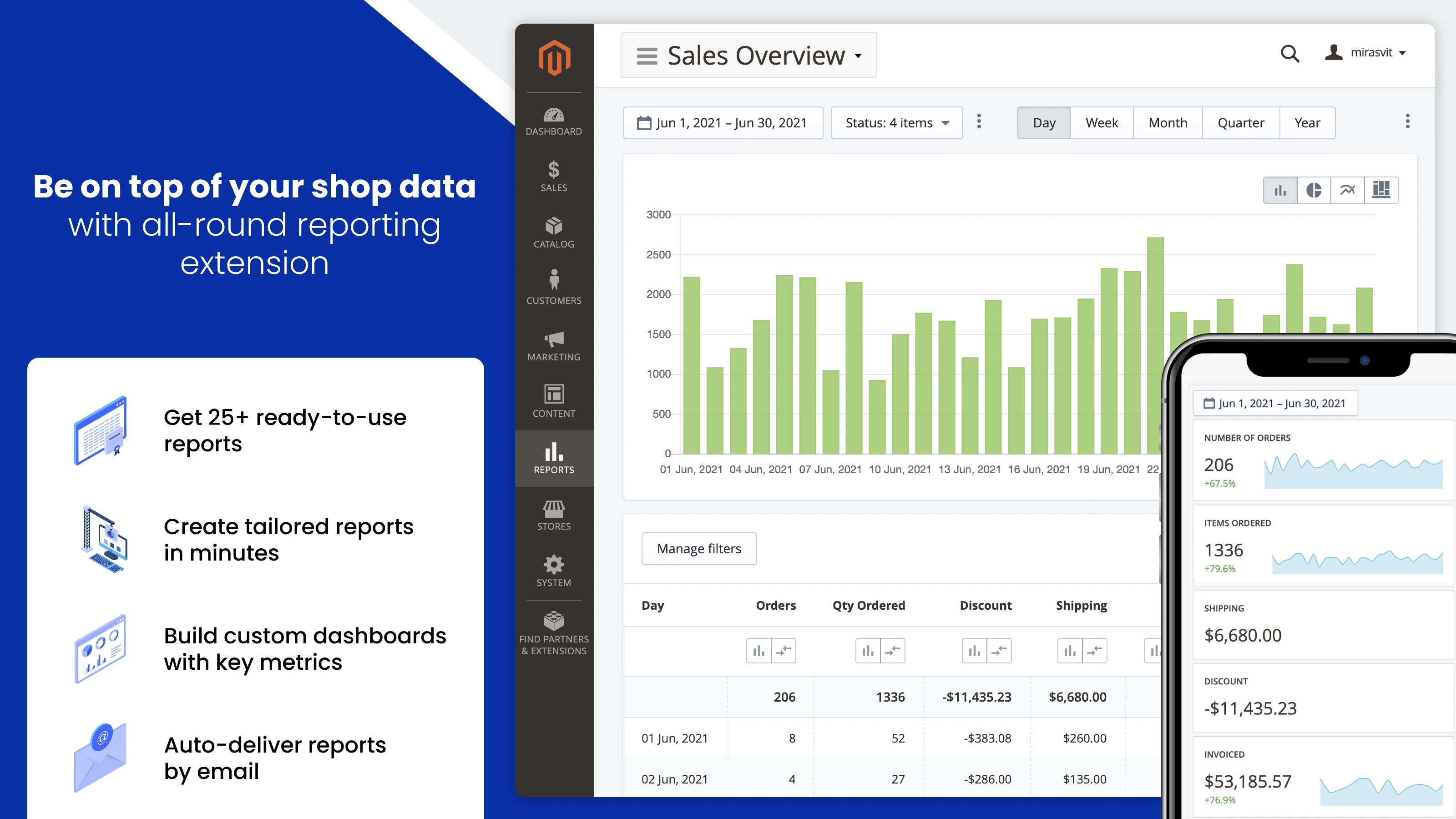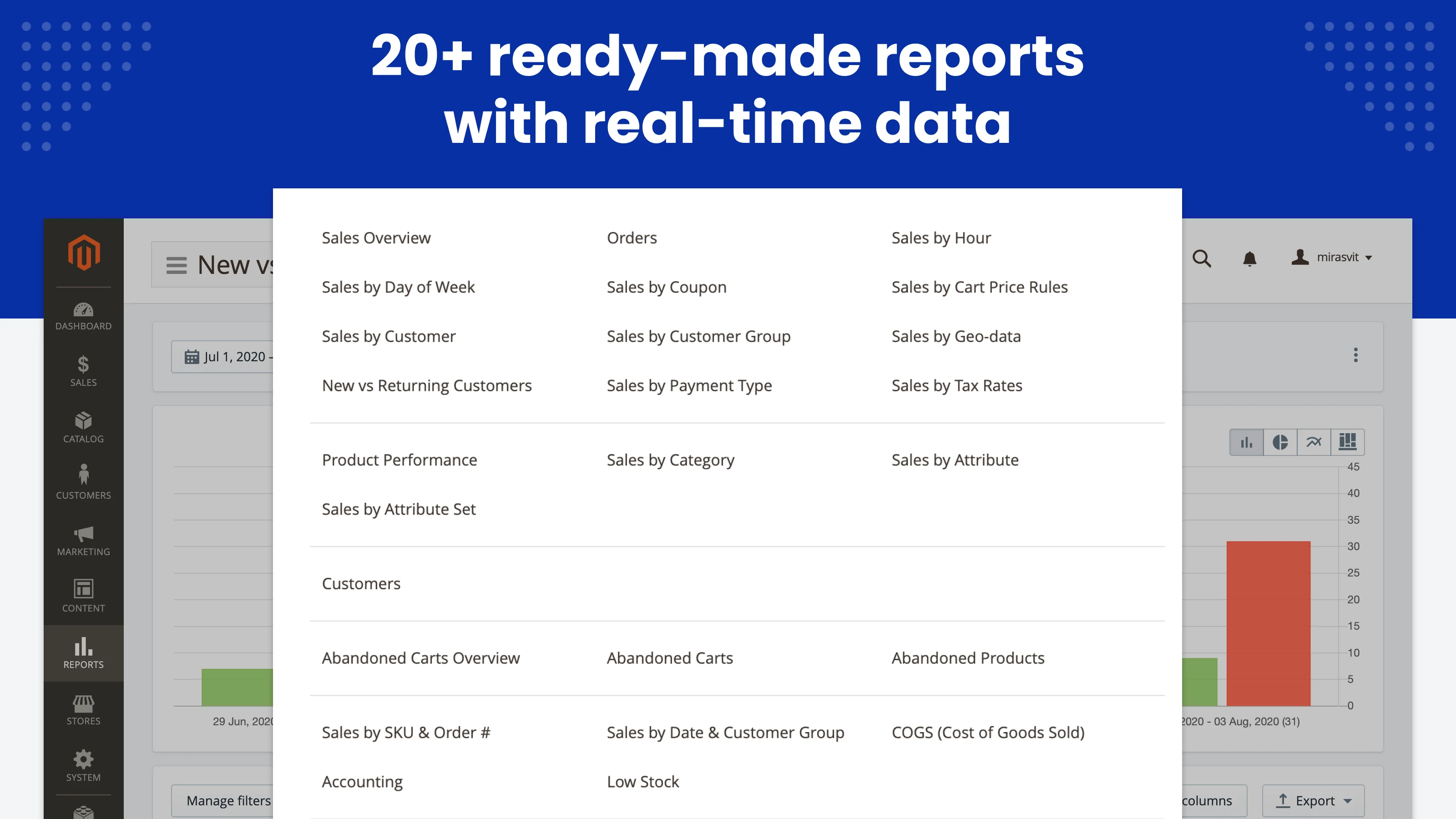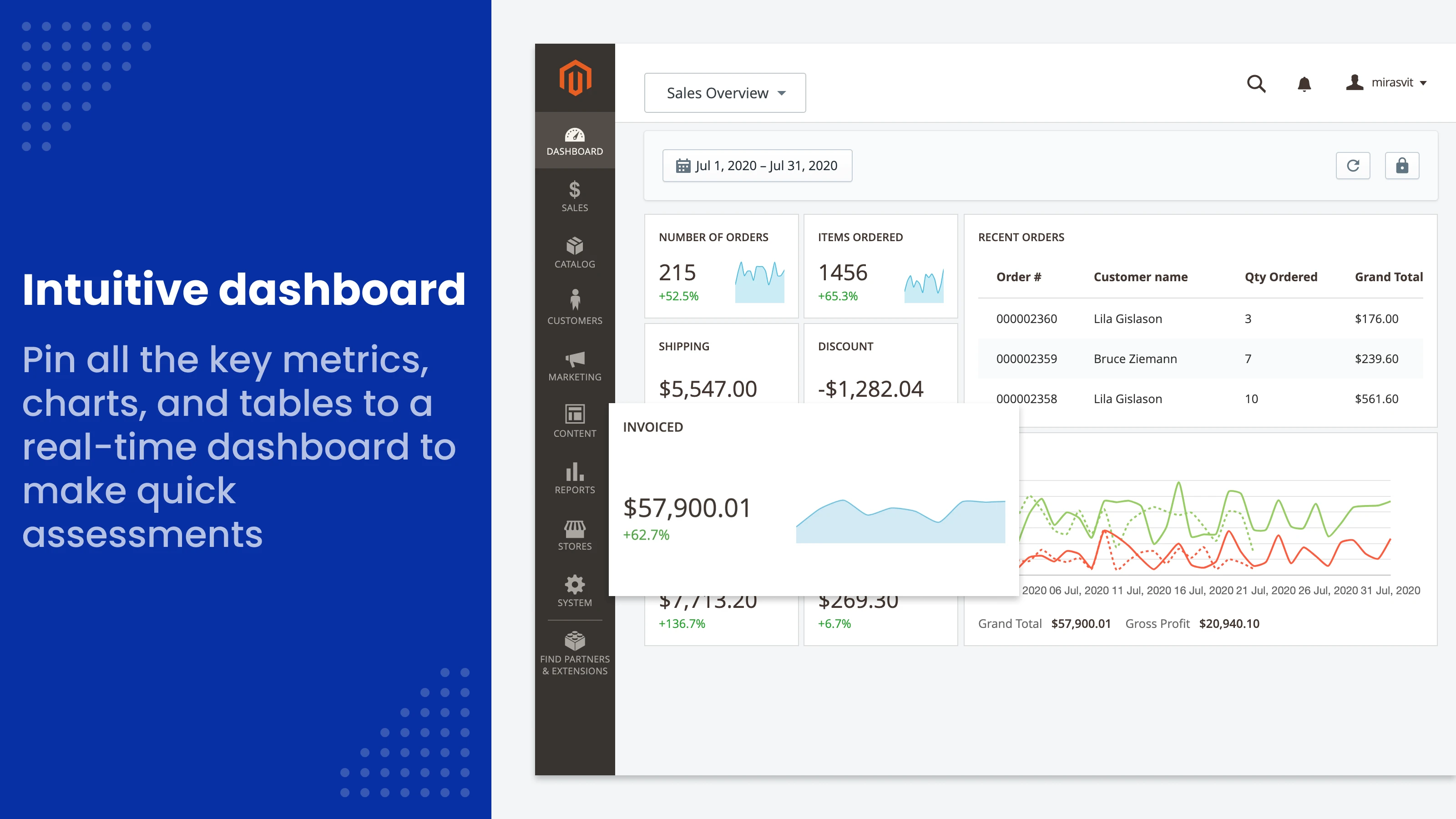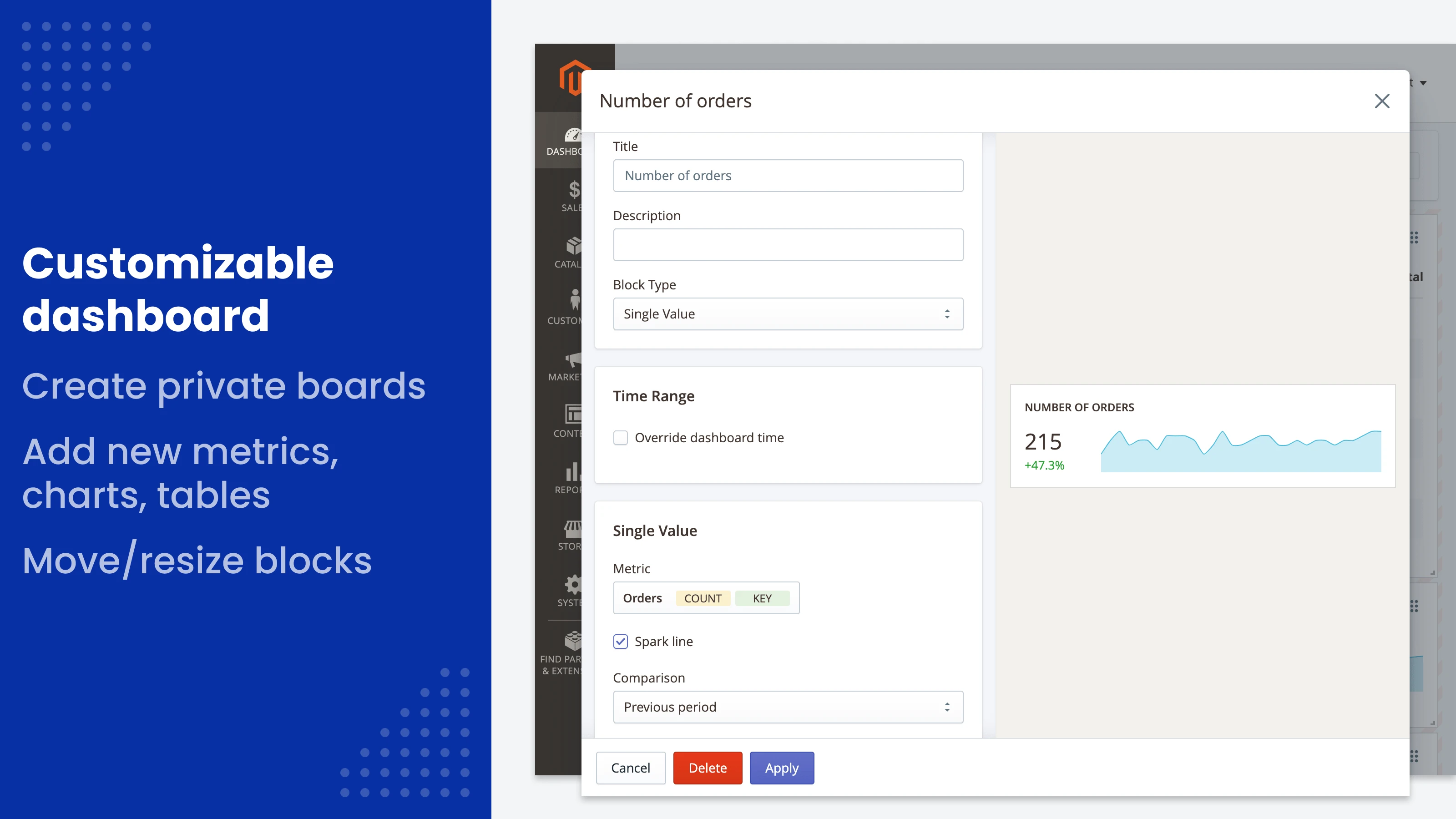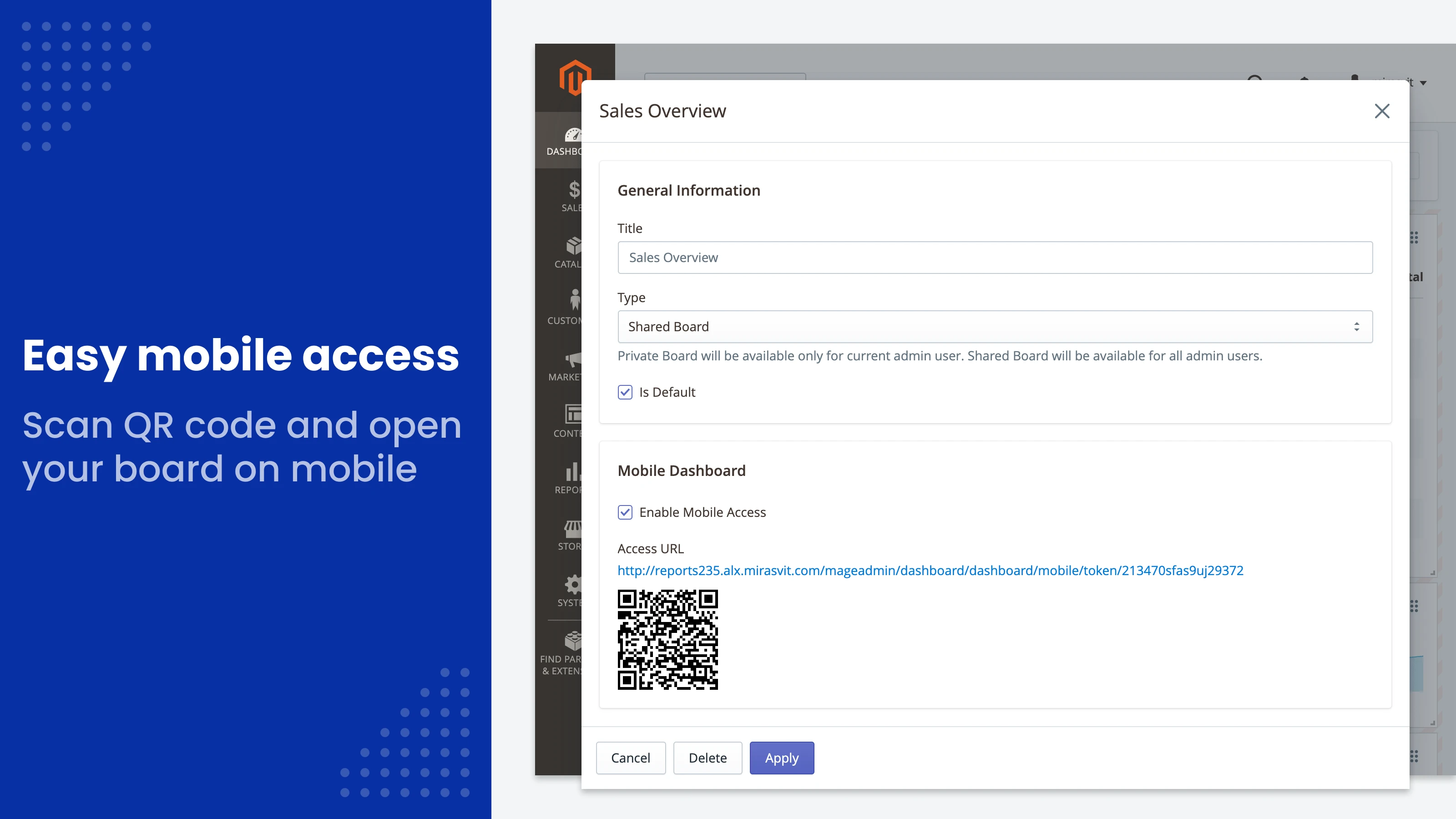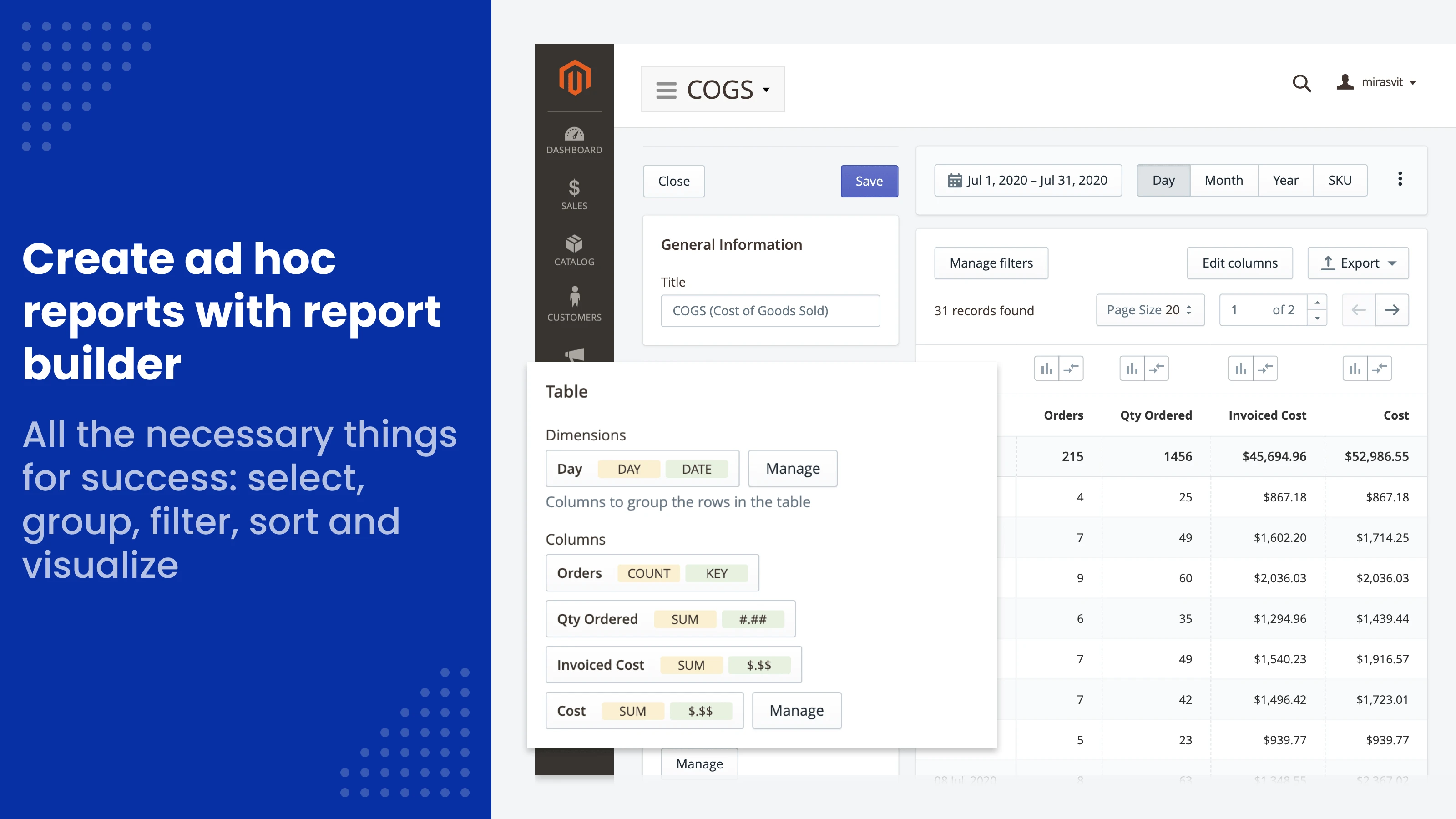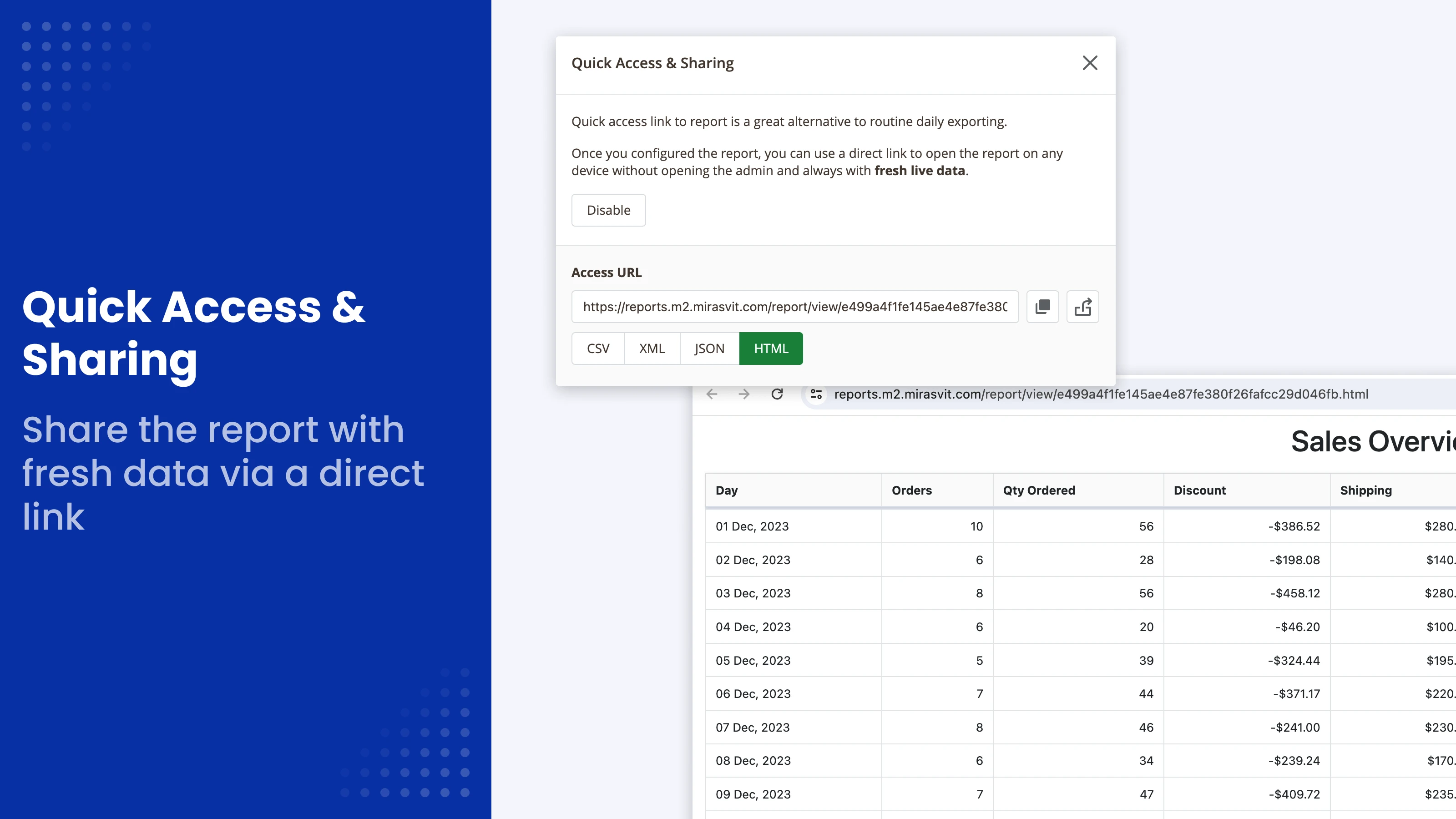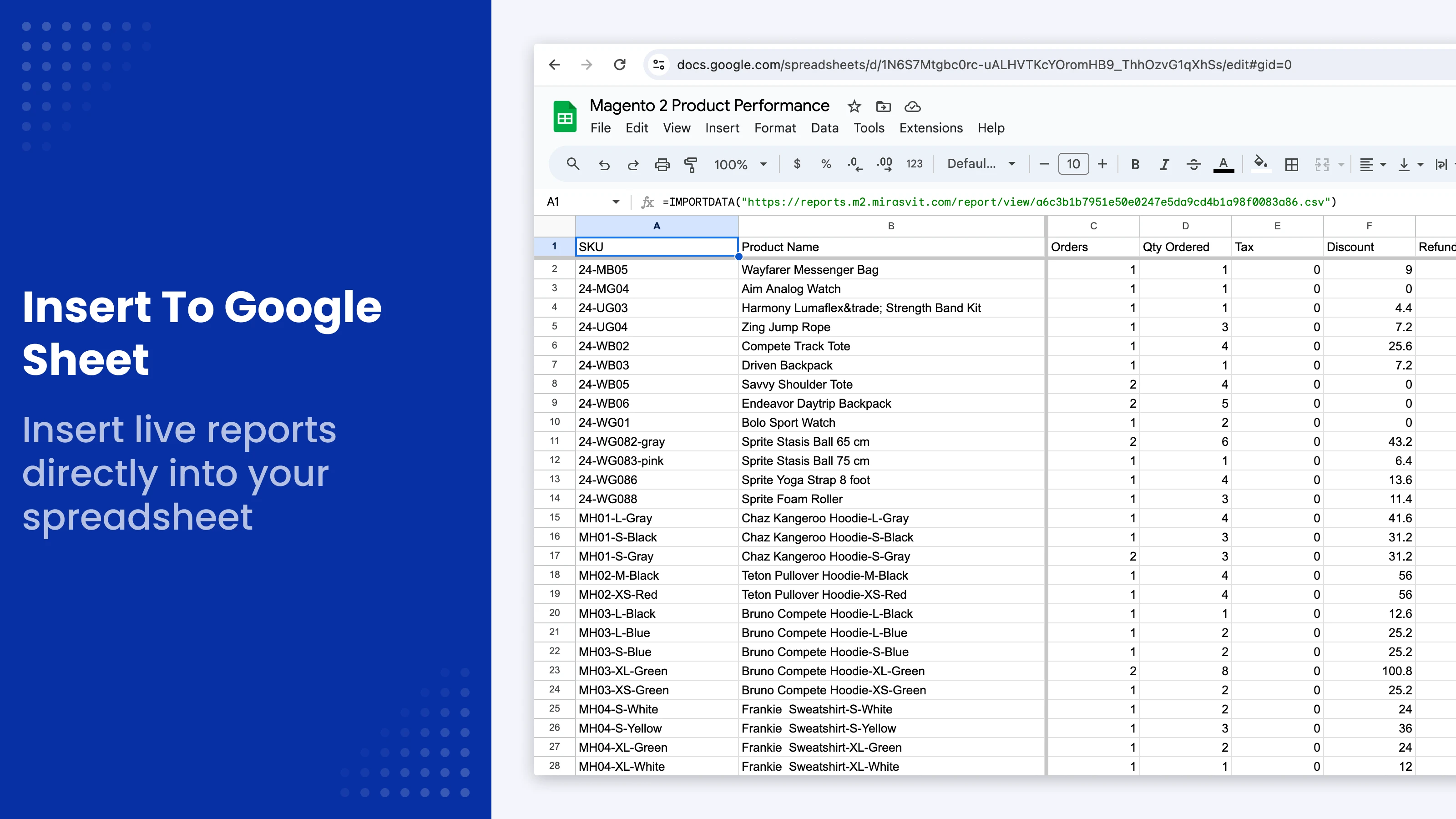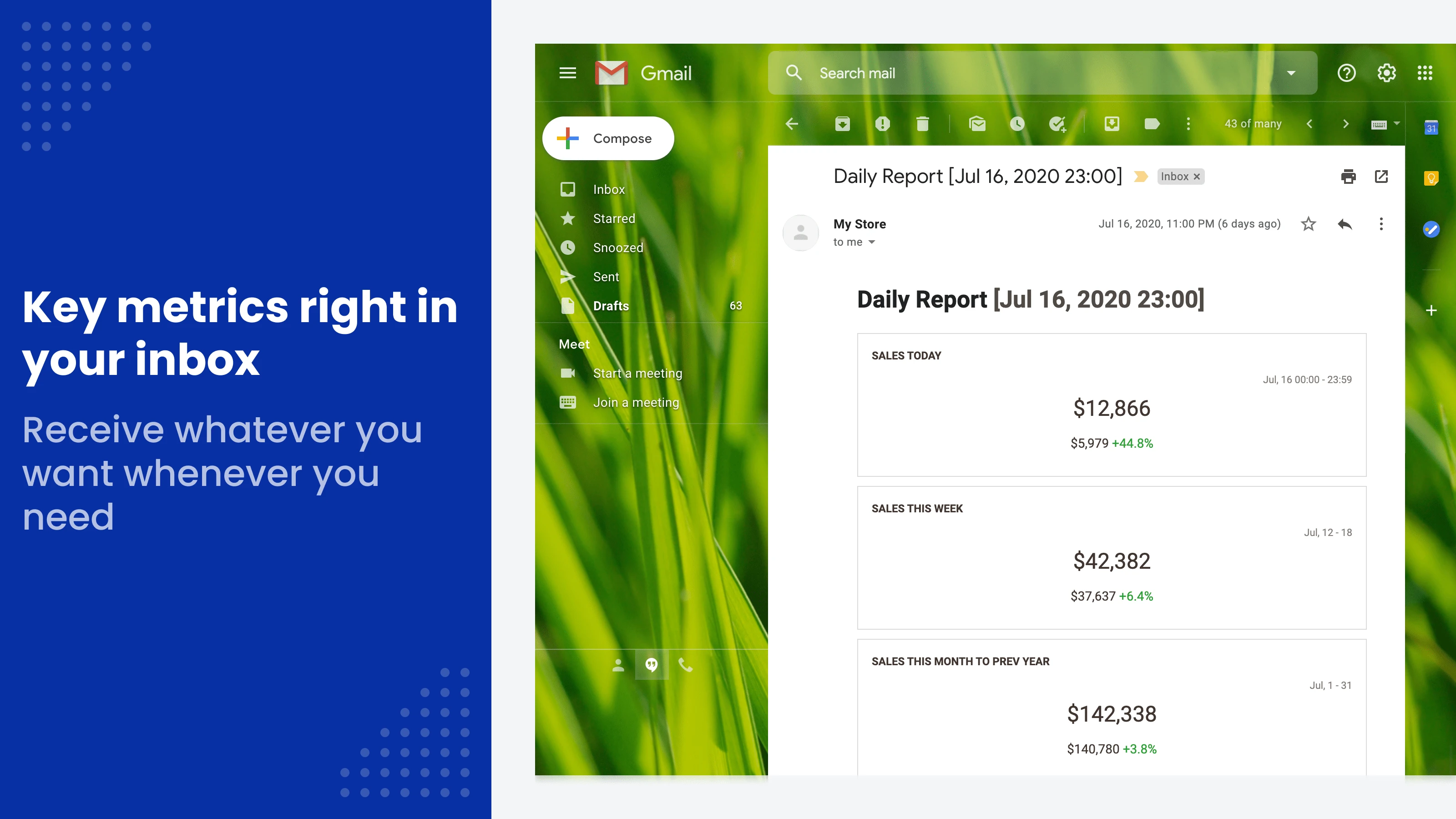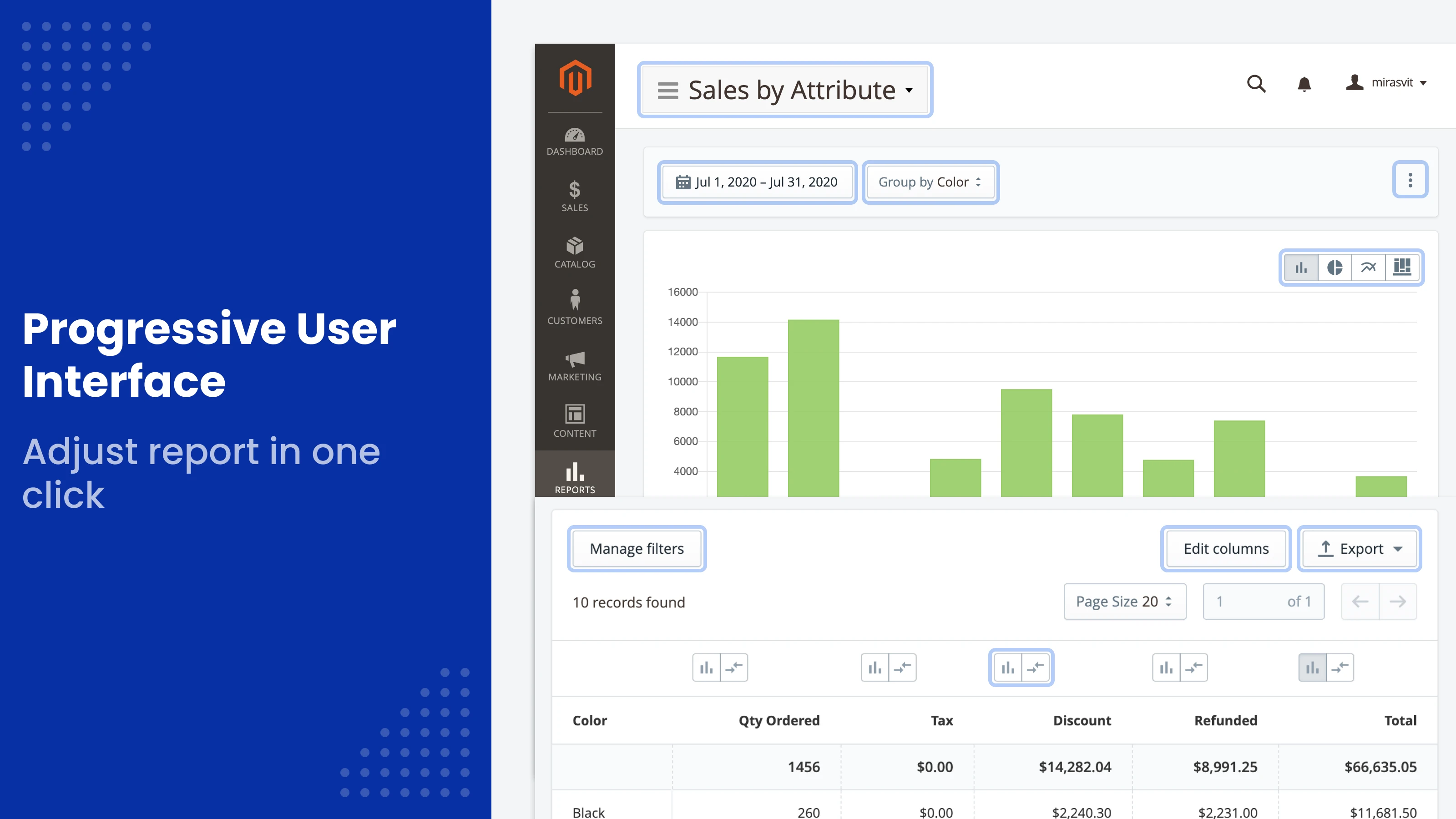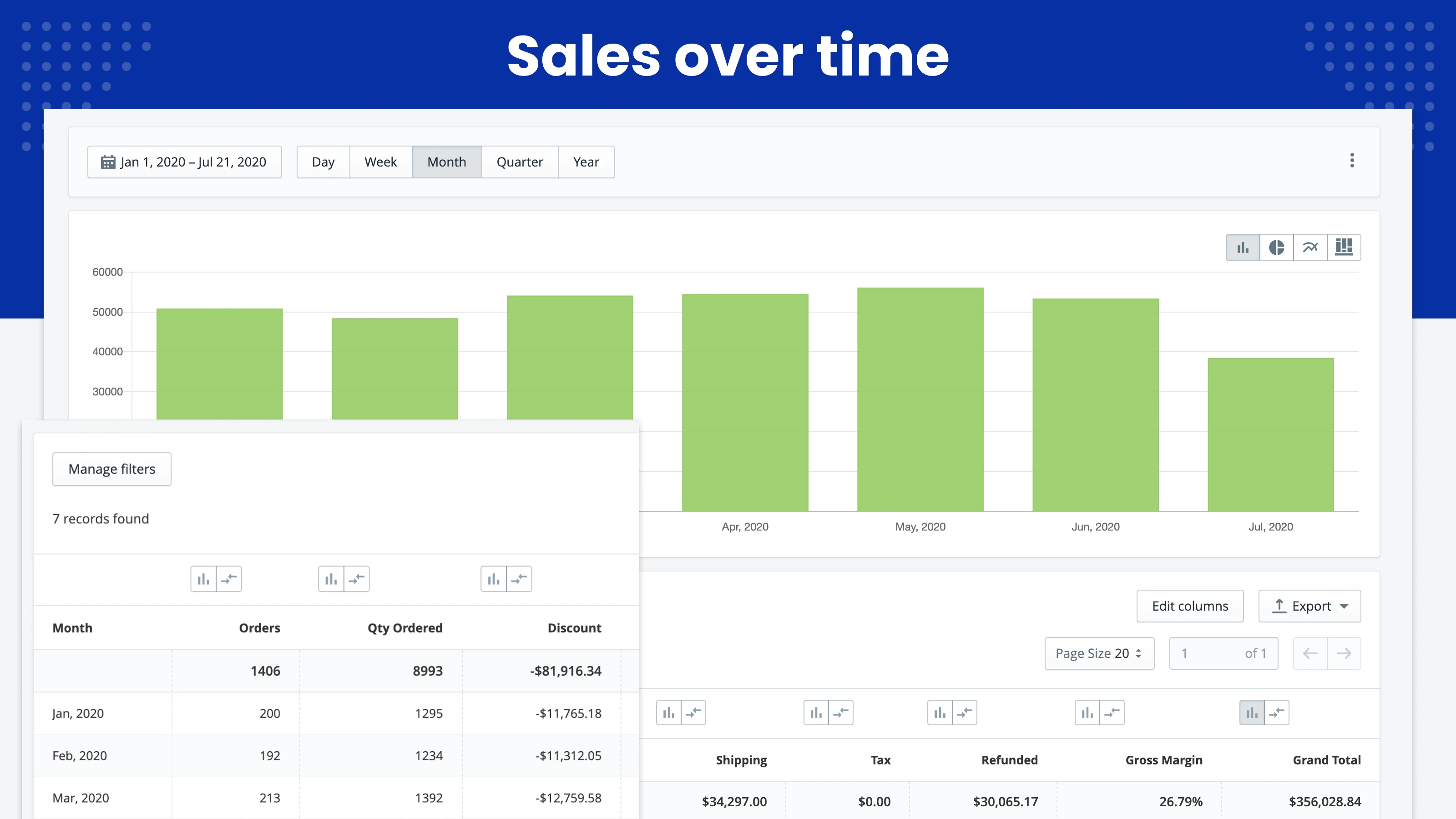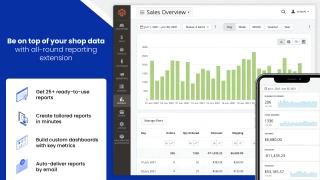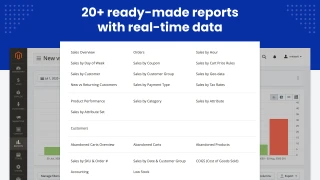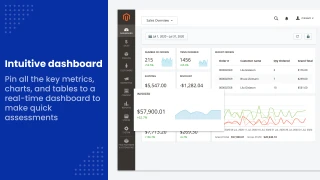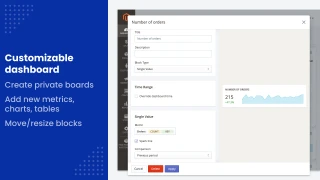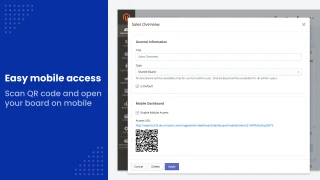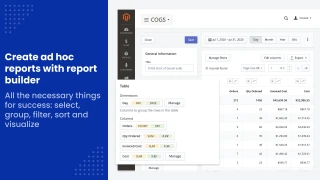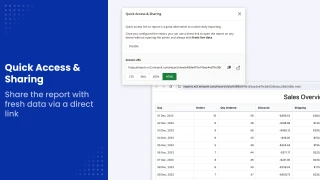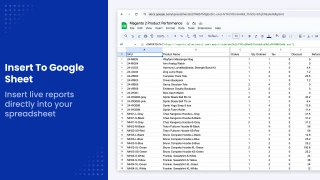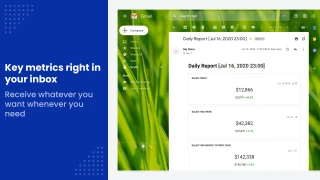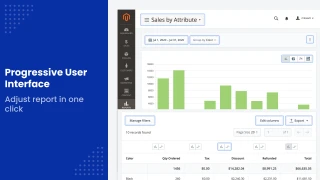 Business Value
Opportunity
: High quality analytics is vital for your online store's success. You've got to have a comprehensive suite in order to better understand your target audience, optimize the funnel, stay on top of the trends, invest in the right areas, diagnose problems, and more.
Problem
: Magento's default analytics is barely enough for creating a basic sales report. It won't let you analyze all the necessary information. You can't customize the reports. On top of that, the interface is far too rigid.
Solution
: Our Magento 2 reporting extension is a complete solution that will get the most out of your data. It supports any and all data from your database. You can duplicate and fully customize any of the 20 reports. There's even multi-dimensional grouping, and you can create brand new columns. Last but not least, its interface is flexible yet very simple to use.
Ready-to-use Reports
Gain valuable insights right after installation
The module includes 25+ reports any online store needs:
Sales Overview
Orders Overview
Sales by the Hour of the Day
Sales by the Day of the Week
Sales by the Coupon Code
Sales by the Cart Price Rule
Sales by Customers
Sales by the Customer Group
Sales by Geodata (Country)
New vs. Returning Customers
Customers Overview
Sales by the Payment Type
Sales by Tax Rates
Product Performance
Sales by the Category
Sales by the Attribute
Sales by Color, Brand, etc
Sales by the Attribute Set
Abandoned Carts
Abandoned Products
You can also create your own reports with a built-in Report Builder tool.
Deep analytics
See extended statistics on dashboard
The module shows you insights of your business' performance that go way beyond the default Magento dashboard capabilities.
You're not limited to data on Lifetime Sales, Average Order, Last Orders, Last Search Terms, and charts on orders and revenue.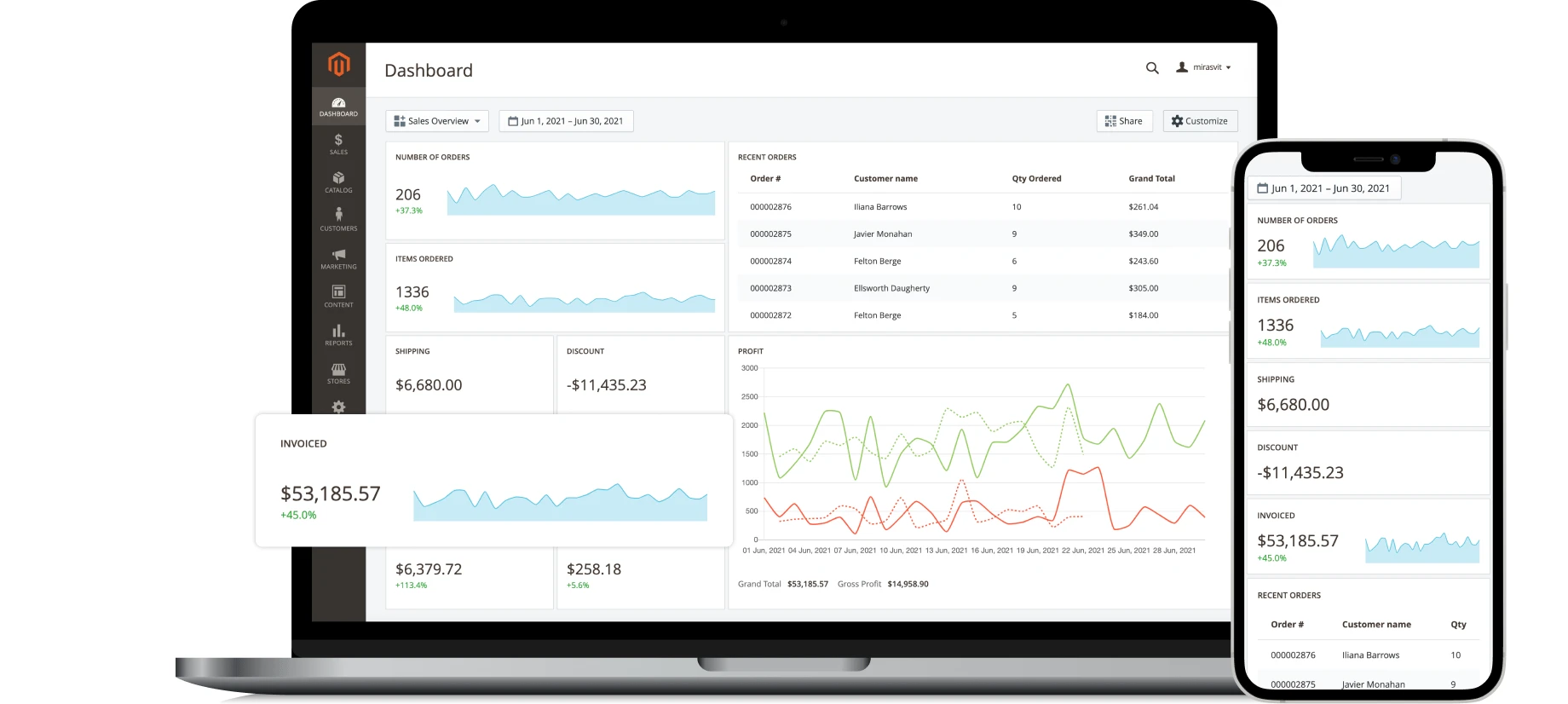 Get all important KPIs and data such as Low Stock Items, Refunds, Discounts, Invoiced, Grand Total Summary. Choose the preferred display format of this info: single value, table, or chart.
The advanced dashboard of this Magento reporting plugin presents you with the necessary reports so you can quickly see the dynamics of your business. Hover the mouse cursor over the chart to get the info for the particular day you need.
Exceptional Flexibility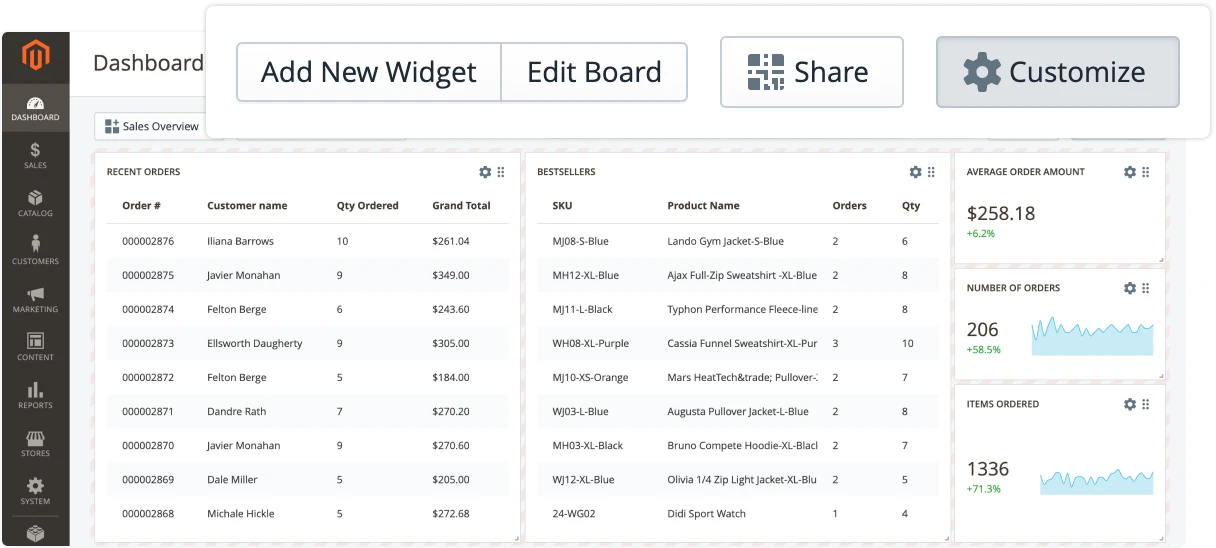 See the data you multi-need on the dashboard
With the extension's flexible interface of the Advanced Reports, you get the ideal tool for configuring the data visualisation that best suits your business needs.
Choose what matters most. You can customize each widget to get an individual dashboard that presents the information which is most valuable to you.
Add any widget that you need to the advanced dashboard and change each widget's output.
Rearrange widgets with a simple block-based drag and drop interface. Resize the widgets to highlight the most important statistics.
Custom Dashboards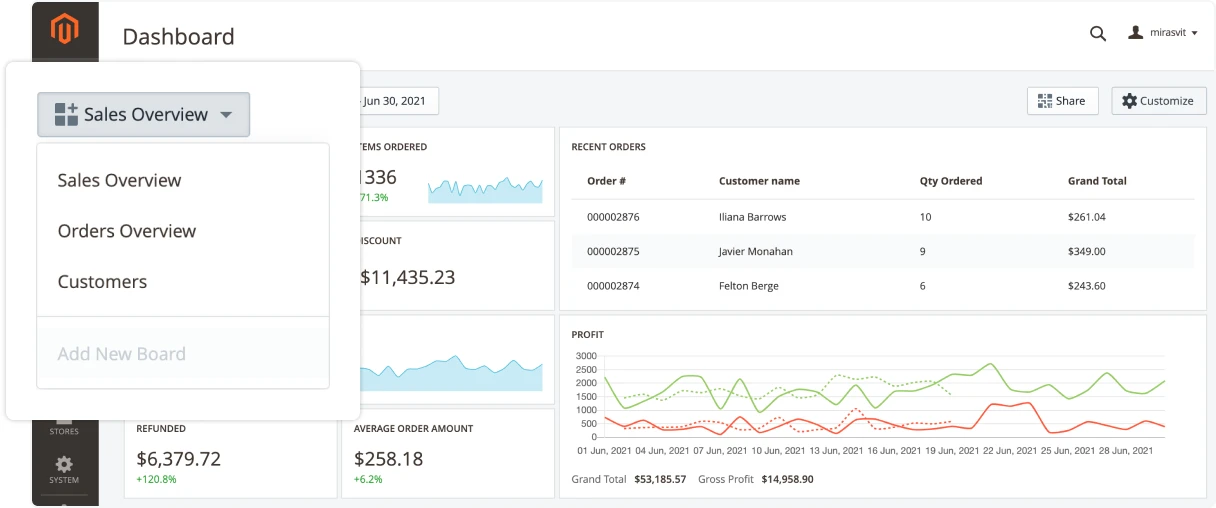 The Advanced Report module replaces your admin panel's standard dashboard with a custom one which only displays the data you need.
Advanced Reports for Magento 2 allows you to create several dashboards to display your store's KPIs in the most convenient way.
Create designated dashboards to fulfill the needs of your entire team: business intelligence, marketing, sales, etc.
In-depth Customization
Take a look at your data from every possible angle
You can tweak the way the report is displayed at any time thanks to the intuitive UI of the Advanced Reports Magento 2 dashboard extension. For instance, you can: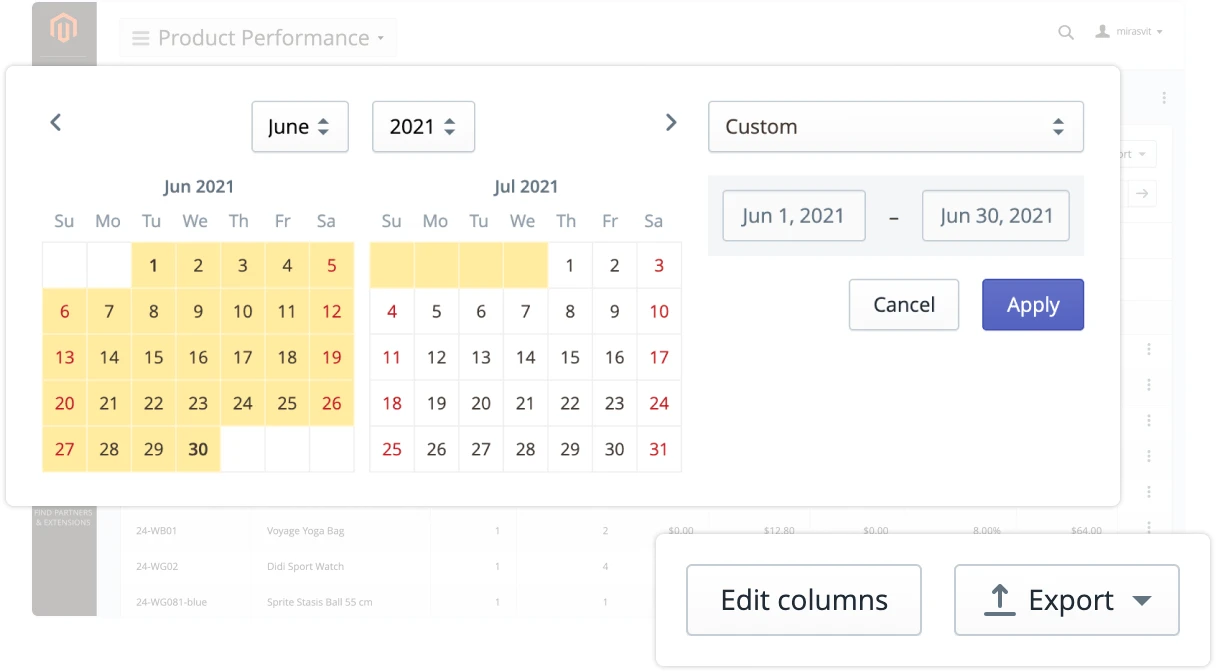 Switch time frame presets or select your own range
Add or remove columns
Change the column order
Show or hide the columns
Alter grouped data dimensions
Filter reports by any variable
Sort the report by any column
Create your own KPI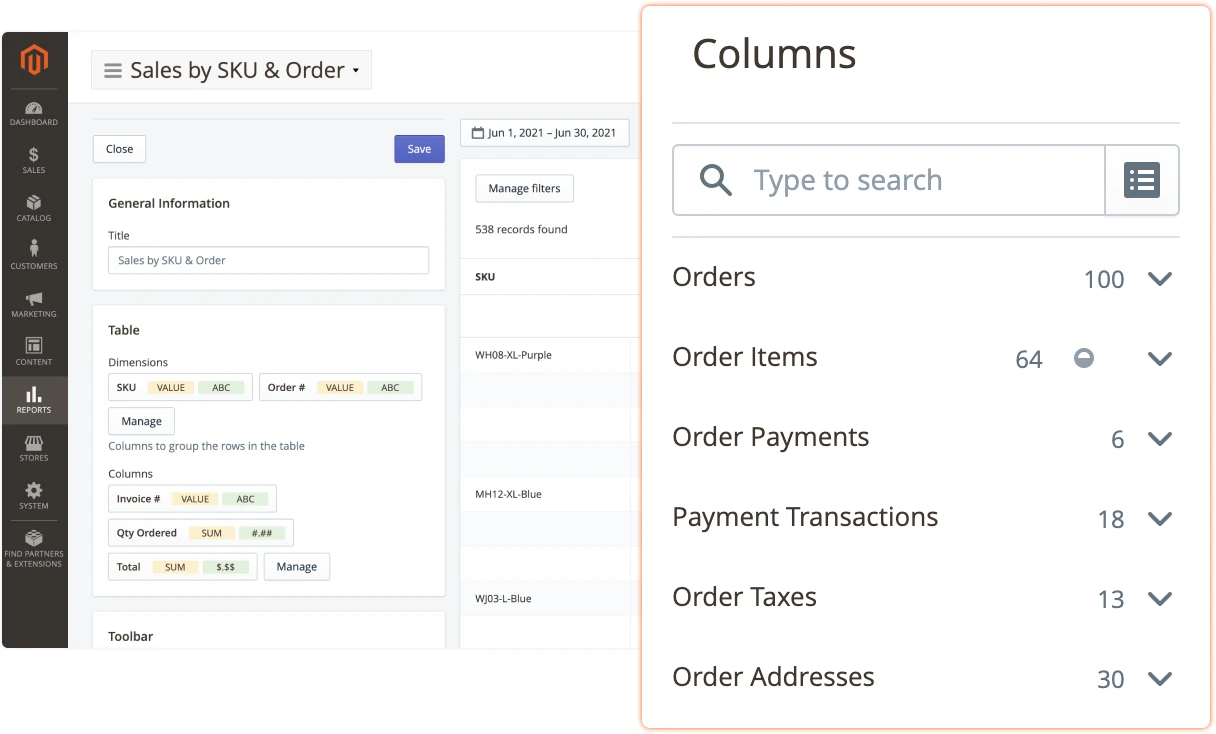 Get reports on any store metrics
You can analyze any information that is available in the database of your Magento e-shop. The module supports all types of data contained in your store.
Build your own reports by using the custom report builder tool.
Get a quick view of the necessary information with additional blocks on the Magento 2 advanced reports dashboard. Choose the respective metric you want to display.
Additionally, you can display a comparison of the selected data to the previous period, same periods last week, month, and year.
Geographic Reports
Review your customers' location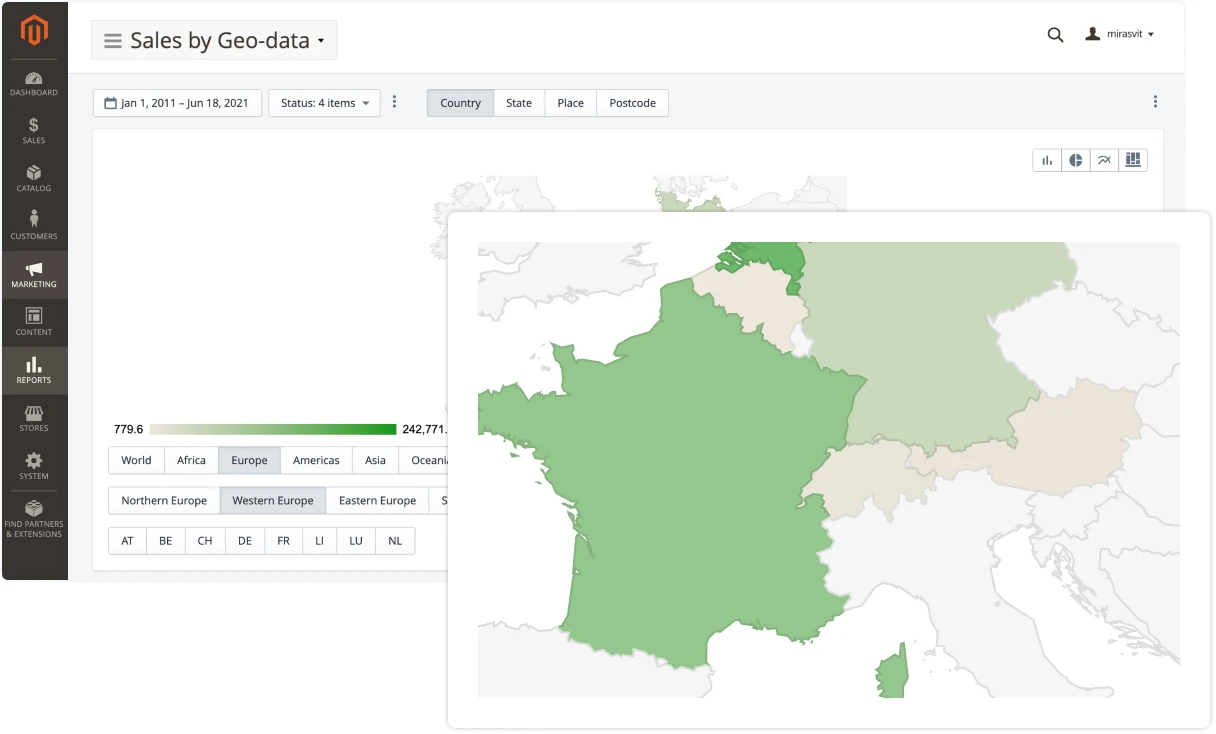 The module includes a geodata report where you can look at sales on a world map. You can zoom-in into separate regions of Africa, Europe, the Americas, Asia, and Oceania. Each zone is split into smaller regions for the convenience of analyzing sales by country.
The Advanced Reports module is capable of showing the sales report even for states, cities and postcodes.
The map is interactive, so you can hover the mouse to get the exact numbers for a region or city. You can look at the geodata report to find markets with the most potential for your store.
Four Visualization Options
Make your analysis clear to everyone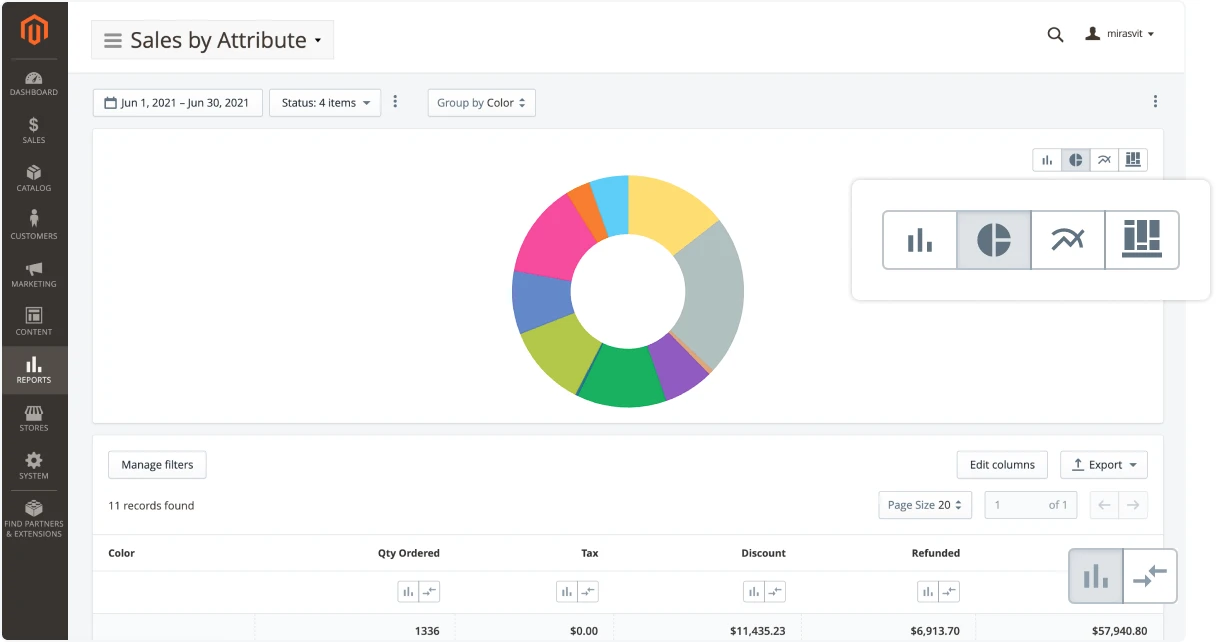 You can present any available data in the the best visualization format that is most comfortable to you. View information on the bar chart, the pie chart, the area chart and the histogram in any report.
The detailed numbers for any report are located below the chart and you can add it go graphical representation.
Add data columns to visualize visualize any information categories you need on the chart.
Select the status of transactions for which the data should be depicted on a chart. It can be canceled, complete, on hold, pending payment, and others.
Share dashboards
Send reports to third-party agents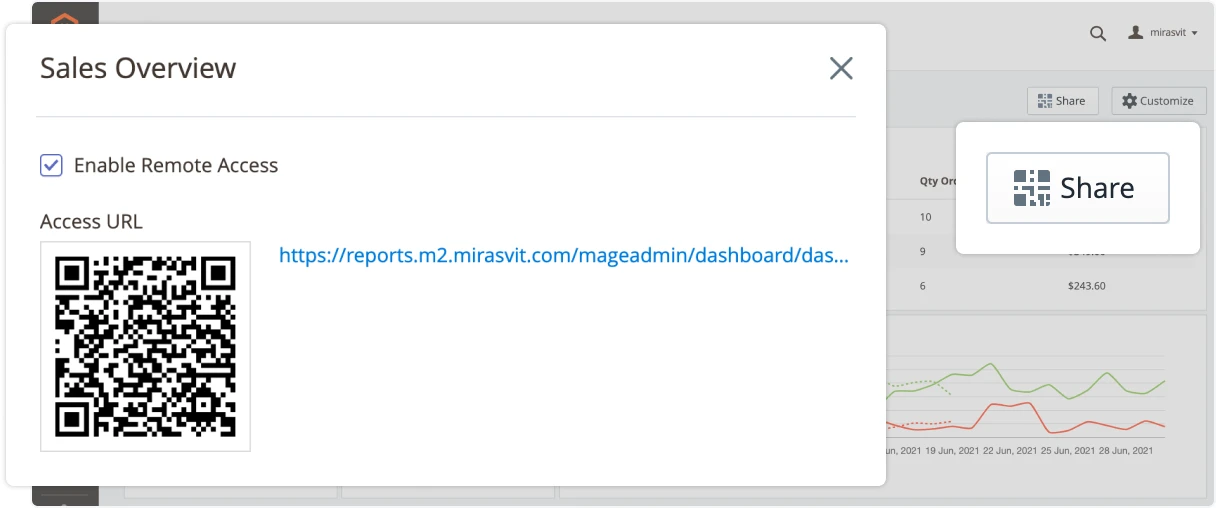 You can send the dashboard's direct URL to anyone without needing to share admin access to your admin panel.
Just create a board, add the widgets that you allow to be seen, and share the link with anyone.
For example, you have a couple of vendors and would like to share the metrics for each vendor but don't want to share the summary metrics for all vendors.
All you have to do is create a separate dashboard for each vendor, apply a relevant filter by vendor, and share these links with its representatives.
Ready for mobile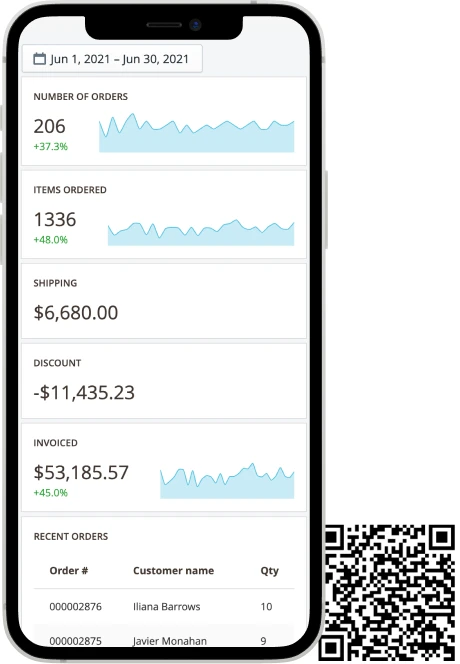 Access to the advanced dashboard on the go
With the Magento advanced reports module, you can check the reports on your store with your smartphone.
Any created advanced dashboard can be accessed via mobile device. Simply scan the QR-code of the dashboard with the camera of the smartphone.
Report Builder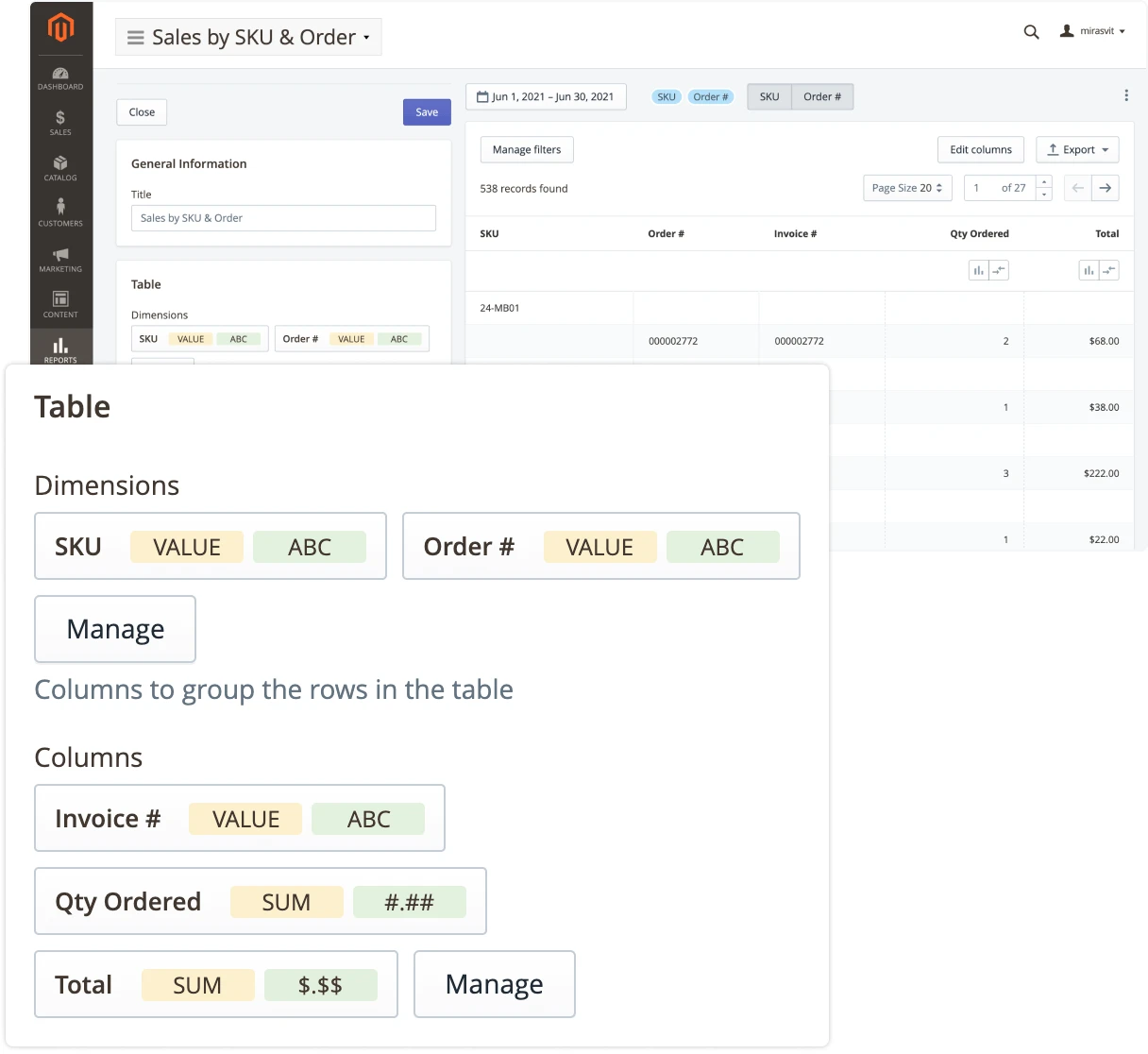 Cover any business need
Create Magento 2 custom reports with any data from your database. Simply duplicate an existing report and edit the copy to your needs.
Carefully craft the report by including the desired data dimensions and columns. Display only the information you need by applying primary filters.
Use internal filters with logical conditions to flexibly exclude irrelevant information from the report.
Multi-dimensional Grouping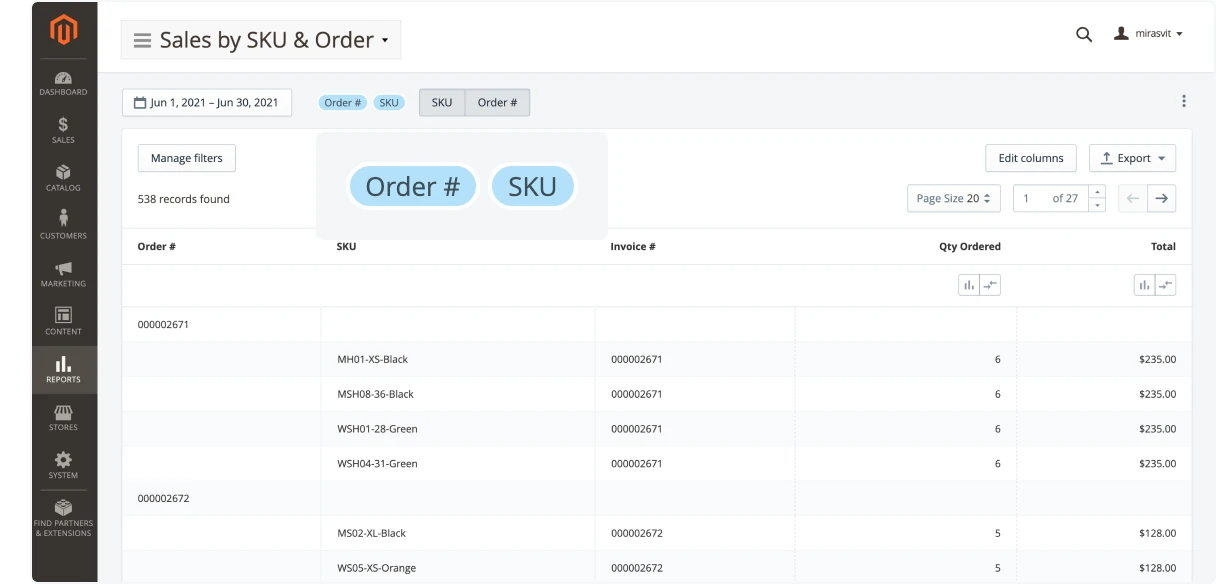 Group the report by several attributes
Report Builder in Mirasvit Advanced Reports lets you add dimensions to your tables.
Create reports with data sets congregated by the parameters you need. Combine customer group and the order number, SKU and order status, or the day and the order number.
As a table dimension, you can use any data column to group the information from the database of your store.
Config Builder

Create your own columns
Maximize the efficiency of your reports by adding more data to the grid. Craft your own columns in addition to dozens of those that your store's database provides.
Built-in Config Builder tool allows you to add columns that calculate a function from several other columns on the fly.
Configure your custom columns using the two provided examples of Custom Gross Profit and Relation column. Create them with XML Config.
Custom Report Examples
Report on sales by the SKU and the order number
Easily track your goods since this report groups sales by two dimensions: SKU and the order number.
Sort the list by SKU to see how many orders include the particular SKU.
Filter the list by ordered quantity to get the most popular SKUs and the their quantity in each order.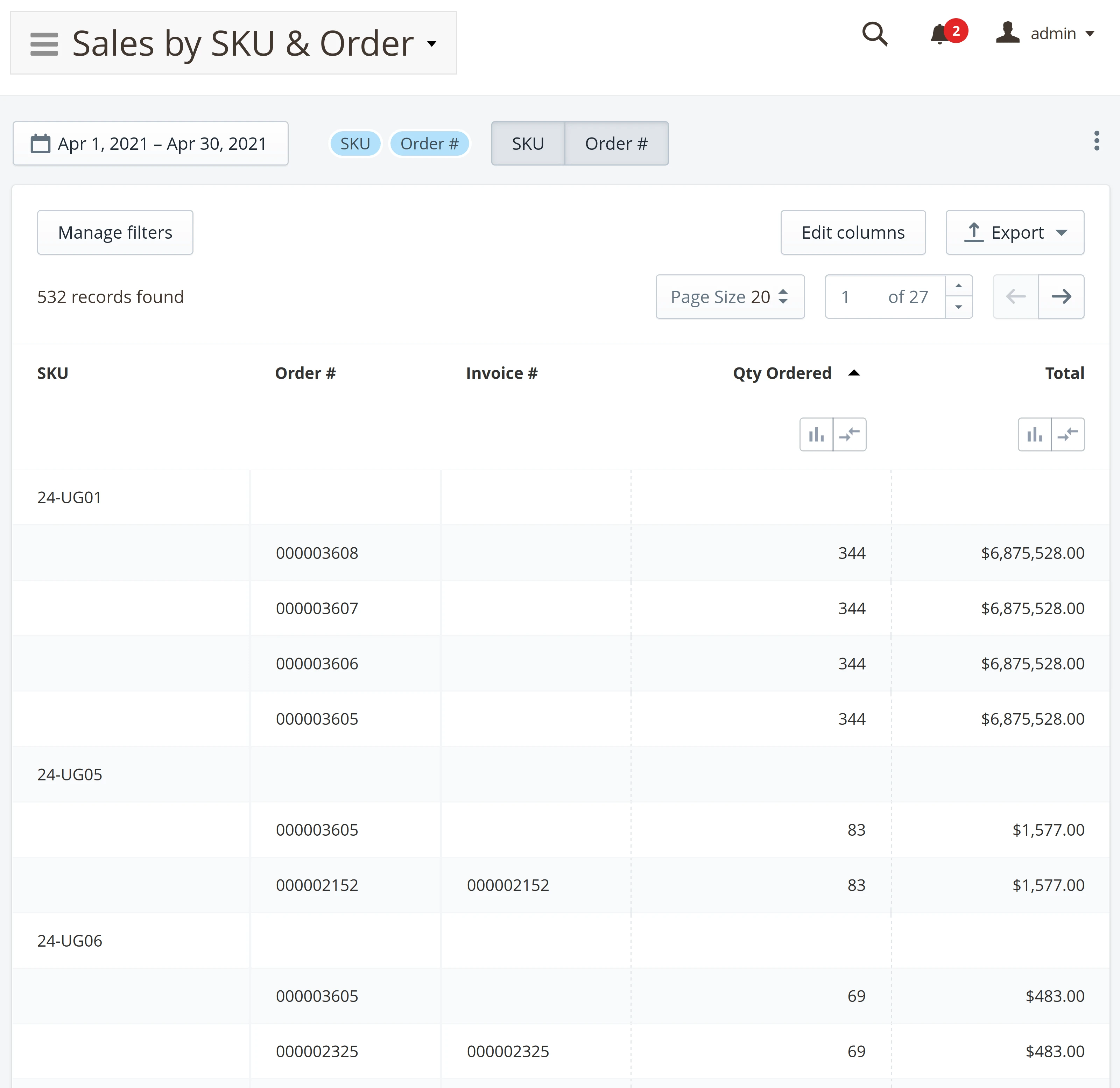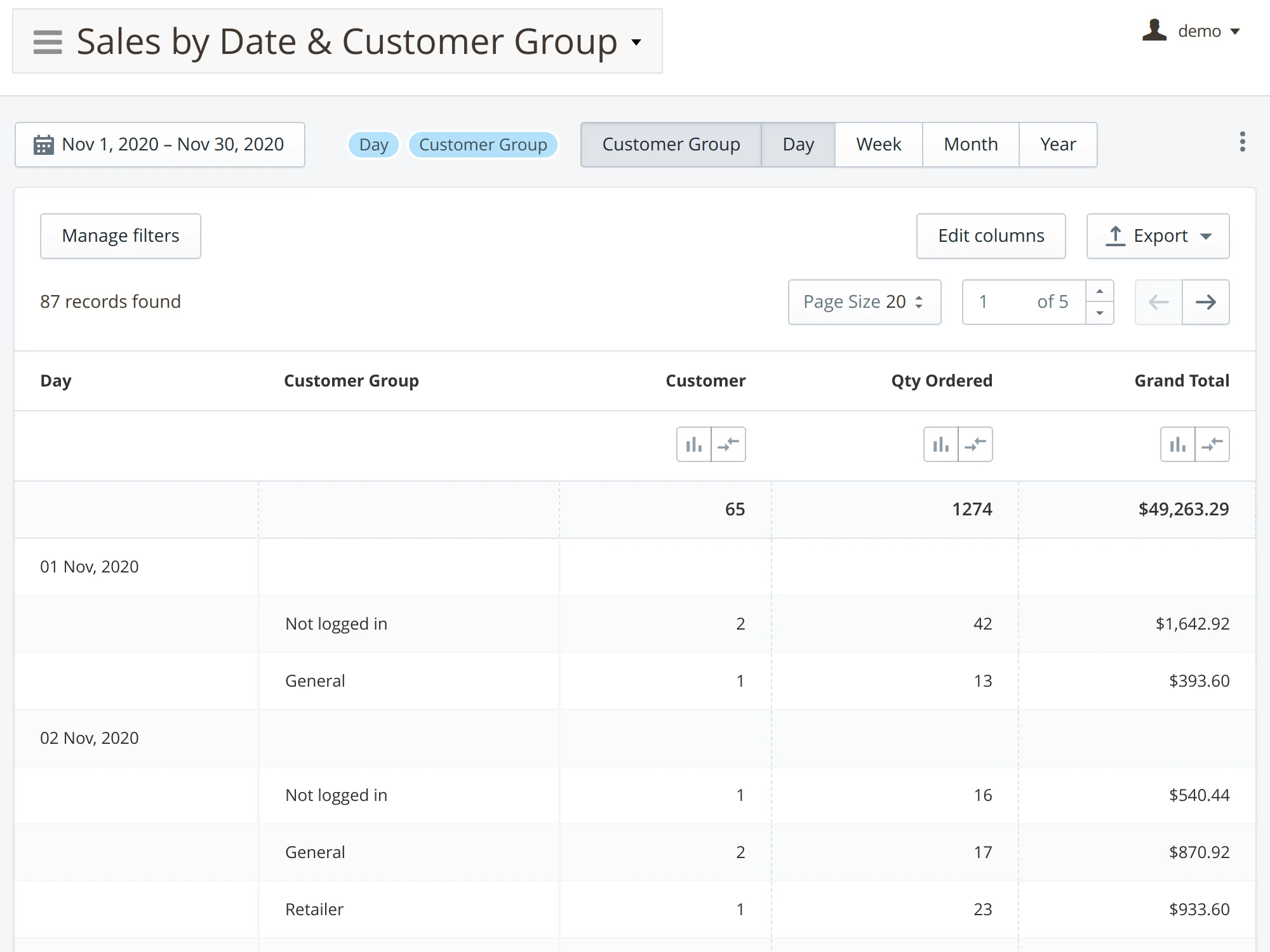 Report on sales by the date and the customer group
This report groups sales by two other dimensions: date and the customer group.
Display the report for day, month, and year to track what types of customers purchase from you the most. See the ordered quantity and the grand total by each group of customers.
Add the SKU column to the report to see what products each group of customers purchased.
Report on Cost of Goods Sold (COGS)
The Advanced Reports plugin allows you to display the invoice cost and inventory cost for products that the store sold during a selected period.
Group it by the time frame (day, month, year), store view, SKU or according to any other attribute.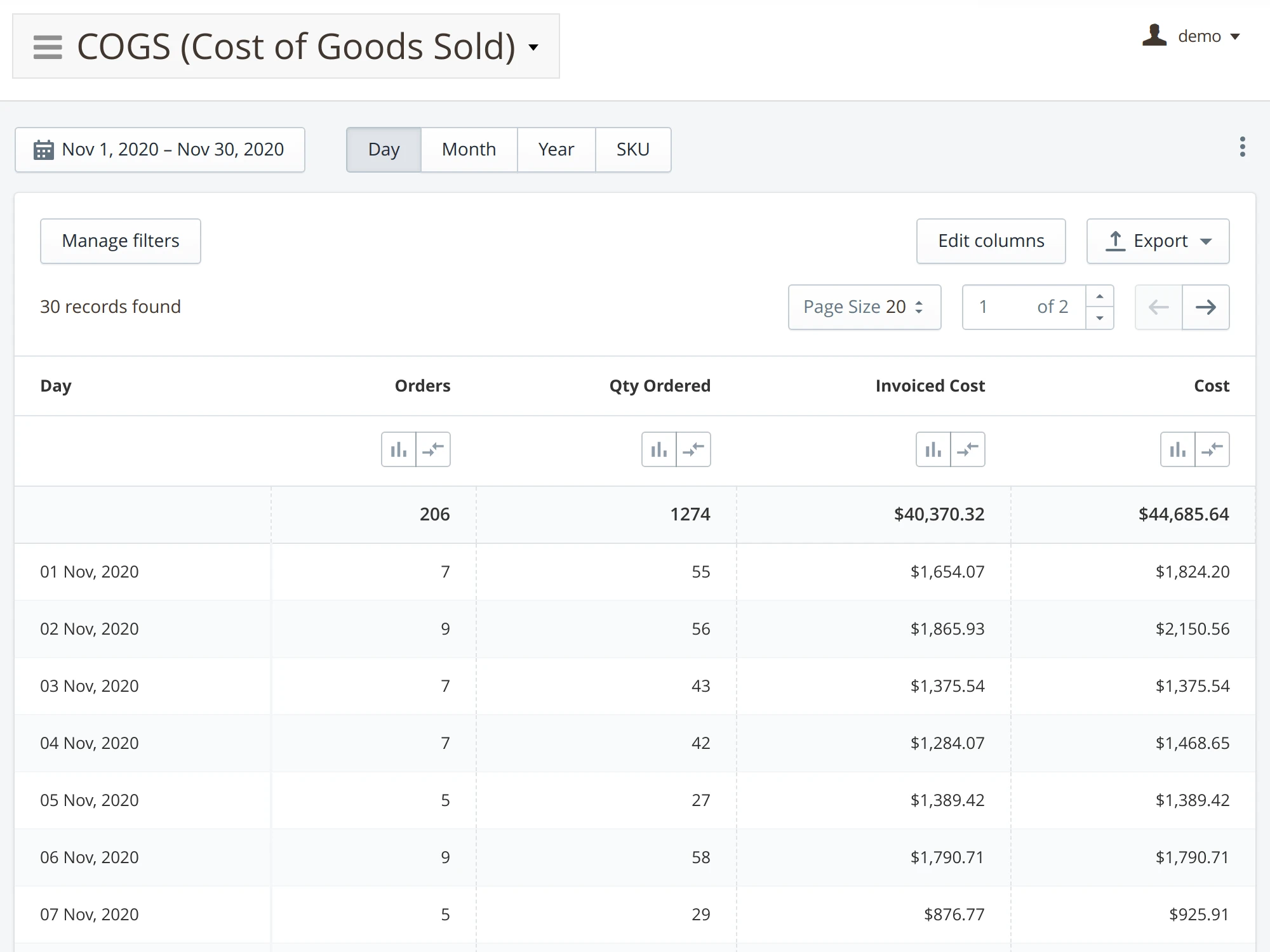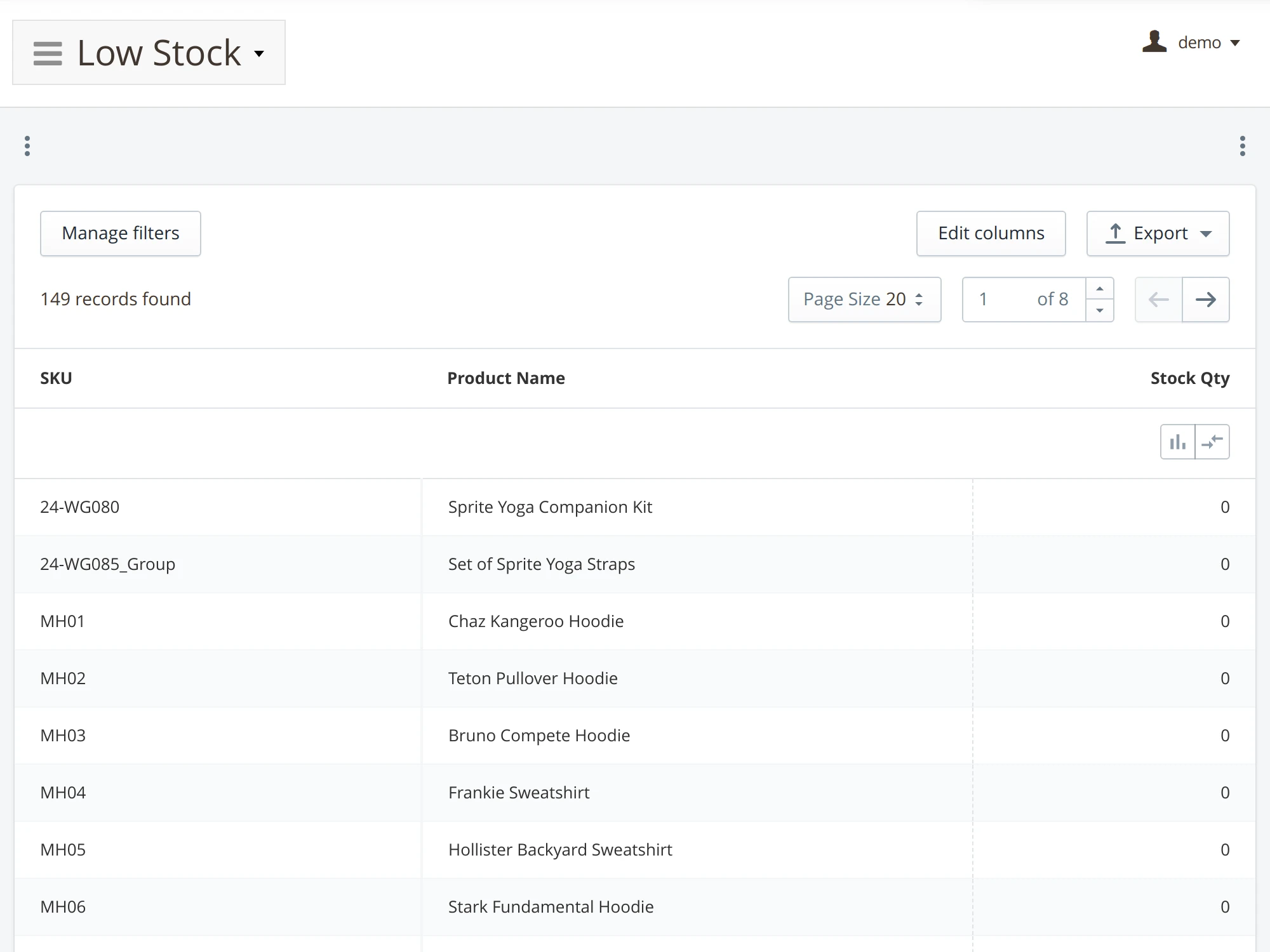 Report on low stock
The Advanced Reports extension can inform you on what products to resupply first.
This report displays the items available in your store filtered by their remaining quantity in stock.
Quick Access, Sharing, and Integration with Google Sheets
Quick Access & Sharing
New
For each report, you can enable quick access to share it with your team through a direct link.
Additionally, you can use quick access to download the report in CSV or XLSX formats without opening the admin panel. Even with quick links, all reports are generated in real-time, ensuring they always provide fresh data.
The direct access links can also be used as data providers for integrations with various external systems such as Google Sheets, Microsoft PowerBI, Zapier, Excel, Exploratory, and many more.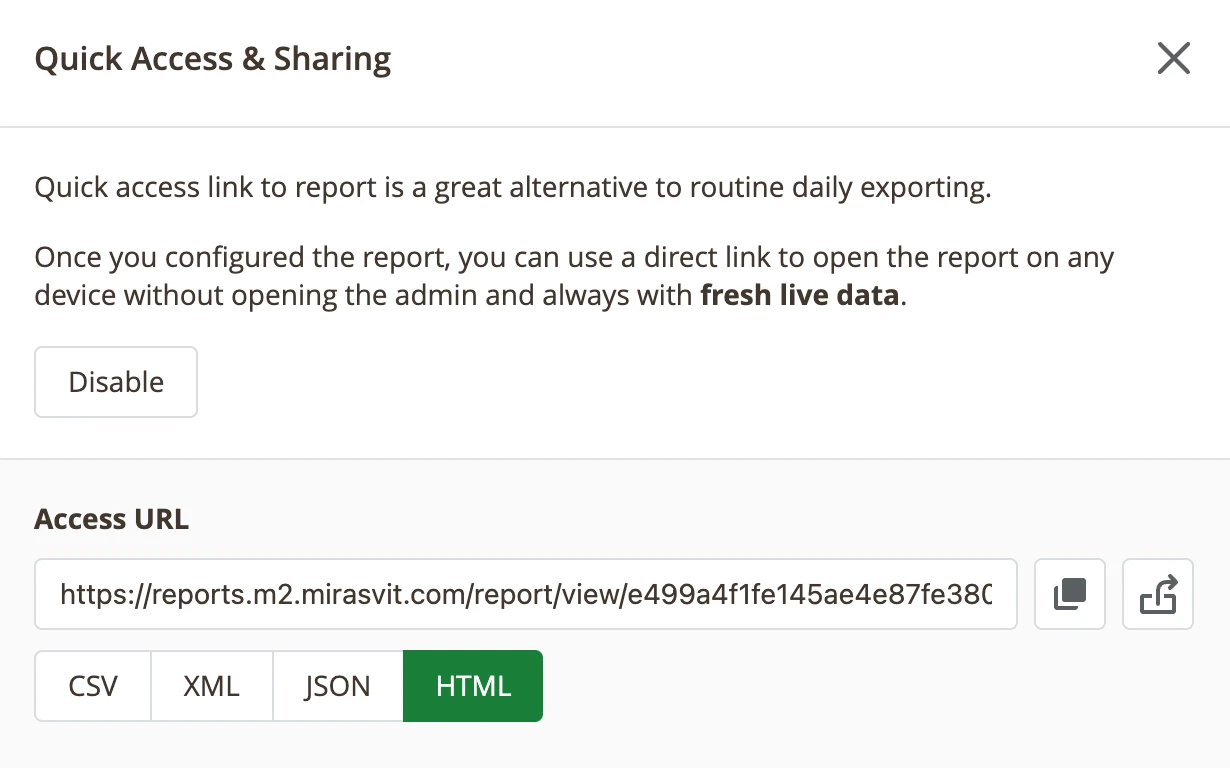 Integration with Google Sheets
New
With seamless Magento 2 integration with Google Sheets, you don't need to export and import data each time. Just use the built-in Google Sheets functions to import the most recent information from your reports directly to spreadsheets.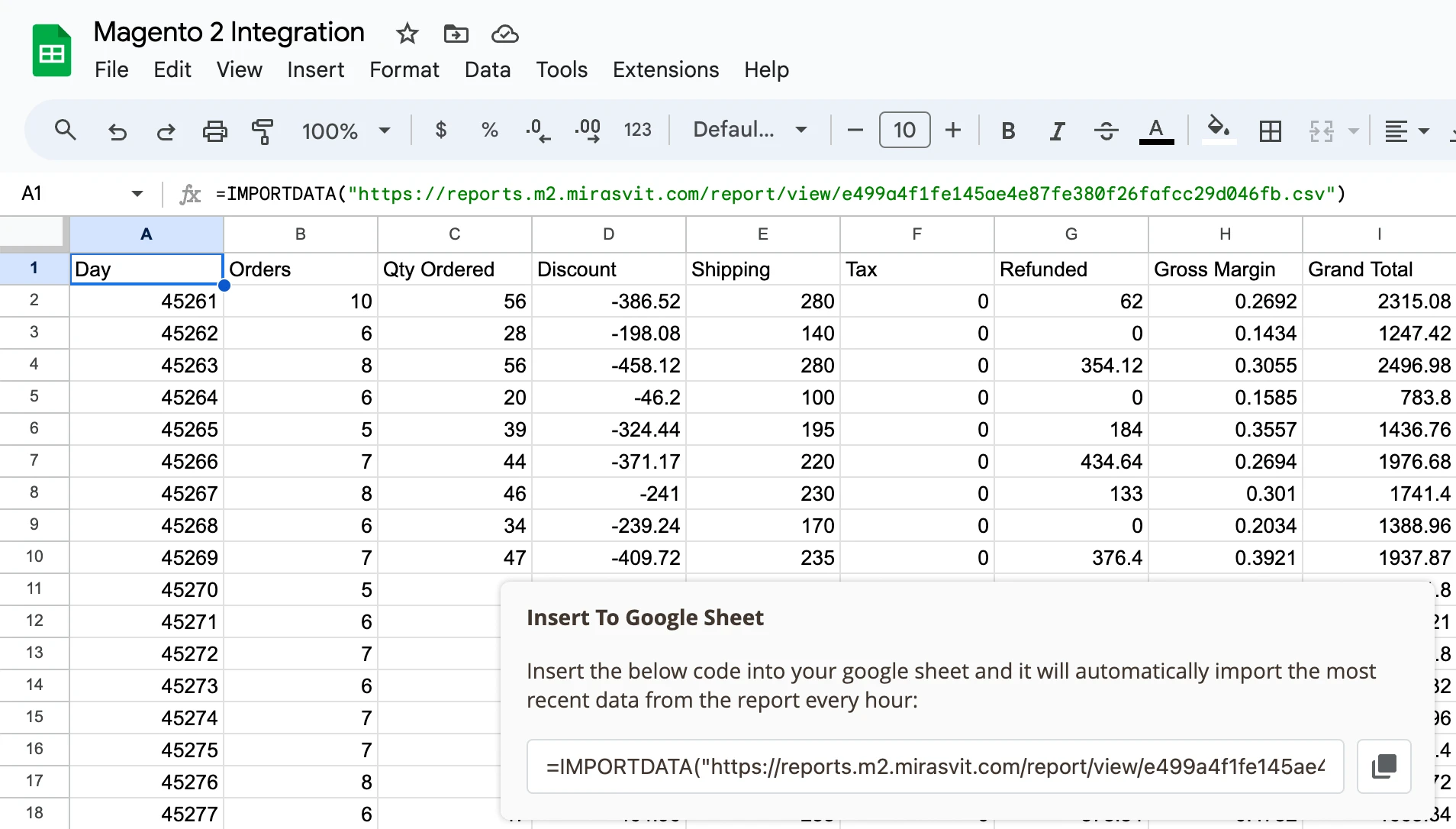 Easy Report Export
Send reports and save them locally
You can export a CSV or an Excel XML file of your report in order to create a backup, continue working on it locally or upload it to any other analytics suite.
Store reports locally by saving them to files from the admin panel.
Have the information emailed to your team members automatically.
This Magento reporting plugin can regularly send emails with any reports with the option of scheduled report delivery. You can configure flexible schedule options by using cron-like expressions.
Configure the Advanced Reports extension to send the report as one file or attach each block of the report as a separate CSV file.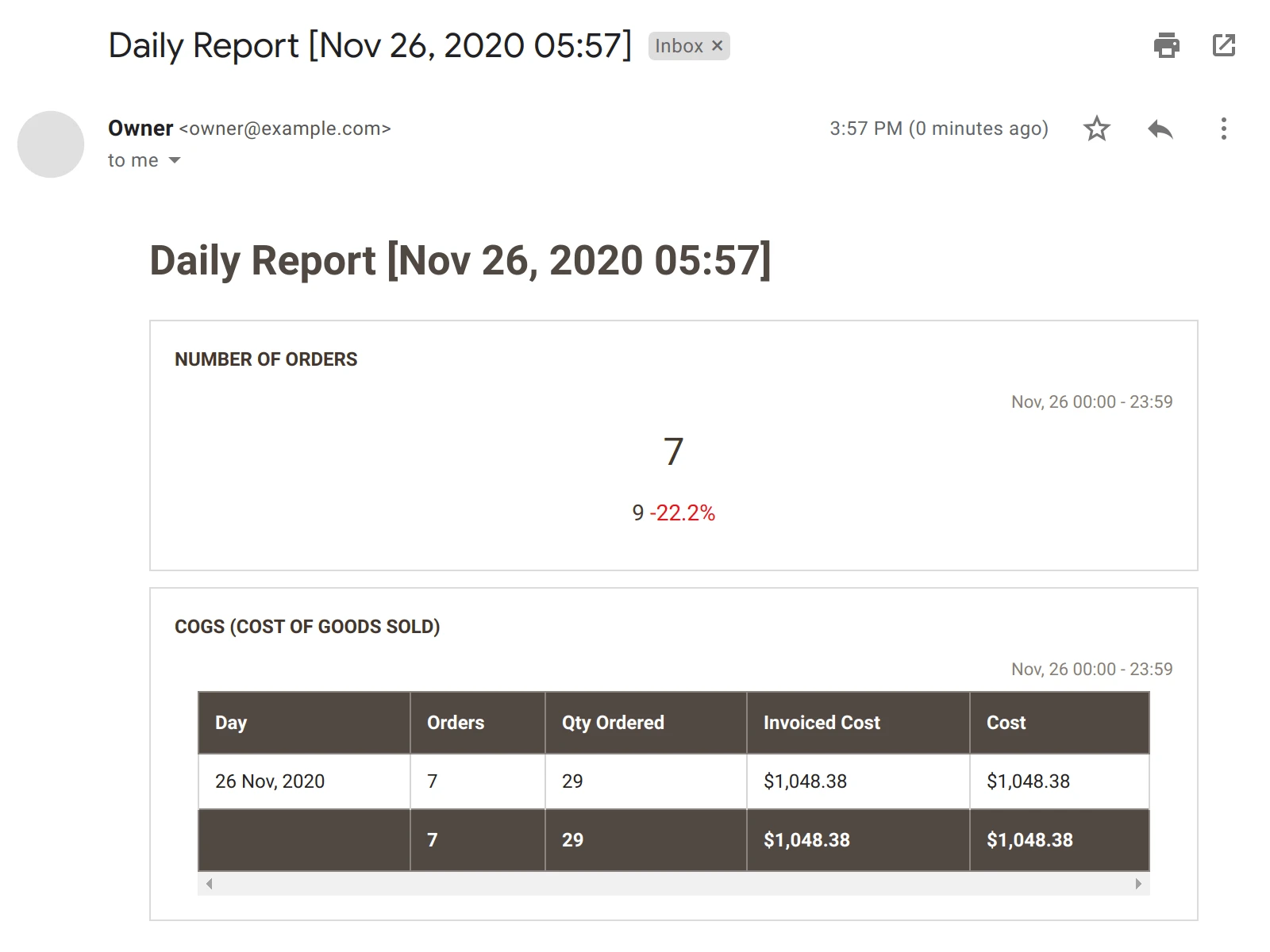 Detailed Feature List
Reports
Sort by any grid column
Filter by any grid column
Filter by any relevant attribute
Add/Remove columns
Sort columns with drag-and-drop
Group by one or more attributes (multi-dimensional reports)
Filter by the date
Filter by the store view
Duplicate any default report
Bar, pie, area charts and histograms
Multi y-axis charts (monetary, percentage, quantity)
Show/hide the chart's columns
Chart tooltips
Switch by chart types
Export to a CSV file
Export to an Excel XML file
Comparison cell values for the column
Display totals for the entire table
Report Builder
Copy/delete existing reports
Rename reports
Change the primary dimensions (group the attributes)
Change the primary filters
Change the default dimensions
Change the default table columns
Add columns/dimensions/filters from all database tables (more than 5000 columns/attributes supported)
Dashboard
Add/remove/clone dashboards
Move/resize/remove any widget/block
Direct URL access, including mobile
Metric widget with comparison and trend line
Table widget
Set fixed date-range for any widget
Private and shared boards
Install Advanced Reports and make your data work for you!
Comparison
Key Features
Advanced Reports
Other Extensions
Dashboard
Customizable Widgets
all widget types are predefined
Number of Dashboards
unlimitedyou can create an unlimited number of dashboards with different data
1
Mobile Dashboard
Permissions
shared dashboard - for all administrators, private - only for the current user
Data Comparison
Reports
Multi Dimensionsgroup by several columns
Extra Columns
the number of possible columns is very limited
Custom Reports Builder
GEO Reports
Other
Real-time data
reindexing is required in certain cases
Email reports
See it in action!
Pick a quick tutorial to learn about various aspects of this extension
Works well with some limitations
Provides many reports, but does have some limitations with multi-currency and also with other languages.
If your website is in Hebrew, exporting reports to CSV is a mess (all text is in gibberish)
Also installed: Reward Points, Affiliate
Excellent plugin and works really well for the site. Easy to set up and easy to use.
Also installed: Improved Sorting, Google Tag Manager, Advanced SEO Suite, Extended Shopping Cart Rules
Easy to install, great reports
Dodell
Verified Buyer
Rickmansworth, United Kingdom
Recommeneded
Also installed: Custom Form Builder , Layered Navigation, Product Labels
Great modules and support.
Also installed: RMA, Sphinx Search Ultimate, Advanced SEO Suite, Google PageSpeed Optimizer, Product Labels
My customer dreamed of it, Mirasvit did it!
A great in-house solution for merchants who need detailed, flexible reporting.
Also installed: Full Page Cache Warmer, RMA, Reward Points, Elastic Search Ultimate, Help Desk MX, Advanced SEO Suite
Manual & Support
Need more help?
Save time by starting your support request online and we'll connect you to an expert.
Contact Us Now
Changelog
Ability to enable/disable group reports data by dimension columns
Version
1.5.4
Nov 27, 2023
Sharing and Quick Access for reports
Version
1.5.3
Sep 28, 2023
Issue with ACL for reports (Magento >= 2.4.5)
Version
1.5.2
Jul 12, 2023
Fixed the issue with child products of a bundle product displays values (price, total) from parent product (bundle product with static price)
Version
1.5.1
Feb 10, 2023
Reports cron performance improved
Reasons to choose Mirasvit
Client focusing and satisfaction
These are our primary. A major portion of our new clients come from referrals from our existing clients. Our professional team of developers, marketers and support staff have invested the best knowledge and experience in the field into our work, so you know you can come back to us again and again.
Remarkable support
One year free and high quality support. We go to great lengths to provide maximum satisfaction with every module you have purchased in our store. By helping you with installation, configuration, answering your every question, we do all our best to eliminate any possible problems.
Risk-free Investment
30-days money back guarantee. If you are not satisfied with our extension performance for any reason, we provide a full refund.
Constant improvements and upgrades
We constantly add new features to all our modules, and are always interested in hearing your opinion and implementing your suggested features in our future developments.
Comprehensive Documentation
We provide an expanded user guide for every aspect of our extension, so you can find answers for all your burning questions.
Unencrypted source code of our products
You can customize extension according to your needs and requirements.
Usability and Performance
The Module is easy to install and upgrade, just follow our step-by-step user guide. Additionally, the extension is ready to use with the Hyvä theme.
Ready for Magento Cloud
No core modifications. The extension has been tested in a Magento Cloud environment and is fully compatible with it.