This powerful extension improves the SEO of your online store. Search engines want you to fine-tune your website for users, which can be very costly.
The extension automates most of Magento 2 SEO settings and saves SEO specialists both time and money!
Manage SEO settings for pages, categories, and layered navigation
Get advanced Rich Snippets
Generate Meta-tags by templates
Generate an advanced Sitemap for Google
Control all redirects quickly and easily
Configure canonical URLs
Get the ultimate SEO analysis of every page
Increase your store search engine visibility and grow your CTR
1/9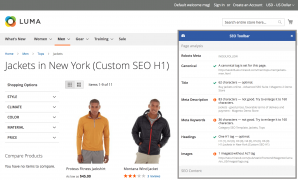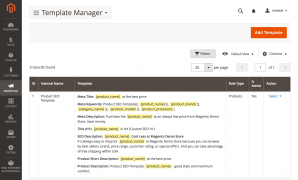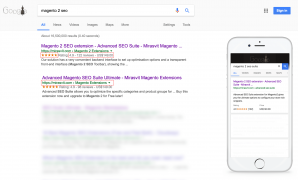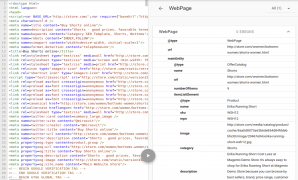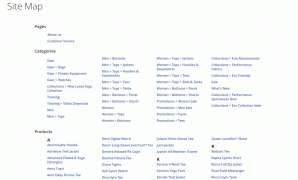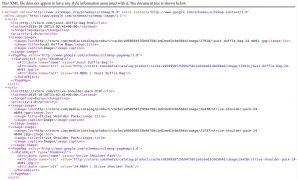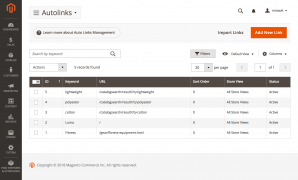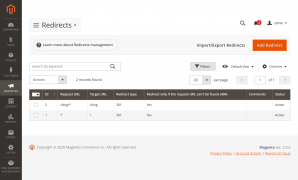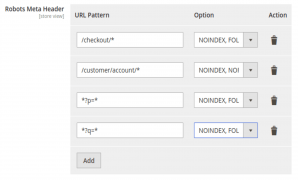 Feature Highlights
Advanced SEO Suite allows you to create even more SEO settings than a professional SEO specialist!
The administration interface gives you almost unlimited options to:
manage rich snippets and Open Graph
create advanced SEO templates for results or layered navigation, categories and products
create rewrites: Rewrites Management for meta tags of products, and category pages prevail over any other SEO values
manage your website redirects
create conditional rules to set all SEO workflow to meet your store's needs
Bring your online store to a new level of quality with Magento 2 Advanced SEO Suite and get more customers from organic search results!
---
Key advantages of Advanced SEO Suite for Magento 2
SEO page analysis in a glance, using the SEO Toolbar
Get advanced rich snippets for your store
Manage SEO settings for pages, categories and layered navigation
Create ultimate SEO Templates
Manage SEO Rewrites for meta tags to prevail other values
Automate Meta Tag management for your store
Control all store redirects quickly and easily
Configure canonical URLs for your online shops
Increase your store's search engine visibility and grow your CTR indicator!
Rich Snippets and Open Graph
Flexible Rich Snippets Settings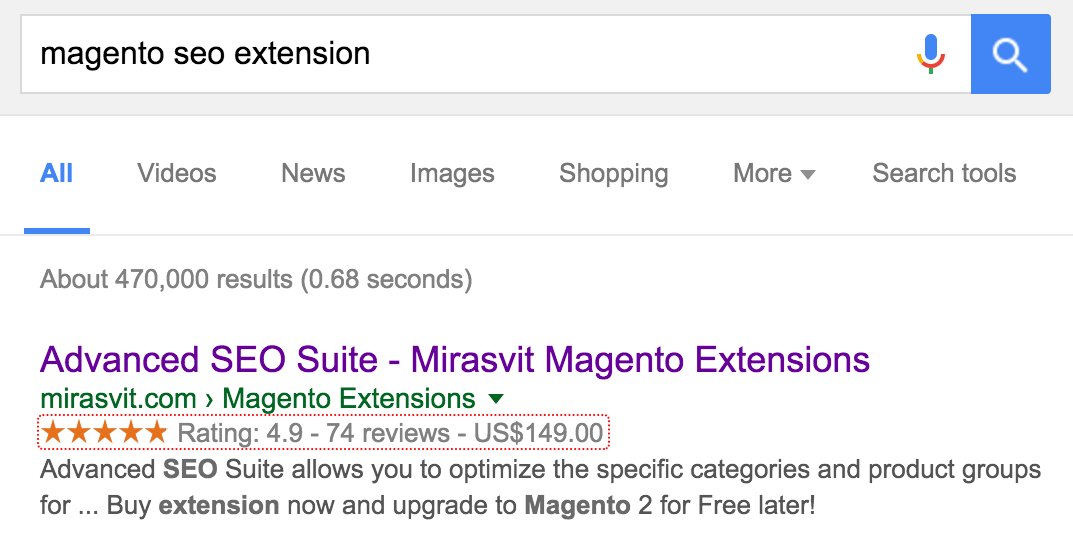 Advanced SEO Suite extension for Magento 2 gives you a variety of options for configuring your store's rich snippets.
A snippet is an excerpt from your web page shown at the top of Google's search results to answer the search query quickly.
Structured data markup for Google Rich Snippets added by our extension is implemented via JSON-LD (JavaScript Object Notation for Linked Data).
This method is recommended by Google in its Guidelines and is preferable to Microdata or RDFa usage.
CC * item description * item image * availability of the item * payment methods * Delivery methods * Product category * brand and model attributes * color, weight, dimensions, and conditions of the product with Magento 2 SEO Suite Ultimate extension.
Manage settings of Category Rich Snippet, Organization Rich Snippet, Reviews Rich Snippet, Product Rich Snippet and Breadcrumbs Rich Snippet with Magento 2 SEO Suite.
Add some variety to the way your categories look in the search engine results - show the number of each product's review.
Implemented rich snippets and schema markups: Organization, WebPage, OfferCatalog, AggregateRating, Review, Offer, AggregateOffer, BreadcrumbList, Product
---
Breadcrumbs & Organization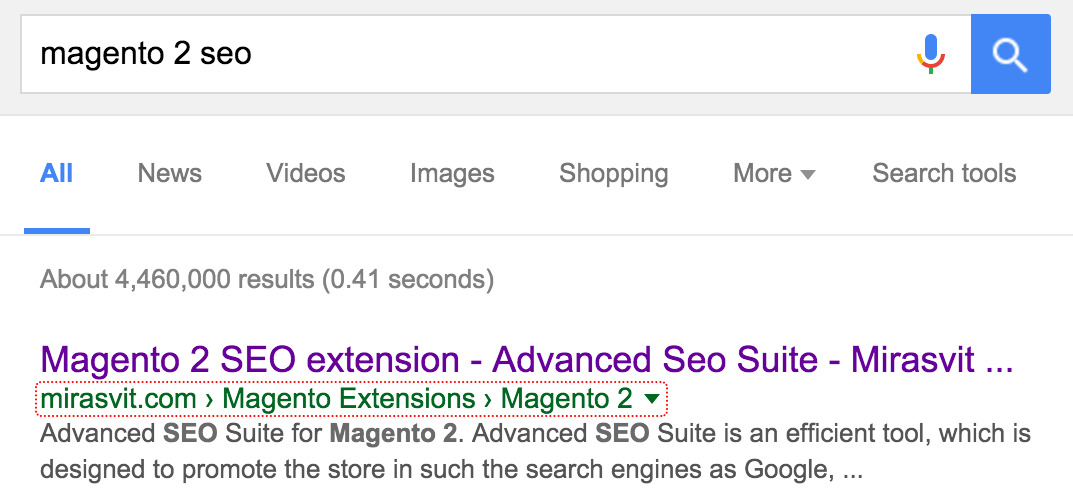 Easily add breadcrumbs to your products' rich snippets with the Advanced SEO Suite Ultimate extension for Magento 2! Just click "Yes" on the dropdown menu, and your store will stand out with its sophisticated appearance.
Also, the extension allows you to change your Organization's appearance in the search engines, by showing the full address and other contact information in your search results and makes your company stand out among all others.
---
Open Graph tags
Advanced SEO Suite allows you to integrate your store pages into the social graph.
Social media sites are the major sources of web traffic. Therefore, adding Open Graph tags (data format that is accepted by Facebook) to your website will not directly affect your on-page SEO. Still, it will influence the performance of your links on social media.
While Magento adds those tags on your product pages only, with Mirasvit SEO Suite, you can also add some necessary information on your category and CMS pages.
---
Set-up Relationship Tags Easily
Canonical URL

Advanced SEO Suite allows you to manage one of the most important Magento 2 SEO features - Canonical URL Tags - with ease!
Take control of the multiple versions of these contents in your store - use canonical tags on any page in your store, like:
configurable products
grouped products
bundle products
cross-domain content
and many other page types
With this SEO extension, you can automatically define the rules in adding canonical links to most pages of your store and manually define exceptional pages where canonical should be different or not be added at all.
Sites having store views on different domains can utilize our extension's capabilities to automatically set Cross-Domain canonicals URL, which may be crucial for some store configurations.
---
Relationship tags
You can easily enable the necessary relationship tags:
"Alternate" (link to an alternative version of the page, for example, printed version). "Hreflang" (this indicates that a search engine states that your page has another version in a different language. For example, direct Spanish users to a Spanish version of your store right from the search results).

Using our extension, you can automatically set auto links for your store (suitable for most cases) or configure necessary store views as "alternates" for each other manually to handle even the most complicated multilingual sites.

"Next" and "Prev" (give the search engine a hint, such that it should consolidate indexing properties such as links, from the component pages/URLs to the series as a whole. For example, links should not remain dispersed between page-1.html, page-2.html, etc., but be grouped with a sequence)
---
Optimal Meta Length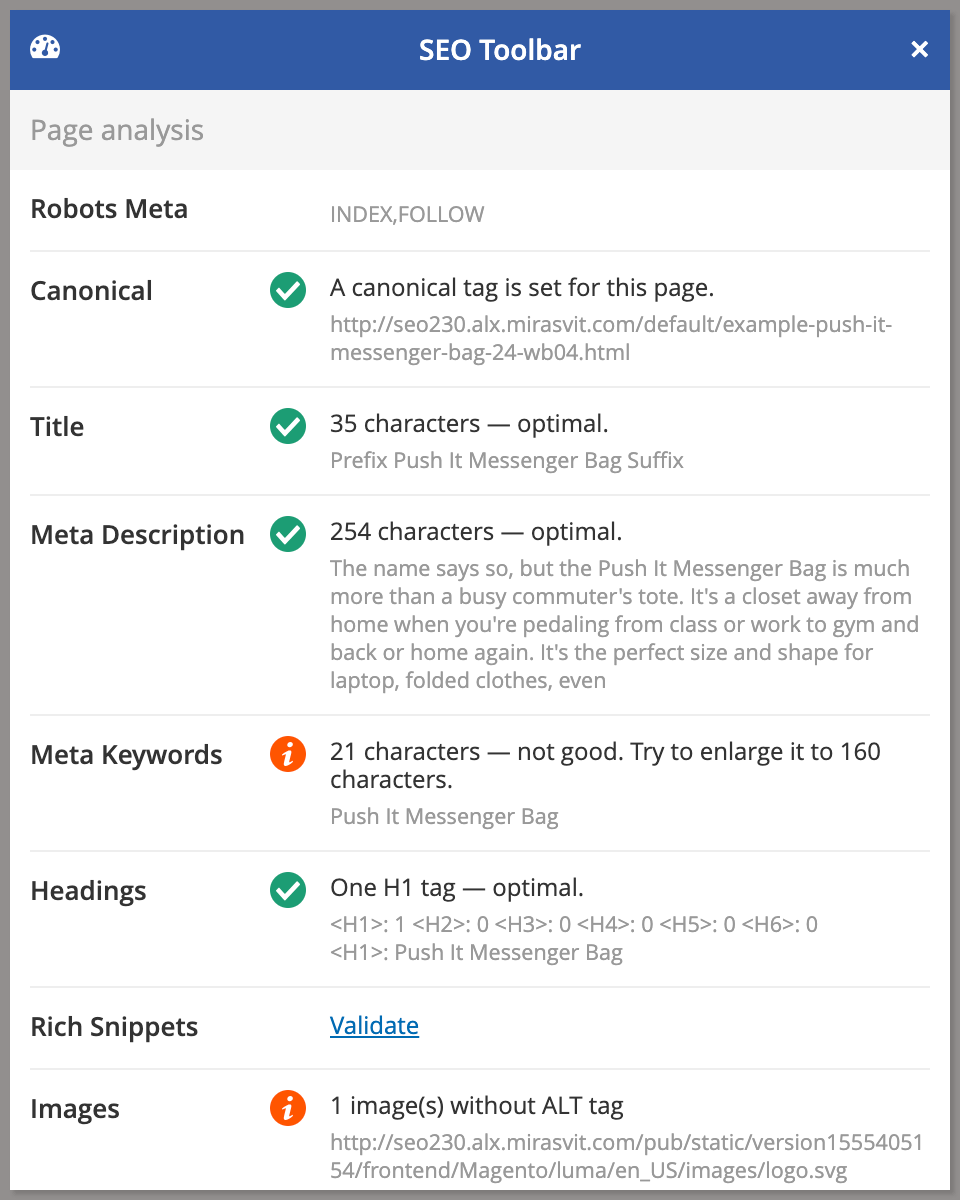 Limit the meta title and description length and manage your snippets in the search engine results.
Every search engine has a limitation of characters for website snippets. It is extremely important for you to know and set a maximum length for these indicators if you want your store to look accurate and readable in the search results.
Recommended meta title length is up to 55 symbols, and the meta description is up to 90 symbols.
Keep these numbers in the Magento 2 SEO settings and get clear search results!
---
Automate Cross-Linking For Your Store

Advanced SEO Suite allows you to easily manage one of the most important SEO features - cross-links.
With our solution, you can set the list of pages you wish to add some links to automatically.
For example, you have a page http://example.com/laptops, and you wish to promote it with the keyword "laptop". So you create an auto-link, and every time the word "laptop" is used on your store's CMS pages, Products or Category descriptions, etc., it will be replaced with the link http://example.com/laptops.
Of course, you can also limit the number of auto-links per page to comply with the recommended word frequency.
The extension supports adding links to your store's internal pages and external websites (like Wikipedia or a partner's store page).
After just a couple of minutes with our solution, your cross-linking strategy will be ready to be launched!
---
Customize Store Sitemap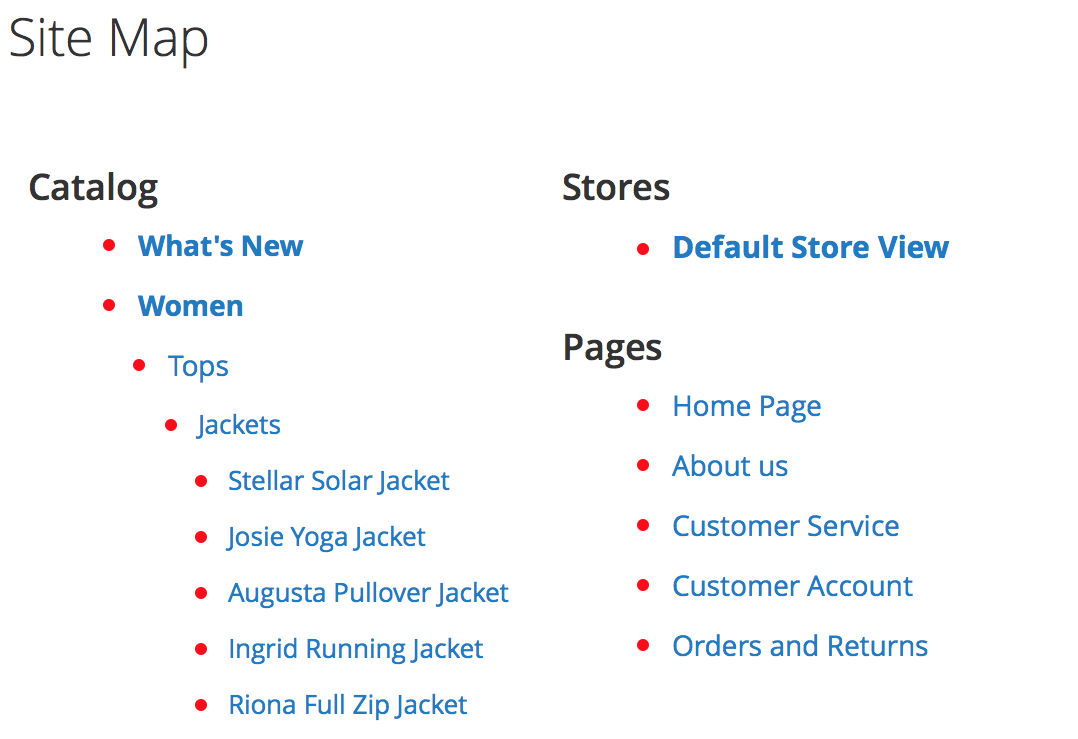 Advanced SEO Suite makes your sitemap configuration process smooth and easy.
Our extension lets you set the most important options available for the frontend sitemap of your store:
URL path
meta title and description
H1 header
the list of CMS pages to ignore etc
Also, you may define a list of links which will be added to the frontend sitemap. For example, /promotions/, Our Promotions /customer/account/, Customer Account will add these links to Our Promotions and Customer Account on the sitemap.
Our solution also allows you to define a list of patterns for the links that will be excluded from the frontend sitemap.
Master the sitemap settings in a few minutes with our Advanced SEO Suite!
---
Powerful SEO Templates
Create and manage powerful and advanced SEO templates by using our extension in a couple of steps.
SEO templates are designed to manage meta information on your store page, based on the rules you have defined.
You may create an SEO template for:
products
categories
results or layered navigation
Nevertheless, meta tags defined by the SEO Templates can be overwritten by the same tags filled in by the SEO Rewrite Manager.
---
Simple SEO Templates Interface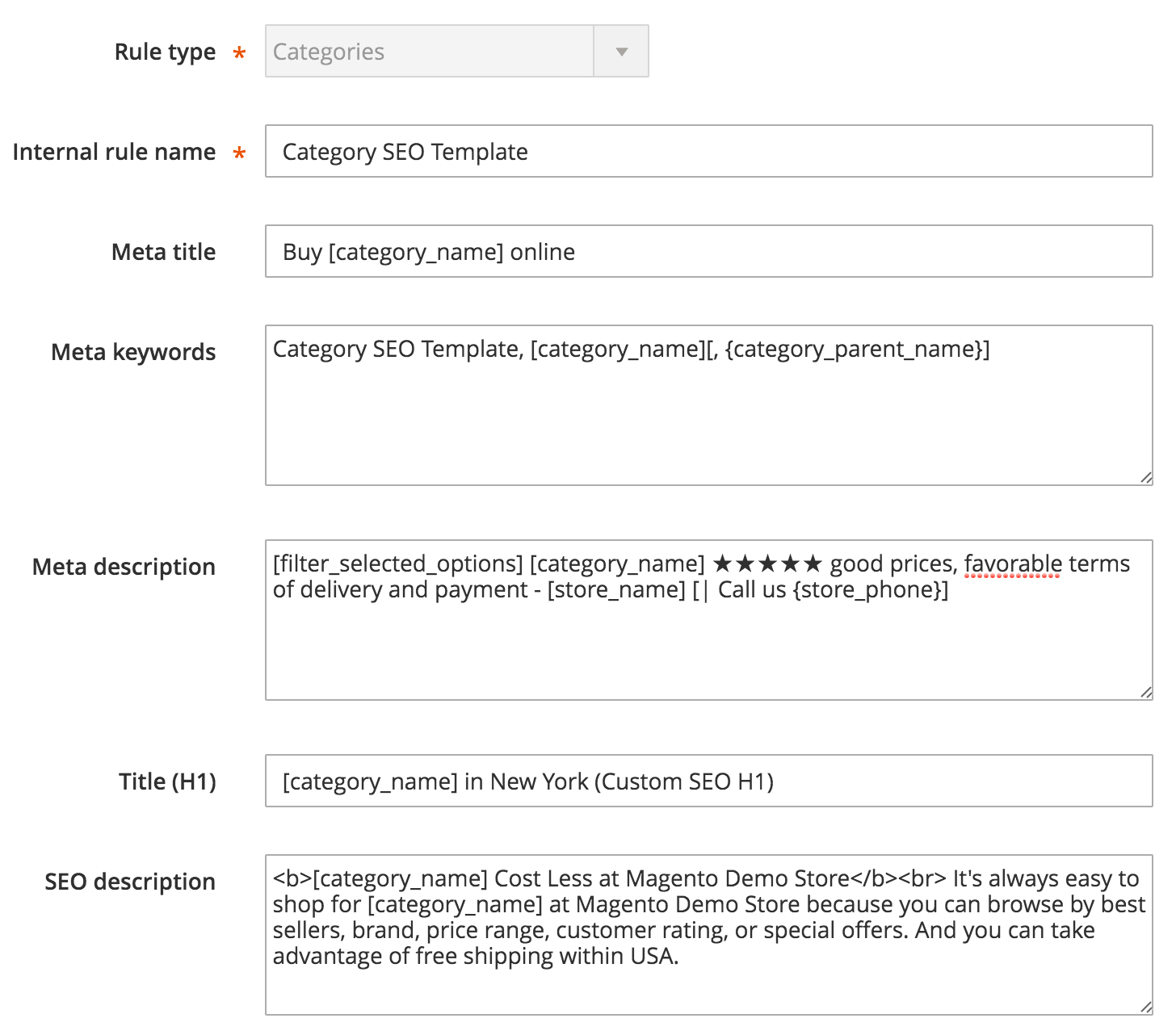 It's never been so easy to create SEO templates!
Advanced SEO Suite allows you to make all the necessary settings within a few fields. Just fill out the following information:
Meta Title
Meta keywords (if you need them since search engines are not crawling in this section anymore)
Meta Description
H1 title
SEO description
short and full product description templates (if you have created a SEO template for products)
You are free to use variable templates for any of the abovementioned fields. For example, it is a good idea to use the following statements for a Meta Description Tag:
[filter_selected_options] [category_name] ★★★★★ good prices, favorable terms of delivery and payment - [store_name] Call us on[store_phone]

Also, the extension automatically removes HTML tags and other unnecessary whitespaces from the Description Meta Tag.
---
Flexible Rules for SEO Templates
Advanced SEO Suite allows you to define the conditions that are triggering the SEO template.
You may create the main condition and several sub-conditions, or create multiple-levels of sub-conditions using a combining condition.
Our extension also lets you halt further rules processing. In this case, the template will be applied on the page, even if another rule with a higher sort order value is applicable.
---
Optimize Google XML Sitemap
Advanced SEO Suite has several options for optimizing Google XML Sitemap automatically:
making product images URLs SEO-friendly according to the template
adding product images "title" and "caption" tags according to the template
removing particular links from both HTML and XML sitemaps
adding custom links to both variants of sitemap if needed
There is no need to perform all of these settings manually! The Advanced SEO Suite will take care of the most important aspects automatically!
---
Advanced SEO Rewrite Rules
SEO Rewrite Rules configure meta tags, H1 headers, and SEO descriptions for any store URLs, meaning that if you need to make special SEO settings for a defined URL (or group of URLs), use SEO Rewrites.
Those rules will be applied to URLs defined by you only, and will not affect child categories or other store pages.
Furthermore, Rewrites prevail over any other SEO settings from all your SEO Templates!
---
Smart Redirects Interface
Advanced SEO Suite has a very clear interface for managing all of the store's redirects.
Redirects are one of the most important things in SEO. If your store clients see a 404 error page too often, they will probably go to another shop.
Our extension allows you to efficiently manage redirects and get more orders even from error pages, making it one of the best SEO Suite for Magento 2! For example, you may redirect all users who were supposed to see a "404 Not Found" error page to the Homepage of your site, or even the page with Promotions/Sale. This way, your customers will most likely be satisfied with the results!
Get more happy customers for your store with our solution!
---
SEO-friendly URLs Settings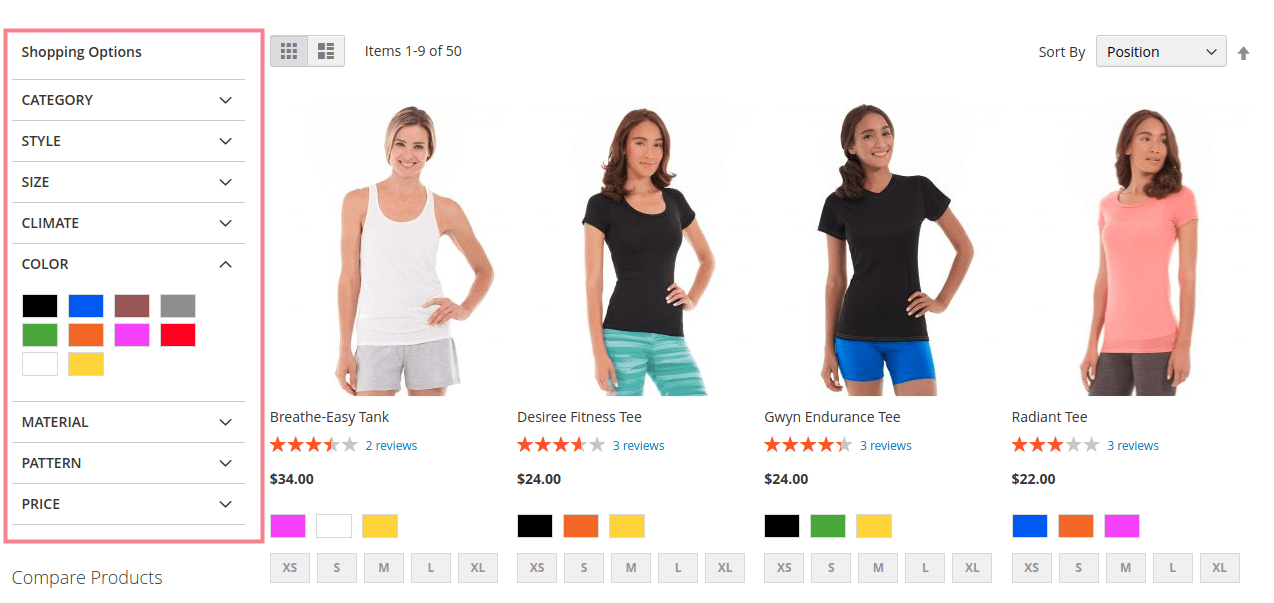 Using our extension, you can make the URL structure of your store more attractive for visitors and search engine bots.
Removing Parent Category Path for Category URLs can make category structure at the front more clean and precise.

Making product URLs more SEO-friendly via changing product URL-key by a template lets your product URL represent more necessary information about an item you sell and attract more potential buyers.

The Extension can manage such aspects of the store's URL structure as trailing slash present or absent at the end of your store URLs. If some pages on your store end with / while others do not, with our extension you can define a single rule for most pages to either redirect to the same URL with trailing slash or, on the contrary, to remove trailing slash on the store's pages. This option helps in achieving uniformity in URLs during your customers' visit.

SEO Friendly URLs for Layered Navigation links can be created by our extension, replacing overly complicated Magento native filtered category URLs like www.site.com/women/tops-women.html?color=56&size=167 with a much cleaner and searchable www.site.com/women/tops-women/orange/xs.

SEO Friendly URLs for Product Images (Gallery) can make product image URLs (filename) more readable for search engines: www.site.com/media/product/6991f8e/6789af8e.jpg to www.site.com/media/product/argus-all-weather-tank.jpg.
---
SEO Toolbar
Our solution has a very convenient backend interface for setting up optimization options and a transparent frontend interface (Magento 2 SEO Toolbar), showing the results of every page's optimization process.
With SEO Toolbar, you can analyze the following key indicators:
robots meta header
canonical URL compliance
number of H1 tags present on the page
meta title, description, and keywords with their density
images alternative description
If you have customized all the settings correctly, you will see comments in green. Otherwise, you'll see recommendations to fix issues in red.
See it in action!
Pick a quick tutorial to learn about various aspects of this extension
Manual & Support
Need more help?
Save time by starting your support request online and we'll connect you to an expert.
Contact Us Now
We found other products you might like!
Reasons to choose Mirasvit
Client focusing and satisfaction
These are our primary. A major portion of our new clients come from referrals from our existing clients. Our professional team of developers, marketers and support staff have invested the best knowledge and experience in the field into our work, so you know you can come back to us again and again.
Remarkable support
90-days free and high quality support. We go to great lengths to provide maximum satisfaction with every module you have purchased in our store. By helping you with installation, configuration, answering your every question, we do all our best to eliminate any possible problems.
Risk-free Investment
30-days money back guarantee. If you are not satisfied with our extension's performance for any reason, we provide a full refund.
Constant improvements and upgrades
We provide you with lifetime free updates. We constantly add new features to all our modules, and are always interested in hearing your opinion and implementing your suggested features in our future developments.
Comprehensive Documentation
We provide an expanded user guide for every aspect of our extension, so you can find answers for all your burning questions.
Unencrypted source code of our products
You can customize extensions according to your needs and requirements.
Usability and Performance
The Module is easy to install and upgrade, just follow our step-by-step user guide.
Safe Magento updates
No core modifications. Just use the composer or copy the extension's files to the root directory of your store.