Magento 2 SEO Extension
From meta tags to the sitemap, the Magento 2 SEO Extension gives you full control over each and every SEO-related feature in your store.
This extension is a SEO powerhouse that provides major enhancements to all pages of any online shop.
This amazing package will save you an incredible amount of time and money, all while securing your site's place at the top of the search results!
Boost your store's Google search rankings
Enhance the search results with rich snippets
Make your URLs SEO- and human-friendly
Generate an advanced sitemap for Google
Check any page's SEO health in real time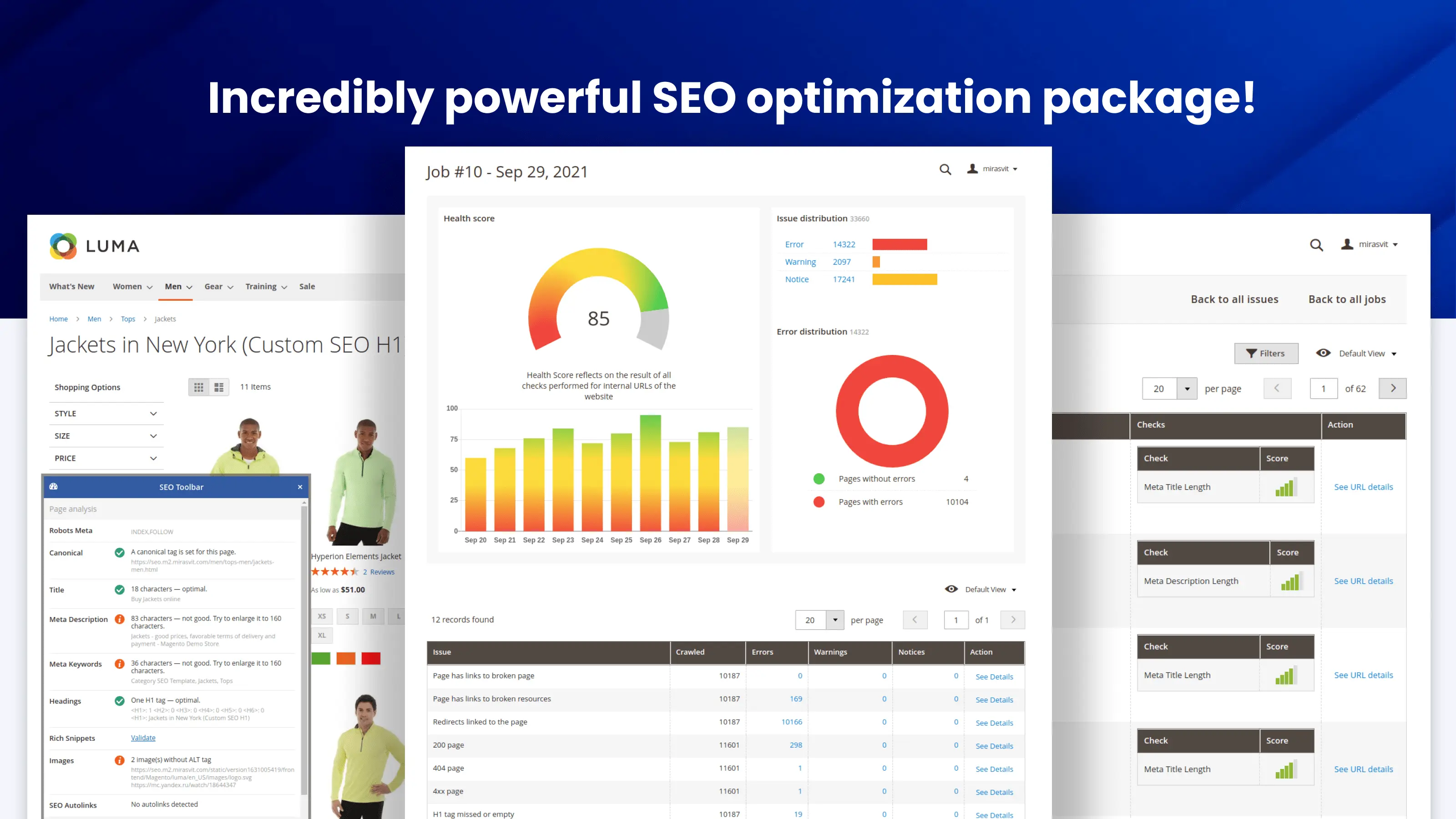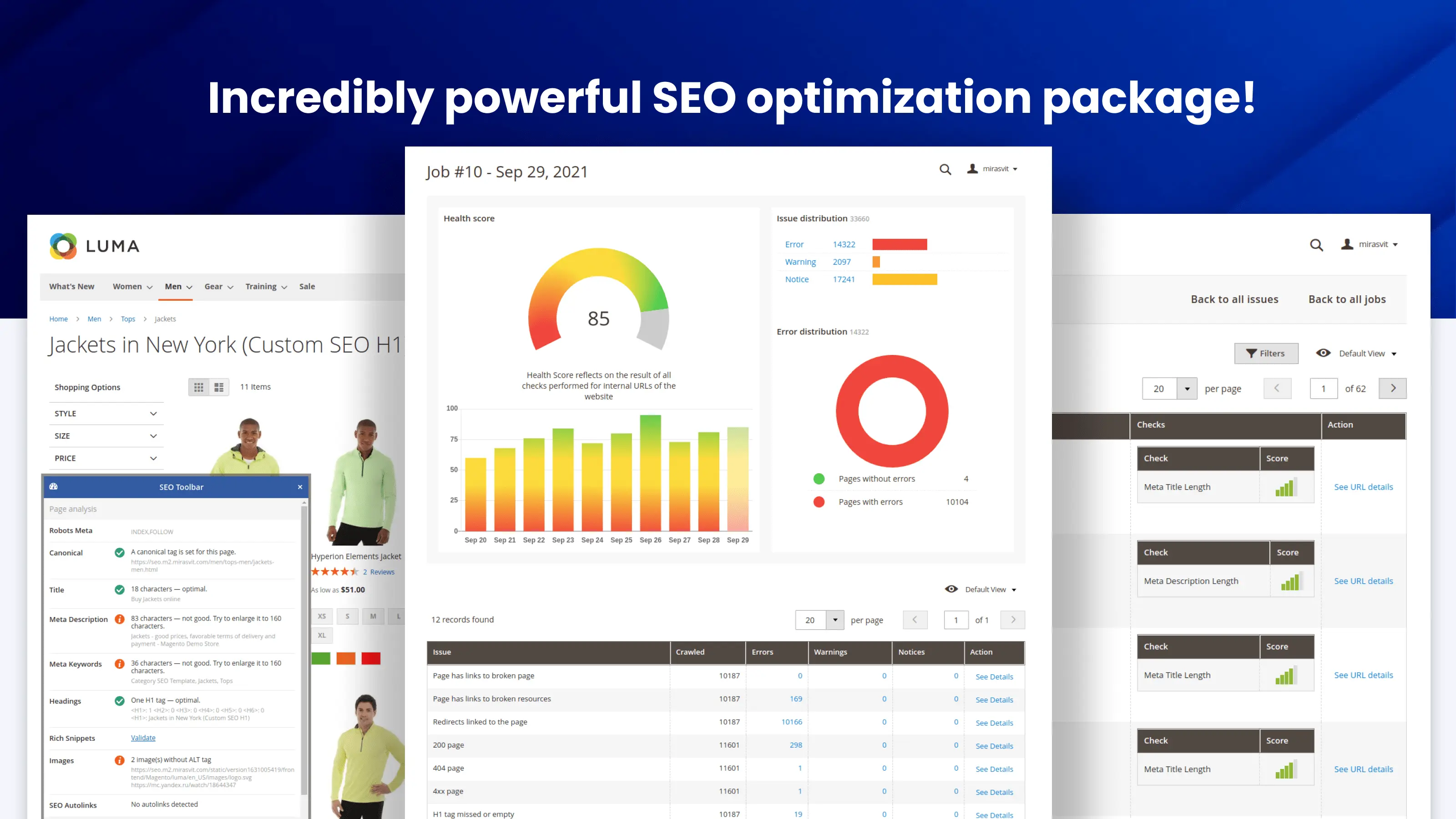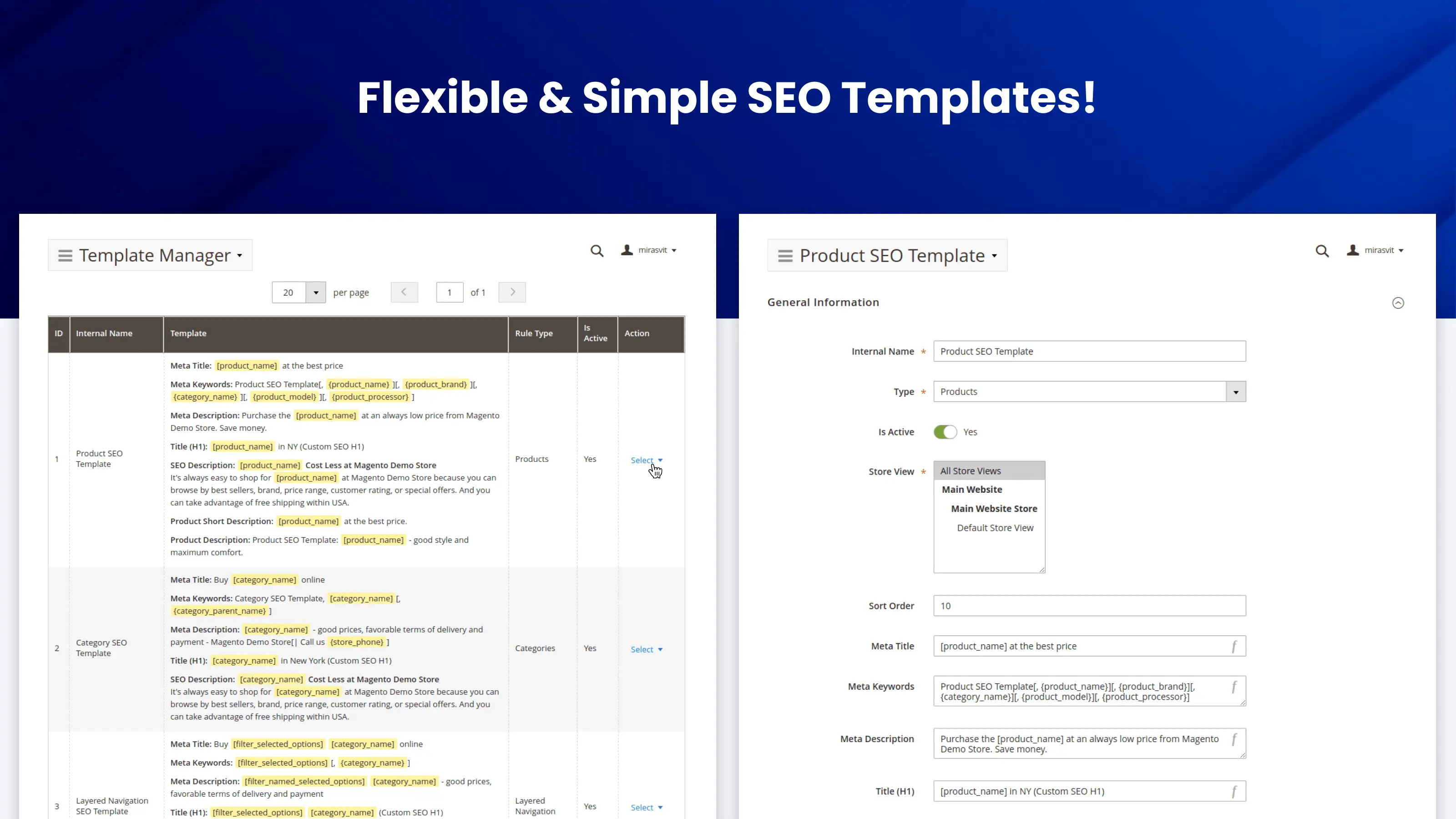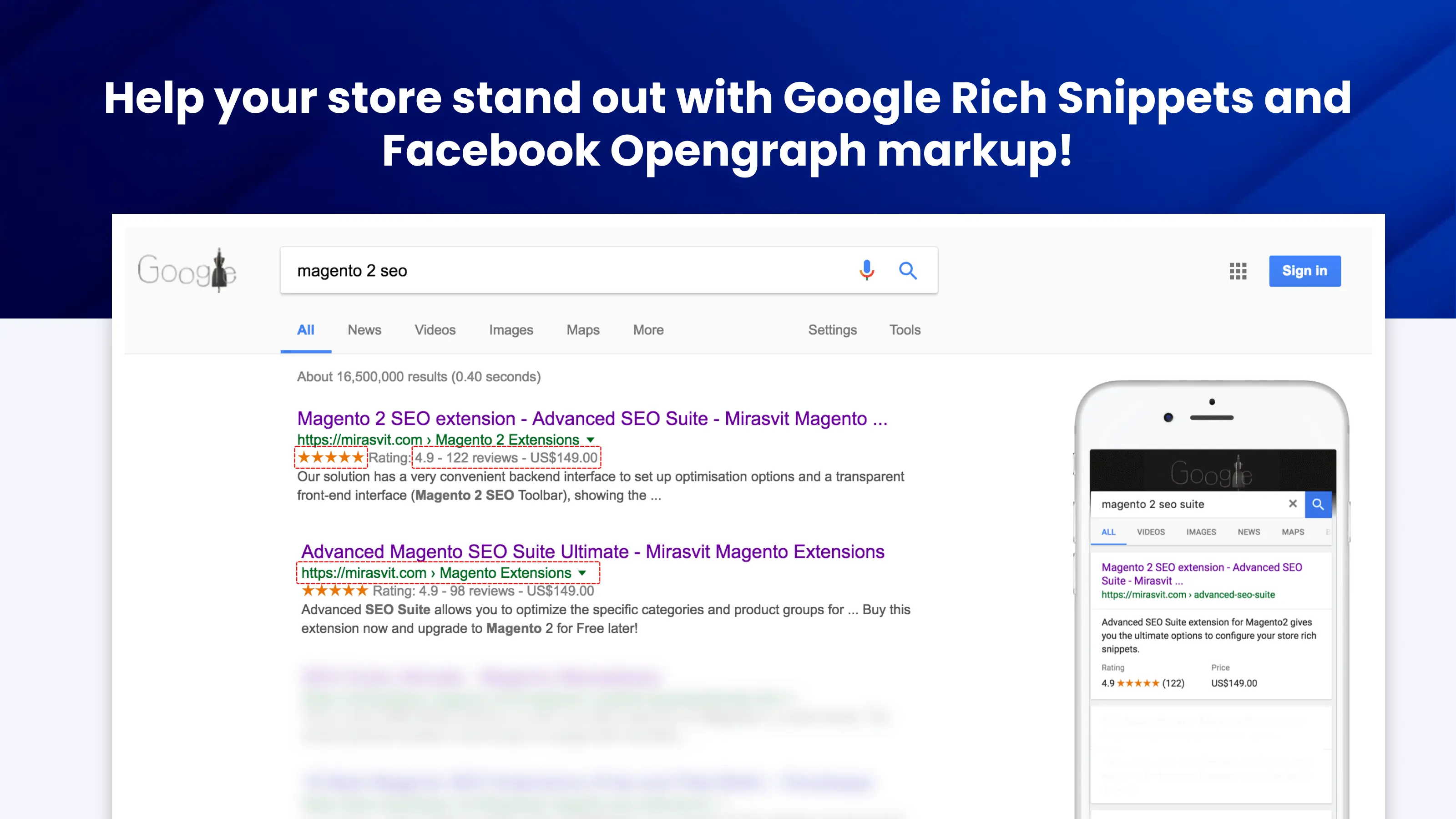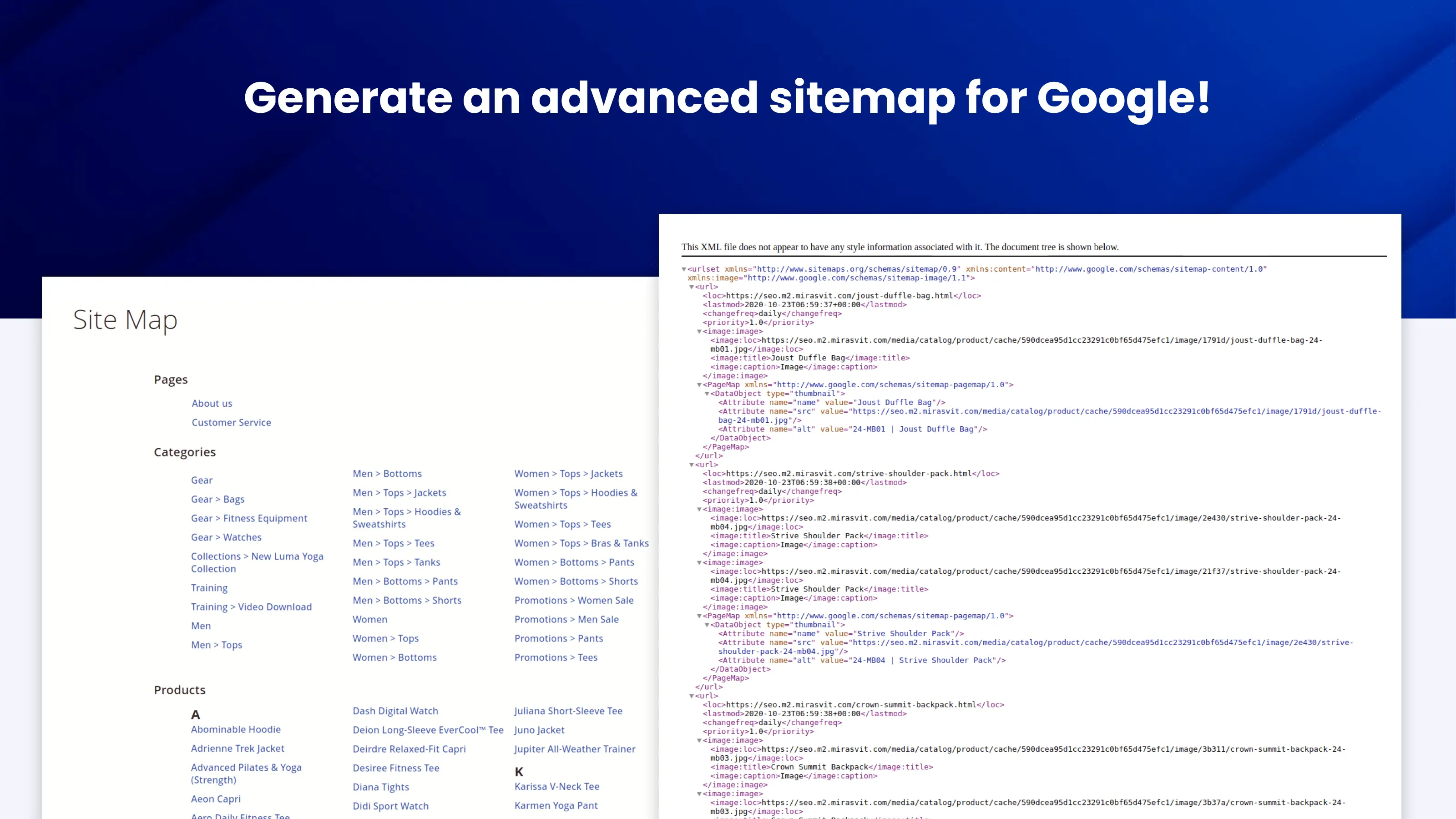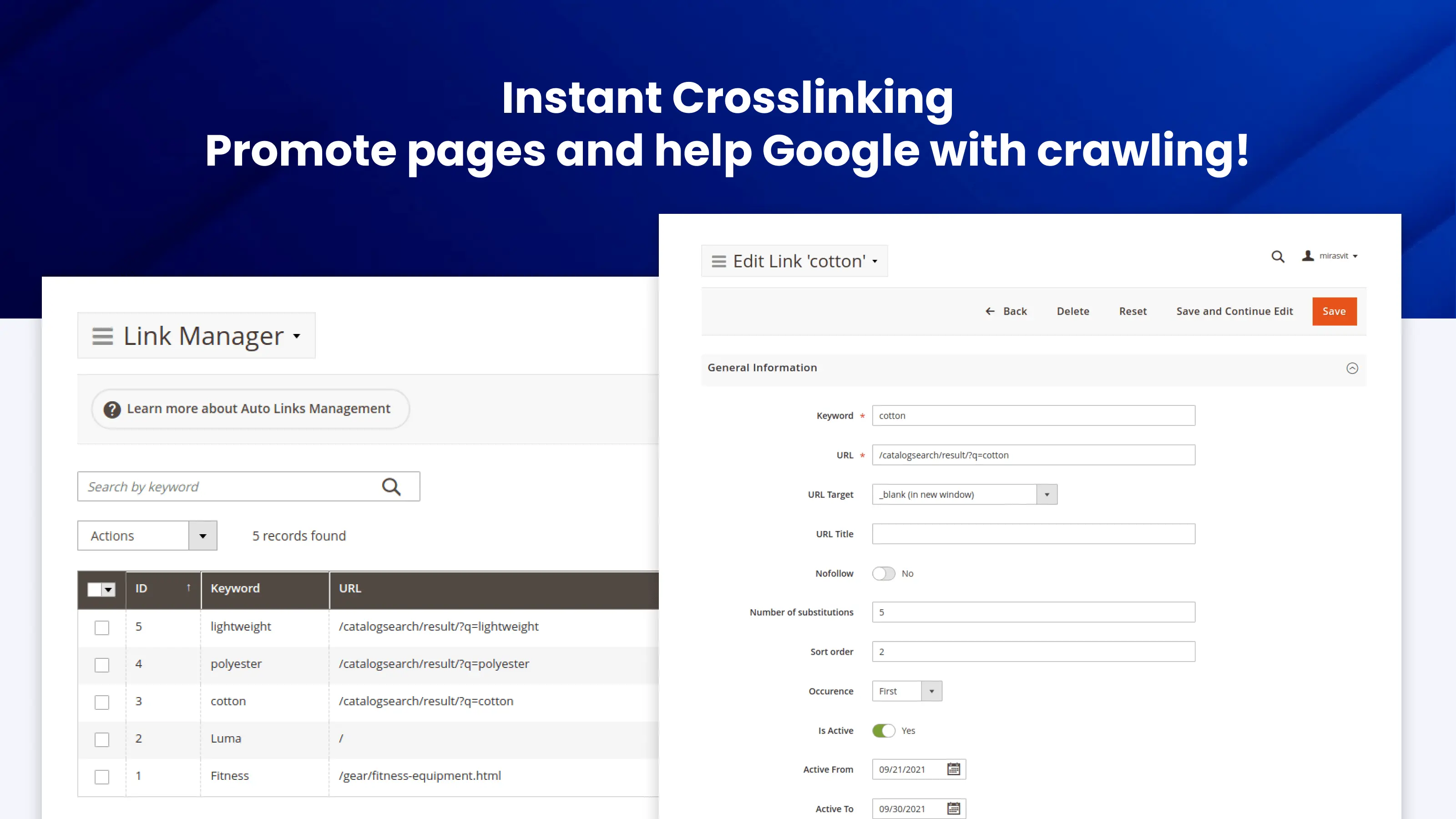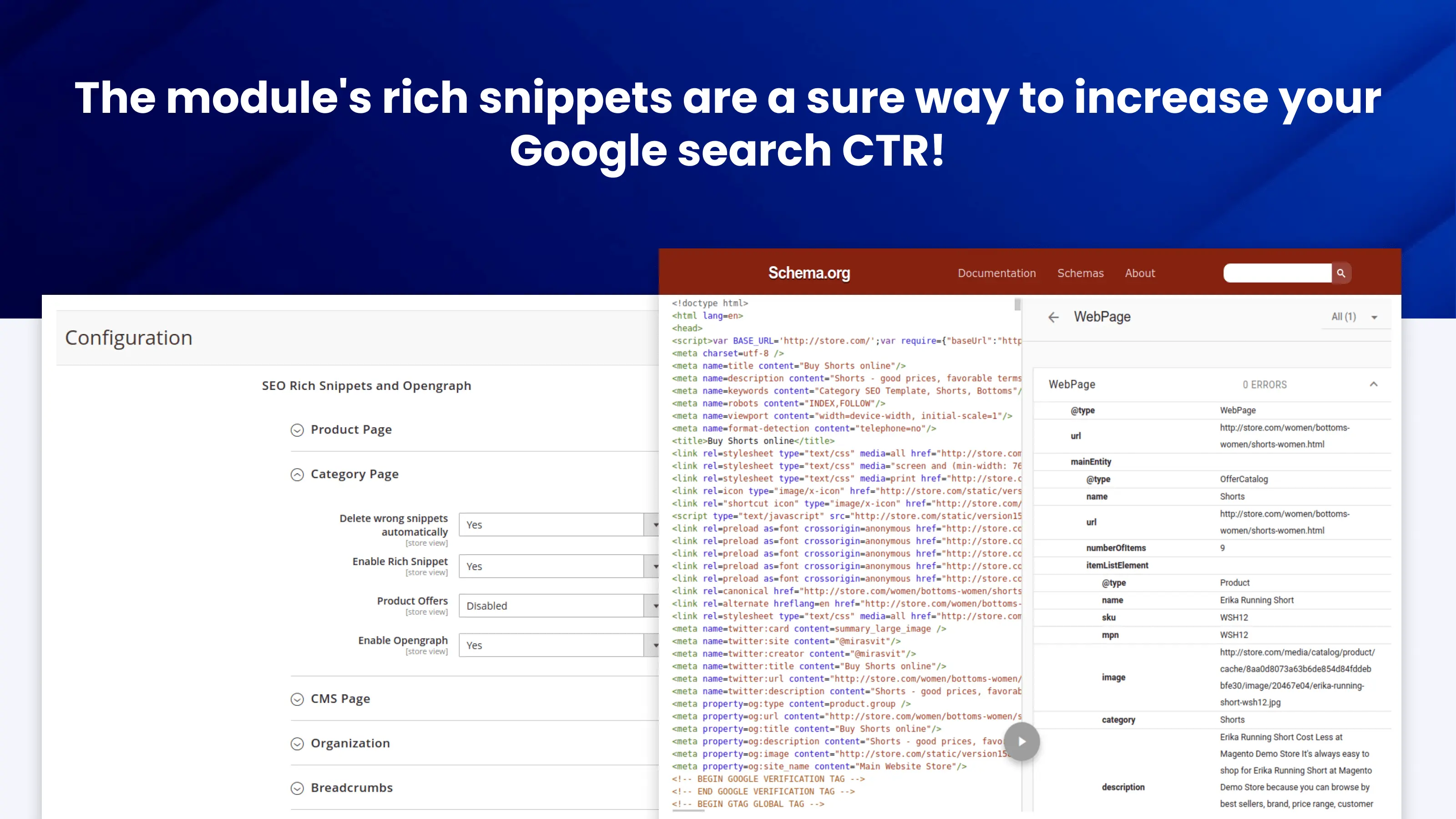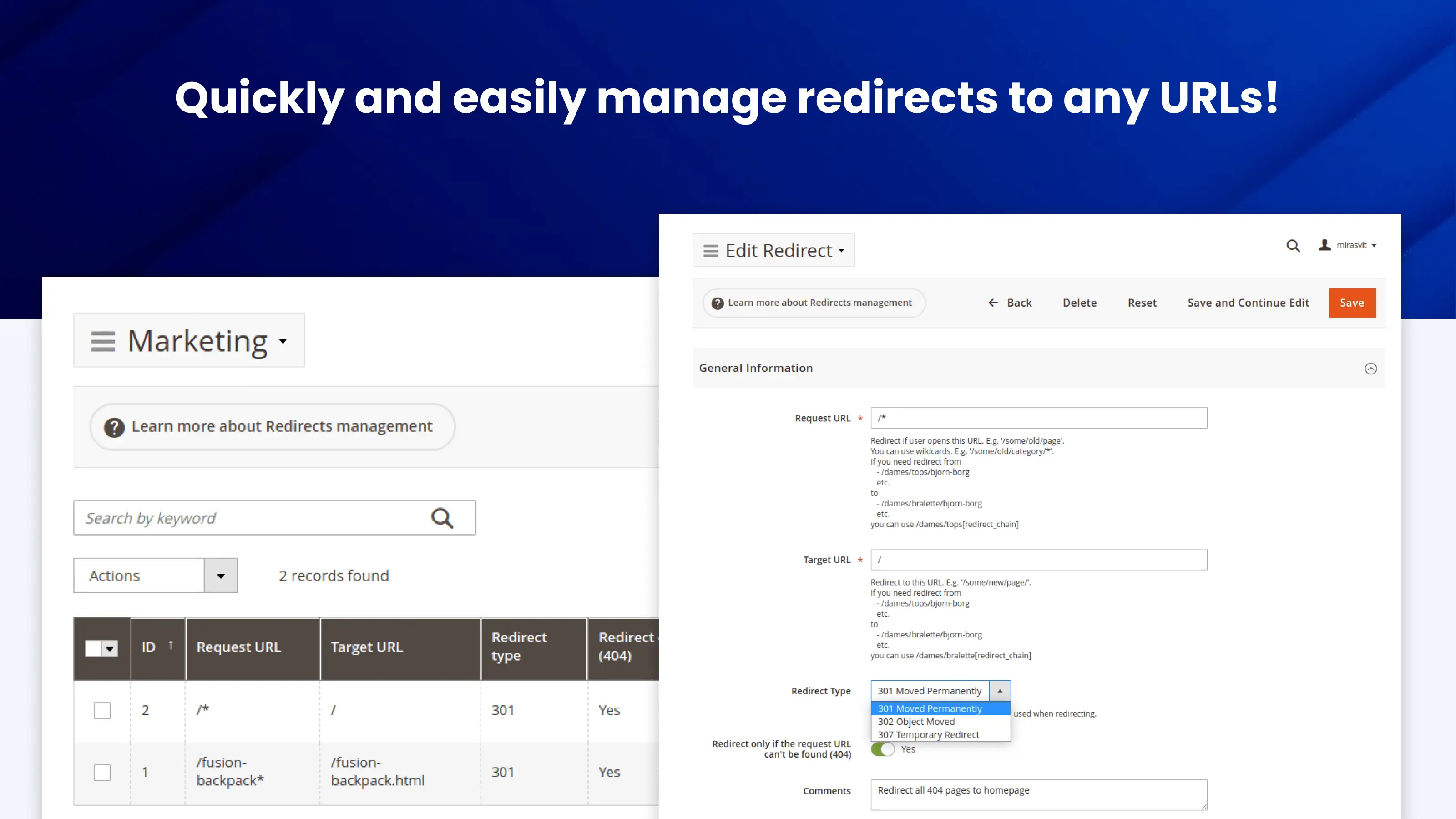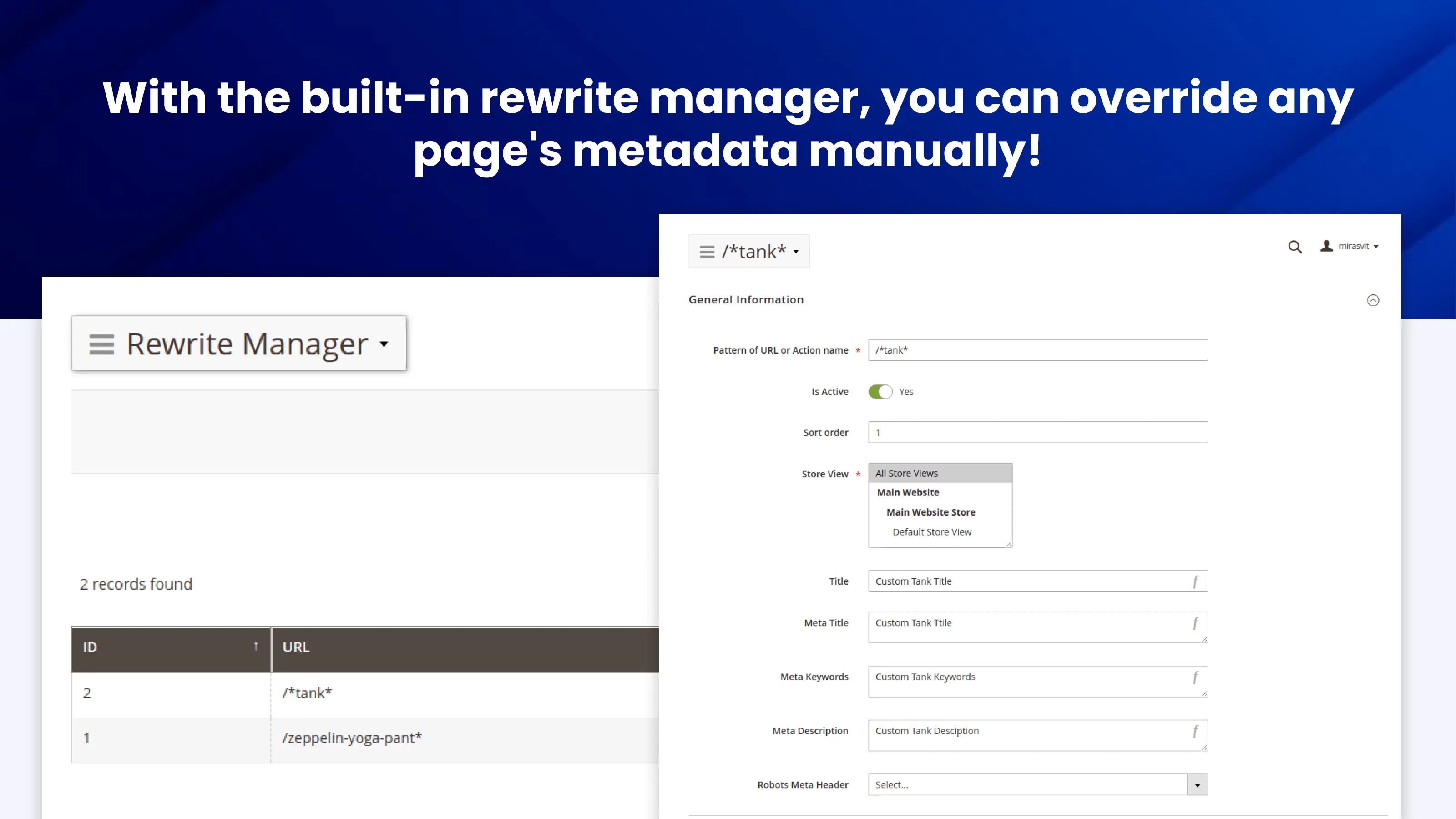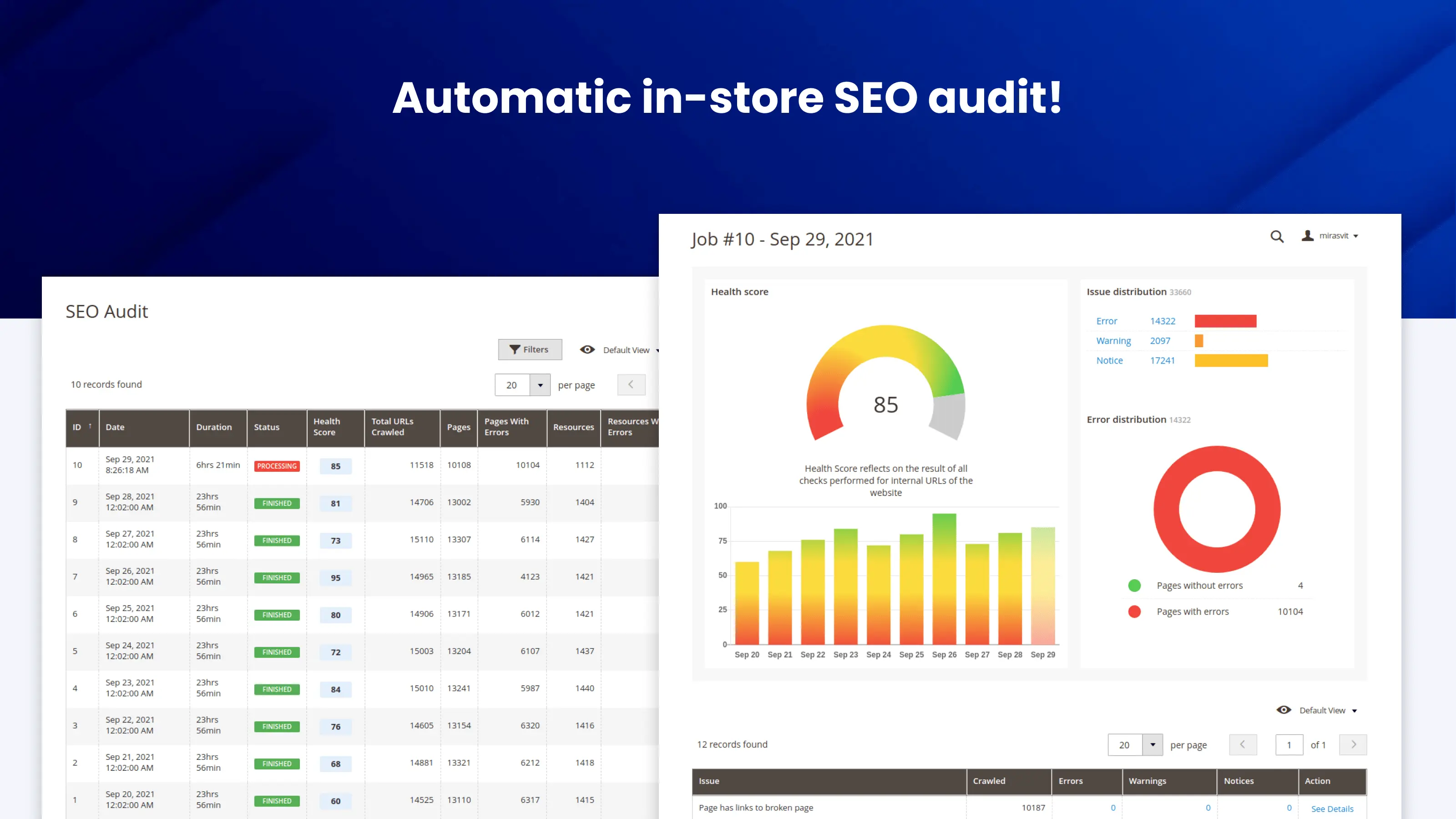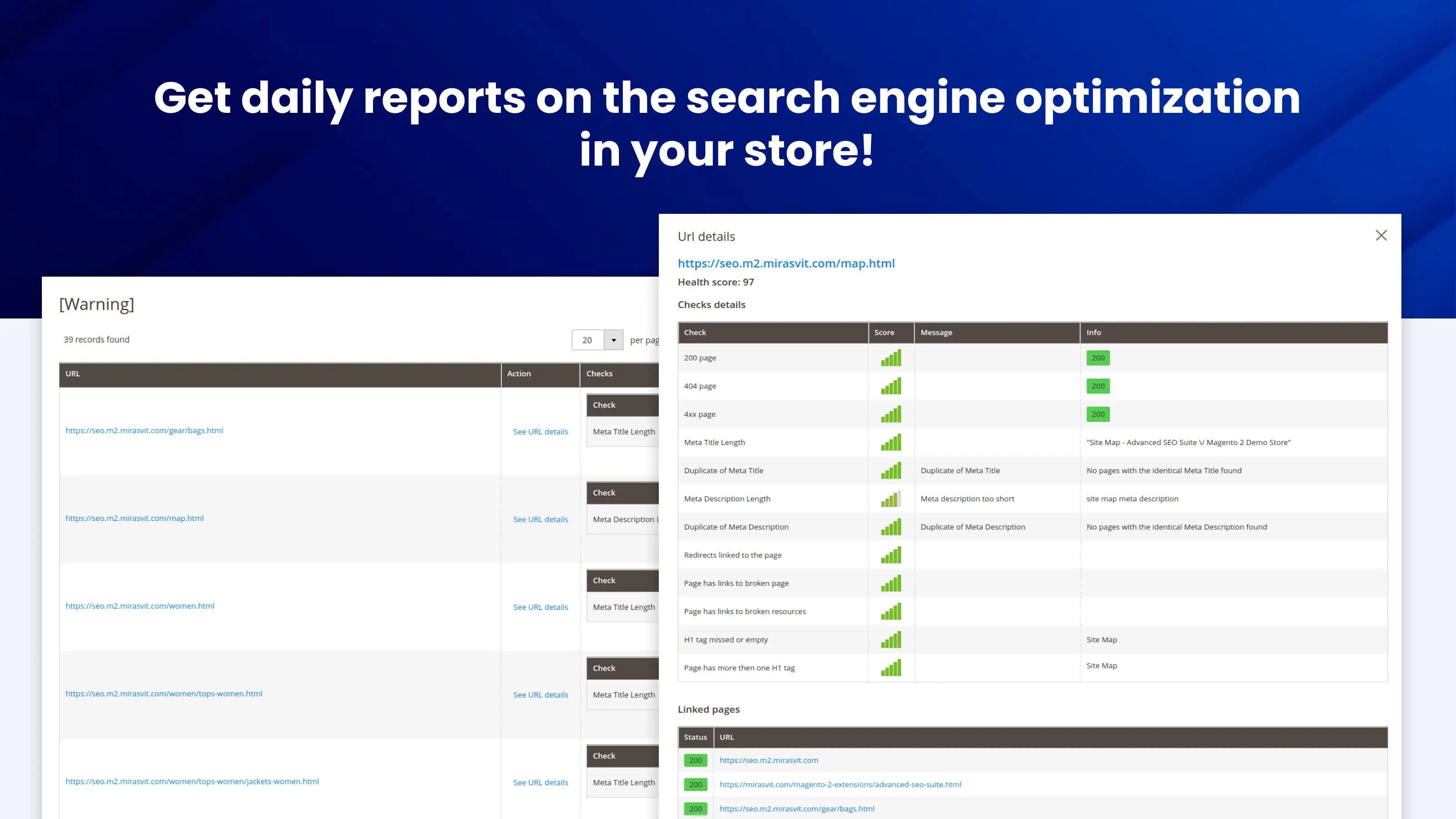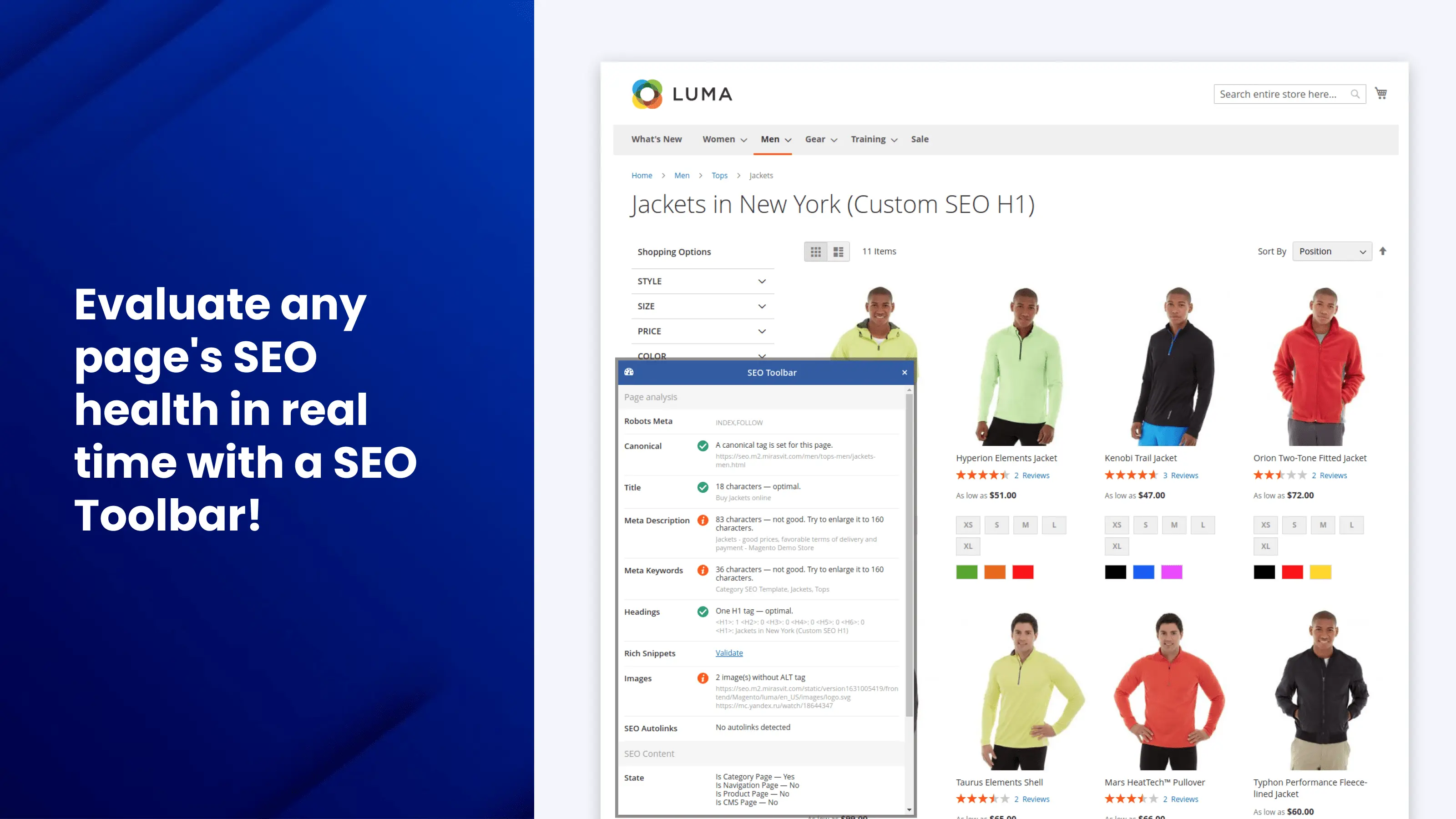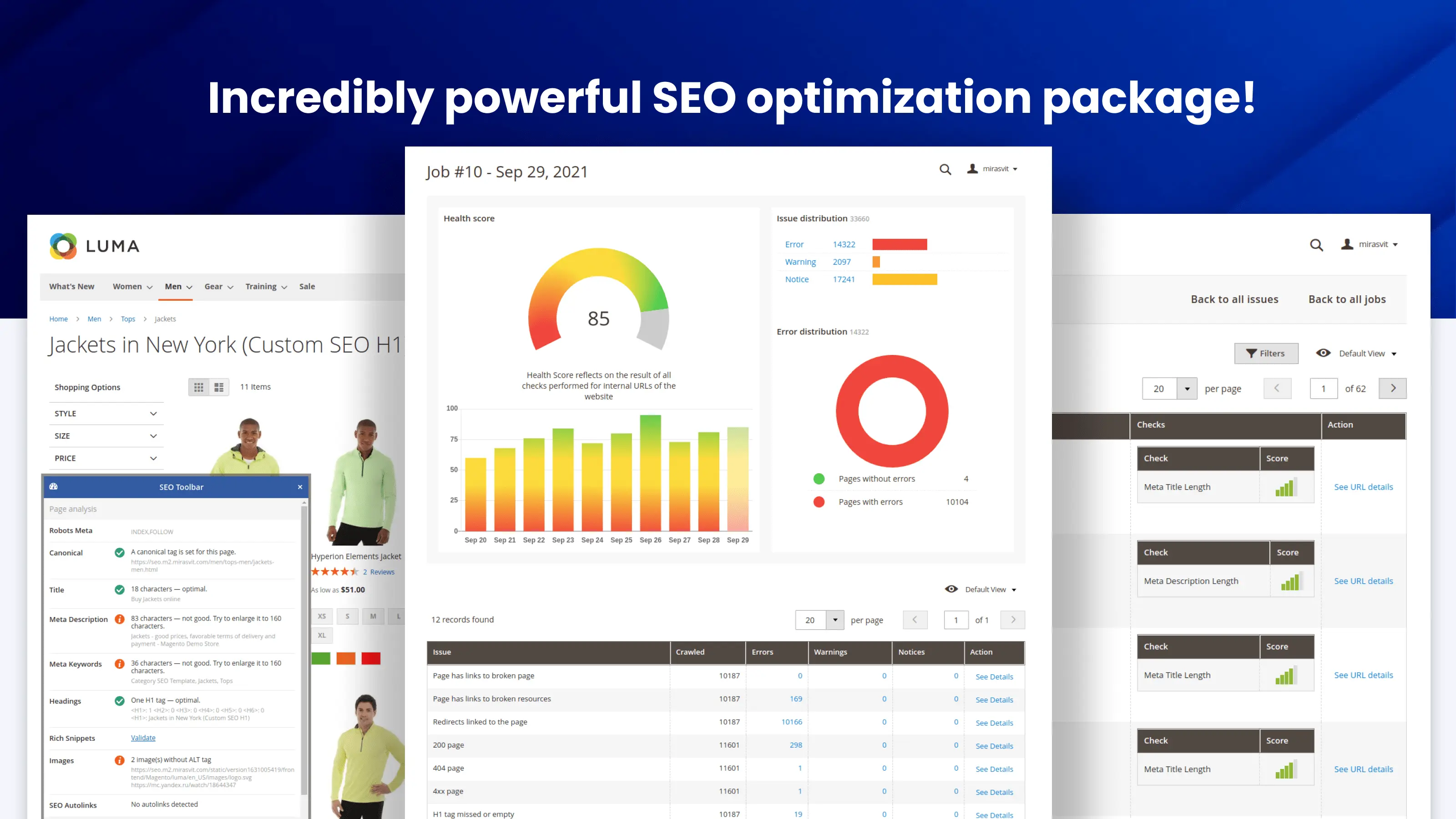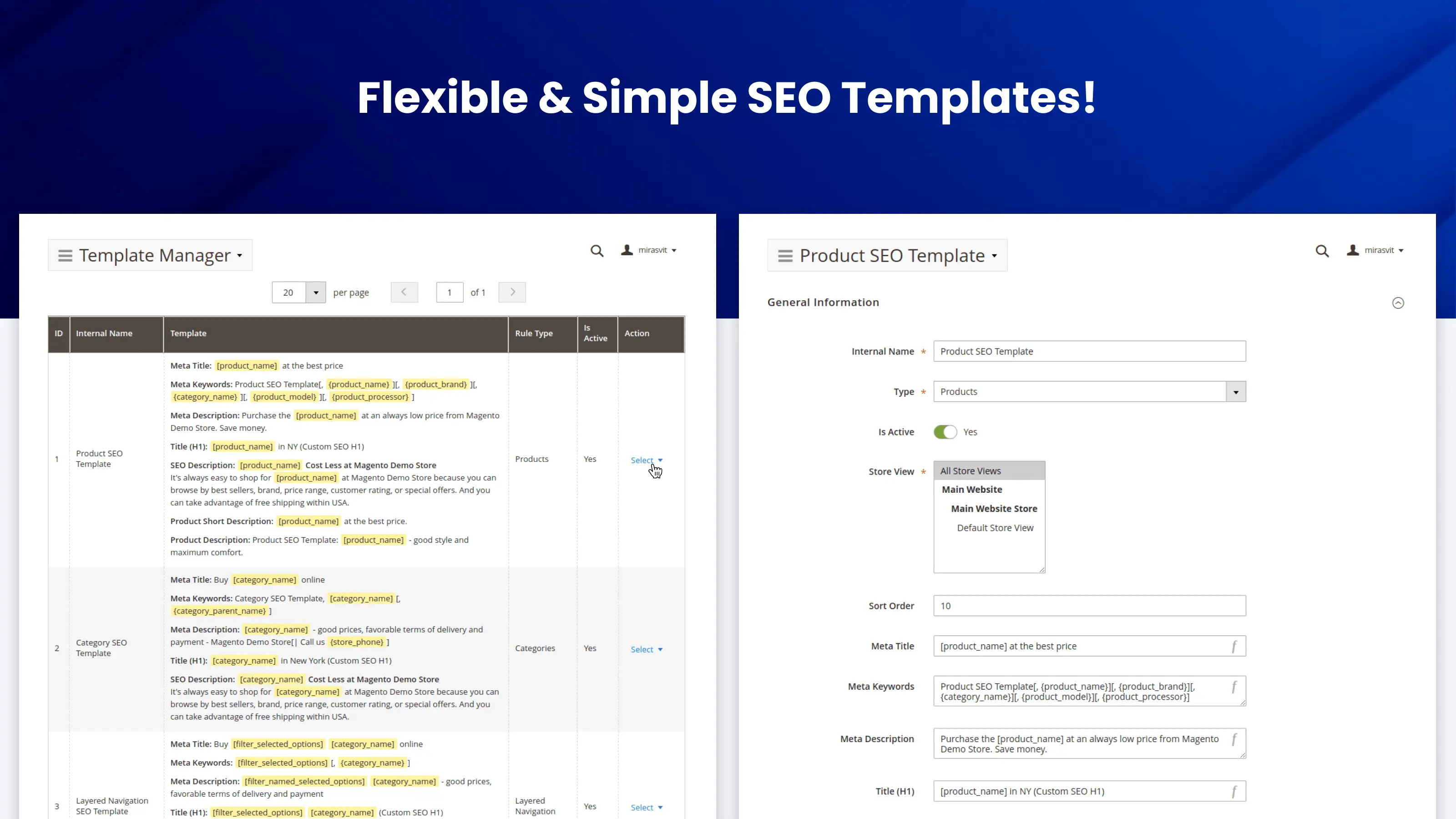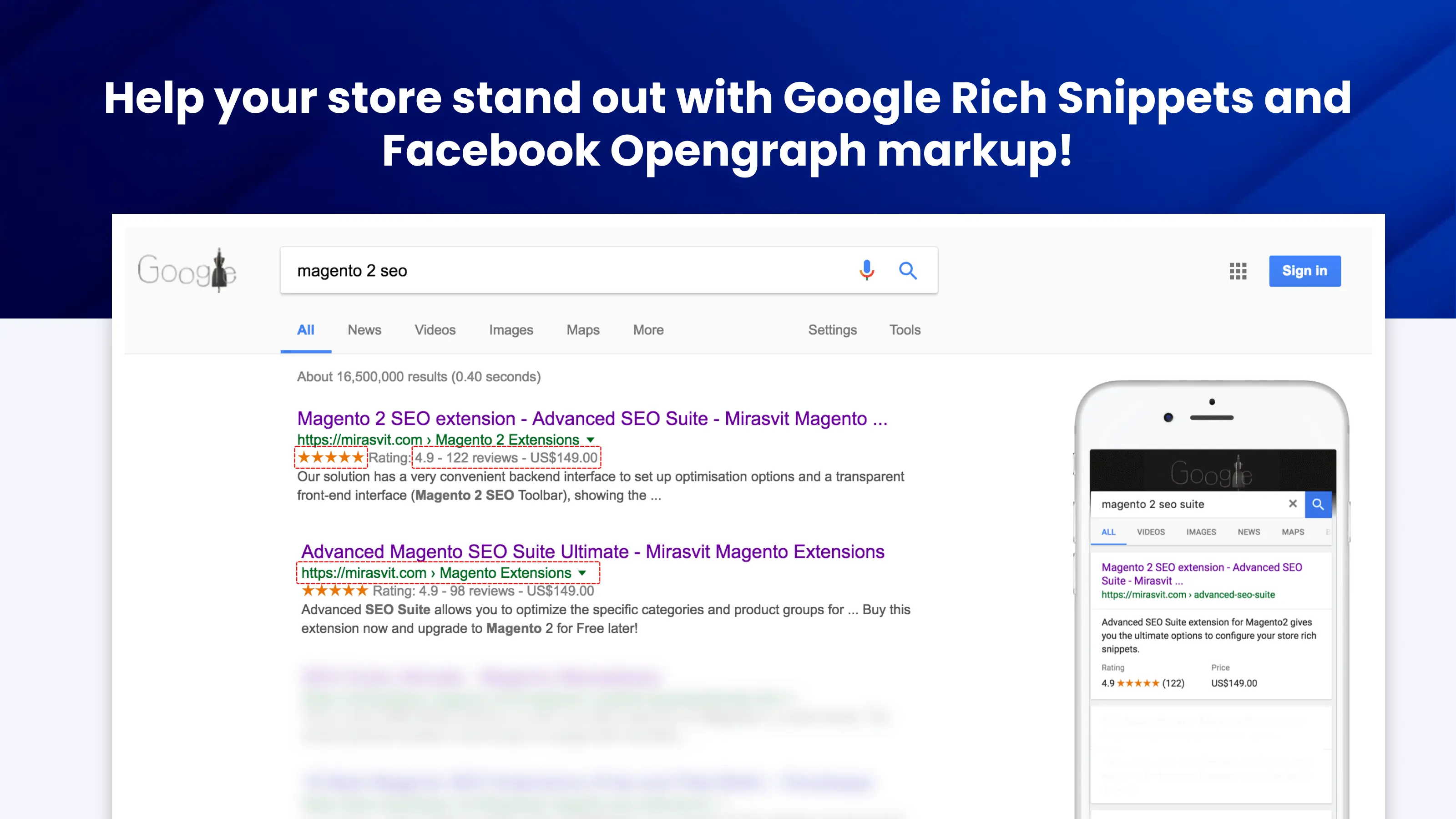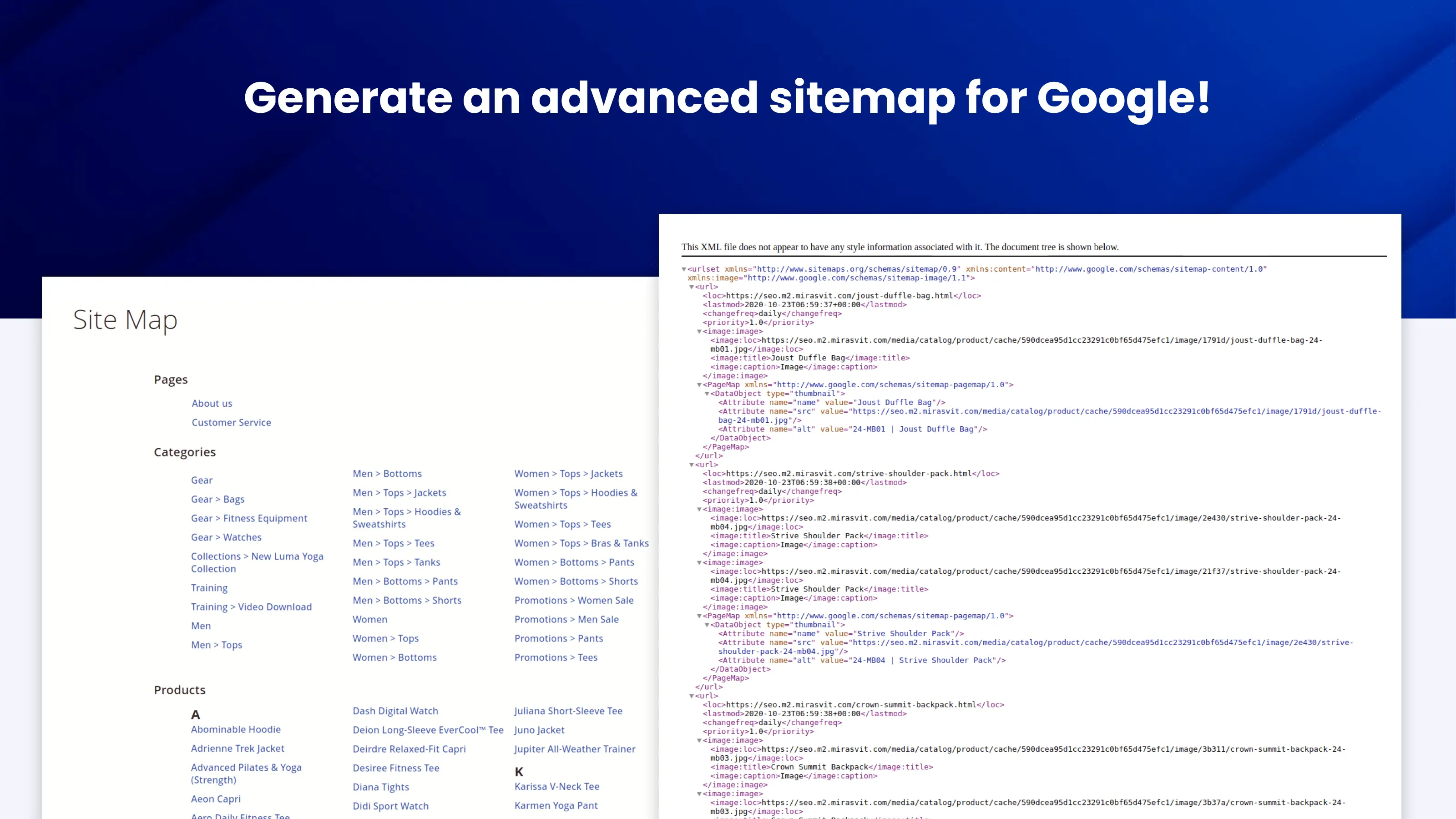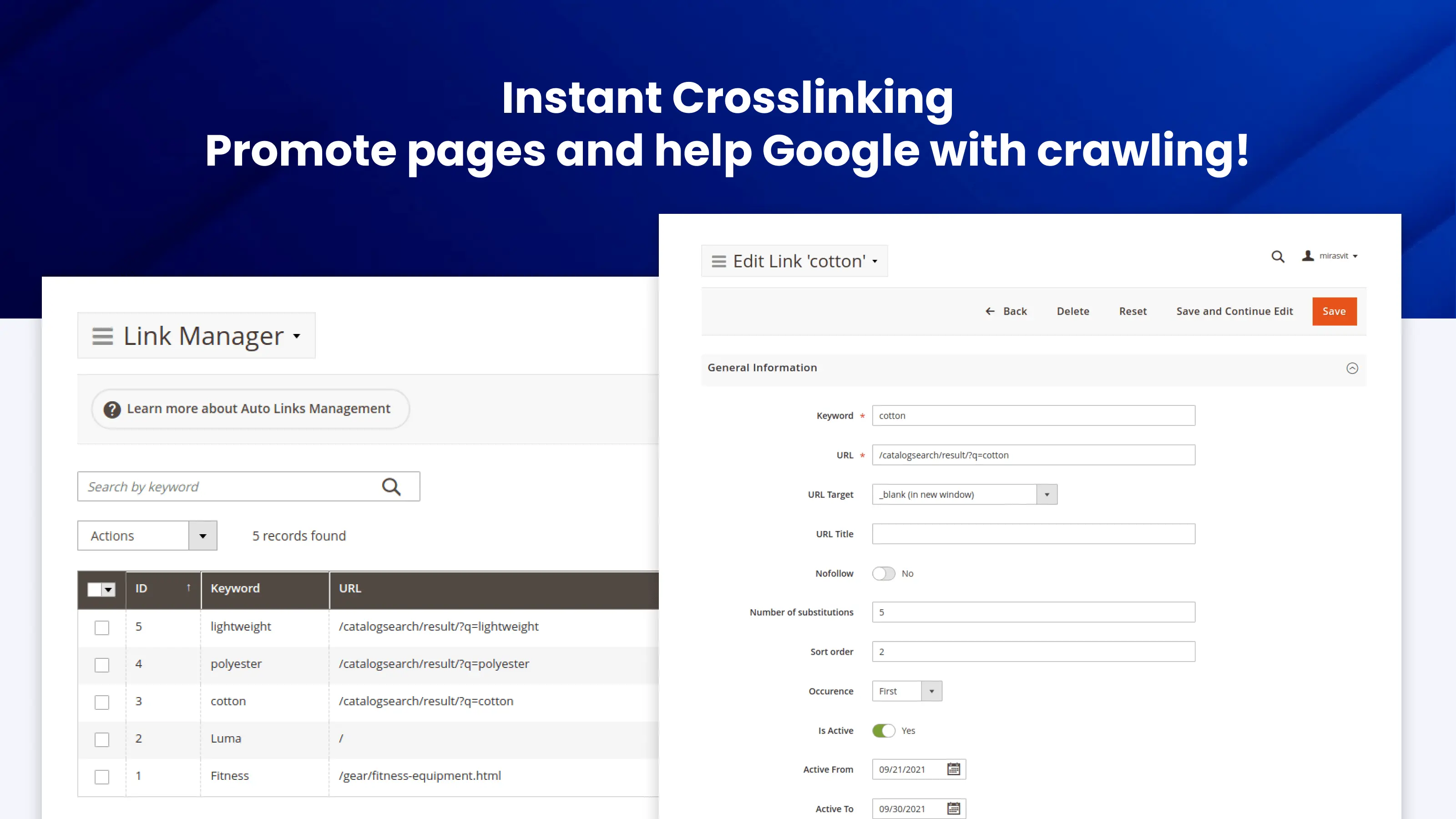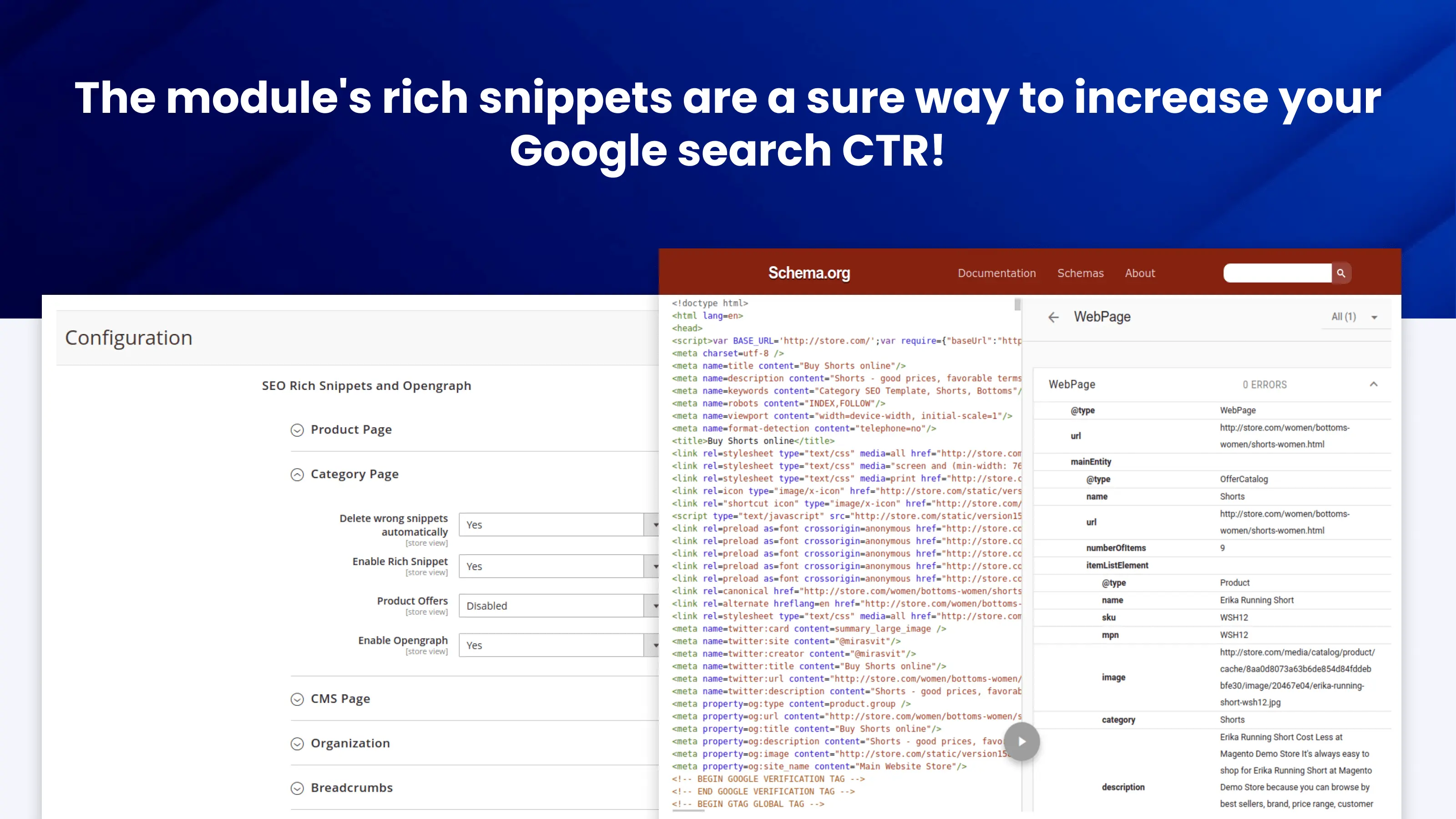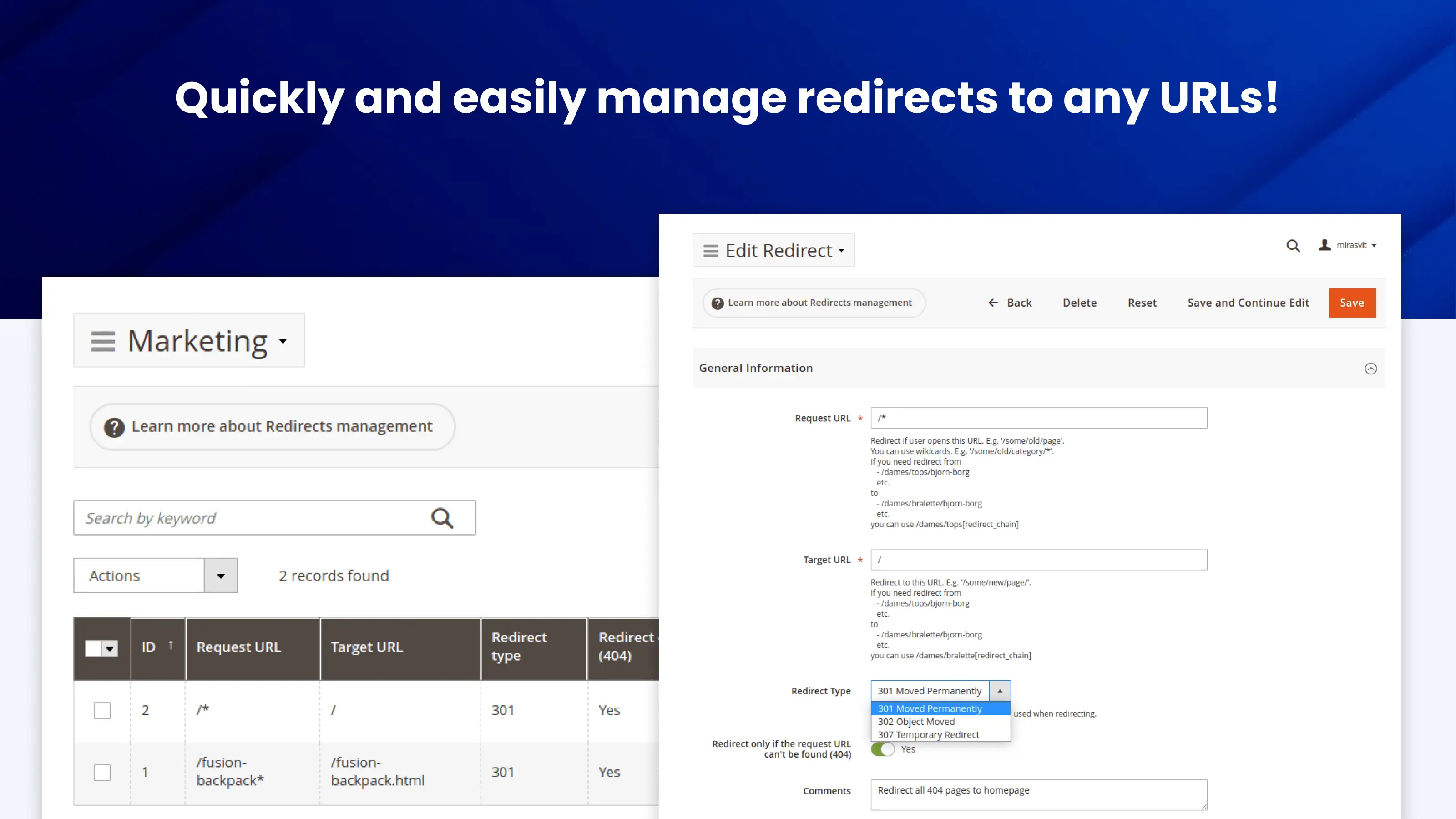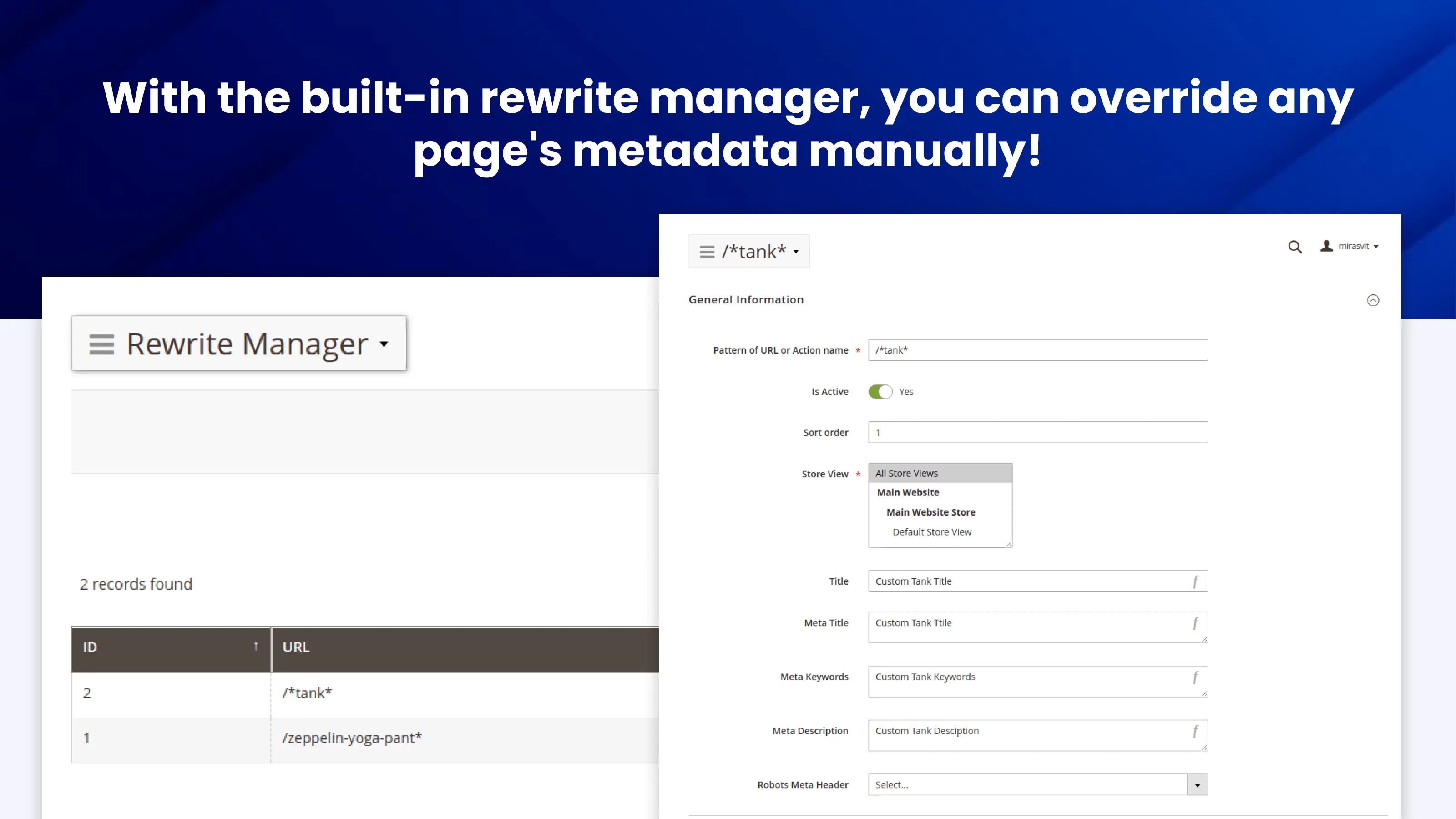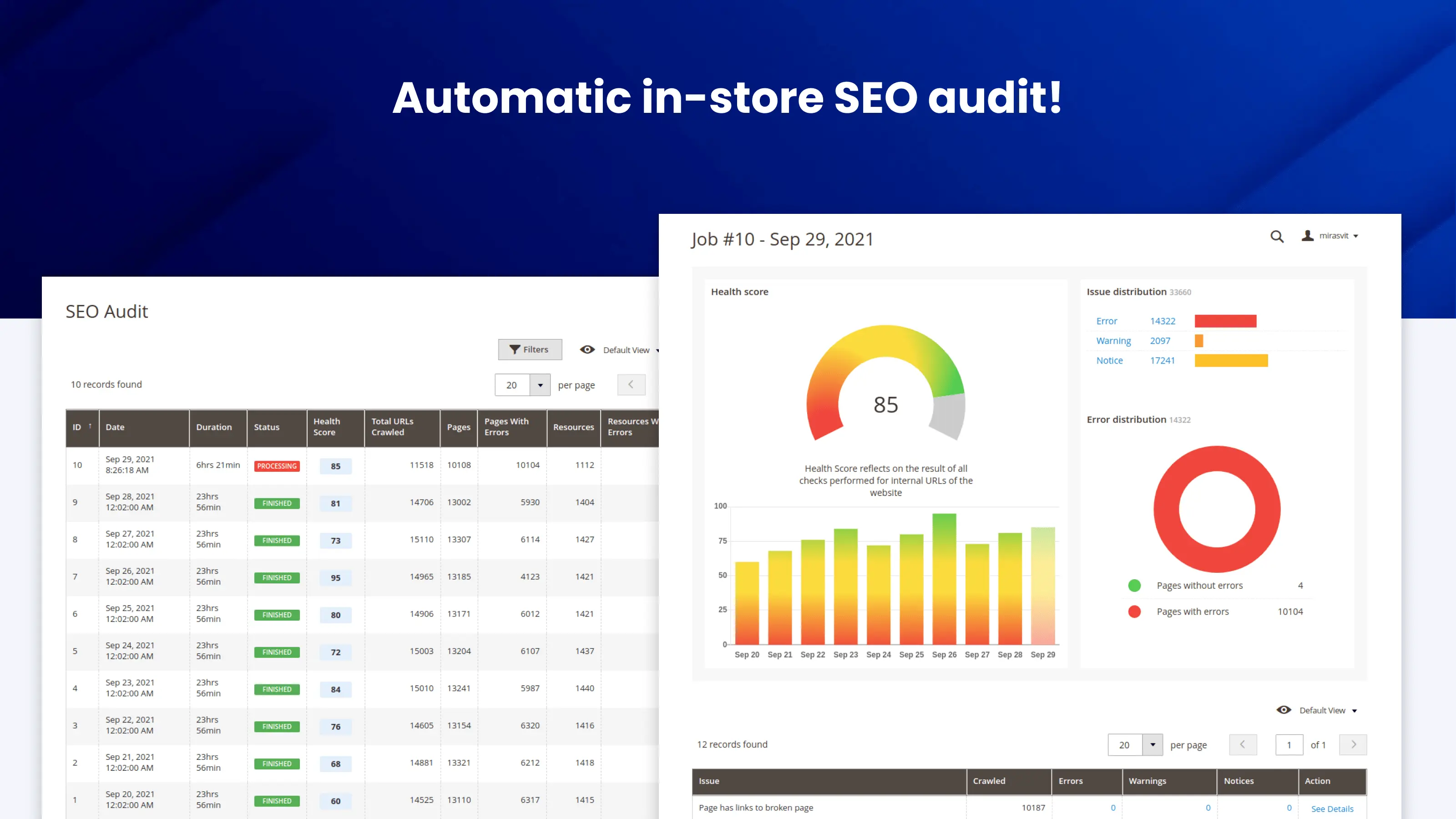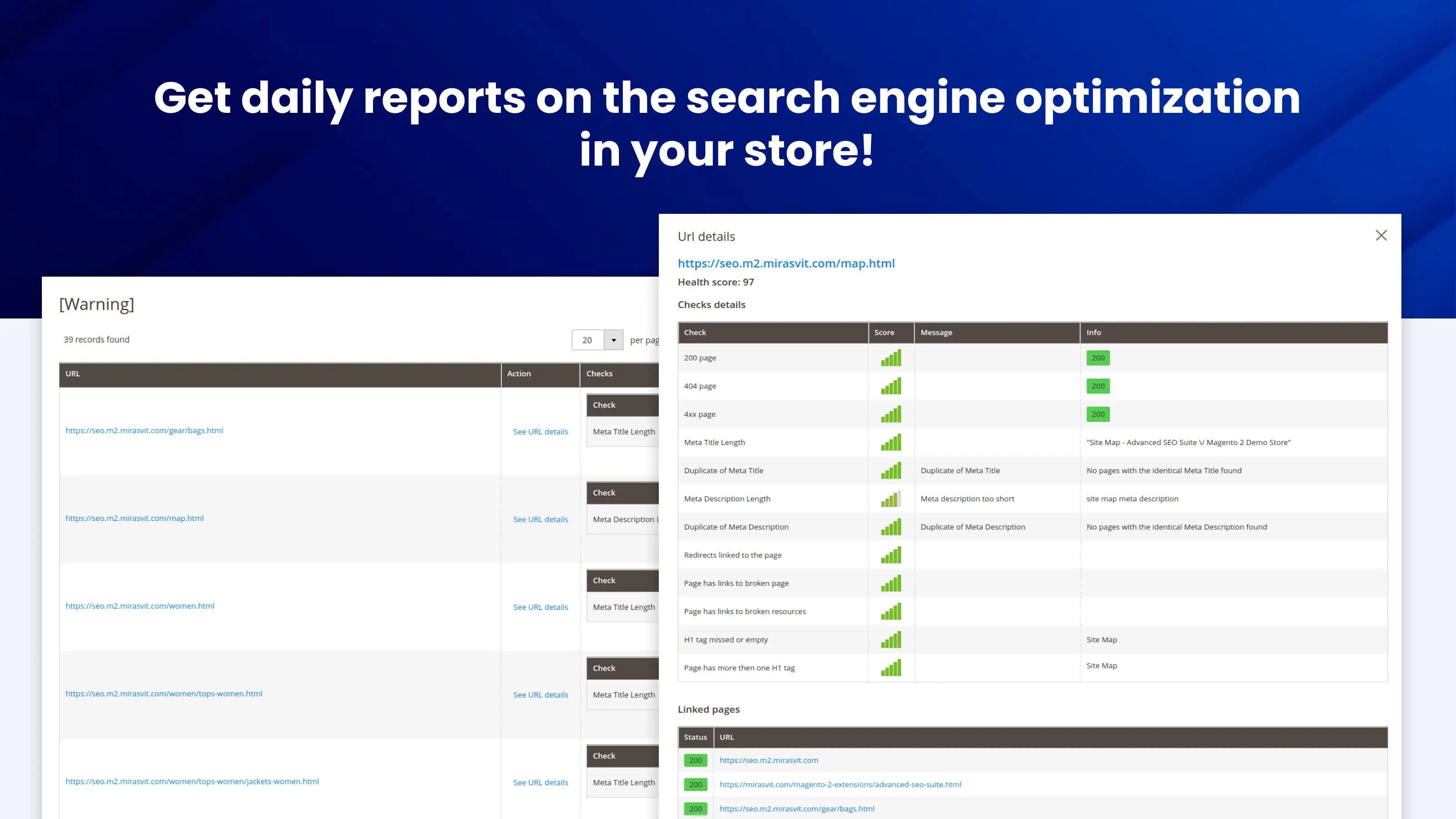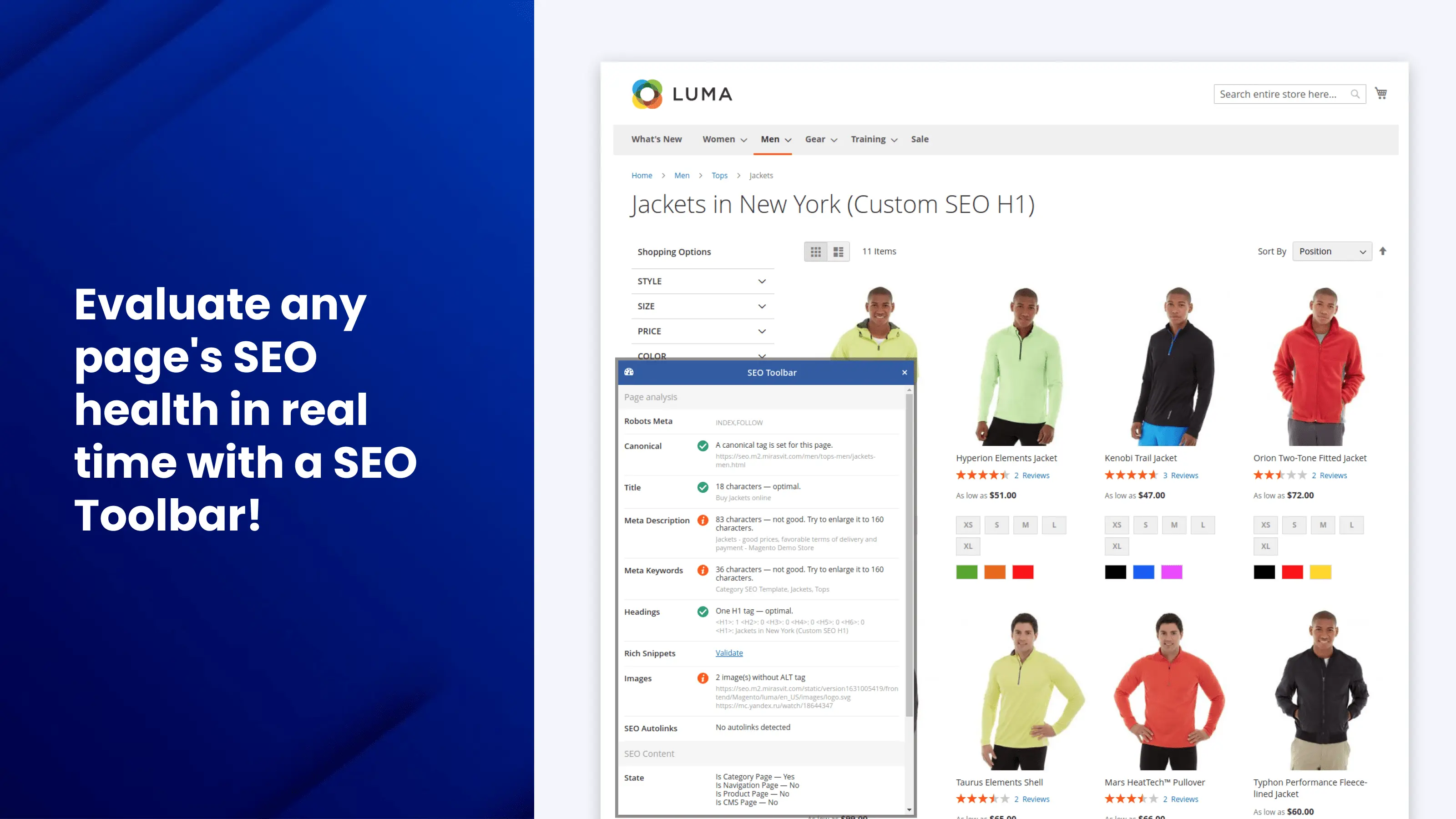 Problem
SEO is labor-intensive both in planning and execution. You can hire a SEO specialist for help, but that can become quite expensive.
Solution
The Advanced SEO Suite gives your full control over every SEO-related feature to elevate the search engine rankings of your store!
What benefits do you get for your store?
Get More Organic Users
Reduce Manual Work
Increase Store Traffic
Grow Store Revenue
Faster Store Indexation
Attractive products in SERP
Magento 2 SEO Extension Main Features
Generate meta tags for any page with advanced SEO templates
Overwrite meta tags, descriptions, and H1 tags for any store URL
Show rich snippets in Google search results
Format category and CMS pages for Facebook Opengraph and Twitter
Automatically add crosslinks to pages in your store
Set up 301, 302 or 307 redirects for any site URL
Make your product and image URLs SEO-friendly
Define canonical, language and relationship tags for any page
Evaluate any page's SEO health in real time with a SEO Toolbar
Generate an advanced frontend HTML sitemap and an XML sitemap for Google
The Advanced SEO Suite extension offers a comprehensive set of components essential for achieving highly effective SEO.
It includes the following key components:
SEO Templates & Rewrites
SEO Friendly URLs
Rich Snippets & Opengraph
Cross Links
HTML & XML Sitemap
SEO Audit
Instant SEO Toolbar
AI (GPT) Meta Fixer
Unparalleled Value for Any Store
The Magento 2 SEO Extension is an incredibly powerful search optimization package. It enhances flexibility, streamlines implementation and gives you greater control over every SEO-related feature on your site!
Higher Search Rankings
The more thoroughly your store meets the requirements of modern SEO, the more authority it will have among Google and other search engines, and the higher your search rankings will be.
Improved Search CTR
The module includes a slew of features designed to make your page stand out from the competition. Once you enable them, people will be even more likely to click on your site!
Saved Money
There's no need to hire an SEO specialist just to list their standard recommendations. The module's SEO features are a complete package for any online store, so you can treat them as a checklist.
Saved Time
There's a reason why this module is the best SEO suite for Magento 2. We built it with automation and streamlining in mind. The manual work this module requires takes not days, but mere minutes!
Flexible SEO Templates
The module includes advanced SEO templates. This feature lets you specify content patterns for meta titles, descriptions, keywords, and H1 tags.
Unique metadata to any page automatically
The extension automatically populates the relevant pages with meta information if it's not there already.
You can use the templates to generate meta tags for:
Product pages
Category pages
Search results pages
CMS pages
Layered navigation results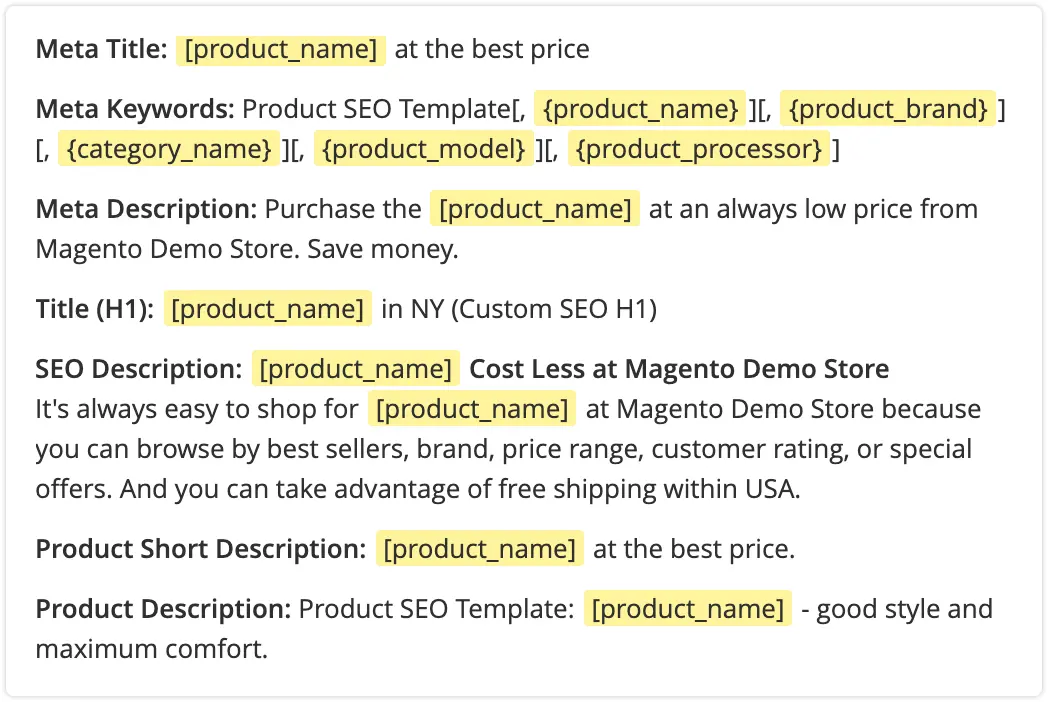 Powerful Rules
You can add variables with store, product, and page data to the templates, for instance:
[filter_selected_options] | [category_name] ★★★★★ | great prices, favorable shipping and payment terms | [store_name] | Call us on [store_phone]!
Also, use conditions to fine-tune the pages to which the templates apply, and set the priority of each template. You can even halt other rules from processing so that the module applies a template, even if there are other fitting rules with a higher priority.
Preview SEO Templates
Save your time when adjusting automated SEO elements, so that they are as planned. While still editing the template, you can know how the page will look when SEO template will be applied.
The Template Preview function shows what the stencil looks like on the five entities to which the template may be applied.
If you edit a product page SEO template, you will see five examples on product pages. The same is for categories and CMS pages.
The Preview option highlights variables so you can easily spot them when looking at the preview output of the SEO-optimized content in your store.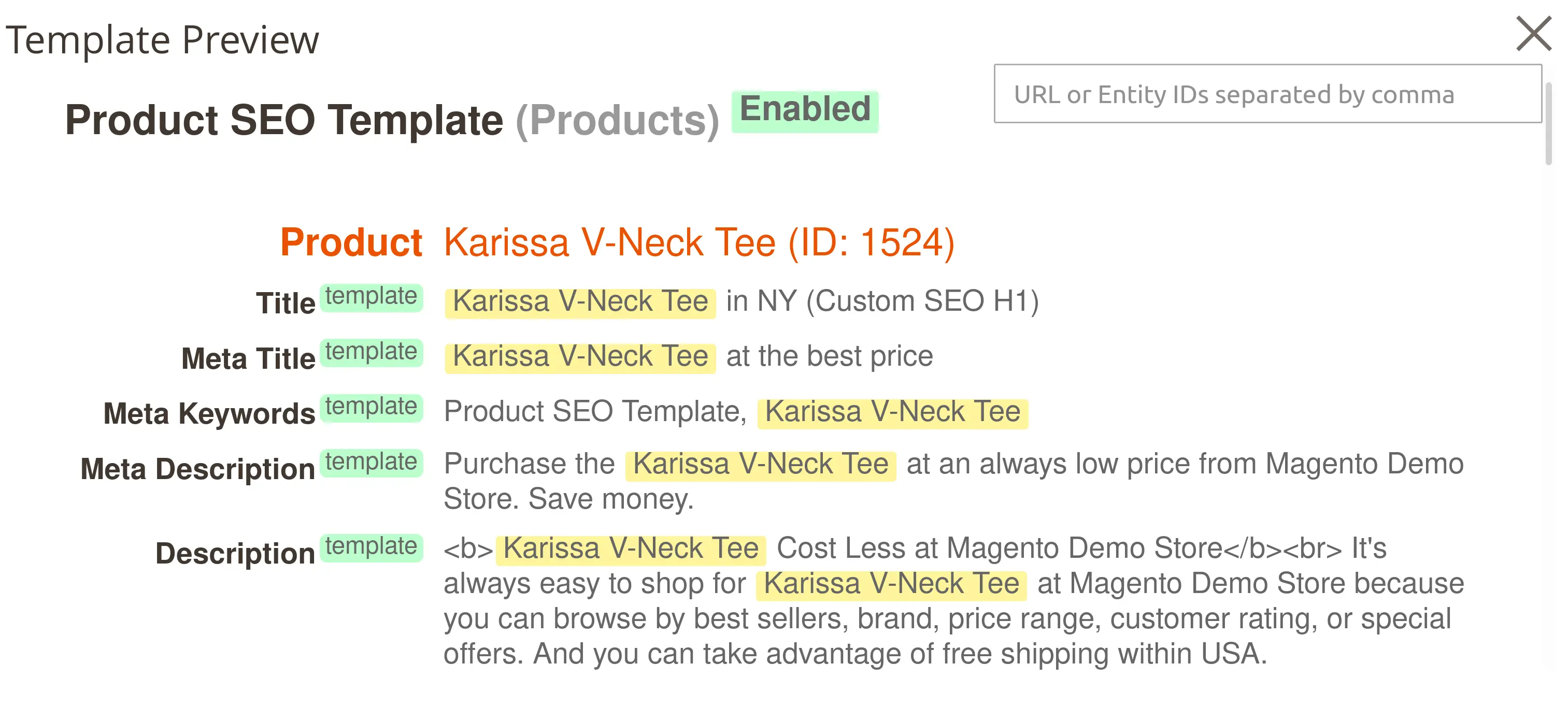 Simple Interface
Creating SEO templates has never been so simple. Just write a template for each field:
Meta title
Meta keywords (if necessary)
Meta description
H1 tag
SEO description
Short and full product descriptions (for product pages)
Then your templates will generate content for all necessary pages in your store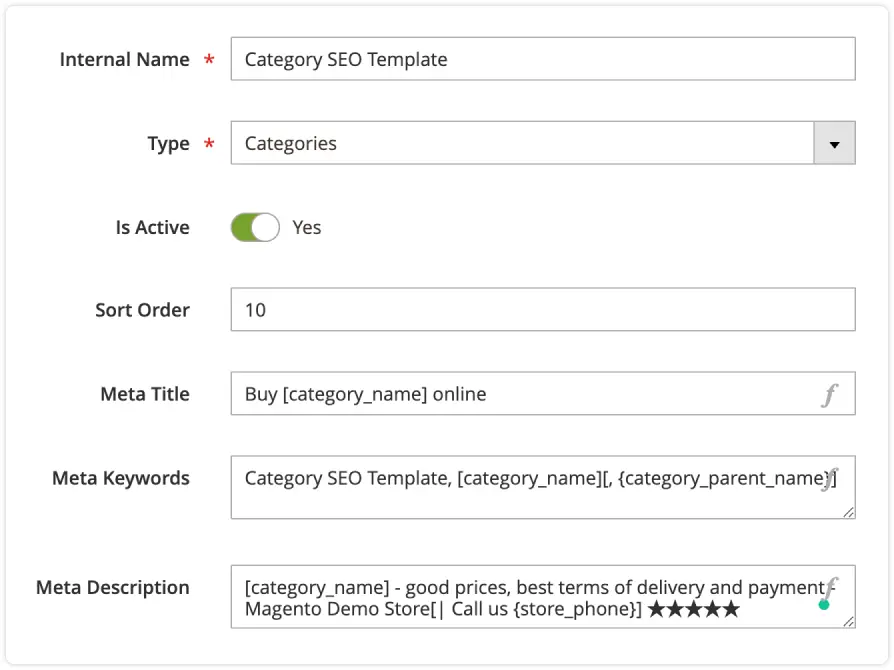 Manual Rewrites
Some pages, like unique categories or your bestsellers, need a personal touch. With the built-in rewrite manager, you can override any page's metadata manually.
The extension will only apply the rewrites to the URLs you specify, and rewrites have a higher priority than the templates, so you won't need to reconfigure anything else!
Rich markup
Help your store stand out with Google Rich Snippets and Facebook Opengraph markup
Rich Snippets
The module's rich snippets are a sure way to increase your Google search CTR. They add an astonishing number of details, like product images, payment methods, and shipping options, all directly to the search results.
The extension supports these snippet categories in particular:
Organization
WebPage
OfferCatalog
AggregateRating
Review
Offer
AggregateOffer
BreadcrumbList
Product
The snippets use JSON-LD format that Google recommends, so you don't have to worry about compatibility.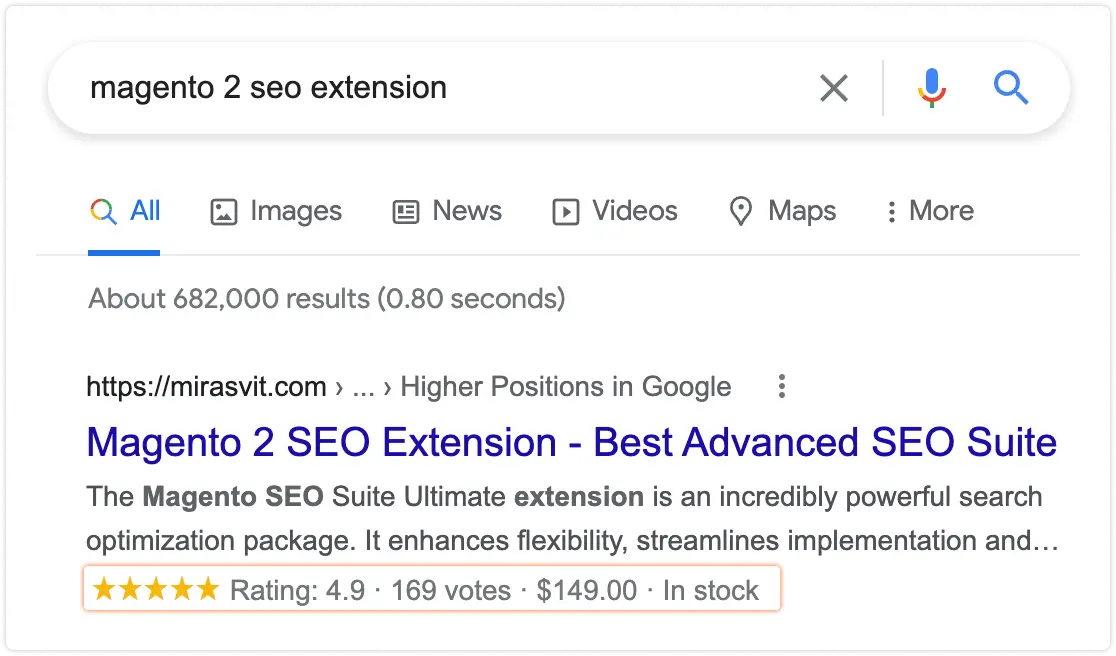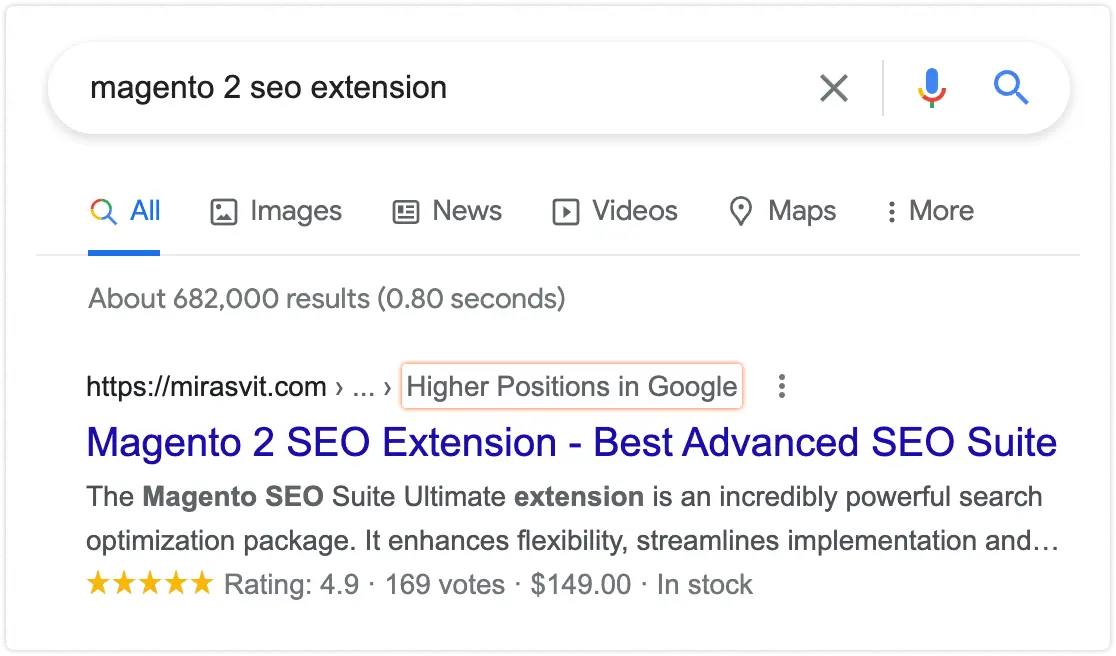 Breadcrumb Rich Snippet
You can add breadcrumbs to Google search results pages!
Breadcrumbs snippets help search engines better understand your website's structure and display extra navigation for search results.
Company Rich Snippet
Business details in search results make your store much more trustworthy and attractive to shoppers.
The extension lets you add your store's contact information to search results in no time, helping you secure more leads and further improving your search CTR.
Opengraph
The module lets you set Opengraph tags for category and CMS pages. Facebook, Whatsapp, and other social networks and messengers use Opengraph to structure page previews.
With Opengraph, your category and CMS pages will always look attractive when shared!

Optimisation of store structure
Let Google easily understand the content you have in your store.
SEO-friendly URLs
The extension lets you make your URLs as appealing to both live humans and search engines as possible. You can:
remove the parent category path from category URLs to clean out the category structure.
rewrite the product URLs with templates to make the links much more informative
toggle the trailing slash at the end of the URLs.
make layered navigation URLs SEO-friendly and human-readable.
make product image URLs more visibly pleasing as well. For instance, www.site.com/media/product/6991f8e/6789af8e.jpg will become www.site.com/media/product/argus-all-weather-tank.jpg

Canonical URLs
Prevent duplicate content issues.
If you have pages with very similar content, search engines may penalize all of them for duplicated content. With the SEO Suite Ultimate, Magento can prevent that from happening by adding canonical tags.

This is particularly useful for:
Configurable products
Grouped products
Bundled products
Cross-domain content (great for store views with different domains)
And many other page types
Relationship Tags
The module supports the relationship tags:
alternate - directs to an alternative page version, for example a printed page
hreflang - indicates to search engines that your website has a version in another language. Search engines will direct the customers to their preferred language version straight from the search results.
next and prev - treat pages as a part of a series, consolidating their links and sending visitors to the first page. This is most valuable for pagination: search results won't display the individual URLs for each page, but group them as a sequence
Automatic Redirects
Mirasvit SEO Suite Ultimate lets you quickly and easily manage redirects to any URLs.
Redirects are vital for SEO. If you change your URL structure, you have to tell the search engines to go to the new page URLs in order to preserve the search rankings you've already achieved.
Redirects are important for your customers. For example, if your visitors encounter too many 404 pages too often, they'll be more likely to leave your site. You can redirect all 404 pages to your homepage - or even your promotions page - to resolve this issue.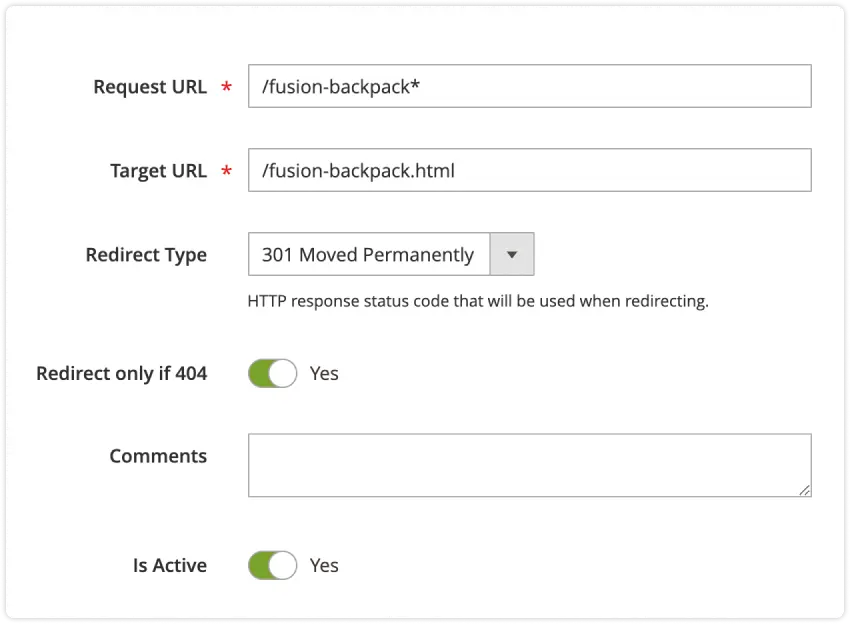 Handy SEO Toolbar
The Magento 2 SEO Extension includes a very convenient frontend interface (Magento 2 SEO Toolbar) that evaluates page optimization in real time.
The toolbar is a unified spot for reviewing all the key variables, such as:
Robots meta header
Canonical tag
The number of heading tags on the page
Meta tags (title, description, keywords) length and density
Rich snippets and Opengraph
Any templates or rewrites you applied
With this ultimate SEO Suite, Magento alt tags checking is possible in just a glance.
If you've configured the variable properly, you'll see a check mark. Should there be any issues, the toolbar will tell you how to fix them.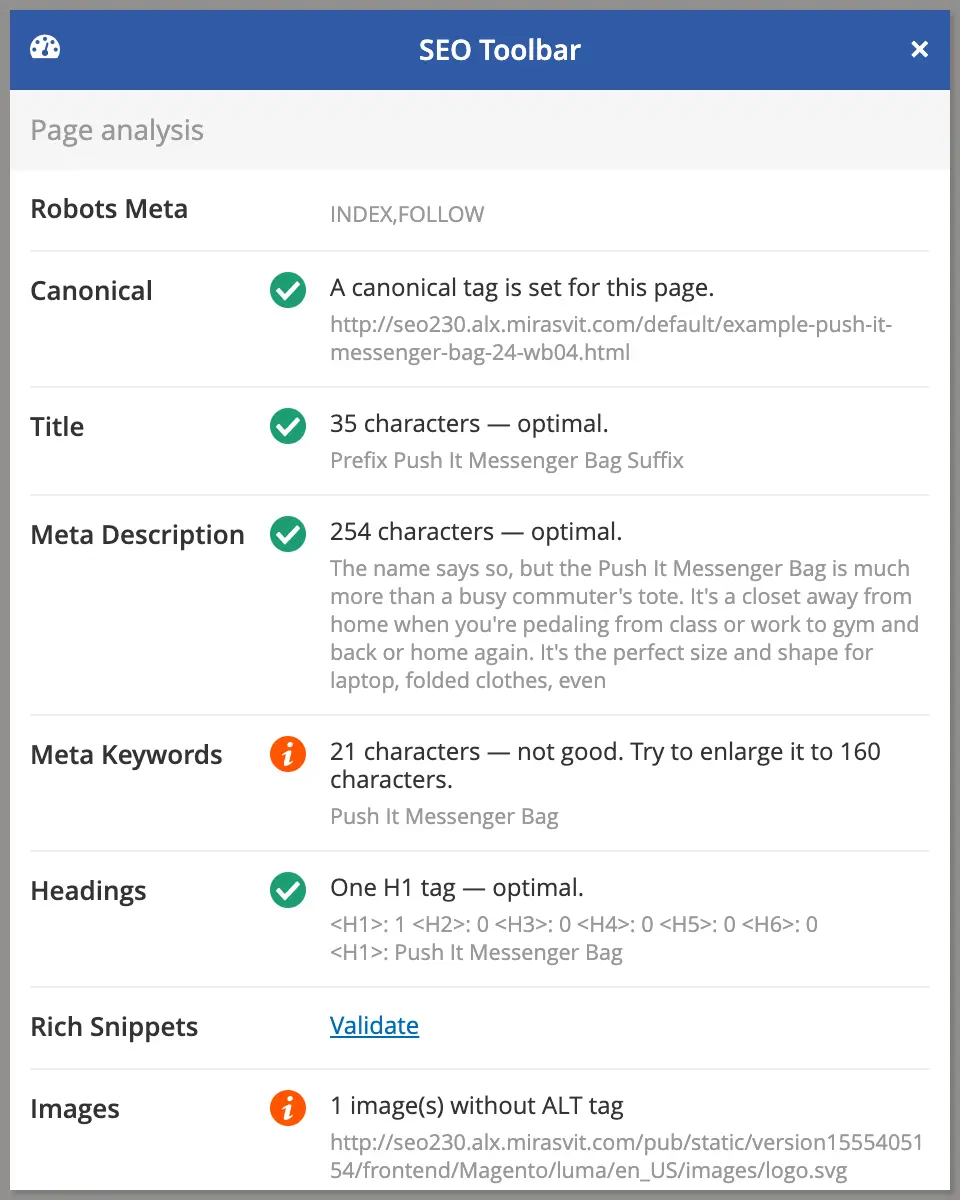 Automatic in-store SEO audit
Get daily reports on the search engine optimization in your store
Our module provides a built-in crawler that checks every page in your store in accordance to SEO requirements. It makes a specific SEO-audit depending on the page type and provides you with a detailed report on every detected problem.
Instantly understand the total situation on SEO problems in your store by getting an overall audit score and dive into specifics of SEO-issues with a detailed report underneath SEO health. For example, you will know if your pages have H1 tag missing or have more than one such tags, a page has broken links, its meta title is too long, etc.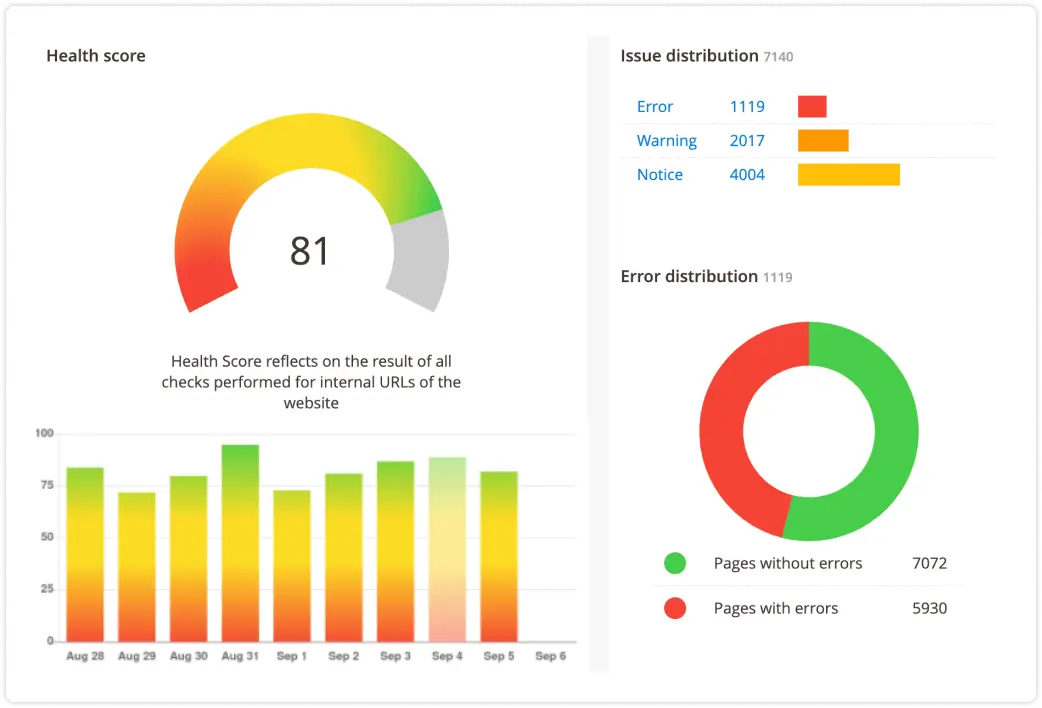 In addition to SEO audits, the extension offers seamless integration with GPT, enabling the manual or automatic correction of common meta tag errors such as duplicated meta titles and descriptions, filling empty meta tags, and adjusting their length.
Instant Crosslinking
Promote pages and help Google with crawling
Cross-linking is crucial for SEO: it lets you add more weight to certain pages, and it helps search engines understand your site's structure even better, improving their crawling efficiency.
You'll be able to handle cross-linking with ease. Just specify the pages you need to link, keywords, relevant URL, and the module will do the rest on its own.
You can limit the number of auto-links per page to comply with the recommended frequency.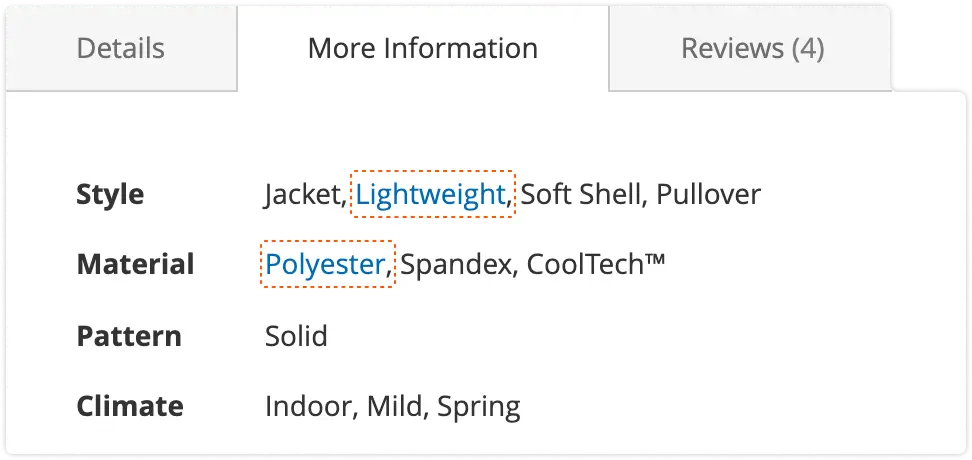 Advanced Sitemaps
Sitemaps is critical for a search engine to find all your pages
HTML Sitemap
Advanced SEO Suite adds an easily-configurable fronted sitemap.
For instance, you can specify which links to add to a sitemap or exclude.
XML Sitemap
This ultimate SEO Magento suite also lets you optimize the Google XML Sitemap automatically. Among other things, you can add title and caption tags to product images according to their templates, and add or remove specific links from the file.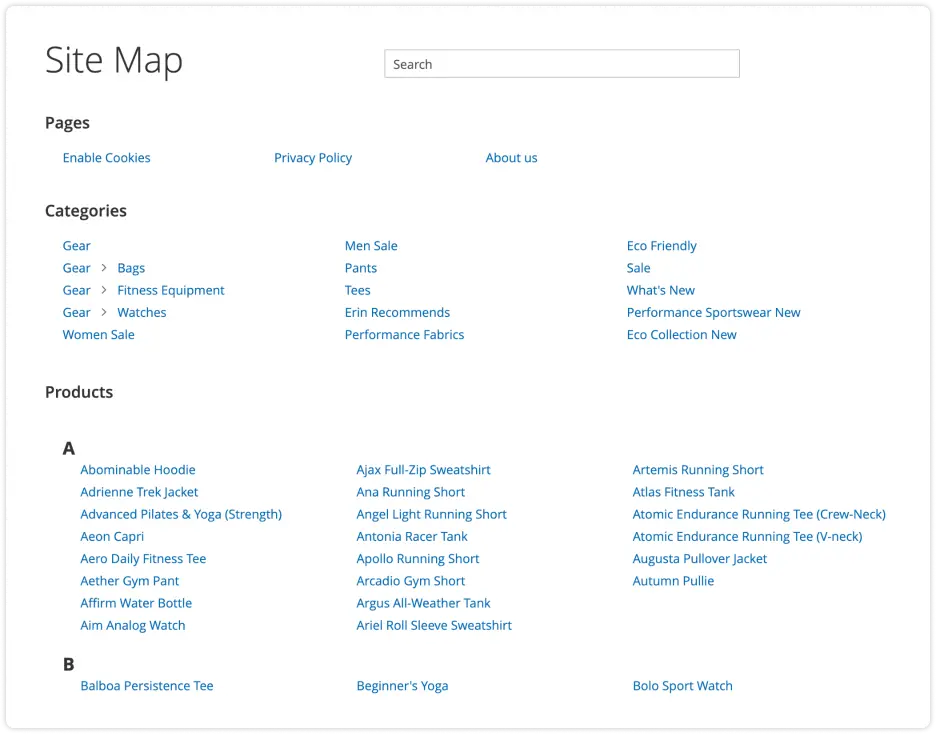 See it in action!
Pick a quick tutorial to learn about various aspects of this extension
Manual & Support
Need more help?
Save time by starting your support request online and we'll connect you to an expert.
Contact Us Now
Frequently asked questions
How Canonical URLs can help to prevent duplicate content issues?
If you have pages with multiple versions, search engines may penalize all of them for duplicate content. With SEO Suite Ultimate, Magento can prevent that from happening by adding canonical tags to main page versions.
This is particularly useful for:
Configurable products
Grouped products
Bundled products
Cross-domain content (great for store views with different domains)
And many other page types
You can also define exceptions with a different or completely omitted canonical tag manually.
What are the benefits of using Magento 2 SEO extension?
The Magento SEO Suite Ultimate extension is an incredibly powerful search optimization package. It enhances flexibility, streamlines implementation and gives you more control over every SEO-related feature on your site! It's the best SEO Suite for Magento 2, and the only SEO module you'll ever need.
No expert assistance required: the module's extensive feature list doubles as a checklist. Just configure the extension, and Google will fall in love with your site! If you're not sure where to begin, you can use a built-in SEO toolbar to check your pages' SEO health.
No need to spend days tweaking the module, either: implementing most features is as easy as flipping a switch. If they require more input from you, you can utilize the intuitive patterns they come with that streamline their configuration.
That said, the module's simplicity doesn't affect its functionality in any way. If need be, you can fine-tune your SEO settings to absolute perfection.
How can built-in SEO Toolbar save you money?
The module includes a very convenient frontend interface (Magento 2 SEO Toolbar) that will help to treat standard SEO recommendations as a checklist. There's no need to hire an SEO specialist to do such a job.
SEO toolbar allows you to see what you still need to improve and it evaluates page optimization in almost real time. With this ultimate SEO Suite, Magento alt tags checking is possible in just a glance.
Changelog
Version
2.6.7
May 17, 2023
Alternate tags for products and categories with links to stores where they are not configured
Version
2.6.6
May 11, 2023
Incorrect main image on product view page when 'SEO-friendly URLs for Product Images' enabled and the main image is not the first image
Fixed the issue with store logo in Opengraph and Rich Snippet (since Magento_Theme v101.1.4)
Add Magefan_Blog categories to sitemaps
Reasons to choose Mirasvit
Client focusing and satisfaction
These are our primary. A major portion of our new clients come from referrals from our existing clients. Our professional team of developers, marketers and support staff have invested the best knowledge and experience in the field into our work, so you know you can come back to us again and again.
Remarkable support
One year free and high quality support. We go to great lengths to provide maximum satisfaction with every module you have purchased in our store. By helping you with installation, configuration, answering your every question, we do all our best to eliminate any possible problems.
Risk-free Investment
30-days money back guarantee. If you are not satisfied with our extension's performance for any reason, we provide a full refund.
Constant improvements and upgrades
We constantly add new features to all our modules, and are always interested in hearing your opinion and implementing your suggested features in our future developments.
Comprehensive Documentation
We provide an expanded user guide for every aspect of our extension, so you can find answers for all your burning questions.
Unencrypted source code of our products
You can customize extensions according to your needs and requirements.
Usability and Performance
The Module is easy to install and upgrade, just follow our step-by-step user guide.
Safe Magento updates
No core modifications. Just use the composer or copy the extension's files to the root directory of your store.