Follow Up Email for Magento 2
Use this Magento 2 follow up email extension as an email marketing automation platform. It will send your marketing emails to the right people at the right time. It will motivate your customers to take the next step in your store.
Get a fast start with eight bundled email campaigns
Fully automate your email marketing
Run well-targeted email campaigns
Design visually appealing personalized emails with ease
Control the performance of your campaigns
See it in action!
Pick a quick tutorial to learn about various aspects of this extension
Feature Highlights
Trigger emails represent reliable marketing tools with great response and conversion rates.
You set up an automated email series that should be activated under certain circumstances, say, a customer abandoned shopping cart. Once an automatic email series gets enabled, the extension should automatically send personalized emails to such a customer. The extension will tailor further emails to the earlier customer behavior in your store.
Get a Fast Start with Bundled Configurations
You will receive the following pre-configured campaigns after the installation of the Magento 2 Follow Up email module. You will need to activate the campaigns to work for your store.
Abandoned Shopping Cart Reminder (including guest checkouts)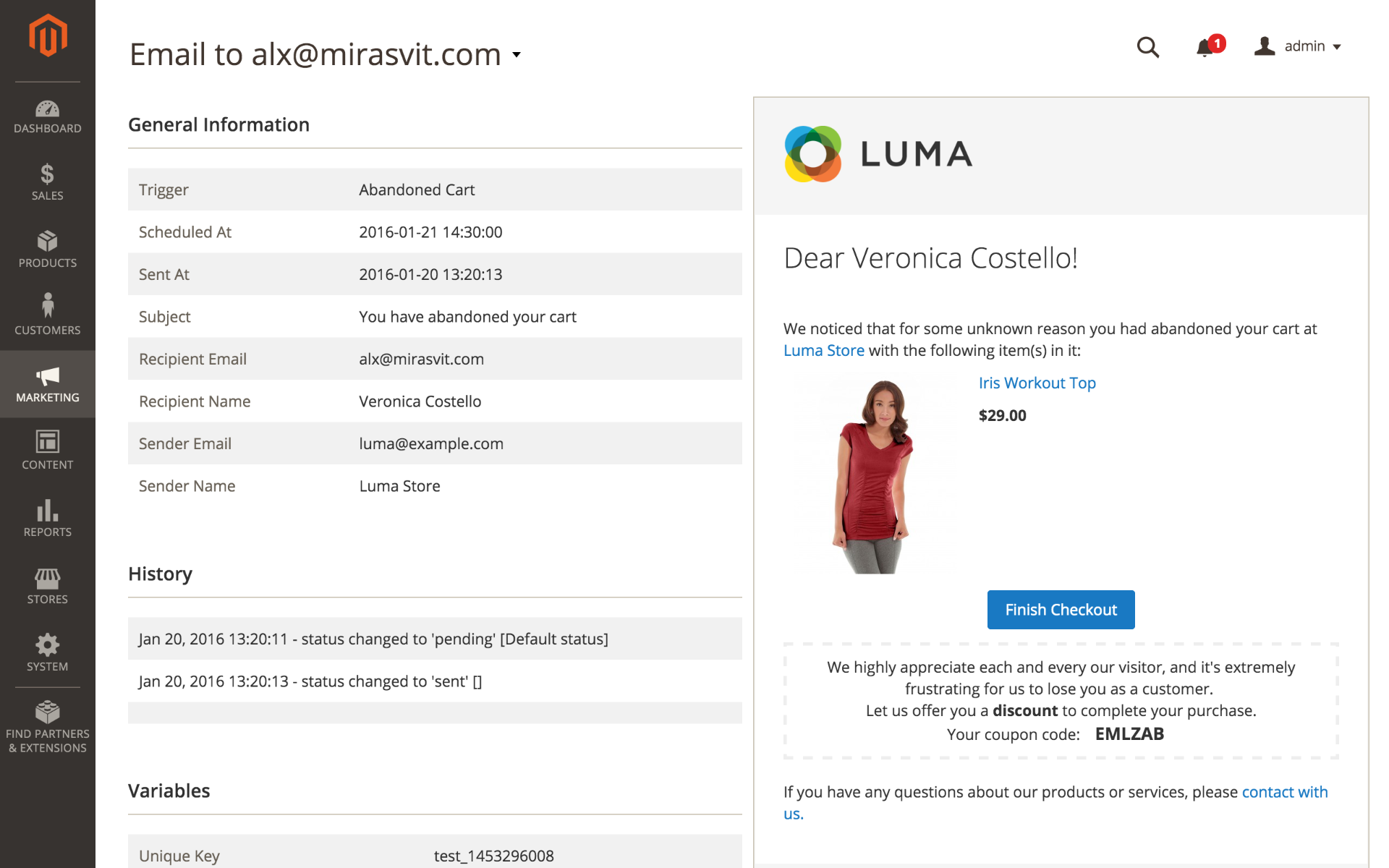 The average shopping cart abandonment rate is around 68%!
This Magento 2 abandoned cart email extension win back your customers, grow your online store conversion rate, and drive more sales.
---
Review Reminder
Authentic reviews allow a store to build customer trust. Also, reviews affect Google ranking.
The extension enables automated sending of the emails requesting online reviews shortly after purchase.
If a customer doesn't leave any review after receipt of the first message, you can configure an automated email series in a certain way.
---
Win-Back Emails
Every store has its loyal customers as well as satisfied customers who are inactive for a long time. Win back your customers by sending them an email with something special like a gift card or a coupon. The extension enables automation of this process. It sends the win-back emails to the customers that did not visit your store at certain times.
---
Product Recommendation
The extension will send an email with product recommendations based on a customer's order history.
---
Wish Your Customers on Happy Birthday to Show that You Care
Every customer likes attention. Sending a birthday marketing message, you will increase your store loyalty. You can also enclose a special gift coupon to your email.
---
Send An Email with Recently Viewed Items
The extension can send an email with an overview of the items that customers viewed recently. This email will increase the number of repeat visits that will bring new orders.
---
Run Effective Email Campaigns
Send Emails to The Right People at a Right Time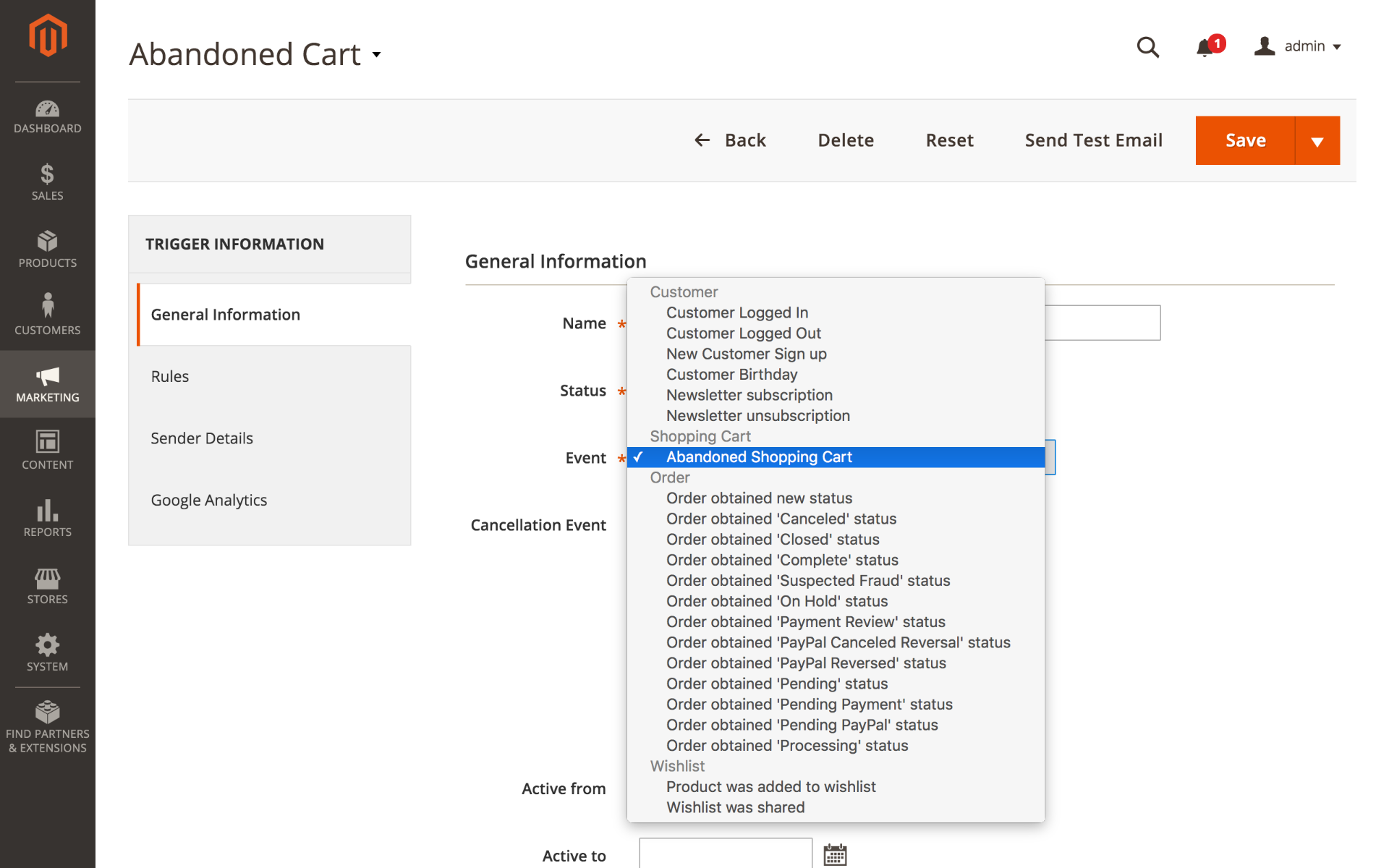 Compared to the common newsletter extensions, the Follow Up email extension in Magento 2 allows aiming your campaigns at a specific customer at a particular stage of his journey towards the next order. Email campaign activates only upon completion of certain events.
The extension supports many different events. They can be described as follows:
Customer-related events such as logging in or subscribing to the newsletter etc.
Shopping cart-related events such as an abandoned cart
Order-related events such as order placement or status changes etc.
Product-related events such as viewing certain items by a customer
Wishlist-related activities like sharing or adding an item
You can also use filtering rules to limit your campaign to address a defined group of customers. You can send specific emails to individual customer segments. Send relevant emails to each section, and it won't take you long to see a fantastic result!
---
Send Discount Coupons in Emails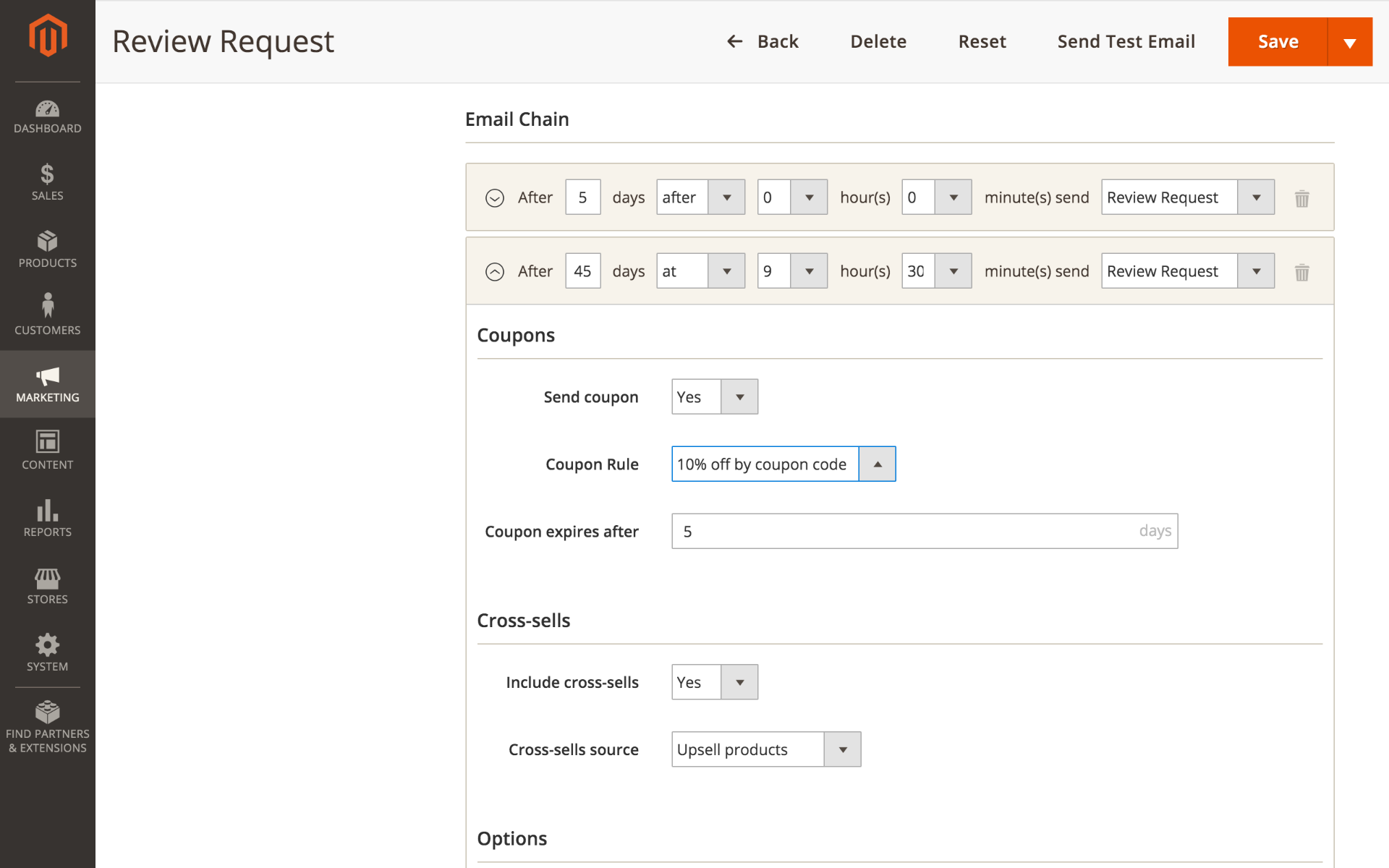 To make the customers act, give them a personal, limited time discount coupon.
The extension can automatically generate and enclose coupons with a specified discount rate and expiration time to emails. Gift a voucher now and win back your customer!
---
Stop Your Campaign Once The Goal Is Reached
Cancellation logic truly matters when we wish to gain customer trust without annoying them with outdated offers. The extension allows canceling a campaign once the goal is reached or in case of any cancellation-related event.
For example, the extension will stop the Abandoned Shopping Cart Recovery campaign once a customer places an order.
---
Automate Your Email Marketing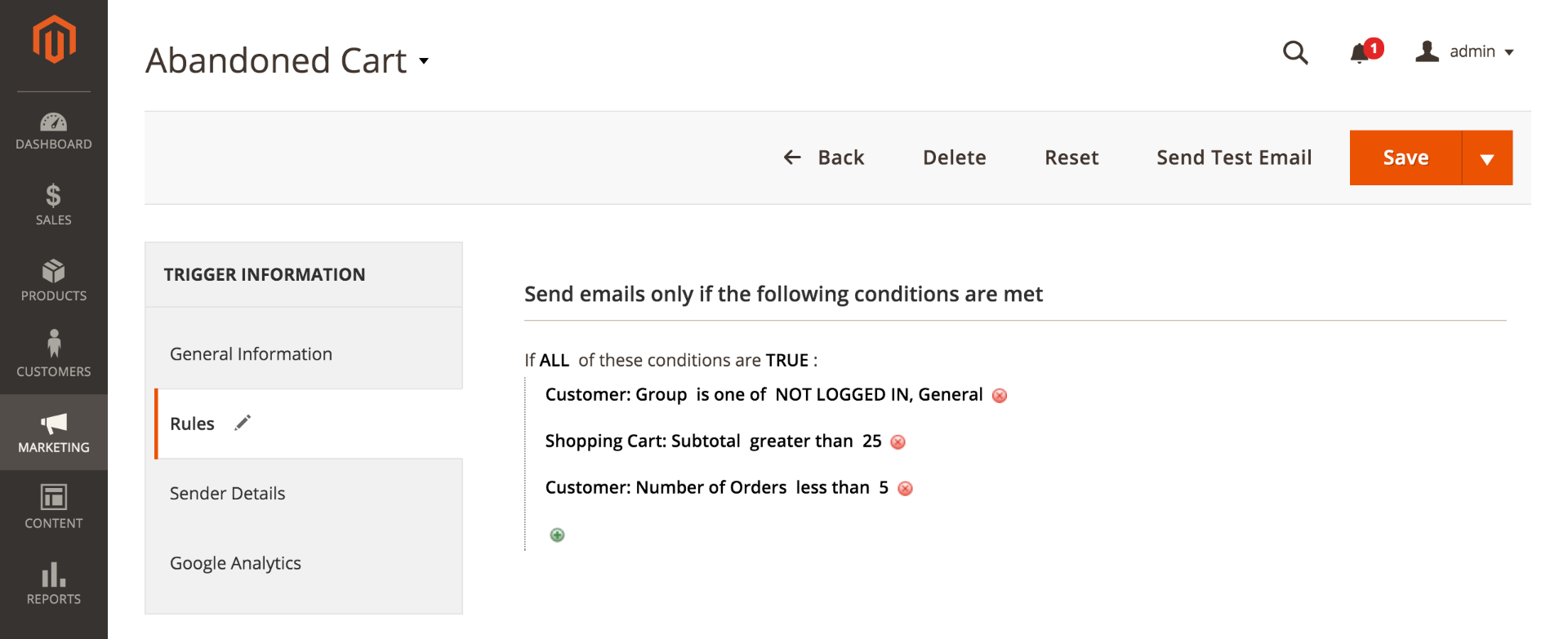 The extension acts as your email marketing automation platform.
You set up campaigns only once, and they will execute automatically without your constant supervision. You sometimes have to check the performance indicators of every campaign and adjust corresponding settings to achieve the best result.
---
Send Better Emails
Create Visually Appealing Emails with Ease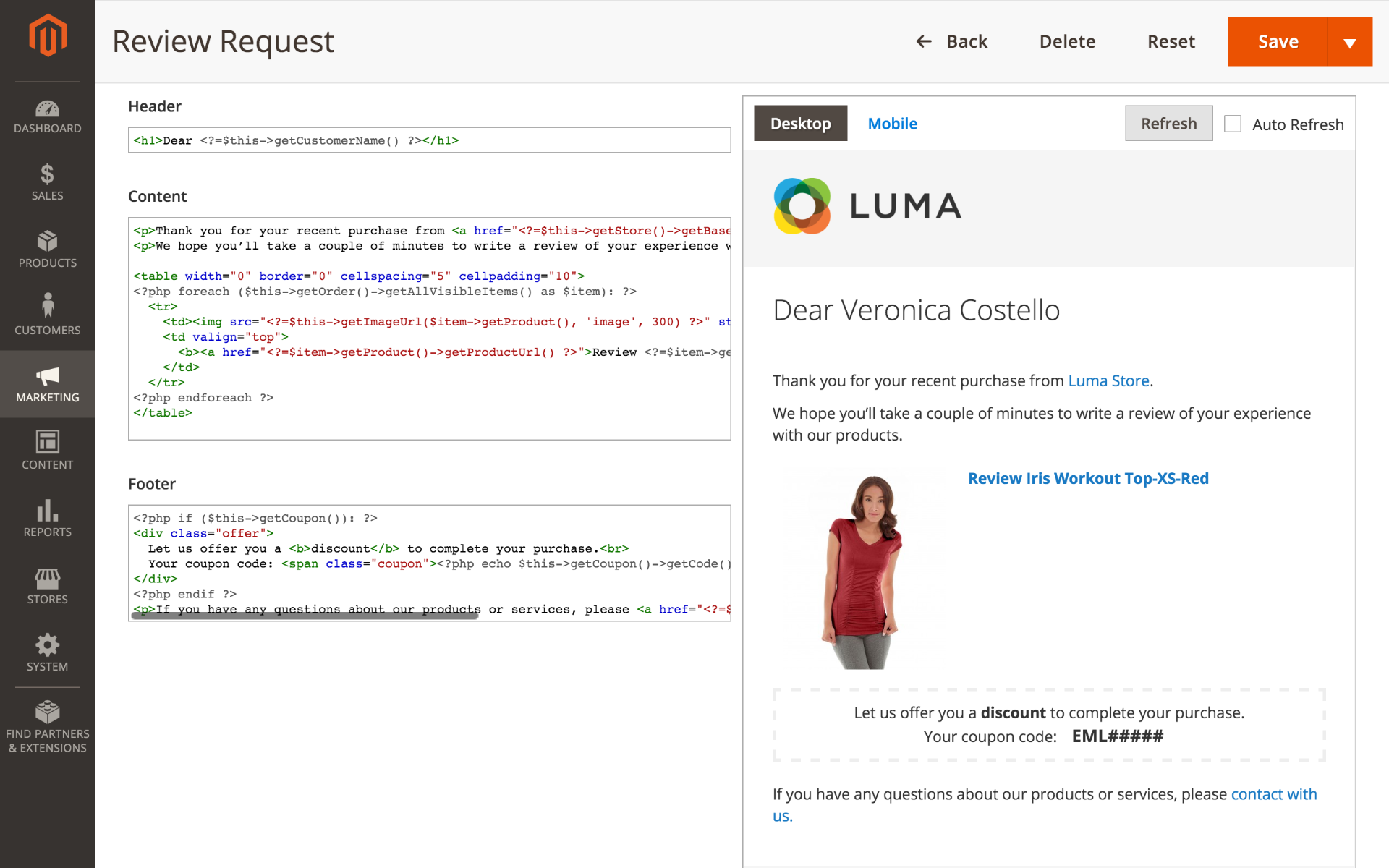 The extension has an editor that allows you to design visually appealing emails for different types of cases.
The editor allows previewing your email on desktop and mobile devices.
Using our editor, you'll be able to create a correct series of emails for your campaigns.
---
Use Variables to Personalize Your Emails
The extension provides over 30 variables such as customer features, order features, item properties, reviews, and so on.
You can use those variables to personalize and tailor your emails to customer profiles.
---
Insert a Link to Restore Abandoned Shopping Cart With One Click
To make Abandoned Shopping Cart Reminder more effective, use our extension to enclose a link restoring a cart with one click to email.
Thus, you will lead your customers to the abandoned shopping cart and motivate them to complete and place their orders.
---
Send Cross-Sell Offerings
The extension allows enclosing listing of cross-selling items to email. Those items will be related to the original product and may interest customers.
---
Control Performance of Your Campaigns
Performance Dashboard for Every Campaign, Trigger or Email
Check your email marketing performance using the dashboards with key indicators. Using this information, you can customize your campaign settings to achieve a great result.
Measure the efficiency with the following data:
Sent, opened and clicked emails
Open rate and Click-through rate (CTR)
Number of referred orders and reviews
---
Google Analytics Reports
The Follow Up Emails extension allows configuring specific UTM parameters for every email campaign; therefore, you can use Google Analytics along with built-in reports.
Manual & Support
Need more help?
Save time by starting your support request online and we'll connect you to an expert.
Contact Us Now
We found other products you might like!
Live customer feedback
Latest comments
Jacques Cardinal
Jul 24, 2020
Excellent support! Very patient support staff, especially with people with no programming or system background.
Thanks for your support. GOOD JOB
Frédéric Voyard
Jul 23, 2020
Perfect after sales !
Thanks for the prompt reply and support.
See all comments
The real-time results of the satisfaction survey of our customers
for the last 100 responses
Reasons to choose Mirasvit
Client focusing and satisfaction
It is our main goal. A big part of our new clients come from referrals from our existing clients. Our professional team of developers, marketers and support invest the best knowledge and experience, so you could come back to us again and again.
Remarkable support
90-days free and high quality support. We make an effort to satisfy you with work of every module you have purchased in our store. Helping you with installation, configuration, answering your every question, we do all our best to eliminate any possible problems.
Risk-free Investment
30-days money back guarantee. If you are not satisfied with work of our extension for any reason we provide a full refund.
Constant improvements and upgrades
We provide you lifetime free updates. We constantly add new features to all our modules. We are absolutely interested to hear your opinion and to implement your suggested features in our future developments.
Comprehensive Documentation
We provide an expanded user guide for every our extension, so you can find answers for all your burning questions.
Unencrypted source code of our products
You can customize extensions according to your needs and requirements.
Usability and Performance
Module is easy to install and easy to upgrade, just follow step by step our user guide.
Safe Magento updates
No core modifications. Just copy extension files to store root directory.