Follow Up Email for Magento 2
| | | |
| --- | --- | --- |
| Compatible with: | Community: | 2.0-2.2.* |
| | Enterprise: | 2.0-2.2.* |
Increase your store Conversion Rate and drive more sales with the most powerful and fully featured Follow Up Email Extension for Magento 2!
The average online shopping carts abandonment rate is about 68%! Use Magento 2 Follow Up Email Extension to win back your customers, grow your online store Conversion Rate and drive more sales.
Fully featured and powerful Email Marketing Tool
Email Triggers, Follow Up Emails - those are ultimately powerful Marketing Tools. Our extension allows you to manage online store email marketing easily and get tangible results in the form of growing your number of orders.
You may use a third party service to make Email campaigns for your shop, but it is always better to keep all marketing activities in one interface. Follow Up Emails extension gives you almost unlimited options to attract more customers using Email marketing.
The extension includes the most efficient trigger configurations: Abandoned Cart, Customer Not Logged In For X Days, Review Request, Post-Purchase Cross-Sell, etc. Also create an unlimited number of email chains for each trigger and make it fit your business model and goals.
You will also like WYSIWYG editor, which allows you to edit email templates appearance.
You may generate coupon codes and insert Cross-sells using the step-by-step trigger wizard. Then you can make up Rules, which manage the customers receiving every email in a chain. Follow Up Emails allows you to track all campaigns using Google Analytics UTM tags: just fill out the necessary fields on the last step of trigger wizard and monitor results in GA.
Follow Up Emails - grow your online shop Conversion Rate and get more leads or sales!
10 advantages you get with Follow Up Email Extension
Use Built-in configurations for fast launch
Create an unlimited number of emails for each trigger
Insert automatically generated coupon codes into chain emails
Use Cross-Sells in the emails
Edit email templates in WYSIWYG editor
Manage customers who will receive your emails, creating comprehensive Rules
Manage Email Templates: add your own or customize the existing ones
Schedule every email in the chain to fit your current business goals
Customize the design of every email template
Get clear statistics on email triggers: built-in reports and Google Analytics allows you to keep up every moment
Feature Highlights
Flexible Events
Choose any event to launch trigger emails among 20+ ready solutions:
Customer related events (logged in, subscribed on newsletter, etc.)
Shopping Cart related events (Abandoned Cart)
Order related events (status events)
Wishlist related events (shared or product added)
Here are several ready-made trigger solutions for your store's customers from Follow Up Emails:
Abandoned Cart Reminder
Review Request (extension automatically sends asking for review emails some time after purchase. Then you may configure a mail chain with a few messages, if the customer did not place a review after the first message)
Win-back message (extension sends a winback message to customers who did not visit your store for a specific time)
Product recommendation (extension can send Product Recommendation Emails, based on previous customer's purchas history)
Greet your customers on their birthdays
Also you may define a Cancellation event. When this event happens, the whole trigger email chain stops.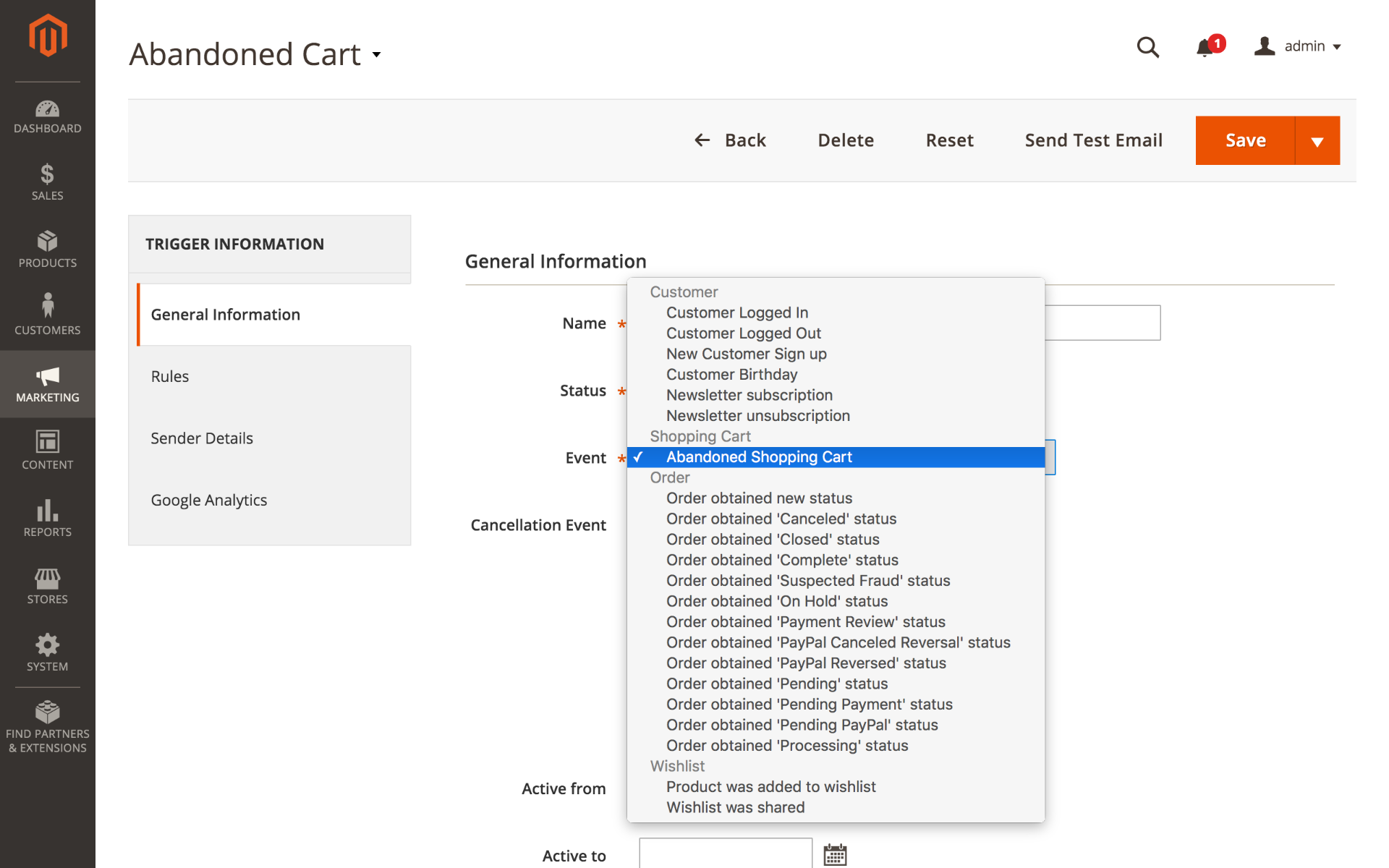 Unlimited Number of Emails in Chains
Add unlimited number of Emails in every Follow Up Chain. Our Extension allows you this feature. You may schedule the exact time after the previous chain message to send the next email in a chain. Then add the next message and schedule its sending. Repeat these steps, when you need according to your shop's marketing plan.
For example, you scheduled a chain of emails in the case that your Customer abandons their Cart. This trigger goal is to receive an order from the Customer, who abandoned a cart. Let's pretend , he or she received the first message of a chain and made an order! Here comes our Cancellation event: Customer will not receive any trigger chain messages, as he fulfilled your goal! A very important feature, though not obligatory.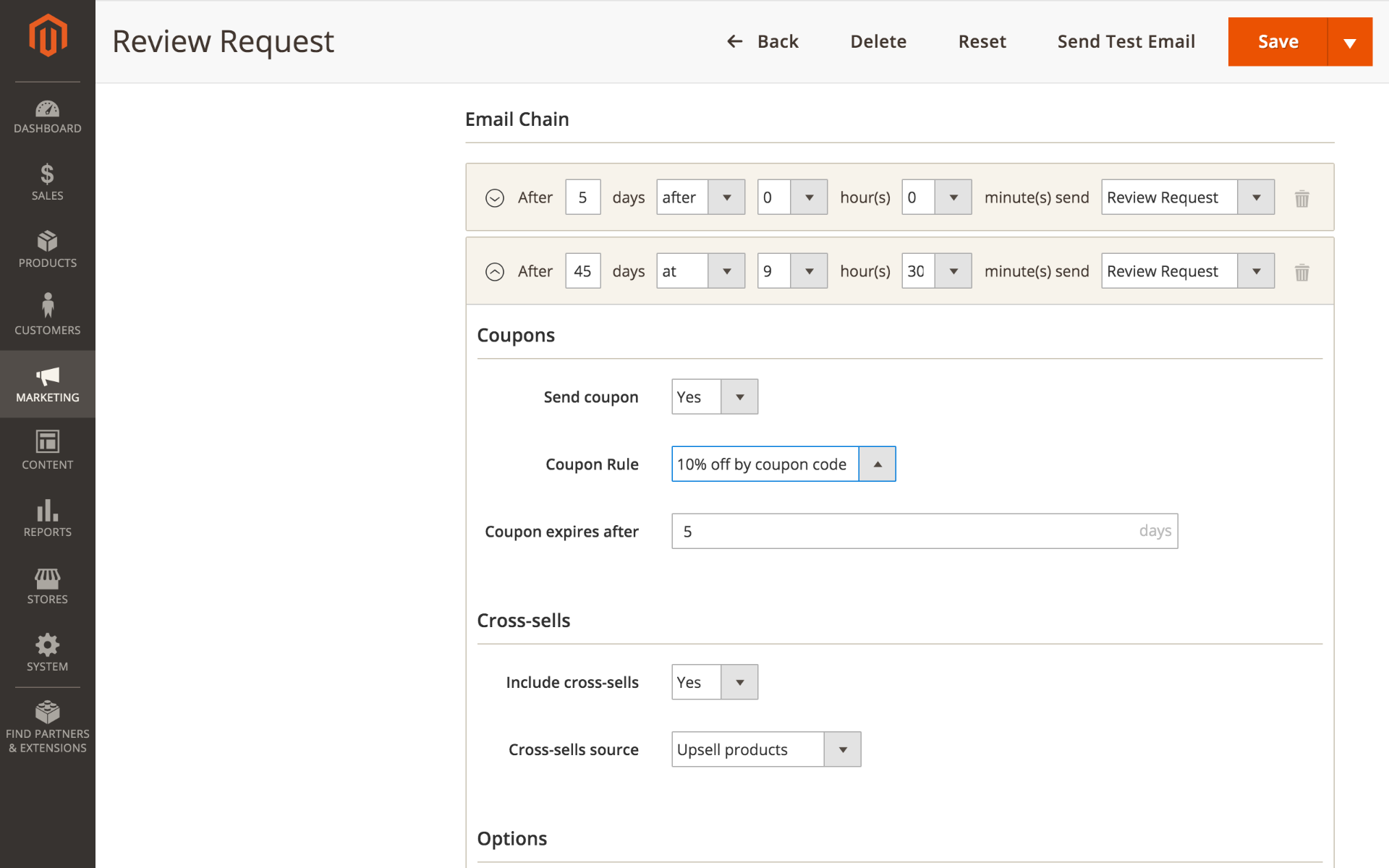 Sending Trigger Rules
Set up the Rules for email chains and all emails will be sent only if all those are conditions met. It is a very convenient feature in the case that you do not want to send trigger emails to all your customers, but only a select few.
For example, your targeted audience for an Abandoned Cart email chain is the following: Not logged in and their Subtotal is more than $25. So, you will not send any email to a customer, who abandoned a cart, but was logged in or the subtotal was less than $25.
Another Trigger Rules use case: Follow Up Emails do not allow you to send certain mail chains to regular customers or customers from Retailers group.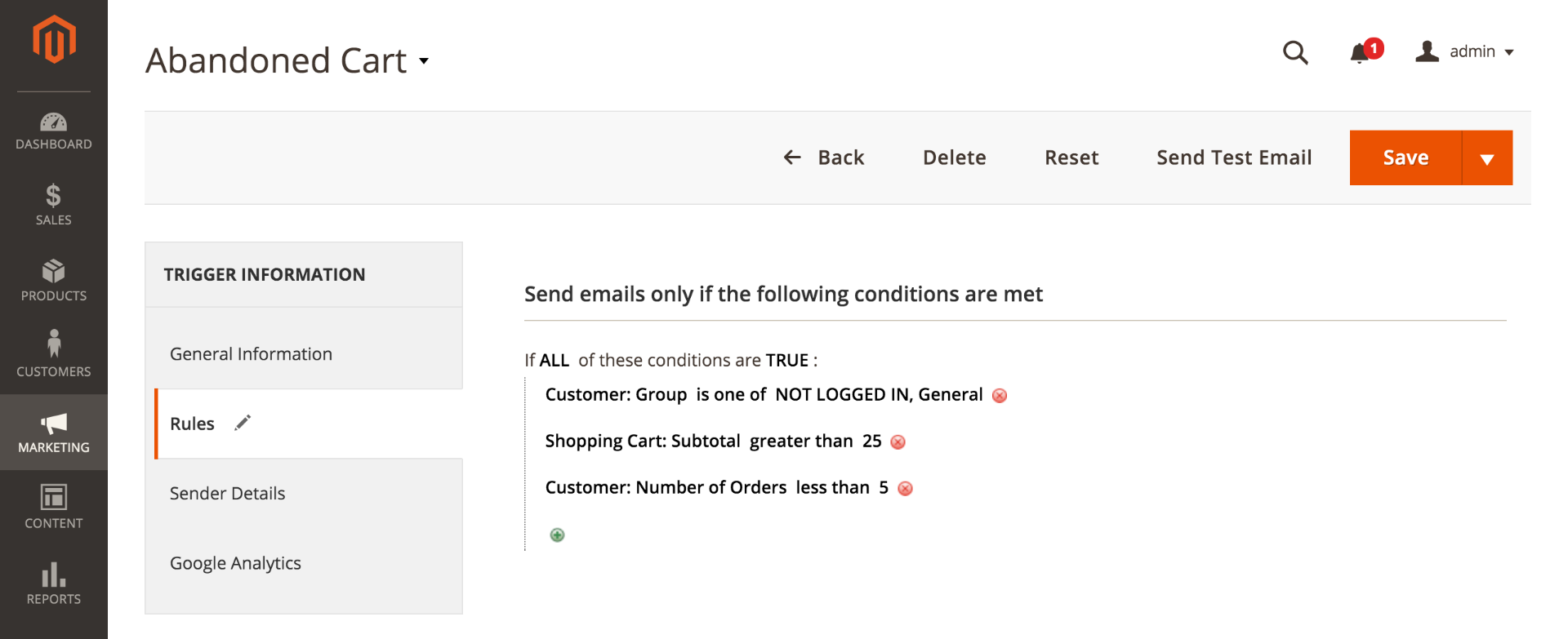 WYSIWYG editor for Emails
Follow Up Emails extension allows you to edit HTML code of emails and see all the changes within a second on the same screen (WYSIWYG).
This feature is really important if you want to add some elements to an email manually or change something in a template design.
Custom Templates
Follow Up Emails extension allows you to create and edit your own templates for emails. Just choose a name and a subject and your template is ready!
You may also choose a specific design, add description and teaser, edit header and content. Take these fields into consideration if you want to make your emails stand out.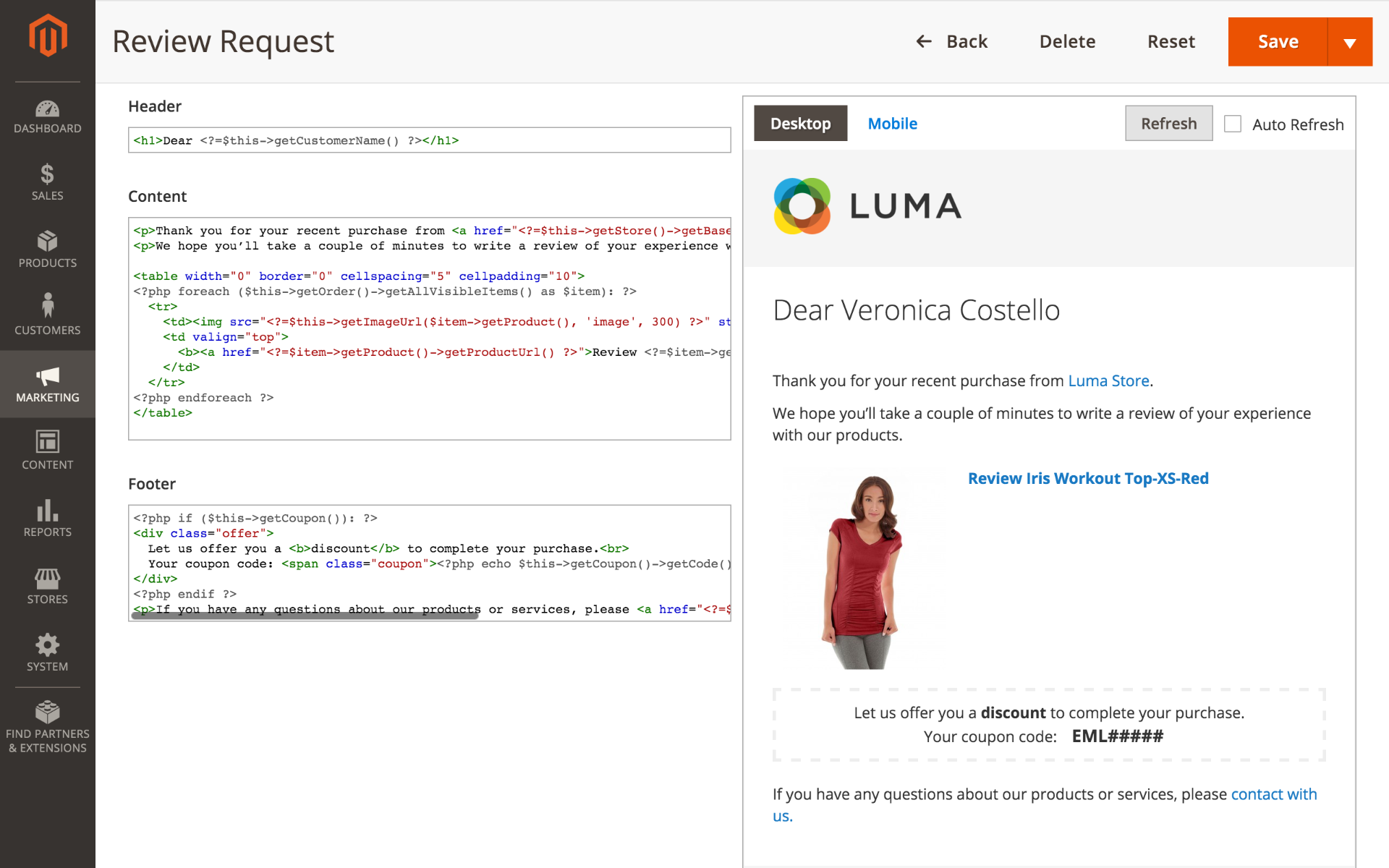 Administrator email alerts (new)
This feature allows you to receive email alerts when something important happens in your store based on triggers such as, a new order, failed transaction, new review, not completed order after some time etc
This feature is really important for store owners to notify about visitors actions in store.
Install Follow Up Emails Extension and enjoy the power of Email Marketing!
Advanced Reports
Our solution provides you with an advanced reporting interface. Follow Up Emails extension reports are easy to read: clear charts, email tunnel and table data present everything you need to know about your trigger campaigns.
You may set any date and period for reports and look at the results of any trigger email chain you have launched within this period:
emails sent
emails opened
links activity (number of clicks)
number of reviews
number of orders
revenue amount
Reporting system visualizes emails' tunnels, so you can see how many emails you have sent and how many orders you received for a specific period.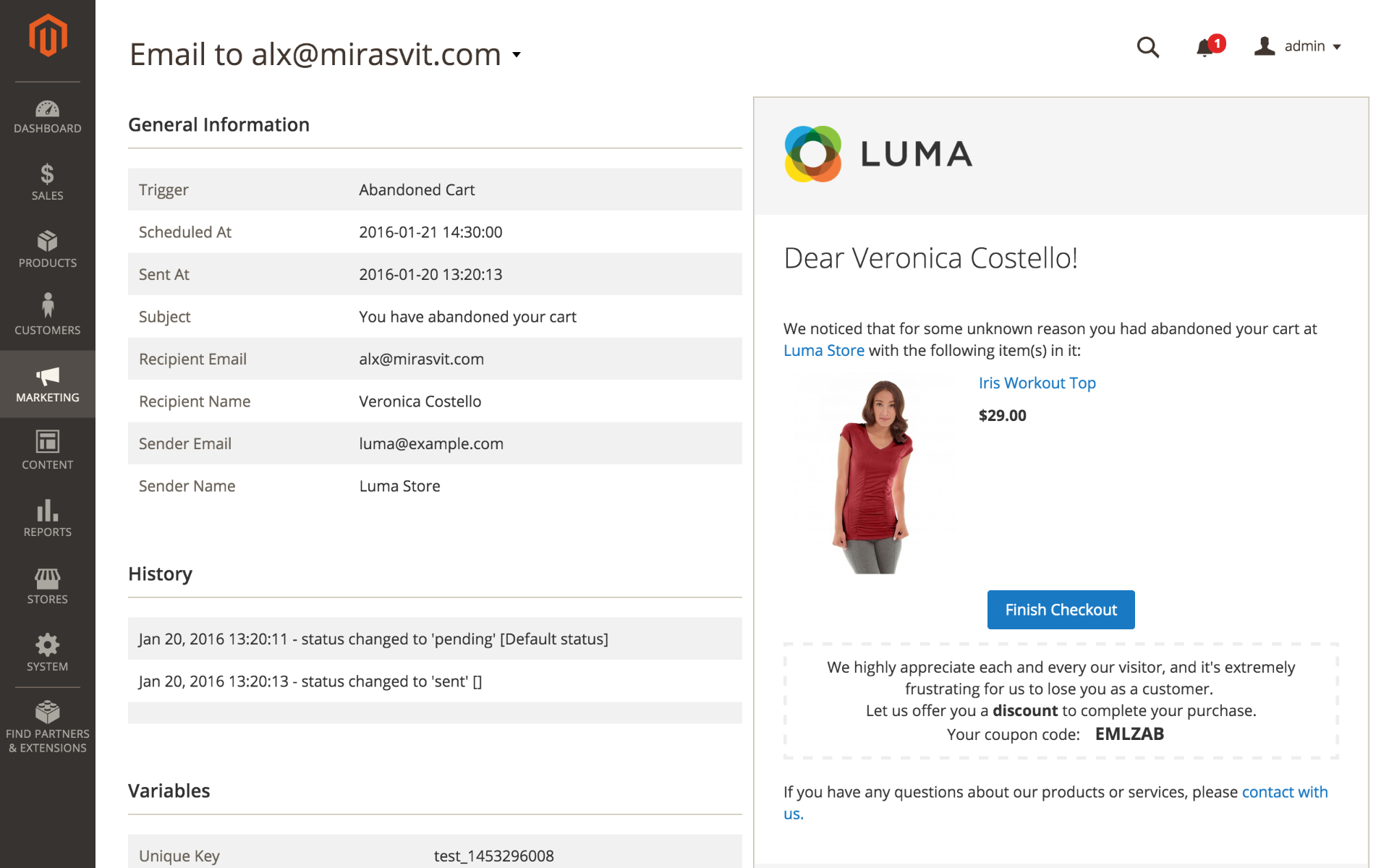 Use Coupons and Cross-Sells in the email body
Follow Up Emails Extension allows you to generate coupon codes in particular emails in a chain and set a discount rate.
An option is also available to set up the expiration period for each coupon. So, with our solution you are able to plan each coupon and then track the results of a chain with discount coupons.
Follow Up Emails Extension allows you to include Cross-Sells in an email. This solution can essentially increase your sales of desired products.
If you do not wish to run Coupons and Cross-Sells on specific weekdays, just choose this in the Options and customers will not be able to see coupons or cross-sell offers on chosen days. Take these features into consideration, if you want to raise your shop sales!
Google Analytics Reports
Set up Google Analytics campaign for each trigger email chain and view online reports in the GA interface.
Follow Up Emails extension allows to configure specific UTM parameters for every email campaign. This lets you use Google Analytics in addition to built-in reports.
Drive more sales and grow your store conversion rate with powerful Follow Up Email extension!
Reasons to choose Mirasvit
Client focusing and satisfaction
It is our main goal. A big part of our new clients come from referrals from our existing clients. Our professional team of developers, marketers and support invest the best knowledge and experience, so you could come back to us again and again.
Remarkable support
90-days free and high quality support. We make an effort to satisfy you with work of every module you have purchased in our store. Helping you with installation, configuration, answering your every question, we do all our best to eliminate any possible problems.
Risk-free Investment
30-days money back guarantee. If you are not satisfied with work of our extension for any reason we provide a full refund.
Constant improvements and upgrades
We provide you lifetime free updates. We constantly add new features to all our modules. We are absolutely interested to hear your opinion and to implement your suggested features in our future developments.
Comprehensive Documentation
We provide an expanded user guide for every our extension, so you can find answers for all your burning questions.
Unencrypted source code of our products
You can customize extensions according to your needs and requirements.
Usability and Performance
Module is easy to install and easy to upgrade, just follow step by step our user guide.
Safe Magento updates
No core modifications. Just copy extension files to store root directory.