Knowledge Base or FAQ is an online store resource center that answers customers' most popular questions and covers most customers' self-service features.
Organize all frequent inquiries and other helpful content with our solution.
Reduce your support/helpdesk load and save your customers time using our Magento 2 FAQ extension!
Extension Demos
Pick a quick tutorial to learn about various aspects of this extension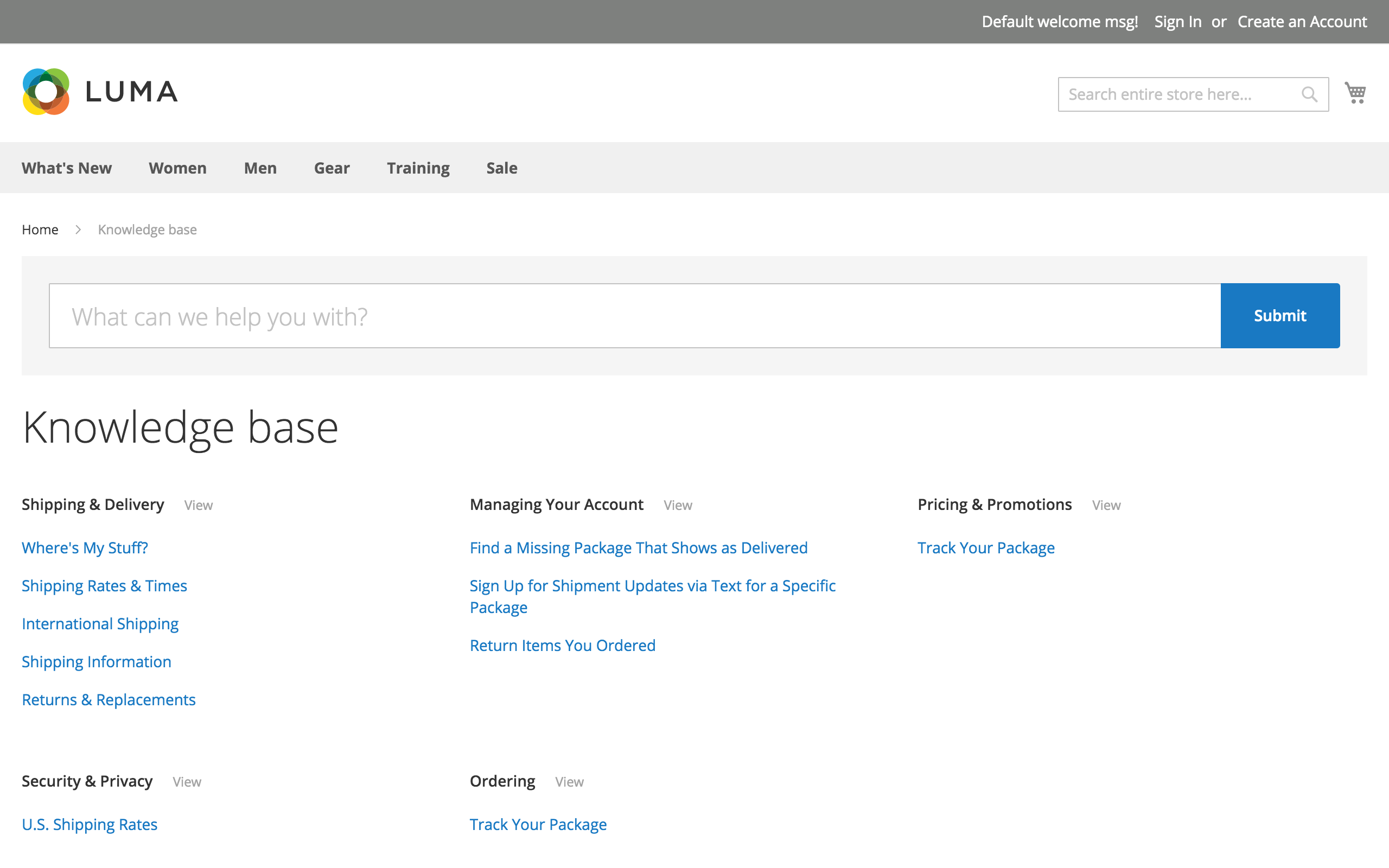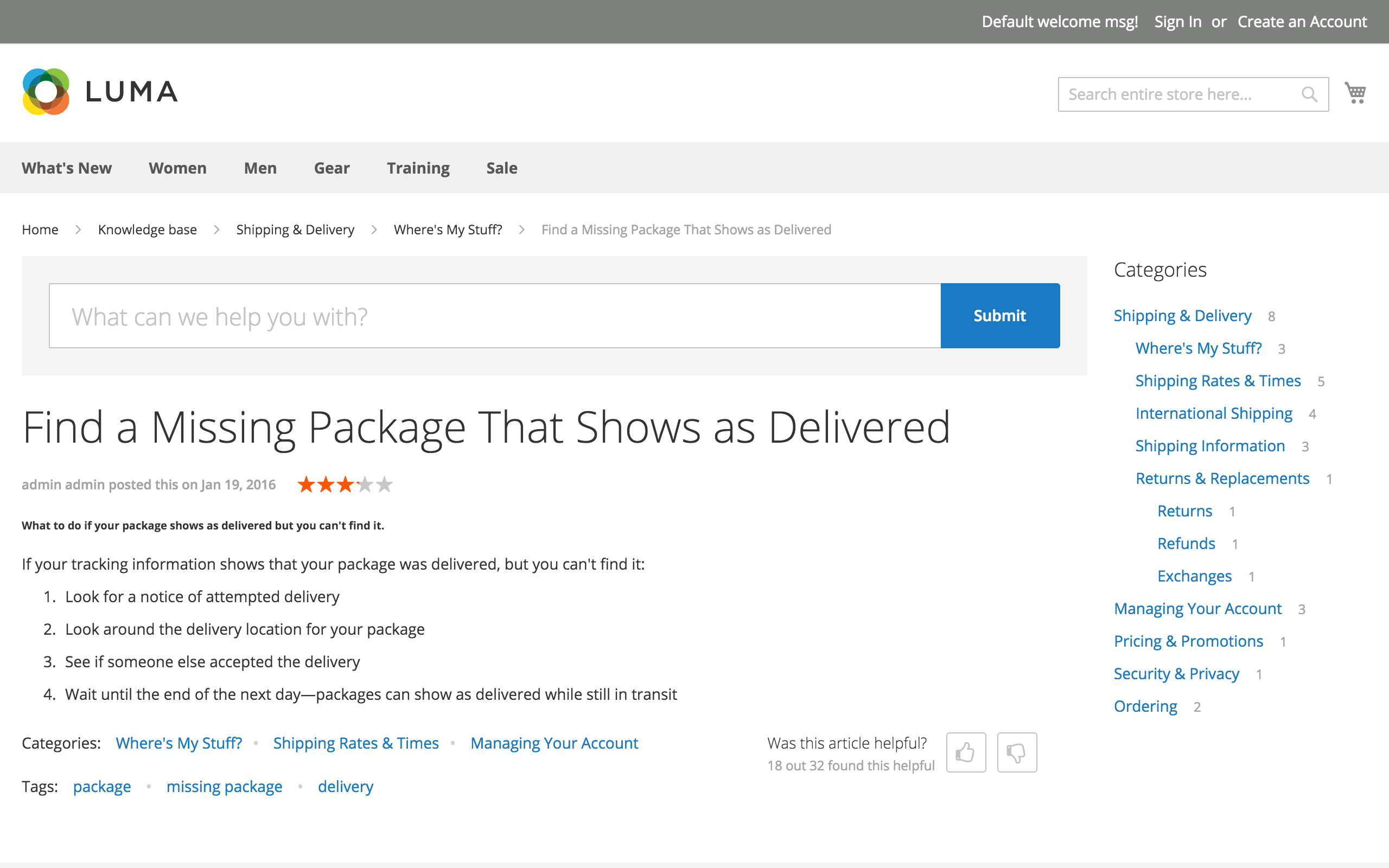 Suggest to your online store customers a powerful help resource, save them time and make them happier!
Knowledge Base is the extension allowing you to organize the most asked questions or any other helpful information by means of articles which are sorted by defined categories.
Our solution makes your customers' self-service fast, easy and convenient, since it's possible to:
perform searching by single words, words combinations, exact phrases or tags
get results from categories and articles
surf through categories via breadcrumbs or right menu
get an answer within seconds
FAQ for Magento 2 has a simple and intuitive user interface. Customers will enjoy your store help center!
Our extension is not only fully featured, but also fully customizable.
You can make unique designs for each article using the built-in WYSIWYG editor or directly editing the HTML source code.
Knowledge Base is a SEO friendly extension. You may set meta tags for your articles so the snippets you have made yourself will be visible in search engines for the relevant search queries.
Also Knowledge Base administration interface allows you to:
set article status, sort order, SEO-friendly URL key and author
assign an article multiple tags and categories
define number of votes and rating for each article
Boost your customer experience with Knowledge Base Extension!
Feature Highlights
10 advantages you get with Knowledge Base
Conveniently structured Store Help Guide.
Search by categories and article content.
Search by word combination or exact phrases.
Save your customers time with Knowledge Base self-service.
Give your customers an excellent user experience returning answers in a split second!
Customize every article with WYSIWYG editor.
Get SEO-friendly URLs and search engine snippets for your help center articles.
Get your articles available in multiple categories.
Manage article ratings and votes.
Save your support team time and save money all at once!
Clear Customer Interface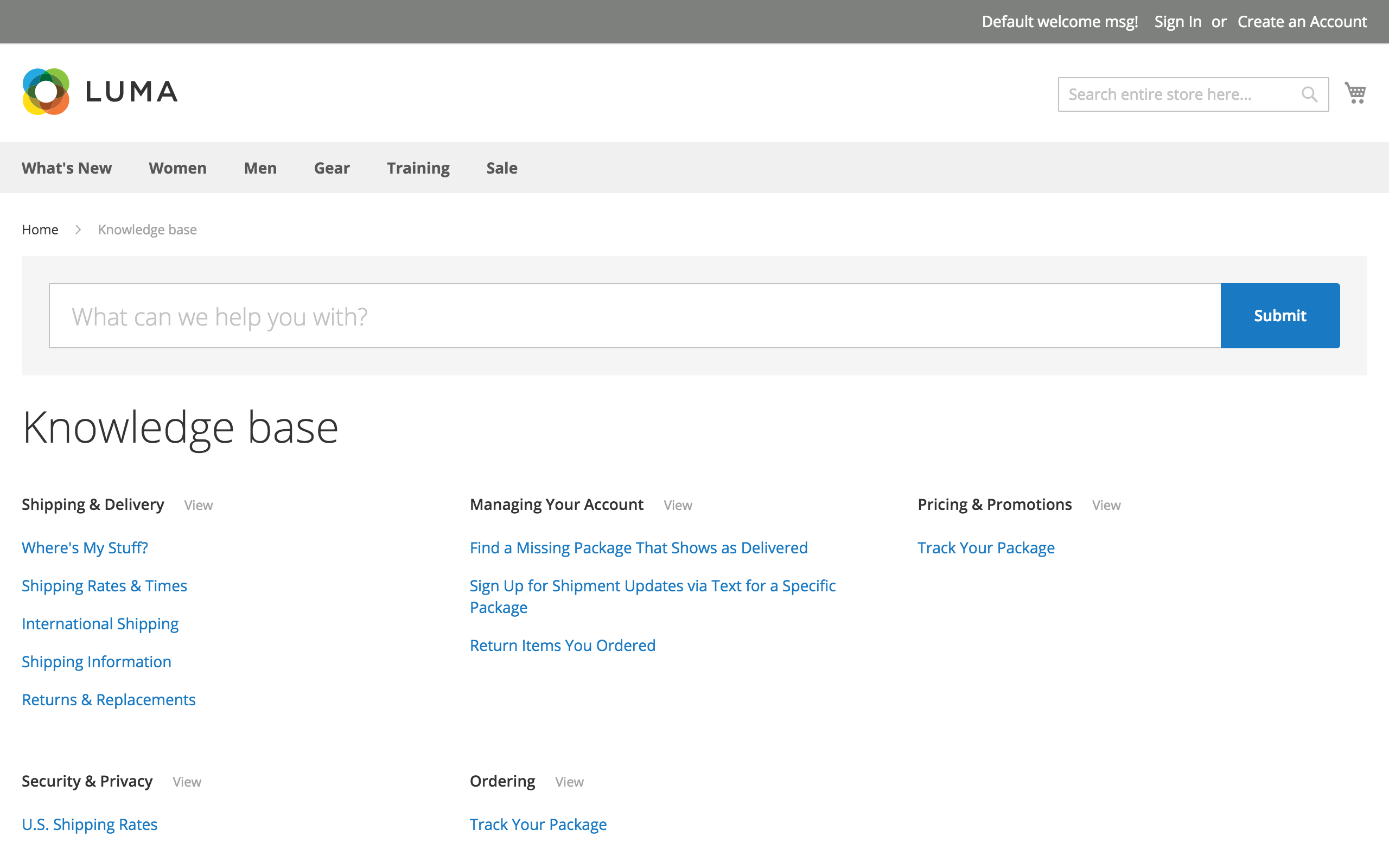 Knowledge Base interface is intuitive and clear for every customer.
Our solution allows your store clients to understand everything at a glance. All categories, questions and search strings are available at a single-click.
---
Convenient Article Page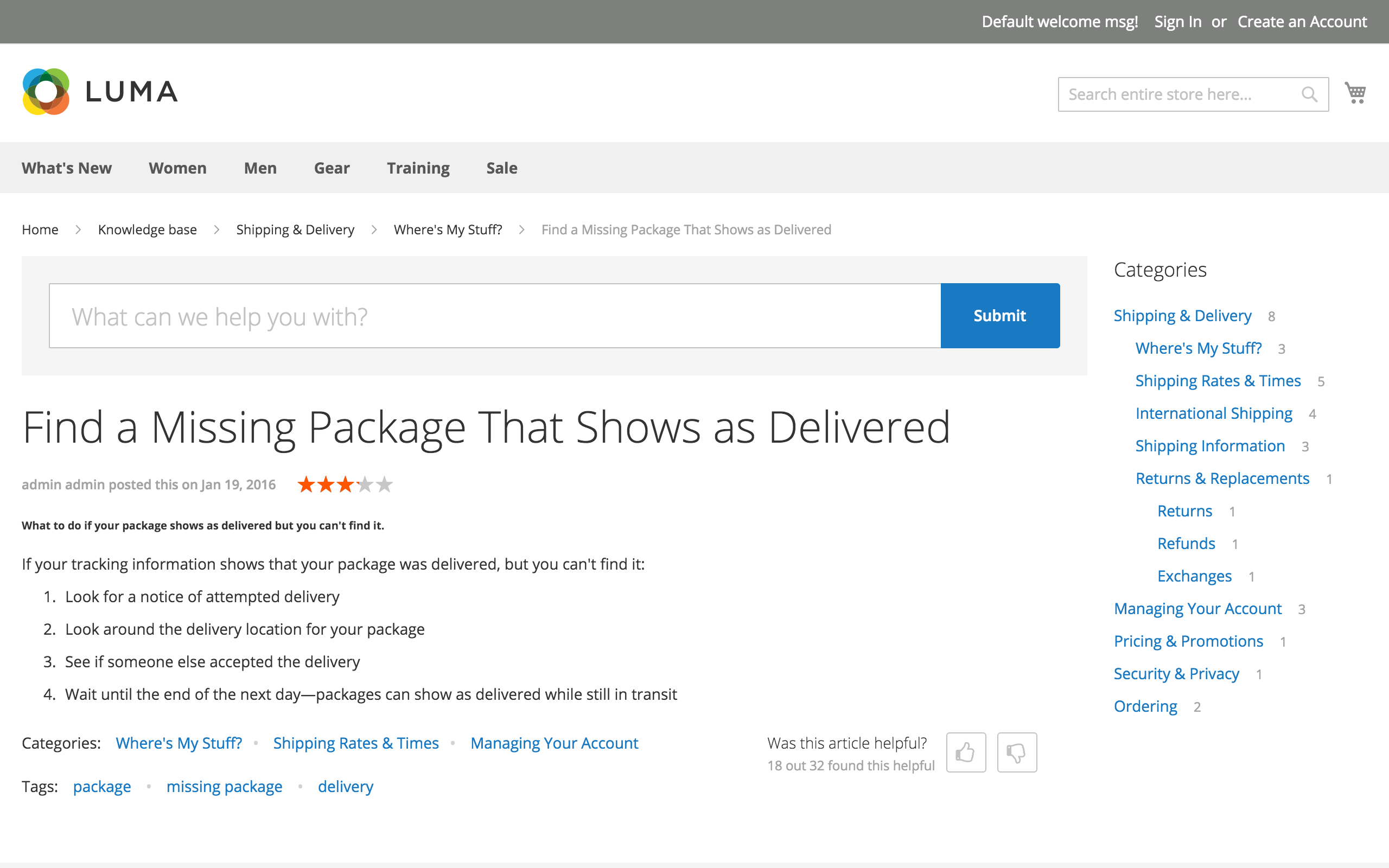 Knowledge Base Extension allows you to organize articles in a structured and clear form intuitively understood for every customer.
The article page has a very convenient interface, which gives your store users an option to surf through the categories in two different ways:
using breadcrumbs under the main menu (it allows to return to any parent directory);
using right menu 'Categories' (it is very easy to access any related or even non-related category).
Also user can choose any of the tags assigned to the article and automatically get search results related to this tag.
---
Advanced Administrative Interface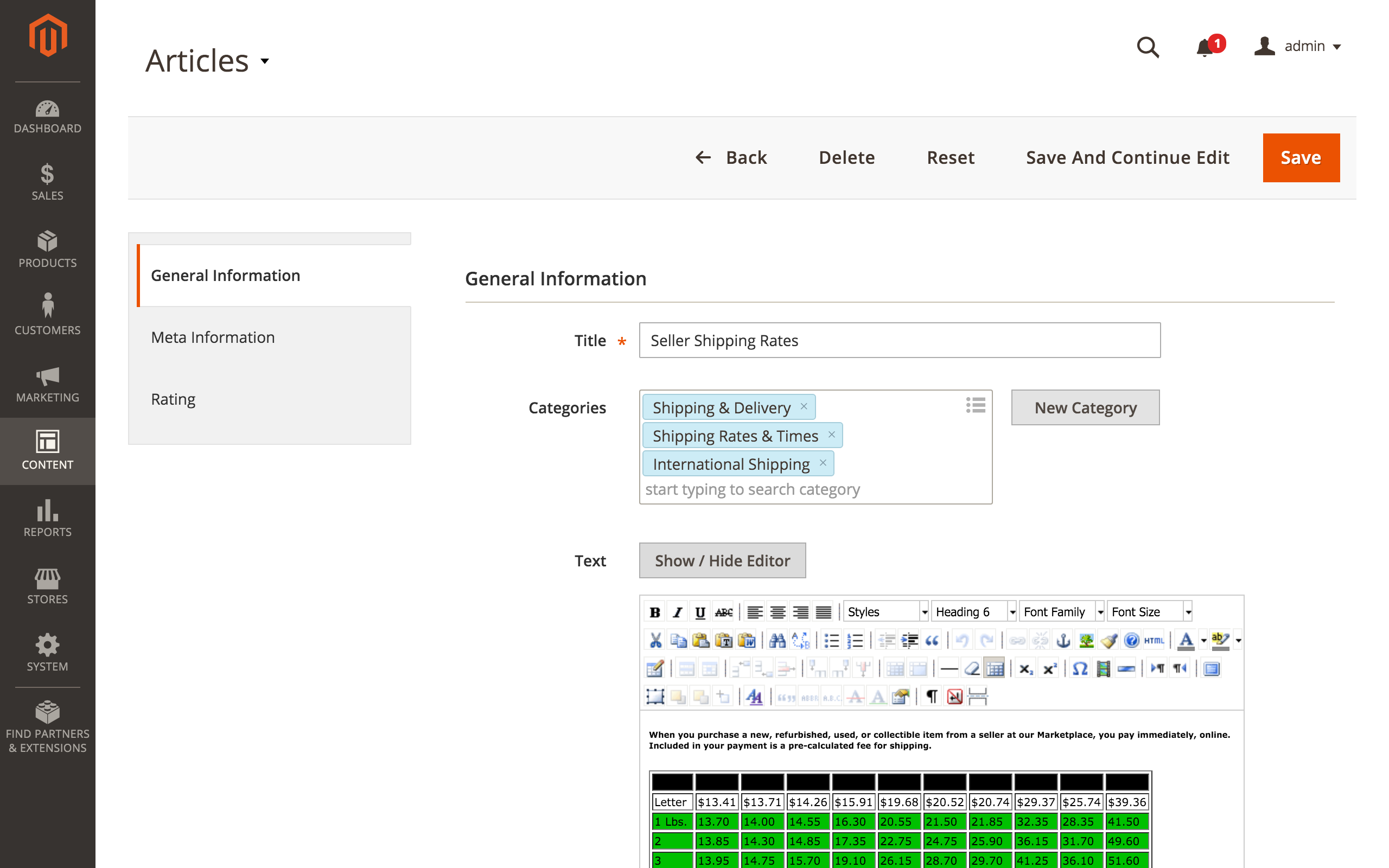 Knowledge Base interface for administrators gives you the most advanced features to make your help center easy to use and unique.
Our solution allows you to:
create articles with absolute custom design using WYSIWYG editor or editing HTML source code
make every article more visible in your help center by adding tags
assign several different categories to one article, if its content related to them
set SEO-friendly URL for each article
manage article status (active or not)
set sort order
define an article author
Manage your support articles fast and easy with Knowledge Base!
---
Relevant Search Results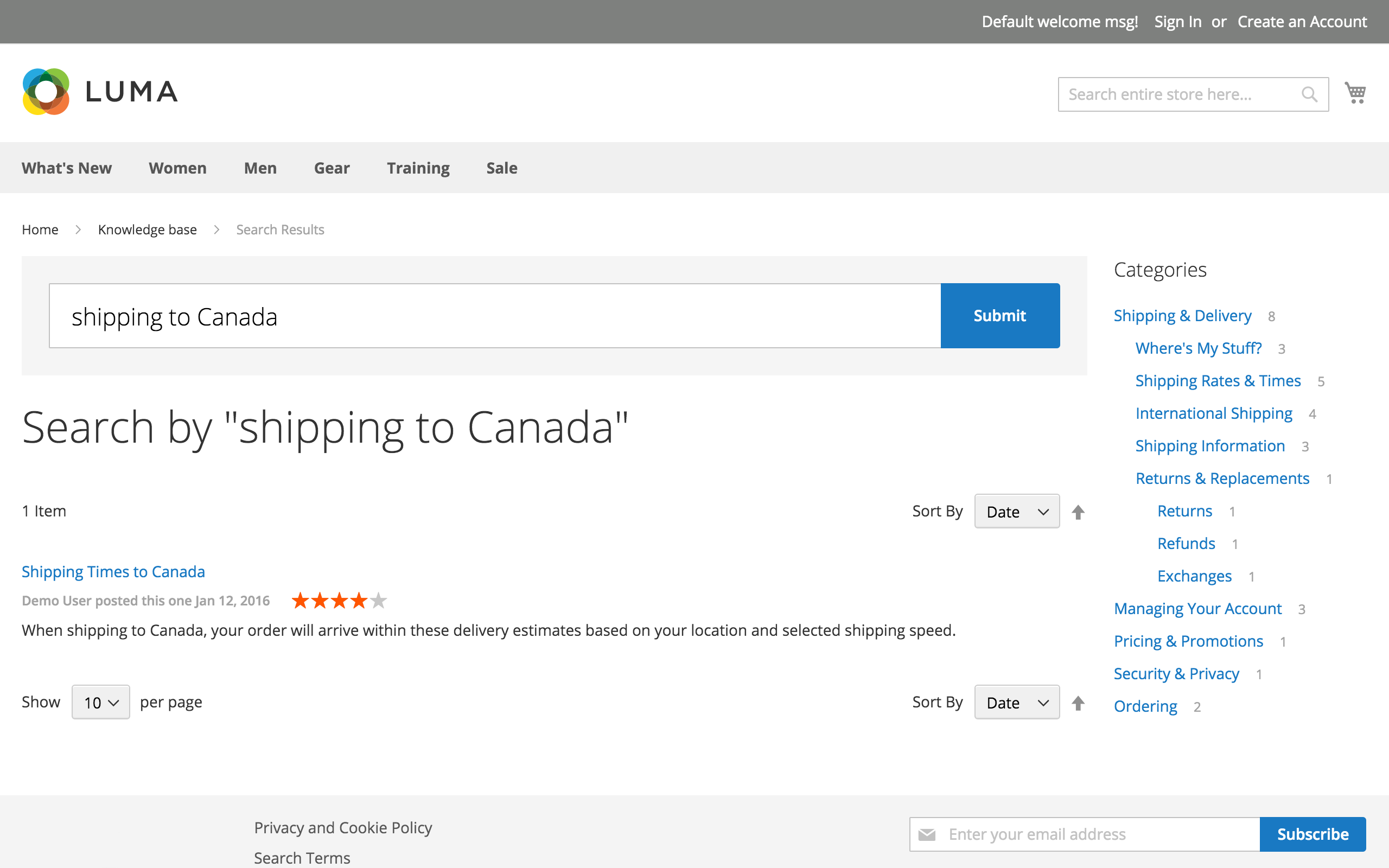 Knowledge Base allows your customers to perform search in several modes:
by exact phrase
by single word
by word combinations
Whatever your customer enters in the search string, our solution gives the most relevant results list in a split second from:
categories names
articles content
tags
Your customer will see the most appropriate articles at a glance!
---
Use Ratings to sort articles by quality and relevance
Knowledge Base Extension lets you organize all articles by their quality, using rating and votes number for each article.
For example, you added some information to the article 'Shipping Fees' and published it.
Customers rate this article over some time by voting if they consider 'Shipping Fees' useful. So the more votes the article gets, the higher the rating. Therefore, the high rating establishes a ground for assigning the article good quality. If the rating is low, you need to edit the content and add some more useful and clear information for your customers.
Use ratings and votes to evaluate your help resource articles and constantly improve them!
---
SEO-friendly Knowledge Base
Besides SEO-friendly URLs which you may set in the administrator interface, you can also customize the appearance of your articles in search engine results (snippets).
Manage Meta Title and Description in order to make every article more visible in Google or any other search engine.
This feature is very useful, since it makes your store's unique content available in the external process and, as a consequence, can bring new leads for your online shop.
See it in action!
Pick a quick tutorial to learn about various aspects of this extension
Nice Extension

Thanks for another good extension! It was really convenient to manage different articles and to organize them in a well-looking way.

Nice , but expected more

itechnical

from Riyadh, Saudi Arabia

the extension have the basic needs of knowledge base , nice structure .. hopefully they can add more advanced features to it in future .

Nice addition for every store

Nice addition for every store.

integrated search function is great

HappyMagento

from Nairobi, Kenya

Can reduce your customer help ticket workload by providing answers on most common questions.

Excellent

Works very well!

not fully mature - but reactive support

hubp

from Pinneberg, Germany

The extension is not fully mature. We have had many pitfalls.

Especially with different store views and stores. We have quite regular take the support from Mirasvit. But this is the quick and reactive.

I wish the modules were more tested in advance.

Nice Extension

nikolas

from Metamorfosi, Greece

Nice extension. Does the job very well.
Also, good aftersales support.

Customer get help easy

Sam

from Portsmouth, United Kingdom

Very good extension. Our customer now have a very well organised help centre they can refer to if they need help with an order or have a question about a product. We have found that customers often browse our help centre before they contact us so it really helps reduce support calls and e-mails.

Knowledge Base

Allan

from Shepperton, United Kingdom

i have been very happy with it. Best of all it supports composer based installation so is very easy to install

Big time saver

Mike

from Echtenerbrug, Netherlands

We now have much less customer questions than before.
Because we provide answers to the most questions in the knowledge Base.
Works great in combination with Helpdesk MX

Magento 1: Mirasvit Knowledge Base

sh

from Republic of Korea

We have chosen the Knowledge Base as a tool to scale up the knowledge data we will provide to our customers for a long time.

Magento 1: Good value for money

Jakub

from Bratislava, Slovak Republic

Well documented and easy to use

Magento 1: Extremely helpfull and a lot of time saving

I am using a chat module and noticed almost 90% of people asking one of 10 questions.
I decided to create a Knowledge Base using this extension, by puting answers to the 10 basic questions and I increased number of possible questions to about 50.
People are so busy that don't like to check where is the button with knowledge base, but they enter chat module and ask one question. For me is very easy now to provide the relative link with the answer to their question.
And I noticed once client enters knowledge base, he checks also a lot of other issues.
I think this action helps with conversions.

Works wonderful...

This added great functionality for our site to add articles.

Magento 1: Excellent

TLW

from Springtown, United States

Easy to install & works as advertised like the demo!

Magento 1: Great APP

Leo

from The Colony, United States

Works Great!

Magento 1: Excellent Knowledge Base!!!

Paulo

from Uberlândia, Brazil

Hello visitors, give up searching for Supplier Knowledge Base module, this module Mirasvit is the best available for Magento. After we tried several others, we stopped at Mirasvit no doubt this is the best and most complete module for this purpose available for Magento. We are Customer Mirasvit from 2 years ago. Congratulations, Mirasvit is excellent.

Magento 1: Knowledge all the way

The extensions is great and add a lot of value to the magento store!

Excellent module

Jack

from The Hyde, United Kingdom

Purchased the knowledge base module and have been very happy with it. Best of all it supports composer based installation so is very easy to install and upgrade.

Very good and easy to use.

Steve

from Ontario, United States

Very good and easy to use.

Simple knowledgebase

S

from Melbourne, Australia

Simple knowledgebase that makes life easier and reduces time wasted on FAQ's and repetitive questions/answers.

Magento 1: worked great...

suited our needs and worked great.

Awesome Features along with outstanding Customer Service!

Viktor

from Steinbach, Canada

What can be felt, not always can be expressed in words, but I will try my best!

1. I bought almost all existing extensions for M2, while offered a very generous discount from a Sales Rep. Then, as all of us know, all the miracles stop right there, but not with these guys.

2. Installed the extensions, and as it usually happens, problems did not wait so long to arise on my horizon.

3. No fear, help is near... that is my personal Slogan... and found out the same attitude from Mirasvit guys. I asked for help, and it was near. I reported PHP7 and other compatibility issues, and a fix was ready in a blink of an eye. I asked for features improvements and suggested new features, and these came in a matter of a few days.

4. Features pack on the extensions is very reach, and these guys are always open to any sound improvements on their extensions.

5. Extensions updates are done via composer, so no manual uploads and unzips on every update release. That makes all my updates as easy like a snap of a finger,.. 10 seconds and I am all set.

P.S. In the end of the day I feel happy to be a respected customer of Mirasvit. I am hooked on this valuable M2 Solutions Provider. My $$$ spent on the extensions are secure... I feel like a part of the Team. I highly recommend Mirasvit to anyone who is seeking peace of mind and stable future for his/her Online Business.

Magento 1: Great extension!

Alex

from Cottenham, United Kingdom

Very nice extension. Works as described.

Magento 1: Very happy with it

Davide

from Cinisello Balsamo, Italy

Excellent module and good support. Sure I will buy again.

Magento 1: Great Product Fewer Calls

David

from Saint Paul, United States

Using knowledge base we get fewer support calls and questions. Allowing our employees to help more customers to a greater degree.

Magento 1: Excellent Extension

Sven

from Dortmund, Germany

With this extension we are able to build a very useful KB which decreases customer support requests and makes the customer happy because of instant information on the issues.

Magento 1: An excellent addition to any site

Dan

from Halstead, United Kingdom

Purchased the Knowledge base extension 4 months ago and it's a simple yet superb module which allows our site to offer more information in a organised manner.

Can't fault it in any way, the only request would be that it could have a file upload added when creating an article, other than that perfect, well done. Have contacted them to request this be added, will see if the next revision has it :)

Also support from these guys is excellent, I thoroughly recommend.



Magento 1: Works as expected

Good extension, Works as expected, saved lots of my time doing this myself and it solved my problem.

Magento 1: Quick and Easy

dgitman

from United States

Much more then just a "support knowledge base". It's a quick and easy way to build a WIKI. Excellent Support. Mirasvit added a new feature ~2 weeks after I requested it!!!

Magento 1: Great extension

Webtrail

from United States

Does what is says. Fast and friendly support. Recommend.

Magento 1: Excellent Product - Superior Support

seathd

from United States

Way beyond what we expected and the support from Mirasvit is second to none - truly an excellent lesson in how to provide the very best in customer support - we can't express how much this meant - definitely the best support we have ever received.
This is our 3rd extension we have purchased from Mirasvit and all extensions are of high quality and problem free - plus top of the range, professional and very quick support.
Now I'm one loyal customer.


Magento 1: Only positive feedback

Hi! I wasn't sure if i need it. But i have already collected quite a package with answers on almost every product in my store. This extension i have found has made my day! Now my guys from support simply point our customers to the information hub, so they can find everything what they want! Plus its super for SEO. Only positive feedback. Thank you for support!

Magento 1: A super tool with very good Service

This extension contributes into making our store more informative and convenient for our new and potential clients. Now all our customers can find answers for their questions before they've been asked! Wise enough and good for SEO. Recommended! Thank you.

Magento 1: Dave

Great extension! I think its a must have module for big stores with a stable flow of customers. It absolutely helps to reduce workload on my helpdesk team. The installation is easy and i am absolutely impressed with your guys support! I definitely recommend it! Thank you very much Alex!
Compatibility
The Knowledge Base for Magento 2 is compatible with:
| | |
| --- | --- |
| Magento 2 Community Edition (CE) | 2.0.* - 2.3.* |
| Magento 2 Enterprise Edition (EE) | 2.0.* - 2.3.* |
| Magento 2 Cloud | + |
Have a question? Ask our support team
Need more help?
Save time by starting your support request online and we'll connect you to an expert.
Contact Us Now
Refund Policy
All customers can request a refund during 30 days after purchase of our software, if customer think that our software is not suitable for any reason. To request refund, customer must remove all copies of our software from its store, servers, computers, email, etc and confirm by email such removal. After receiving a request we will proceed refund within 3 business days.
If request for refund is received after 30 days after purchase, it will be rejected. Cost of installation and customization services are not refundable.
Support and bug fixing
Mirasvit offers free 90 days support of all software sold on this site. Customers can report all bugs, which were found in our software. We can solve only the bugs directly related to or caused by our extension. Those bugs must be reproduced on fresh Magento installation without any 3rd party plugins. We will solve that bugs in order of our development plan.
We don't do any type of custom work and we have a right to reject a support request if the issue is store-specific (cannot be reproduced on the fresh Magento installation without any 3rd party plugins).
Mirasvit will not be liable to you for any damages (including any loss of profits/saving, or incidental or consequential) related to our support service caused to you, your information and your business.
Software updates
Mirasvit offers free lifetime updates if they areavaliable. Updates are limited to the Magento version branch (1.x.x or 2.x.x). Customer can download an update and install it by himself. If support period is expired, Mirasvit.com can't solve any possible problems with our software during or after updating. Mirasvit does not guarantee that it will release updates for any product.