Magento 2 Layered Navigation Extension
The Magento 2 Layered Navigation extension allows you to add extra flexible and attractive navigation to your store.
It significantly expands on the default Magento 2 layered navigation, fixes certain issues, and adds many new features.
Improve Layered Navigation in your Store
Speed up your catalog with AJAX
SEO-friendly URL functionality
Shop By Brand feature
Improved Sorting
Infinite AJAX Scroll
Predicted Filters
AJAX Pagination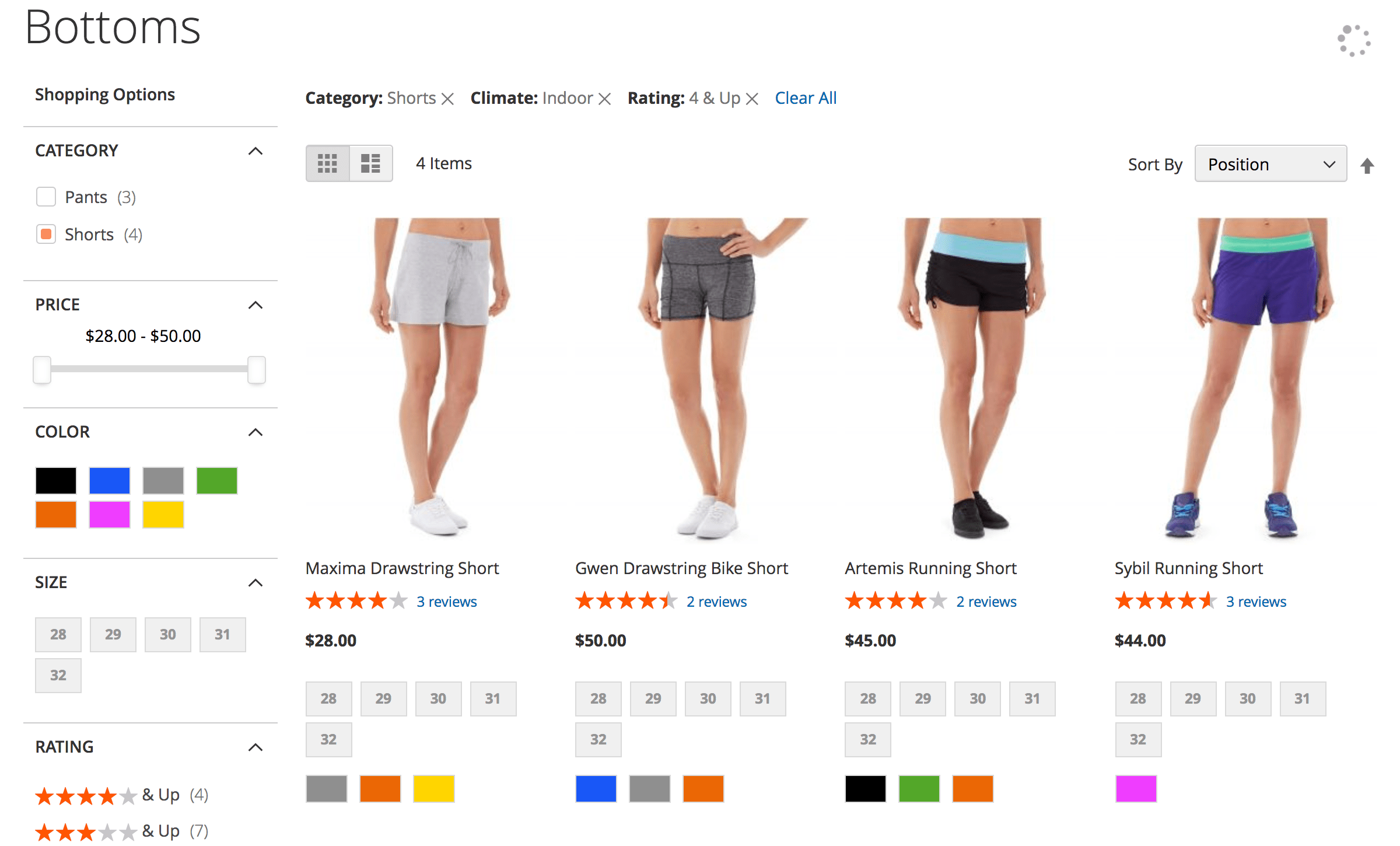 1/7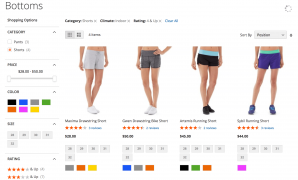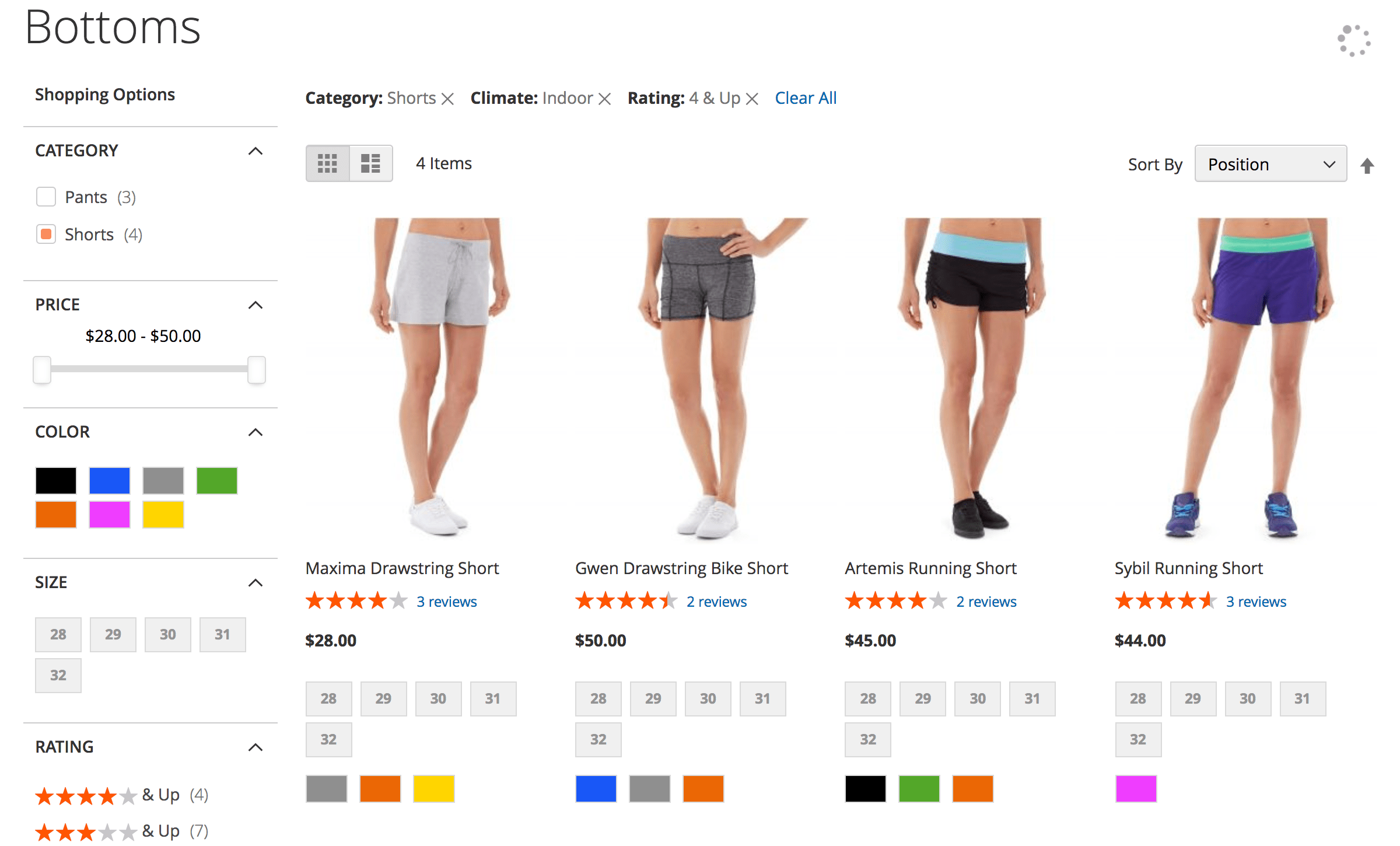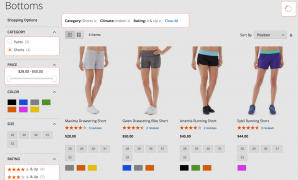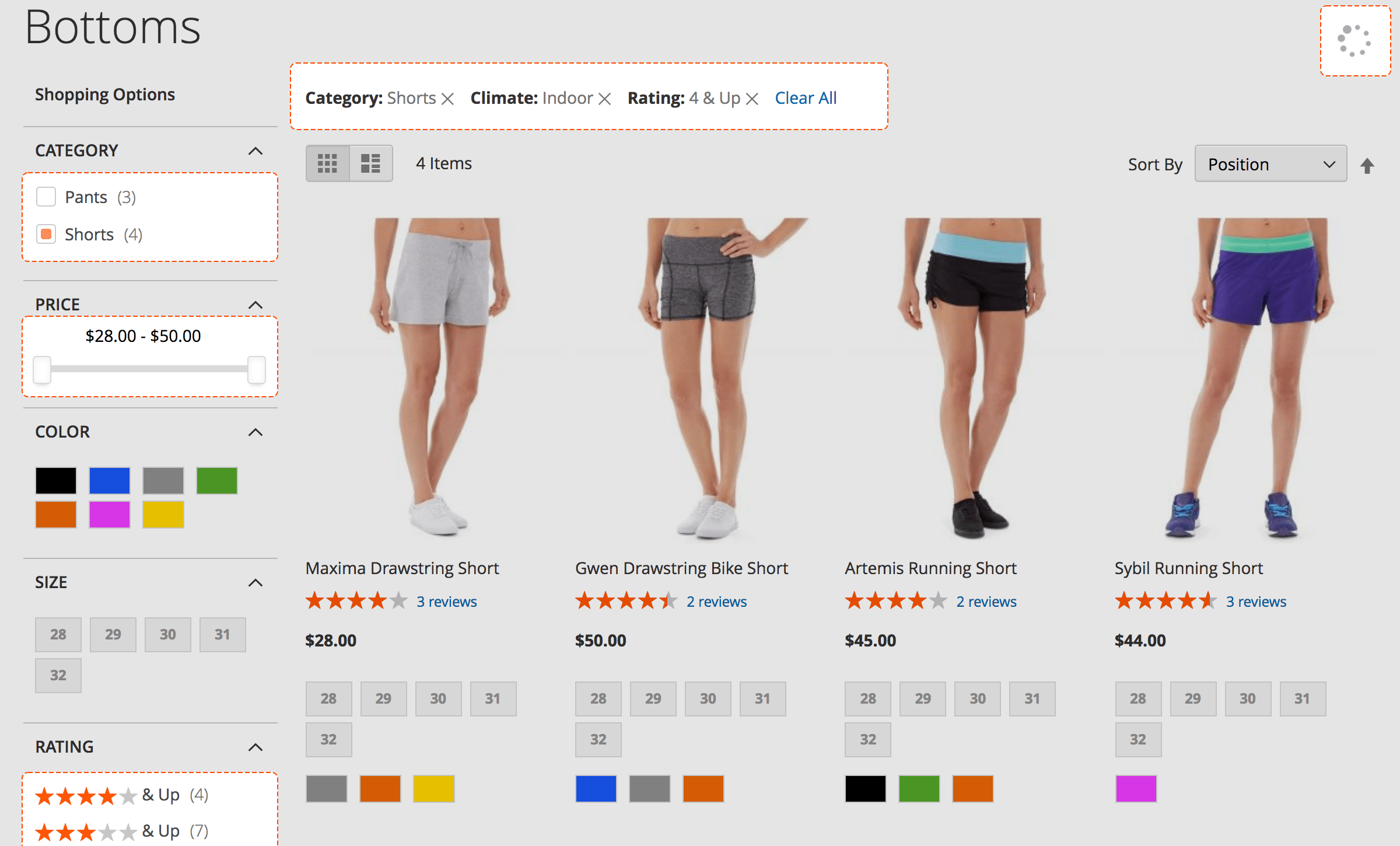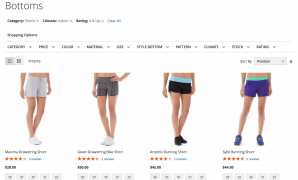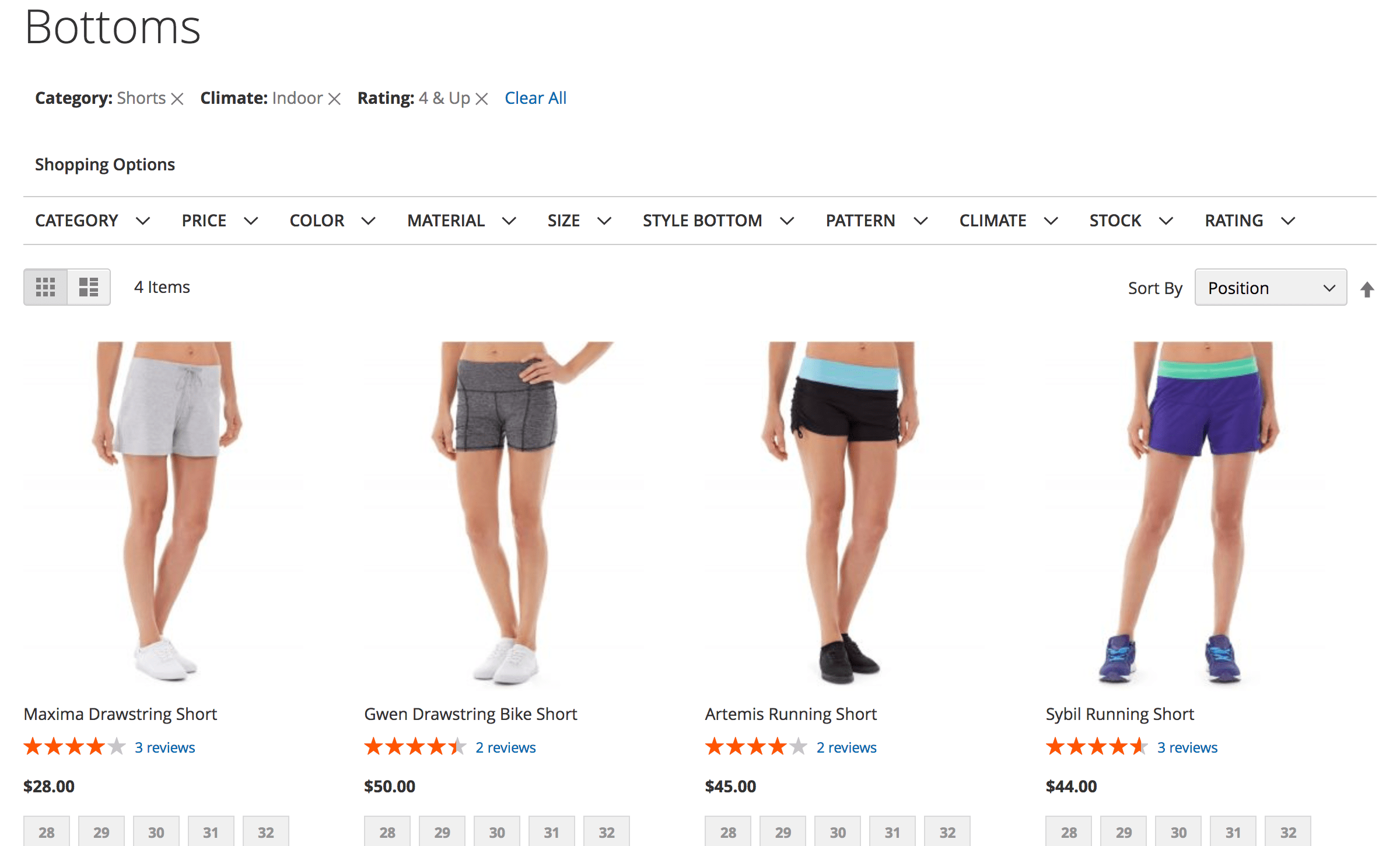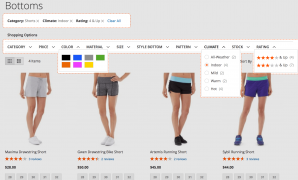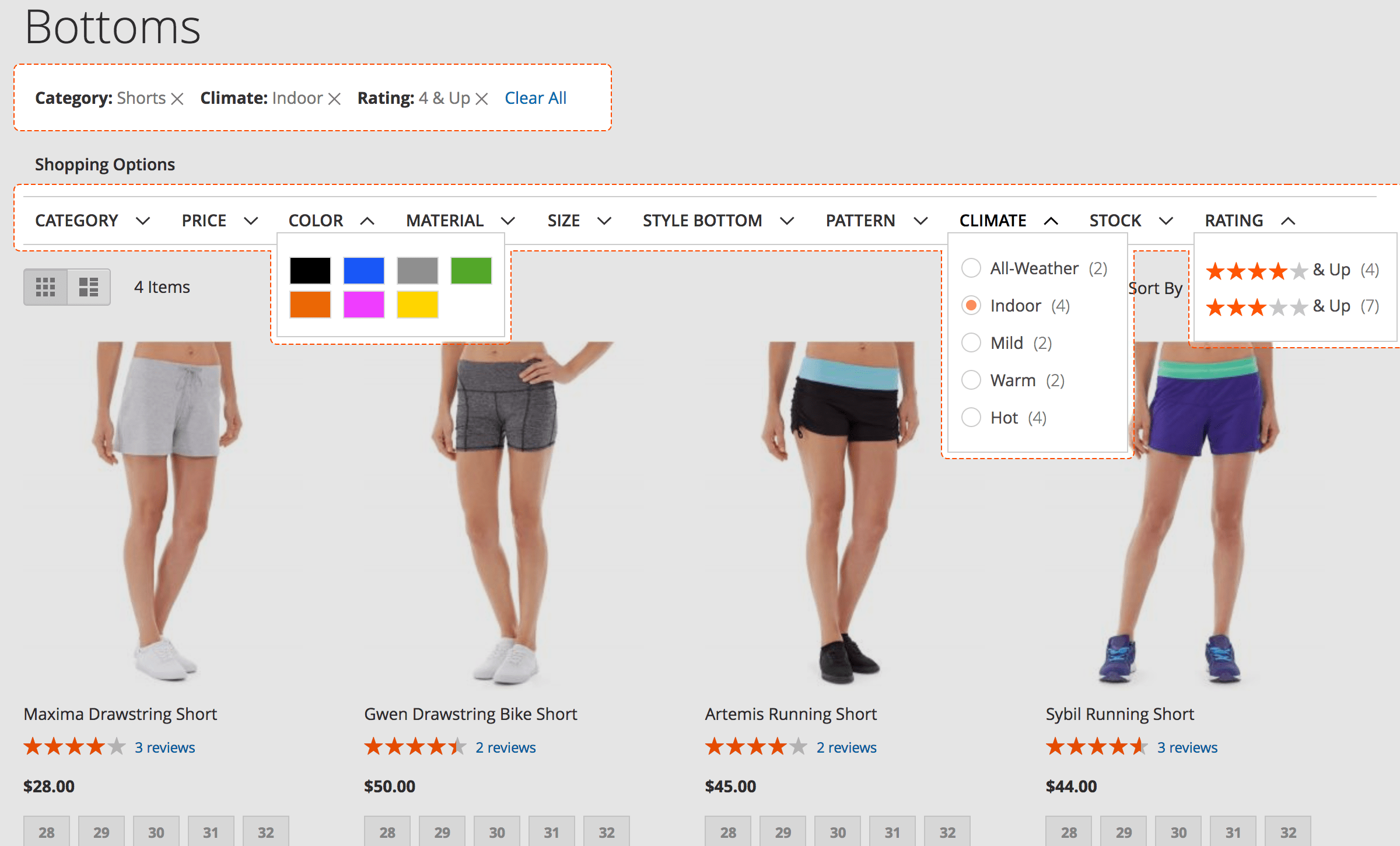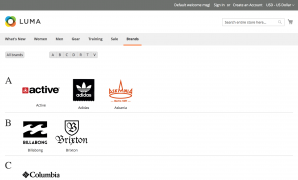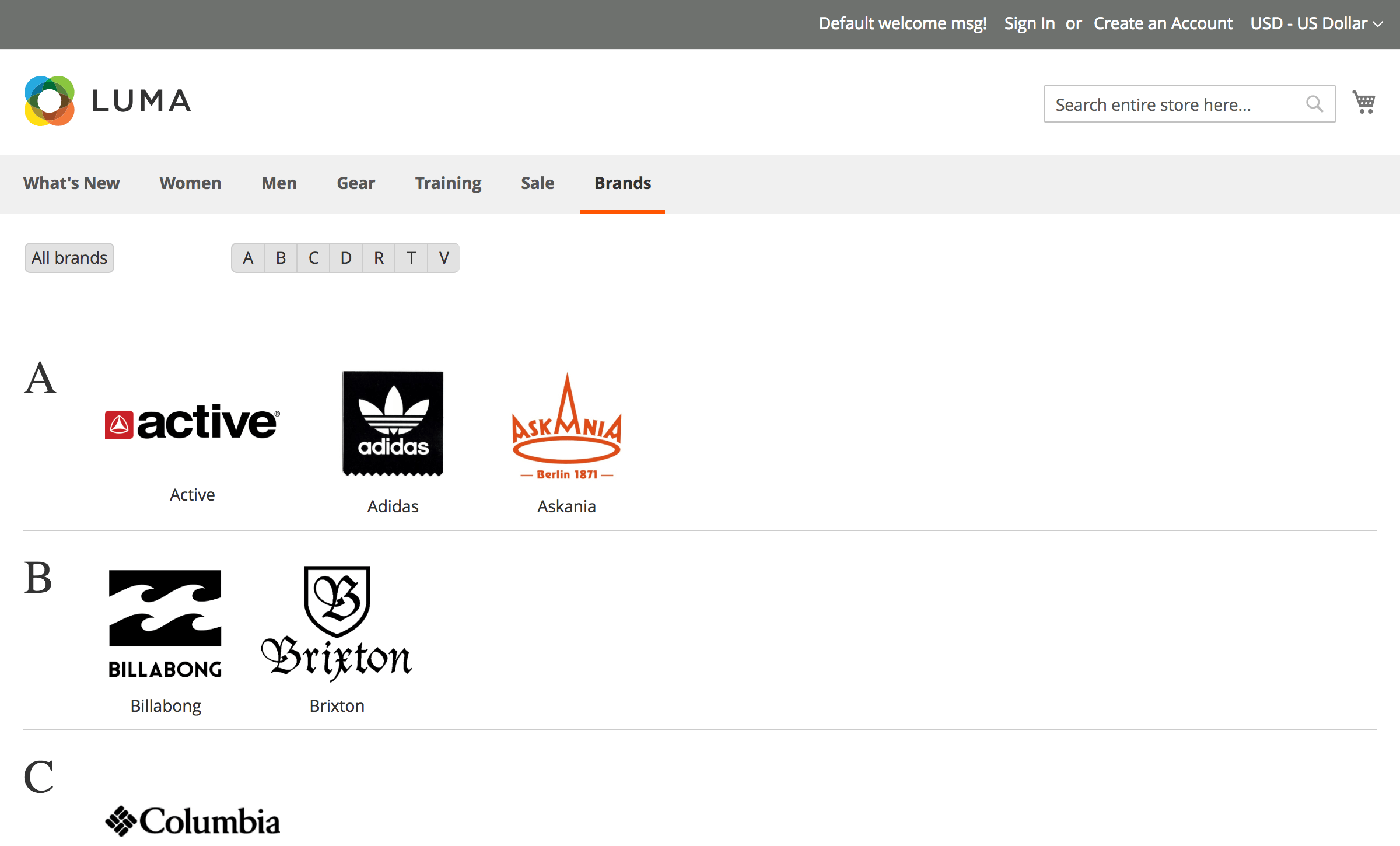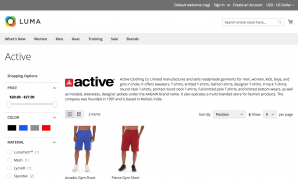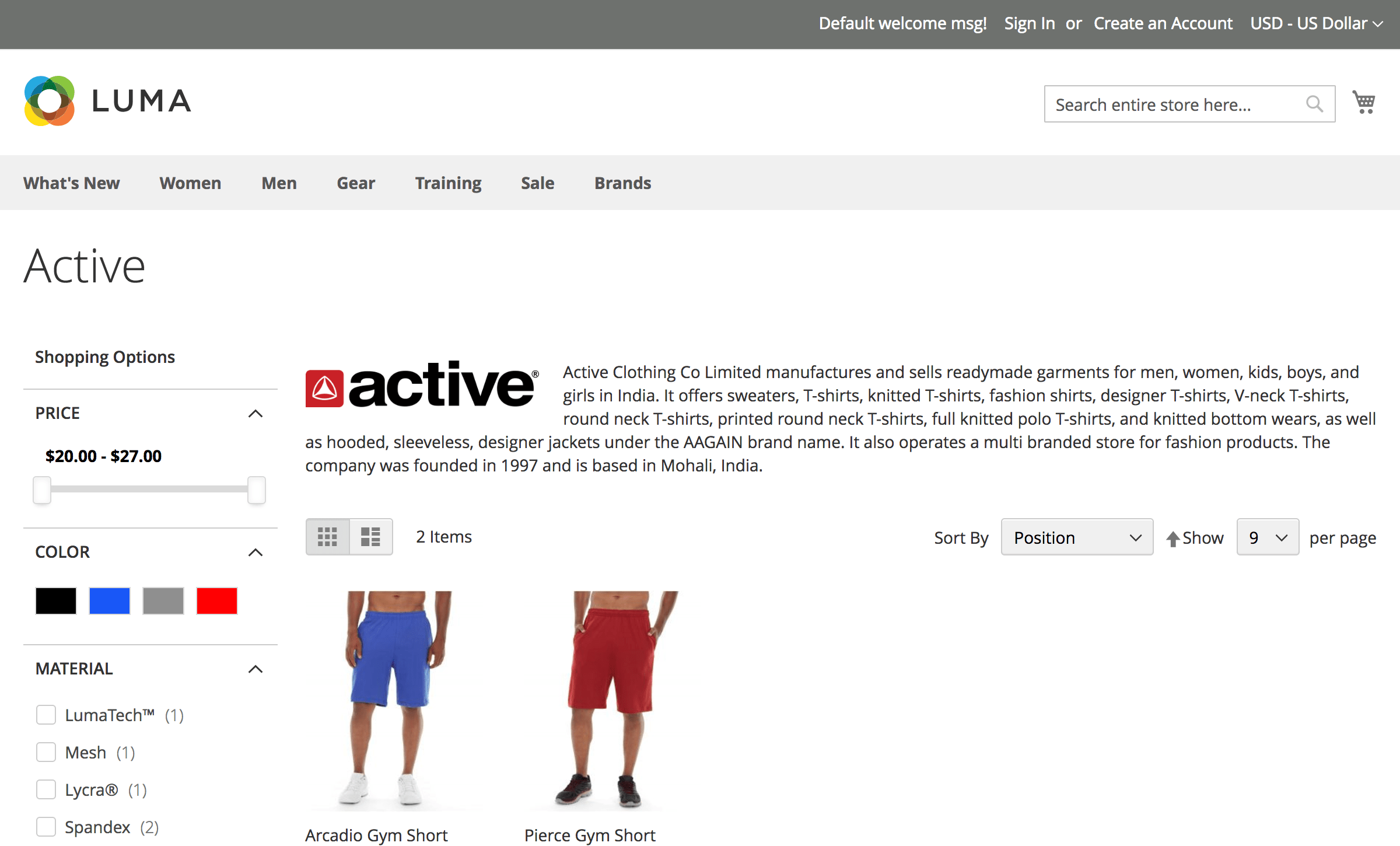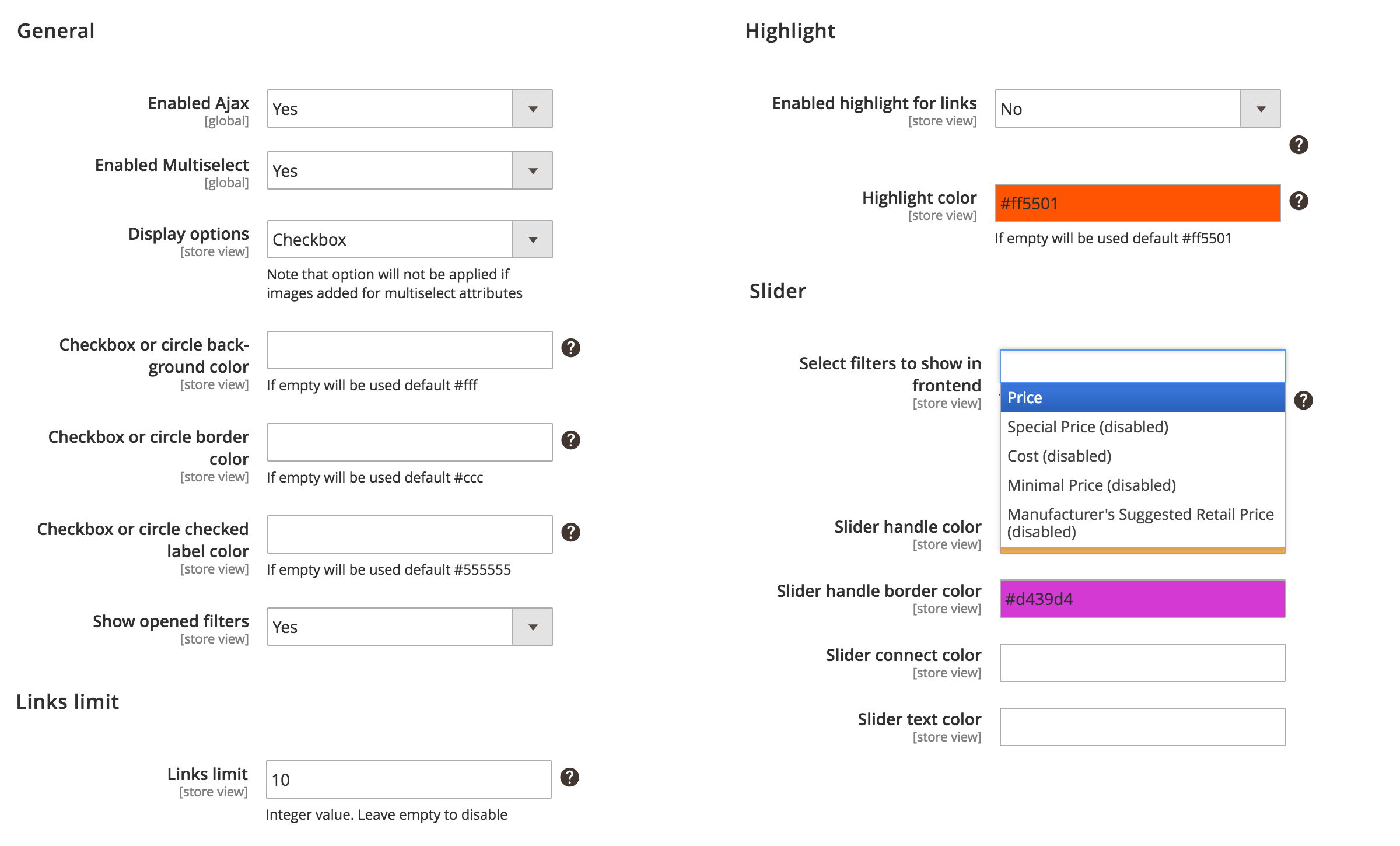 Feature Highlights
When a customer visits your website, they generally only have a few seconds to find the product they were looking for. So, it is extremely important to provide your customers with a convenient and clear website structure and navigation through your shop. The latter can significantly increase your store's retail conversion rates.
Magento 2 Layered Navigation extension lets you add super flexible and attractive navigation that matches all the modern approaches and trends to your Magento store. It significantly expands default Magento navigation fixes certain issues and adds a lot of new features.
Improve Layered Navigation in your store
Speed up navigation with AJAX
The extension boosts the navigation in your catalog utilizing AJAX for the layered navigation block.
AJAX allows filtering by any attribute without reloading the whole page and resources of your theme. Thus, it will greatly speed up the loading of product listings for your customers.
Allow the customers to choose multiple filter options
Default Magento does not allow customers to choose multiple filter options during a search in the catalog. For example, they can't select several known brands at once. Thus, they are compelled to choose only one brand of interest.
Our extension successfully solves this issue. It allows customers to choose as many filter options as they need. Thus, it will expand the customer's choice and help to spot the required product.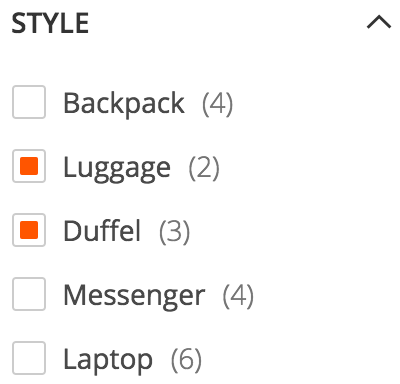 Apply multiple filters at once by click on the Show button
A customer can select multiple options of layered navigation without reloading the webpage and then click the Show button to see filtered results.
This option is very useful for stores which have a lot of products, and loading of filtered results takes time. By allowing customer to choose all necessary options at once without reloading the page each time, you greatly improve the customer experience in your store.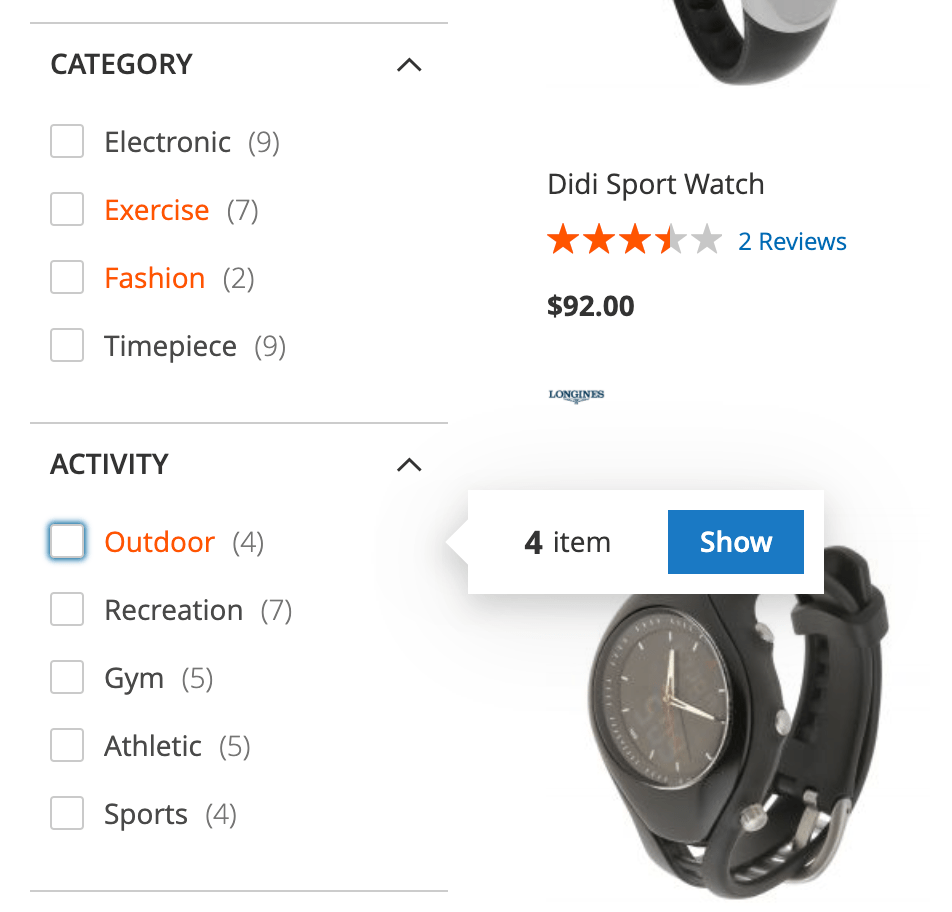 Boost UX with Predicted Filters
The extension displays quick navigation filters based on previous visitors' filtrations, and then suggests other filters that can be used next.
Make filter options more attractive by illustrating them with images
Default Magento provides all filter options in a plain text format. A wide range of different options can make one feel confused. Using our extension, you can add images to your filter settings. Thus, you'll finely facilitate the search of required products for your customers.
Allow the easy selection of a price range with a slider
Improve the way your customers choose the price range for their next purchase. The extension adds the price slider to allow a more user-friendly selection of the price range of interest.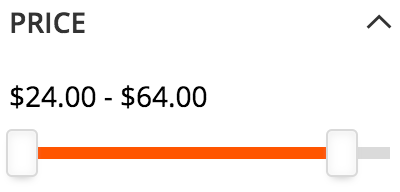 Enhance your Improved Layered Navigation for Magento 2 with useful filters
Help your customers easily find what they are looking for. Enhance layered with the custom filters:
Filter by new products - This feature helps with finding the latest products. It is very useful for beginning users.
Filter by "on-sale" products - This feature helps with finding products sold at the most attractive price. It is very useful for price-sensitive customers.
Filter by stock status - This feature enables the search of available products only. In many cases, you don't want to hide 'out of stock' products from your catalog. This filter will be beneficial for all customers.
Filter by product ratings - This feature helps find products with the most positive reviews. Many customers heavily rely on product reviews. This filter will help them spot the right products.
Make your advanced layered navigation URLs SEO-friendly
Default Magento layered navigation has very tricky URLs.
Our extension makes advanced layered navigation for Magento 2 much more clean and SEO-friendly.
Google loves URLs that contain human-friendly info, and will rank your pages higher in the search results.
Gain full control over the outlook of layered navigation
With our extension, you can gain full control over the outlook of your layered navigation.
You can choose a vertical or horizontal position of the main layered navigation block;
You can choose a vertical or horizontal position of reset filters block;
You can display or hide certain filters in the layered navigation block;
You can choose colors, borders, and manage other settings of your interest.
Empower your store with a branded page
Customers make their choices based on their brand preferences.
The extension can fit the list of all the brands represented in your store onto a single webpage.
Customers can apply alphabetical filtering to the list of brands to spot the brands of their interest and open the corresponding brand page with a list of all branded products.
It's easy to filter the products by more specific parameters on the brand page.
Create individual SEO-friendly page for each brand
Branded search queries are very popular on Google. The extension enables the creation of a separate page for every brand in your store. You can enhance the brand page with the brand logo, description, and list of the products. Brand pages can help attract significant SEO traffic to your store.
Other Advantages
List all your store products on a single page
The Layered Navigation Magento 2 extension creates a special page with a list of all your store products.
Many store owners who have to manage a large number of products design a navigation menu using the results of layered navigation filtering only.
Store owners include links of the most popular subsets of products from the layered navigation to the main navigation menu. It allows them to manage their large catalogs easily.
Improve user's shopping experience by providing them with the possibility to load products automatically or by pressing the Load More button without needing to reload the whole page.
Ajax Scroll functionality is available on the Category Page and Search Results page.
Improved Sorting
The extension also includes Magento 2 Improved Sorting module, which allows for sorting products by:
Sort by Bestsellers
Sort by Top Rated
Sort by Reviews Count
Sort by Biggest Saving
Sort by Most Wished For
Sort by Most Viewed
Magento 2 Enterprise Layered Navigation
The extension is fully compatible with Enterprise and Cloud editions. It supports all built-in search engines: MySql, Elastic 2.x, 5.x, 6.x, 7.x, and Sphinx Search.
See it in action!
Pick a quick tutorial to learn about various aspects of this extension
# Easy to install
#Easy to configure in admin panel
Great extension great support and features. So far all works very well.
Great extension and superior support service
Kingtoys.nl
from Haarlem, Netherlands
We love using this extension it allows us to add extra flexible and attractive navigation to our store. Mirastvit gives great support for this and other modules.Our experience is that you can buy modules anywhere but the support at mirasvit is very fast and always come up with a solution. The modules are also kept up to date by updates
Keep it up team Mirasvit
Keep your website clean and looking great
This will help move all the products without images out from the customer not to see thereby making your website look clean, attractive and professional. A must-have if you are serious about eCommerce
Great extension and great support
A good module that easily extends the functionality.
Thank you Mirasvit.
hardik
from Jalalpur, India
The support for this extensions has been awesome, they have fixed a lot of inconsistencies in my coding and have overall done really good. The plugin works really well
Gecko
from Chula Vista, United States
While this extension doesn't have some of the features the others do it is not bloated and works substantially better and is faster as well.
kumar
from Croydon, United Kingdom
very happy with the service and great looking theme
Simple installation, setup and great features
Robert
from Oppegard, Norway
Another great extension from Mirasvit. Simple setup that works out of the box and good features.
Next level layered navigation
HappyMagento
from Nairobi, Kenya
Ajax support, blazing fast. Many customization features.
A Must Have extension to handle layered navigation
Yeo
from Kuala Lumpur, Malaysia
Layered navigation is a must for eCommerce shopping site but it is complicated and time-consuming if you would like to develop by yourself. Mirasvit addresses this challenge very good and brought us an easy-to-use extension that solves us many hours of development time.
great module for filters. All is configurable, just yes/no categories yes/no.. is easy
Customers can find things easier
Sam
from Portsmouth, United Kingdom
We stock a lot of products and those products have a lot of configuration options, this extension has helped our customers narrow down their search for the product they needs. Attributes can easily be added to the layered navigation and some options even allow for things like logo or images so that customers can instantly recognise them as an option. This has been a winner for us.
This extension have a lot of features. Very useful for all Magento 2 store!
Scott
from Wilmington, United States
Active development and clean code. Not overly complicated like a lot of competitors.
Excellent extension with great support
Frederic
from United States
This extension have a lot of features. It's a must have for all Magento 2 store!
excellent features, nice brand addition
great module for every magento store.
Scott
from Wilmington, United States
This module is hand over fist better than the Amasty module in every regard: Speed, compatibility, features.... you name it.
Boonchai
from Bangkok, Thailand
help a lot

Feature rich extension with reliable and client oriented support
We are using this extension for several moths and have only positive expierience. We're using custom theme and dedicated server for database. Developers helped us with all questions and made some customization to suite our needs.
Is a great module for filters. All is configurable, just yes/no categories yes/no.. is easy work
Best navigation solution for Magento 2
Justin
from Nangli, India
Really happy to have finally gotten a great layered navigation for my online store.
A must have for all merchant ! I recommend it without any hesitation.
Manual & Support
Need more help?
Save time by starting your support request online and we'll connect you to an expert.
Contact Us Now
Live customer feedback
Latest comments
Abdul Nasir Khan
Nov 29, 2020
Improved Sorting for Magento 2 extension is very helpful to show the products what the customers are looking and to increase the conversion.
Hansruedi Kyburz
Nov 26, 2020
Great, thanks
See all comments
The real-time results of the satisfaction survey of our customers
for the last 100 responses
Reasons to choose Mirasvit
Client focusing and satisfaction
These are our primary. A major portion of our new clients come from referrals from our existing clients. Our professional team of developers, marketers and support staff have invested the best knowledge and experience in the field into our work, so you know you can come back to us again and again.
Remarkable support
90-days free and high quality support. We go to great lengths to provide maximum satisfaction with every module you have purchased in our store. By helping you with installation, configuration, answering your every question, we do all our best to eliminate any possible problems.
Risk-free Investment
30-days money back guarantee. If you are not satisfied with our extension's performance for any reason, we provide a full refund.
Constant improvements and upgrades
We provide you with lifetime free updates. We constantly add new features to all our modules, and are always interested in hearing your opinion and implementing your suggested features in our future developments.
Comprehensive Documentation
We provide an expanded user guide for every aspect of our extension, so you can find answers for all your burning questions.
Unencrypted source code of our products
You can customize extensions according to your needs and requirements.
Usability and Performance
The Module is easy to install and upgrade, just follow our step-by-step user guide.
Safe Magento updates
No core modifications. Just use the composer or copy the extension's files to the root directory of your store.