Reward Points, Referral and Loyalty Program Extension for Magento 2
The extension is a fully-featured and flexible marketing tool enabling the Loyalty Program's implementation in your online store. Thank your customers every single time they increase your revenue. Encourage your customers, and they will keep coming back to your store.
Design an effective Magento 2 loyalty program
Reward customers for every profitable action
Gamify shopping experience using a tiered loyalty program
Motivate existing customers to refer their friends and family
Integrate your store with other systems via API
1/11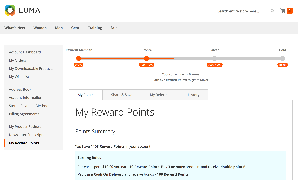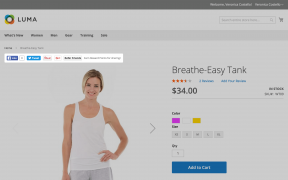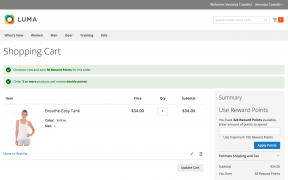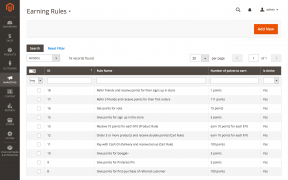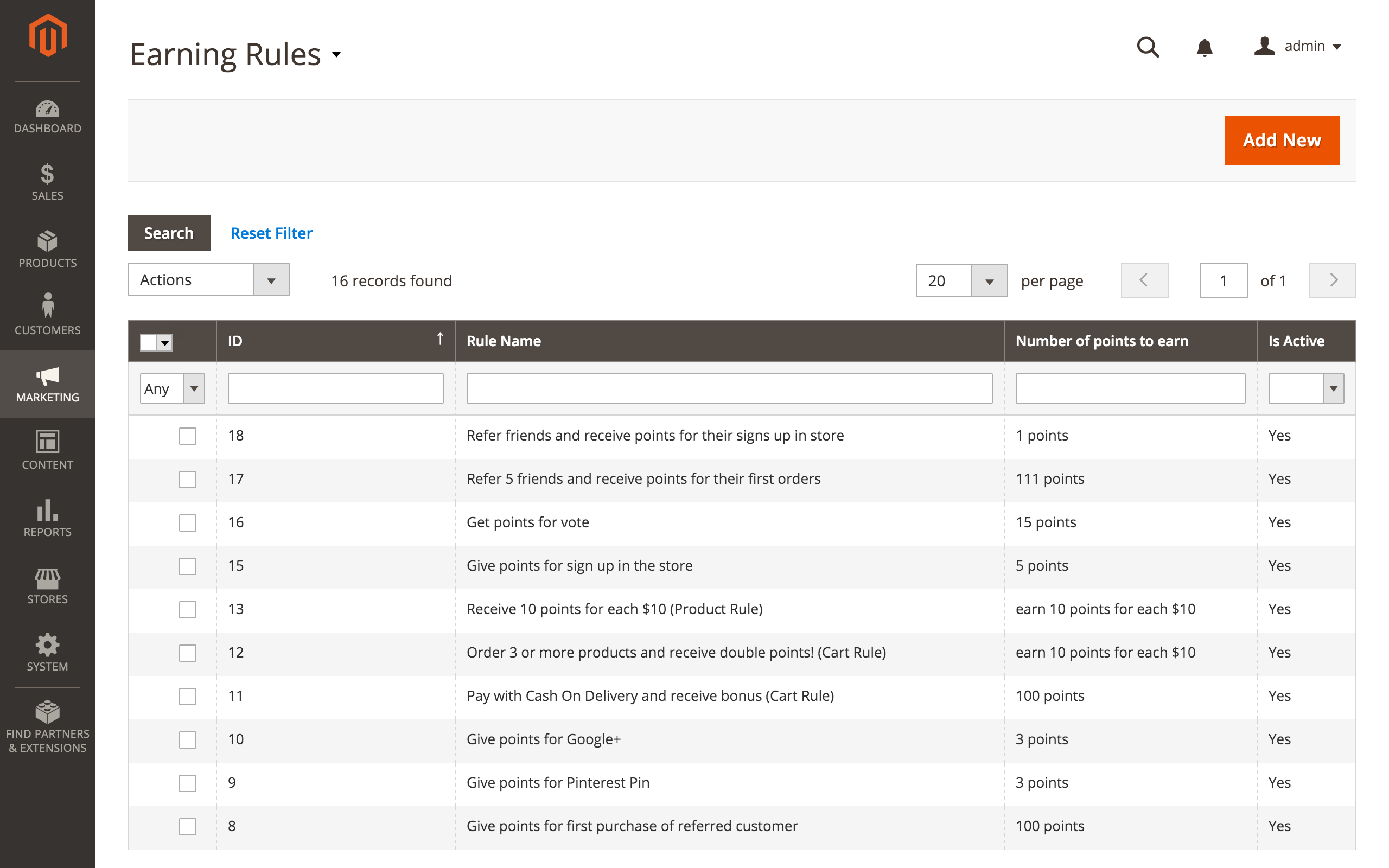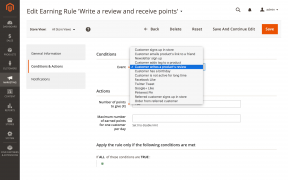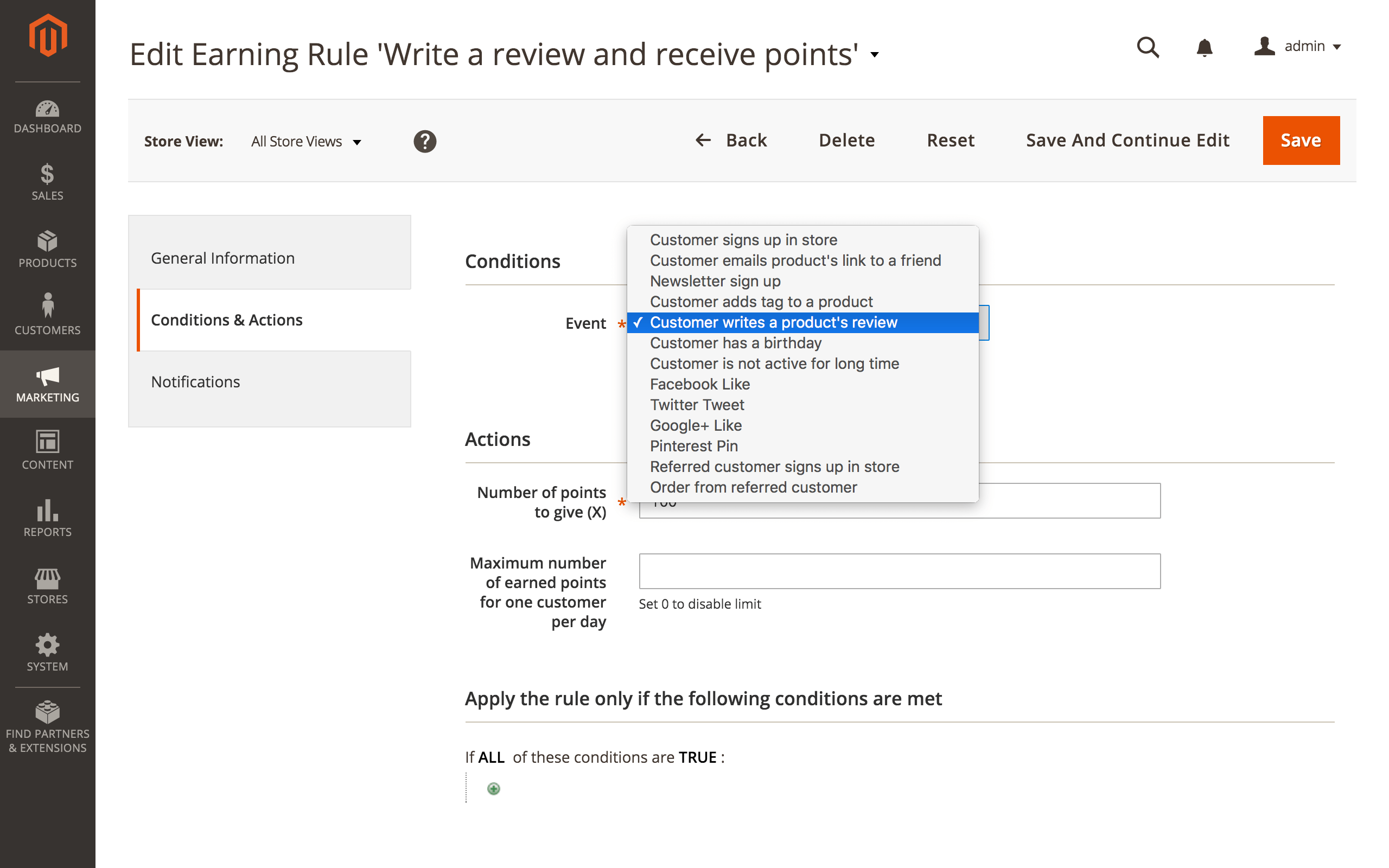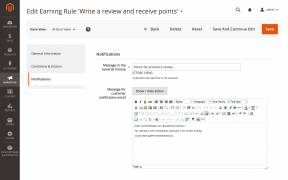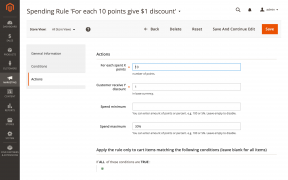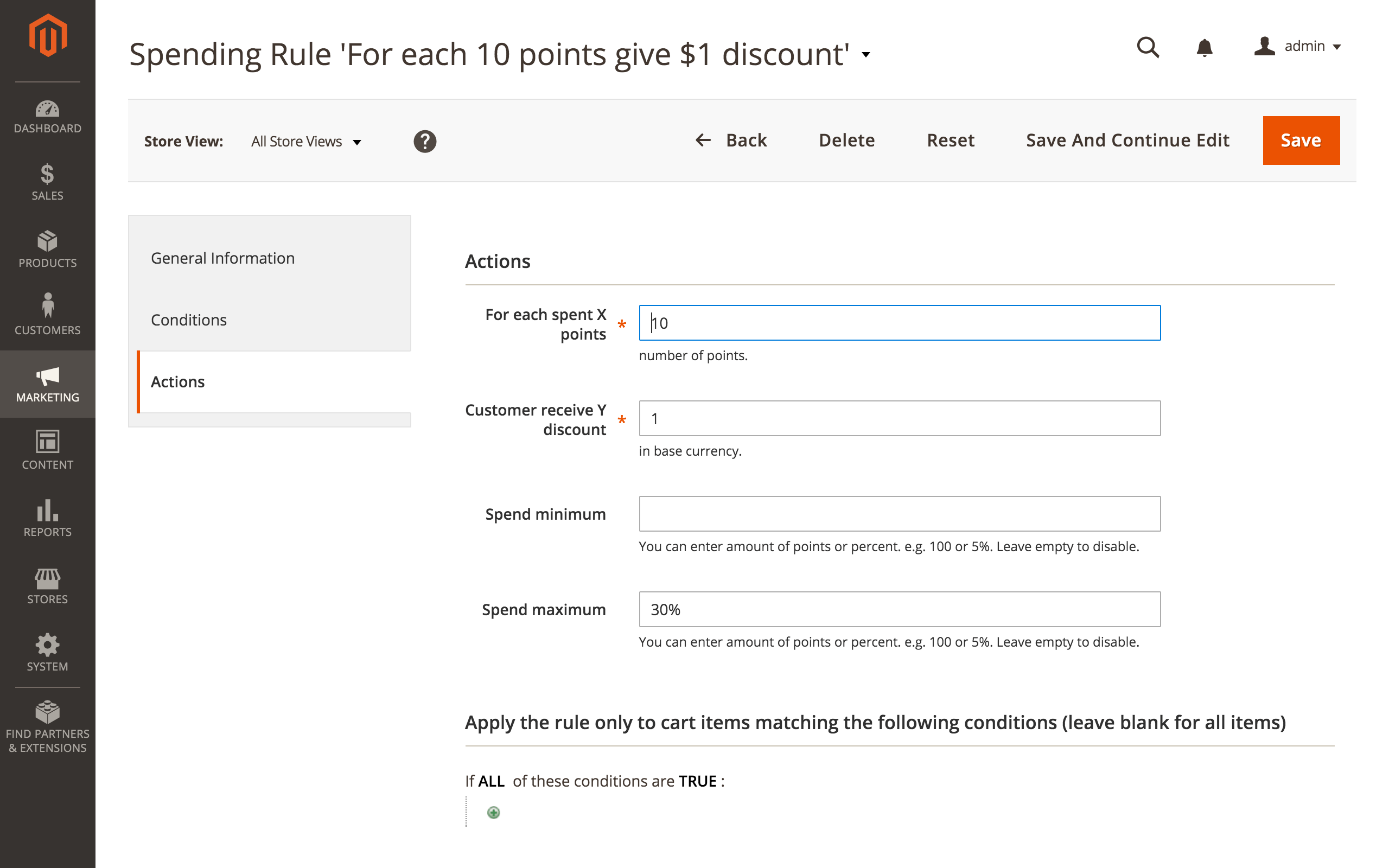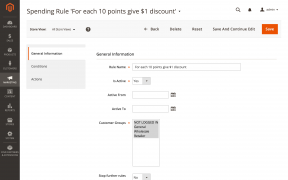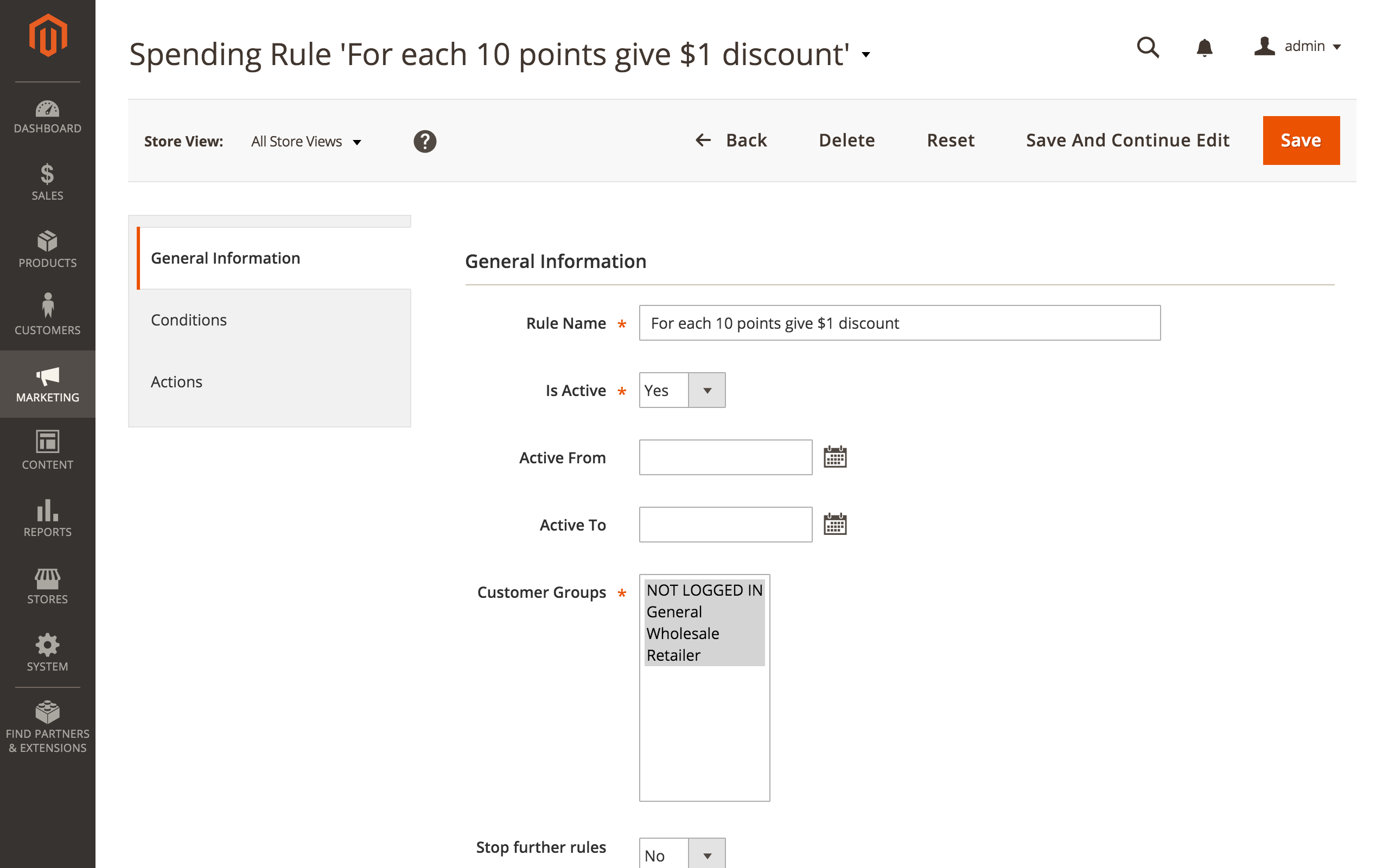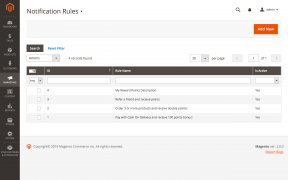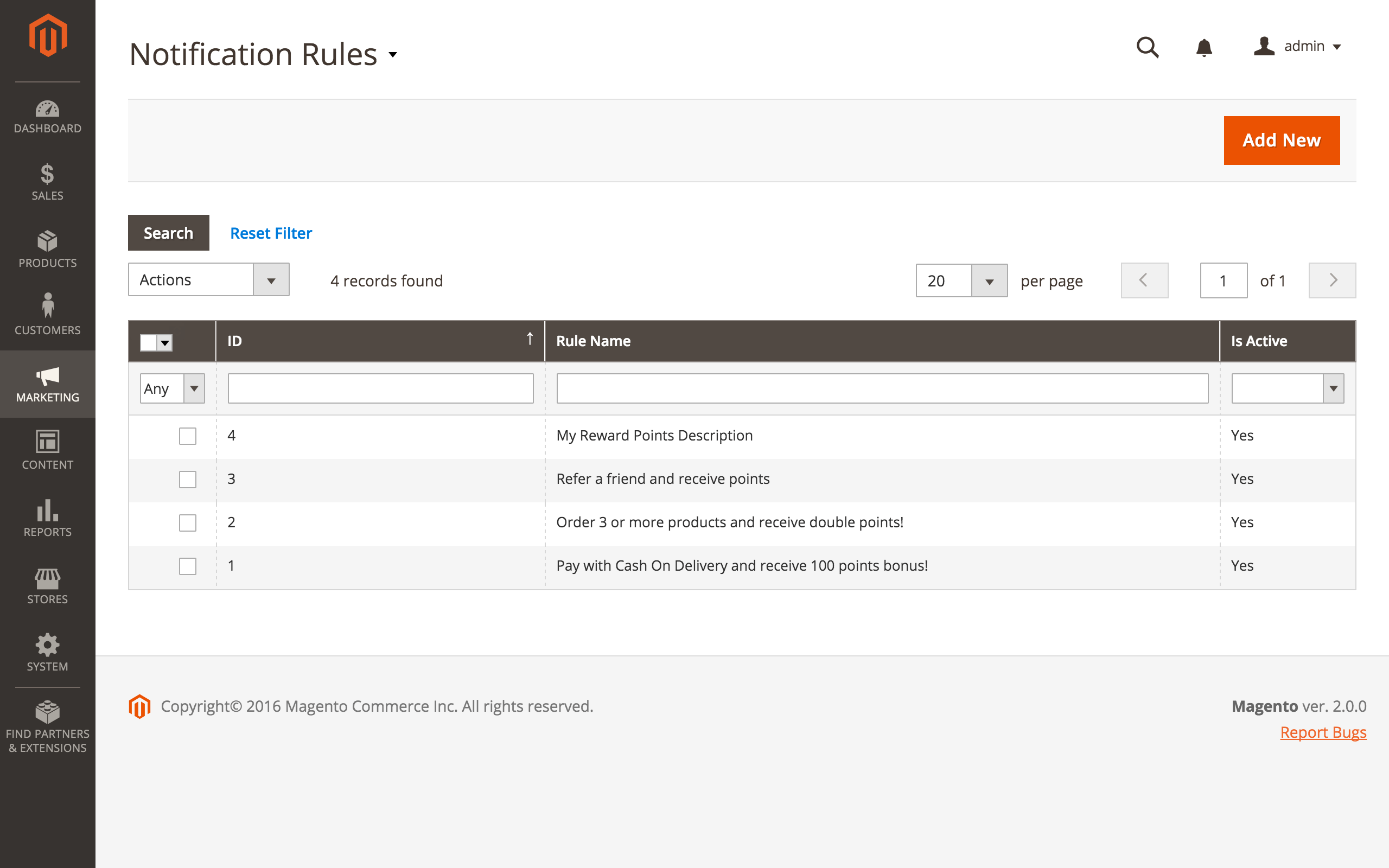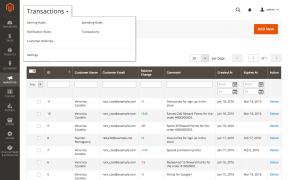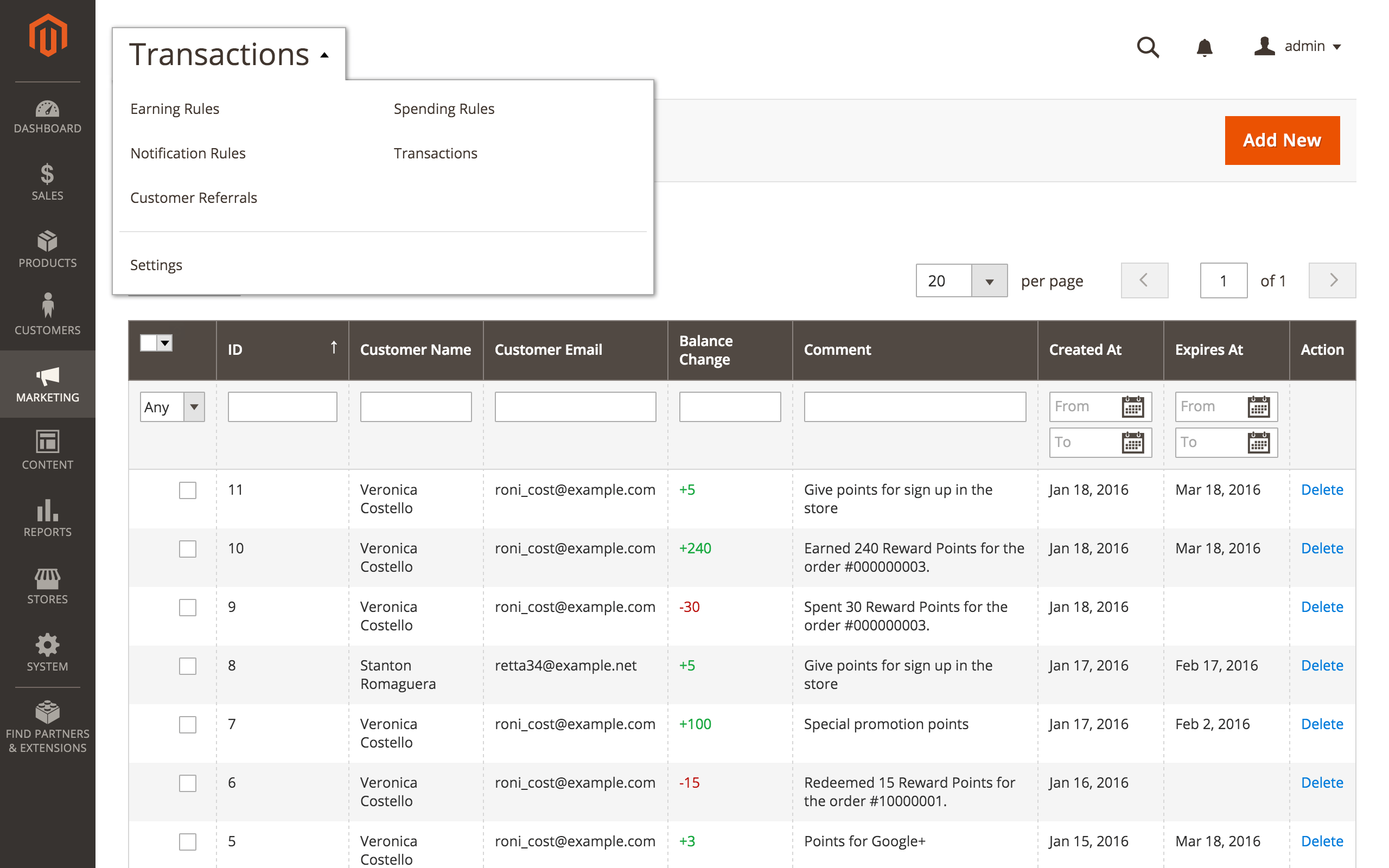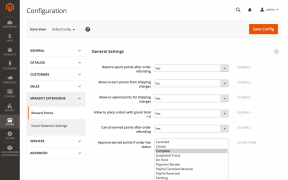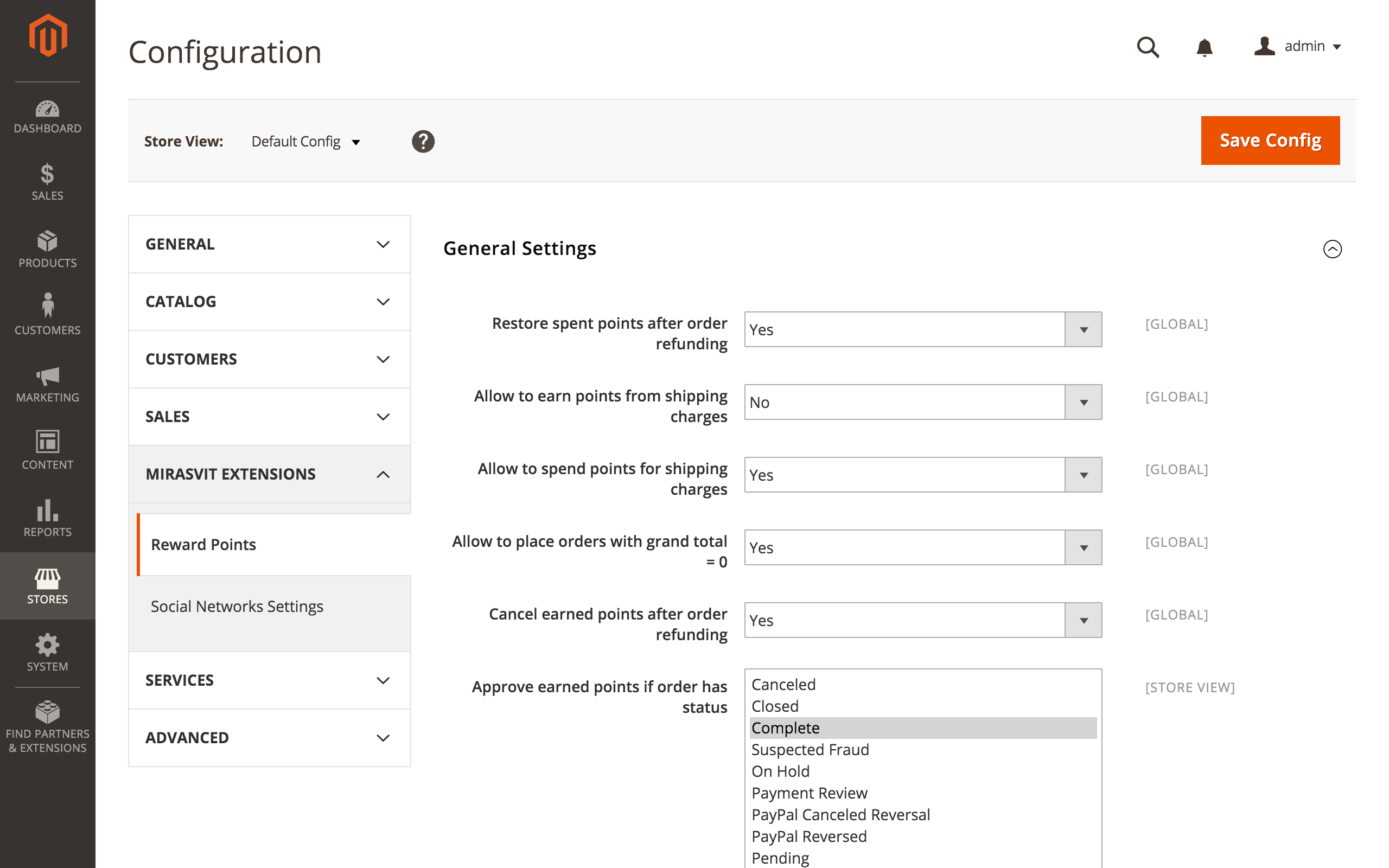 Feature Highlights
The loyalty program is one of the most powerful marketing tools for merchants, enabling them to persuade happy customers to return and buy more. The loyalty program establishes an emotional connection between a company and its customers. It helps to increase the number of loyal customers as well as improve their customer engagement. The loyalty program allows customers to support the brand and promote their company's products among their friends and family. Magento 2 Reward Points + Referral Program extension is a fully-featured, robust, and flexible marketing tool designed to create an effective loyalty program. This Magento reward points system quickly helps you to transform your visitors into loyal and profitable customers. It can drive more sales and attract more customers to your store.
Develop Effective Loyalty Program
Let your customers buy and receive points to place yet another order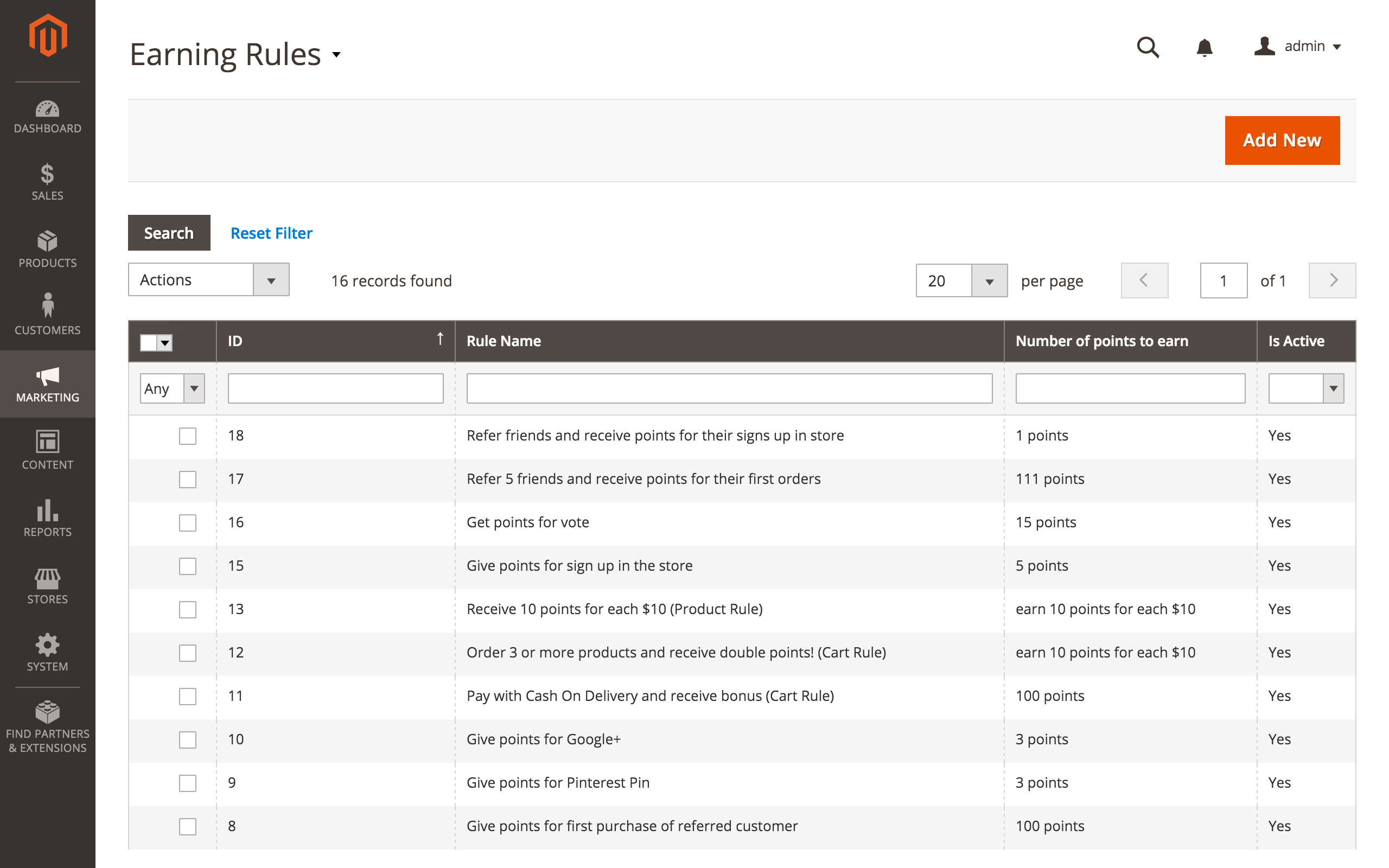 Reward your customers with the Magento customer reward points for order placements. The more orders a customer places, the more points he stands to earn. Customers can use their points earned to place their next order.
---
Motivate Your Customers to Order For More Items At Once
You can control the number of reward points for Magento 2, which your customer earns. You can reward your customers with extra points for the orders that meet certain conditions (e.g., minimum total sum or amount of items in the chart). Visiting the shopping cart or checkout page, the customer can see a promo message encouraging him to buy more to receive additional points.
---
Motivate Your Customers To Buy Specific Products
You can reward your customers with points for buying a certain group of products. The extension will reflect the number of points earned for each product on the product list and the product page. So, the customers will see how many points they can earn if they buy a specific product. You can set different reward rules for various products, brands, and categories.
---
Motivate Your Customers To Increase the Profit Of Your Store
This strategy is very efficient in encouraging customers to do activities that are not directly related to the next order. Motivate them to be more active in your store and, as a result, encourage them to place the following order. For example, you can give them points for their registrations or as a birthday present. At all times, customers will be able to spend their earned points only when placing a new order.
You can reward your customers with points in the following cases: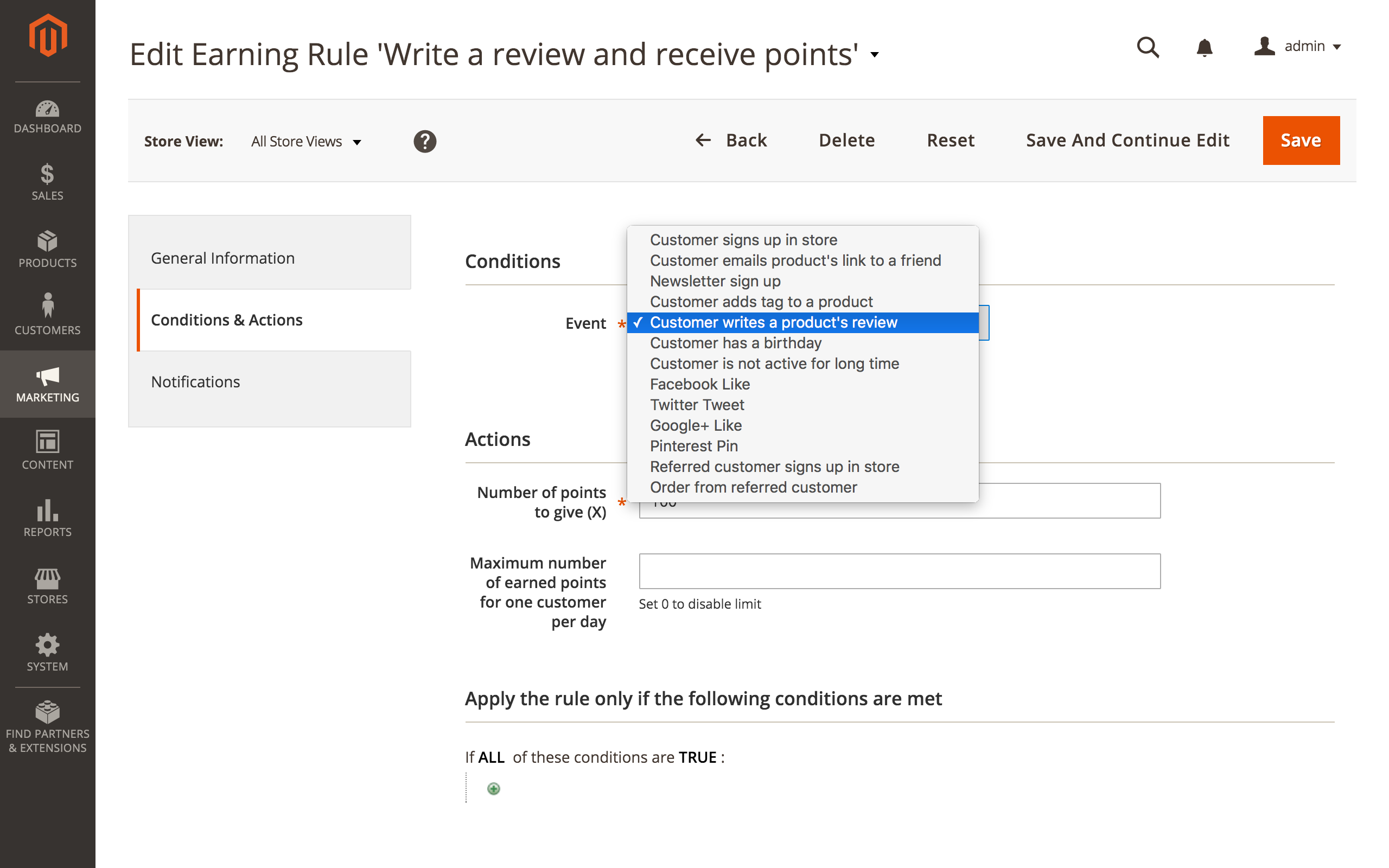 The customer signs up in a store
Customer places order
Customer refers to a friend
Customer adds a tag to a product
Customer writes a product review
The customer has a birthday
Customer is inactive for a long time
Newsletter subscription
Sharing on Facebook
Likes on Facebook
Tweeting in Twitter
Pins in Pinterest
Customer joins the affiliate program
Push Notifications subscription
Referred customer registrations (or sign-ups) in store
Order placement by a referred customer
---
Motivate Your Customers to Come Back
You can set an expiration period to the reward points. Customers will be able to use only active points. The extension will automatically send an email notification to a customer a week before the points expire. The email will contain the suggestions regarding the ways to use the available points before their expiration. This option is a very efficient approach that will help you attract customers to your store.
You can manually reward inactive customers with some points inviting them to visit your store and check available options to spend their earned points. The extension can automatically send custom emails containing the information regarding balance change.
---
Control The Ways Your Customers Spend Their Earned Points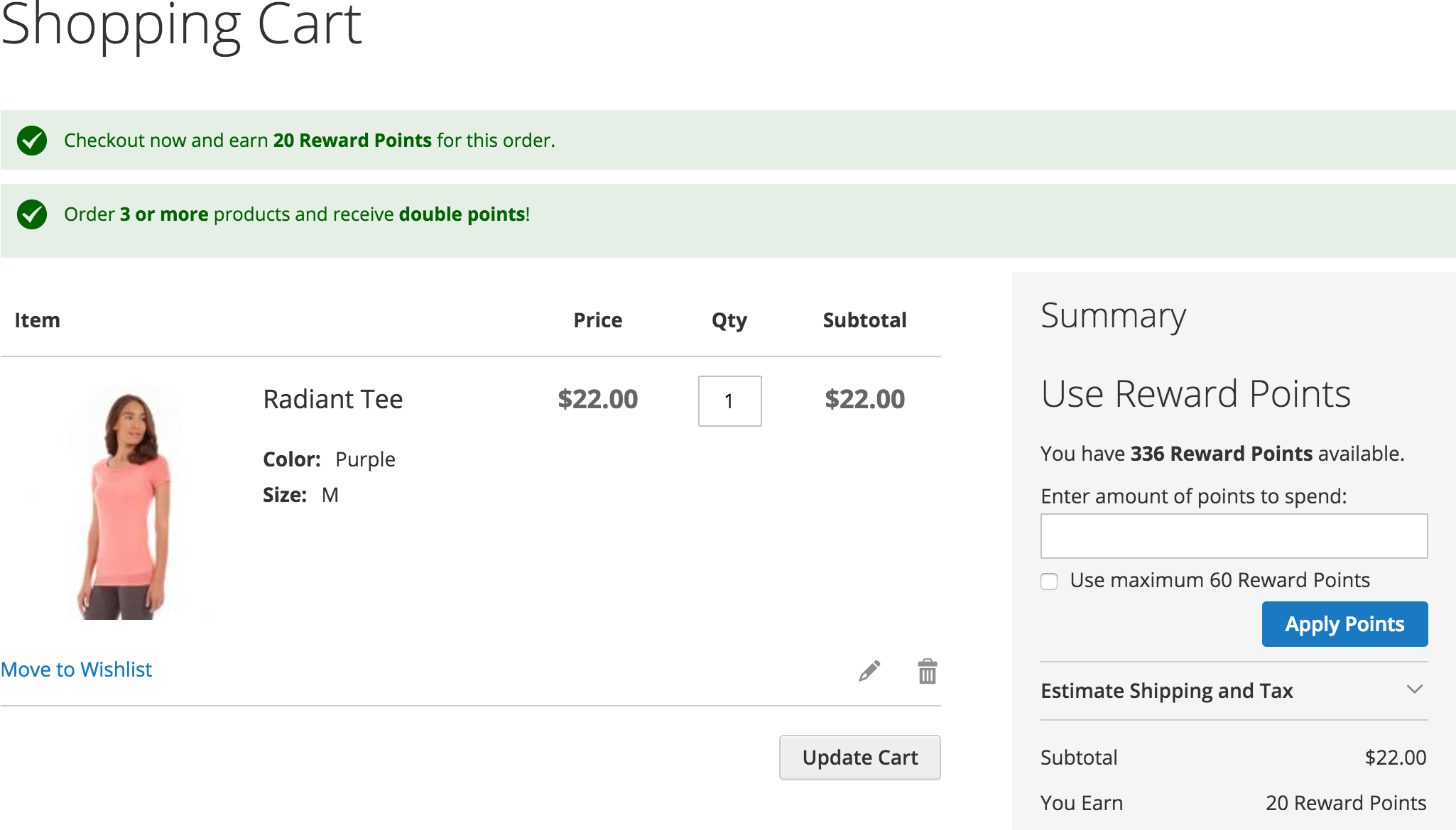 You can manage the ways your customers spend their earned points. You can allow them to spend their points on a specific group of products. You can set the minimum and the maximum number of used points. When the customer uses their earned points, he or she can receive a discount to the order.
---
Inform Customers About Available Options to Earn Points
The extension lets you inform your customer about different reward options available only for him. You can only control what kind of information messages and on what pages and under what circumstances your customer's spot.
For example, should your customer add only one product to his shopping cart, you can show him a message saying, "Buy one more and receive extra points" on your shopping cart page.
---
Give Your Customers Clear and Intuitive Interface To Understand Your Reward Program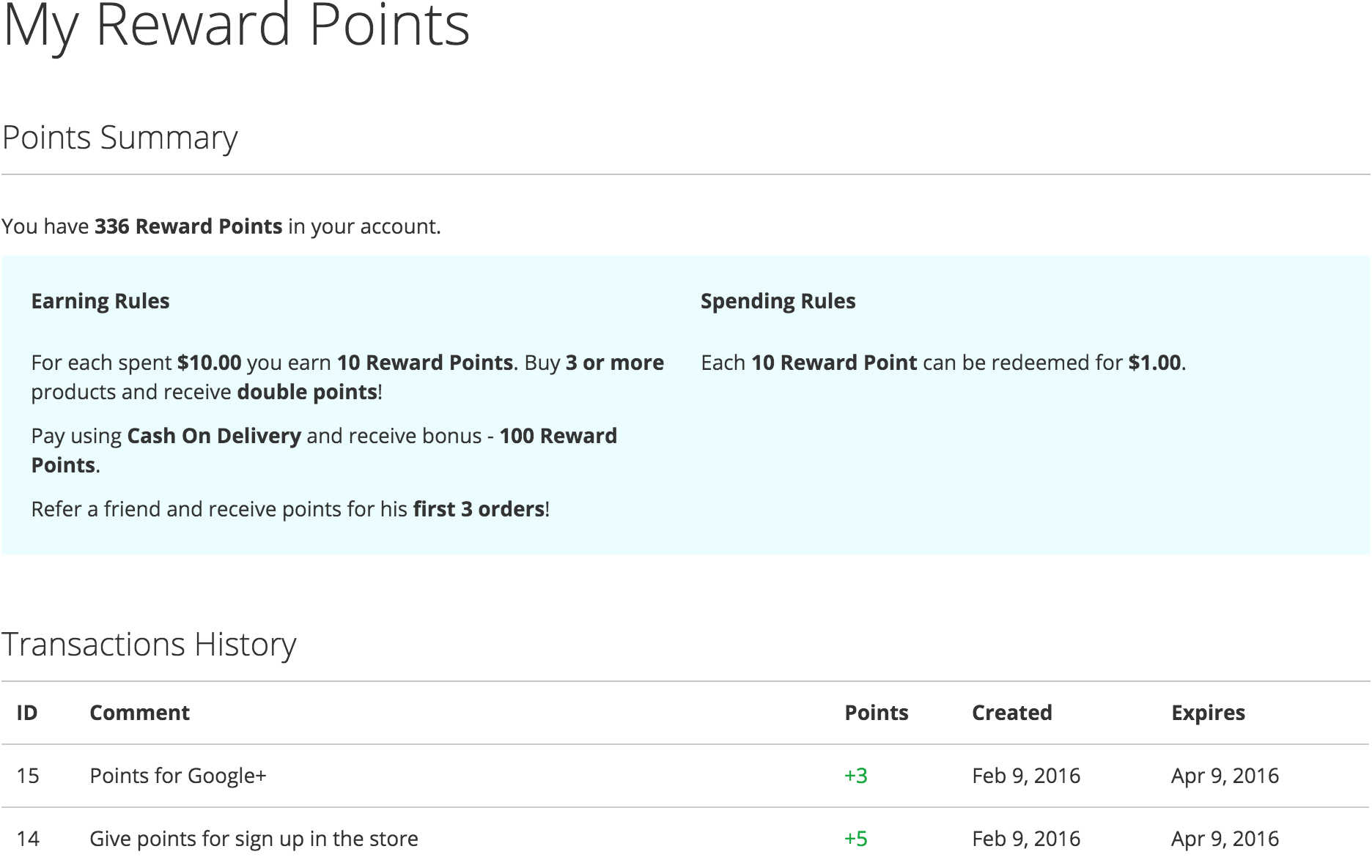 Customers shall gain full access to your loyalty program via their account in your store. They can see their current balance, transaction history, information about current promotions. Everything is simple and clear. Your customers will quickly understand how your loyalty program works.
Encourage Your Customers to Refer Their Family and Friends
Reward Your Customers for Social Media Activities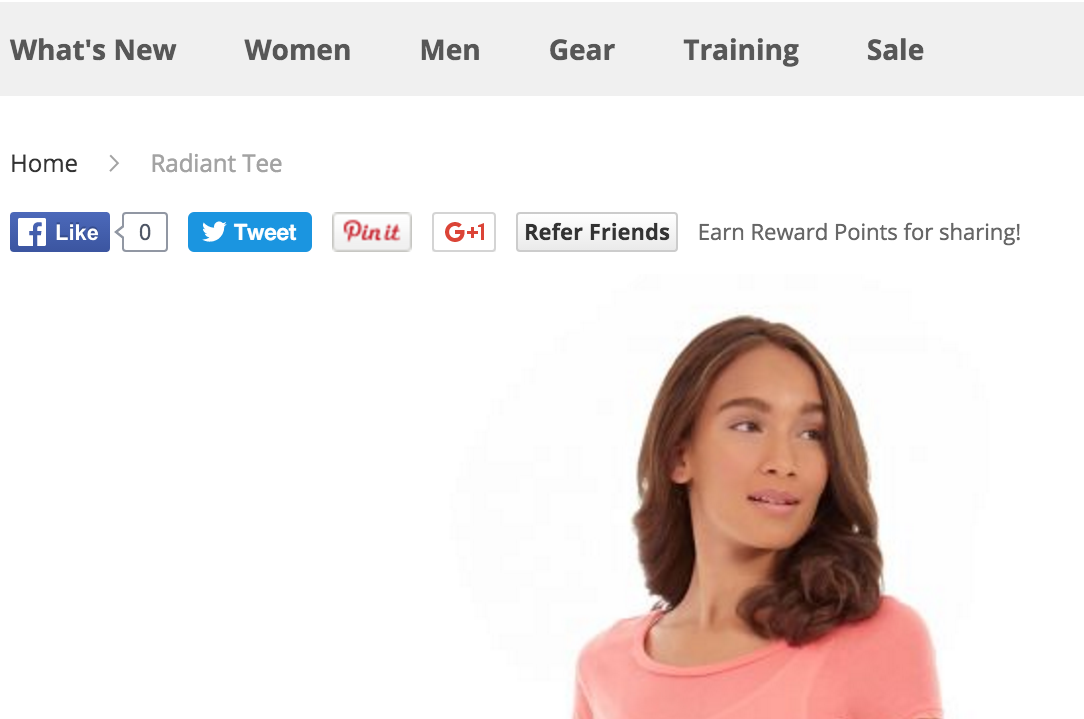 Customers can earn points by sharing your product and category pages on social media. You have complete control over this process. Currently, the extension allows you to give reward points for the following activities:
Sharing on Facebook
Likes on Facebook
Tweets on Twitter
Pins on Pinterest
---
Reward Your Customers for Inviting Their Friends and for the Orders Their Friends Have Placed
Customers can invite their family and friends through their account in your store. They can also send them an invitation link. The extension will link new visitors to the customer who referred them.
And you can reward your customers with the points from the orders placed by their friends. In this way, you'll motivate your customers to attract more people to your store and promote it through viral marketing.
Gamify The Customer's Shopping Experience
Create a Tiered Loyalty Program and Encourage Your Customers to Gain the Next Tier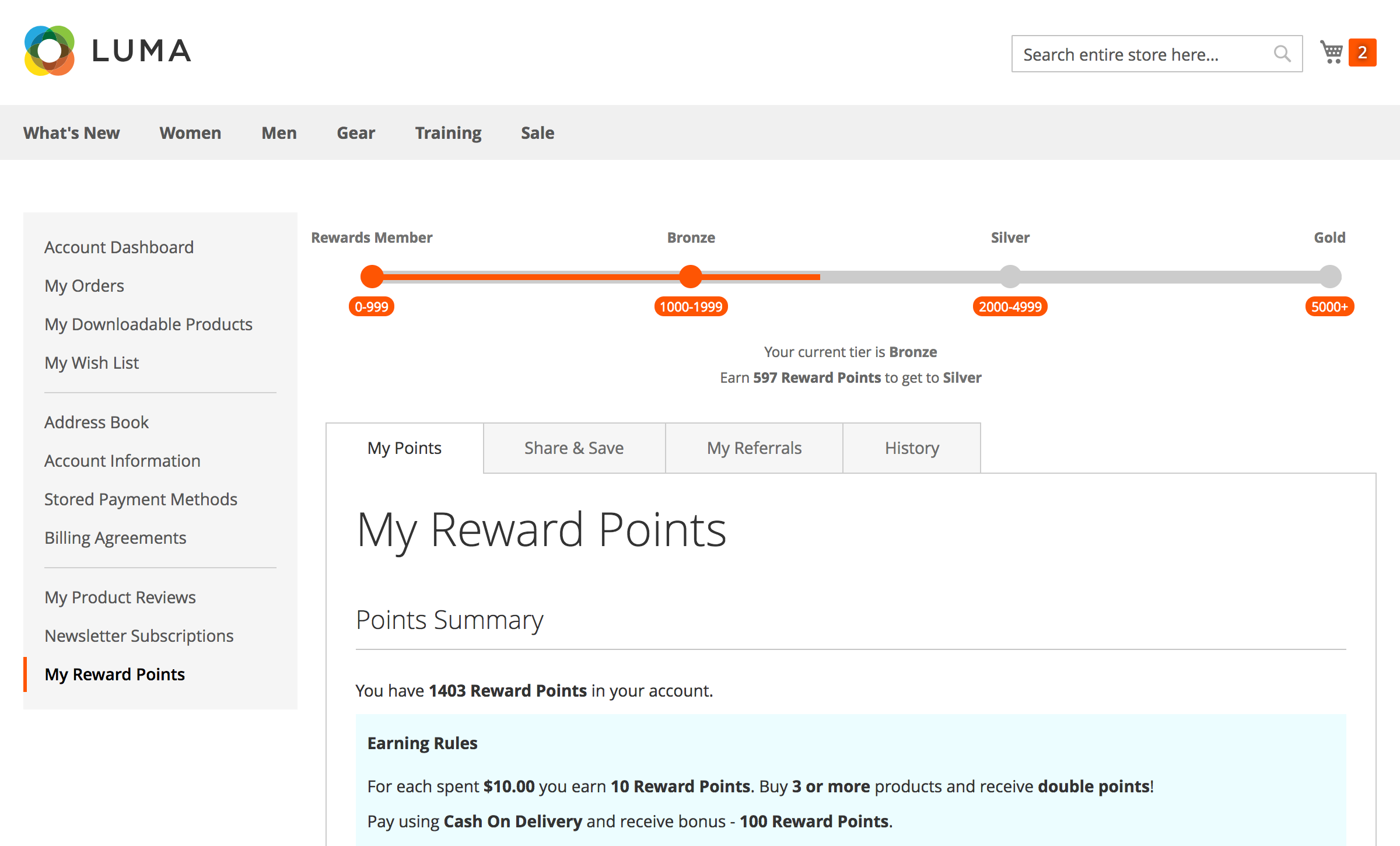 Gamification is a powerful tool encouraging the customers to be more active (and place more orders) in your store. You can create different tiers in your store, that is, incorporate Rewards, VIP, and Premium membership plans letting your customers move to the next level as soon as they earn a certain number of points.
Different tiers may set different conditions within the loyalty program or offer other benefits. Customers can see how many points they will need to move to the next level. And this trick will make them want to earn even more points!
Gain Complete Control Over Your Loyalty Program from the Admin Panel
Manage Spending/Earning/Notification Rules
You can independently manage the terms and conditions of your loyalty program. You can establish the rules in calculating the number of points earned or used in your store. Each rule has flexible terms that let you set up a configuration as per your requirements.
---
Manage Customer Transactions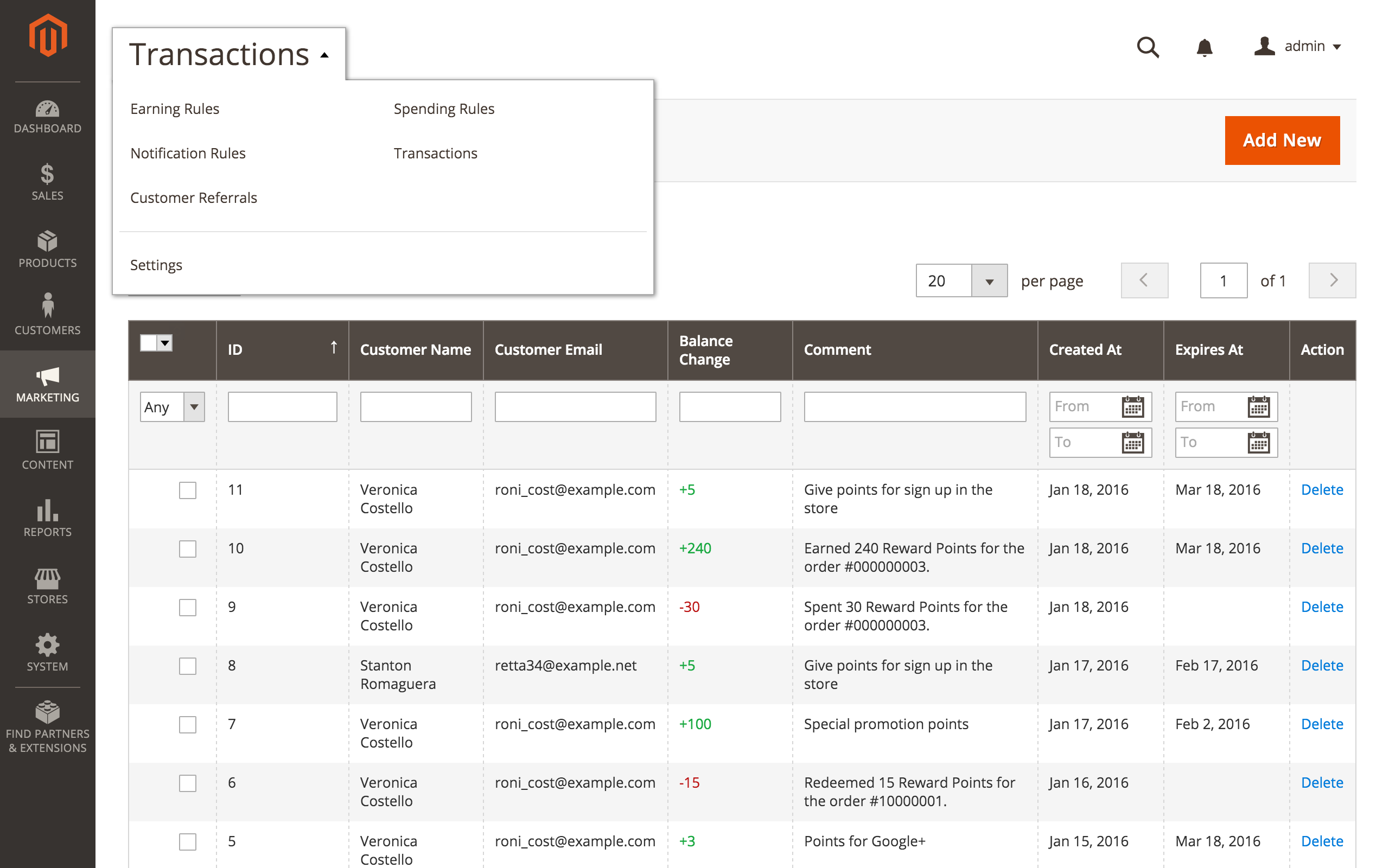 You can see all the reward-related transactions in your store. You can view the transaction history of every customer.
You can reward the groups of customers with points to motivate them to visit your store and use their earned points when placing their next orders.
---
Add or Deduct Points from Individual Accounts
You can open a customer's account and edit the pages in their backend, and you'll see the number of points in the customer's account and their current tier in the Rewards tab. You'll be able to manually add or deduct the points from the customer's balance.
---
Control Performance of Your Loyalty Program with Powerful Analytics
The extension gives you complete control over your loyalty program. Using reports, you can see the number of points earned and spent, their money equivalent for the selected period.
Other Advantages
Integration With 3rd Party Applications Via API
You can employ an extension's API to integrate your store's loyalty program, using external software. For example, you may wish to connect your mobile app and let your customers use their points from their mobile devices.
See it in action!
Pick a quick tutorial to learn about various aspects of this extension
Manual & Support
Need more help?
Save time by starting your support request online and we'll connect you to an expert.
Contact Us Now
We found other products you might like!
Live customer feedback
Latest comments
Michael Sandström
Sep 24, 2020
Best support, keep up the good work!
Galeria LueLue
Sep 23, 2020
Thank you <3
See all comments
The real-time results of the satisfaction survey of our customers
for the last 100 responses
Reasons to choose Mirasvit
Client focusing and satisfaction
It is our main goal. A big part of our new clients come from referrals from our existing clients. Our professional team of developers, marketers and support invest the best knowledge and experience, so you could come back to us again and again.
Remarkable support
90-days free and high quality support. We make an effort to satisfy you with work of every module you have purchased in our store. Helping you with installation, configuration, answering your every question, we do all our best to eliminate any possible problems.
Risk-free Investment
30-days money back guarantee. If you are not satisfied with work of our extension for any reason we provide a full refund.
Constant improvements and upgrades
We provide you lifetime free updates. We constantly add new features to all our modules. We are absolutely interested to hear your opinion and to implement your suggested features in our future developments.
Comprehensive Documentation
We provide an expanded user guide for every our extension, so you can find answers for all your burning questions.
Unencrypted source code of our products
You can customize extensions according to your needs and requirements.
Usability and Performance
Module is easy to install and easy to upgrade, just follow step by step our user guide.
Safe Magento updates
No core modifications. Just copy extension files to store root directory.