 The extension is a fully-featured and flexible marketing tool enabling the implementation of the Loyalty Program in your online store! Thank your customers every single time they increase your revenue. Encourage your customers, and they will keep coming back to your store!
Design an effective Magento 2 loyalty program
Reward customers for every profitable action
Gamify shopping experience using a tiered loyalty program
Motivate existing customers to refer their friends and family
Integrate your store with other systems via API
Extension Demos
Pick a quick tutorial to learn about various aspects of this extension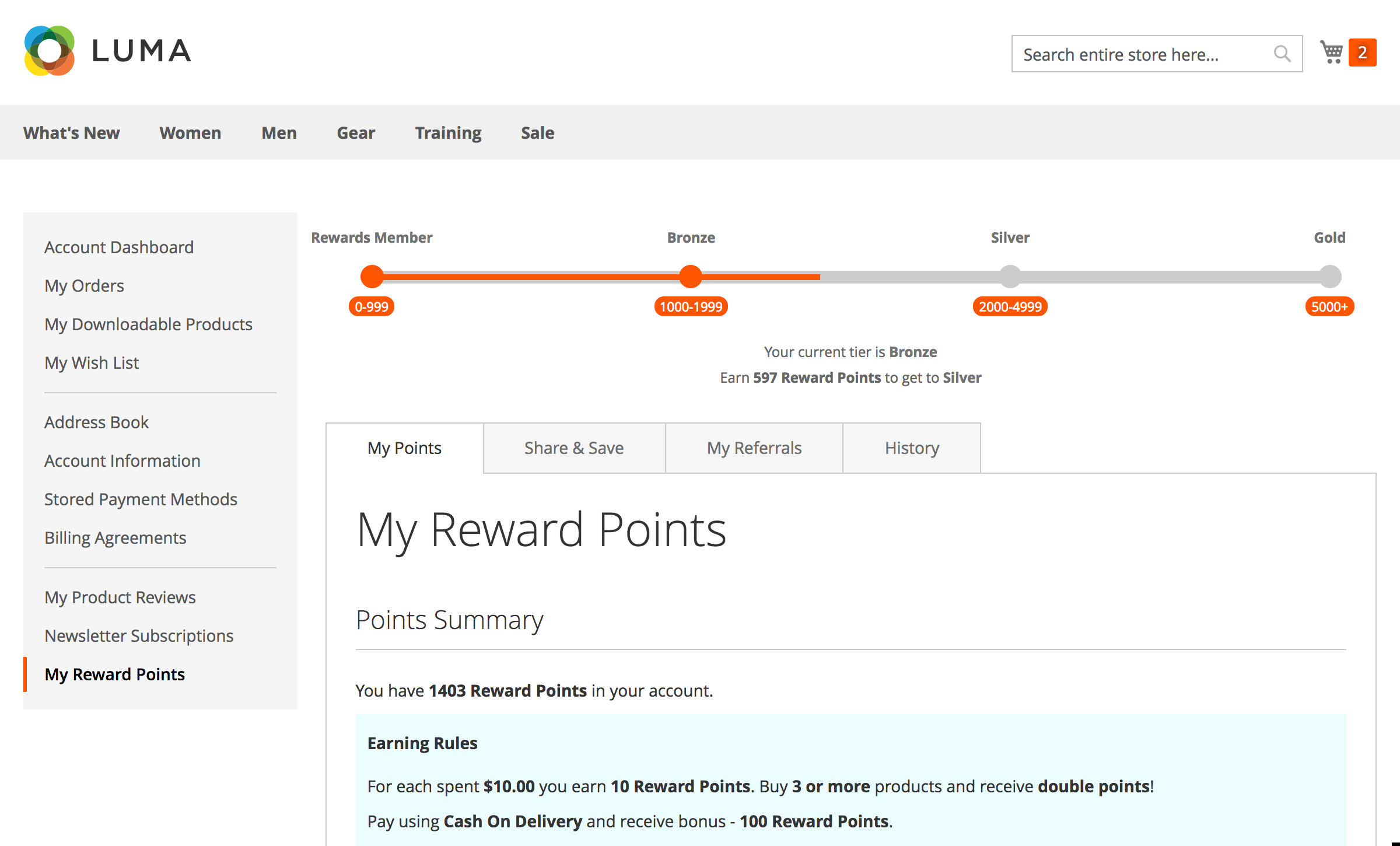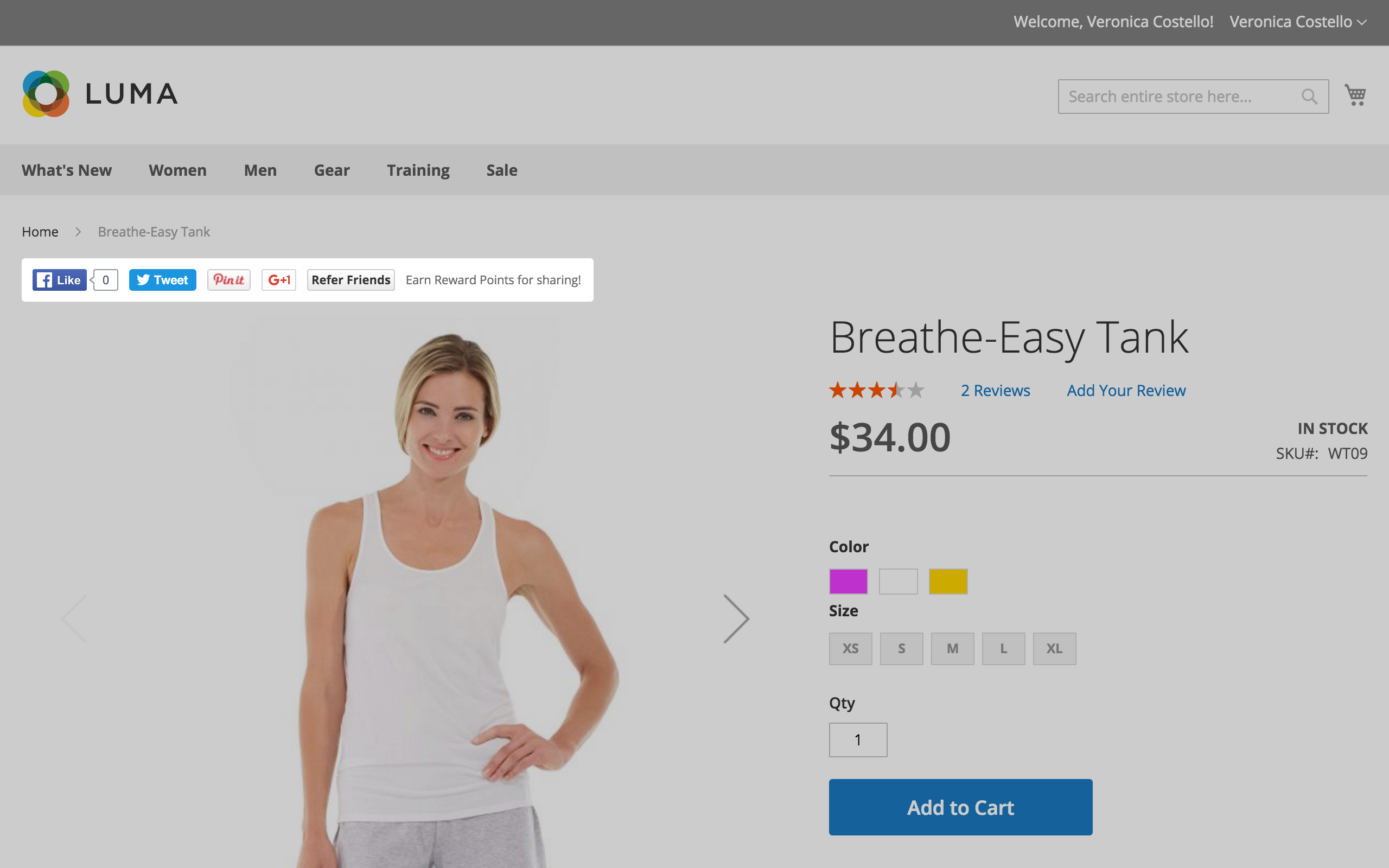 The loyalty program is one of the most powerful marketing tools for merchants that helps them to persuade happy customers to return and buy more. The loyalty program establishes an emotional connection between a company and its customers. It helps to increase traffic and increase the number of loyal customers as well as improve customer engagement. The loyalty program allows customers to support the brand and promote the company's products among their friends and family.
Magento 2 Reward Points + Referral Program extension is a fully-featured, robust, and flexible marketing tool designed to create an effective loyalty program. This Magento rewards points system will quickly help you to transform your visitors into loyal and profitable customers. It will drive more sales and attract more customers to your store.
Feature Highlights
Develop Effective Loyalty Program
Let your customers buy and receive points to place yet another order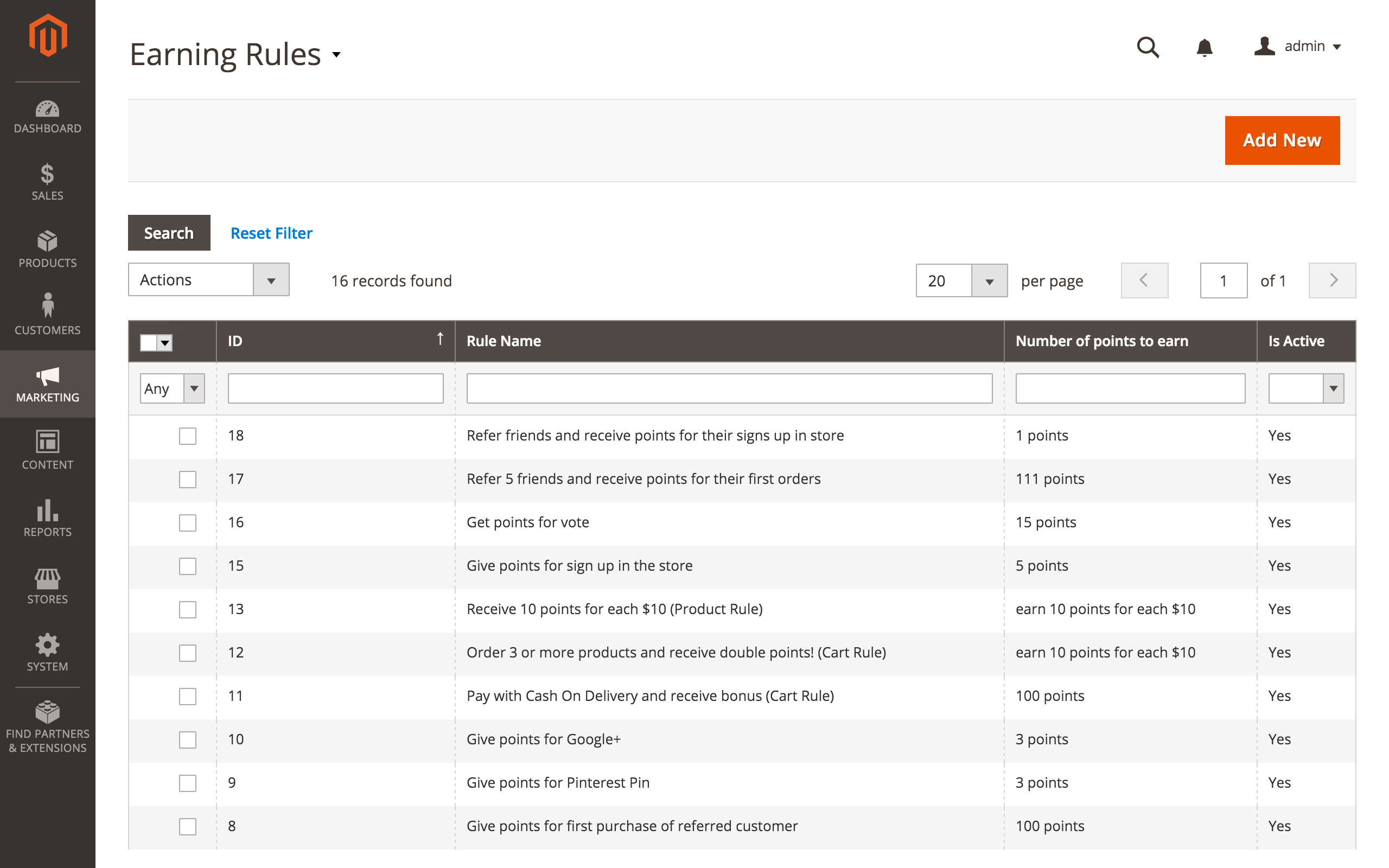 Reward your customers with the Magento customer reward points for placements of every order. The more orders will customer place, the more points s/he will earn. Customers can use earned points to place the next order.
---
Motivate Your Customers to Order More Stuff At Once
You can control the number of reward points for Magento 2 your customer earns. You can reward your customers with extra points for the orders that meet certain conditions (e.g., minimum total sum or amount of items). Visiting the shopping cart or checkout page, the customer can see a promo message encouraging him to buy more to receive additional points.
---
Motivate Your Customers To Buy Specific Products
You can reward your customers with the points for buying certain groups of products. The extension will reflect the number of earned points for each product in the list of products and on the product page. So, the customers will see how many points they can earn if they buy a specific product. You can set different reward rules for various products, brands, categories, etc.
---
Motivate Your Customers To Increase the Profit Of Your Store
This strategy is very efficient in encouraging customers to do the actions which are not directly related to the next order. Motivate them to be more active in your store and, as a result, encourage them to place the following order. For example, you can give the points for customer registration or as a birthday present. At all times, customers will be able to spend earned points only when placing a new order.
You can reward your customers with the points in the following cases: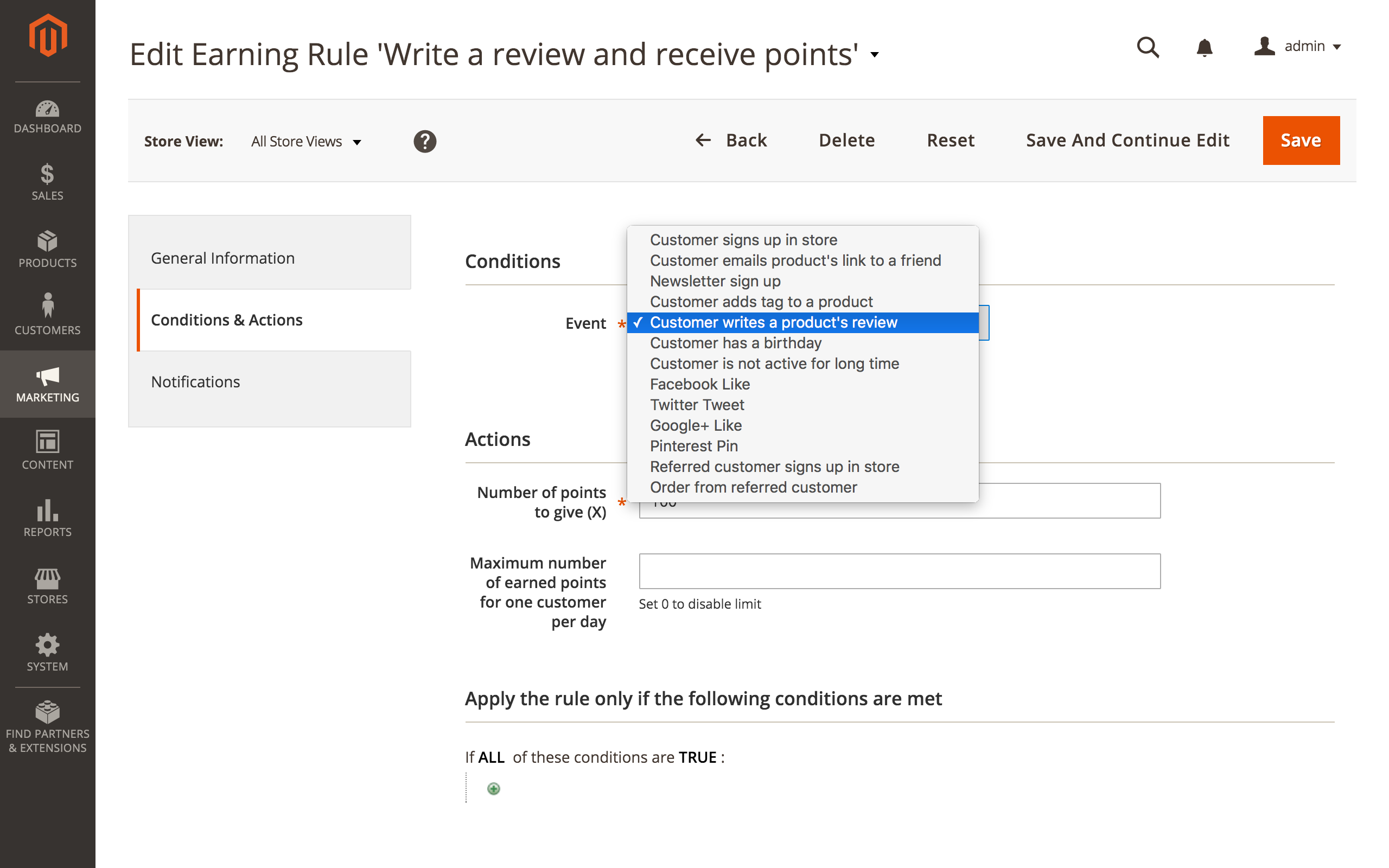 Customer signs up in a store
Customer places order
Customer refers to a friend
Customer adds a tag to a product
Customer writes a product review
Customer has a birthday
Customer is inactive for a long time
Newsletter subscription
Sharing on Facebook
Likes on Facebook
Tweeting in Twitter
Pins in Pinterest
Customer joins the affiliate program
Push Notifications subscription
Referred customer registrations (or sign-ups) in store
Order placement by a referred customer
---
Motivate Your Customers to Come Back
You can set an expiration period for the reward points. Customers will be able to use only active points. The extension will automatically send an email notification to a customer a week before points expire. The email will contain the suggestions regarding the ways to use points before their expiration. This option is a very efficient approach that will help you attract customers to your store.
Also, you can manually reward inactive customers with the points inviting them to visit your store and check available options to spend earned points. The extension can automatically send custom emails containing the information regarding balance change.
---
Control The Ways Your Customers Can Spend Earned Points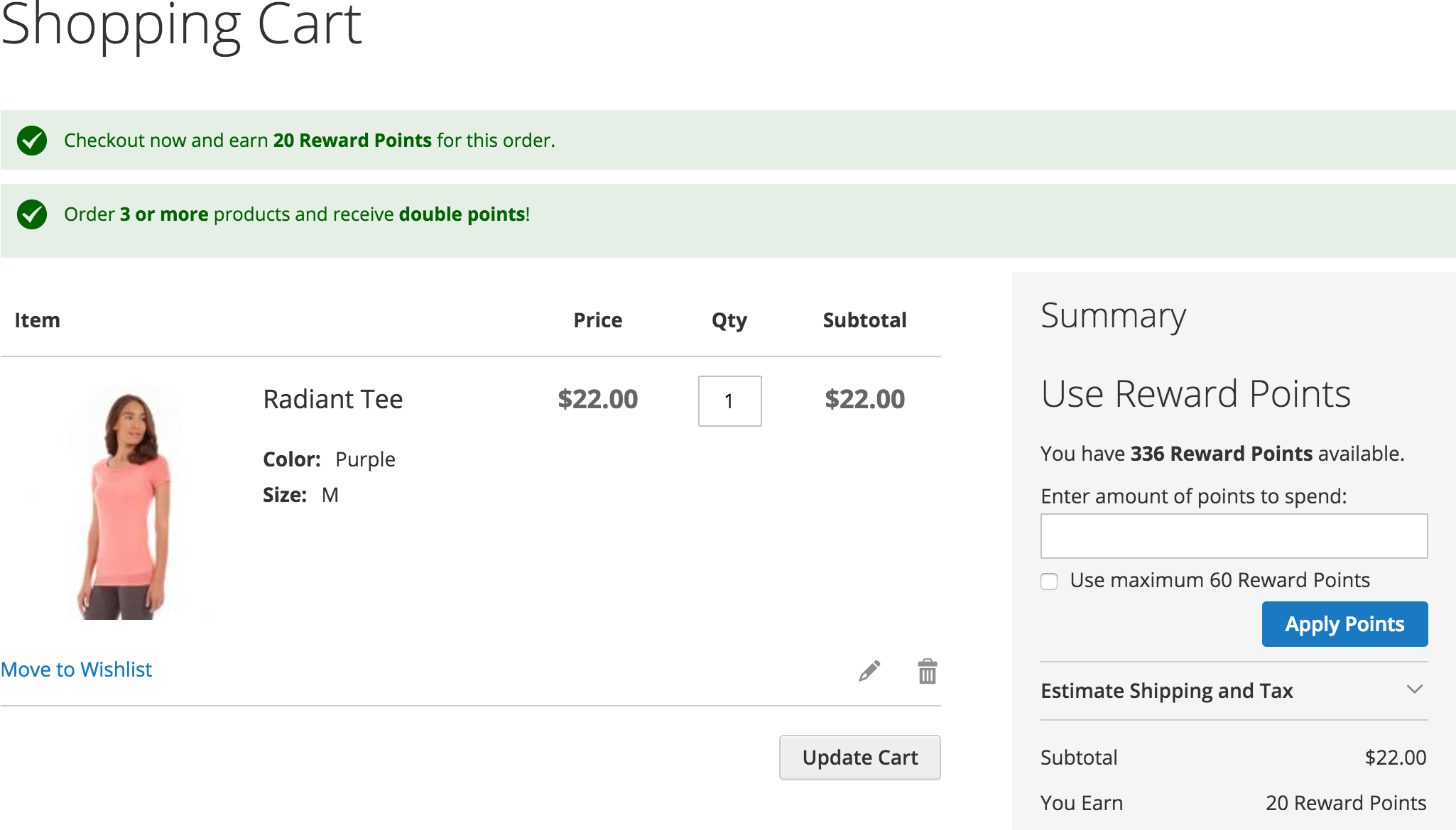 You can manage the ways your customers spend earned points. You can allow them to spend their points on specific groups of products. You can set the minimum and the maximum number of used points. When the customer uses earned points, he or she can receive a discount to the order.
---
Inform Customers About Available Options to Earn Points
The extension lets you inform your customer about different reward options available only for him. You only control what kind of information messages and at what pages as well as under what circumstances will your customers spot.
For example, should your customer add only one product to his shopping car, you can show him a message saying, "Buy one more and receive extra points" on your shopping cart page.
---
Give Your Customers Clear and Intuitive Interface To Understand Your Rewards Program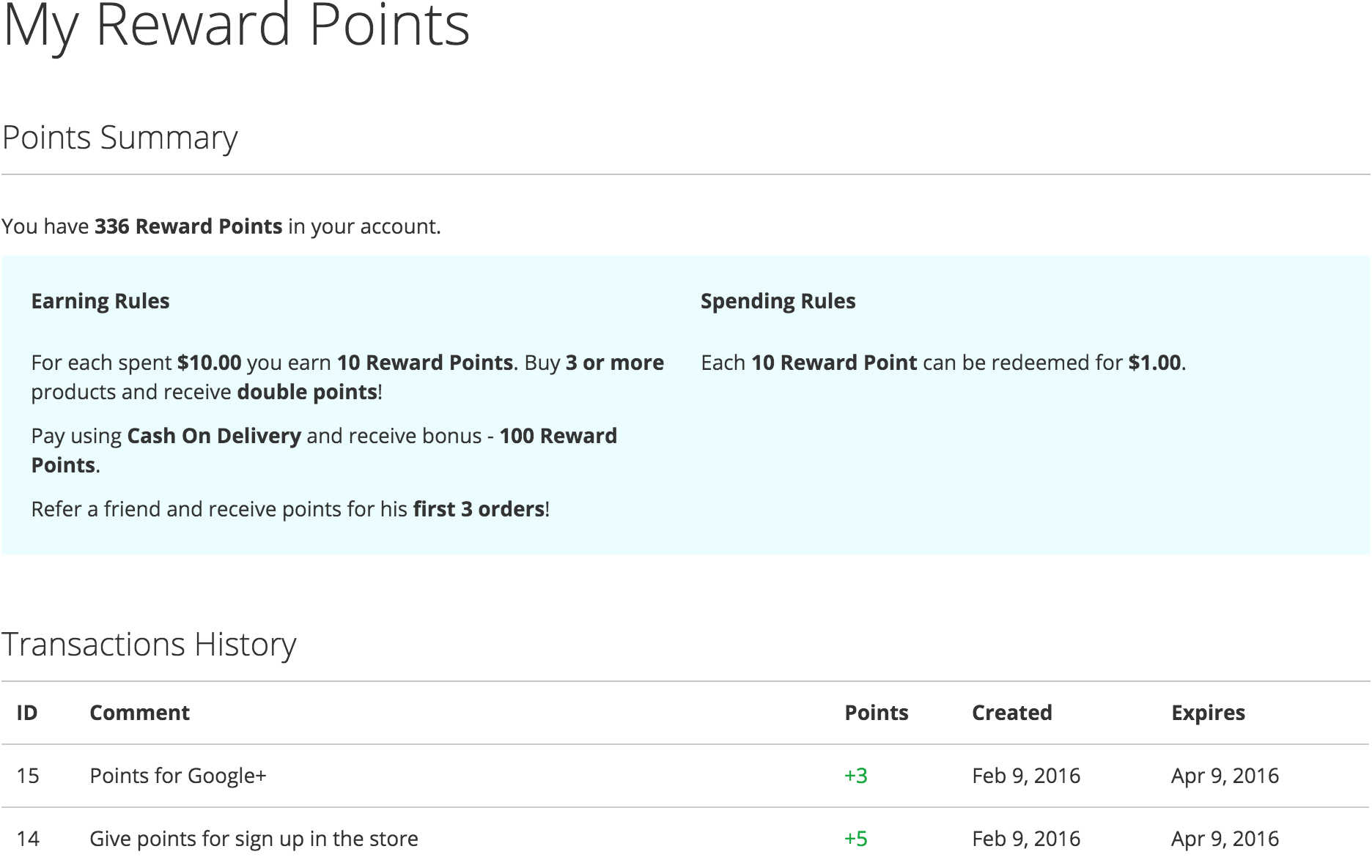 Customers shall gain full access to your loyalty program via their account in your store. They can see their current balance, transaction history, as well as information about current promotions, etc. Everything is simple and clear. Your customers will quickly understand how your loyalty program works.
Encourage Your Customers to Refer Their Friends and Family
Reward Your Customers for Social Media Activities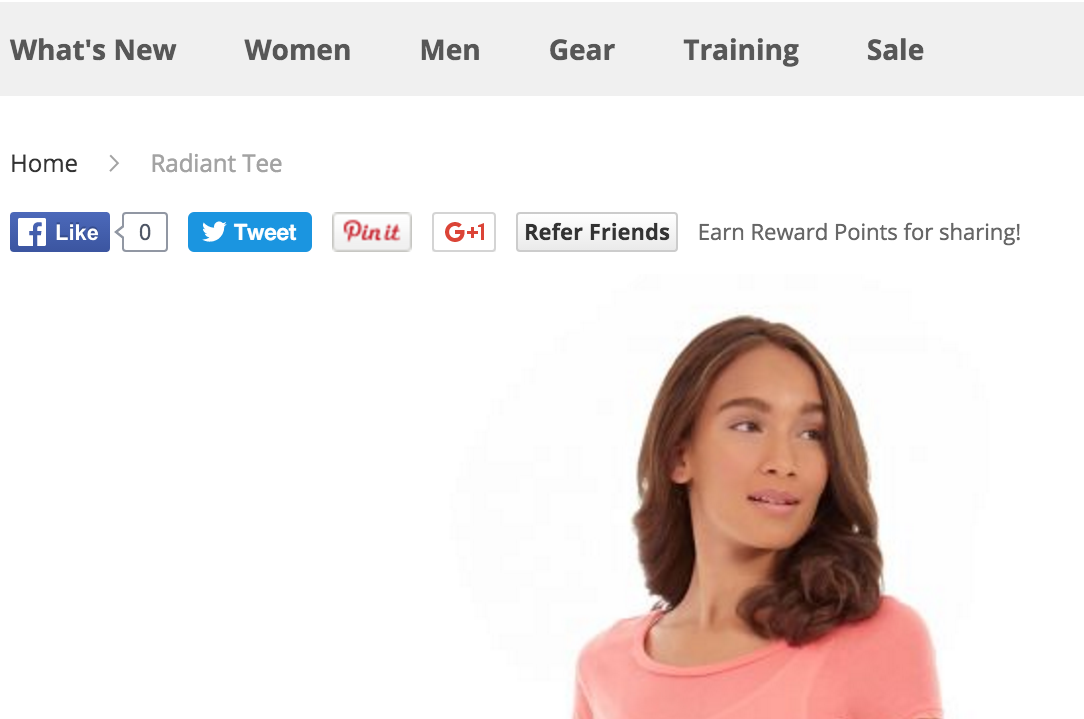 Customers can earn points by sharing your product and category pages on social media. You have complete control over this process. Currently, the extension allows for rewarding the points for the following activities:
Sharing on Facebook
Likes on Facebook
Tweets on Twitter
Pins on Pinterest
---
Reward Your Customers for Inviting of Their Friends and for the Orders Placed by Them
Customers can invite their friends and family members through their account in your store. They can also send them an invitation link. The extension will link new visitors to the customer who referred them.
And you can reward your customers with the points for the orders placed by their friends. In this way, you'll motivate your customers to attract more people to your store and promote it through viral marketing.
Gamify The Customer Shopping Experience
Create a Tiered Loyalty Program and Encourage Your Customers to Gain the Next Tier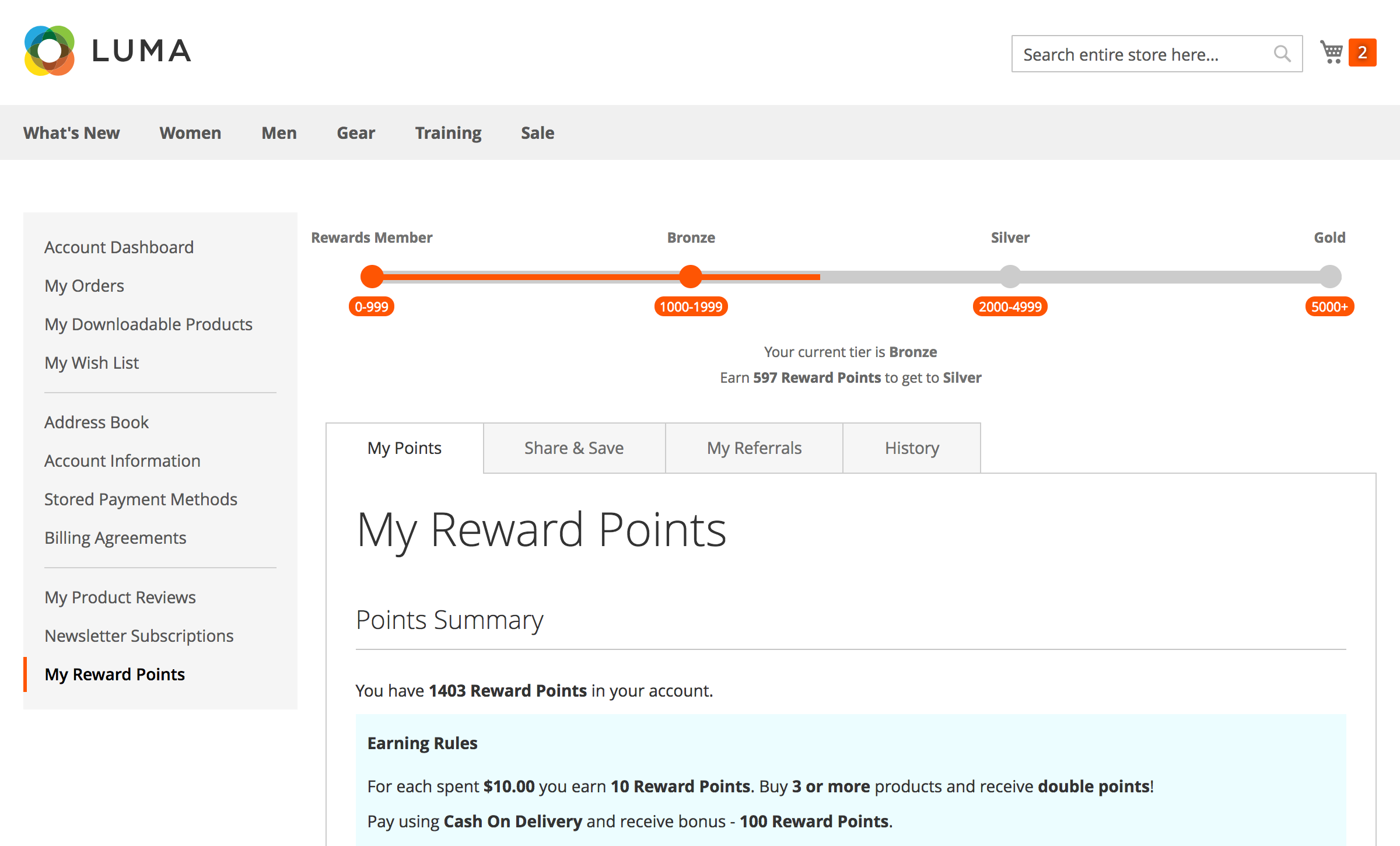 Gamification is a powerful tool encouraging the customers to be more active (and place more orders) in your store. You can create different tiers in your store, that is, e incorporate Rewards, VIP, and Premium membership plans letting your customers move to the next level as soon as they earn a certain amount of points.
Different tiers may set different conditions within the loyalty program or offer other benefits. Customers can see how many points they will need to move to the next level. And this trick will make them want to earn even more points!
Gain Complete Control Over Your Loyalty Program from the Admin Panel
Manage Spending/Earning/Notification Rules
You can independently manage the terms and conditions of your loyalty program. You establish the rules to calculate an amount of earned or used points in your store. Each rule has flexible terms that let you set up a configuration as per your requirements.
---
Manage Customer Transactions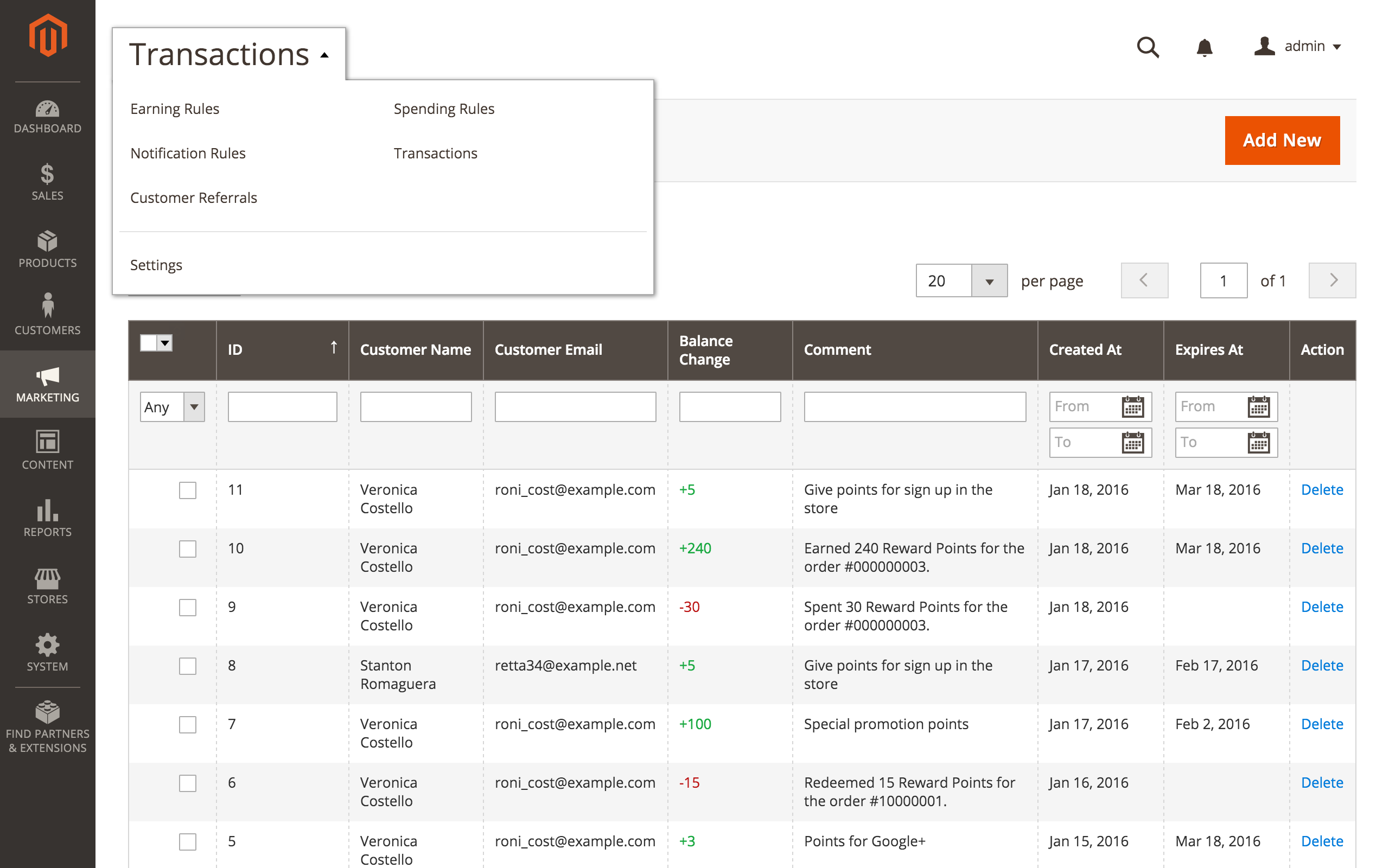 You can see all the reward-related transactions in your store. You can view transaction history for every customer.
You can reward the group of customers with the points to motivate them to visit your store and use earned points when placing their next orders.
---
Add or Deduct Points from Individual Accounts
You can open a customer edit page in the backend, and you'll see the number of points in the customer account and a current tier in the Rewards tab. You'll be able to manually add or deduct the points from the customer's balance.
---
Control Performance of Your Loyalty Program with Powerful Analytics
The extension gives you complete control over your loyalty program. Using reports, you can see the number of earned and used points, their money equivalent for the selected period.
Other Advantages
Integration With 3rd Party Applications Via API
You can employ an extension's API to integrate your store's loyalty program, using external software. For example, you may want to connect your mobile app and let your customers use their points from the mobile device.
See it in action!
Pick a quick tutorial to learn about various aspects of this extension
Good Product

Best option i have seen

Getting New Sales

Keylime

from United States

With the help of influencers using this referral program

Good

Pa

from Manchester, United Kingdom

Easy to set up and good features to work with. Just what I was looking for.

Best out there

We tested a couple of reward points extension and finally settled for Mirasvit Reward Points + Referral program. We are glad we did. Its easy to use and fully loaded with features. The best part is the timely support we have received during implementation.

great

mohamedkasem

from Cairo, Egypt

great extension with good features

Powerfull Features

itechnical

from Riyadh, Saudi Arabia

fully featured reward points extension , i did purchase it after comparing it to several others and i chose it as it is the most affordable based on its advanced features.
i had to Cancel it and got my full refund without any question .. my refund was because we fail to integrate with our PWA .
There is no risk dealing with these guys, as they offer great refund policy!

Very good extension

Mike

from Central District, Hong Kong

Very good extension, must have!

Awesome Extension

XuB3R

from Bryanston, South Africa

A bit tricky module but worth it for sure! Thanks, Mirasvit

very good plugin

very good

Good Extension

Very useful and easy to install. Recommended.

Great Extension!

Alisher

from Wayne, United States

I have always loved Mirasvit's extensions. And they have created another great extension. Recommend it.

Great Extension and Must Have

Hosen

from Dhaka, Bangladesh

We are using this extension for almost one year and This extension is one of our daily and most used extensions. Users just loved the Reward points and it increases our returning customers and orders.
Initially, we face a few issues with our custom theme but they help us to work as we expected. Their technical support is very prompt and accurate. Best wishes for the whole team and will buy more extensions from them for sure.

great extension

great extension and very helpful for costumers

Easy to implement, attracting to customers

Another great extension from Mirasvit! As always clean and well tested code which makes it real fun to use Mirasvit extensions. BTW: very good support - in case it is needed...

Great extension but MLM feature missing

HappyMagento

from Nairobi, Kenya

Sadly not possible to add multi level marketing commissions for referred users. Everything else it top notch.

good

veera

from Tampere, Finland

very useful and easy to install. no issues. I recommend

Really build loyalty

Rob

from Johannesburg, South Africa

This extension makes it easy to reward customers for reviews and for purchases. We have found it has built us a great and loyal fanbase

Good Job

Gökhan

from Ankara, Turkey

I have 5 extension this company. All perfect.

Works perfect

Murawei

from Schildow, Germany

This extension offers a lot of possibilities to build up a customized reward programm.

Great product and support

Excellent support from them. Specially from Denis and Inna. Thank you so much.

Great Extension

K730

from Melbourne, Australia

Rewards drive repeat sales. If you have a Magento store with customers already in the database then this extension will pay itself off incredibly quickly. Combine this extension with Follow Up Email and Customer Segmentation Suite and you have a VERY powerful system to re-engage your customers and encourage them to take actions which rewards them.

Great extension at a great price

nutrisol

from Bodmin, United Kingdom

This is a great extension, easy to install and so many features for the price when compared to other similar extensions from other Magento extension companies. Highly recommended.

nice extension to bring back customers by providing them incentive

jajo

from Hyderabad, India

This extension provides an incentive to customers to buy again from your store . If u can extend good service to them then they can become ur loyal customers.

Easy Peasy

Couldn't have asked for a more well laid out extension to service our customers. I've said this before, rewards are something I bet the majority of Magento users offer their customers. Why this isn't an included feature in Magento blows my mind. Nonetheless, we have developers like Mirasvit who are here to help. This extension is extremely powerful and flexible. If you're serious about a offering a rewards program, you need this extension!

Rewards & Loyalty

Chandra

from New Delhi, India

This is the best plugin I got for our Magento 2 platform

Works as advertised

Good extension, good support.

Great Extension!

So far, so good. Excellent extension, easy to setup and support is great!

Great Reward Points program

Trent

from Shawnee, United States

We have been using Mirasvit's reward points extension for about a year now for magento 2. We had used another for our Magento 1 website and it always seemed to have issues, especially on upgrades. Mirsavit's extension has been great and their support has been fantastic. I love how they keep making the same extension better over time. Our customers love this feature and it really helps keep them coming back.

Great RMA extension for magento 2 and Mirasvit always keep it updated in line with magento new releases

steven

from Walnut, United States

Great RMA extension for magento 2 and Mirasvit always keep it updated in line with magento new releases. Helps us big time

Sophisticated, Comprehensive and definitely a must have for your marketplace

LamboPlace

from Kuala Lumpur, Malaysia

Comprehensive, sophisticated, stable and cover almost 100% features you might want a reward program to have.

It's a MUST have.

https://www.lamboplace.com

Good search engine

maestro

from Tokyo, Japan

I use this extension to our commerce.
It is good search system for our customer

Reward Points

Allan

from Shepperton, United Kingdom

This little add-on has a major impact on customer loyalty and helps you to stabilize and increase sales:-) The useful adaptations of this module you can do is that you can customize this extension as your needs.

Inevitable Truth

Scott

from Wilmington, United States

You must have a rewards program to compete in today's market, and this extension is well written, flexible and one time cost.

Must have!!

This extension is working really good. Thank you Mirasvit!

Must have extension

Esajee.com

from Islamabad, Pakistan

So awesome loving, I have extension before from other vendor but this is what we were looking

another golden feather to Mirasvit

sun

from Lewes, United States

Competitive and easy to use extension which gives more shoppers as well as sale

Good extension

Hervé

from Molsheim, France

This extension do a job, reactif customer service. thanks

Must have!

Great extension that does just what it say.
Also perfect customer support

Great extension

Tom

from Kenosha, United States

Use to be a long time user of sweet tooth rewards. But this extension blows theirs out of the water. Everything worked perfect and never ran into any issues. Another great extension from these guys!

Very good extension

Michaela

from la Torre de Fontaubella, Spain

Great support and great extensions that really work!

Best Product Best Support

Prem

from Botany, Australia

The extension is as described and support is the best. Good Job Mirasvit.

Magento 1: mirasvit love you

turgay

from Istanbul, Turkey

I am using the mirasvit 11 module
I am very satisfied with all
correct
Absolutely must

Good function and great coding

yuhuang

from Coquitlam, Canada

I intergate this into my app.It looks good

Awasome product and great support

This extension is working really good my expectation is match and instant support is there.

Mirasvit Responds Quickly to Customer Feedback

J.

from San Antonio, United States

We submitted a feature request to Mirasvit to include the ability for customers to unsubscribe to reward expiration notifications and they put it on their roadmap followed with roll out soon after. We like working with developers that take swift action on customer's feedback.

A good investment for my business

Budiono

from Jakarta, Indonesia

I have review quite a few of magento rewarding extension, but Mirasvit's one simply outnumbers them all.
I haven't play and test much with this extension, but as far as I can see, this extension quite complete specially in earning rule. It contains many options for awarding customers loyalty points. If I can suggest, it will be perfect if this extension has a facebook share earning rule.
Another important things is: im using ultimo template and magestore checkout, and they stated that this extension is supported for those specific modules!
Overall, I feel this extension is a good investment for my business.

Magento 1: Get loyal customers

Robert

from Oppegard, Norway

A loyalty program is a great way to gain loyal customers that comes back and send more money. Mirasvit Reward Points + Referral program solves this in a great way. Really felxible setup of points and triggers. Truly recommended!

Magento 1: extension is good

Chris

from Lake Forest, United States

This team is really wonderfull, they always help if there is any issue within short time.

I had an enhancement request. Literally in 24 hours it was implemented. Amazing!

John

from North Hollywood, United States

I had an enhancement request. Literally in 24 hours it was implemented. Amazing!

Really Good! Really Powerful!

Howard

from Johannesburg, South Africa

Great extension. Has a wide variety of options.
Fully recommended.

Magento 1: Extension works great

Brian

from Forked River, United States

This extension was easily installed and works great. It has really improved our sales! Highly recommend this extension.

Magento 1: Great Extension

Philip

from Temple, United States

I have a complicated theme, and the support team figured out the problems I was having. I ended up ditching the complicated theme and this extension went into the replacement theme without a hitch.

Magento 1: Great Extension

Philip

from Temple, United States

Merge tickets is what made me switch from my old ticket system to Mirasvit

Very good extension

Anthony

from Wrexham, United Kingdom

This is a very good extension with a lot of great features and functionality. I love that we can create specialized rules to give special bonus rewards points for specific products or cart totals. Coming from a a more simple rewards module this one really open up new opportunities for our clients.

Had a few small bugs with the extension but Mirasvit were extremely responsive in getting back to me and addressing any issues.

Magento 1: Great extension

H0bby

from Bandung, Indonesia

Extension is what i need. Fast support no errors..

Issues with customer Session.

Pankaj

from Selangkor, Malaysia

Hello Guyz, While I am removing items from mini-cart for a logged in user. Extension cause issue and not updating total of cart amount & and count display on mini cart. Its a critical issue with this extension. You guyz need to fix this.... Even issue exist on your DEMO as well.

Magento 1: Lives up to its expectations

This module does exactly what is should do. We use it primarily for the direct reward system.

Very good and easy to use.

Steve

from Ontario, United States

Good support.

Great detailed extension

Henry

from Longwood, United States

Only 4 and not 5 yet as this has some huge overhead on your m2 resources but it is such a good extension with unlimited possibilities. Great support as always. Mirisvit even went with my custom points add on for the extension for non-mirisvit extensions. Wow, fast and did not expect this support to this level!. It means we support and buy more Mirisvit because of things like this1 Thanks

Magento 1: Really feature-rich

Harmon

from Los Angeles, United States

Allows me the flexibility in running promotions for customers to earn rewards points.

Increased retention

S

from Melbourne, Australia

Increase customer retention and repurchases. Good stuff.

Magento 1: Good extension

Bert

from Cipayung, Indonesia

Good extension work as expected. Only small point, it will be nice to have the feature to apply Reward Points while creating a manual order in the admin.

Another must have

Wladimir

from United States

Rewarding customers helps in recurring sales and encouraging customer activity/interaction. This tool delivers with unlimited options to engage customers without being "pushy". So far Mirasvit has delivered many great tools and I highly recommend them for any M2 store!

Magento 1: Great Extension

Milosz

from East Rutherford, United States

Lots of possibilities, you can configure this extension in every possible way and the customers are going to be happy!

Awesome Extensions with Unbeatable Customer Service!

Viktor

from Steinbach, Canada

What can be felt, not always can be expressed in words, but I will try my best!

1. I bought almost all existing extensions for M2, while offered a very generous discount from a Sales Rep. Then, as all of us know, all the miracles stop right there, but not with these guys.

2. Installed the extensions, and as it usually happens, problems did not wait so long to arise on my horizon.

3. No fear, help is near... that is my personal Slogan... and found out the same attitude from Mirasvit guys. I asked for help, and it was near. I reported PHP7 and other compatibility issues, and a fix was ready in a blink of an eye. I asked for features improvements and suggested new features, and these came in a matter of a few days.

4. Features pack on the extensions is very reach, and these guys are always open to any sound improvements on their extensions.

5. Extensions updates are done via composer, so no manual uploads and unzips on every update release. That makes all my updates as easy like a snap of a finger,.. 10 seconds and I am all set.

P.S. In the end of the day I feel happy to be a respected customer of Mirasvit. I am hooked on this valuable M2 Solutions Provider. My $$$ spent on the extensions are secure... I feel like a part of the Team. I highly recommend Mirasvit to anyone who is seeking peace of mind and stable future for his/her Online Business.

Magento 1: Great & fast working

Rajat

from Leonia, United States

good module and more than that best support

Magento 1: Reward points the best

Simona

from Pezinok, Slovak Republic

This extension is super, all is valid and great support.

Magento 1: one of the best Reward Point Plugin

krishnendu

from Guwahati, India

After doing a extended research for about 3 days we bought this plugin and didn't regret. The flexibility it allows cannot be found in any other similar plugin....

Magento 1: Reward Points

Beverly

from Oviedo, Spain

Excellent add-on - trouble free implementation

Magento 1: Best Ever

Isaac

from Kannapolis, United States

I love working with Mirasvit. Extensions are great and always supported

Magento 1: Great extension, super support

Bojan

from Mantinge, Netherlands

The last month we were busy implementing this extension on our website. We encountered some extension we use and Mirasvit helped us out professionally. This is the third Mirasvit extension we use so that must tell you something about the quality and support.

Magento 1: the best

Alessandro

from Reggio nell'Emilia, Italy

i think this is the best on the market....great support

Magento 1: great support

Its good but, need to improve. Awesome support

Magento 1: Excelent

This plugin working perfect and when i installed don't have problem, is perfect plugin

Magento 1: The best rewards program

Flavio

from Presidente Prudente, Brazil

A great module to build and manage your affiliate portfolio. With a well thought out policy enables customer loyalty.

Magento 1: Increased customer orders

Iqbal

from Cromer, United Kingdom

Another worth while purchase and already seen our return on investment in under a day for this extension. I saulte you all at Mirasvit.

Magento 1: Good module

Abhijeet

from Pune, India

this reward point module is very useful and works very well with out custom magento site. Mirasvit guys have supported us well on this module and even they provided custom integration with magegiant module for us. so far its going on very well and we also have proposed some new features in referral program of this module. We are using most of it as of now.

Magento 1: Refferal point system from mirasvit

Tiem

from Rotterdam, Netherlands

The refferal system is amazing, investing in exist customers is 1 of the best thing, and that thanks the plugin of mirasvit!

Thanks Mirasvit from the Netherlands!

Magento 1: Powerful Reward Program

ethan

from Savannah, United States

Very powerful reward program that allows you to set spending and shipping rules based on condition and behaviors. The ability to give reward based on social sharing is a huge plus. We had some compatibility issue with in-store credit extension. Support team was able to resolve the issue. Highly recommend both the extension and Mirasvit.

Magento 1: Great extension with lots of possibilities

Dennis

from Nijeveen, Netherlands

I use the extension combined with reward data from a physical shop.
also the support is great!

I would recommend this extension if you want to provide your loyal customers.

Magento 1: Cool support and functionality

David

from London, United Kingdom

Had few questions about license for dev. domain. Support responded quickly and helped solve problems I had within 5 mins.

Great job!

Magento 1: Great extension

Ferenc

from Kazincbarcika, Hungary

Very useful extension, recommended for everyone

Magento 1: Reward

Hooman

from Fremont, United States

Great Plugin ... Thanks.

Magento 1: Excellent support

Henning

from United States

The extension is great. Excessive features and great price. Support is outstanding, the guys answer almost immediately and solve problems within hours + enhancing features in really short time on request.
I can recommend this extension and mirasvit in general.

Magento 1: Works as described, Easy Setup, Great Support

cryogenn

from United States

The Rewards Plugin by Mirasvit is definitely comparable with the features it provides with respect to other rewards plugins and the price is very competitive. The install and setup service was simple and I had some CSS issues with my theme that Mirasvit support looked into and fixed without any issues. Support replies were always timely and I look forward to doing business with this extension provider in the future.

Magento 1: Great service!

Great service! Very fast and i would defiantly buy more extensions from Mirasvit.

Magento 1: Great extension

Cool extension and amazing support
Compatibility
The Reward Points + Referral program for Magento 2 is compatible with:
| | |
| --- | --- |
| Magento 2 Community Edition (CE) | 2.1.* - 2.3.* |
| Magento 2 Enterprise Edition (EE) | 2.1.* - 2.3.* |
| Magento 2 Cloud | + |
Have a question? Ask our support team
Need more help?
Save time by starting your support request online and we'll connect you to an expert.
Contact Us Now
Refund Policy
All customers can request a refund during 30 days after purchase of our software, if customer think that our software is not suitable for any reason. To request refund, customer must remove all copies of our software from its store, servers, computers, email, etc and confirm by email such removal. After receiving a request we will proceed refund within 3 business days.
If request for refund is received after 30 days after purchase, it will be rejected. Cost of installation and customization services are not refundable.
Support and bug fixing
Mirasvit offers free 90 days support of all software sold on this site. Customers can report all bugs, which were found in our software. We can solve only the bugs directly related to or caused by our extension. Those bugs must be reproduced on fresh Magento installation without any 3rd party plugins. We will solve that bugs in order of our development plan.
We don't do any type of custom work and we have a right to reject a support request if the issue is store-specific (cannot be reproduced on the fresh Magento installation without any 3rd party plugins).
Mirasvit will not be liable to you for any damages (including any loss of profits/saving, or incidental or consequential) related to our support service caused to you, your information and your business.
Software updates
Mirasvit offers free lifetime updates if they areavaliable. Updates are limited to the Magento version branch (1.x.x or 2.x.x). Customer can download an update and install it by himself. If support period is expired, Mirasvit.com can't solve any possible problems with our software during or after updating. Mirasvit does not guarantee that it will release updates for any product.