 Extension monitors code and configuration changes of your store automatically and notifies you if these changes negatively affect the key store indicators.
In other words, if you changed anything and, either your store began to work slower, or, suddenly, new errors occurred - the extension will quickly report you about it.
Changes monitoring
Performance monitoring
PageSpeed Score monitoring
PHP errors monitoring
JavaScript errors monitoring
Cronjob monitoring
404 errors monitoring
Free Installation
We will install the extension in your store and configure for your requirements
Extension Demos
Pick a quick tutorial to learn about various aspects of this extension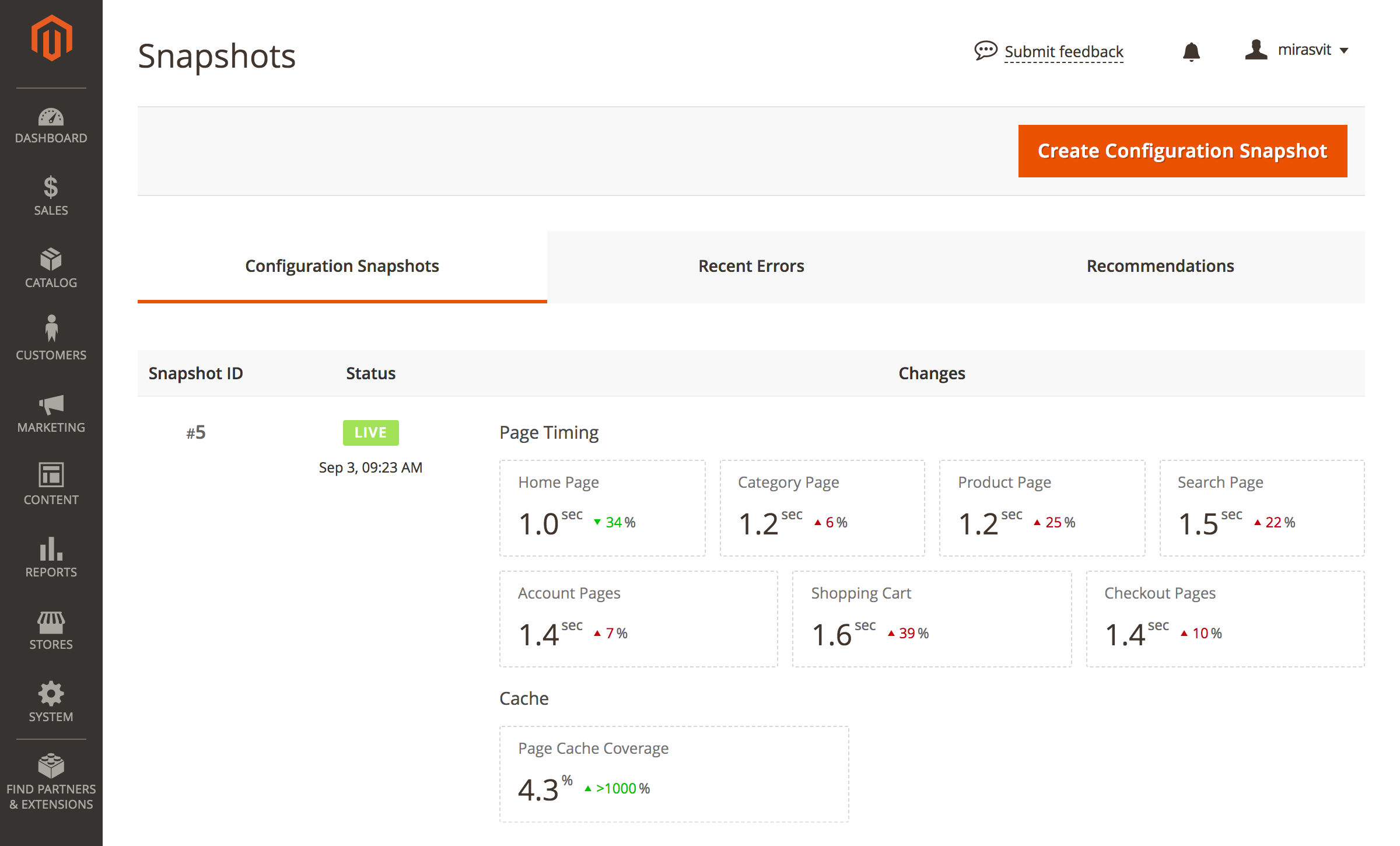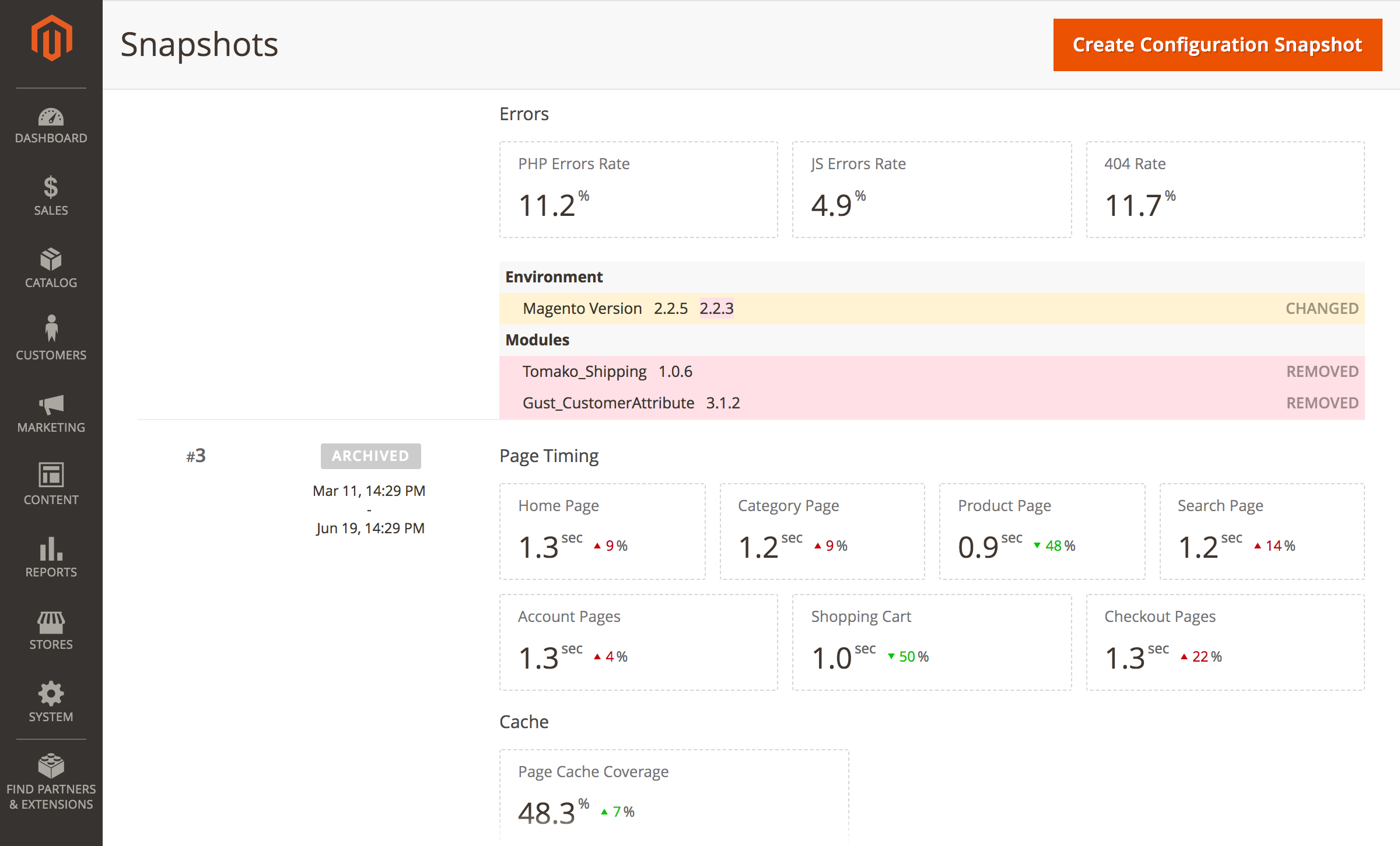 When you need this extension
you're using third-party extensions, which quality is not assured
you're using free-of-charge or unsupported extensions
you are not controlling changes, that are made to source code, templates, scripts, etc.
What benefits do you get for your store
Possibility to control all changes
Automatic notification about various errors
Continuous performance monitoring
Changes Monitoring
The extension automatically monitors code, other extensions and configuration changes of your store.
Unlike other monitoring tools (such as New Relic) our extension considers all performance indicators and errors in connection with changes.
Therefore, it is very easy to determine, which exact change caused a detected issue.
After each significant change, the extension creates a new configuration snapshot and compares key indicators with the previous version.
Extension monitors the following changes on a store:
New extension installation
An extension upgrade
Essential changes in extensions (observers, plugins, database schema)
Changes in the cache configuration
Changes on the list of displayed blocks
Global changes in configuration (theme, etc)
Magento update
Changes in environment configuration (PHP version, MySQL version, Magento root directory, etc)
Performance Monitoring
For each configuration snapshot, the extension automatically monitors key health indicators and compare with the previous version.
Extension monitors the following magento 2 performance indicators:
Page Generation Time
User Time (TTFB)
Page Cache Coverage Rate
Errors Monitoring
Extension monitors the following Magento 2 errors:
Various PHP errors: 500 Internal Server Error, Backend Fetch Failed Error, Fatal Error, Uncaught Error, Uncaught Exception
Database errors
JavaScript errors
Cron Job Errors
Conflict Detector
The extension automatically checks possible class rewrites conflicts and alert you.
Generation Time and User Time
Extension monitors Time To First Byte (TTFB) and User Time (Page Load Time) for key pages:
home page
catalog pages
search results pages
account page
shipping cart page
checkout page
Generation Time (Time to First Byte) is the time that needs your server to handle a request and return page for the end-user.
Page Load Time is the time that needs a user for download content of the page in the browser (including images, styles, javascript, fonts).
This metric is more important and widely than TTFB.
---
Page Cache Coverage Rate
The Full Page Cache Coverage Rate the percent of pages that were rendered from the cache.
If the coverage rate is zero - the page cache is not working. The optimal page cache coverage rate is approximately 40-50%.
How it works
It is known that present-day e-commerce store constantly changes. It gets new extensions installed and different configuration modifications.
However, it happens, that a certain bunch of changes improve one side of your store, but negatively influence another.
For example, you install a new extension and it runs like clockwork. However, it slightly slows down the loading speed of your store pages.
This kind of fluctuation is small and was not noticed by you at once. The time passes by, and you install more new extensions. And one day you notice that your store works slowly. And now here comes the question: what is the initial reason causing this behavior?
The same sad situation happens when you find out a part of your functional not working because of some JS errors. How could you be sure about extension or exact configuration change being the source of these errors? It is far not so obvious to detect the reason.
To sum up, all the described above: there is no need to play by ear anymore, as long as we found the solution! We offer you to use Health Monitoring Suite for Magento 2.
It automatically monitors code, other extensions and configuration changes of your store. Moreover, Health Monitoring Suite for Magento 2 will quickly report you on the negative impact of changes made on your store performance indicators, slower loading speed, and new errors.
Our extension takes average values of your store performance indicators for each version of your store, i.e. with different settings configuration, and compares them with each other.
If there is an essential deviation from normal performance indicators, our extension will inform you about it. Meanwhile, as a spin-off benefit, you and your developer will be able to see how good is the operational indicators at one and another configuration of your store.
See it in action!
Pick a quick tutorial to learn about various aspects of this extension
Serve the purpose.

yeoyeesoon

from Kuala Lumpur, Malaysia

It is useful if you are using out-of-the-box Magento but if you customize too much, it probably becomes less helpful.

A very useful extension

I think its a must for every magento store owner.

Helps

A

from Melbourne, Australia

Helps keep eye on components

Simple aber Sinnvoll

Simpel gehaltenes Produkt, was die Suche des Fehler erleichtert wenn Magento mal nicht so will wie es soll. Zeigt die letzten Anpassungen am Shop an um den Fehler einzugrenzen.

it accurately identifies problems

jajo

from Hyderabad, India

this extension is especially helpful for people like me where u can understand the problems and ask the developer to address it

Nice

Allan

from Shepperton, United Kingdom

really must have module for everyone who want have stable store

Wonderful extension!

Thank you and keep up the great work!

5+

Andrej

from United States

Must have extension for every store. After last deploy, it displayed warning about cache page rate. After check, we found, that recent plugin (social login by well know vendor) added non-cache block to default layout.

Really must have module

Daniel

from Bihorel, France

It's really must have module for everyone who want have stable store and control developer chagnes.
Compatibility
The Health & Performance Monitoring Suite for Magento 2 is compatible with:
| | |
| --- | --- |
| Magento 2 Community Edition (CE) | 2.1.* - 2.3.* |
| Magento 2 Enterprise Edition (EE) | 2.1.* - 2.3.* |
| Magento 2 Cloud | + |
Have a question? Ask our support team
Need more help?
Save time by starting your support request online and we'll connect you to an expert.
Contact Us Now
Refund Policy
All customers can request a refund during 30 days after purchase of our software, if customer think that our software is not suitable for any reason. To request refund, customer must remove all copies of our software from its store, servers, computers, email, etc and confirm by email such removal. After receiving a request we will proceed refund within 3 business days.
If request for refund is received after 30 days after purchase, it will be rejected. Cost of installation and customization services are not refundable.
Support and bug fixing
Mirasvit offers free 90 days support of all software sold on this site. Customers can report all bugs, which were found in our software. We can solve only the bugs directly related to or caused by our extension. Those bugs must be reproduced on fresh Magento installation without any 3rd party plugins. We will solve that bugs in order of our development plan.
We don't do any type of custom work and we have a right to reject a support request if the issue is store-specific (cannot be reproduced on the fresh Magento installation without any 3rd party plugins).
Mirasvit will not be liable to you for any damages (including any loss of profits/saving, or incidental or consequential) related to our support service caused to you, your information and your business.
Software updates
Mirasvit offers free lifetime updates if they areavaliable. Updates are limited to the Magento version branch (1.x.x or 2.x.x). Customer can download an update and install it by himself. If support period is expired, Mirasvit.com can't solve any possible problems with our software during or after updating. Mirasvit does not guarantee that it will release updates for any product.