Magento 2 Store Credit & Refund Extension
Get more satisfied clients by converting refunds and exchanges into Store Credits.
The Store Credit & Refund Extension covers and automates most of your store activities that relate to customers' Credits and Refunds.
Elevate your customer service to a whole new level and save yourself time and money.
Launch credit programs in your store
Convert refunds into new purchases
Save time and money by skipping several steps in the refunding process
Use the extension during an exchange process
PWA Ready / GraphQL Support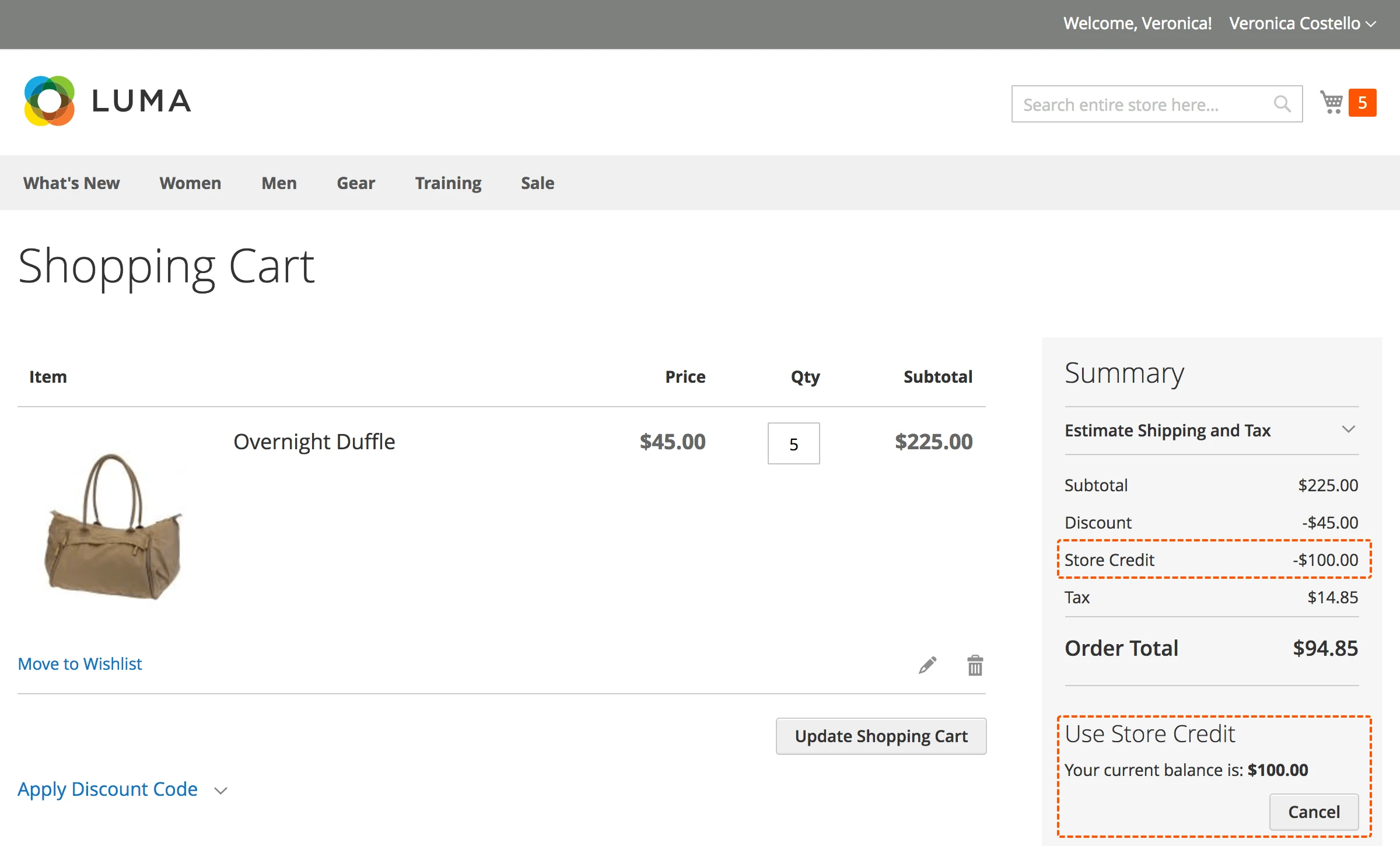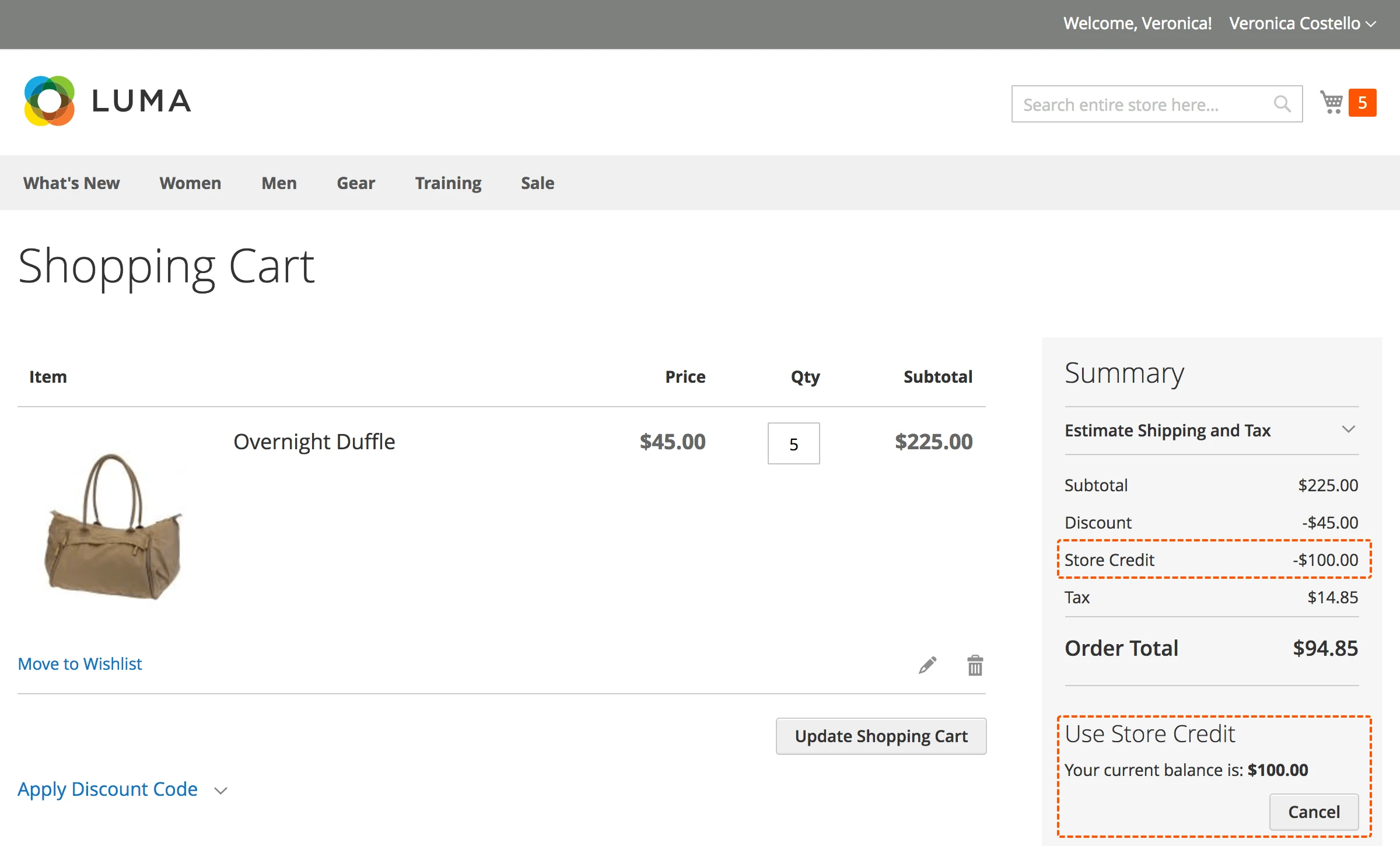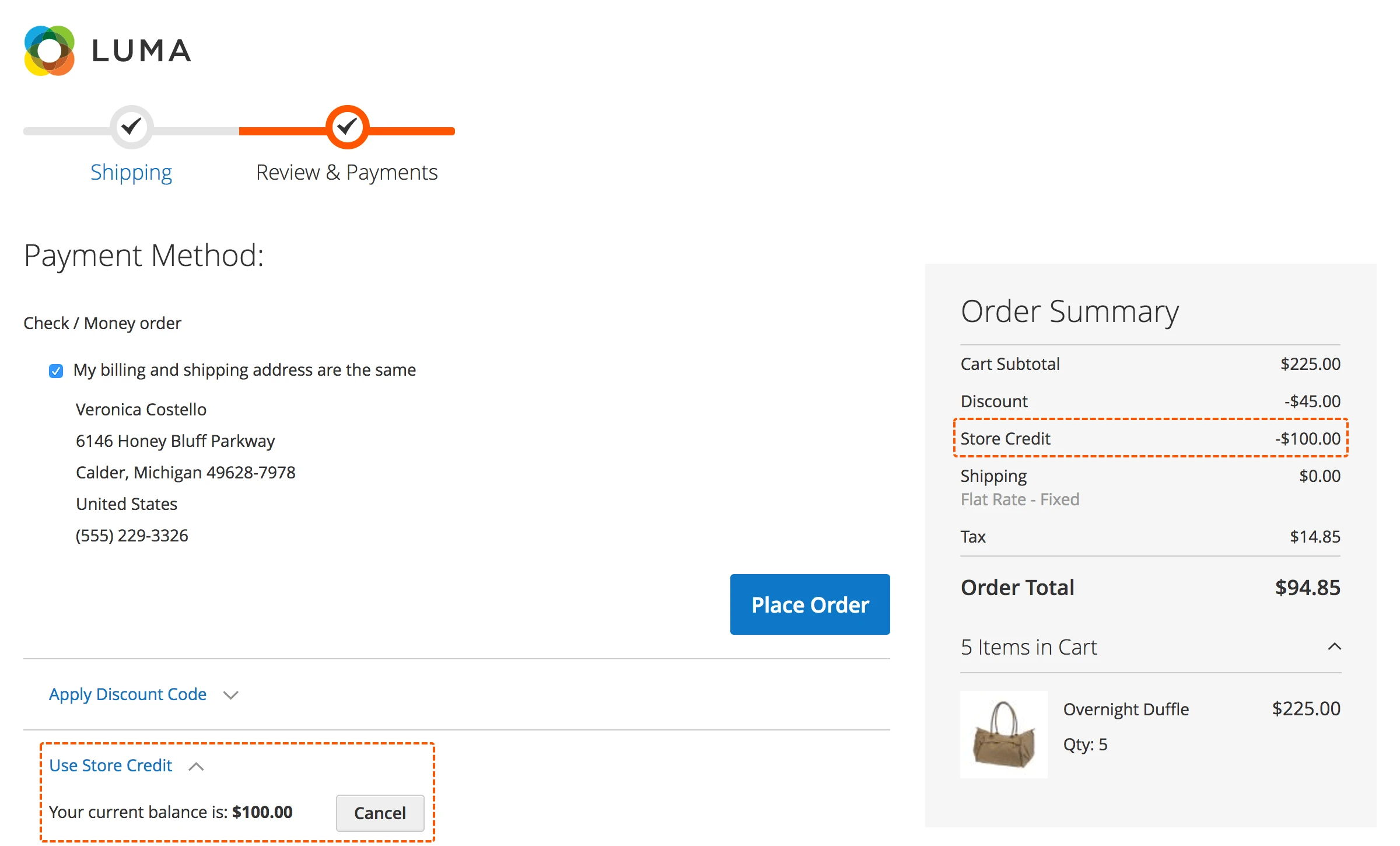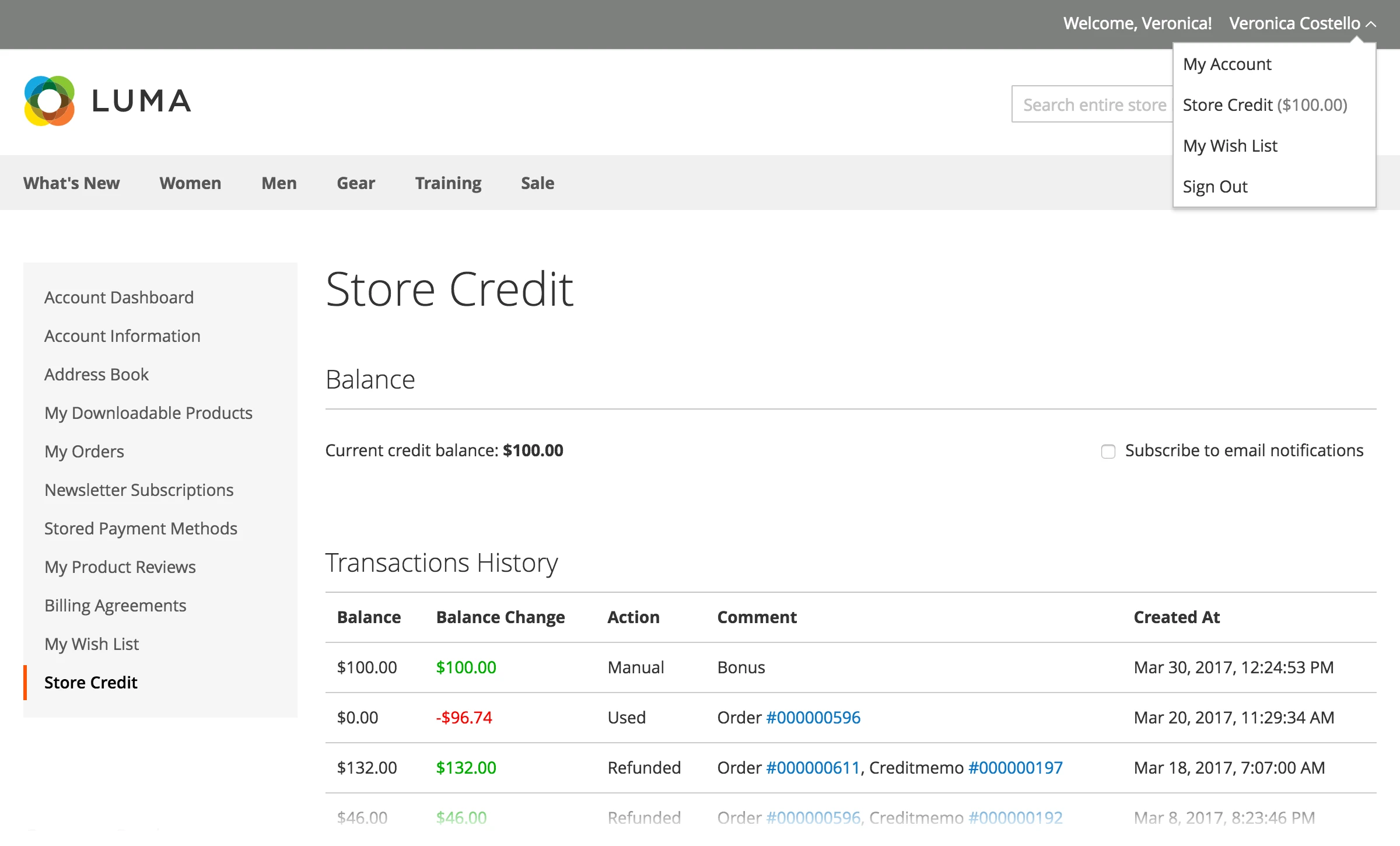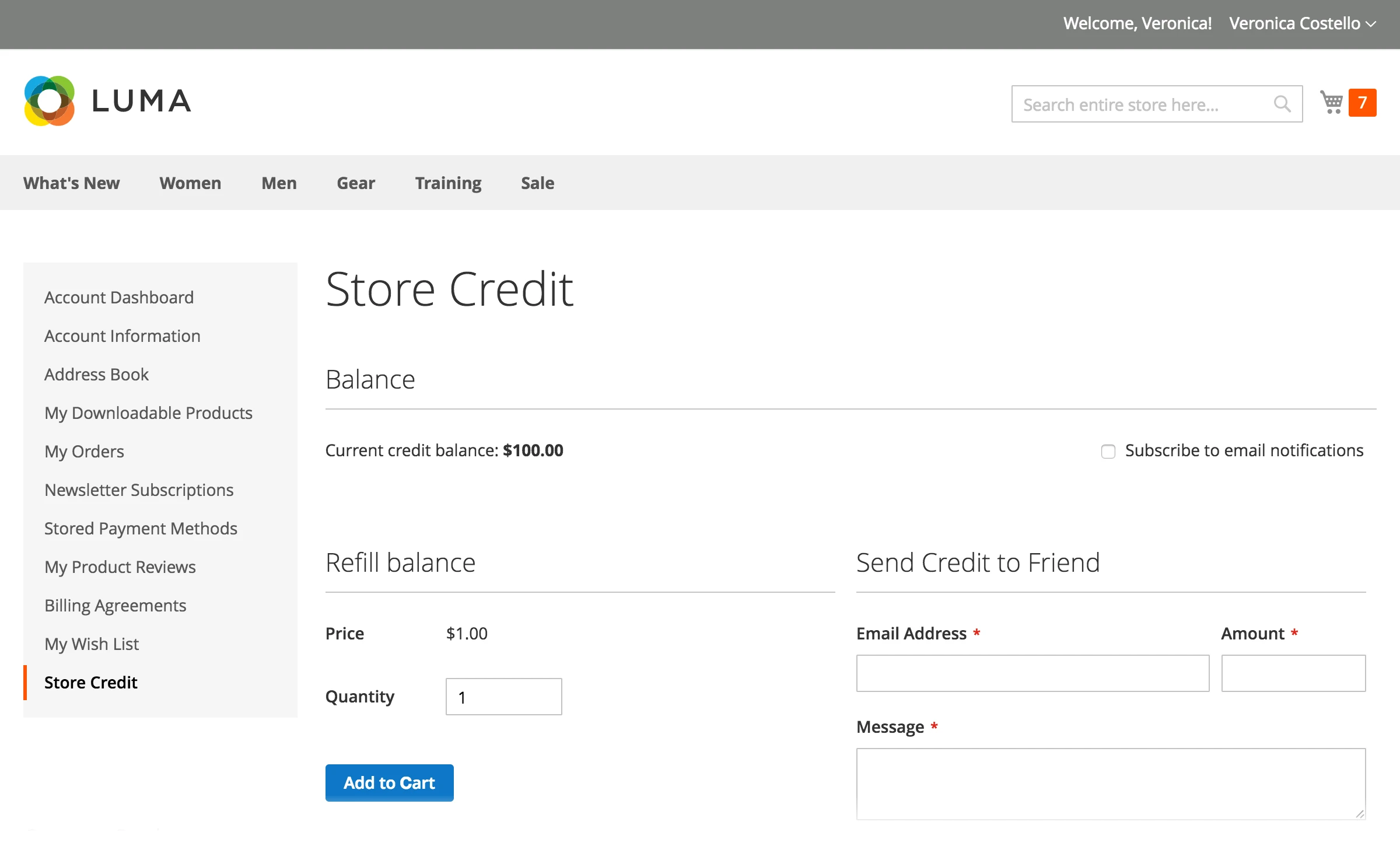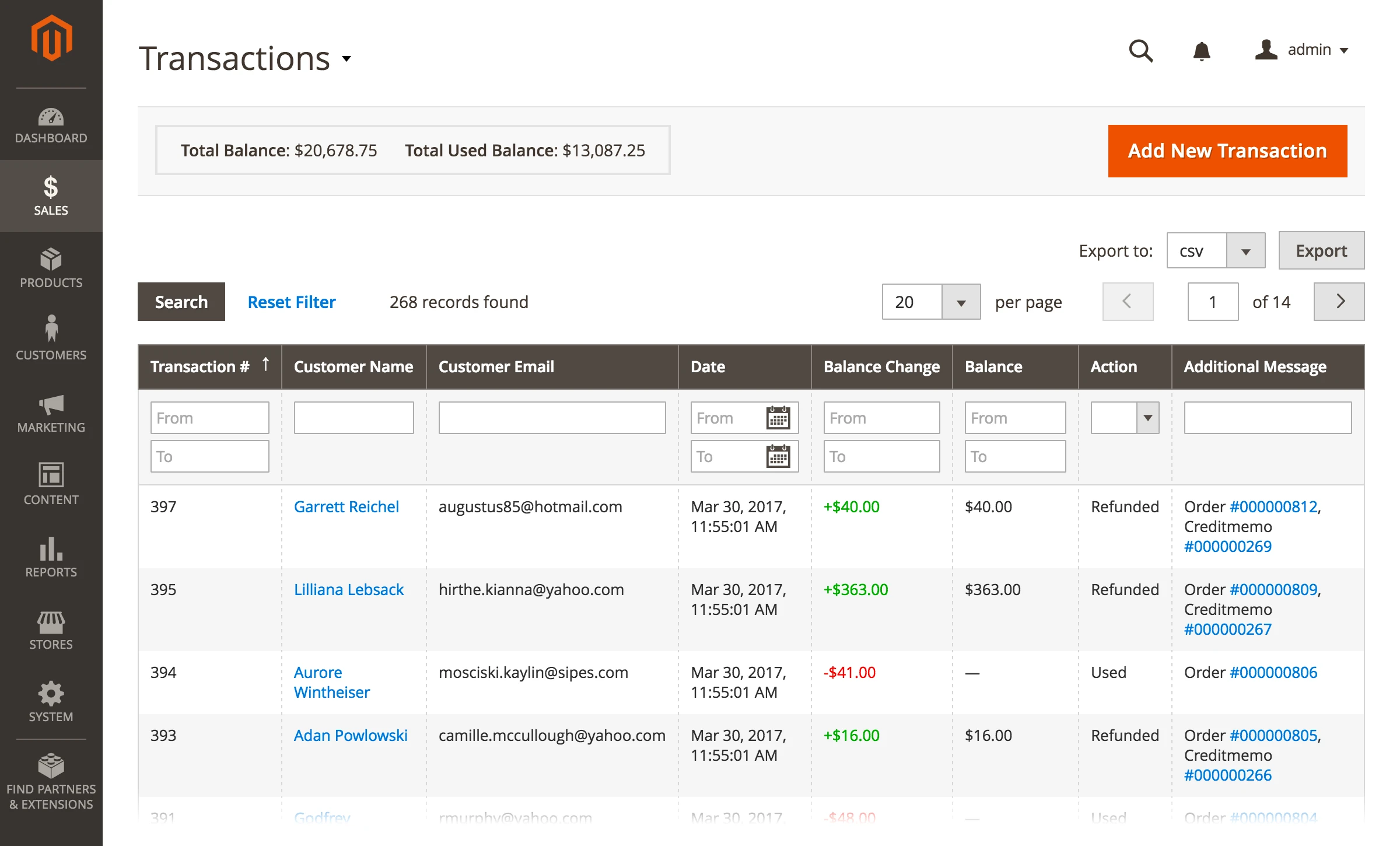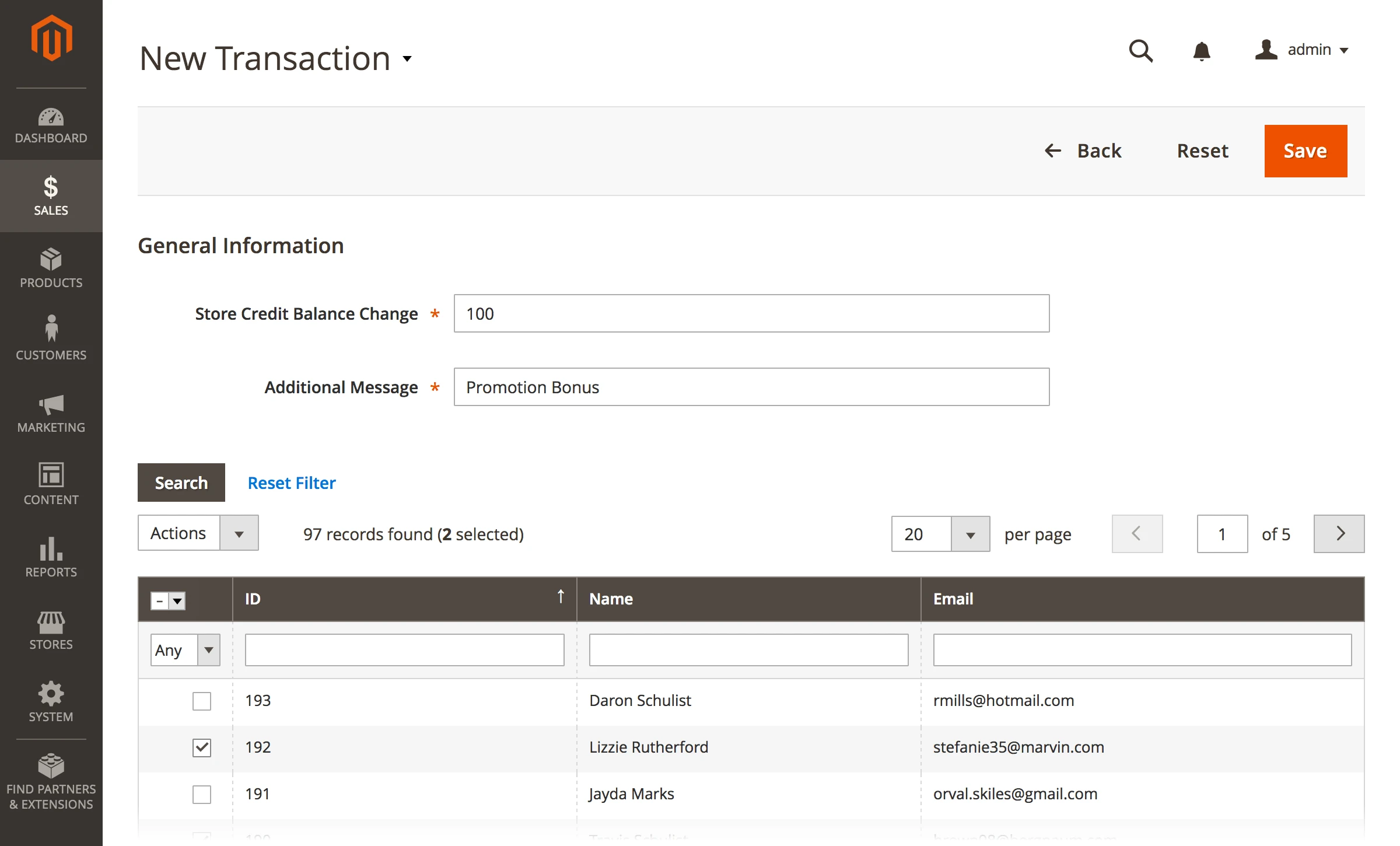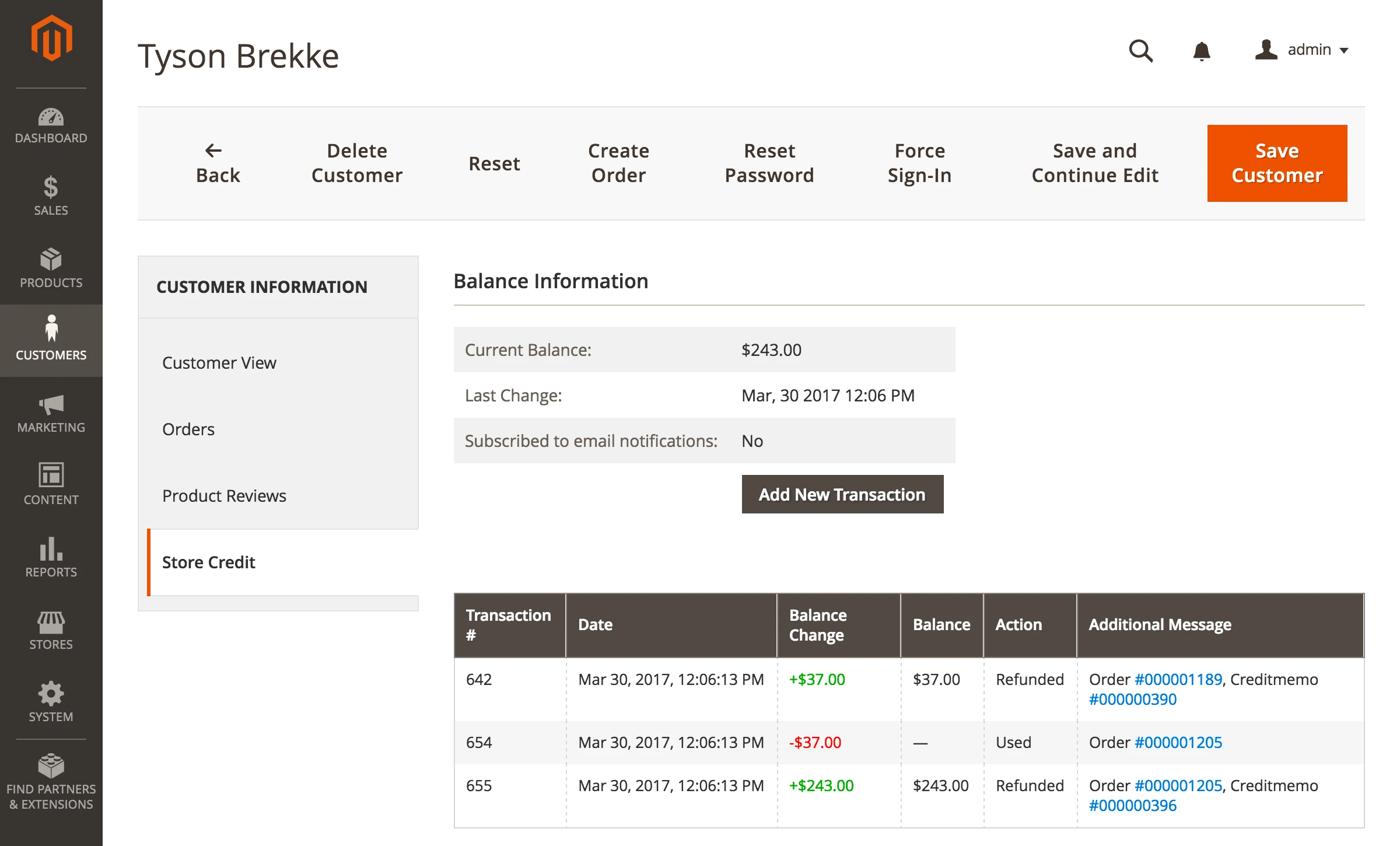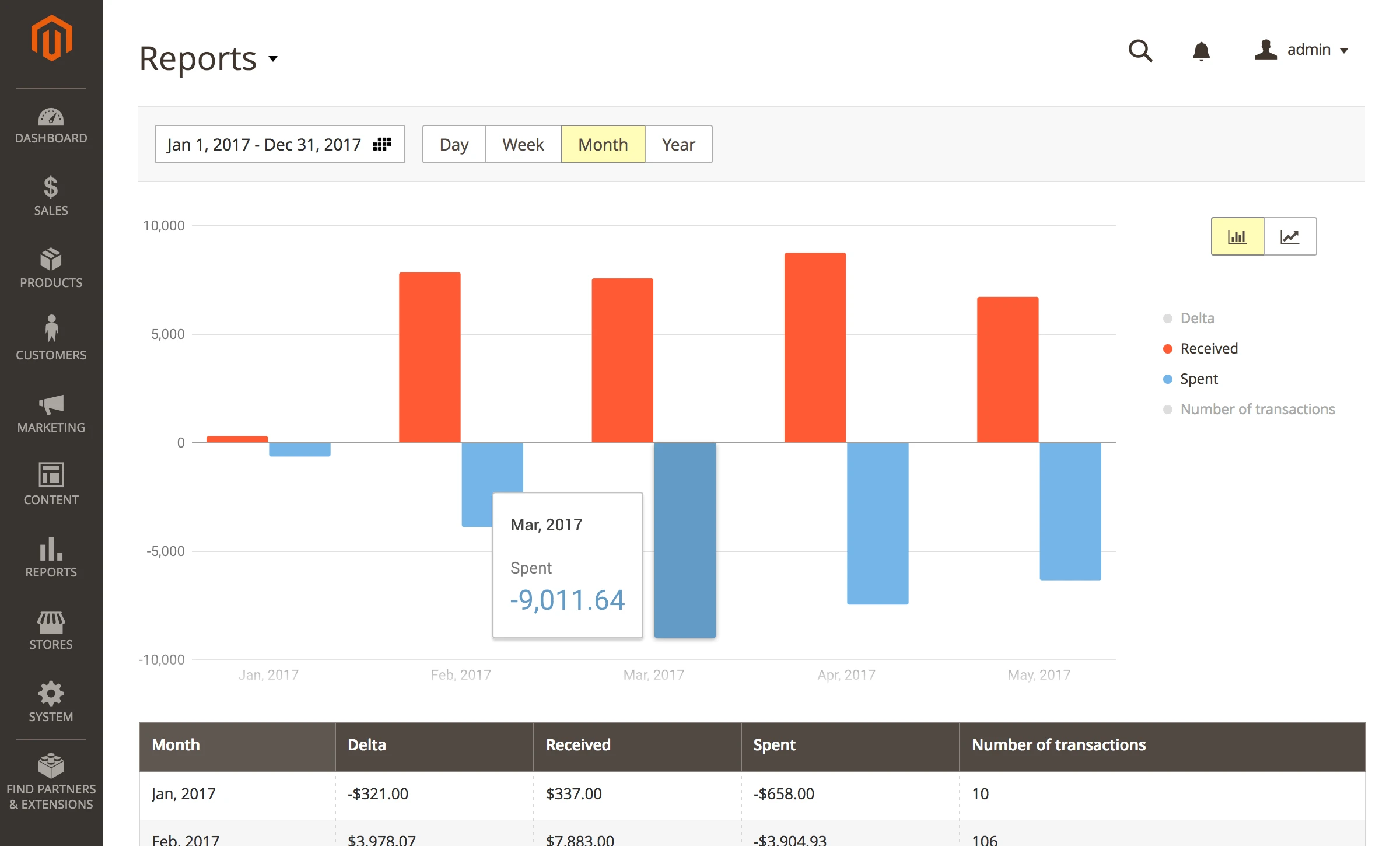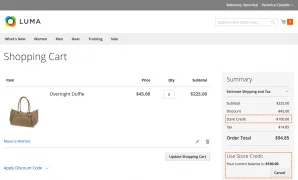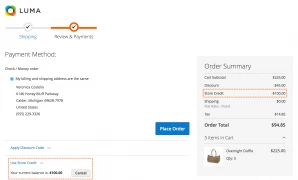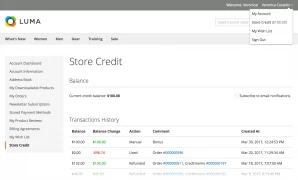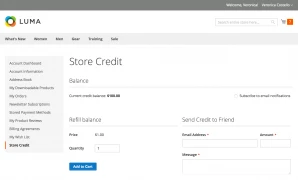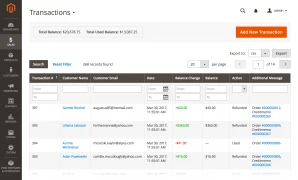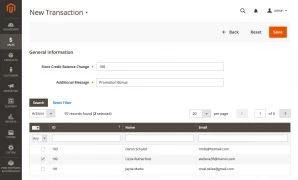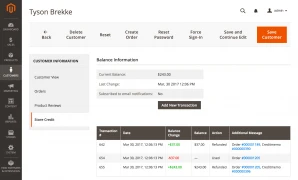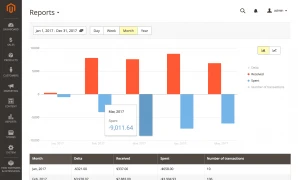 Problem
Refunding a purchased item requires time for paperwork, and it costs money to pay a transaction commission on refund. Ultimately, everyone loses in this situation.
Solution
Use the Store Credit extension to make refunds in seconds by issuing an in-store Credit in the sum of the refund. Save your store money and satisfy customer needs.
What benefits Store Credit & Refund brings to your store
Save money on refunds
Speed up customer service
Let customers buy with credits
Store Credit & Refund main features
Refund in seconds with credits
Give credits based on the user's currency
Partial or full refund in credits
Gift credits to customers
Customers can buy credits
Credits can be sent between customers
Refund Credits in Credit Memo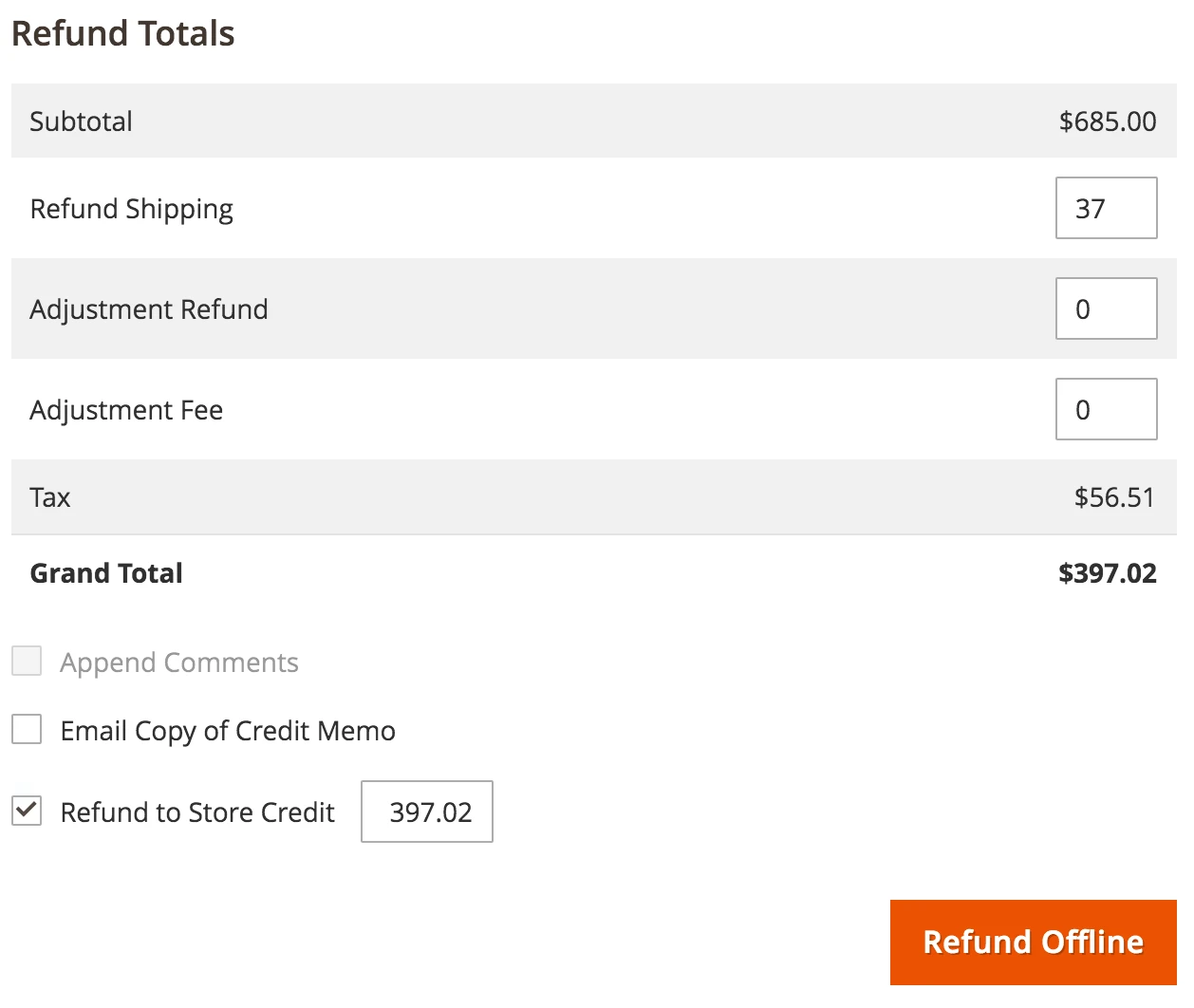 The Store Credit Magento 2 extension allows you (as a store administrator) to set the amount of credit to refund into the Store's Credit right in the Credit Memo.
For example, a customer has purchased a set of items worth $500, but later decides he or she wants to return all the items bought and get a refund.
Our solution provides you with a partial refund Magento to Store Credit: by creating a Credit Memo, you can refund the desired amount into the customer's store credit.
What's more, it is very convenient to discuss any transaction changes in the interface of our extension's RMA (Return Merchandise Authorization) or Helpdesk.
Easy way to use Store Credits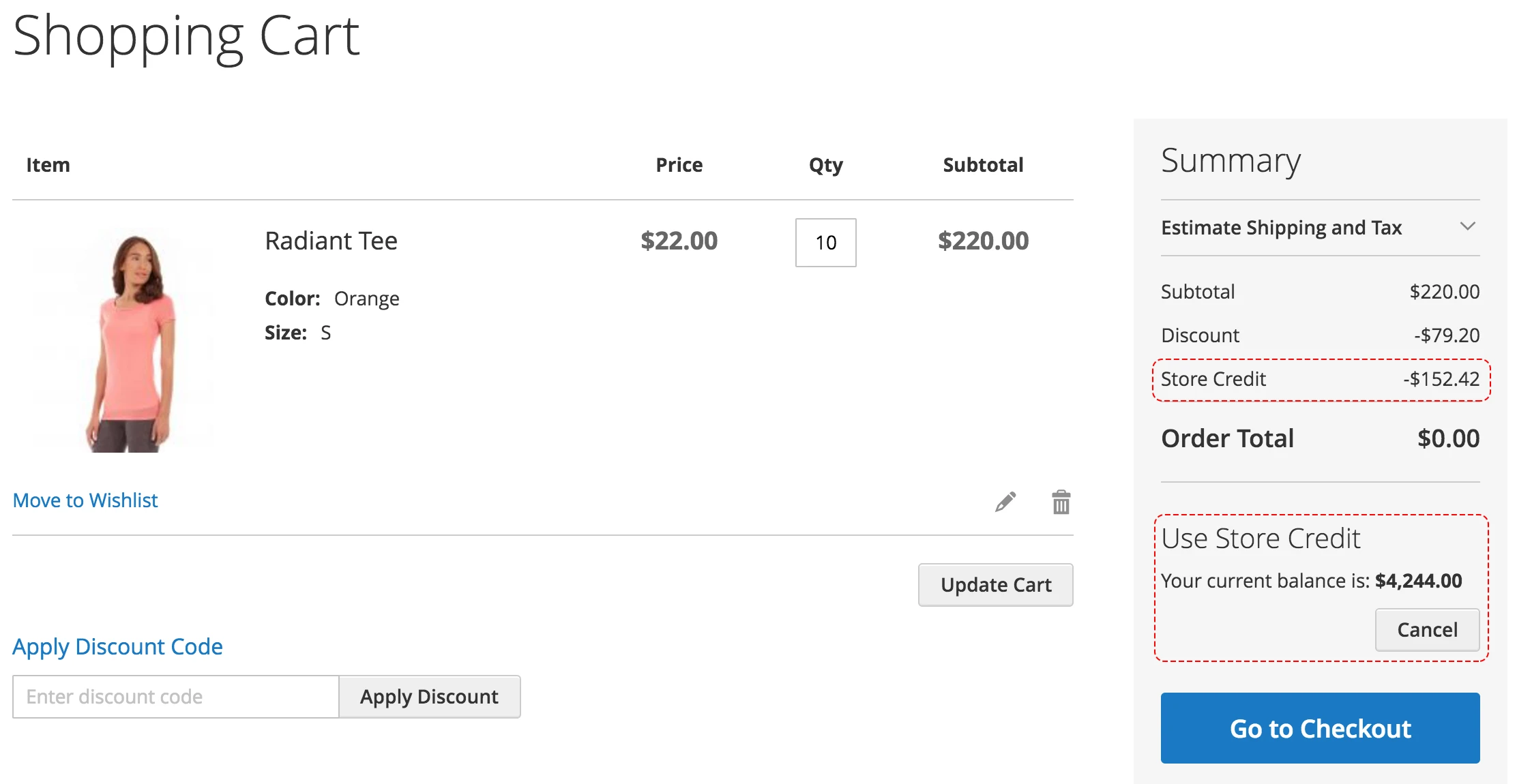 Every customer can use credits to pay for purchases.
If a customer has some credit in their Store Credit account, the credit amount can be utilized during checkout. All the customer has to do is to click on "Use Store Credit"!
The full amount of credit will be debited at once. Therefore, the Total of the current purchase will be reduced (including all taxes and shipping fees).
Enterprise Set of Managing Options
The Store Credit & Refund Extension gives you an astonishingly flexible set of options for editing every customer's credit balance.
You are able to: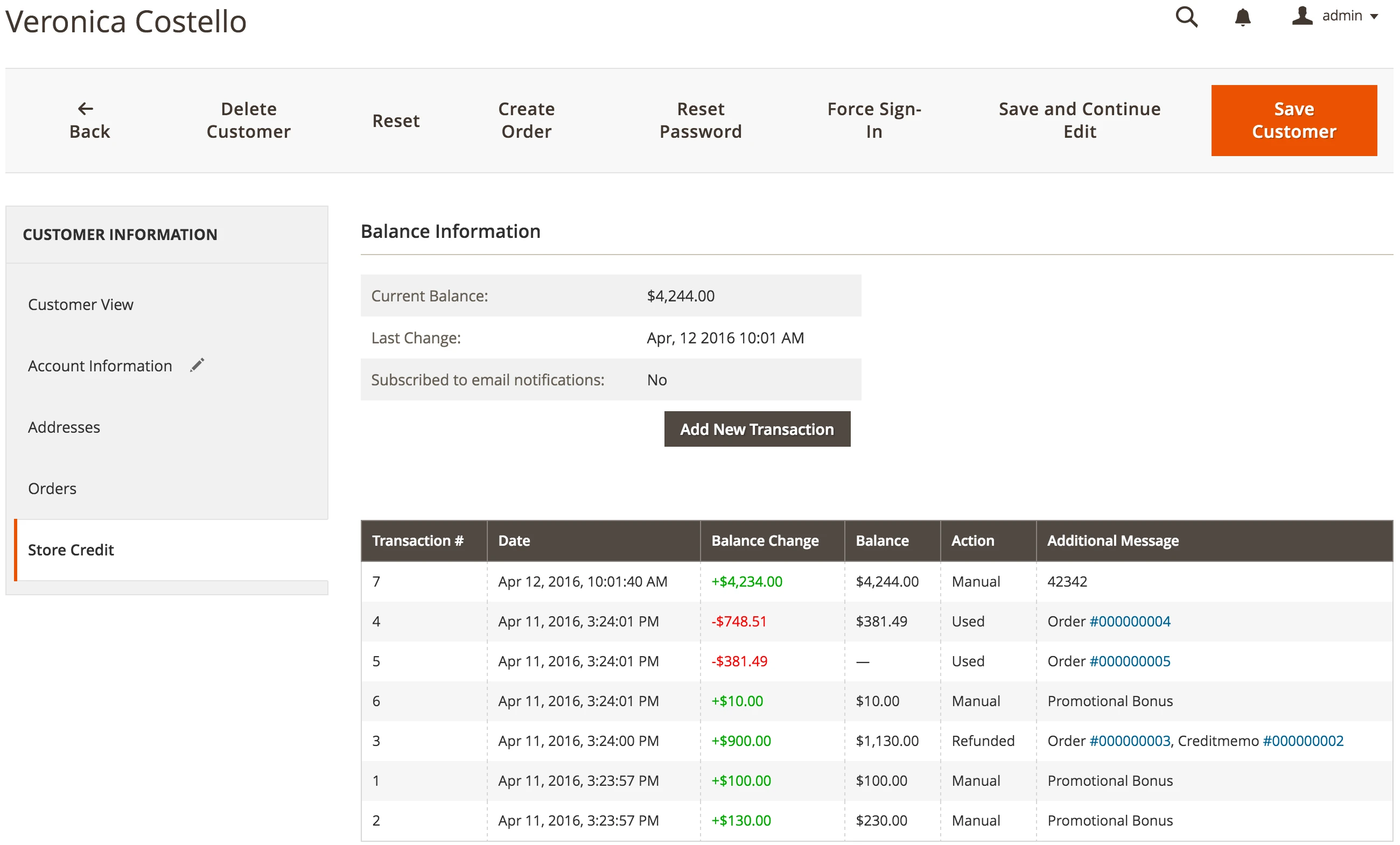 add credits for certain users
view each customer's balance and a list of their transactions
turn on email notifications about credit balance changing
use credit while creating an order in the administration panel
add credit while creating a credit memo in the administration panel
use global balances or a separated balance for each store currency
set the store's credit to apply order for order (before/after taxes, shipping, etc.)
Customers Can Add Credits to Their Account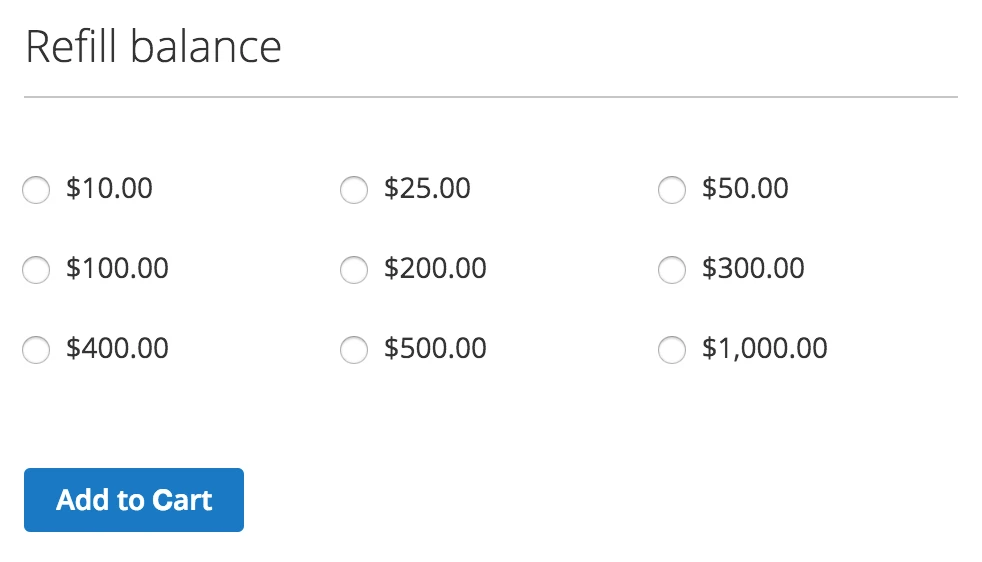 The Store Credit & Refund Extension allows your customers to add funds to their Store Credit Account.
This awesome feature lets your returning customers save time and money by purchasing credits in advance.
They will be able to use Credits for their future purchases, saving time during checkout.
Customers Can Send Credits to a Friend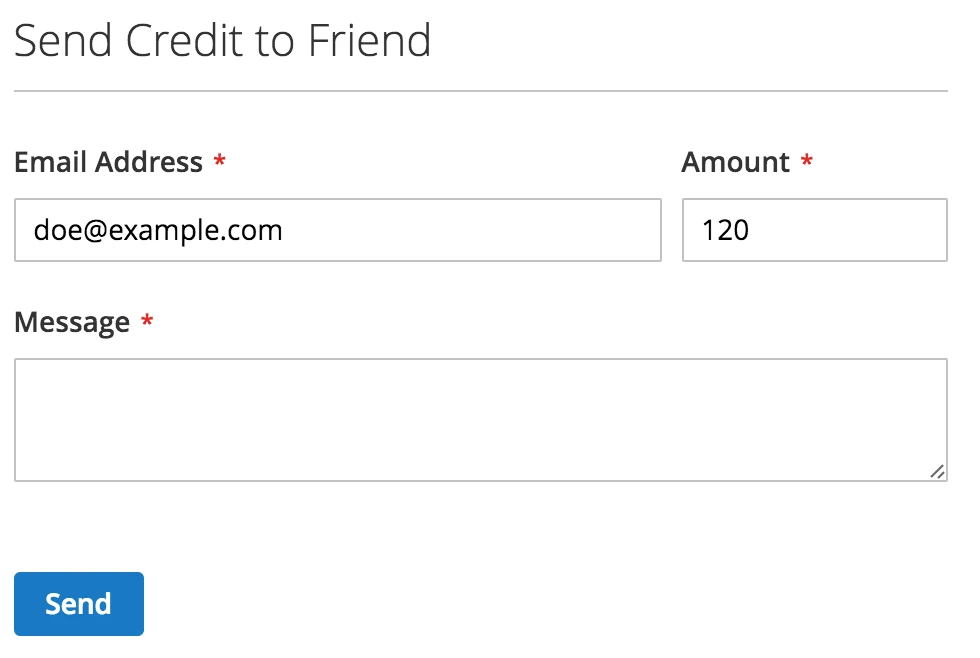 Your customers can easily persuade their friends to shop in your store. They can send credits available in their accounts to friends.
All you need to do is to specify your friend's email address and the amount of credits you wish to share. Additionally, a short message can be added.
Transparent History for Customers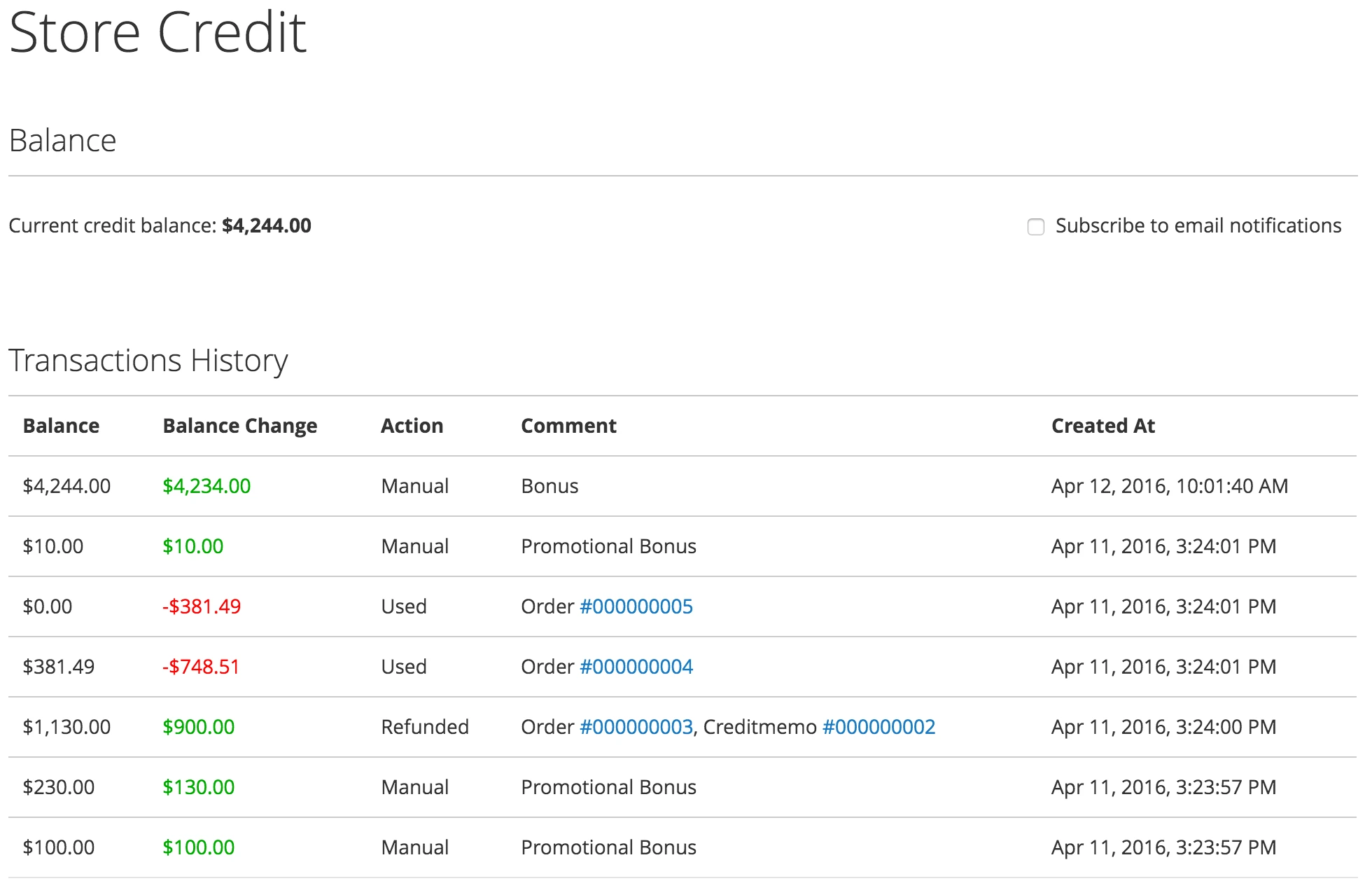 Your customers can check their Credit Transaction history in the Store's Credit menu in their account.
Every transaction, either debit or credit, is displayed with a short set of comments to remind customers of the necessary details.
Customers can also receive email notifications about their credit transactions once they subscribe.
See it in action!
Pick a quick tutorial to learn about various aspects of this extension
The extension does exactly what it says. Its backend its easy to use. Adding few more features like, bulk expiry of store credit, multi-store support would help.

Very nice extension and Supports
Mohammed
Verified Buyer
South Plainfield, United States
Very nice extension and Supports
Also installed: Full Page Cache Warmer
We run a backorder and custom order site for thousands of products.
If you need a solution for store credit this is it.
Also installed: Reward Points, Affiliate, Layered Navigation, Google Tag Manager
Must have feature as Wallet Balance
The extension is super cool, it's easy to set up and manage. Best thing is that we can return money in customer wallet balance in most of the cases. I am very satisfied using it. Worth Purchase.
Also installed: Reward Points, RMA
Store Credits, You dont lose customers
InkStoreUSA
Verified Buyer
Cliffside Park, United States
You can easily convert refunds into new purchases. You can save time and money by skipping several steps in the refunding process. Highly recommended extension.
Also installed: Advanced Product Feeds, Layered Navigation, Reward Points, Extended Shopping Cart Rules, Customer Segmentation Suite, RMA, Affiliate and 10 more
Manual & Support
Need more help?
Save time by starting your support request online and we'll connect you to an expert.
Contact Us Now
Frequently asked questions
Why is the Store Credit & Refund extension for Magento 2 considered the most powerful solution for Credits and Refunds?
The Magento 2 Store Credit & Refund Extension allows you to better satisfy your customers, helping you receive more orders in your online shop.
Our solution lets you convert a customer's refunds into store Credits. For example, a customer requests a return of certain items that they purchased, and wants a full refund. This process can take considerable time: your team needs to spend some time registering the Magento refund, then the customer needs to wait for some more (usually an undefined period of) time to get their money back, pay a transaction commission, etc. Ultimately, everybody loses in this situation - remember, time is money!
Use the Store Credit Magento extension and open a Credit program for your store with our solution; you can convert a Magento refund online into store credits within seconds and save your company money.
For example, if your customer wants money refunded, you can deposit that money into the customer's account right in your store - it's just that easy! A satisfied customer is more motivated to use their credit to pay for their next purchase.
One of the most outstanding features of the Magento Store Credit extension is that you can give the customer any amount of credit (as a gift, for example), and he or she can use their credits all at once. So, if a client makes a purchase of $100, they have $100 Credit. Therefore, they can use their credit points to pay for the order. All credits will be debited in just a click
Launch Credit programs for your online shop using Store Credit & Refund Extension.
What are the main 10 advantages you get with the Store Credit & Refund Extension?
The Store Credit & Refund Extension provides many advantages for a Magento 2 store. Here is a list of the most prominent of them:
Launch Credit programs for your store and make it stand out among the competitors.
Save time and money by skipping several steps in the money refund process.
Convert refunds into new purchase processes using our solution.
Get an intuitive customer interface and a simple interface for the administrator.
Create custom Credits manually.
Keep returning customers satisfied with our extension by saving them time and money.
Show your customers that you care by saving them time.
Use the extension during an exchange process. Customers can pay the price difference using their credit account in your store.
Show your customers appreciation by giving them some thank-you Credits.
Give your customers the freedom to manage their refunds and exchanges by using our extensions RMA + Store Credit & Refund!
Is it hard to use Store Credits?
Every customer can use credits to pay for purchases. If a customer has some credit in their Store Credit account, the credit amount can be utilized during checkout. All the customer has to do is click on "Use Store Credit"!
The full amount of credit will be debited at once. Therefore, the Total of the current purchase will be reduced (including all taxes and shipping fees).
How hard will it be to master an admin interface of the Store Credit & Refund extension?
Out module provides a simple credit managing interface. You can reward, express appreciation, or even offer an apology to your customers using our Store Credit & Refund solutions.
A simple backend interface allows you to add new credit transactions manually whenever you need it.
For example, imagine you have created a lottery or promo in your store, which means there are some winners which you have to reward.
Using our Store Credit extension for Magento 2, you can add a new transaction in the backend to give the winners their gift certificates represented in credits.
Keep your customers coming back and increase sales!
What are the options for giving store credit based on the user's country?
There may be a necessity to assign different store credit values in accordance with the currency of the country the shopper is from. Our Store Credit & Refund module provides multicurrency support for each store. It presents two possible scenarios on how to work with multicurrency credit transactions.
The first scenario is to use in-store currency converting. For example, the store admin can create a credit transaction for a customer in US dollars, the customer can spend it in a Euro currency which is corresponding to the store view he or she is using. The value for each currency is calculated according to the currency rates configured in the store.
The second scenario is to create credit transactions in a specific currency. The store admin is allowed to create transactions in the required currency.
How can your Magento 2 store benefit from sending credits to a friend?
The Store Credit & Refund solution allows your customers to share any credit balance he or she owns with a friend. This client-oriented feature encourages friends to start shopping in your store and automatically become your new customers.
All that your client needs to do in order to send credits from his or her own account to a friend is to fill out a simple form. This form has only three obligatory fields:
friend's email address
amount of credit to share with their friend (can not exceed the amount on the account)
a short message to inform friends about the purpose of those credits
In this way, you minimize the time and effort spent on refunds and provide a flexible customer retention strategy.
Store credit in Magento 2 updates credit balance easily and encourages customers to make more purchases in your online store. If you need help with the Magento 2 Store Credit and Refund extension, Mirasvit's team is ready to help you.
Does this extension give us the ability to process multiple credit memos?
The Magento refund extension gives you the ability to use the Store Credit funds in the store, but the Credit Memo is provided by the default Magento, so it is possible to create multiple credit memos according to the Magento functionality and make a full or partial refund Magento provides to different payment systems including the Store Credit customer account.
Does the store credit provided by the module have an expiration date?
The Store Credit funds do not have an expiration date as these are real money on a customer's account that are simply displayed in the Store Credit section of their account at the store.
The work logic of the module can be changed by modifying its core files. Mirasvit provides an unobfuscated source code for its products, and allows for customizing extensions according to the needs and requirements of its extension buyers. However, the company does not provide such a service, and recommends that you use help from its partners.
Why does the Store Credit module apply taxes and how can it provide store credit without a tax?
The Store Credit funds are handled as real money that belongs to the customer, therefore the relevant taxes are also applied to these funds. In case you don't need to apply a tax to the discounted items, you may use our module Reward Points which is available in the extensions store, and provide your customer with in-store bonus points that don't fall under tax requirements.
Changelog
Version
1.2.15
Nov 6, 2023
Balance Update email is taken from the default store instead of the store where the customer was created
Version
1.2.14
Sep 26, 2023
Incorrect grandTotal calculation in Credit Memo if default Magento discount is applied
Version
1.2.13
Aug 29, 2023
Avoid prevent refund if getBaseTotalPaid is not rouned
If order is not paid by Store Credit and Store Credit amount gets applied to CreditMemo, the order status does not change from COMPLETE to CLOSED when all paid amount is refunded
Added styles to Store Credit top link
Version
1.2.12
Jul 4, 2023
Allow entering only digital values to the Store Credit apply input in cart and checkout
Added notification message for Credit Memo adjustment refund amount that exceed order amount
customer.name variable did not work in emails
Store Credit top link is not displayed on the cacheable pages
Compatibility with Order Management
Version
1.2.10
May 16, 2023
use_credit column was set to no when store credit is applied in the admin
Reasons to choose Mirasvit
Client focusing and satisfaction
These are our primary. A major portion of our new clients come from referrals from our existing clients. Our professional team of developers, marketers and support staff have invested the best knowledge and experience in the field into our work, so you know you can come back to us again and again.
Remarkable support
One year free and high quality support. We go to great lengths to provide maximum satisfaction with every module you have purchased in our store. By helping you with installation, configuration, answering your every question, we do all our best to eliminate any possible problems.
Risk-free Investment
30-days money back guarantee. If you are not satisfied with our extension performance for any reason, we provide a full refund.
Constant improvements and upgrades
We constantly add new features to all our modules, and are always interested in hearing your opinion and implementing your suggested features in our future developments.
Comprehensive Documentation
We provide an expanded user guide for every aspect of our extension, so you can find answers for all your burning questions.
Unencrypted source code of our products
You can customize extension according to your needs and requirements.
Usability and Performance
The Module is easy to install and upgrade, just follow our step-by-step user guide.
Ready for Magento Cloud
No core modifications. The extension has been tested in a Magento Cloud environment and is fully compatible with it.