Google PageSpeed Optimizer for Magento 2
The loading speed of an online store has a major impact on customer experience and search engine ranking.
The Google PageSpeed Optimizer module can significantly improve store performance. Generally, the PageSpeed score is 90 out of 100.
Advanced JavaScript bundling
Lazy-load Images
HTML, JS and CSS Minification
Image optimization and conversion to WebP
PageSpeed Monitoring Tool
Free Installation
We will install the extension in to your online store and configure it according to your requirements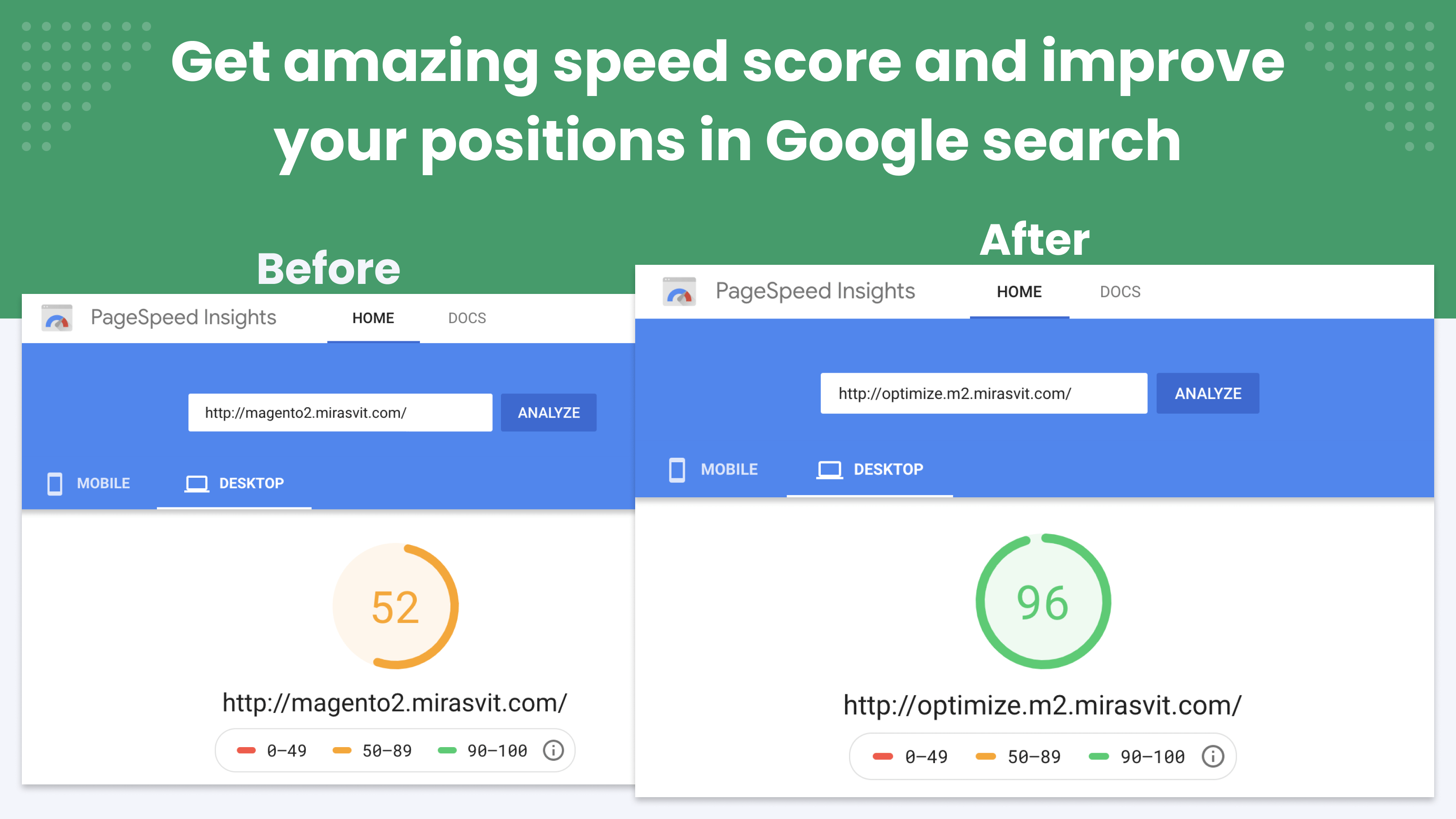 1/8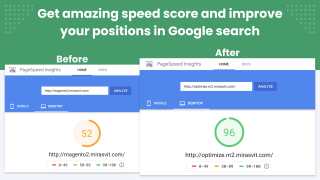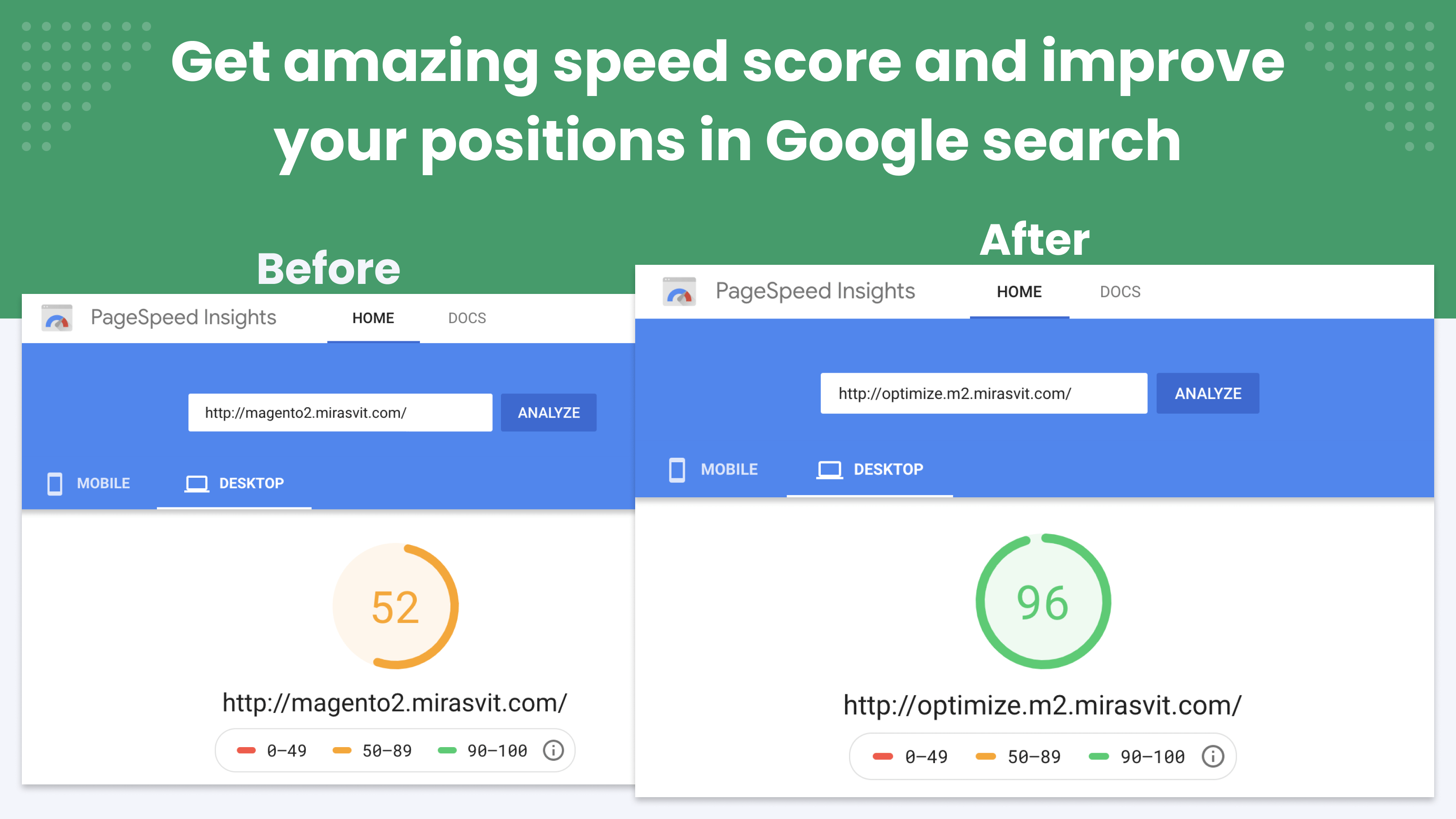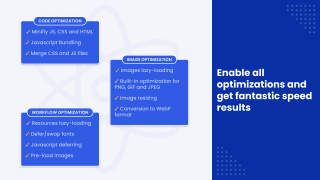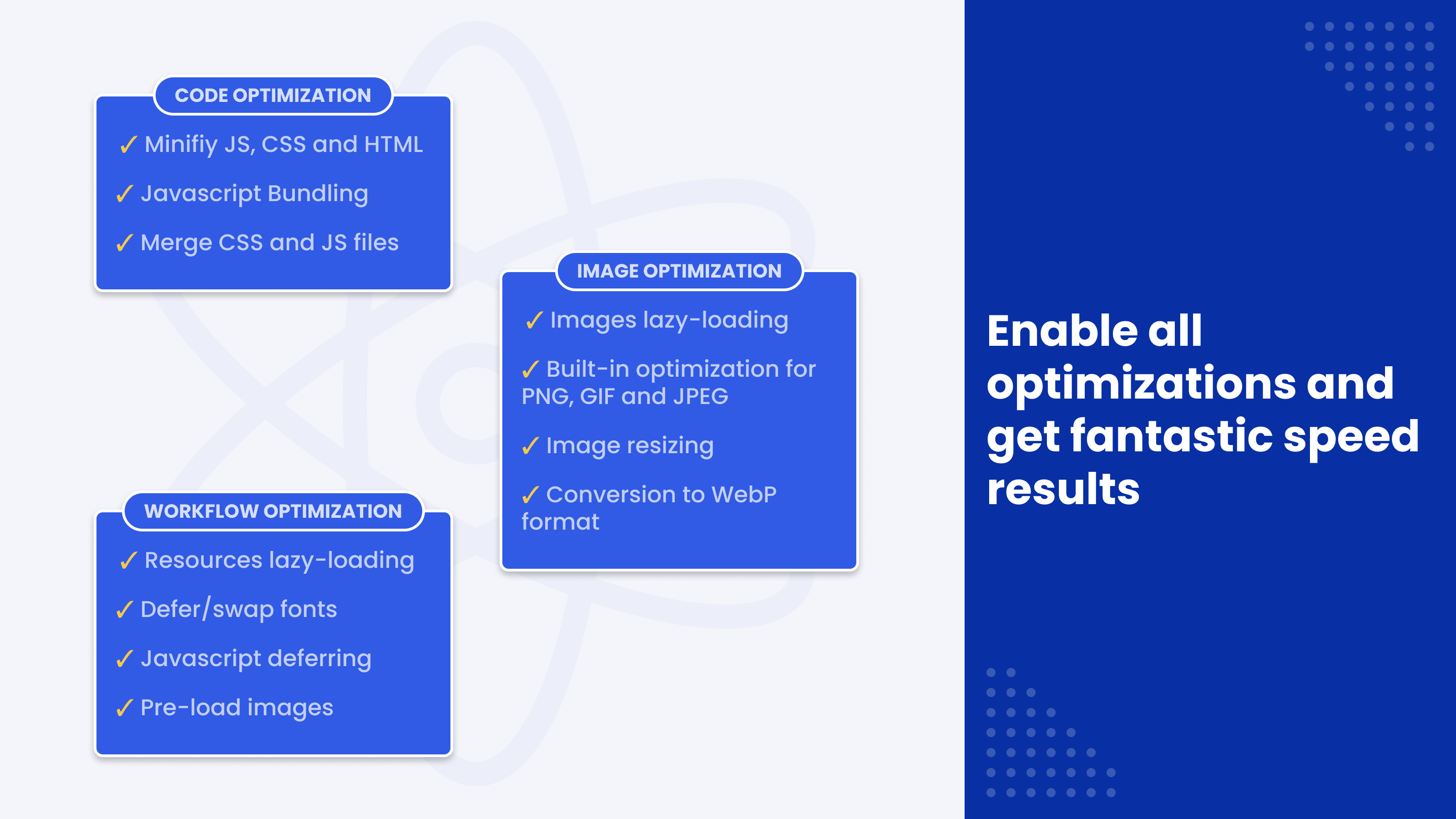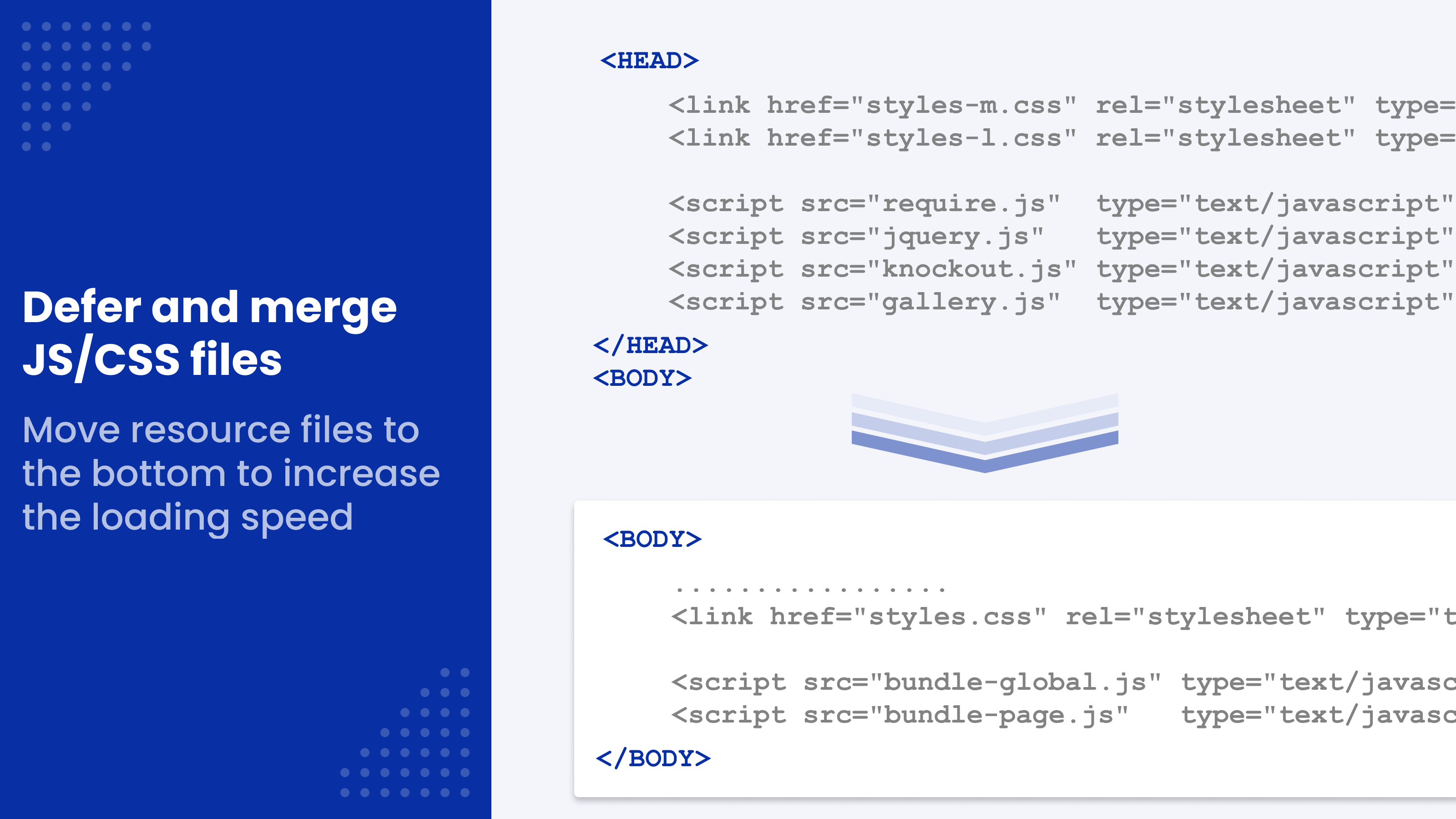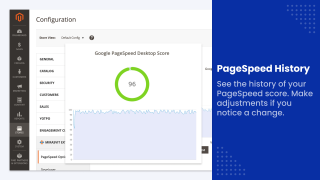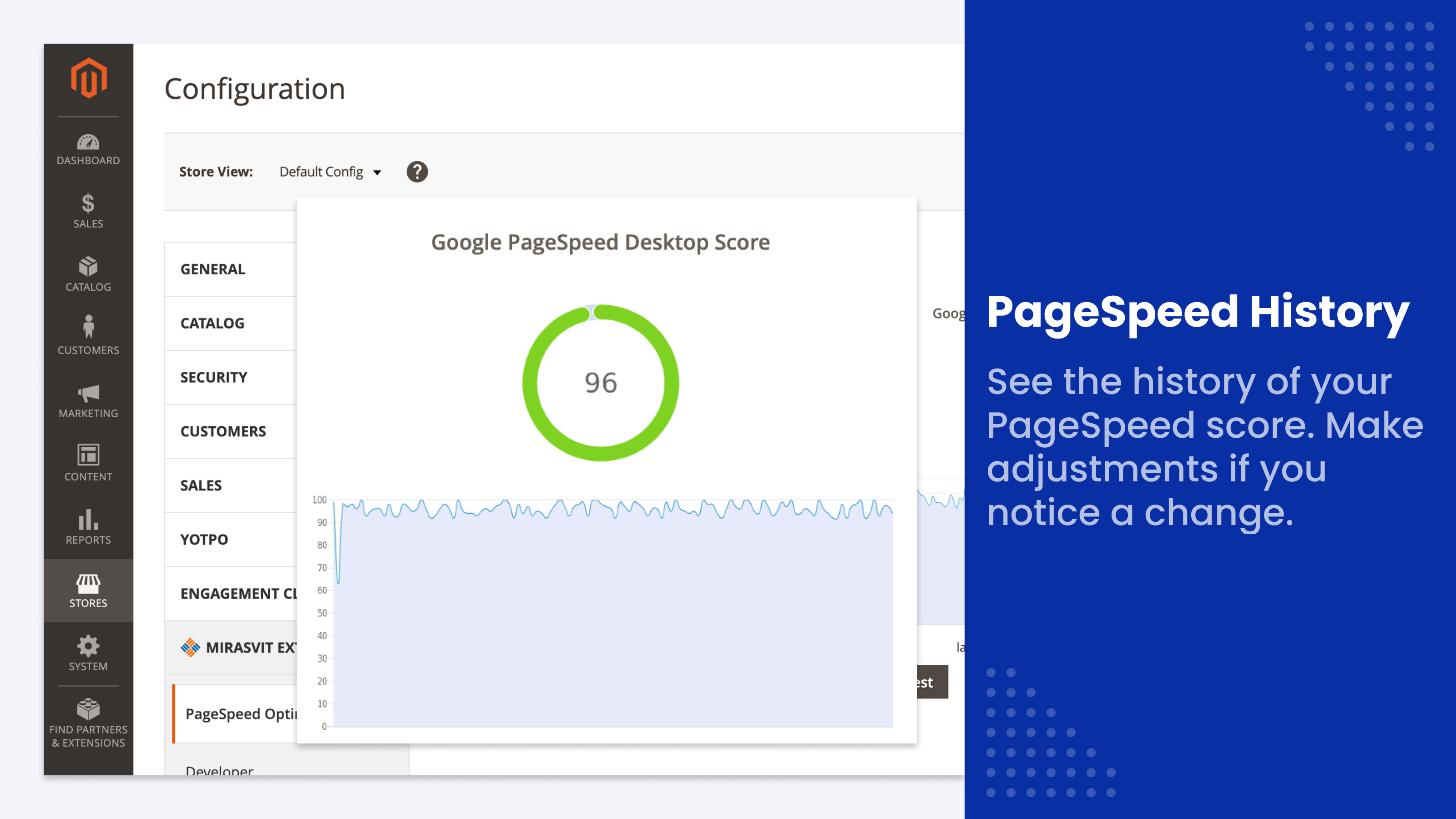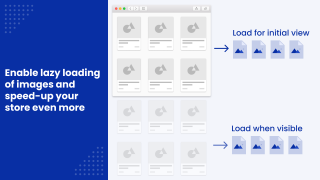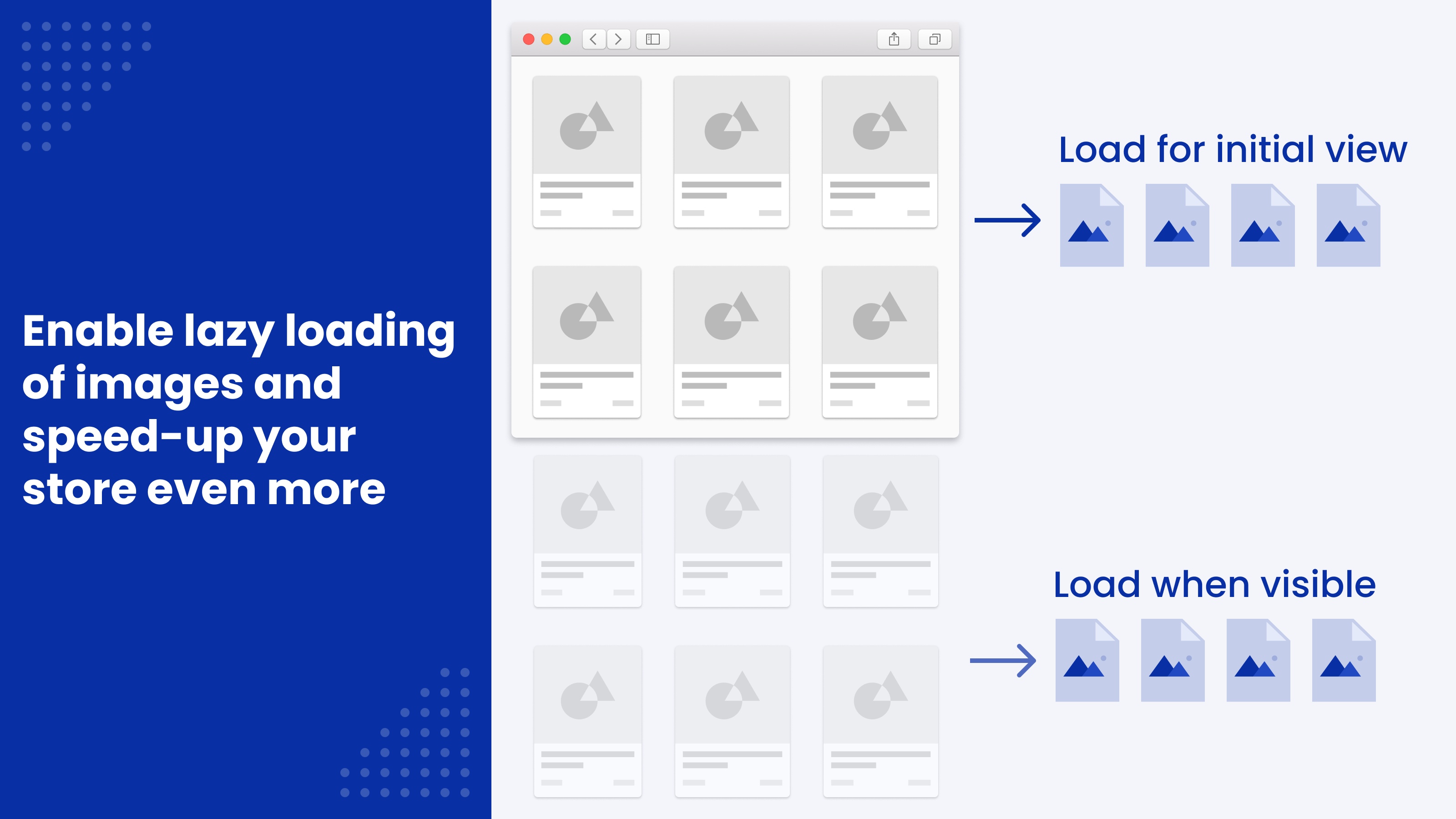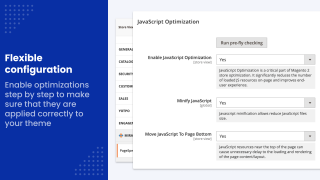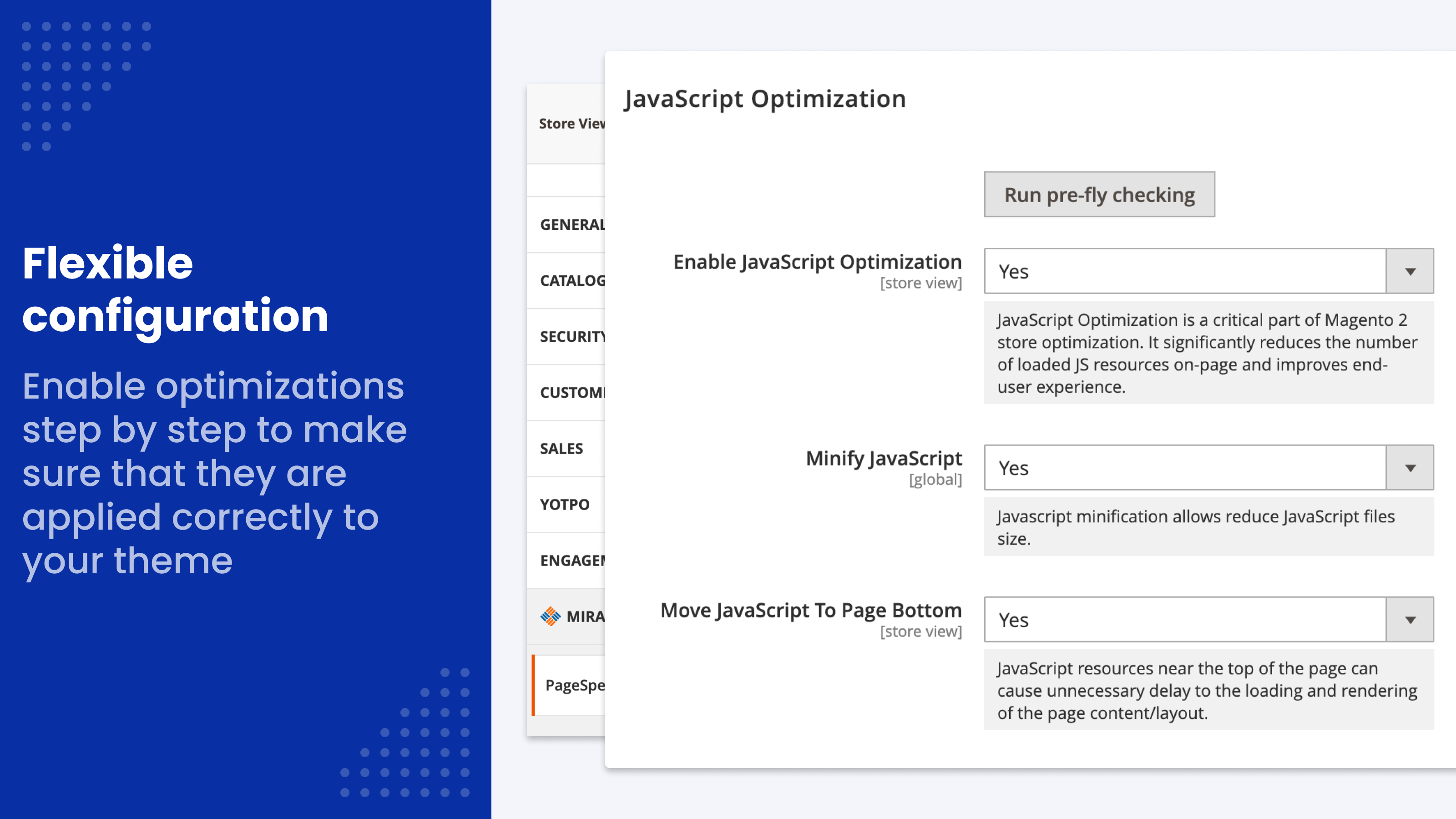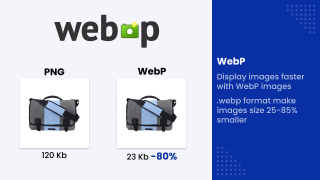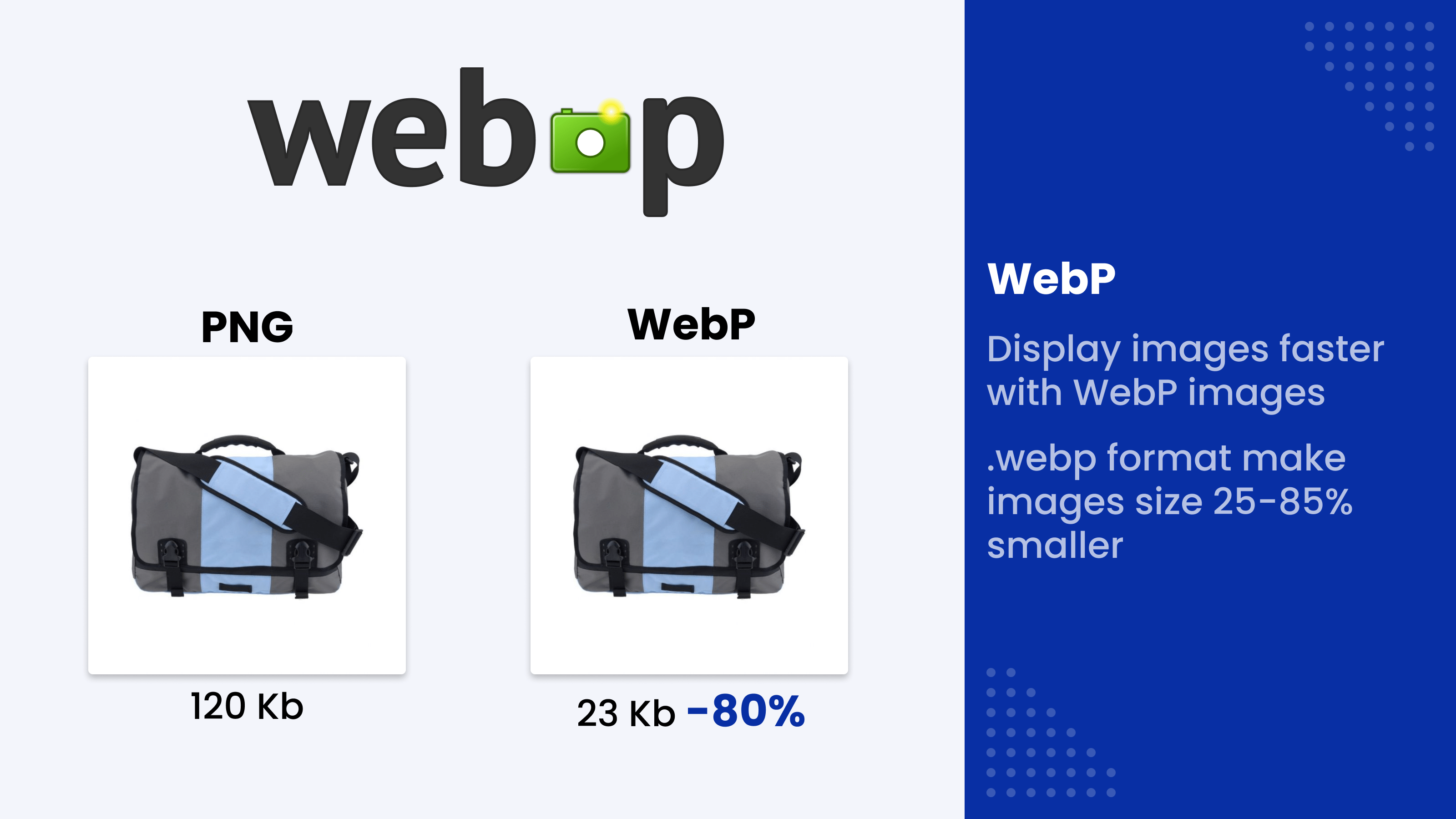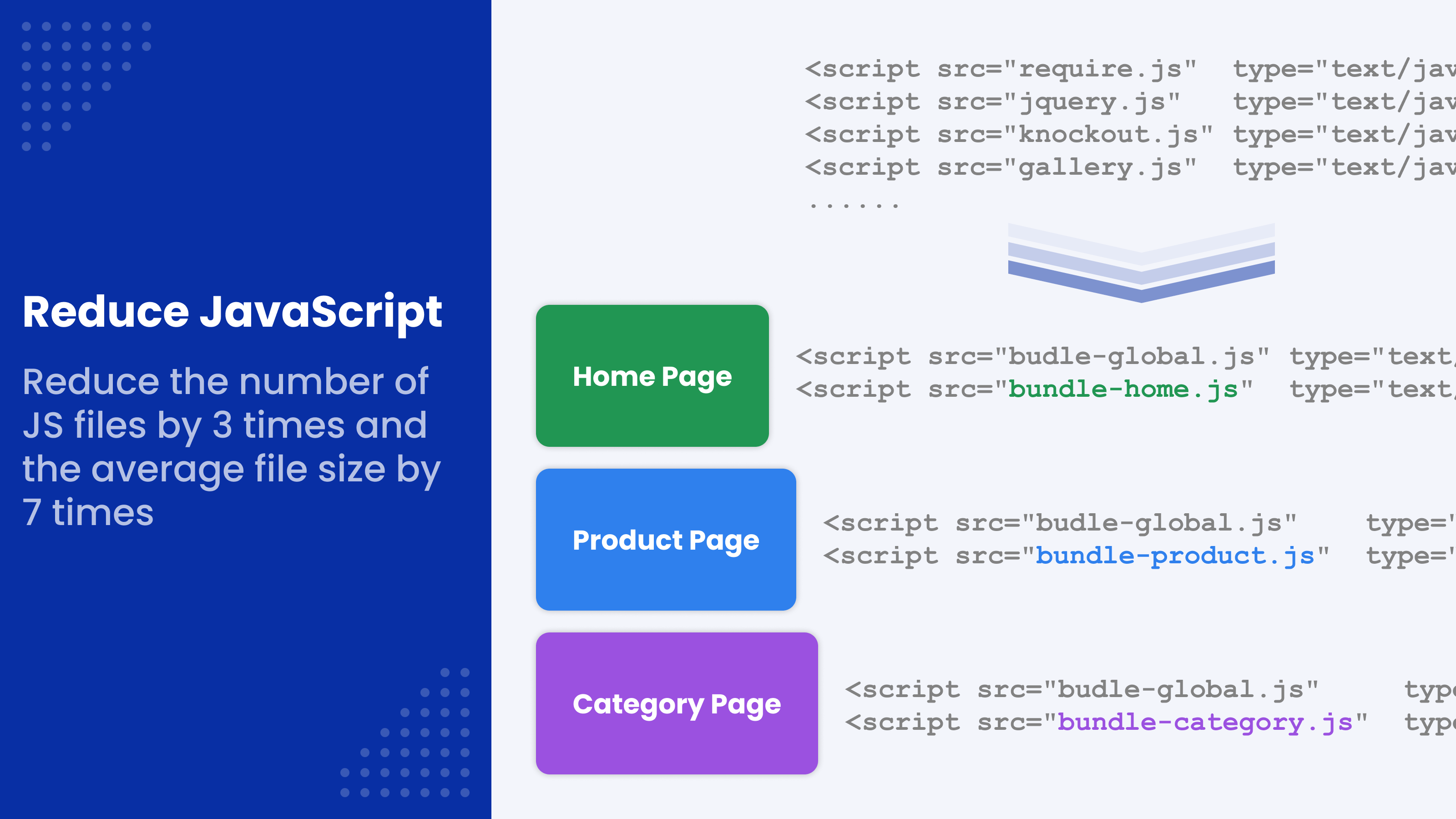 Feature Highlights
Business Value
Opportunity: Google considers the speed of an online store when ranking a site in the search results. It has even made a tool, which allows you to estimate your store's PageSpeed score. Stores with a higher score will be more likely to get to the top of the Google search results for important key requests.
Problem: The default Magento gets only 55 for the desktop version and 5 for the mobile version in this tool. Check Google Page Speed score of your store.
Solution: Our module will increase your store's speed and greatly raise the PageSpeed score. Default Magento, along with our module, shows the PageSpeed score of 99 for the desktop version and 60 for the mobile version.
How does it work?
The extension applies optimization to your store's CSS, JS files, HTML and images. It reduces the size of initially loaded content, improves the speed of loading, and removes blocking resources. Eventually, it will greatly improve the user experience and Google PageSpeed Score.
Optimizations of JS and CSS
Advanced JS files bundling
Move CSS, JS files to the bottom
JS, CSS, HTML minification
Preloading CSS files
Defer CSS files loading
Defer YouTube videos & Google Fonts
Advanced JS files bundling
The default Magento collects a major portion of the code in its JS files that are not required on virtually every page.
This code significantly increases the number of JS files up to 120 and their size up to 7 MB.
This problem has now been solved. Our module combines only the required JS files.
This reduces the number of files by 3 times and the file size by 7 times! As a result, the loading speed of the JS files is much higher.
Move CSS, JS files to the bottom
In Magento, JS files were included in the heading of the page by default, prior to version 2.3.3. As a result, they were loaded first. It blocked the loading of the main part of a page. Users had to wait for JS files to load.
As recommended by Google, our module moves the content of JS files to a website footer. In this way, it takes less time to load and display a web page.
JS, CSS, HTML minification
Our extension applies different minification algorithms to reduce the size of Magento JS, CSS, HTML files.
Preloading CSS files
To speed up the loading process of CSS files, our extension allows you to preload the most important files for rendering of the page
Using this technology, the page is correctly displayed even if other files are still loading in the backgroud
Defer CSS files loading
To speed up the loading process of CSS files, our extension allows you to postpone the loading of files which are not directly used in the initial rendering of the page
Those files will be loaded in the backgroud later.
Defer YouTube videos & Google Fonts
The extension allows you to postpone the loading of YouTube videos and Google Fonts. This way, it improves the overall loading speed.
Postponed files will be loaded in the background after loading of the main set of files
Optimizations of Images
Lazy Loading of Images
Image compression
WebP format support
Preload images
Lazy Loading of Images
Magento loads website images by default along with the main HTML, CSS, and JS files. As a result, the page will be displayed incorrectly and will not work until all the images are fully loaded. It negatively impacts customer experience and reduces the PageSpeed score of a website.
Our module allows you to postpone loading of images to the very end.
First, the module uploads the most important files and shows customers a page with accurate placeholders instead of the images. While customers start using the website, the module loads the necessary images in the background.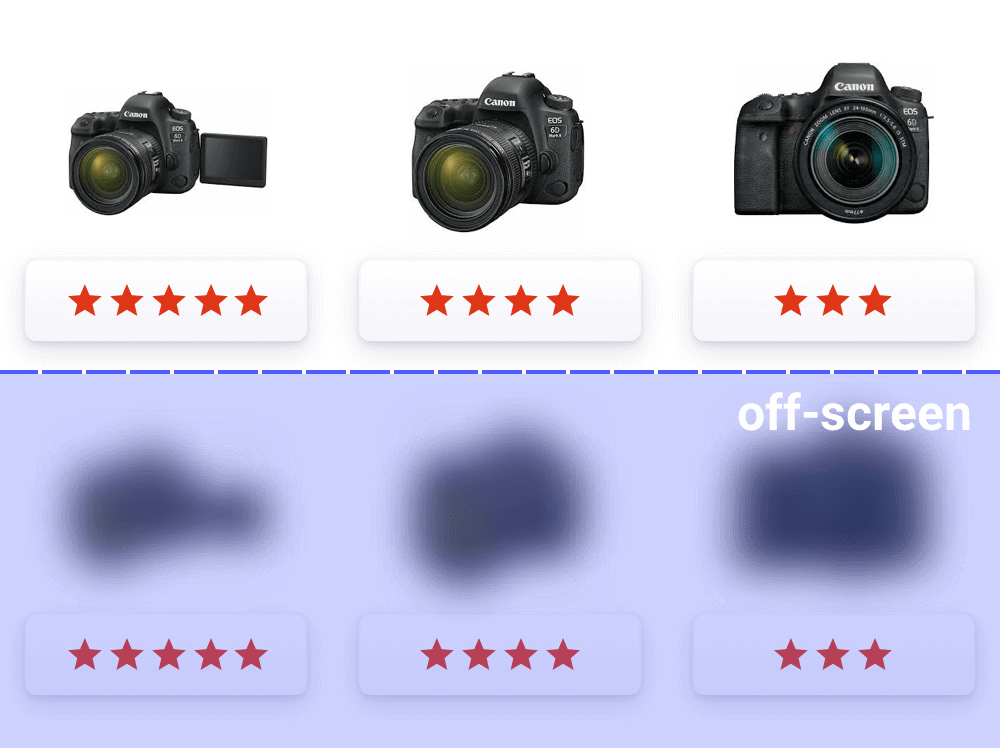 Image compression
On average, 50% of page size are images. By optimizing images, you can reduce page size by up to 20%.
The page speed optimizer extension can automatically optimize images for all common formats: JPEG, GIF, PNG.
Additionally, page speed optimizer automatically can convert images to modern .WEBP format.
WebP format support
WebP is a modern image format. It greatly reduces the size of images, while still providing good quality.
The images are 25%-35% smaller in size compared to PNGs or JPEG. Google recommends this format for web pages.
Preload of images
To speed up the loading process, our extension allows you to preload the most important images
Using this technology, the page is correctly displayed even if other files are still loading in the background
PageSpeed Monitoring Tool
The extension has a built-in PageSpeed Monitoring tool. It allows you to see changes of your store's page speed score over time.
See it in action!
Pick a quick tutorial to learn about various aspects of this extension
very please with the service support and the extension does make the score higher !
CBlue
from Florianópolis, Brazil
Great extension great support and features. So far all works very well.

good extension who want to improve web performance
mohammed
from Riyadh, Saudi Arabia
i bought this extension before month and my store better and fast and my ranking in pagespeed insight increae from 49 to 85.
Lessen your dependence on developers
Parijaat
from United States
This one extension will lessen your dependence on both frontend/ backend developers and web admins upto as it will help you to minimize size of images & web pages, minify JS/ CSS/ HTML, lazy load images and keep a watch on page size/ load time. Must have extension for people who open Google Page Insights frequently to check the performance of the pages in their webstie.
Finally, my store reached the green zone.
Thank you!
worked great - site is now much faster
My dev asked me to buy this for our site. He installed it with support fom the publisher and our site is now much faster than before. Worth the money.
Per
from Copenhagen, Denmark
The best and most powerfull extension I have tested and used.
Gökhan
from Ankara, Turkey
I use over 5 plugins of Mirasvit company. I am very pleased with all of them
excelent module, even better support
Claudiu
from Buftea, Romania
I need to thanks you folks for the great job, excelent module and even better support.
I strongly recommend it to magento professionals!
Kingtoys
from Haarlem, Netherlands
This module is a good improvement for our shop. almost 50% better score.
Great results and service
Mr
from Manchester, United Kingdom
I've been looking for something like this for some time but was always worried extension like this wont work but I was so wrong. Totally changed my speed from 20 desktop to 82 after and increase on mobile speed also. Great service also!
Especially lazy loading has good effect. Extension is not silver bullitt but it is worth it
Kasper
from Aabybro, Denmark
This is goooooooooooddddddddd :)
Was a bit sceptical about this extesion but must say i'm impressed.
Have a desktop ranking on around 95 from 56.
Amazing and I have not tested its full potential yet.
Wow I must say.
Very professional team, good documentation, answering all my questions. Thank you very much for everything, worth the price!
Great extension, great support
Eancodes.eu
from Netherlands
We run over 14 shops in a multistore setup and thanks to this extension all shops run very fast and smooth. Support is great and fast. Within 2 hours it was installed and working. Keep up the good work!
Robert
from Oppegard, Norway
Google pagespeed results improved from 17 on mobile and 33 on desktop to 31 on mobile and 80 on desktop. Highly recommended!
I run a magento 2 multistore with 25 domains which all had around 60-80 google page speed ratings, after this extension and some tweaking from the great support team we managed to get ratings close to: 70-90. I recommend this to all magento 2 owners! Its a must have for this slow piece of software.

Check it for yourself: https://www.laserpenonline.nl (https://developers.google.com/speed/pagespeed/insights/?hl=nl&url=laserpenonline.nl&tab=desktop)
We installed this module in a heavily customized Magento store running on a quite slow server. Before installing this module we made some experiments with nginx and pagespeed - with very little success (mobile: 20, desktop: 39). After installing this module (which was very easy compared to the nginx variant) we saw an immediate success: after running this module for approx. 1 hour we have pagespeed values of 48 (mobile) and 92 (desktop). Overwhelming...
Andrew
from United States
Was:
Mobile: 12
Desktop: 21

Now:
Mobile: 51
Desktop: 84
Manual & Support
Need more help?
Save time by starting your support request online and we'll connect you to an expert.
Contact Us Now
Reasons to choose Mirasvit
Client focusing and satisfaction
These are our primary. A major portion of our new clients come from referrals from our existing clients. Our professional team of developers, marketers and support staff have invested the best knowledge and experience in the field into our work, so you know you can come back to us again and again.
Remarkable support
90-days free and high quality support. We go to great lengths to provide maximum satisfaction with every module you have purchased in our store. By helping you with installation, configuration, answering your every question, we do all our best to eliminate any possible problems.
Risk-free Investment
30-days money back guarantee. If you are not satisfied with our extension's performance for any reason, we provide a full refund.
Constant improvements and upgrades
We provide you with lifetime free updates. We constantly add new features to all our modules, and are always interested in hearing your opinion and implementing your suggested features in our future developments.
Comprehensive Documentation
We provide an expanded user guide for every aspect of our extension, so you can find answers for all your burning questions.
Unencrypted source code of our products
You can customize extensions according to your needs and requirements.
Usability and Performance
The Module is easy to install and upgrade, just follow our step-by-step user guide.
Safe Magento updates
No core modifications. Just use the composer or copy the extension's files to the root directory of your store.