Inventory Planner for Magento 2
This extension automatically estimates when and how many products you need to restock, while also detecting the presence of overstocked goods. It's perfect for anyone looking to optimize their product supply.
You won't need to configure or calculate anything yourself. The extension is so smart, it'll make predictions by itself!
Optimize how you plan your stock
Schedule inventory replenishments with confidence
Identify overstocked products
Get to work immediately after installation
Gain insights quickly, no matter the product count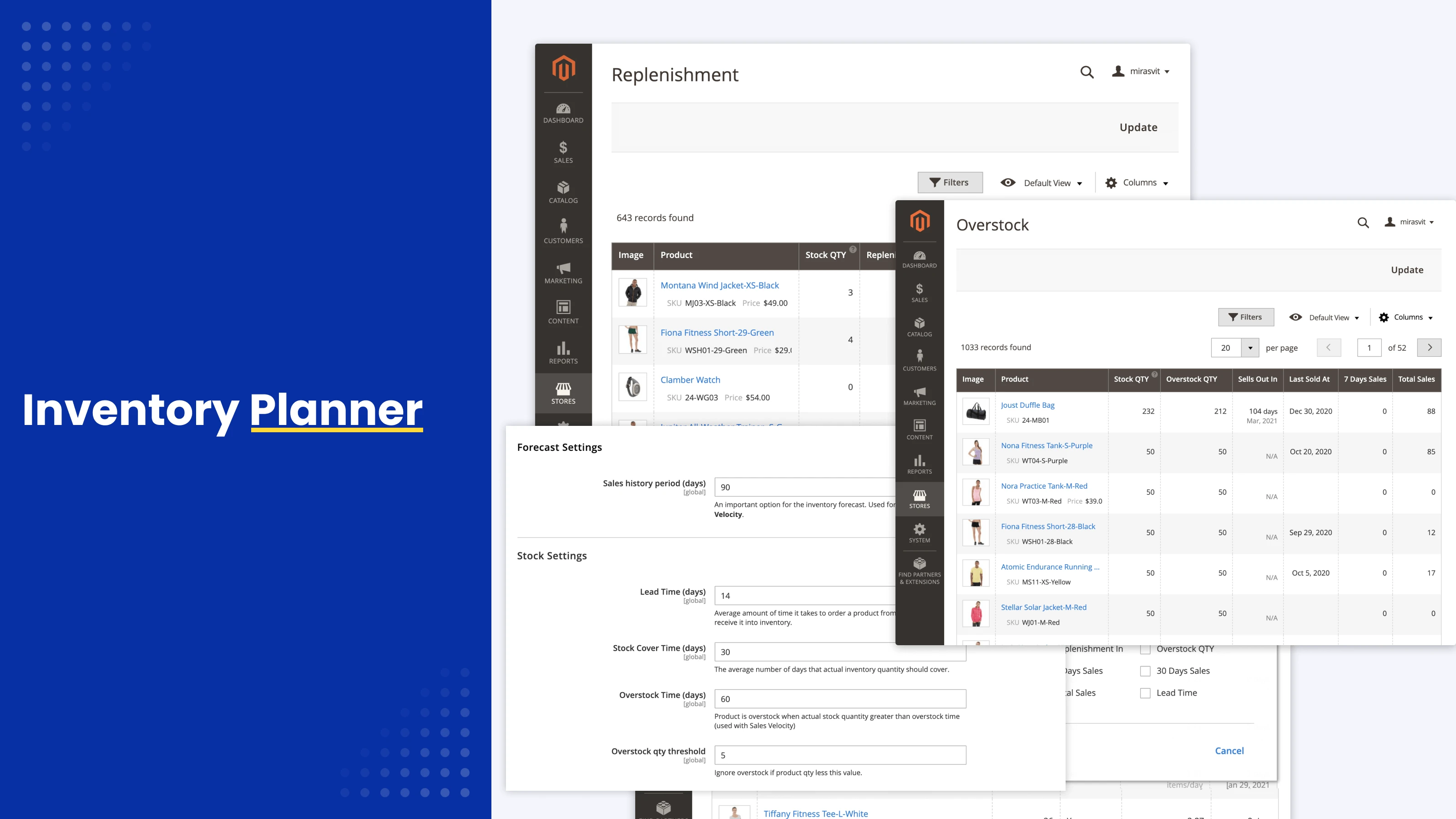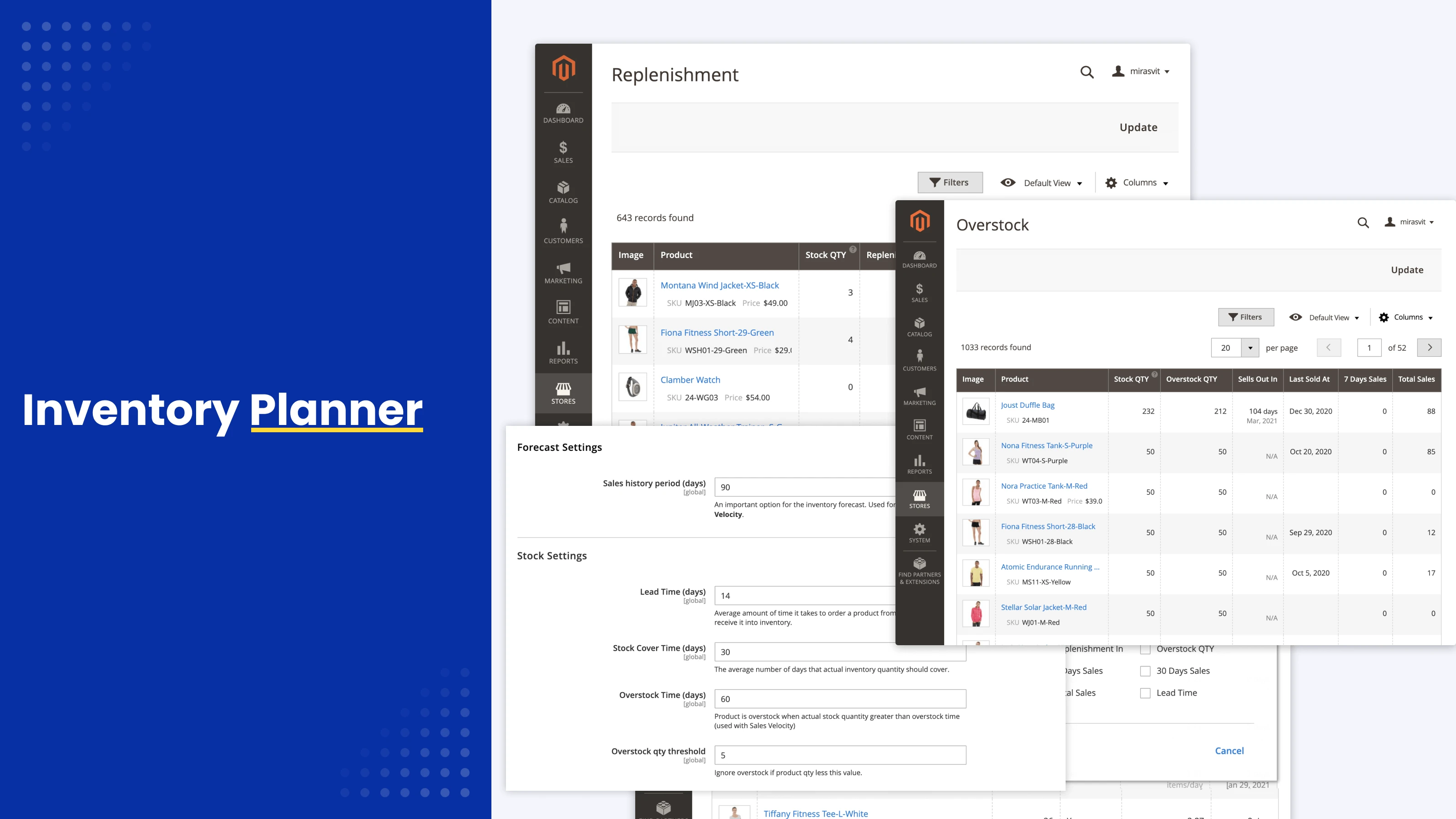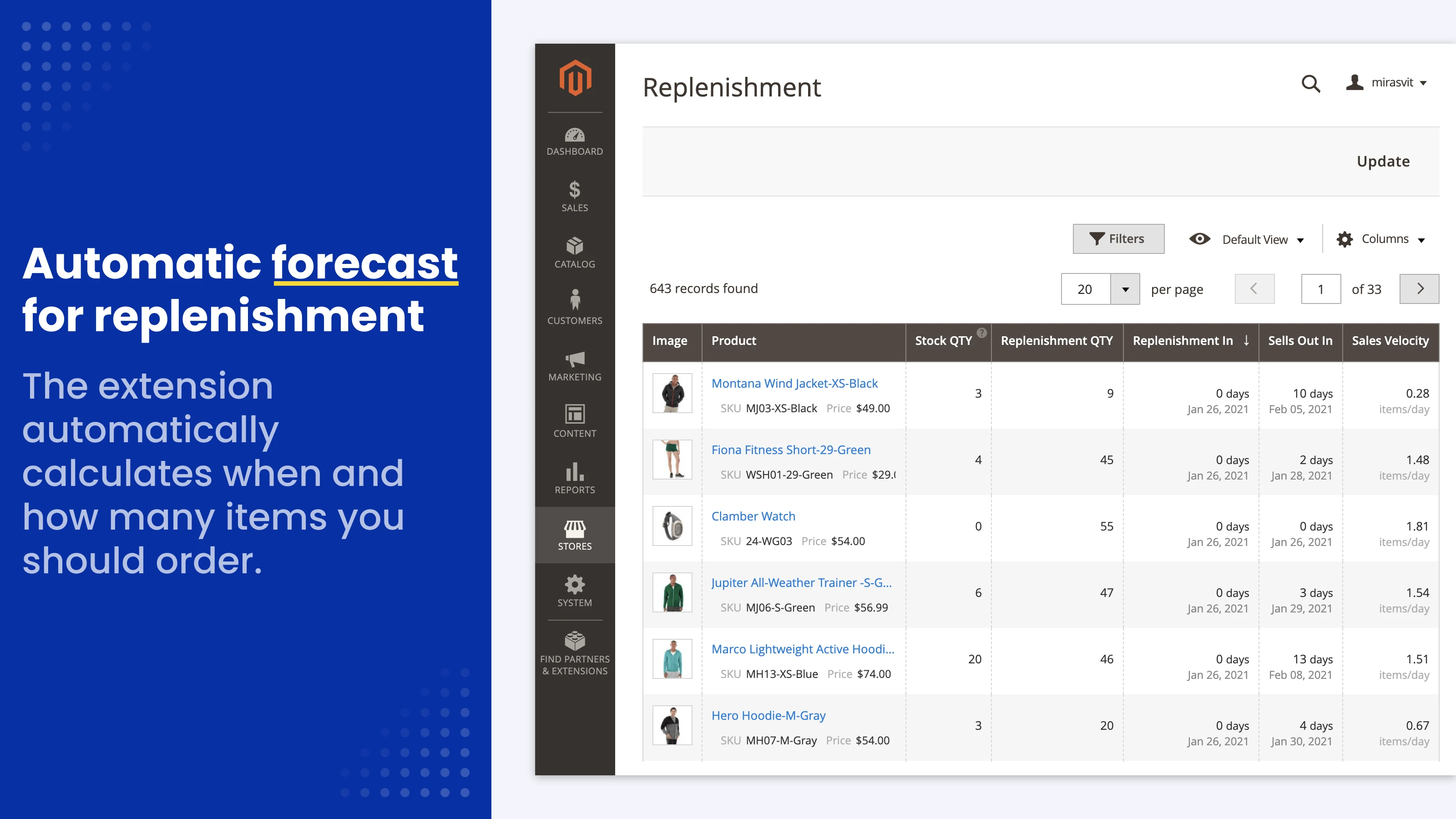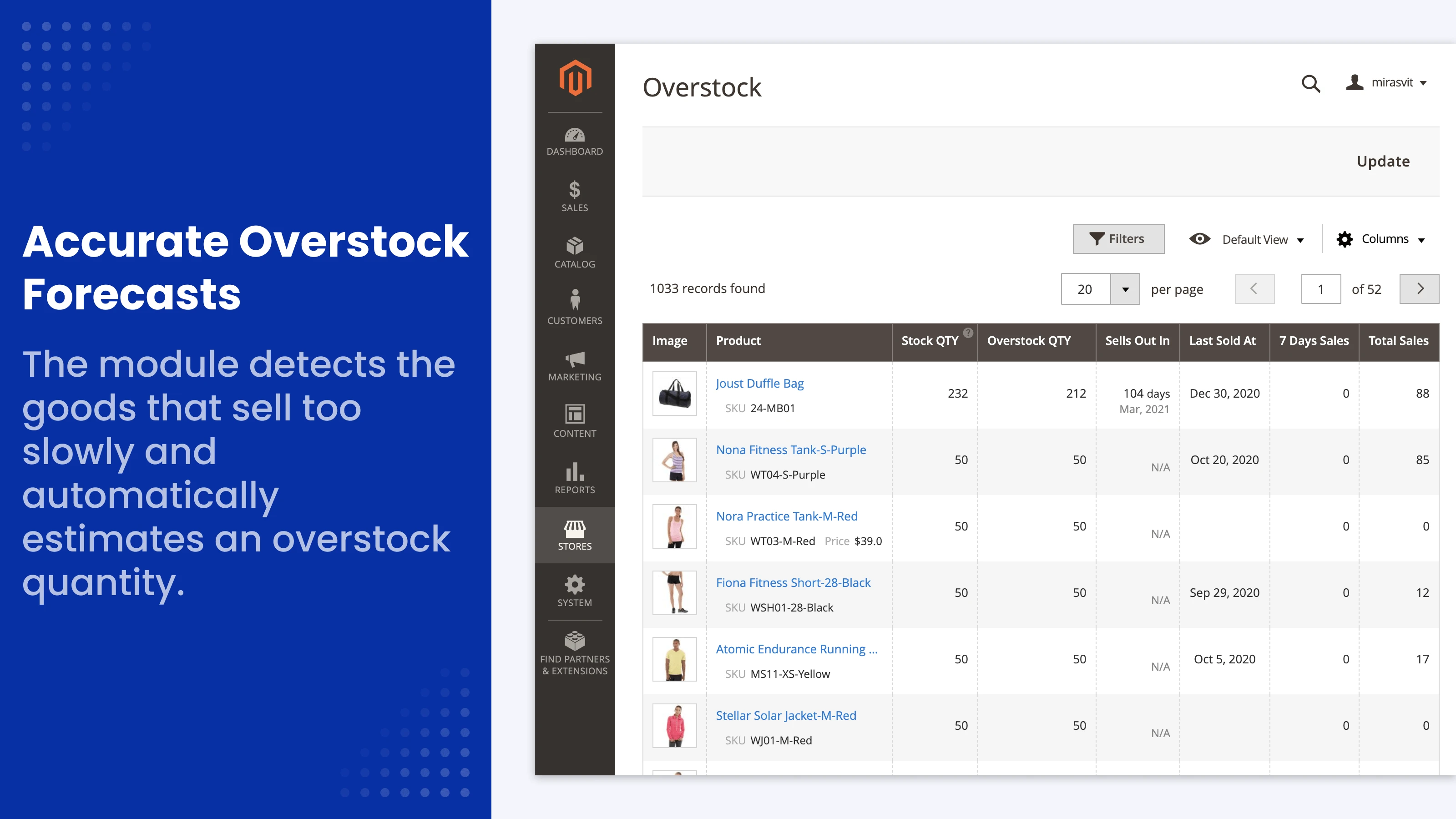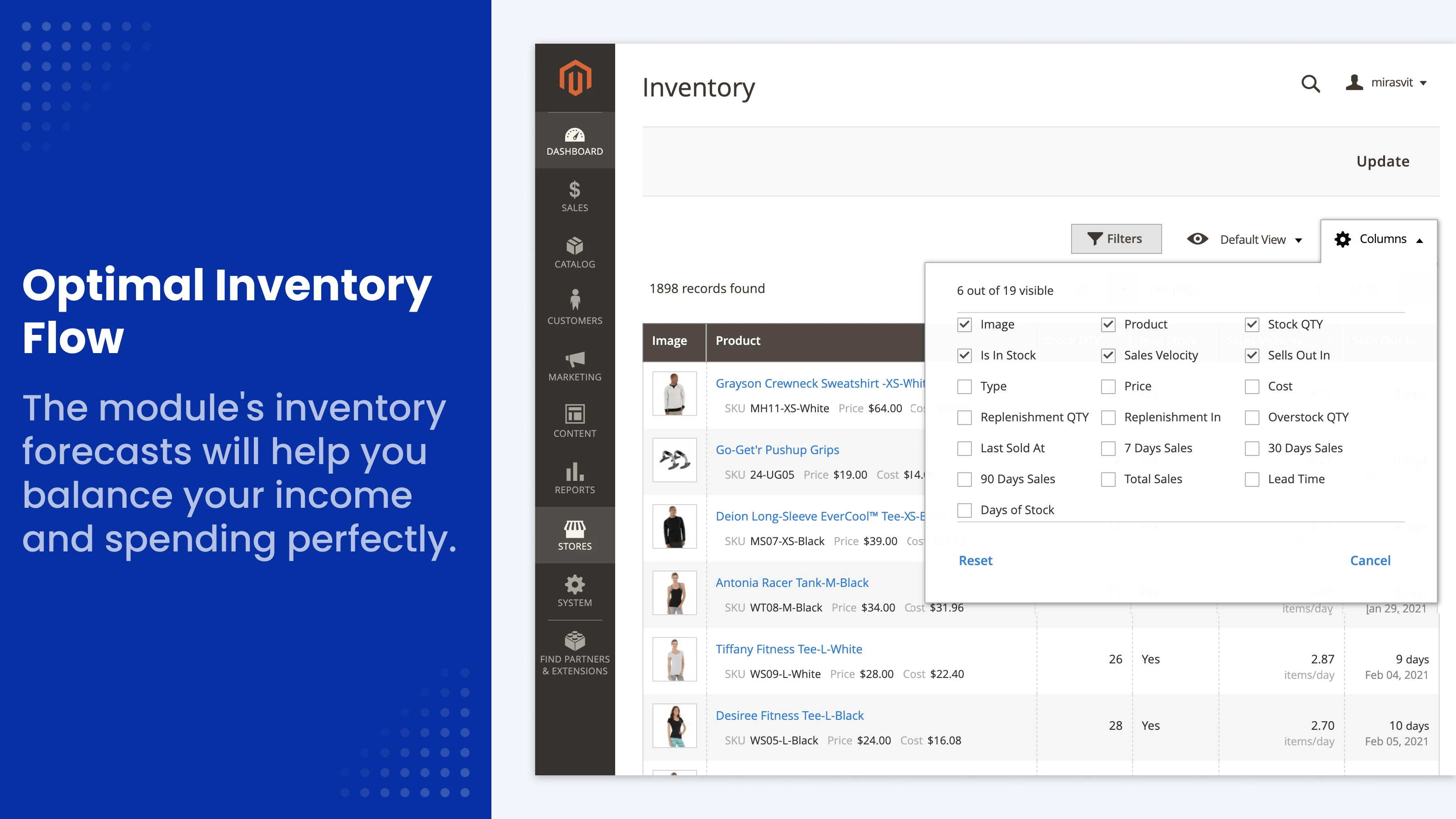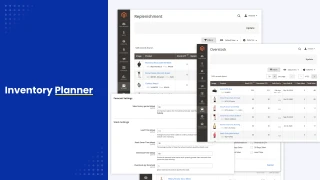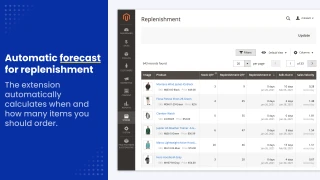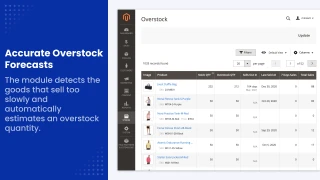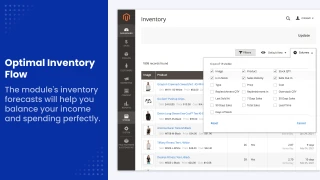 Business Value
Save money, save space, and save time!
Opportunity: You need to take extra care when planning your inventory supply. Purchasing just enough of a product so that you neither overstock nor sell out prematurely helps you maximize profits and leverage your warehouse space.
Problem: You can't plan out your inventory in Magento by default. You have to use either a dedicated spreadsheet or external platforms. Both of these options take too much time to set up and manage.
Solution: The Inventory Planner module automatically calculates inventory forecasts. With this extension, you'll always know which products, when, and how many you should replenish as well as which products currently have surplus items.
How It Works
The extension estimates the replenishment date and quantity for your products. The values are dependent on sales velocity, stock quantity, expected sold out date, expected reserve, and average replenishment time. It also estimates the overstock quantity for underselling products based on their sales velocity and stock quantity.
Not only is the Inventory Planner fully integrated with Magento but it also fetches all relevant data automatically. You won't need to configure anything on your own.
Incredible Efficiency
Optimal Inventory Flow
Elaborate Replenishment Plans
Accurate Overstock Forecasts
Saved Time
Maximize the efficiency of your stock

The module's inventory forecasts will help you achieve perfect balance between your income and spending. They'll also assist you in using your storage space as efficiently as possible.
Resupply just enough at just the right time

The extension automatically calculates when and how many items you should order: just prepare your invoices! You'll save money and prevent backorders at the same time.
Find what ties up your money

The module detects goods that sell too slowly and automatically estimates an overstock quantity. You'll know to promote these products heavier and order fewer of them in the future.
Free your team from remedial routines
Automatic inventory planning will save everyone in charge of inventory management an immeasurable amount of time. You'll be able to put the resources you freed from remedial work towards more strategically important tasks, like business development.
Valuable Insights
Make informed decisions
The module doesn't just give you recommendations on what to do. It also provides information that helps you eliminate any uncertainty regarding your supplies. You can use the Inventory Planner to review:
Stock quantity
Overstock quantity
Days until selling out
Sales velocity
Last sale date
Sales in the last 7/30/90 days
Total sales
Price
Cost
Stock status
Replenishment quantity
Replenishment date
Lead time
Days of stock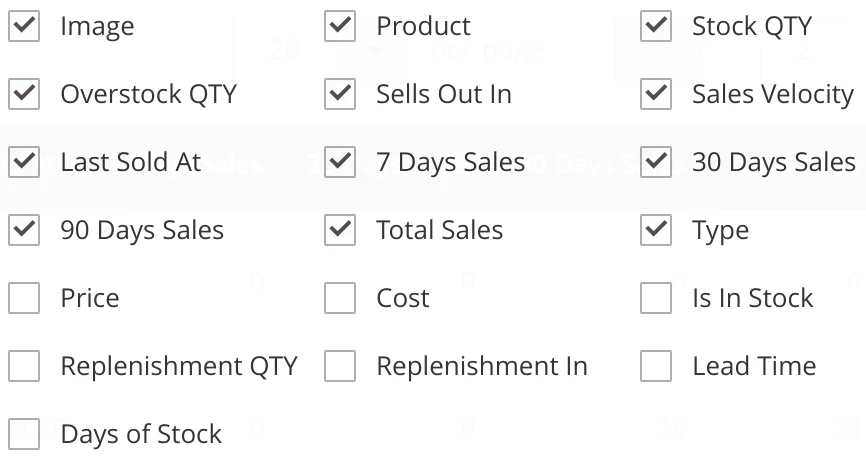 Not every product that is currently in stock is available for sale - some goods might be already reserved by shoppers. With our module, you will be able to see the actual saleable quantity in addition to the total stock quantity. The total saleable number of the each product is shown as a sum of available items in every warehouse of your store.
Excellent Usability
Automatic Configuration
Full Magento Integration
Real-time Updates
Excellent Performance
Start working right away
There's no need to add variables manually or reconfigure the module for your particular use case. Inventory Planner will make the forecasts on its own straight after the installation, using your store's already available data.
Plan and manage your inventory in a single place
With this extension, you won't need to use any external platforms. It only requires your Magento data, and it displays all the recommendations right in your backend.
Forget about data lag
The Inventory Planner updates its predictions right after the inventory data changes. You'll always receive the most up-to-date recommendations.
No need to wait
The module works quickly regardless of how many products you have in your store. Even a million SKUs won't be a problem!
Get the module and perfect your inventory flow!
See it in action!
Pick a quick tutorial to learn about various aspects of this extension
the plugin is really helpful to automate the replenishment and feeding stocks based on consumption while still you have to process the order manual it just relief you from doing a hell of manual jobs
Also installed: Affiliate, Follow Up Email, Store Credit & Refund, Advanced Product Feeds, Google PageSpeed Optimizer, RMA, Advanced SEO Suite and 7 more
Magento Stock Management Needs Help
Running efficient e-commerce requires dynamic optimization of stock. Store admins need more love in this area. The Inventory Planner module can address an apparent gap in the baseline Magento platform related to stock management.

The planner module is simple to operate. At the time of this review, it has only 5 screens: 2 configuration screens and 3 reports. The main purpose of the module is to allow the store admin to not only understand the low stock condition (trailing indicator), but also flip the game by giving dynamic stock projection (leading indicator) based on the actual sales performance. A powerful concept.

Once the admin understands stock projection, the module introduces a totally new Supplier entity for sourcing. This is needed to convert stock projections into reordering action. The Supplier entity permits multiple sources and (with a bit of creative rigging) nuanced and granular configuration per product. Another improvement area can be stock level alerts and profitability-based PO modeling.

This module is a welcomed addition to any Magento store dealing with restocking. Recommended for stores with larger stock variety and/or multiple suppliers.
Also installed: RMA, Help Desk MX, Store Credit & Refund, Elastic Search Ultimate, Advanced SEO Suite, Layered Navigation, Improved Sorting and 15 more
This module allows you to manage your inventory and know when to replenish it. I like it.
Also installed: Elastic Search Ultimate, Customer Segmentation Suite, Advanced Reports, Fraud Detector, Affiliate, Product Kits , Advanced SEO Suite and 7 more
I really like the tool. This makes my life much easyer.
- i would like to have an option for "single use products" to be able to exclude them
- Also multi Warehouse support would be nice
- Automatic mails also would be helpful
Also installed: Advanced Reports
Another Amazing Extension from Mirasvit.
Extension is amazing. Makes inventory planning much easier. However I wish there was a feature such as automatic e-mail when product nearly out of stock. (Such as 30-60 days of stock available). Also ignore product option can be good too.
Manual & Support
Need more help?
Save time by starting your support request online and we'll connect you to an expert.
Contact Us Now
Frequently asked questions
What exactly does the Inventory Planner module do?
This Magento inventory management extension automatically tracks the product catalog of your store and monitors the quantity of the items that were sold and reserved in orders for sale. Using this data, it calculates the rates of the product sales, which allows you to make estimates for such parameters of product sales and inventory stock:
Predicts the exact date when the product will be out-of-stock.

This Magento inventory management extension also shows the number of each product that currently is available in your warehouses. In the Inventory grid, this module allows a shop's staff to view such data as the availability of the product in stock.

Additionally, this Magento 2 inventory management tool shows the data for sales velocity of each product, and a sales statistics for 7, 30 and 90 days.

Shows the date by when the product needs to be replenished from the supplier to avoid an out-of-stock situation.

With this Magento inventory management software, a store's staff can get an exact number for the product replenishment that is calculated using the data on sales velocity, days to order, and receive a product from supplier (Lead Time), and the time period that actual inventory quantity should cover (Stock Cover Time).

The sales velocity is calculated for the time period that is specified in the admin panel of the module. By default, it is 90 days.

The Lead Time and Stock Cover Time are constants that are defined on the module's admin page by the store staff depending on the store's particular working arrangement with the suppliers. Get a Magento inventory management tutorial for this module in its documentation.

Informs the store staff of the products that have poor sales, and are overstocked.

On a separate page of the inventory management Magento admin panel, the module shows products with the lowest sales velocity in your store. This data is used to calculate the overstock quantity, which is calculated by the two constants that are provided in the module's admin panel.

The constants are Overstock Time and Overstock Quantity Threshold. The Overstock Time determines how long a product whose inventory quantity is greater that Overstock Quantity Threshold will not be qualified as overstock.
Does the Inventory Planner module work with multiple inventory warehouses?
The Inventory Planner module does not support Magento warehouse management, but it is capable of showing the inventory data for multiple sources of goods in the catalog of your store.
Most of the information in the Inventory, Replenishment and Overstock grids is displayed for a sum of the products available at each product source your store uses. For each source, it is possible to view individual data on the total quantity of items available and the saleable quantity. The latter is the total quantity in a warehouse minus the quantity reserved by orders that are currently not shipped.
How is the replenishment proposition calculated?
The Inventory Planner module is capable of displaying the date on which the inventory for a particular product should be renewed. It also proposes for each item that is specified for stock replenishment the restock quantity that needs to be ordered. The exact formula for the replenishment proposition calculation is available in the module's documentation.
Is the inventory stock number of a product visible to the customer?
The Inventory Planner extension was designed for usage by the store staff in the backend admin panel of the store. The inventory data is not available on the frontend of the shop, and customers can not access information on the stock numbers for any product of your store's catalog. Details of the module configuration can be found in its documentation.
Can Inventory Planner be applied to products with a quantity measured in units other than pieces?
This extension tracks the product stock by its quantity left in the store's inventory. Usually the quantity refers to the number of individually packaged products. The Inventory Planner can not directly track goods that are sold by measurable size. Still, it is possible to use a product unit of measurement as a quantity for the Inventory Planner to be able to track the inventory amount of such products.
For example, a textile is measured in square meters. If the store that sells textiles uses 1 square meter as 1 quantity on the stock, the Inventory Planner module will be able to track the inventory numbers.
Is it possible to find inventory data on a specific product?
Our extension provides inventory data filtering capabilities. Use filters to find inventory amounts for any item in your store catalog. Filter the catalog by either SKU, or a product name. The filtering can be done when SKU and product name are specified simultaneously.
How can I update the inventory indexes if the regular update exceeds the allowed time due to a store's massive product catalog?
In order to obtain the most recent inventory data in the Inventory Planner, it its necessary to manually launch an update by pressing the Update button.
The update operation launched by the Update button must finish within the designated time limit, but some stores can have such an extensive product catalog that the update operation exceeds the time limit and results in an error message. In such case, use a command for a command line interface bin/magento mirasvit:inventory-planner:reindex.
Changelog
Version
1.1.13
May 2, 2023
Ability to hide extra columns to improve performance
Added additional checks to avoid creating extra rows in the mst_inventory_planner_supplier_product table
Version
1.1.12
Mar 27, 2023
Version
1.1.11
Dec 30, 2022
Issue with ACl for adding products to a group or supplier.
Version
1.1.10
Dec 29, 2022
Version
1.1.9
Dec 16, 2022
Reasons to choose Mirasvit
Client focusing and satisfaction
These are our primary. A major portion of our new clients come from referrals from our existing clients. Our professional team of developers, marketers and support staff have invested the best knowledge and experience in the field into our work, so you know you can come back to us again and again.
Remarkable support
One year free and high quality support. We go to great lengths to provide maximum satisfaction with every module you have purchased in our store. By helping you with installation, configuration, answering your every question, we do all our best to eliminate any possible problems.
Risk-free Investment
30-days money back guarantee. If you are not satisfied with our extension performance for any reason, we provide a full refund.
Constant improvements and upgrades
We constantly add new features to all our modules, and are always interested in hearing your opinion and implementing your suggested features in our future developments.
Comprehensive Documentation
We provide an expanded user guide for every aspect of our extension, so you can find answers for all your burning questions.
Unencrypted source code of our products
You can customize extension according to your needs and requirements.
Usability and Performance
The Module is easy to install and upgrade, just follow our step-by-step user guide.
Ready for Magento Cloud
No core modifications. The extension has been tested in a Magento Cloud environment and is fully compatible with it.