 The customer's understanding of certain product features can be a decisive factor when choosing a product to purchase. Therefore, it is important to convey to the buyer the key characteristics of the product, discounts, and promotional actions. The extension allows you to easily create an unlimited number of labels for products, to create texts using a pattern, and to control linking the labels to products on the basis of values of attributes or on the basis of rules.
Buy this extension now and upgrade to Magento 2 for Free later!
Extension Demos
Pick a quick tutorial to learn about various aspects of this extension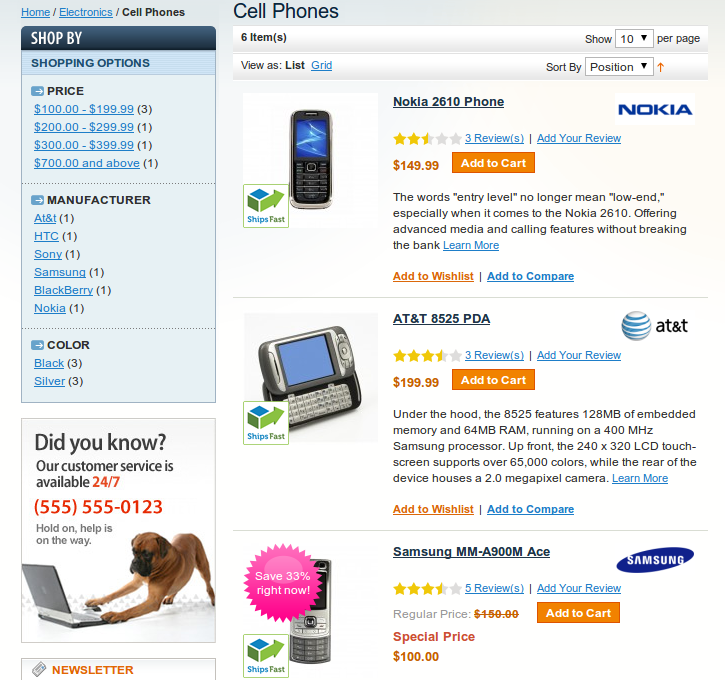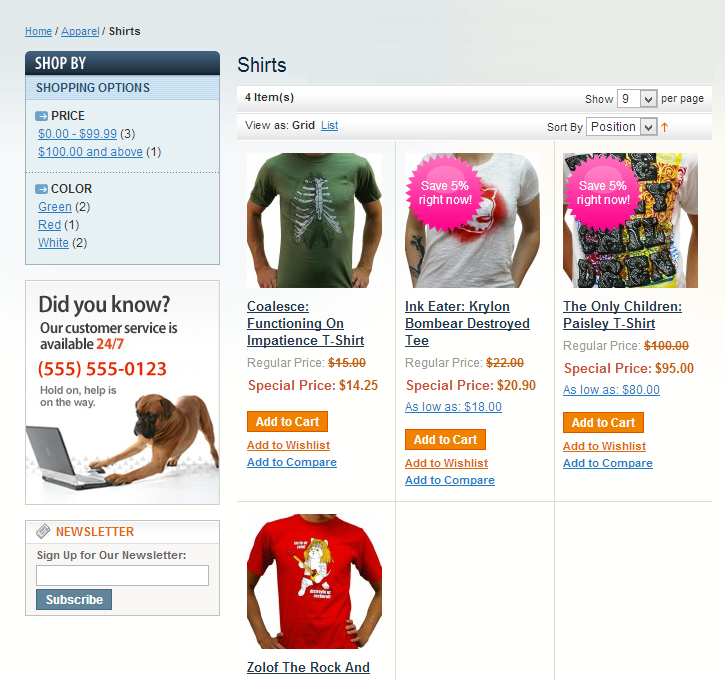 Key options
Two types of labels: on the basis of attributes, on the basis of rules
You have unlimited options for linking the labels to products on the basis of values of attributes or on the basis of rules (for example, to show the logo "Intel inside" for all products that have the attribute processor as "Intel" or to show the message "Free Shipping" for all products with a price greater than $100 from a certain category)
Enhanced interface of the rule management
In addition to Magento's standard conditions of rules, the extension adds a number of conditions necessary for convenient label management

new product (created N days ago)
discount – you can enter the threshold of a minimum / maximum discount for the product necessary for the label appearance
number of products at the store – allows you to display the label only for the goods running out of stock
product type

Unlimited number of labels and location places
You can easily create an unlimited number of places for label location on the product page, in the list of products, in the related products, upselling, cross-sales blocks.
Opportunity to manage the label position
You can easily change the position of each label on the product page. 9 positions are available by default: top-left, top-center, top-right, middle-left, middle-center, middle-right, bottom-left, bottom-center, bottom-right
Opportunity to set different images for the different pages of the catalog
You can easily appoint different images for the category page, for the product page and associated blocks (related products, compare products etc)
Texts created using a pattern
The extension allows you to create the label texts using a pattern. For example, "Discount [var_dsc]%!". Available variables:

[var_dsc] discount
[var_qty] number at the store
[var_price] price
[product_<attribute_code>] product attribute value
[category] parent category name

Opportunity to indicate the link for each label
Opportunity to indicate the label displaying date for promotional or season labels
You can indicate the range of dates, when the label should be displayed
Quick interface of linking labels to the attribute values
You can easily download the images for all attribute options on one page without long page reloading
See it in action!
Pick a quick tutorial to learn about various aspects of this extension
Simple but powerfull

Per

from Copenhagen, Denmark

Simple module with powerfull features, every shop needs this module.

Great Extension for Promotions

Scott

from Wilmington, United States

A picture is worth a thousand words. With this easy to use extension, the message of your promotion or detail is instantly conveyed to the customer without over explanation.

найбільш кастомізований екстеншн на цю тему, що я бачив

Vadym

from Ghaziabad, India

найбільш кастомізований екстеншн на цю тему, що я бачив. Єдиний мінус - після кожного оновлення правила, щоб лейба показувалась правильно, треба оновлювати Full Page Cache.

Better than other extensions

sh

from Republic of Korea

It is good to be able to provide a url link to the label.

i love you

turgay

from Istanbul, Turkey

I am using the mirasvit 11 module
I am very satisfied with all
correct
Absolutely must

It runs as expected

Carlos

from Alcalá de Guadaira, Spain

We installed and configured our theme to fit the features of the extension. We need to add a small code to our customized theme and now we see all the stockers in the product grid and product page. Very easy to implement.

Great extension

Emile

from Haarlem, Netherlands

Great extension - a must have for any site. I had a bit of a installation issue but, as always, the support at Mirasvit quickly responded and solved the problem.

Speeding up

Francis

from Central District, Hong Kong

This module really helps us a lot. It speeds up our website and increases the conversion rate at the same time. We love their follow up. Very good.

Excellent Product Labels!!!

Paulo

from Uberlândia, Brazil

Module Product Labels very well programmed and easy to set up, Developers and Mirasvit support are very competent. We are Customer Mirasvit from 2 years ago. Congratulations, Mirasvit is excellent.

Best Product Labels extension

TLW

from Springtown, United States

This is the most flexible Product Label extension that I've found. Mirasvit offers great support with any issue also!

Very good Extension

Paulo

from Campinas, Brazil

Simple and smart. Deliver the job done.

Simple Extension with powerful features

You will be surprised with what simple labels can do to your sales. The lables can be created with some very useful and powerful rules. We are extremely satisfied with Mirasvit.

Nifty little extension

MA

from Maidstone, United Kingdom

Just what we were looking for. It does the job as it says at the tin.

Setting up and make it to work was very easy. Just what we needed.

Now we can show various labels on our site with the help of this extension!

Value for money

Abhijeet

from Pune, India

I researched a lot to get label modules from different websites. Mirasvit has a good label module working. some hiccups initially which was resolved quickly by mirasvit guys. as always great support guys. Kudos to you. I will buy more modules from you.
Compatibility
The Product Labels is compatible with:
| | |
| --- | --- |
| Magento Community Edition (CE) | 1.4.1 - 1.9.4 |
| Magento Enterprise Edition (EE) | 1.10 - 1.14.2 |
Refund Policy
All customers can request a refund during 30 days after purchase of our software, if customer think that our software is not suitable for any reason. To request refund, customer must remove all copies of our software from its store, servers, computers, email, etc and confirm by email such removal. After receiving a request we will proceed refund within 3 business days.
If request for refund is received after 30 days after purchase, it will be rejected. Cost of installation and customization services are not refundable.
Support and bug fixing
Mirasvit offers free 90 days support of all software sold on this site. Customers can report all bugs, which were found in our software. We can solve only the bugs directly related to or caused by our extension. Those bugs must be reproduced on fresh Magento installation without any 3rd party plugins. We will solve that bugs in order of our development plan.
We don't do any type of custom work and we have a right to reject a support request if the issue is store-specific (cannot be reproduced on the fresh Magento installation without any 3rd party plugins).
Mirasvit will not be liable to you for any damages (including any loss of profits/saving, or incidental or consequential) related to our support service caused to you, your information and your business.
Software updates
Mirasvit offers free lifetime updates if they areavaliable. Updates are limited to the Magento version branch (1.x.x or 2.x.x). Customer can download an update and install it by himself. If support period is expired, Mirasvit.com can't solve any possible problems with our software during or after updating. Mirasvit does not guarantee that it will release updates for any product.