 Publication of your products in the comparison shopping engines will allow you to attract more new buyers to your store. This extension allows you to automatically generate a feed with products for all common comparison shopping engines (Google Product Search, Shopping.com, Nextag.com, Twenga.co.uk, etc.).
Buy this extension now and upgrade to Magento 2 for Free later!
Extension Demos
Pick a quick tutorial to learn about various aspects of this extension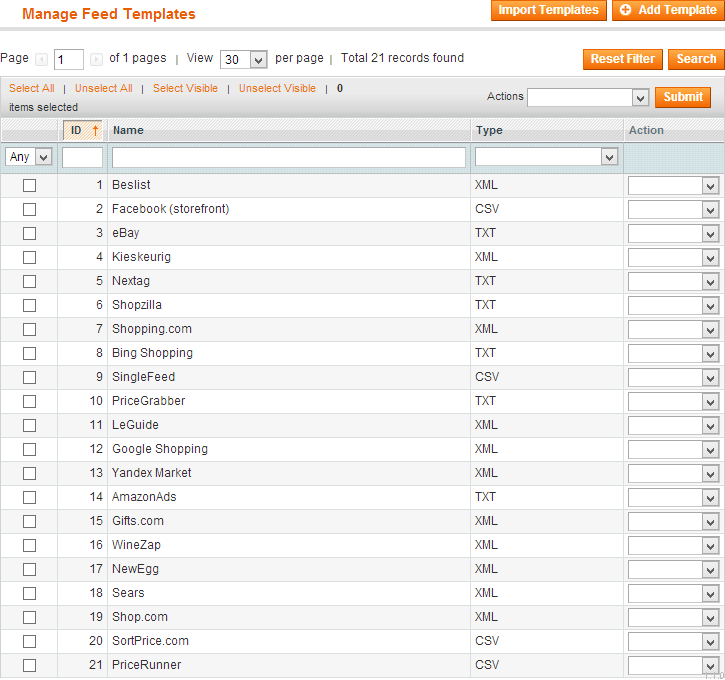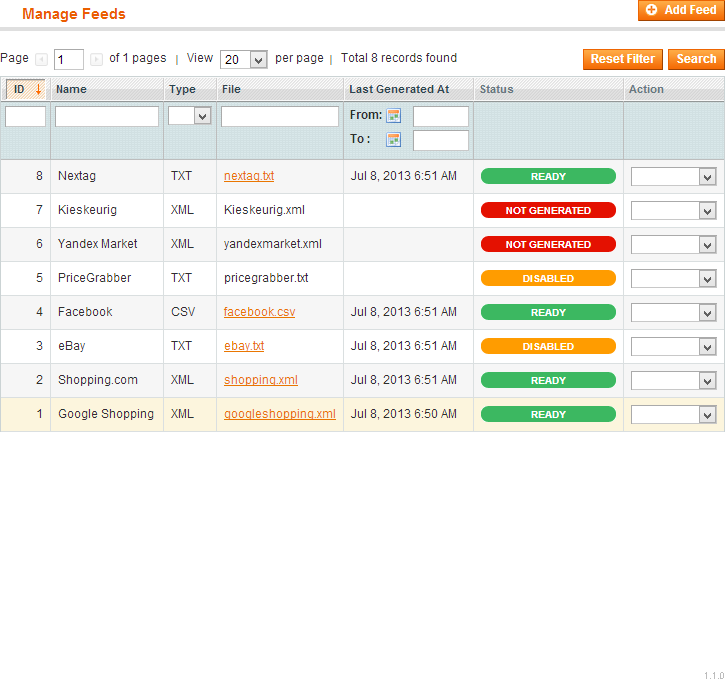 Feed is a file containing key information about all the products in your store. It uploads the information to the price comparison engines and the price comparison engines display your products in a lists of offers to purchase. How relevant your deal will be presented on the price comparison engines, will depend on how correctly the feed is created.
The Advanced Product Feeds extension has more than 20 configurations ready to create a product feed for all key price comparison engines. It will allow you to begin representing your products on price comparison engines very quickly.
The advanced feed manager supports various formats, has large-scale opportunities for filtering the uploaded products, and supports the creation of dynamic attributes and category mapping.
Generation of feeds occurs very quickly. At that, a generation process is divided into few smaller processes. Due to that generation of feeds, even 200000 products will be done without any problems.
Key features
More than 20 ready configurations for all popular price comparison engines

Convenient and flexible mechanism for filtering products (filters based on attributes and performance filters)

Supporting formats: csv, txt, xml, zip

Email notifications

Comprehensive Analytics

Support multiple stores and multiple languages
Feed Management
Opportunity to create feeds for any price comparison engine

Opportunity to export different data and prices for each feed or store

Opportunity to access a magento product feed file by a permanent link

Supports Google Analytics

Uses a campaign tracking code to tag the destination URL of each product. This way, traffic from a comparison engine will be reported in the "Traffic Sources > Campaigns" report

Email notifications

Ability to notify through email about generation status (success or fail), number of exported products and time of generation

Powerful filters

Ability to use case conditions and assign few filters to one feed. Filtering allowed by:

any attribute value
price
stock status / quantity
category
attribute set
product type
any attribute value of parent product

New

Comprehensive Analytics

Number of clicks, revenue, conversation rate per each magento data feed

Dynamic Attributes

Dynamic Attributes allows you to use your own conditions to define or change the exported value

Convenient interface for mapping the attributes, with an opportunity to indicate the type of displayed values

Category Mapping Must Have

Easy to use interface allows you to tie current category taxonomy with the taxonomy of any price comparison engine

Export only new products

Ability to export products that are not included in a previous magento product feed

Performance filters

by number of clicks
by number of orders
by revenue
by conversation rate (%)
Managing generation and submission
Opportunity to automatically generate the feeds according to schedule

Opportunity to automatically upload the feeds according to schedule

Opportunity to send the feeds through FTP/SFTP

Opportunity to enable / disable the passive mode
Templates
Pre-installed templates:

Google Shopping
Amazon
eBay
The Find
Shopping.com
Shopzilla.com
Commission Junction (cj.com)
PriceGrabber.com
Facebook
Buy.com
Nextag.com
Getprice.com
Newegg.com
Shopmania.com
LeGuide.com
Kelkoo.com
Twenga
Sears.com
Vergelijk (vergelijk.be)
Beslist (beslist.nl)
Kieskeurig (kieskeurig.nl)
HotLine (hotline.ua)
Yandex.Market (market.yandex.ru)

Opportunity to import / export templates

Opportunity to export reviews (Google Merchant Review Feeds)
See it in action!
Pick a quick tutorial to learn about various aspects of this extension
Top support

Canenero

from United States

Very complete extension and top support!

Good

Bron.pl

from Częstochowa, Poland

A good and advanced add-on for generating xml feeds

Best Feed extension

nash

from Dubai, United Arab Emirates

help us a lot to generate different kind of feed ,especially for google shopping

what you need

John

from Cerklje ob Krki, Slovenia

I've used this extension and it helped my eCommerce. Recommend big time!

The best

EmilEverss

from Riga, Latvia

This is best module out there! Thanks Mirasvit!

Extension works fine!

The feed extension tackles all issues I had with feeds. It's comprehensive, all possible filters can be adjusted. Excellent choice!

It's a must

sxx

from Cerklje ob Krki, Slovenia

This extension is a must if you want to successfully expose your products on Google, Facebook and other channels that will bring you potential customers. It's easy to manage and implement into all mentioned platforms. I can not imagine using my store without it.

good

it is very good for me. i am vert happy to solve my questions

Great extension

itsik

from Tel Aviv, Israel

Excellent extension, you can build feeds with maximum flexibility, everything can be done, I use it to export my products to facebook store and google shopping.

impy

adeeb

from Leicester, United Kingdom

we bough lot of module for our site. Customer service is good

Excellent Extension

Dan

from Ashqelon, Israel

Allows hassle free export of virtually any information out of our Magento installation, very helpful for integration with 3d party services

Great option

Ivanvart

from Zapopan, Mexico

All as expected, many options

Quick Feed Creation for Many Popular Channels & Marketplaces

Christys

from United Kingdom

Feed Export for Different Channels - Easy to Use with Great Support. Documentation for assistance. Bug Free and Easy to Upgrade

excellent

jerry

from Qingdao, China

Fast, good support with setup.

Easy to use

AJ

from Tulsa, United States

Made creating products feeds quick and easy!

super useful

brandlive

from Buenos Aires, Argentina

working fine... plug and play!

This extension

Alfredo

from São Paulo, Brazil

This extension makes you sell much more, necessary!

Great Plugin for M1

Scott

from Wilmington, United States

We are on M2 now, but remember this version working really well for magento 1. Lots of features and solid code.

Easy to use

Mike

from Echtenerbrug, Netherlands

And very configurable. Support is also great

I m happy

gokkis

from Bad Vilbel, Germany

I bought from this extension 2 times. For two shops. And i m happy with the functions, support and updates.

Perfect for Google Shopping etc

Kasper

from Aabybro, Denmark

Great extension for Google Shopping and others.
Saves a lot of time and great options to select what fields you want.
Easy to adjust og works like a charm.

Really great app.

Rob

from Uxbridge, United Kingdom

Properly impressed with this extension and is used for so much more than just google shopping feeds. Use it for product verification, customer data feeds and of course google shopping.

A "must have" extension

Chantale

from Pointe-Claire, Canada

This extension is great.Highly recommend.

Great extension

This extension is great. Thank you for your work.

Good extension

Y

from Manchester, United Kingdom

I was use this for long time and good for use.

Great extension with lots of templates

Alfred

from Wels, Austria

There is not really a need to know much about XML or CSV. The extension comes with ready made templates for Google, Amazon and lots of others! Templates are easiliy to adapt too - there are no limits. Great support as always.

Very comprehensive extension

Annette

from Bentleigh East, Australia

We found this extension to be very comprehensive, but also easy to use. Highly recommend.

Produto excelente!

Marco

from Sorocaba, Brazil

Uso há mais de 2 anos, nunca deu problema é altamente customizável, user friendly, não precisa ter conhecimento em programação. Enfim, recomendadíssimo para o mercado brasileiro também.

A "must have" extension for all store owners

Robert

from Oppegard, Norway

This is really a "must have" for all Magento store owners. Lots of usefull reports displayed in a beautifull and well arranged grapic user interface.
Also the Mirasvit team offers exeptional support if you should experience any problems.

Works great!

Brian

from Forked River, United States

Have been using this for a year now, easy installation and no problems! Has brought us a lot more sales through google shopping!

Excelent

Weverson

from Belo Horizonte, Brazil

Best product with a lot of filters.

Easy install, does what says on the tin

Adam

from Birmingham, United Kingdom

No problems installing this. Worked so well I'm back for more. Excellent support also if you need to ask a question. Highly recommended.

Just simply the best productfeed generator

HRR

from Bradford, United Kingdom

I use it for google shopping and some others, and its just the best you can get :-)

Great Module, in less hassle do the lot of work

Simon

from Ahmedabad, India

Great Module, in less hassle do the lot of work

Works great with FB dynamic Ads

Jiradech

from Ban Bang Phli Nakhon, Thailand

Just install and set up feed with google shopping template. Works with FB campaign without any issue.

works great

Amir

from Selangkor, Malaysia

easy to install and work as expected

Great Extension

Tom

from Kenosha, United States

Great Extension, was up and running in no time. Had sales from it the very next day!

good product

Giuseppe

from Terlizzi, Italy

good product

Great Extension!

Alexander

from Berlin, Germany

Nice Extension! Especially the Dynamic Attributes Feature is really helpful!

Awesome pluggins

xavier

from La Landec, France

Really a nice feature if you want to inform your clients without needed to answer to all your email. The process is very simple and it's a really nice service for our customers.

Great - Must Buy!

nbb

from London, United Kingdom

his is the best feed extension in the market.
We had a specification list for what features were required and sent this over to them to let us know what was possible. They responded very promptly stating everything was possible!
We have purchased from them in the past and were very happy with the extension and support. We were certainly not let down.
The extension can do almost everything and the developer support is fast and responsive and most importantly very helpful! We came across things we wanted to do after installation, and even those were possible.
Great extension, must buy!
Thank you

best extension ever

Mehdi

from Cordova, United States

this is the 2th extension i purchased

Just what is says on the tin

Does the job exactly as descrtibed, what else could you want from it.

Best in one

Sanjeev

from Alpharetta, United States

Best software we can us e for google merchant

Great

This extension is great!

Super Extension!

Konstantin

from Dubai, United Arab Emirates

Helped us advertise on multiple platforms using feed database!

Support is excellent

Nalini

from San Fernando, Trinidad and Tobago

I had problems after installation and they were able to assist. I've not started using the feeds as yet but I will update my review when I do.

Excellent Products Feeds!!!

Paulo

from Uberlândia, Brazil

Hello visitors, give up searching for Supplier of Product Feeds module, this module Mirasvit is the best available for Magento. After we tried several others, we stopped at Mirasvit no doubt this is the best and most complete module for this purpose available for Magento. We are Customer Mirasvit from 2 years ago. Congratulations, Mirasvit is excellent.

Powerfull tool

The extensions is great and add a lot of value to the magento store!

Great Extension

Mathias

from Sarasota, United States

My shopping feed has never been easier and more automatic. Works great, I highly recommend this extension.

No Issues, Easy to Use

Rivkah

from United States

No Issues, Easy to Use

Greate!!!!

agordi

from Odesa, Ukraine

Greate Extention!! Help a lot of generate feed for export to any markets~!!!

The Best!

Paulo

from São Caetano do Sul, Brazil

Fantastic features

This product worked great!

david

from Winchester, United States

We lobe this plugin. Worked exactly as advertised.

Great product and very handy

Shabaka

from Gerrards Cross, United Kingdom

Thanks to the team for this great products. At first it was a little tricky but once setup it is a life saver.

Super Nice

and flexible Module. When you find out how to handle it you can make all feed what you need. 5 stars.

Superb handling of configurable and grouped products - brilliant!

Joelle

from Shipley, United Kingdom

I thought I could generate my feeds myself using an advanced export tool - boy was I wrong and I wasted my money, because most export tools do not support grouped products properly.

Most of my content is in the group, but of course some attributes and price/sku/stock are in the simple product. This tool allows me to pick for each field where they come from, and this is magic! Add to it constants and patterns and I could craft exactly what I wanted. In 20 minutes!

A time saver, and finally my products are again on Google feeds. Worth every penny after a day already, and I've only done 1 feed!

Amaizing

Nabil

from Valencia, Spain

A very great support and very complete, much better than Amasty one

Very good Extension !

Srinivas

from Tirumala - Tirupati, India

After searching online, we found this extension was very useful and it was fulfilling all our needs and we don't need to spend any time on customization of our application. Great work!!

Must Have!

Michael

from Sydney, Australia

Great tool if you want to publish product feeds to Google Shopping.

Great extension with great support

Datacom

from Venturina, Italy

Great extensions with good result!

Great Plugin

Devon

from Fakenham, United Kingdom

Very good plugin if you know how to use it.

Excellent

Murray

from Richmond, United Kingdom

Great support for a great product

Good Module

Willian

from Joinville, Brazil

A good module to automate the export management product feeds

Great!

Milosz

from East Rutherford, United States

Overall, this extension makes everything simple and fast. Ready templates are there for you and support is willing to help with everything!

I've been using the extension for two years and we love it!

Sophie

from Pingtung City, Taiwan

Great extensions with good result!

Nice module

Rajat

from Leonia, United States

Worked Like a charm

Great Product

Abiola

from London, United Kingdom

Many thanks for great product.

Made my life so easy

Eileen

from Brooklyn, United States

My affiliate feeds were a mess and with this extension I was able to straighten everything out. Works perfectly!

Best Feed Plug In

Chris

from Rochdale, United Kingdom

I've tried a few google shopping feed plug-ins for Magento but this one is the best. It's fairly easy to use once you spent a bit of time getting used to it. It allows you to filter out any products you like without needing developers to get involved.

Excellent Choice

Josh

from St. Augustine, United States

I have purchased and setup multiple extensions from this company which all function perfectly with my site. The support is top notch with fast responses and helpful tips when needed. They have even gone above and beyond to help me with issues outside of their product scope. I continue to come back here for my extensions and highly recommend to anyone who is shopping for quality addins with excellent support!!

A great plugin

Ruozhi

from Madrid, Spain

Just know a little programming, this plug-in will become a very useful tool.

Awsome product

Geneboss

from Citrus Heights, United States

Very easy to install and simple to follow with great useful features.

Works for Amazon Product Feeds

We used this extension successfully to create brand new products on Amazon. I.e a full product specification feed rather than just an inventory/price feed. The M2EPro extension was unable to model our products for Amazon and other feed extensions just failed to produce the feed on our resource limited server. This is a great extension. The only thing it can't do is to produce the weird Amazon headers required on the feed. The Mirasvits team said they were happy to do this for us but we just haven't got round to it yet.

very Usefull

Gökhan

from Ankara, Turkey

I bought 2 plugin from Mirasvit. Both my job incredibly easier. Currently this company I'm thinking of buying 2 more plug-ins. I hope I get a discount because of the plugin.

Excellent, excellent, excellent

PK

from Los Angeles, United States

Go with this extension over a third party. You can do everything with it, and everything is easy to work with once you get the hang of it (which is like 2 hours).

Best decision we made to get integrated with our marketing channels.

Documentation and dev support is excellent as well in case you need that. They don't ask 100 follow-up questions before getting to work!

Good plugin to get

This is a very good plugin to purchase. IF you have a site with a large catalog of products just look no further. This will not disappoint. Not to forget the superb support offered by Mirasvit.

Better then others

James

from Myrtle Beach, United States

This is the only Feed Extension that would no crash with over a 100 products generation and feed. Now all I need is a way to set Cron Job priority as it gets bumped by other jobs

This extension works like a charm! and super excellent support!

Well i have to say that this extension works like a charm! we purchased other extensions from other company, but the extension we purchased from Mirasvit is the best one. I have some questions while installing and configuring, but i got great support from Olha. Great extension and Great support! thank you!

Nice extension

This extension is perfect. Is possible custom all fields and include in different feeds.
I recommended this extension

Must have module if you need a feed.

Sergei

from Te Awamutu, New Zealand

Powerful, easy to use!

Works like a charm

Michael

from Brisbane, Australia

Highly recommend this extension, it does exactly what it claims and it does it well. Support answered the couple of questions I had quickly and efficiently.

Works Great

Brad

from San Antonio, United States

Works great, only issue is some of the preconfigured feeds need updated to the current feed specs, but it's really easy to fix yourself. I would definitely recommend this extension. It works great for my needs.

Data at your fingertips

John

from Gainsborough, United Kingdom

Makes it far easier to extract the data you neeed. No problem on install. Fantastic support from Mirasvit as always.

It works as expected

Rudy

from Los Angeles, United States

Not much to adjust if you are looking for a standard feed push to Google or other similar search engine sites. However if Google changes something, I am not sure how responsive the developer to provide us the patch or direction on tweaking the module.

Best in class

Robert

from Leeds, United Kingdom

Firstly we tried another product feeds, but their extension not so powerful. Then we bought this extension, it's exceptional solution for products export. A lot of helpful features, pre-set feeds and great customer support.

This is for pros

SB

from Reno, United States

The main thing is that the cron and feed formats work. This is not a simple click-and-play type of extension. You need to understand marketing and product feeds, as well as some knowledge of file formats but once you have this all configured, it is going to vastly improve the accuracy of your feeds, listing quality, and ultimately save you tons of time.

With that said, the default templates work well and get you most of the way.

Dynamic attribute!

Tatsuro

from Takasagocho-takasemachi, Japan

I like dynamic attributes function. I use it to export google shopping's shipping and ebay's product shipping. Before I installed this extension, I manually calculated the shipping in Excel file.

It worth to buy,and there service is great

Xiaoya

from Hangzhou, China

i bought the extension last month,but i dont know how to configure it,Alexei Tyshkevich is very patient and help me resolve a lot of questions, there service is great, Highly Recommended to Buy it. i will consider to buy more extension from here.

Flexible and has great reporting

Tom

from Ventura, United States

Very happy with the extension. The reporting features are great.

very useful

Marco

from Grottaglie, Italy

this plugin is a must-have for ecommerce sales. Very useful and complete!

Easy and simple

Iqbal

from Cromer, United Kingdom

Top extension, and being able to connect to every major comparison and site search engine. Excellent support and user documentation makes it simple to set up and have product indexed relatively quickly.

Great product

Leonid

from Asbury Park, United States

I love this extension

Feine Sache :-)

Rene

from Strausberg, Germany

Kann das Modul nur weiter empfehlen! Alleine durch den Performance Filters für jeden einzelnen Feed.

Great code, great support.

Ghio

from Echtenerbrug, Netherlands

Highly recommended. great code and great support. i mean by that that in few mins. you get personal answer on your questions. That have to be rewarded. Thanks.

Most versatile and feature rich Product Feed extension

Jeremy

from Salt Lake City, United States

Highly configurable and stable extension. I did have a couple issues that were quickly fixed by the great support team. Only downside of support is their hours don't match mine very well.

I would make money without it

I have more then 300 000 products and no other extension on market was able to handle it, but this extension work great and because more then 70% of my revenue comes from price comparison sites for me it´s a must have.

Works way better than expected

Frank

from Rosemead, United States

It is working perfectly fine, saved us tons of hours. Easy to install and operate without an issue. So far so good after 3 months.

Great extension, great support

Andrew

from Nantucket, United States

Very easy to use. I had a few questions and support was very quick to reply.

Excellent extension for large store, Excellent Support

Mirasvit extensions are superb and their support is excellent. This extension gave us easy feeds for google shopping and idealo, etc. Our sales went up by 25% due to referrals coming from idealo and google.

Great extension

Andrea

from San Martino Dall'Argine, Italy

Very great extension, very useful and easy to use.

Great module

NIJAZ

from St Louis, United States

Works awesome updating inventory on all my sales channels

Advanced product feeds

Beverly

from Oviedo, Spain

One of the best Feeds modules available. Great value and easy to integrate with good support

Excellent Extension

Dan

from Cincinnati, United States

This is a great extension. It's well written and is very flexible. We use it all the time in our store.

Incredible product incredible support

Dale

from Newport Beach, United States

This extension was the perfect solution for our Facebook advertising needs. The post-sale support we received was incredible.

I highly recommend Mirasvit for product quality and support.

Trully must have it!

Strongly recommended for economy your market budgets and global analytycs This extension very convenient and witout analogs. Special thanks for the quick support. Mirasvit is the company of professionals, thanks a lot!

Very Useful Extension

László

from Budapest, Hungary

Very useful, works like described and so simply. The Advanced Product Feeds Module is highly recommended because it is extremely flexible as you can export every possible field which can then be manipulated in ever possible way. This allows a truly custom export file.

Great Extension and Great Support

Johnny

from Santa Ana, United States

The extension is very professional and the great support. I am very satisfied with the results. Keep up the good work Mirasvit.

Great extension with lots of features

Rob

from Rijssen, Netherlands

Although this extension has a lot of predefined feeds, i needed an extension for a real estate website that could connect the objects with multiple real estate search agents. This extension made that really easy to accomplish, and with the built in filters i can even choose which objects are connected to different agents. Thumbs up!

Good extension with the right templates for the most popular sites

Dennis

from Nijeveen, Netherlands

Good extension, works like it should do. the templates are great!

Very easy to us

ethan

from Savannah, United States

Ive tried a few other feed extension. This one is by far one of the best. It comes with many pre-build templates out of the box that help setting up profiles like a breeze. Dynamic and category mapping is a huge plus as well. Support is amazing as always.

Works great and custom work for free within a week!

This module delivers great performance and features all backed up by the Mirasvit service.
I keep buying modules with this company!

Good Extension

Kenny

from Farmington, United States

We started using this extension when we launched our new Magento store. It is easy to use and is easy to customize.

Marvelous Extension

Waqar

from Amersfoort, Netherlands

I switch from another extension for product feed and is really satisfied with the results and the possibilities of customization as per your won need.
A perfect find to create product feed for various price comparison platforms.

The best feed extension

Teodor

from Sofia, Bulgaria

This is the best feed export extension on the market. I check 5-6 other "similar" extensions but this is the most powerful extension. You can track clicks, orders and etc. even with graphic view. Also you have more than 20 predefined feeds.
Also the support is amazing.

the categories filter have problem.

I love this extension,it's work good.but there is a big problem.

When add categories to filter,it's will redirect to 404.

I have check the demo.it's the same.I think developer need fix this ASAP!


Except this problem,i recoment this extension.

Awesome module and support

brady

from Memphis, United States

This is an awesome module. Should be built into every Magento store from the start. I wouldn't want to be without it.

Best extension ever

Sorin

from Oradea, Romania

I have used other extensions before but no other extension is flexible like yours. Cheers.

Best Module

Mateusz

from Uhowo, Poland

very good module to generate XML files. Everything works as it should.

Great Product and Greatest Support

Avrohom

from Brooklyn, United States

Great product but even better was the support to get his running perfect - would strongly recommend

Nice and easy to use

Radovan

from Bratislava, Slovak Republic

It's poweful in custmization and easy to use. Very nice is that we get 1 year updates for next versions, what is unique among Magento developers.

Makes like easy!

Kristi

from Shawnee, United States

We have just recently purchased this and are only using a small number of feeds so far, but it has been seamless and works splendid! We now have our complete product offering available on Google shopping instead of just a few items that we hand-loaded previously which was time-consuming. We are excited to see what happens when we start on some other product feeds as well!

Saves me a lot of time and works perfectly

Per

from Copenhagen, Denmark

The perfect module for delivery of product feeds to comparison sites, Works like a charm, easy to use, always updated and best of it all it saves me a lot of time.

Excelent

Eduardo

from Salvador, Brazil

Very useful extension, excelent filters and very fast. Recommend!

Professional Extension

mariano

from Bilbao, Spain

The extension is very proffesional and the service support es the best service in magento

Great extension

Easy to use and easy to setup. Includes templates for many providers

Excellent Product, Amazing Support

This extension does exactly what its supposed to and the built in templates make it usable right out of the box.

Very intuitive and easy to use interface will allow you to generate custom feeds for any purpose within moments from installation.

The support team is very responsive, and has implemented 2 suggestions we had into a new build of the extension within 24 hours, which is nothing short than exceptional!

Highly recommended!

Must Have

RusticHound.com

from United States

What a great extension and amazing customer service!

Great extension and great support

AbdelKarim

from United States

For me all time it's difficult xml feeds. Any issues with extension, and support work fine. A good extension.

great product

Albert

from United States

We purchased several extensions from Mirasvit and we could not be more happy with the quality of the product. Customer support is second to none. These guys are patient and professional.
Mirasvit is the first place we look every time we need a new extension.

This is just mast have module

This is one of the best plugins that we have used. It's extremely well thought out, the list of features and feed options is quite flexible!

Extremely convenient ext.

Стоит брать хотя бы за возможность массово прописать тайтлы и дескрипшины.

High quality and immediate ROI

Viktor

from United States

Simply the best magento extension ever experienced both from the point of view of business - saves years of man-days once installed and provides for clear and transparent added-value to your online business, - and technically it is ideal and flawless, simple UI with a sophisticated software logic behind it. Highly recommended for any growing e-commerce.

Best services!

Best services and I am quite confident that the same level of services I will get in future too.

Great speedy support

not only do they have a ton of features but their support is fast!

Excellent Support, the best extension

This is one of the best plugins that we have used!

Great extension

SimplyWholesale

from United States

The advanced products feeds extension is a must for any magento platform looking to provide CSV, TXT or XML files to list products on other platforms. The support received has been very quick and efficient and we have managed to increase our sales considerably as a result.

Essential

Bernardo

from United States

This is an essential tool for you who want to sell more and more at Google Shopping. Easy to use, you will start sending your products in minutes. This is a Top 5 magento extension and you must have it.

Excellent Feed Extension

Robert

from United States

We've tried other extensions for product feeds for Magento but had problems and abandoned the other and went with this extension which I am very happy with. We had a few issues in the beginning (as we do with most extensions) but the Mirasvit support took care of everything right away. We're now sending our Google feed directly from Magento and it works like a charm. Other feeds will be transferred off our current provider for an annual savings of over $5000. I highly recommend this extension and this company since their support is fantastic.

Very good, possibly the best

Papimaoui

from United States

I've tried several feed extension from other well known developers and this is by far the most powerful options.

Creating good quality feeds from existing Magento data is not a simple task, but this extension has the power and flexibility to manipulate the existing data to conform with the many Amazon inventory file guidelines. Now I am able to export complete and optimized inventory flat file directly from Magento, something that before took me hours of work in Excel.

Extension is well thought out, easy to install and works without any problems. Great support and willingness to continually improve the extension.

Awesome Plugin

This is one of the best plugins that we have used! It's extremely well thought out, the list of features and feed options is extensive! The functionality / ability to generate and customize new feeds is tremendous. The attribute/category mapping features are very extensive and extremely flexible.
The team behind the product is very responsive.
Extension was easy to install and works as advertised.
Awesome!!!

Must Have

Bernardo

from United States

A "must have" extension. This is my 3rd extension from Mirasvit and I really recommend it. The support is very good and they know what they're doing.

Awesome Plugin

This is one of the best plugins that we have used! It's extremely well thought out, the list of features and feed options is extensive! The functionality / ability to generate and customize new feeds is tremendous. The attribute/category mapping features are very extensive and extremely flexible.
The team behind the product is very responsive.
Extension was easy to install and works as advertised.
Awesome!!!

Great support and outstanding extension

Thanks a lot, Mirasvit. I really love this extension. It is easy to use and easy to configure.
Thanks a lot to support. I bought this extension with instalation. Mirasvit support installed it and did full configuration of the feeds I asked them to configure.
Thank you so much, guys.

Must have module

niko0487

from United States

This is just mast have module, and service from Mirasvit is incredibly good

Good Support, Nice extension

undecided

from United States

nice setup for a feed, quite flexible, not tested for more product catalogs yet, but so far quite happy - especially the support is very good

Handy module

We cant wait for the next version with category matching and more goodies.

This extension makes us happy. And although it is not a 1 click install is balances between hands-on and ease of use. Perfect.

You guys are awesome

Nielsen

from United States

Thank you very much, it appears to operate exactly like I was hoping for. You guys are awesome, I will definitely be looking at other extensions you carry that will help us along. Take care.

feed back

Georgiy

from United States

The great and fast support, very flexible module
thanks
Compatibility
The Advanced Product Feeds is compatible with:
| | |
| --- | --- |
| Magento Community Edition (CE) | 1.4.1 - 1.9.4 |
| Magento Enterprise Edition (EE) | 1.10 - 1.14.2 |
Refund Policy
All customers can request a refund during 30 days after purchase of our software, if customer think that our software is not suitable for any reason. To request refund, customer must remove all copies of our software from its store, servers, computers, email, etc and confirm by email such removal. After receiving a request we will proceed refund within 3 business days.
If request for refund is received after 30 days after purchase, it will be rejected. Cost of installation and customization services are not refundable.
Support and bug fixing
Mirasvit offers free 90 days support of all software sold on this site. Customers can report all bugs, which were found in our software. We can solve only the bugs directly related to or caused by our extension. Those bugs must be reproduced on fresh Magento installation without any 3rd party plugins. We will solve that bugs in order of our development plan.
We don't do any type of custom work and we have a right to reject a support request if the issue is store-specific (cannot be reproduced on the fresh Magento installation without any 3rd party plugins).
Mirasvit will not be liable to you for any damages (including any loss of profits/saving, or incidental or consequential) related to our support service caused to you, your information and your business.
Software updates
Mirasvit offers free lifetime updates if they areavaliable. Updates are limited to the Magento version branch (1.x.x or 2.x.x). Customer can download an update and install it by himself. If support period is expired, Mirasvit.com can't solve any possible problems with our software during or after updating. Mirasvit does not guarantee that it will release updates for any product.