 Help Desk MX - is an essential and must have extension for every Magento store, that allows you to provide a complete customer care service and excellent support attendance. It allows every customer to submit support requests in the most suitable manner.
Buy this extension now and upgrade to Magento 2 for Free later!
Extension Demos
Pick a quick tutorial to learn about various aspects of this extension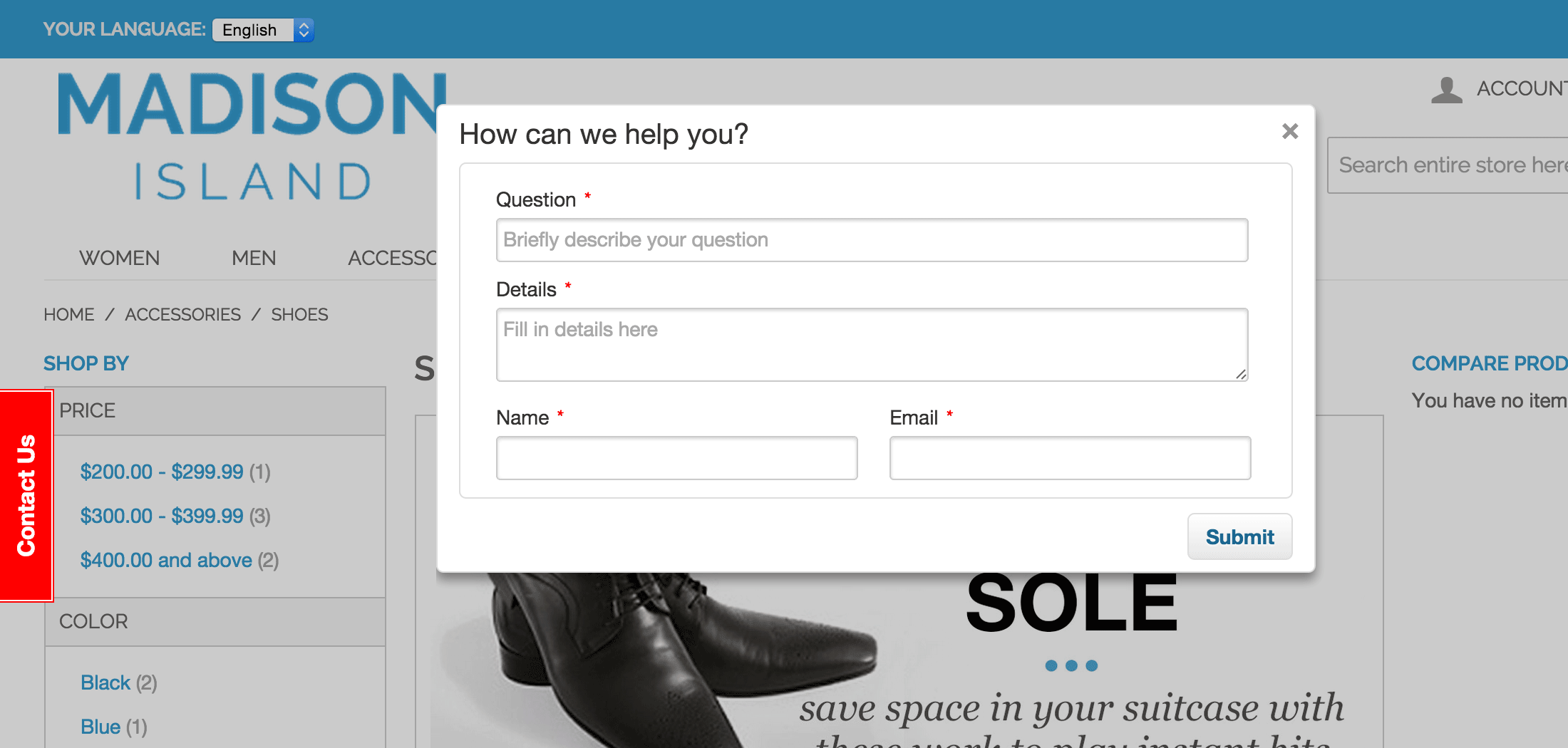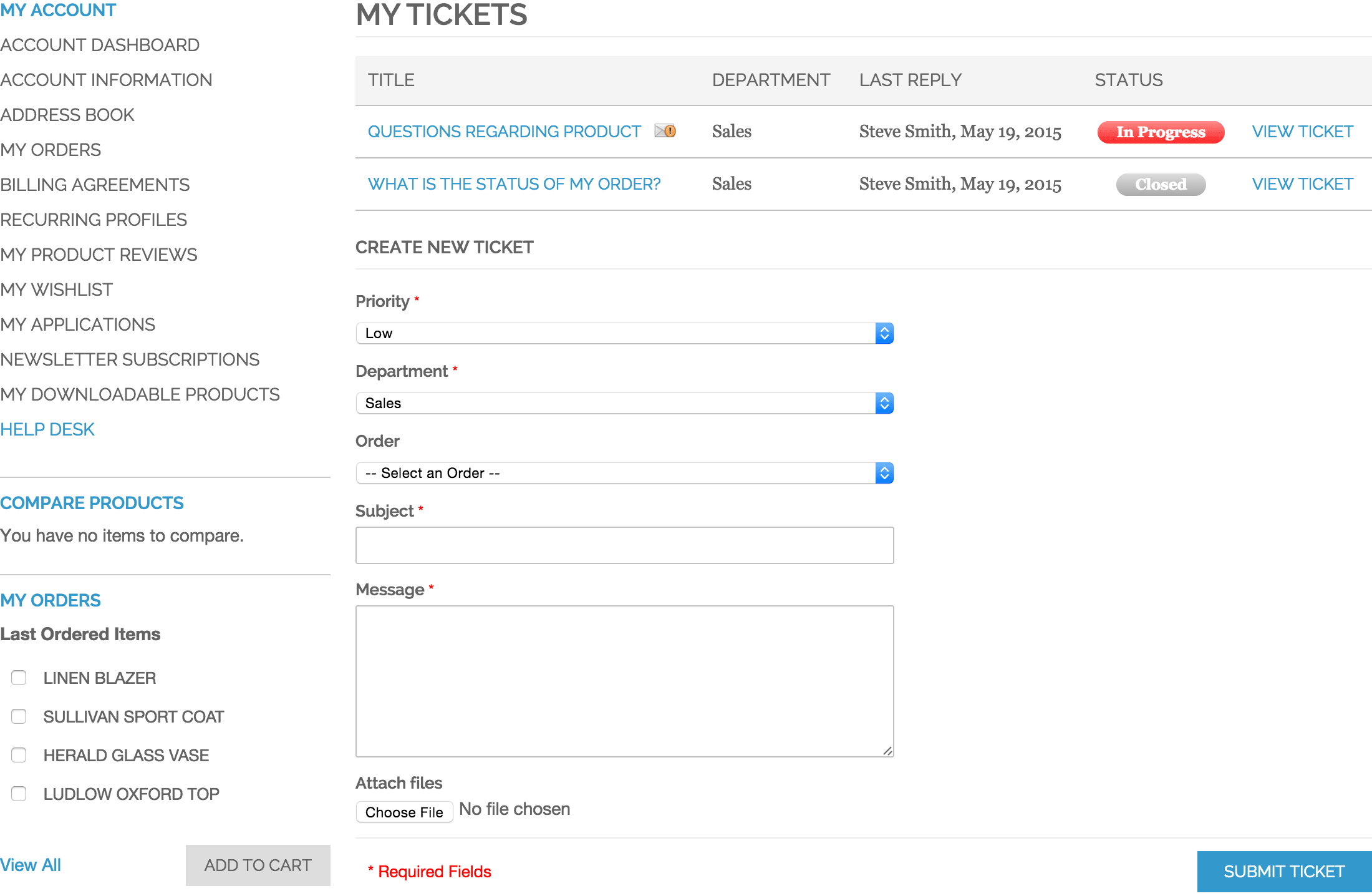 Features for Customers
Create a ticket via a Contact Us Tab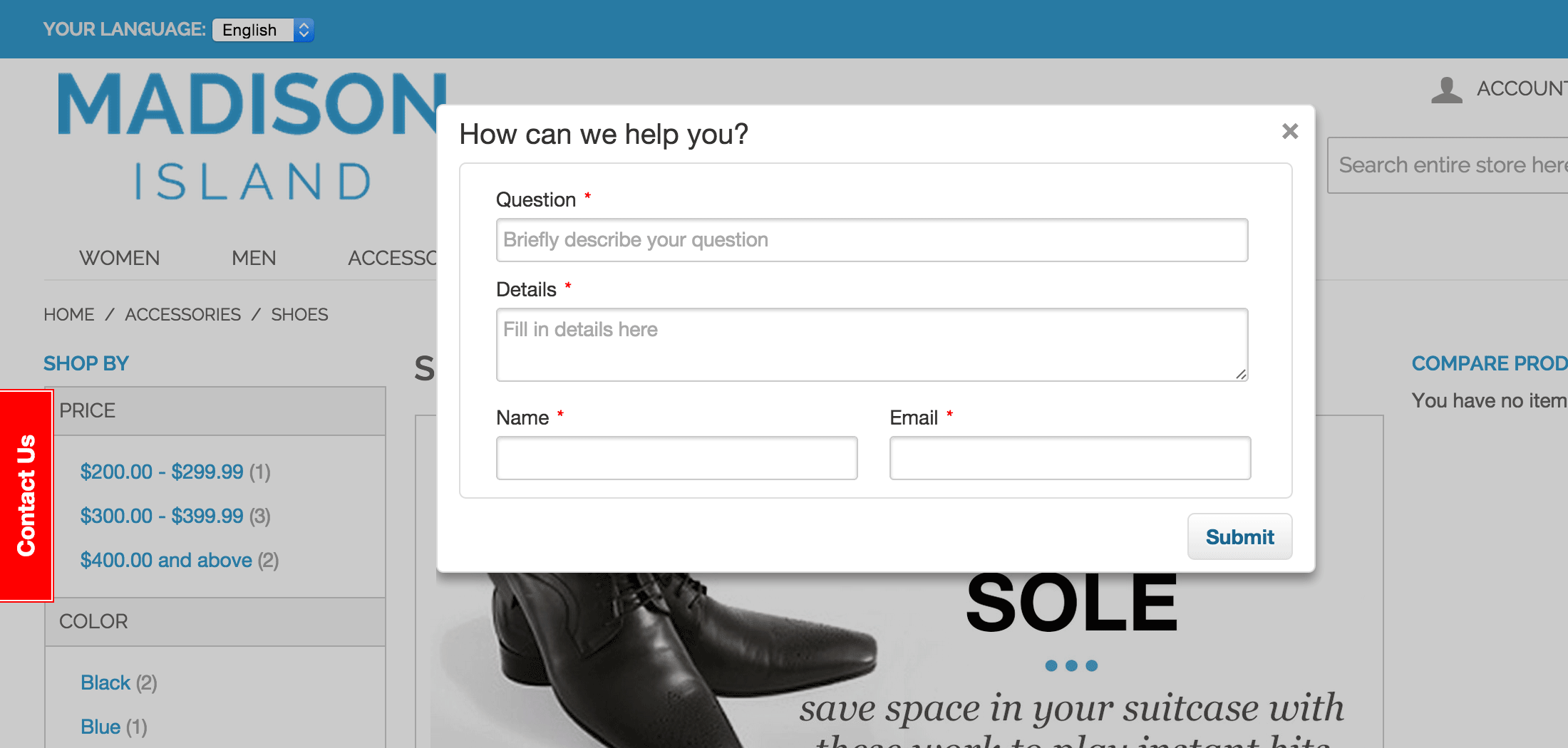 This feature allows to create tickets using a Contact Us tab, which is shown in the left or right side of each store page. When a customer clicks on the tab, the help desk shows a popup window containing the Contact Us form.
You can allow a customer to select a department and priority of a ticket in the form.
Customer can attach files.
You can add your own custom fields to the form (text, dropdown list, calendar, etc).

You can enable integration with the Mirasvit Knowledge Base extension.

If integration is enabled, customer will perform search in the knowledge base before opening a ticket. Otherwise, the customer will open a new ticket.
Create a ticket via a Contact form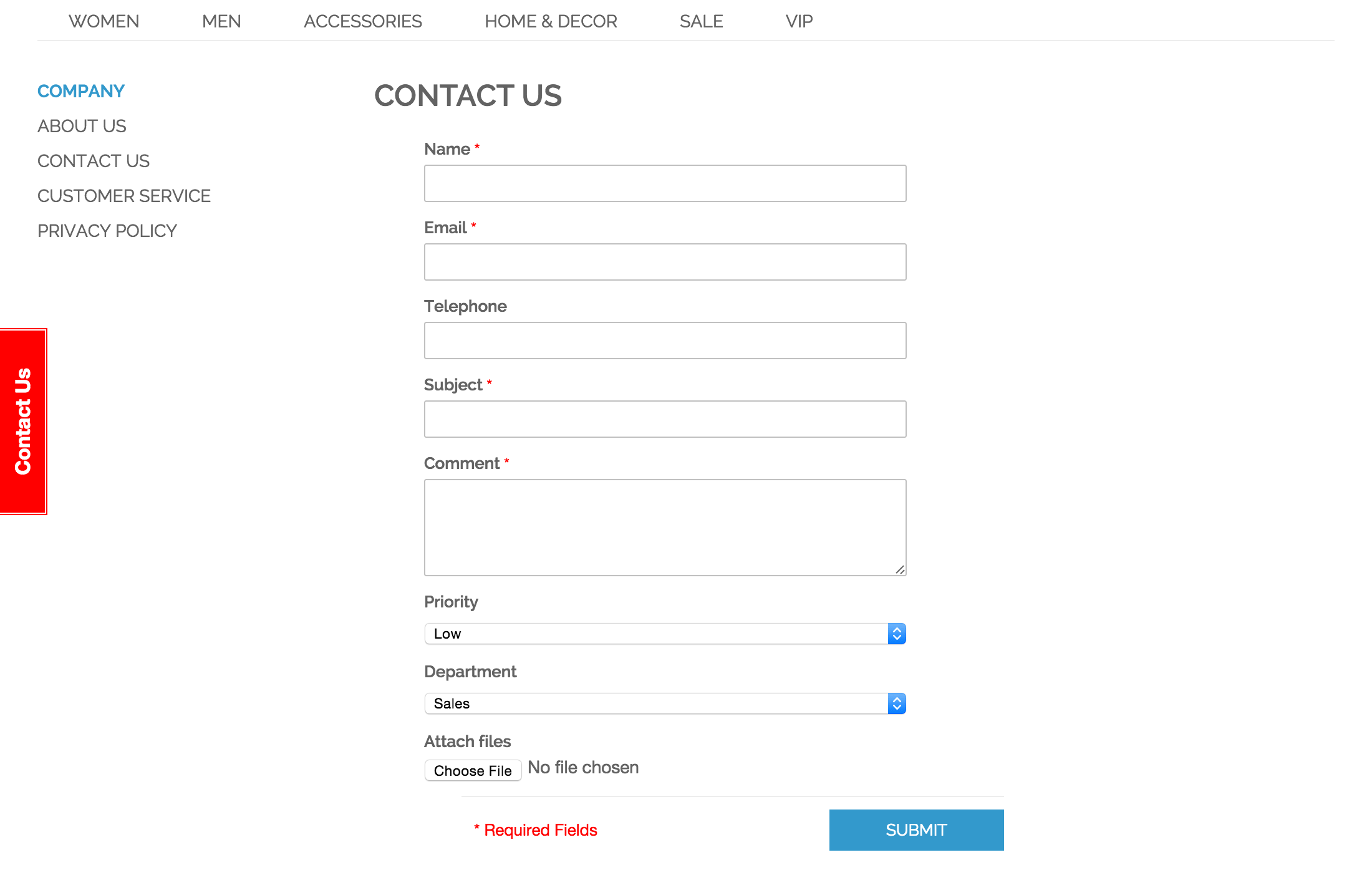 This feature allows you to create tickets using the Magento Contact form.
You can allow a customer to select the department and priority of a ticket.
Customer can attach files.
You can add your own custom fields to the form (text, dropdown list, calendar, etc).
Create a ticket from chat (Zopim, Olark, Livezilla, etc)
If chat is in offline mode, Help Desk MX can create tickets from the offline messages. Thus, you will not lose these messages. Your team will reply to every message.
Widget with a form for the ticket creation
This feature allows you to add the ticket creation form into any CMS page or block. You can add different types of custom fields into the form.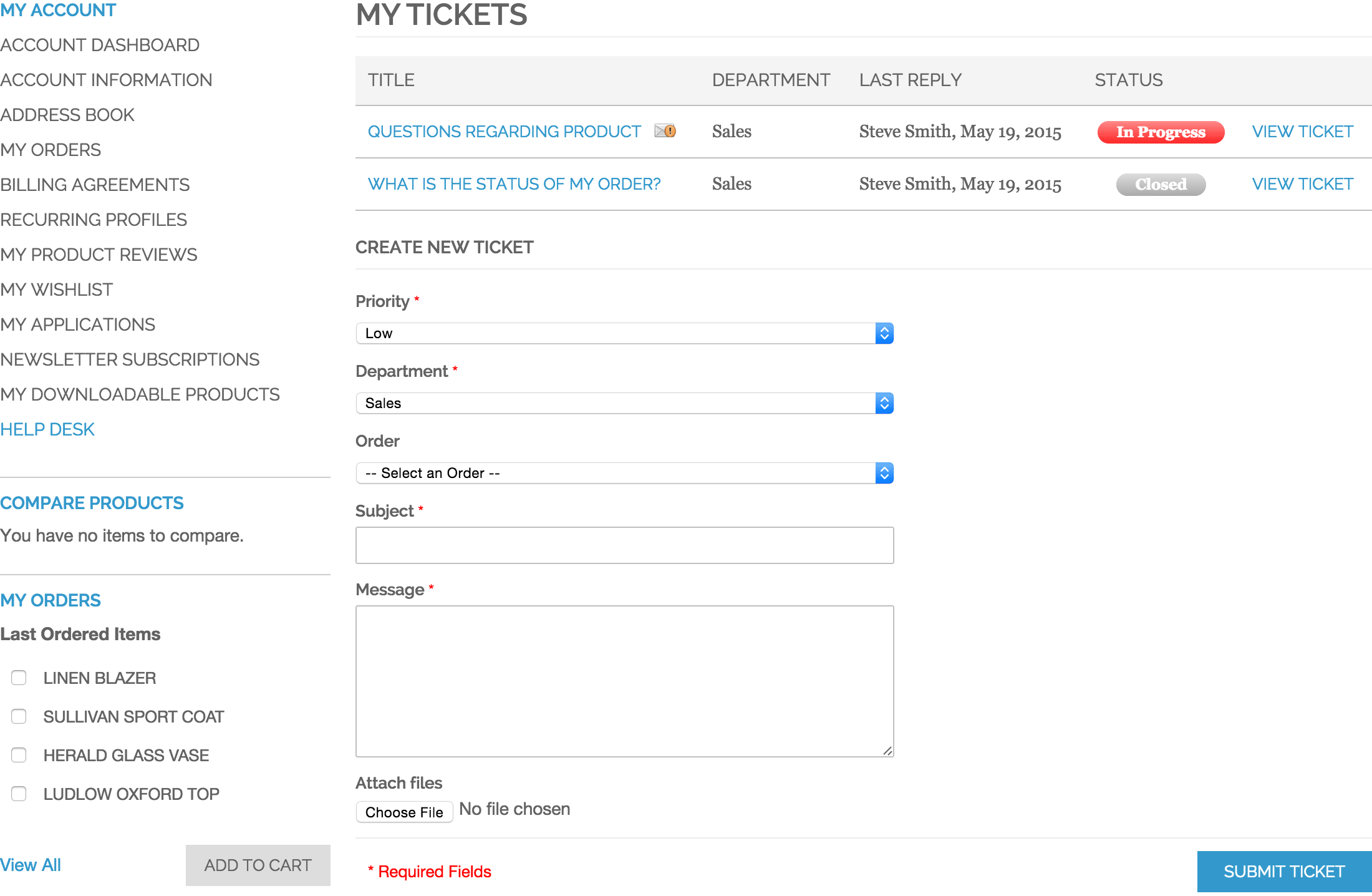 Customer Account
Customer account contains a section named Help Desk. By visiting this section, a customer can do the following things:
create a ticket or reply to a ticket.
see the list of tickets.
check his/her message history for any ticket.
check the highlighted tickets with new messages in the list.
Features for Support Agents
List of Tickets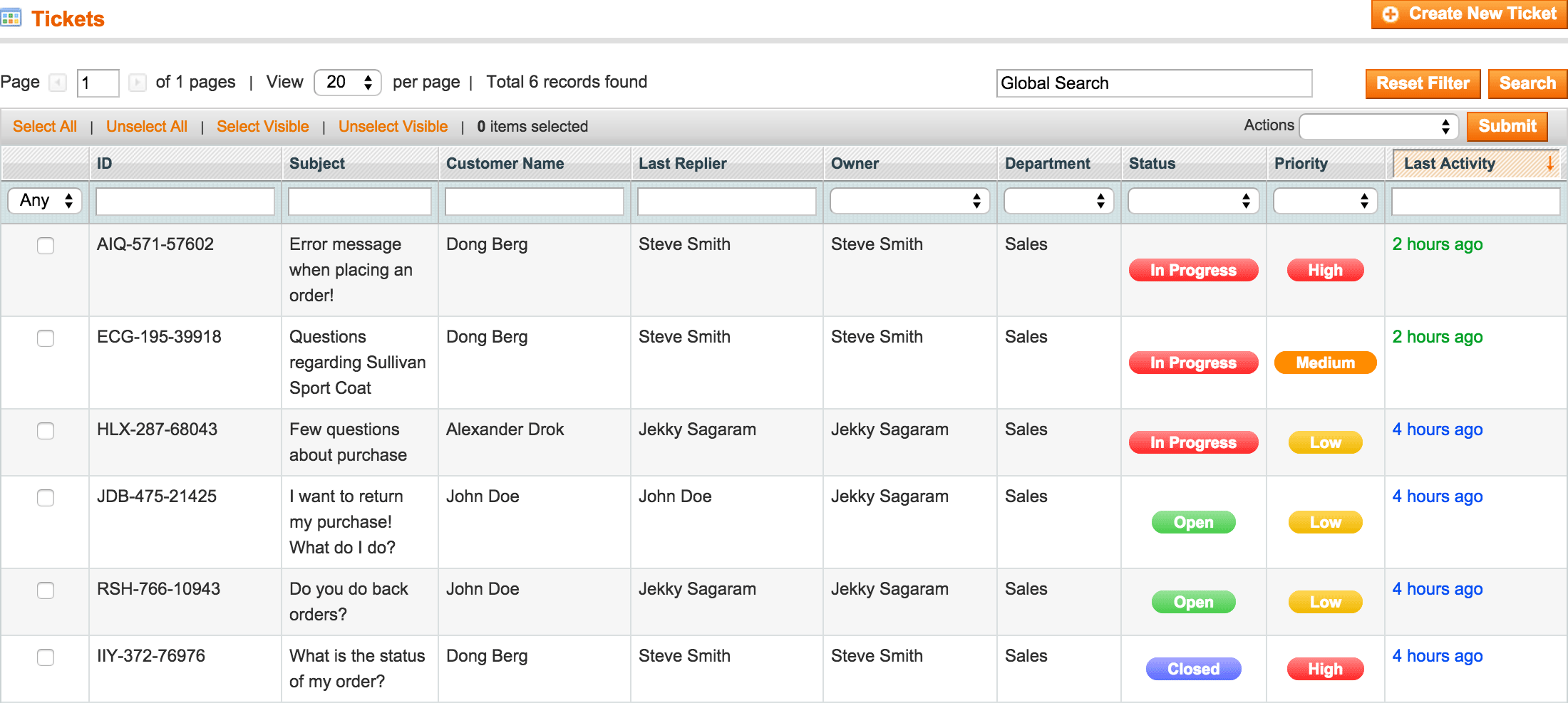 You are able to configure a list of the columns which are displayed in the tickets table.

You can perform mass actions with the tickets as follows:

perform a change of Status, Priority, Owner.
move tickets to Archive.
move tickets to Spam.
merge tickets.

New

delete tickets.

You can perform a global search of the tickets.

Efficient search algorithm. Search within all the fields of the tickets. Results are sorted by relevance.
Archive of Tickets
Tickets which do not require any actions from the agents (such as waiting for an answer from a customer or are closed), can be easily moved to the archive. Hence, you'll be only left with the tickets which are located in the main list of the tickets and require answers from agents.
You can adjust extension settings in order to specify status under which your ticket will be automatically moved into the archive. Also you can set up the workflow rules in order to enable automatic redirection of a ticket to or from the archive.
Working with Tickets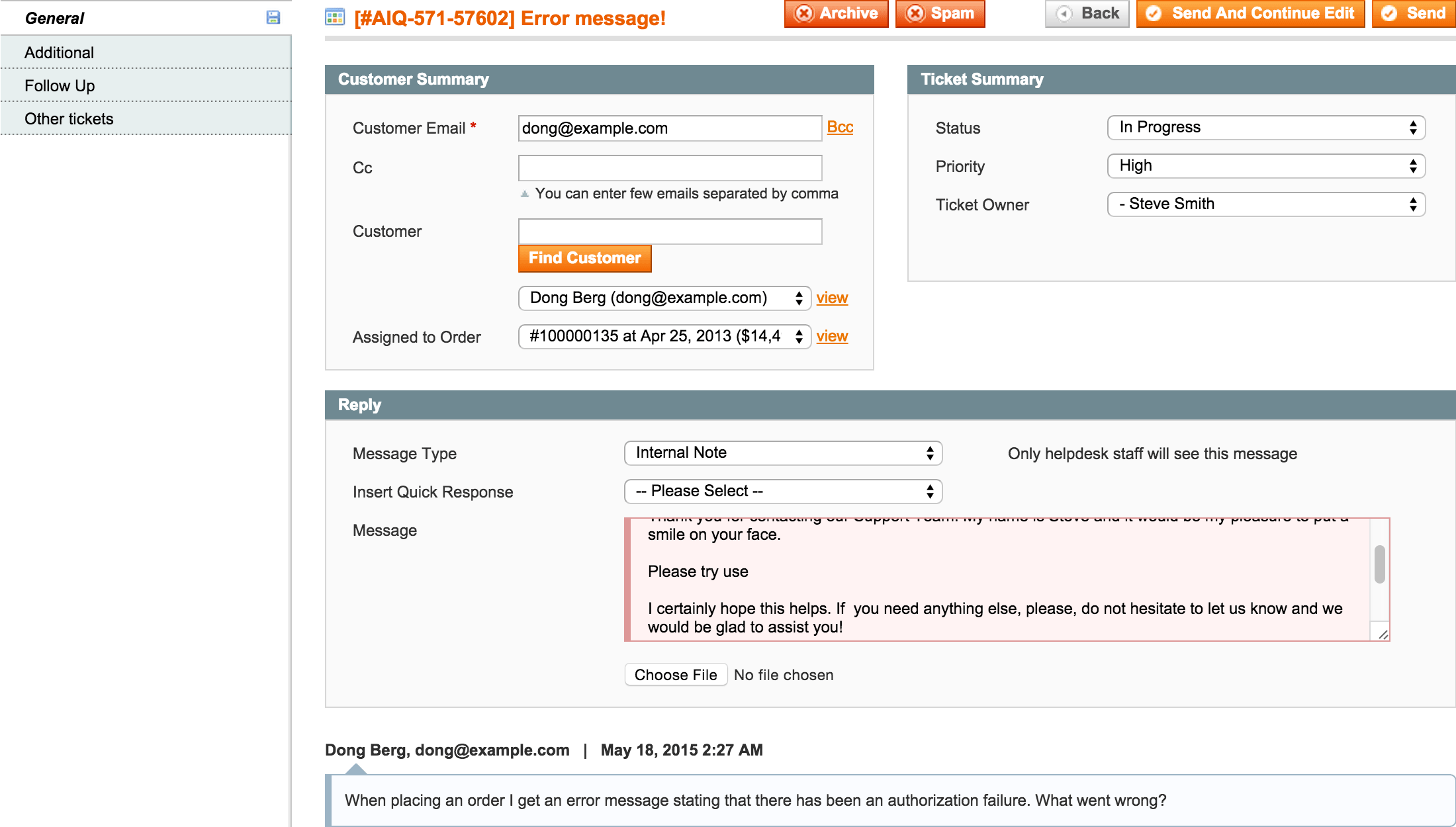 Agent can link a ticket with a customer and his order. This feature works for registered and non-registered customers.
Agent can use quick responses (predefined templates of answers)
Agent can use CC, BCC for ticket emails

New

Agent can see a source of ticket.
Agent is able to add tags to ticket.
Agent can add an internal comment (customer won't be able to see it).
Agent can see/edit values of the custom fields.
Agent can setup the Follow Up feature. This feature enables automatic sending of an email notification to Agent as well as a change of status, priority, owner of the ticket after some specified period of time.
Agent is able to check the list of other tickets for this customer.
Agent is able to see whether another agent is responding to a current ticket.

New

Every agent can setup own their signature for emails. Signature can include html tags and images.

New
Conversation with Third Parties
Must Have
Agent can send emails to third parties and receive the answers from them on the ticket page. These messages can contain a conversation with the suppliers, shipping company, etc. Conversations can be public or private. Customers will see public conversations in the ticket history. Private conversations will be visible only for agents.
List of tickets in the customer/order edit page
Agent can open the customer page in the backend and check all the tickets available for their customer.
He can also open the order page in the backend and check all the tickets which are connected with the current order.
Satisfaction Surveys
Must Have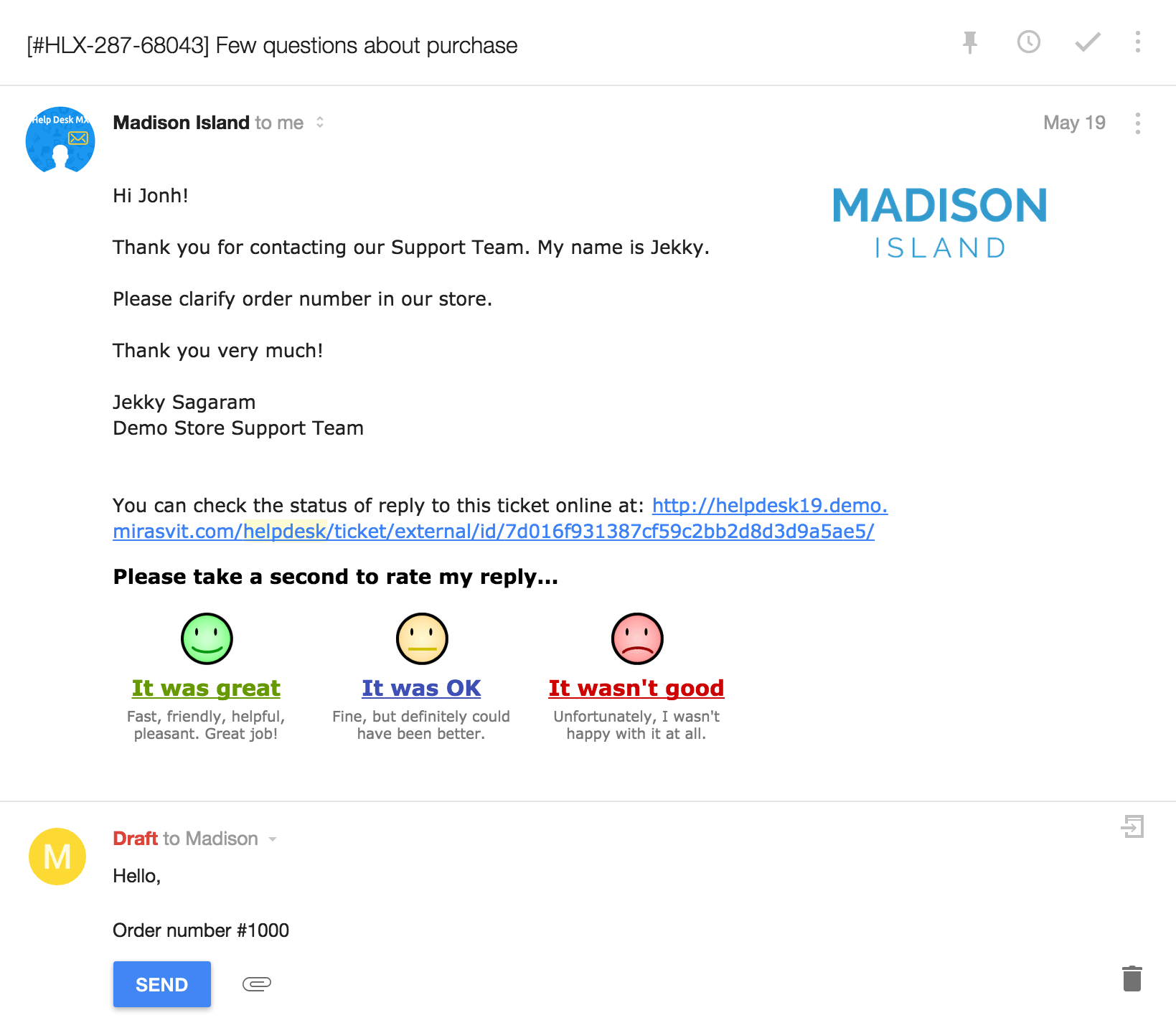 Help Desk MX allows you to insert a block with the satisfaction survey into an email with the agent reply. Customers will be able to evaluate the reply quality by clicking the smiley upon receiving such an email. They will also be able to add a comment in addition to the chosen smiley.
The agent will receive an email containing the customer feedback. He will be able to improve the quality of his work based on this feedback.
There will be collective list of all customer feedbacks in the backend. Therefore, you will be able to draft a customer satisfaction report.
Features for Administrator
Mailboxes
Must Have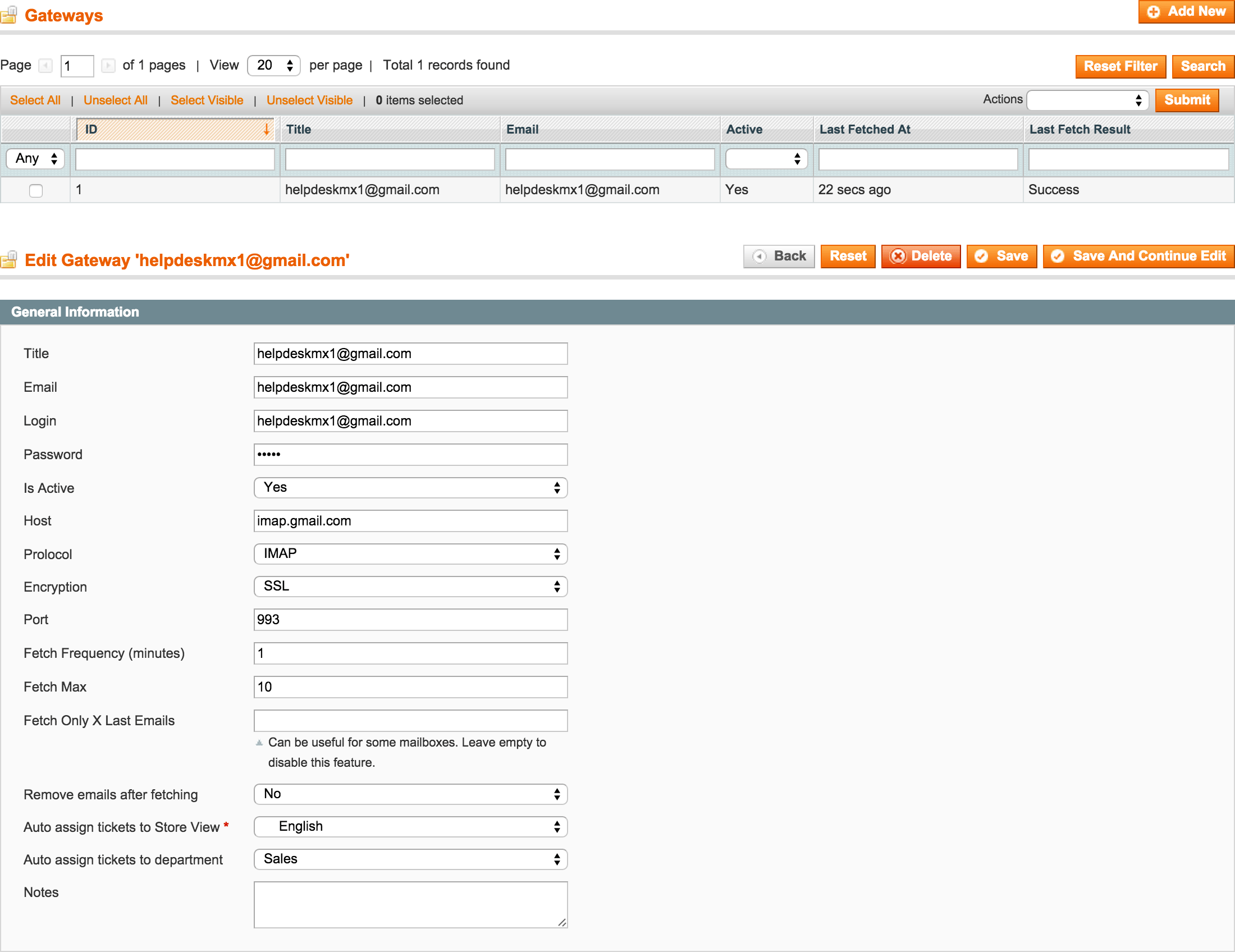 You can connect your mailboxes to the help desk (e.g. sales@store.com, return@store.com, support@store.com). Help Desk will regularly check them and fetch the emails. Emails will be converted to new tickets or answers will be added to the existing tickets.
Your employees will be able to fully correspond with customers through the Help Desk, therefore they will be able to work in a more efficient way.
You can connect any number of mailboxes.
Emails from different mailboxes can be automatically assigned to the different departments and store views.

2-way email parsing

A customer or agent can answer the ticket without needing to visit the store, because providing a response to the email via the email client will suffice. Help desk will receive the email with an answer, attach it to the right ticket, and forward it further on.

Support of IMAP/POP3, SSL
Departments
Every ticket can be assigned to a department. The customer can select a department for the new ticket.
Ability to add/edit/remove departments.
Every department has assigned agents.
Ability to send an email notification about a new ticket to all the department agents.
Ability to translate the department's name into different languages (for multilingual stores).
Statuses/Priorities
Ability to add/edit/remove statuses/priorities.
Ability to assign unique color for any status/priority.
Ability to translate the name of status/priority into different languages (for multilingual stores).
Quick Responses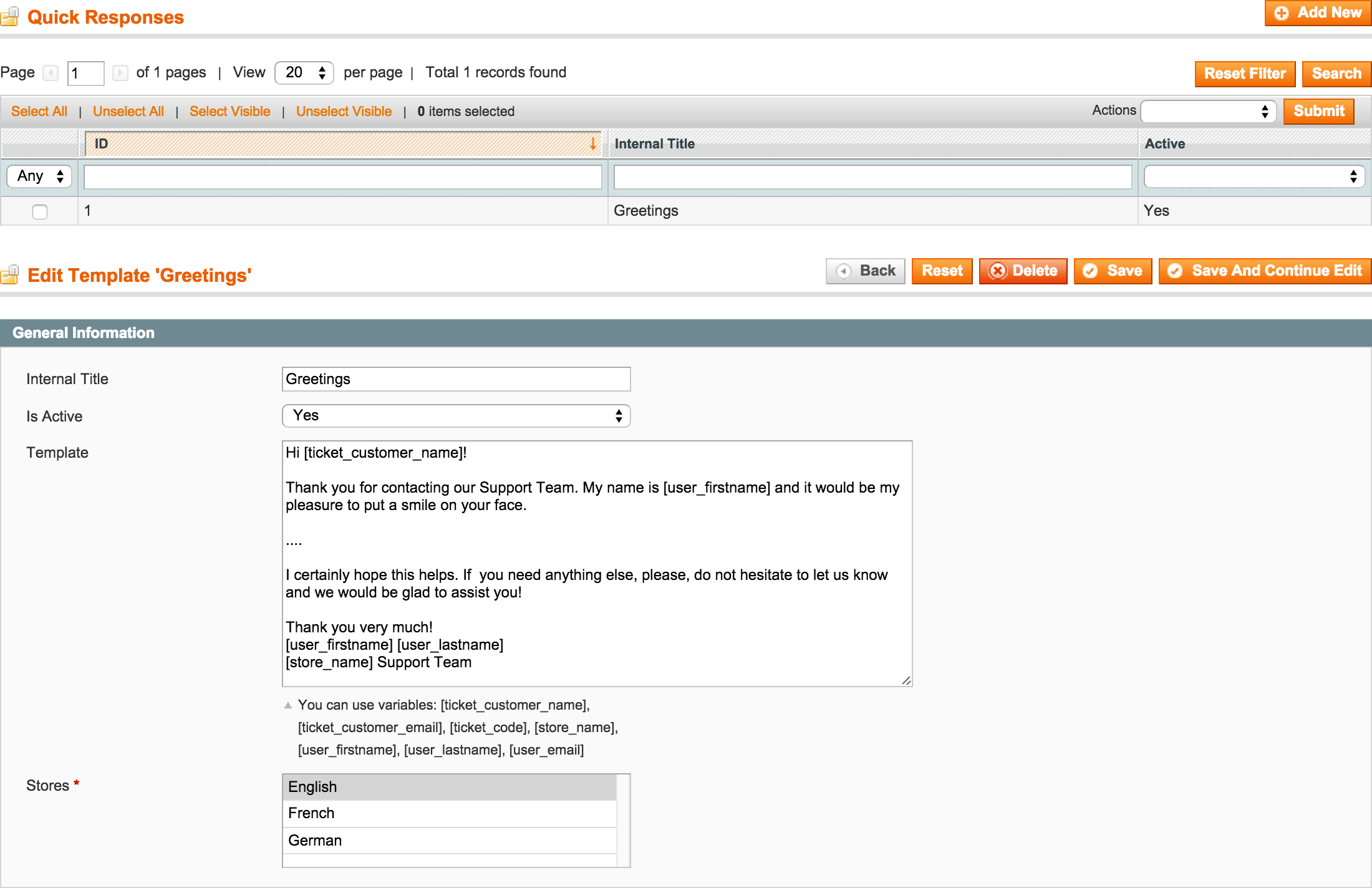 Quick Responses represent the templates of frequent answers, which can be used to reply a ticket.
It is possible to add/edit/remove quick responses.
They can be assigned to the store views.
It is possible to use different ticket's variables in the template.
Signatures for Email
You can setup a signature for each agent and help desk will automatically add the signature to the outgoing emails. Signatures can include HTML tags (e.g. you can add a photo of your agent).
Custom Fields
Must Have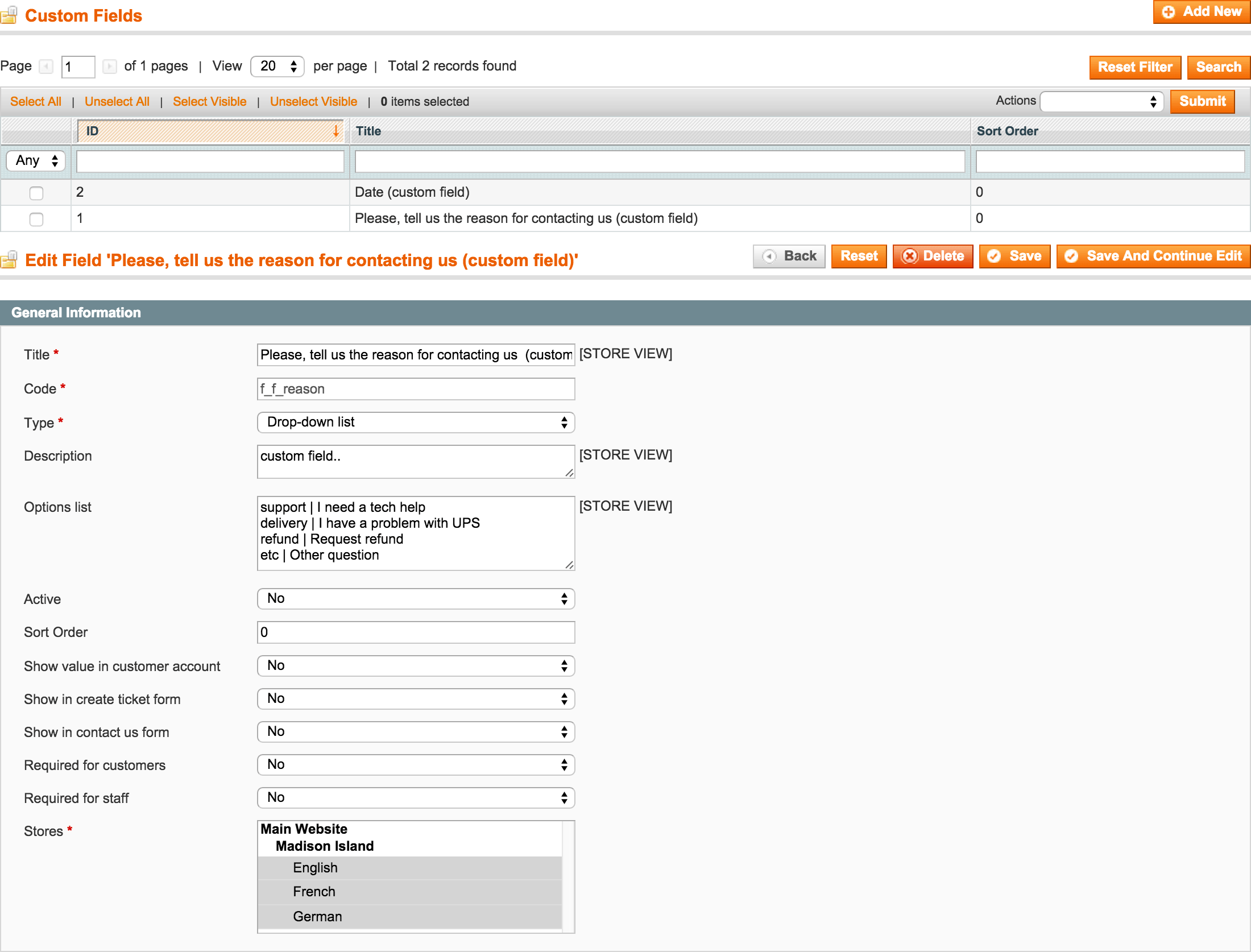 Custom Fields allow to customize the help desk as required. You can create any number of fields for storing all the ticket-related information.
Different types of custom fields (text, dropdown list, checkbox, calendar).

Fields can be displayed in the following places:

Customer account.
Ticket creation form.
Contact us form.
Contact us popup.

Customer or agent may be required to fill in the field.
Multilingual support
Access Permissions
The extension allows to configure the different access permissions for the agents from different departments.
Workflow Rules
Must Have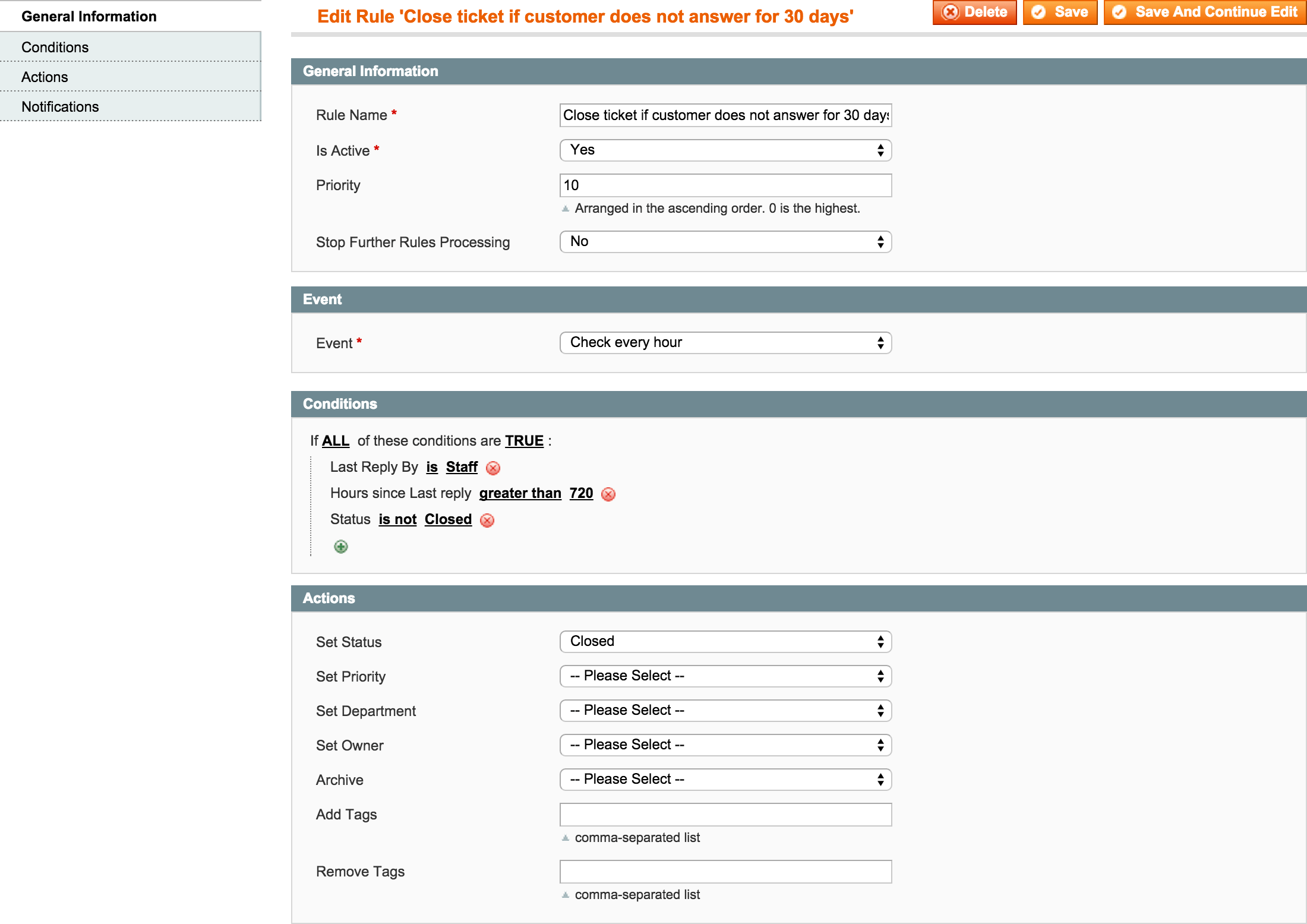 Workflow rules allow you to configure the Help Desk algorithm in a unique way. You create the rule which will be executed once a certain event is initiated. When the rule is executed, it will check out whether certain conditions are fulfilled, and then it will run the execution of specified actions granting a positive outcome of such an operation.
Workflow rules can be executed when one of the following events is initiated:

New ticket has been created.
New reply from a customer has come in.
New reply from staff has come in.
New reply from a third party has come in.
Ticket has been assigned to the agent.
Ticket has been changed.
Every hour checked by cron.

Workflow rules can check the fulfillment of the ticket fields with regard to the completion of certain conditions.

If conditions are fulfilled, then workflow rules will run the execution of specified actions such as:

Status change of a ticket
Priority change of a ticket
Department change of a ticket
Change of an owner of the ticket
Change of the ticket tags
Move the ticket to the archive.

Workflow rules can send notification emails to the owner of the ticket/all department's agents/customer.
Examples of Usage
Notifies the store owner if a ticket has not been answered for 3 days
Set status to 'In Progress' upon receipt of the first reply from the support team
Close ticket and send notification in case of not getting reply from a customer within 30 days.
Reports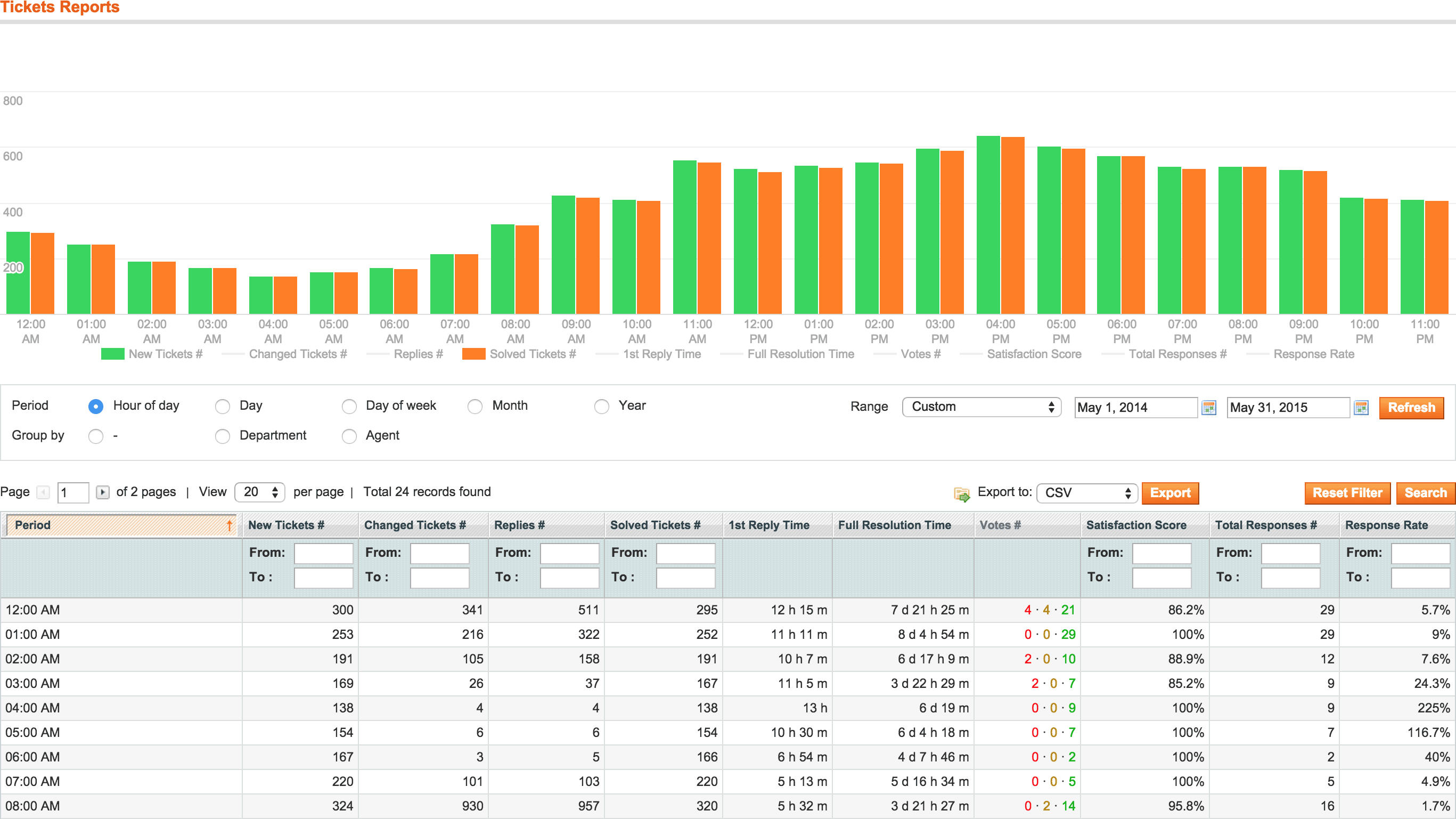 This feature allows you to analyze the following data:
Number of New Tickets.
Number of Changed Tickets.
Number of Replies.
Number of Solved Tickets.
Time of the 1st Reply.
Full Resolution Time.
Number of Received Votes (Great/OK/Bad).
Number of Responses.
Satisfaction Score.
Response Rate.
All reports will enable full analysis of the information. In particular, you will be able to process and sort information by every store department or every member of the support team. Reports also include graphics, which can be used to analyze the dynamics of changes in a very convenient way.
Integration with Mirasvit RMA Extension
This feature allows you to convert the tickets into RMA requests. Let us assume that a customer sends an email to the address: returns@store.com. Help Desk receives this email and converts it into a ticket. The agent can convert this ticket into the RMA request by clicking the button named Convert to RMA. After converting to RMA all further emails for this ticket will be automatically forwarded to the RMA extension and all communication will go there.
Additional Features
The ability to customize the email templates through the admin interface messages
Effective spam protection
Protection from a hanging helpdesk due to recursive email fetching

New
Comparison with Cloud Services
| Feature | Help Desk MX | Cloud service (Zendesk, Kayako, Help Scout, etc). |
| --- | --- | --- |
| Terms of Use | You pay for an extension only once. No monthly or annually fees. Unlimited amount of the tickets or agents. | You have to pay every month. Your functionality is limited by a chosen subscription plan. Your expenses will increase as the size of your company grows. |
| Integration with Magento | Extension is fully integrated with Magento. Customers and orders are linked to the tickets. All the information is at your disposal at the backend of your store. | You need to constantly switch between Magento backend and the cloud service interface. There is no convenient link between customers, orders and tickets. |
| Data Protection | All information is stored on your server. You do not pass your private information to third parties. | Information about your customers or emails is passed to third parties. |
| Customization Ability | You receive an extension along with an open source code. You can change extension logic in accordance with your requirements, or add new features. | There is no access to the source code. It's not possible to change anything. |
Comparison with Extensions of Other Providers
| Feature | Help Desk MX | Other help desk extension |
| --- | --- | --- |
| Workflow rules | + | - |
| Satisfaction surveys | + | - |
| Conversation with third parties | + | - |
| Ability to create a ticket using a contact us tab | + | - |
| Archive of tickets | + | - |
| Widget with a ticket creation form | + | - |
| Custom fields | + | - |
| Integration with RMA extension | + | - |
| Integration with Knowledge base extension | + | - |
See it in action!
Pick a quick tutorial to learn about various aspects of this extension
Perfect solution

Well, this is our go-to company. There is nothing bad to say about them. It works like a charm

easily communicating

The best solution for communicating with customers.

Amazing extension!

Emilio

from Nuevo Laredo, Mexico

It's a must if you are serious about yout Shop

Excellent solution

Eleonora

from Milan, Italy

It has greatly improved communication with our customers

Must Have

Scott

from Wilmington, United States

Great help desk extension, many valuable features such as automatic auto save.

I would like translate in french this app ....

PINCHON

from Bihorel, France

Thanks to help me...

Very Good Module

Bug Free - Regularly Update - Affordable

Simply Best

Complete tool

This tool is very nice for helpdesk. We can't give support anymore without it! quick and good support

Essential elements

sh

from Republic of Korea

Used in conjunction with Sphinx Search Ultimate for integrated search.

fantastic

turgay

from Istanbul, Turkey

wonderful module definitely needs to be all magento

Best ticket system for Magento

Jakub

from Bratislava, Slovak Republic

We tried more ticketing systems for Magento but this is currently best one. Need some improvements but not a lot :-)

Best Ticket System I ever had

Mo'men

from Alexandria, Egypt

Guys this is the best ticket system for magento, I talk for real
if you are looking for a good ticket system, this is the best one.

very nice

Tanawat

from Bangkok, Thailand

very nicevery nicevery nice

Very useful

Very good and useful extension. It saves us about $800 a year compared to an online customer support service.

Powerful and easy to use

xavier

from La Landec, France

Really nice extension. This is a must Have extension if you want to track every mail with your customers.

Great magento extension and great support

Harry

from Parnell, New Zealand

Mirasvit team is a real professional and support is fantastic. One of the best Magento extensions!

Super help hesk module

Mateusz

from Uhowo, Poland

I recommend this module installs him in the shop 5 am very happy with it.

Help Desk Good

Adam

from Secret Harbour, Australia

This Help Desk if another great extension, we are happy with the way it works and find this easy for staff to respond to clients questions easily

Great stuff

Great App and Support

Leo

from The Colony, United States

Very helpful

Nice Extension

Harpreet

from Plano, United States

Nice extension with good support.

Excellent Help Desk MX!!!

Paulo

from Uberlândia, Brazil

Hello visitors, give up searching for Supplier Help Desk module, this module Mirasvit is the best available for Magento. After we tried several others, we stopped at Mirasvit no doubt this is the best and most complete module for this purpose available for Magento. We are Customer Mirasvit from 2 years ago. Congratulations, Mirasvit is excellent.

Revolutionized our customer contacts

Tim

from Holland, United States

Our old system of just replying to customer emails was a mess. It was always a pain to go back and find our contact history with any one customer. Now it is all centralized in one place - and the search function works great. Also, eliminates the problem of missing emails if they get accidentally routed as spam. Customers are happy and we can track issues and solve problems. We use it with the RMA extension also so we can easily initiate returns if necessary. Also a great alternative to the cloud contact guys out there, where you have to pay per user.

Really good stuff

MA

from Melbourne, Australia

Makes support much more manageable and declutters things. Also allows to be on top of issues and relevant people aware of them.

One of the best extensions we have

Daniel

from Halstead, United Kingdom

Having used this extension for over a year it has been irreplaceable for communicating with customers.Being able to manage customers into different departments and keeping tack of conversations over days/ weeks and longer makes this one of top used extensions that we wouldn't want to be without. we are now planning the move over to Magento 2 and this will certainly be on the list. In addition the customer support is outstanding, I rate them very highly.

Perfect extension for Helpdesk within Magento

Mayank

from Bengaluru, India

The extension is good if you wanted to allow customers to post tickets linked to their account. No need to have a separate login for posting tickets.

RUN, don't walk, to get this extension!!

Alphonse

from Lincoln, United States

In bad need of help organizing and categorizing our messaging torrent, we carefully evaluated several Help Desk solutions, both external apps/services and Magento extensions.

With three completely independent online stores, plus eBay and Amazon presences, each with several associated email mailboxes, the chances for errors when managing customers inquiries/comments/requests are enormous. Remembering which customer asked what and when, and who responded how and when, always making sure that "Store A" doesn't reply to questions from "Store B" customers using the "Store C" email template, takes a lot of effort.

So we reviewed our choices carefully. The usual evaluation criteria: cost, value, feature set, ease of use, vendor reputation, etc. And, frankly, we're so glad we chose Mirasvit's Help Desk MX!

Whoever has installed Magento extension knows that not everything that shines is gold. All of them look great "on paper," but sometimes they either break something else or don't work as expected. Not this one: It does what it promises, it just works as expected.

In a nutshell:
- easy to install (it's a breeze)
- intuitive to use
- feature-rich
- saves work and prevents errors
- makes your small business look like a multi-million corporation
- flexible and customizable
- can't beat the price/value ratio
- haven't come across any bugs so far

And then comes their technical support, which deserves a special mention. Right after installing the extension, I noticed a problem with a couple of screens in one of our sites (which, by the way, uses an attractive but quite finicky theme). These problems were not the extension's fault, as it works just fine on our other two stores with different themes. But I contacted Mirasvit support and they fixed the issues in no time. I also had overlooked an additional issue during testing (also the extension not being the culprit) and they fixed it right away as well. I was very impressed by their immediate understanding of what the issues were. No ruber-stamped answers, no IFs, BUTs, or "We'll get back to you one of these days". They just got to work and fixed it. Like in the good old days of customer service. All politely communicated in excellent English, a rare commodity these days. In short: Outstanding technical support.

The only weak spot of the extension may be the online User Manual, which is somewhat skimpy and devoid of illustrations. But frankly, the extension is so easy and intuitive to use that... who needs a manual!!

Fantastic utility. I would give it 6 stars if I could!

Works great.

Bert

from Cipayung, Indonesia

This solution is a great alternative to paid online ticket system. Very easy to use and a lot of features. Work as expected :-)

Good extension

Valerio

from Voghera, Italy

Extension works well.
Not easy to convince customer to stop calling by phone but this extension is a good help

Excellent Product

Segun

from Manchester, United Kingdom

It's just exactly what you need in a customer support ticketing system. Well done guys.

Great Solution For Growing Business

Josh

from St. Augustine, United States

We used to use standard email and outlook for our support with clients. We needed an improvement and something integrated with the admin backend to save time from bouncing back and forth when assisting clients. We found this ext and were amazed by the features and time savings actions which hugely cuts down on our labor involved with assisting clients with issues. This is integrated with their RMA system which we also installed and overall a huge time saver when assisting clients with inquiries, rma's, etc. Also the quick responses are great for easy canned responses for common inquiries. We are actually about to also install their Knowledge Base ext as that is also integrated with the Help Desk and will further cut down on our inquires. Support is amazing here, long time client with many of their ext's installed. They are always there with quick fixes for any issues we have encountered@!

Ample of Scope and Feature

krishnendu

from Guwahati, India

Browsed through a large number of Helpdesk extensions and finally settled with this one and did'nt regret....!!

Works great.

Alex

from Cottenham, United Kingdom

Very nice extension and great company to work with...

Great extension for customer service

John

from Gainsborough, United Kingdom

Keeps everything in one place. No problem on install. Fantastic support from Mirasvit as always.

Great & thorough extension

Mike

from Belmont, United States

This extension was very well thought out, has a lot of different features, and is still easy to use. The help desk is a must-have, in my opinion, and you can't get better than this version from Mirasvit.

Best Helpdesk Extension around

Rocksolid extension with a great flexibilitiy.

Saves a lot of time and hassle

Joelle

from Shipley, United Kingdom

Communication is difficult, and coordination even more so.
Having the support/contact within Magento saves a lot of hassle and makes everything visible when reviewing a customer

Would be even more perfect with support for IMAP folders and the ability to only ask for feedback at the last email, not every email (that's a suggestion)

Amazing

Bee

from Aurora, United States

WOrked right out of the box as described. So easy to setup as well.

Very good

Maxime

from Charenton-le-Pont, France

Easy to install. Quick support. Very efficient

Excellent Product

Mallesh

from Smyrna, United States

This is an excellent product which is working very similar to help desk product like JIRA. What I liked most about is its flexibility to configure the workflow and receiving the tickets through email.
We have now decided to go with another extension from MIRASVIT.

Perfect

Bjorn

from Gieterveen, Netherlands

Works perfect. You can have every setting you want and it is easy to modify. Had some issues because of my template and the support is great! Worth the money.

The best helpdesk extension you can find! Plus excellant support!

Nicolas

from Laval, Canada

We've been through all Magento helpdesk kind extension with the goal of getting the best one and also taking in account the evolution of it. We wanted an extension evolving with time to always stay the best and giving all the functions a real support management system should offer in the long term. This extension does the job perfectly! It originaly come with everything anybodies needs and almost everything you can imagine! It's well organised, customizable etc...

Great Support and Easy to Use

Mark

from Indianapolis, United States

Worked great right after install - no issues! Love IT

Customer support as it should be

Sven

from Dortmund, Germany

The Help Desk extension is one of the most useful extension for our business. Before we used the extension, we were doing support by just plain email and this lead to the situation, that sometimes emails were overseen. This can't happen now anymore which increases customer satisfaction. Additionally the extension has many good and well thought features which are very useful. We won't miss it anymore!

Robust and efficient extension, amazing customer support

Sergiy

from Montreal, Canada

We have been looking for an extension that will help us to provide a better service and support to our external clients. After making evaluation of few add-ons, including extensions developed by Mage World and Aheadworks, the decision has been made to purchase Mirasvit product. Tool meets 90% of our requirements and have such degree of flexibility allowing many customizations we might have. Fantastic tool. Strongly recommend!

Great system and great support

Neal

from Dubai, United Arab Emirates

The helpdesk solution is great and very easy to use. The mirasvit team is also excellent and they implemented feature requests in approximately 2 weeks.

good extention from mirasvit team

amjath

from Thiruvananthapuram, India

this extension is very useful for customer satisfaction. here our customers mail to us and we can manse all query at one place.

We use this Every Day

brady

from Memphis, United States

This has made managing support issues so much easier. The best thing is that it is all managed right inside of the Magento Admin so there's no need to have customer service logging into another management application to handle all customer related concerns. It also allows everyone to see historical customer interactions which has helped resolve a number of issues on the phones and reduce support times.

Awesome Extension

Anil

from New Delhi, India

It is very well thought extension. Covers all the bases for Customer support. Can be awesome if it can add real time chat feature with Customer, that will make it complete HelpDesk

Really a must have extension

Robert

from Oppegard, Norway

Really a must have extension for your Magento install. 100% control over all emails on has a very usefull buildt in reminder function. And as always flawless support from Mirasvit team.

Very useful

Nicola

from Santa Maria a Vico, Italy

Easy and fully customizable. I definitely recommend it.

Good code quality

Nice features set.
Latest version has CCed email which is good to have.

This guys are just awesome in all ways¡¡

Felix

from Valencia, Spain

Best extensions, best custommer care and definitely the best support you can receive.
They are quiet fast solving problems and doubts, i just worked with lot of extension providers but this guys are the best by far¡¡¡
:)


Great Extension

niclamarino

from United States

This is a great extension, very useful and easy to customize and manage. I definally recommend it!

Very kind and helpful user support as well.

THOSE GUYS ARE GREAT

NS

from Marseillan, France

I bought 6 extensions from those guys ,i am not an developer and i don't know much about extensions but they are providing a best support in the world.
Extensions ZERO bugs , everything works perfectly

THANKS GUYS

Great extension

Beatriz

from United States

This extension works really nice, we have tried other similar extensions before for customer services, but choosing this one was def. a good decision! To start with the extension was already really good, but the people behind it are truly helpful and always trying to fix small problems as fast as possible and they always provide very useful information!

Solid, Well-Written Extension

I've installed thousands of dollars of Magento extensions over the last few months and almost all of them came with a slew of headaches. While this extension will take some time to wrap your head around (because it is so feature rich), it is worth twice what it costs. The quality of the Mirasvit code cannot be understated. I am a developer and I respect the pride they take in their work. The code is solid and it "just works." Great job guys! Mike

Perfect extension !!

Jean-Hugues

from Amblainville, France

Very simple to install and to setup. First time I buy at Mirasvit but I am completely satisfied !! Quick support for information, extension working great and 0 bug within today. Helpdesk is powerful and completely customizable. Nice job!

This is the best helpdesk Magento Extension.

Kasmin

from United States

Great! Mirasvit created this extension.

Very Very Pleased

MancerCorp

from United States

a very clean, nice extension that loads and works seamlessly. Nice chart reporting features etc. Email polling is perfect. Support is excellent as well.

Great extension and support

Gideon

from United States

Great magento extentions with usefull and flexible/adjustable functionality, and the much more important thing - outstanding, or i should say, awesome customer support.

Great extension and Support

Sergio

from United States

Very fast reply directly with the requested solution.

The value of help desk

Andrea

from United States

Usually everybody is concentrated on sales, but the real road to success is the customer satisfaction and service offered. With Mirasvit Help Desk MX you have a powerful instrument to manage all your customers' requests in a clear and effective way. Easier than a chat, less expensive in human resources, more effective in problem solving.
Technically this is a great piec of code: I installed it with any problem on my modded magento 1.8. The only suggestion I feel to give is to make the pop up responsive as it does not display properly on small screens as smartphones. I just added a line to make the button on the left disappear under 990px resolution (thanks to my theme).

Great extension superb support

We are using five extensions developed by Mirasvit. This is our newest addition. After testing Zendesk we decided to use Help Desk MX. It does everything that zen does, but better. I would high recommend it. Support is the best in the business.

Must have extension

We're very happy with the quality of Help Desk MX. Features are well-designed and work perfectly. Allows our support team to tackle a high volume of tickets. It is also includes excellent reporting so we can track how effective each agent is and identify problems. An excellent extension and must have one!

Brilliant extension!

Patrick

from United States

I have it for about 2 weeks. It was the best decision to buy help desk from Mirasvit. I have heard about your company, and this time decided to purchase an extension in your store. Brilliant and i would say that such responsible developers its not that easy to find. Cheers!

Great Magento extension!

This is simply a great Magento extension.

Is easy to install, and integrates seamlessly. So far only positive feedback. I have decided to choose this extension in your store coz i bought your FPC (does miracles in my store) and i was absolutely amazed by your support team. Saw the demo and understood that this module is exactly what i was needed. The combination of price and functionality is great.

Thanks.
Compatibility
The Help Desk MX is compatible with:
| | |
| --- | --- |
| Magento Community Edition (CE) | 1.4.1 - 1.9.4 |
| Magento Enterprise Edition (EE) | 1.10 - 1.14.2 |
Refund Policy
All customers can request a refund during 30 days after purchase of our software, if customer think that our software is not suitable for any reason. To request refund, customer must remove all copies of our software from its store, servers, computers, email, etc and confirm by email such removal. After receiving a request we will proceed refund within 3 business days.
If request for refund is received after 30 days after purchase, it will be rejected. Cost of installation and customization services are not refundable.
Support and bug fixing
Mirasvit offers free 90 days support of all software sold on this site. Customers can report all bugs, which were found in our software. We can solve only the bugs directly related to or caused by our extension. Those bugs must be reproduced on fresh Magento installation without any 3rd party plugins. We will solve that bugs in order of our development plan.
We don't do any type of custom work and we have a right to reject a support request if the issue is store-specific (cannot be reproduced on the fresh Magento installation without any 3rd party plugins).
Mirasvit will not be liable to you for any damages (including any loss of profits/saving, or incidental or consequential) related to our support service caused to you, your information and your business.
Software updates
Mirasvit offers free lifetime updates if they areavaliable. Updates are limited to the Magento version branch (1.x.x or 2.x.x). Customer can download an update and install it by himself. If support period is expired, Mirasvit.com can't solve any possible problems with our software during or after updating. Mirasvit does not guarantee that it will release updates for any product.