 Yandex Market Export Extension allows your store to export products to Yandex Market (http://market.yandex.ru/) and other price-aggregation services that support YML format.
Extension Demos
Pick a quick tutorial to learn about various aspects of this extension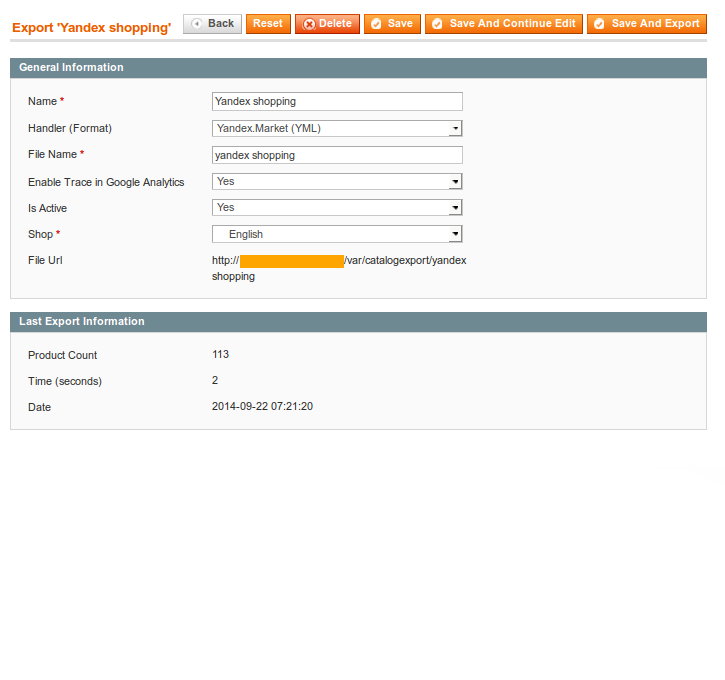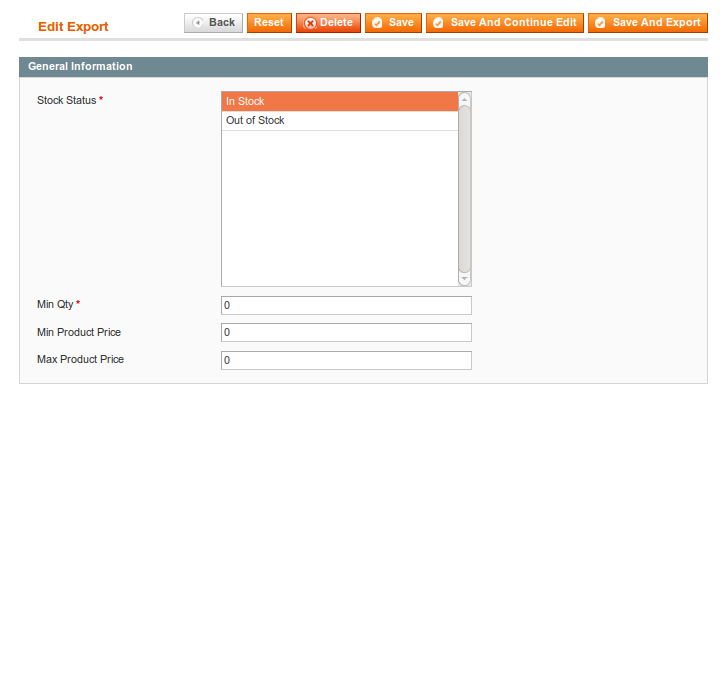 Yandex Market Export
Key features:
Support of several export models (simple, vendor)
Automatic export file generation by schedule
Ability to export manually
Easy interface to setup key properties of export
Seamlessly integrated into the Magento backend
Works with Magento versions 1.6.x.x
Supported price-aggregation services:
market.yandex.ru
torg.mail.ru
ava.ua
freemarket.kiev.ua
hotline.ua
hotprice.ua
i-m.com.ua
infomincer.net
market.meta.ua
market.tut.ua
market.yandex.ua
nadavi.com.ua (nadavi.com.ua, e-katalog.kiev.ua, m1.ua)
price.ua
Why should you choose this extension?
Easy installation and configuration.
Code is not encrypted. You can easily customize it.
You pay only once. No annual fee.
Free upgrades and bug-fixing included.
See it in action!
Pick a quick tutorial to learn about various aspects of this extension
Good extension but need some imporvements

Rybray

from Odesa, Ukraine

Work well but we had to make some improvements:
— grouped products are not exported according to YML specs. You have to write some code for this
— you can't export products with category name in URL
— not exporting attributes using param tag

But support team is always ready to help with all improvements mostly for free.

Легко и просто

Dmitry

from Minsk, Belarus

Отличный модуль, легко устанавливать, легко настраивать. Работает отлично.

Best Extension

Marsel

from Moscow, Russia

This is the best extension for Yandex Market.

Great extension, great team, great support

globian

from United States

Have just installed the new version of Yandex Market Export and I am very pleased.
Needed a small bit of help with integration with Currency Service & support were very quick to respond and clear up the issue in 2 hours.
Thank your Alexander.

Great extention! Great Support!

odyssey22

from United States

I'm happy with this Extension, it's comfortable to handle and the support-team is pretty fast with resolving little problems. Configuration and setup is also easy. Good job guys.

Лучший XML экспорт для прайс-агрегаторов

Doklin_l

from United States

Купил, установил, работает.
Вот так, нужно делать скрипты.
Очень дружелюбный саппорт, все вопросы по функционалу были разяснены еще до покупки.
Есть маркировка Url для аналитики.
Можно делать выбор по представлениям витрин.
Что говорить, класный модуль, молодцы ребята. Постарались.

Кстати все нововведения по Yandex Market внедряются сразу, это очень важно для любого интернет-магазина.
Compatibility
The Yandex Market Export is compatible with:
| | |
| --- | --- |
| Magento Community Edition (CE) | 1.6.0 - 1.9.4 |
| Magento Enterprise Edition (EE) | 1.11 - 1.14.2 |
Refund Policy
All customers can request a refund during 30 days after purchase of our software, if customer think that our software is not suitable for any reason. To request refund, customer must remove all copies of our software from its store, servers, computers, email, etc and confirm by email such removal. After receiving a request we will proceed refund within 3 business days.
If request for refund is received after 30 days after purchase, it will be rejected. Cost of installation and customization services are not refundable.
Support and bug fixing
Mirasvit offers free 90 days support of all software sold on this site. Customers can report all bugs, which were found in our software. We can solve only the bugs directly related to or caused by our extension. Those bugs must be reproduced on fresh Magento installation without any 3rd party plugins. We will solve that bugs in order of our development plan.
We don't do any type of custom work and we have a right to reject a support request if the issue is store-specific (cannot be reproduced on the fresh Magento installation without any 3rd party plugins).
Mirasvit will not be liable to you for any damages (including any loss of profits/saving, or incidental or consequential) related to our support service caused to you, your information and your business.
Software updates
Mirasvit offers free lifetime updates if they areavaliable. Updates are limited to the Magento version branch (1.x.x or 2.x.x). Customer can download an update and install it by himself. If support period is expired, Mirasvit.com can't solve any possible problems with our software during or after updating. Mirasvit does not guarantee that it will release updates for any product.