 Enables you to integrate video from YouTube into your online store, fully customizable, easy to setup
Extension Demos
Pick a quick tutorial to learn about various aspects of this extension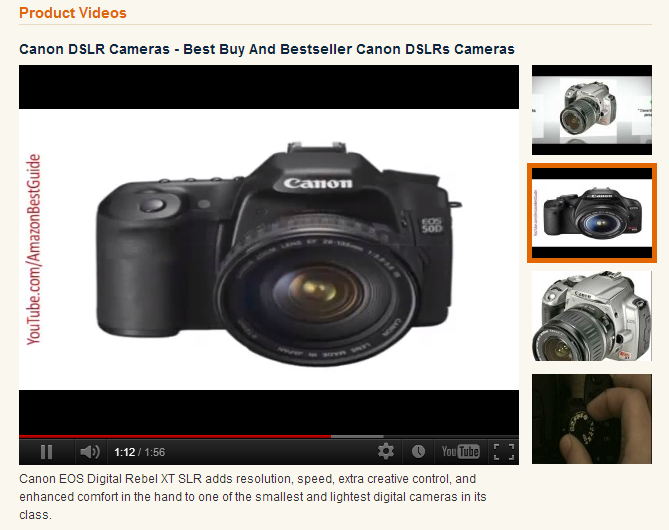 Conversion and online store sales depend on the quality of information about the products. Videos with information on products can be an important factor in the decision of a purchase. Choosing a product a buyer can understand not only through text, but also through watching a colorful video about it.
This extension allows you to add videos from YouTube to products and display them on the product page.
This extension works with YouTube, and therefore does not require any additional space on your server. You only need to specify the link to the video you liked and the product on your site for which the review is dedicated. The website will load the details with the miniature, and install it for the selected product.
Due to the extension's flexible setup, the number of videos for a single product is not restricted, and you can change the description or thumbnail at any time. Do not limit the buyer's information and give him the benefits of the digital world!
Features
The ability to add one video to several goods
Unlimited number of videos for a single product
Change the descriptions, titles and thumbnails easily
Integration with youtube.com
No need to store the video on your server
Adds video to a product in 3 clicks
See it in action!
Pick a quick tutorial to learn about various aspects of this extension
Great extension

Marko

from Rovaniemi, Finland

Great extension, simple to add videos to many product at once.
Compatibility
The Video For Products Pro is compatible with:
| | |
| --- | --- |
| Magento Community Edition (CE) | 1.6.0 - 1.9.4 |
| Magento Enterprise Edition (EE) | 1.11 - 1.14.2 |
Refund Policy
All customers can request a refund during 30 days after purchase of our software, if customer think that our software is not suitable for any reason. To request refund, customer must remove all copies of our software from its store, servers, computers, email, etc and confirm by email such removal. After receiving a request we will proceed refund within 3 business days.
If request for refund is received after 30 days after purchase, it will be rejected. Cost of installation and customization services are not refundable.
Support and bug fixing
Mirasvit offers free 90 days support of all software sold on this site. Customers can report all bugs, which were found in our software. We can solve only the bugs directly related to or caused by our extension. Those bugs must be reproduced on fresh Magento installation without any 3rd party plugins. We will solve that bugs in order of our development plan.
We don't do any type of custom work and we have a right to reject a support request if the issue is store-specific (cannot be reproduced on the fresh Magento installation without any 3rd party plugins).
Mirasvit will not be liable to you for any damages (including any loss of profits/saving, or incidental or consequential) related to our support service caused to you, your information and your business.
Software updates
Mirasvit offers free lifetime updates if they areavaliable. Updates are limited to the Magento version branch (1.x.x or 2.x.x). Customer can download an update and install it by himself. If support period is expired, Mirasvit.com can't solve any possible problems with our software during or after updating. Mirasvit does not guarantee that it will release updates for any product.