 Trigger messages have proven to be a reliable tool of email marketing with a very high rate of response and conversion. Follow Up Email can bring up to 40% of the total income that you receive through the email distribution.
Buy this extension now and upgrade to Magento 2 for Free later!
Extension Demos
Pick a quick tutorial to learn about various aspects of this extension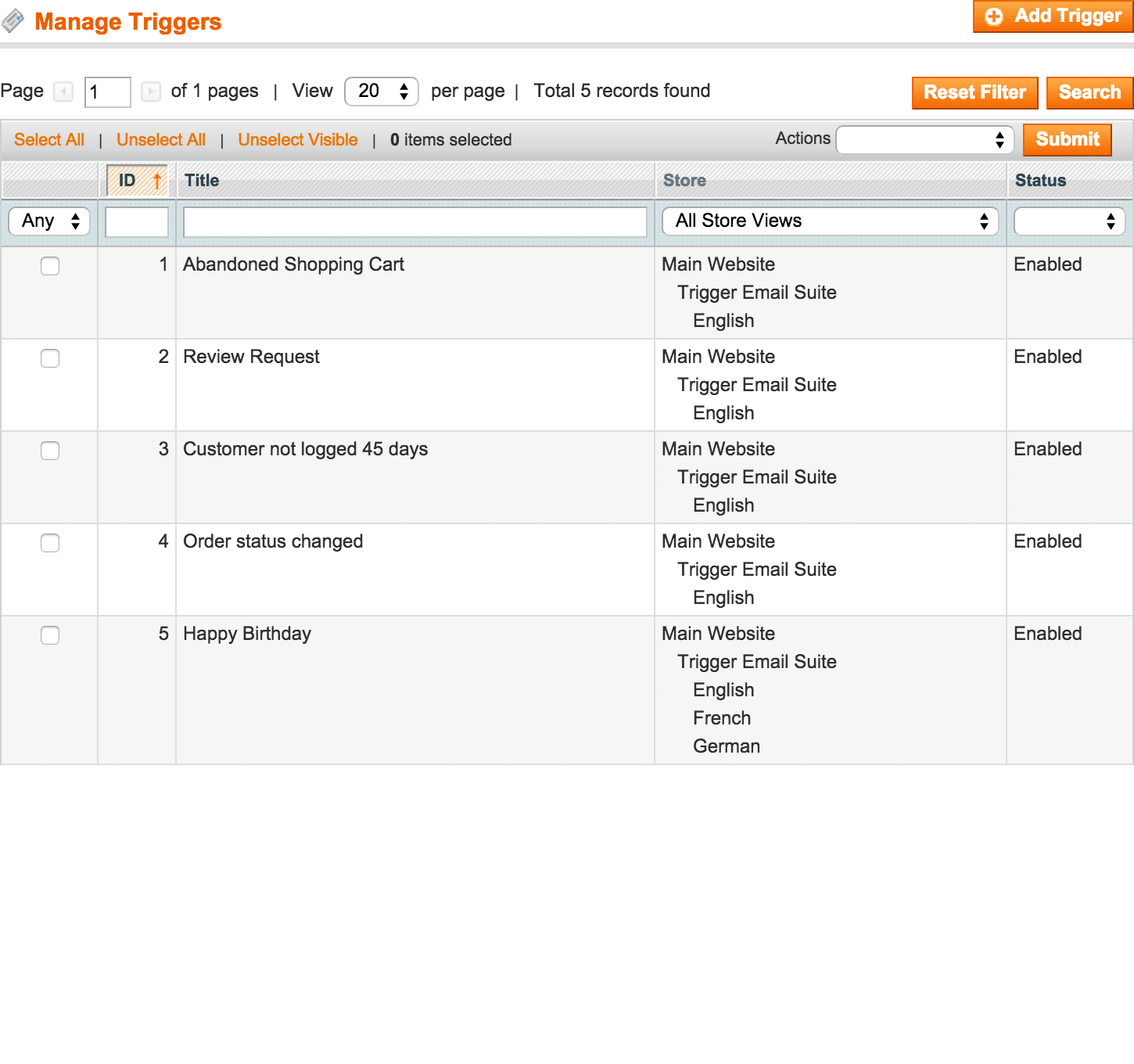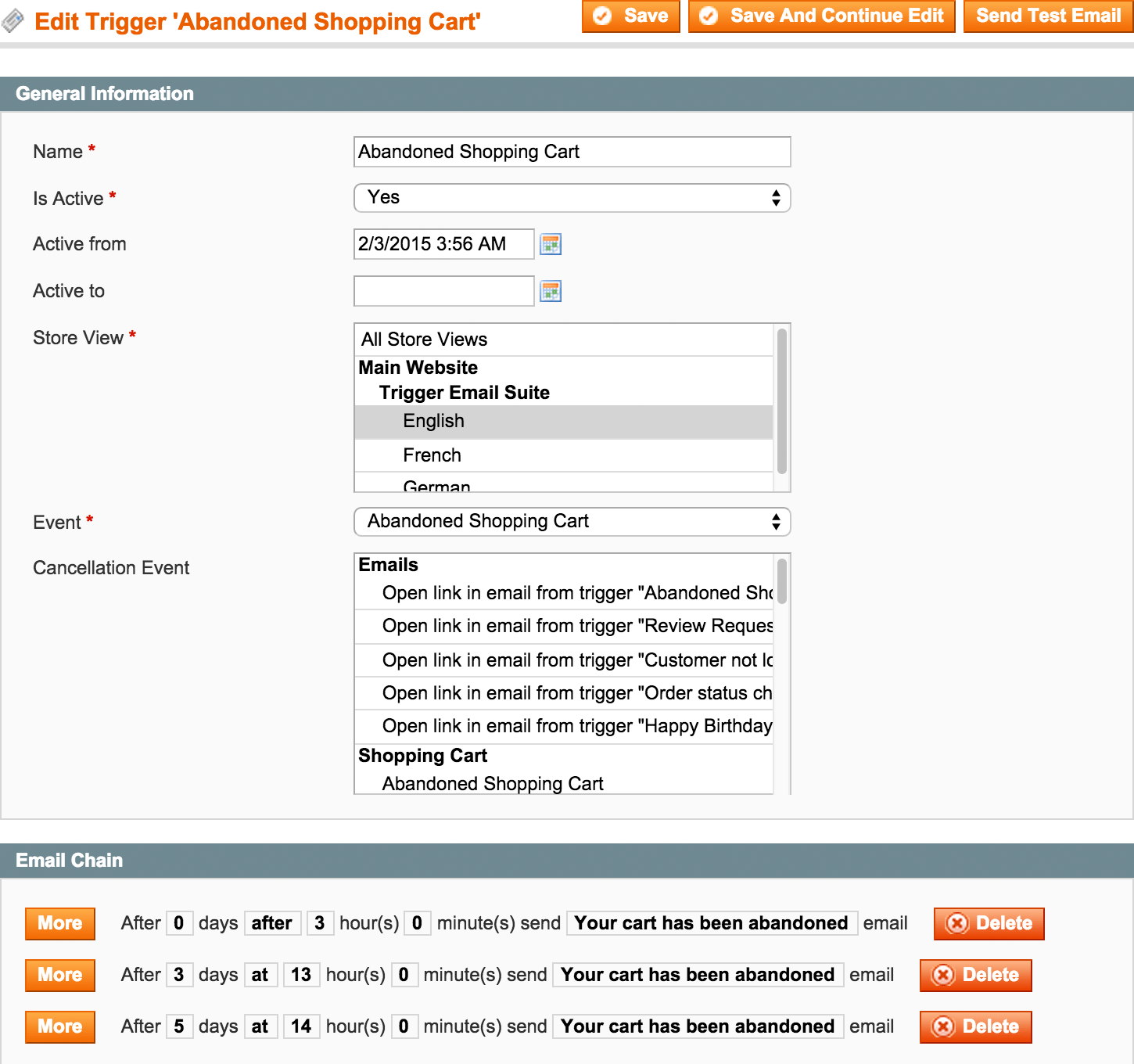 Top 5 Reasons to choose Magento Follow Up Email by Mirasvit
Powerful and flexible email editor

Editing without limitations. You can include to email any block, text, order information, coupon etc

Analytics & insights

Not just clicks. Our extension can track number of readers, clicks, placed orders and new reviews.

Flexible Rules

Send emails only to relevant customers. You can send emails depending on purchased products, customer group, order attributes.

Easy to get started

Get set up within minutes and start making your customers happy.

A cost-effective solution

There are no annual or monthly fees, just purchase and use.
Some companies do not want to annoy their customers, and so distribute mailings once a month. Some companies would like to send emails to the customers much more often, but they do not have the resources to prepare high-quality emails weekly. With this extension, you will not lose the huge potential of email marketing.
The extension allows you to solve the following tasks:
to remind the customer of an abandoned cart (magento abandoned cart email)
to cross-sell based on the shopping cart or previous sales
to remind yourself of old customers who have not visited your site for a long time
to offer a discount (coupon code)
to remind customers to re-order (for example, if you sell consumables)
to wish them a birthday or other celebration
to automate emails with tracking information, after a change of order status

New

to maintain good a relationship with customers, to increase their loyalty
to turn potential customers into buyers
Upon the occurrence of an event (making order, change of order status, abandoned cart, etc.), the extension automatically generates a chain of emails to be sent to the customer during a certain period, thereby reminding the customer of your store, their order, cart, bought products, etc. Before sending the letter, the extension analyzes the previous activity of the customer based on rules (opening letters, go to the link, making orders, number of reviews). Depending on this criteria, it can change the message chain.
Improve Conversation Rate
Track and send emails to visitors who abandon a checkout

Extension tracks all shopping carts and can send follow-ups to customers or unregistered visitors who abandoned their shopping carts.

Extension automatically captures (using ajax) a customer's name and email address on all store pages (checkout, newsletter, registration form etc)

Restore a customer's shopping cart just by one click with a direct link in the email

Auto-login customers by clicking on any link in an email
Sell more and build customer loyalty
Ask review (Review Reminder Email)

After some time, the extension can automatically send ask review emails after purchase.

Additionally you can configure mail-chain with few messages, if a customer does not place a review after the first email.

A winback message

After some time, the extension can send a winback message to customers who did not visit the store.

A product recommendation

Extension can send product recommendation emails based on previous customer purchases.

Wish customers a Happy Birthday

Ability to integrate coupons in email

You can specify what shipping rule relates with email and the extension will automatically generate a unique coupon code for each email with the ability to set up an expiration date fro the coupon
Analyze the efficiency and improve your emails With Follow-Up Email, you can easily track your email marketing performance and improve it.
Performance statistics for email marketing Must Have

Track number of placed orders or reviews by clicking on the emailed link
Track number of visits by clicking on the emailed link
Track number of readers (visitors who open emails)

Ability to integrate Google Analytics tracking

Detailed statistics by each company / trigger
For Administrators
Extended set of events

Email chain can be triggered and cancelled by one of these events:

Customer

Customer Logged In
New customer signup
Customer birthday
Customer activity
Customer subscribed to newsletter

Order

Order obtained new status
Order obtained '###' status

Shopping cart

Abandoned Shopping Cart
Product price was changed

Wishlist

Product was added to Wishlist
Wishlist shared

additionally you can add your own events without changing the extension

Flexible rules and conditions

Ability to specify additional rules for the start and stop of a trigger:

Customer

Group
Lifetime sales
Number of reviews
Number of orders
Subscription status

Shopping cart

Total quantity of products
Total count of products
Subtotal
Product(s)
Category of products

Order

Total quantity of products
Total count of products
Grand Total
Product(s)
Category of products

Intuitive email builder

Extension provides wysiwyg email editor. Also, the extension includes a few common magento email templates.

Ability to import templates from MailChimp to Magento Follow Up Email extension

Ability to set the trigger's period of activity

Ability to specify a delay in sending mails to days, hours, or minutes

Ability to specify different coupons for different items of the chain

Ability to display additional Related Products, Associated Products, Upsells of Products

Ability to view the sent mails

Ability to view the queue of mails to be send

Ability to generate email for past events

Ability to specify a SMTP server to send mails

Sandbox mode

If sandbox mode is enabled, all mails are sent to the test email
Additional Features
Direct link to unsubscribe inside the email
Direct link to view the email inside the browser (not display correctly? View in browser)
Rapidly going from the mail to the store with automatic authorization
See it in action!
Pick a quick tutorial to learn about various aspects of this extension
Works Great!

Thrive

from United States

This extension has done everything it's promised, will be using it in Magento 2. Mirasvit has stood behind this product 100% including a free upgrade! The only issue is that it allows PHP directly in the templating engine.

Works great

We always buy from Mirasvit as the code is the best and the support is great too.

Increase your revenue

Jack

from Cerklje ob Krki, Slovenia

This extension will increase your conversion rate. At least it did for me... ;)

Fantastic must have tool!

Izzy

from Zwolle, Netherlands

Can't work without it

Great Extension

Dan

from Ashqelon, Israel

Allows easy follow up with customers under pre-defined rules using prefefined email chains. Great for both pre and after sale communication.

great service

ajebo

from Lagos, Nigeria

number 1 magento plugin provider

Very great module for contacting clients

Ard

from Piatra Neamţ, Romania

We use the module for many follow-ups

indispensabile estensione per recuperare clienti ed ordini

giuseppe

from Terlizzi, Italy

davvero ottima estensione, la uso e mi trovo molto bene, suggerita..!

Solid Follow Up

Scott

from Wilmington, United States

Very dependable solution for closing sales on interested customers. Robust rule set.

Great for convertions

Mike

from Echtenerbrug, Netherlands

We use the build in campagnes to get more reviews and orders. Works great

One of the best follow up extension

Motomotors

from Budapest, Hungary

Its a must have plugin

Excellent extension

Catalin

from Râmnicu Vâlcea, Romania

Follow up email is a great extension that is working fine, like they say. Support was essential. They helped me till extension worked fine on my website. I recommand. Thank you.

непогана штука

Vadym

from Ghaziabad, India

непогана штука. Я її юзав у випадку, коли в мене людина купувала бензопилку - пропонував швиденько добрати масло і т.п. Спрацьовувало непогано. Єдиний мінус - не можна було послати листи тим, хто оформляв замовлення раніше.

Very Good

Does a lot more than similar extensions on the market. I only need to see whether it captures email by ajax, and if it does that now, or in future releases, this would be absolutely top of the hill. It's great even now, for the kind of features it has (not restricted to only abandoned cart, which is a huge plus)


By far the best

Abhishek

from Gwalior, India

This follow-up email is by far the best marketing extension we have found till now. We have checked many follow-up emails and all those were lacking in one or another or so many features which Mirasvit has. Bang on Mirasvit, you nailed it in follow up email extension.

Love this extension

Tom

from Kenosha, United States

Extension is well put together. Love that it already comes with templates so its pretty much ready to use right away! No Problems with the extension!

Work Great

Steven

from Ontario, United States

Work Great but a little note: This module is not compatible with Quoting System. If you are using 3rd party quote system, the customer might get extra discount after quote.

works great

Brandon

from Olathe, United States

works great

Exactly functional

Joao

from Piedade, Brazil

The module works perfectly and has met all my expectations generating smart emails with very positive results!

Never been easier to make more money

Gzim

from Vejen Municipality, Denmark

First of all i want to say we have been trying 2 other extensions for this, but none of them performed like this one.

We used the extensions for 2 things:

To remind customers that we are taking good care of their abandoned carts and the items are waiting go home with them.

Second we use it to remind the customers to come back, with even a coupon code with x% off or a free shipping coupon. It brings back customers. The price is ridiculously low compared that you are getting a "abandoned cart" and "follow up" extension in ONE extension.

Good option in emails

Fashoop

from Querétaro City, Mexico

A very useful extension for sending emails of important events that become a sale more.

The support of mirasvit is very good and attentive, they help you at all times with doubts and to solve the problems

the Best extension

Chris

from Lake Forest, United States

easy to instacll it

Best marketing tool

Alex

from Barcelona, Spain

Since we added the module to our shop the number of client reviews increased by 200%, we have used similar solutions, but no one has the value of this one.

Keep the good work!!

Very useful

Esteban

from Barcelona, Spain

I recommend it. Really easy to use and the support time was very kind and helpful.


8 for extension, 9 for professional support, missing 1 pls strive for perfection ;)

Mario

from Hung Hom, Hong Kong

8 for extension, 9 for professional support, missing 1 please always strive for perfection ;)

Extenstion bought:
Full Page Cache 10/10 (load time from 14 sec to 5 sec)
Follow Up Email 8/10
Reward Points 8/10
Help Desk 8/10
Product Questions 7/10
Sphinx Search Ultimate 9/10
Product Labels 7/10


Awesome extension.

I love it and my customers too.
The Mirasvit support was great as always.
I feel stupid that I didn´t buy this extension before, it saves so much time and money.

Incredible

Erkan

from Brackley, United Kingdom

Incredible. Tried 3 different extensions similar to this. Non of them worked also technical support was terrible but this one was easy to set up didn`t even contact to tech support. Amazing extension.
Thank you guys.

I love it

This is a very good extension, I recommand it !

A Great Extension

Craig

from Yandina Creek, Australia

We have been using this extension for a long time and it has definitely helped our business.

Great extension with many features

Eliyahu

from Southfield, United States

Great extension with many features

Great extension with many features

Eliyahu

from Southfield, United States

Great extension with many features

Works great

Exactly what we needed! The support team is great and very friendly staff members. The extension works out of the box.

Better than others email marketing provider

xavier

from La Landec, France

The best feature is :
You keep your data and you can do what you want with. You don't need to pay every month.
Thumb up.

I love this :)

Marek

from Chełmno, Poland

It's great extension which give me many capabilities in selling and sending email to my clients.
The technical support is great, quickly resolve my problems.

Email follow-up

Winston

from Newport News, United States

Another solid Extension by Mirasvit! Very pleased with their work and support. Great company to work with.

Great module for automating email

Sergei

from Te Awamutu, New Zealand

The visual editor is fantastic. nothing like it in other modules. Works very well..

Better than competition

Marvelous extension! It's working just one week and our shop and already paid for itself. The abandoned cart future worked just few hours after turning it on. Catching customer's e-mail address from any field in the shop is also perfect solution.

Decrease my bounce

Really helps by automatizing the following up emails and decreases the soft bounce from some e-mails servers

The best

Cledson

from Petrolina, Brazil

Woow. The best. Increase sales and reviews.

Excellent Follow Up Emails!!!

Paulo

from Uberlândia, Brazil

Hello visitors, give up searching for Supplier of Email Management module, this module Mirasvit is the best available for Magento. After we tried several others, we stopped at Mirasvit no doubt this is the best and most complete module for this purpose available for Magento. We are Customer Mirasvit from 2 years ago. Congratulations, Mirasvit is excellent.

Great!

Alex

from Berlin, Germany

Great extension! Very happy with our choice!

Amazing, this extension pays for itself.

Michael

from Vancouver, Canada

This extension is great. If you are looking for a way to save time not having to message you site visitors after they complete actions on your site (like signing up for a newsletter, adding items to their cart, or requesting reviews), then you need this extension.
In one month this extension paid for itself.
The shopping cart reminder feature is something no online store can live without, and it can be set to send out as many emails as you want.
Could be the most useful magento extension we have added to our store.

A MUST HAVE for all Magento store owner.

Budiono

from Jakarta, Indonesia

Since I run a rental online store, I need user to upload their required document to their account. And my life will be easier if this extension can helps me to remind me if a customer upload their data! This is not their standard feature. So I asked their support Alexey Varlamov about the possibility to create a trigger relating to this needs. Before 24 hours, He sent me an update include a file that they created a new function based on my needs! Now I have trigger Customer Account Update in my store! This is above my expectation!

Good product

Liked it very much

Great extension!

Gökhan

from Bad Vilbel, Germany

Great extension and super Support. I love this company and his extensions.

Great Product

Shabaka

from Gerrards Cross, United Kingdom

Great product and company will use again.

Can't get better

Sudheer

from Mumbai, India

Mirasvit is been the best extension provider for us. They give amazing support. We have no easily setup automated marketing mails to our customers based on their behavior.

Exactly what we were looking for.

axtore

from Wilmington, United States

We like the way the email templates are so easy to set up. Once you have your design layout set (you can use the one supplied and drop in your logo). It is just a matter of creating the email and triggers. More importantly is the trust we have with the developer. They are quick to reply to questions (considering the time zone difference) and willing to assist. We also just bought Sphinx Search Ultimate.

This is a MUST HAVE!

This is definitely a must have for EVERY Magento store. It builds customer relationships on top of the email, getting back customers who haven't visited in a while, reminding them of their abandoned cart / orders, asking for reviews or feedback, all in an automatic way. With one-time setup, I can see this extensions brings more value than any other extensions combined!

Great for collecting reviews

We used this extension to collect reviews from customers shortly after dispatch of their order. It works really well and is easy to configure. Just a bit of styling of the email template and we were able to retrospectively send emails to all customers who had placed an order in the last 6 months. The default email template linked to the product page but Mirasvit change the code for us so that we could direct customers to the product review page. I would definitely recommend this extension.

Amazing features

Nick

from Groningen, Netherlands

Great extension with amazing features. We can create truly awesome emails to send to our customers.

Awesome, really generates more sales

Raymond

from Apeldoorn, Netherlands

Works exactly as advertised, easy to install

Great Extension

Joseph

from United States

It saved so much time for us and brought more sales.

Excellent!

Hashid

from Bengaluru, India

Great concept from Mirasvit! I love the cart restore button which auto logs in the customer with his cart items populated. Thank you!

Works great

Bojan

from Mantinge, Netherlands

Just with the abandoned cart option alone, this extension proved it's worth. I love the extensive trigger options and the wysiwyg way you can design your emails in the back-end of Magento. Highly recommended!

Great extension

Ivan

from Nicosia, Cyprus

Great and easy to use extension.

Great

Haim

from Canton, United States

If you have the time and patience to set up the proper follow up emails, you will get an unbelievable ROI.
We did it and the response and increase in sales has been amazing.
Great job by Mirasvit once again!

Fantastic job!

Filipe

from Martigny-Croix, Switzerland

Really really great extension! The best for us!

Very useful

Tatsuro

from Takasagocho-takasemachi, Japan

This extension grabs the name and email of customers, so you can send the abandoned cart emails to customers who stop the checkout process and don't create an account.

Great Extension

Miguel

from Hollywood, United States

I already installed and I will absolutely recommend this extension.
This will increase your seals if you do a good job with your email follow up promotion.


Great ROI

This module had an ROI of approx. 2 days in our shop - thank you very much for this great piece of software!

Increase your sales and client loyalty

Thanks Mirasvit for this great module! With this solution, we have received a few additional sales for a short time, this investment quickly pays for itself.

great extension

Ghio

from Echtenerbrug, Netherlands

does what it say it does!

formally known as the email trigger suite!!

EXCELLENT auto email responses

Great Extension, Great support.

Svilen

from Barcelona, Spain

Just updated the extension. It turned out that there are a lot of core improvements since the previous version that I had, because of that I lost my settings. MIrasvit support was great again and helped me recover my setup quickly. Keep the good work.

Good extension

Jeff

from Auckland, New Zealand

It gives us an opportunity to create another touch point with customer.


Nothing short of amazing

Boluwatife

from Aurora, United States

Great extension. Love you guys at Mirasvit for providing this!

Very complete, little technical

SN

from Amsterdam, Netherlands

Very complete and smart setup of FUE. Good work.

https://sleeve7.com and https://shirtsofcotton.com/en

Mirasvit is great!!

We are always so glad to see the name Mirasvit when we are looking for extensions. It is a pleasure to work with their friendly support. Any problems which occure are quickly solved. Their extensions always over-exceed our expectations but are not overloaded with useless features.

The Magento Core team could learn a lot from this extension! The Analytics-tracking feature and Email Trigger work perfectly!
When creating E-Mail templates you can view changes instantly, this eases the annoying process of designing an Email. Additionally you can directly write PHP code in the template allowing you to send dynamic emails.

Our customer is happy, we're happy, everything is great!

Thank you!!!!

Good product

Mallesh

from Smyrna, United States

This product has helped to automate several of events which is helping us to increase the conversions and as well increasing the returning customers rate

Needed this!

MA

from Maidstone, United Kingdom

Needed something like this, which will send follow up emails. After installation there were some problems but mirasvit fixed them promptly.

We gave an idea to include a new feature, after implementing that it will be even better!

Very useful

Matej

from Grize, Slovenia

We just started to use it and it looks very promising. Very useful extension!

Third time purchasing module

As headline said this is the third time I'm purchasing this module and reason is that it works great and it boost our sales.

Great Extension

Neal

from Dubai, United Arab Emirates

The followup email extension works well and without any issues. The only feature I would like to see added is an option to set a trigger to not repeat for the same customer over a set period of time. Otherwise customers can end up queuing multiple abandoned cart emails.

Great Tool

altdev

from Thousand Oaks, United States

This extension works amazingly well. So far, we have only sent a few test emails, but everything works flawlessly and as expected. We found the extension configuration to be mostly intuitive and setting up a few triggered emails was easy.
I can see this as an excellent tool for driving customers back to your store.

Solid and stable extension

László

from Budapest, Hungary

We have this extension now already for 1 years on our site and it has been working excellent and without any issues

Great way to retain customers and gain lost orders

David

from Saint Paul, United States

We use this extension to retain our customers, get reviews, and convince potential clients to order.

Great Extension!

albert

from Pineda de Mar, Spain

This extension works as expected. Great costumer support.

Enterprise Features for Community Edition

Sven

from Dortmund, Germany

This extension brings Enterprise features to your Community Edition. Congratulate your customers to their birthday, requests product reviews, take care of your customers with follow up emails. Everything is well thought, good organized and easy to use because Mirasvit knows how to do it.

Great module for great price

I highly recommend buying this module because it is working really great.

Great extension

Robert

from Oppegard, Norway

Really good quality follow up email extension. Easy to use and reliable. And as always flawless support from Mirasvit team.

Works perfectly

Agnieszka

from Krakow, Poland

Even the installation of version 1.0.1 was not straight forwards, , the support provided by Mirasvit was just perfect. All issues solved quickly and the extension works without any issues.

Fantastic!

Xander

from United States

A must have extension. Saves alot of work! Support is excelent and fast. Recommended.

Extension really very useful and that works very well.

Pietro

from Pordenone, Italy

Extension really very useful and that works very well.
We are very happy to have purchased. Technical support is excellent.

Very nice

JGH

from Groningen, Netherlands

I have installed this module for a client. It's very well put together and works great. There where some issues but the Mirasvit team fixed them in no-time.

Just what i wanted

George

from United States

excellent product!

best follow up extension you can buy

imbait

from United States

I have already bought 2 other follow up extensions from other developers.
both also have after bugfix try from support does not work with 1.8.1 on my custom store.
the developer of this plugin here were the only ones who could fix me all magento conflicts with other extensions. Support time is shorter than 24 hours.
Thanks again to Alexander :)

Absolutly great support team!!

Filipe

from United States

Miravist team is fantastic! Really! Their support is very professional and helpful! I had a special need with this extension, and they help me perfectly!
And they send you an email with all the detailed changes!

One word: PERFECT

excellent

turgay

from United States

I bought 6 modules mirasvit www.teleplus.com.tr is absolutely no problem, all is working great, very clean code

Love the flexibility

Daniel

from United States

This extension provides exactly what we needed. It is easy to setup an email trigger and to customize your designs. I really like it.

Great product with huge potential

I love the product, the support team is quick and extremely effecient.

The product could provide more default event criteria which can allow for a wider amount of triggered campaigns. While saying that with what is there you can do quite a lot, this a definite MUST HAVE for any sort business type big or small.

Would be useful if we could have input on the development roadmap.

Good job guys

Nice Extension

dotsquaresltd

from United States

I'm using Magento C 1.8. It looks great! and provides nice support.

весьма неплохо

в события, отменяющие цепочку писем, неплохо было бы добавить "оставление отзыва". если человек отреагирует на первое письмо, второе и третье будут сильно раздражать.
и ещё неплохо было бы добавить к условиям запуска наличие среди покупок клиента определенного товара (или одного из группы товаров).


Very professional support

Romain

from United States

the support is very good, we had an issue wi the tools, and immediately they remotely connected and resolve the issue...

Very interested

Looks similar to other I have seen. ;)

But I must say some of the elements really sound interesting. And to date we have only had good and fast support from Mirasvit.

Perfect!

The extension works very well, the support is great!
Solves all the problems of Magento's email!
Compatibility
The Follow Up Email is compatible with:
| | |
| --- | --- |
| Magento Community Edition (CE) | 1.4.1 - 1.9.4 |
| Magento Enterprise Edition (EE) | 1.10 - 1.14.2 |
Refund Policy
All customers can request a refund during 30 days after purchase of our software, if customer think that our software is not suitable for any reason. To request refund, customer must remove all copies of our software from its store, servers, computers, email, etc and confirm by email such removal. After receiving a request we will proceed refund within 3 business days.
If request for refund is received after 30 days after purchase, it will be rejected. Cost of installation and customization services are not refundable.
Support and bug fixing
Mirasvit offers free 90 days support of all software sold on this site. Customers can report all bugs, which were found in our software. We can solve only the bugs directly related to or caused by our extension. Those bugs must be reproduced on fresh Magento installation without any 3rd party plugins. We will solve that bugs in order of our development plan.
We don't do any type of custom work and we have a right to reject a support request if the issue is store-specific (cannot be reproduced on the fresh Magento installation without any 3rd party plugins).
Mirasvit will not be liable to you for any damages (including any loss of profits/saving, or incidental or consequential) related to our support service caused to you, your information and your business.
Software updates
Mirasvit offers free lifetime updates if they areavaliable. Updates are limited to the Magento version branch (1.x.x or 2.x.x). Customer can download an update and install it by himself. If support period is expired, Mirasvit.com can't solve any possible problems with our software during or after updating. Mirasvit does not guarantee that it will release updates for any product.