Campaigns Dashboard
Campaign is a central point of our Follow-Up Emails extension. Each campaign is a project, which consists of one or more Triggers, each with its own Audience, triggering Event and Emails Chain.
All campaigns are located at Marketing -> Follow-Up Email -> Manage Campaigns and organized in Dashboard with statistics, quick info and basic actions. It shown on screenshot below: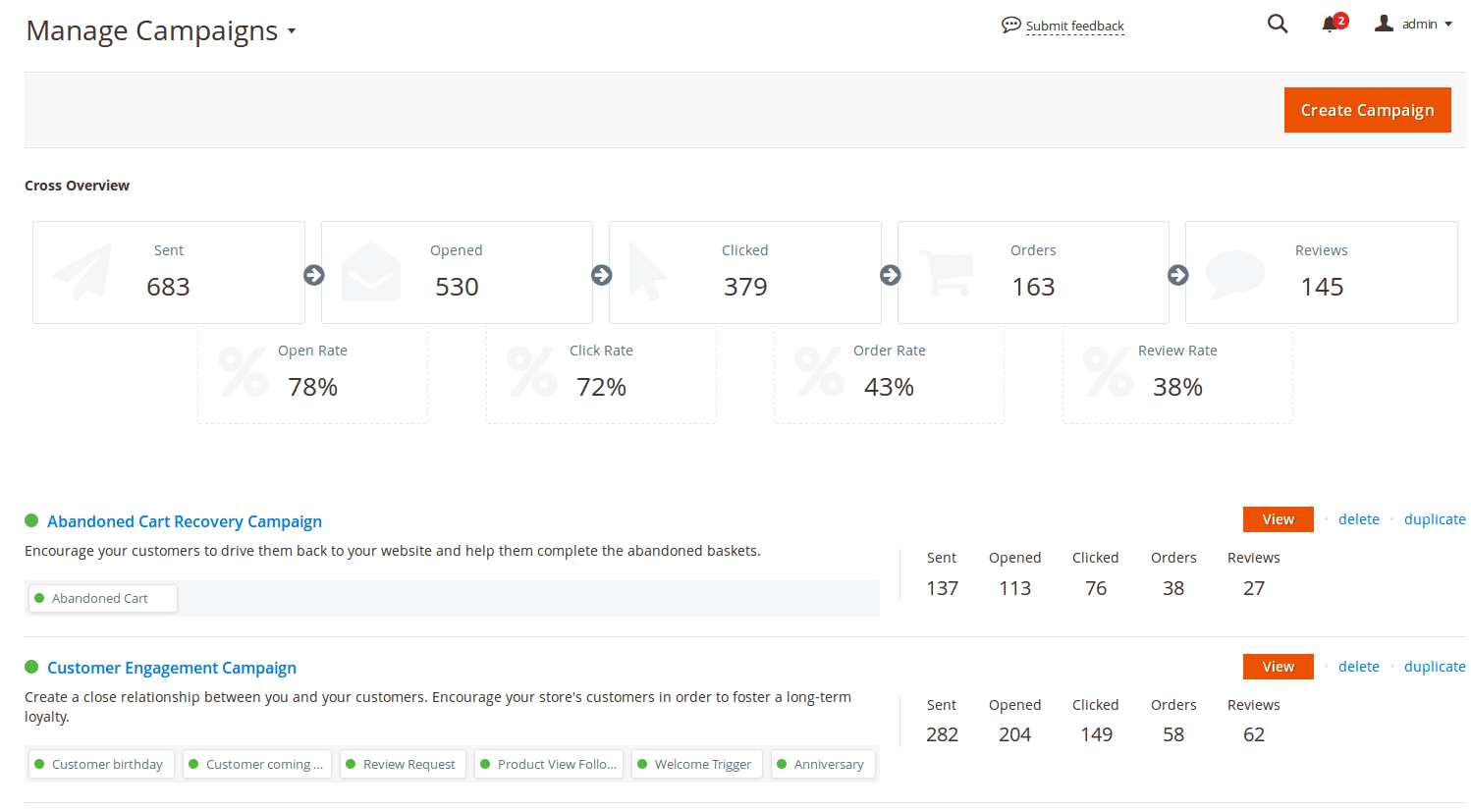 As you can see, Dashboard consists of two subpanels - top and bottom.
Top is a Cross Overview - an overall statistics hub, where displayed, how all of your campaigns succeeded in general. It breaks into two rows:
Campaigns Metrics - is the first row, which displays raw metrics, such as quantity of Sent emails, Opened messages, Clicked links, created Orders and Review written and approved.
Rate Metrics - is the second row, where displayed metrics relative to overall success, such as:

Open Rate - is calculated from Sent emails;
Click Rate - is calculated from Open Rate;
Order Rate - is the rate of placed Orders from Click Rate.
Review Rate - is the rate of approved Reviews from Click Rate.
Bottom is the list of all Campaigns, that are defined on your store(s). Each row of this list contains the following information:

Title - name of the Campaign. Green point shows, whether current campaigns is active;
Short Description - a few words about current campaign;
Assigned Triggers Pane - a list of triggers, assigned to this campaign. Each element is a button, which instantly brings you to Trigger edit pane. Green point shows, whether it is active;
Actions Pane - which contains basic actions:

View - allows you to edit campaign, or just view it;
Delete - allows you to instantly remove campaign;
Duplicate - creates a precise copy of current campaign, saving time for creating similar campaigns;

Raw Metrics Pane - which contains all raw performance metrics of current campaign (see above).