 Use this Magento 2 follow up email extension as an email marketing automation platform. It will send your marketing emails to the right people at the right time. It will motivate your customers to take the next step in your store.
Get a fast start with eight bundled email campaigns
Fully automate your email marketing
Run well-targeted email campaigns
Design visually appealing personalized emails with ease
Control the performance of your campaigns
Extension Demos
Pick a quick tutorial to learn about various aspects of this extension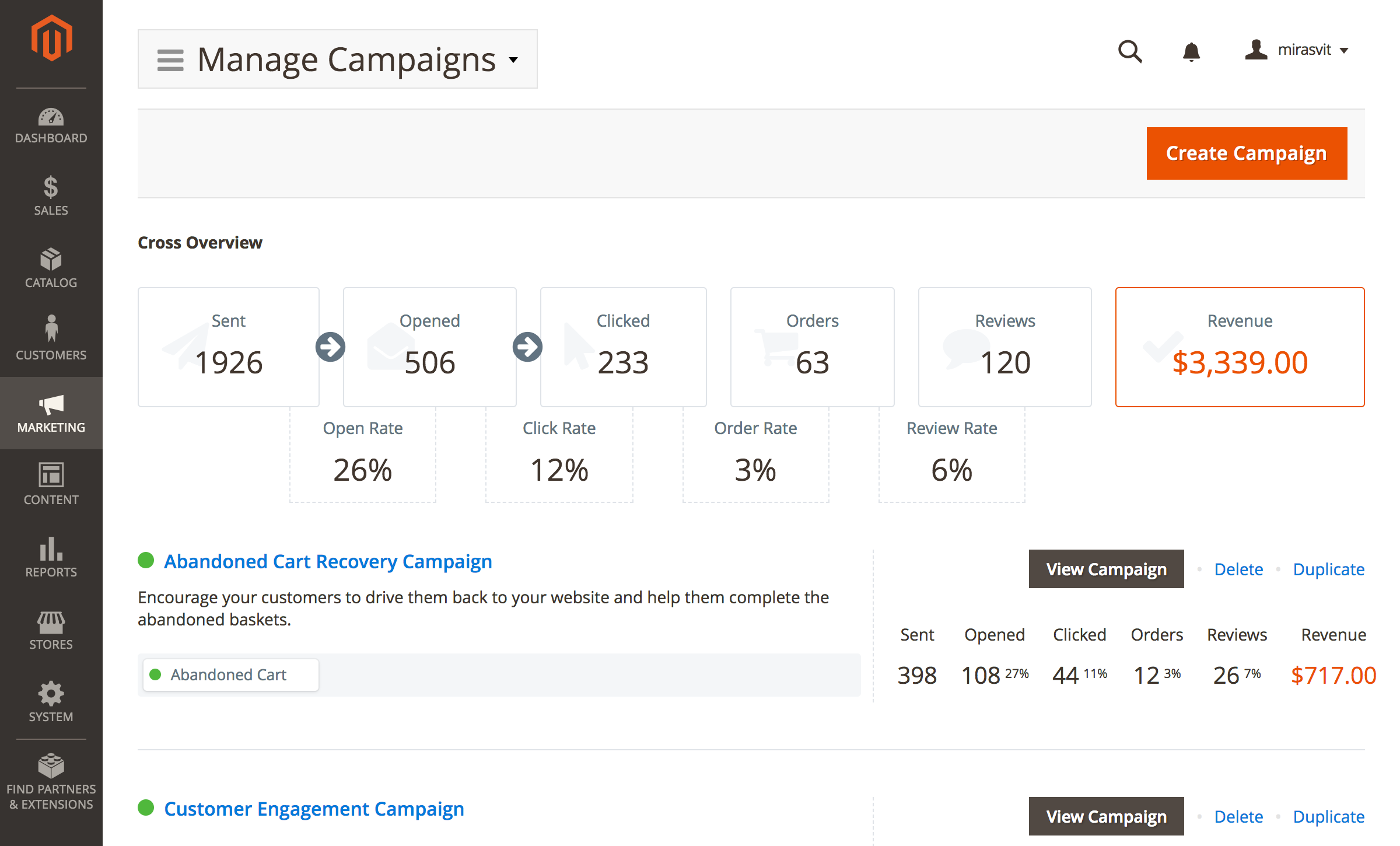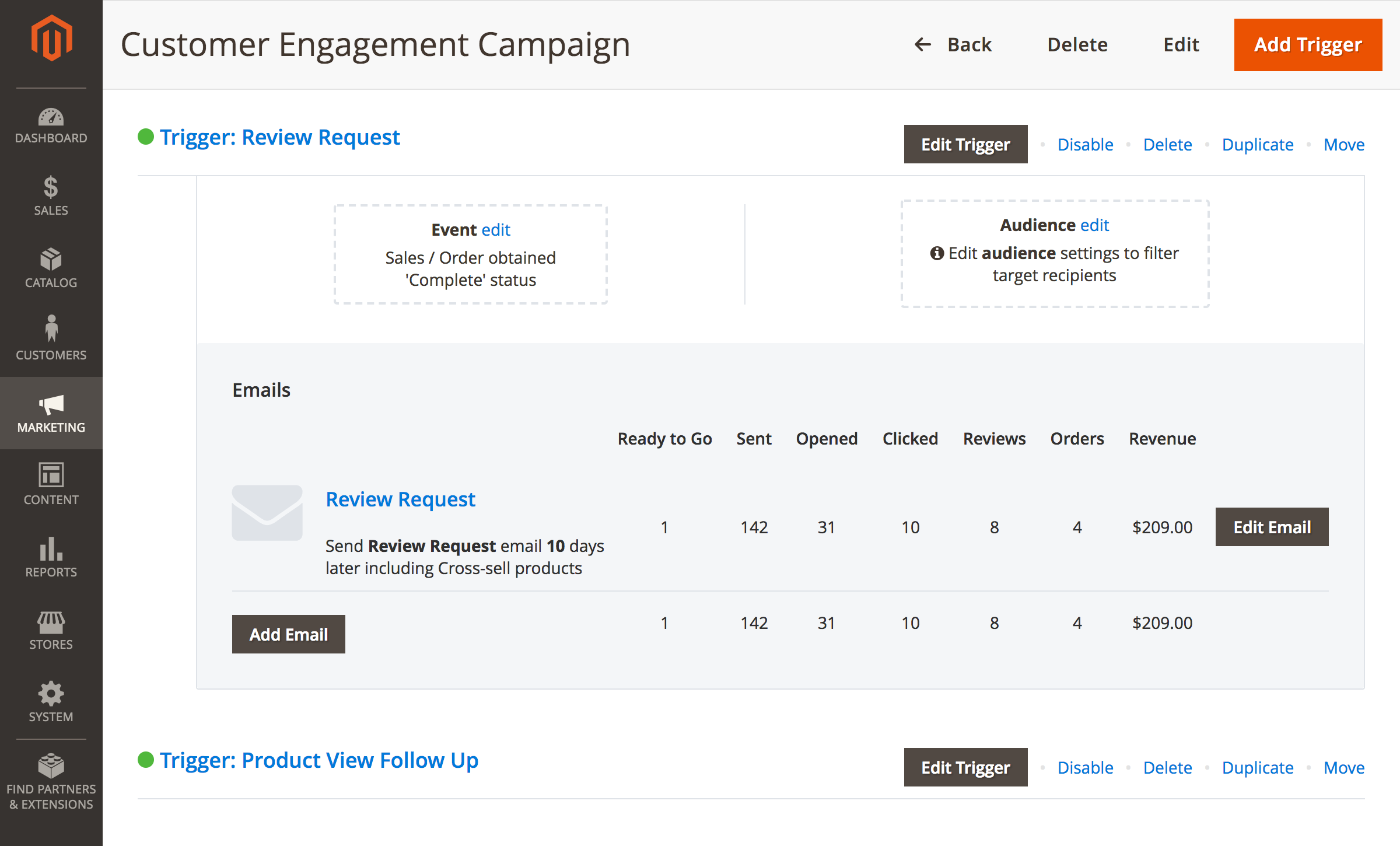 Trigger emails represent reliable marketing tools with great response and conversion rates.
You set up an automated email series that should be activated under certain circumstances, say, a customer abandoned shopping cart. Once an automatic email series gets enabled, the extension should automatically send personalized emails to such a customer. The extension will tailor further emails to the earlier customer behavior in your store.
Feature Highlights
Get a Fast Start with Bundled Configurations
You will receive the following pre-configured campaigns after the installation of the Magento 2 Follow Up email module. You will need to activate the campaigns to work for your store.
Abandoned Shopping Cart Reminder (including guest checkouts)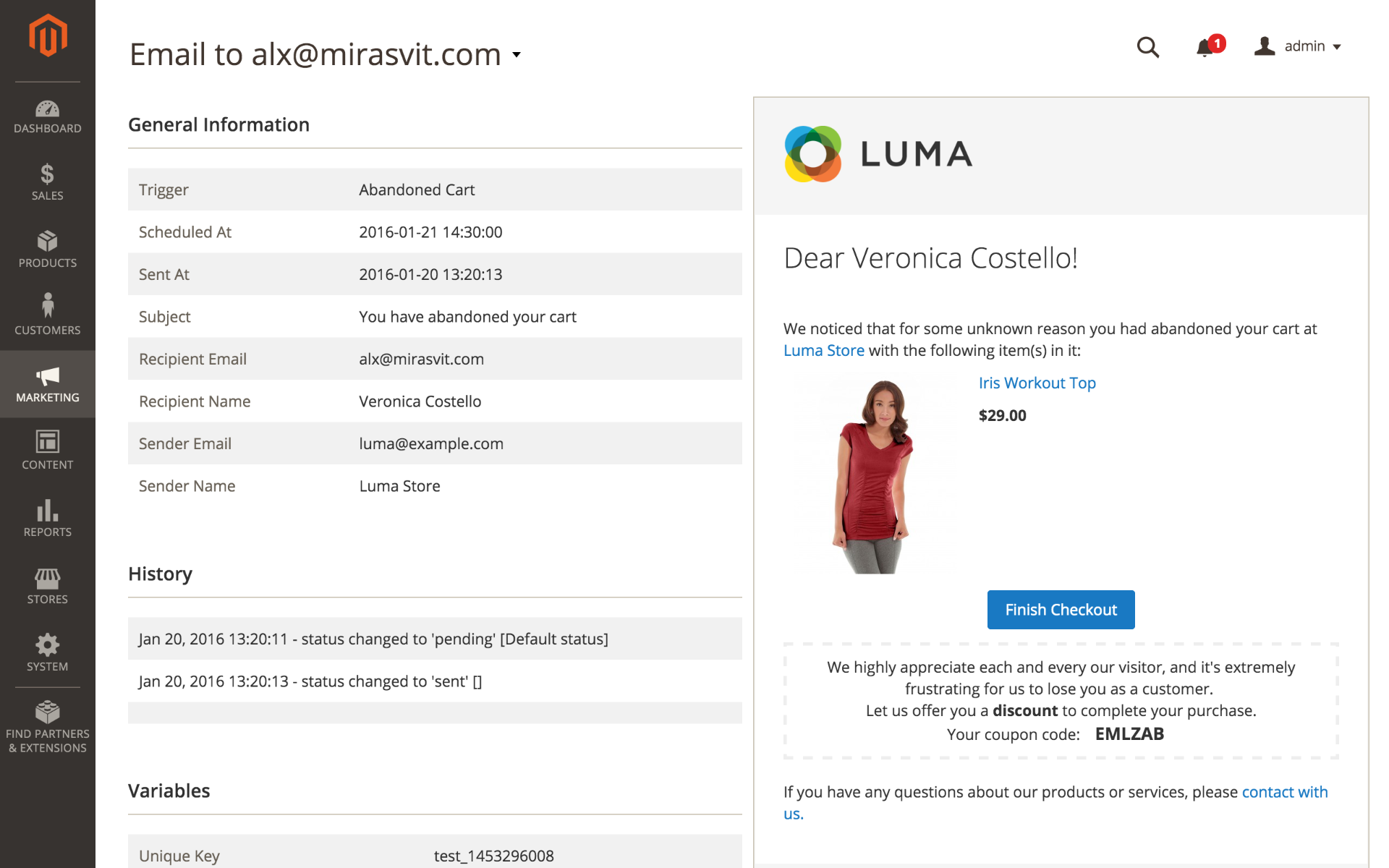 The average shopping cart abandonment rate is around 68%!
This Magento 2 abandoned cart email extension win back your customers, grow your online store conversion rate, and drive more sales.
---
Review Reminder
Authentic reviews allow a store to build customer trust. Also, reviews affect Google ranking.
The extension enables automated sending of the emails requesting online reviews shortly after purchase.
If a customer doesn't leave any review after receipt of the first message, you can configure an automated email series in a certain way.
---
Win-Back Emails
Every store has its loyal customers as well as satisfied customers who are inactive for a long time. Win back your customers by sending them an email with something special like a gift card or a coupon. The extension enables automation of this process. It sends the win-back emails to the customers that did not visit your store at certain times.
---
Product Recommendation
The extension will send an email with product recommendations based on a customer's order history.
---
Wish Your Customers on Happy Birthday to Show that You Care
Every customer likes attention. Sending a birthday marketing message, you will increase your store loyalty. You can also enclose a special gift coupon to your email.
---
Send An Email with Recently Viewed Items
The extension can send an email with an overview of the items that customers viewed recently. This email will increase the number of repeat visits that will bring new orders.
---
Run Effective Email Campaigns
Send Emails to The Right People at a Right Time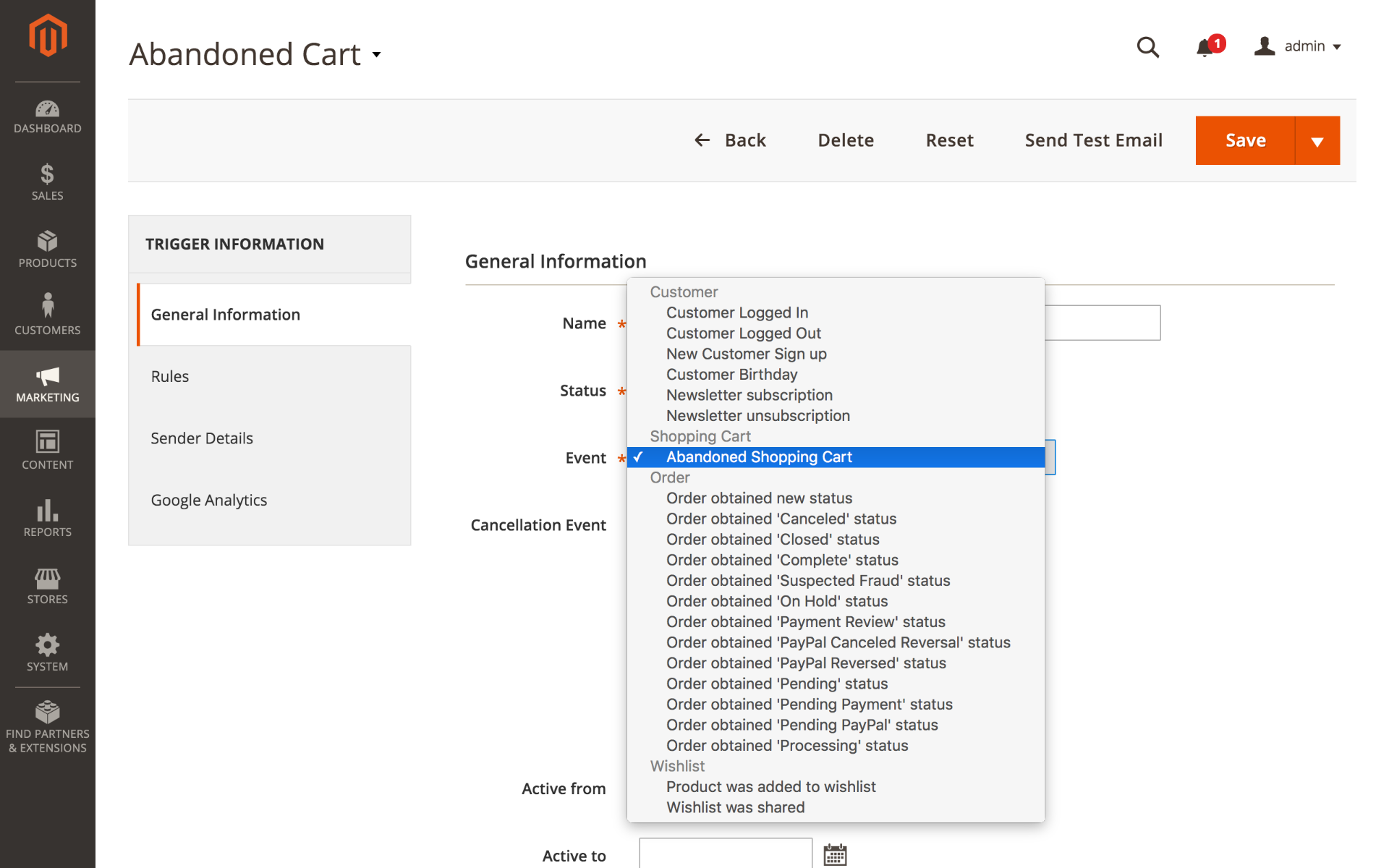 Compared to the common newsletter extensions, the Follow Up email extension in Magento 2 allows aiming your campaigns at a specific customer at a particular stage of his journey towards the next order. Email campaign activates only upon completion of certain events.
The extension supports many different events. They can be described as follows:
Customer-related events such as logging in or subscribing to the newsletter etc.
Shopping cart-related events such as an abandoned cart
Order-related events such as order placement or status changes etc.
Product-related events such as viewing certain items by a customer
Wishlist-related activities like sharing or adding an item
You can also use filtering rules to limit your campaign to address a defined group of customers. You can send specific emails to individual customer segments. Send relevant emails to each section, and it won't take you long to see a fantastic result!
---
Send Discount Coupons in Emails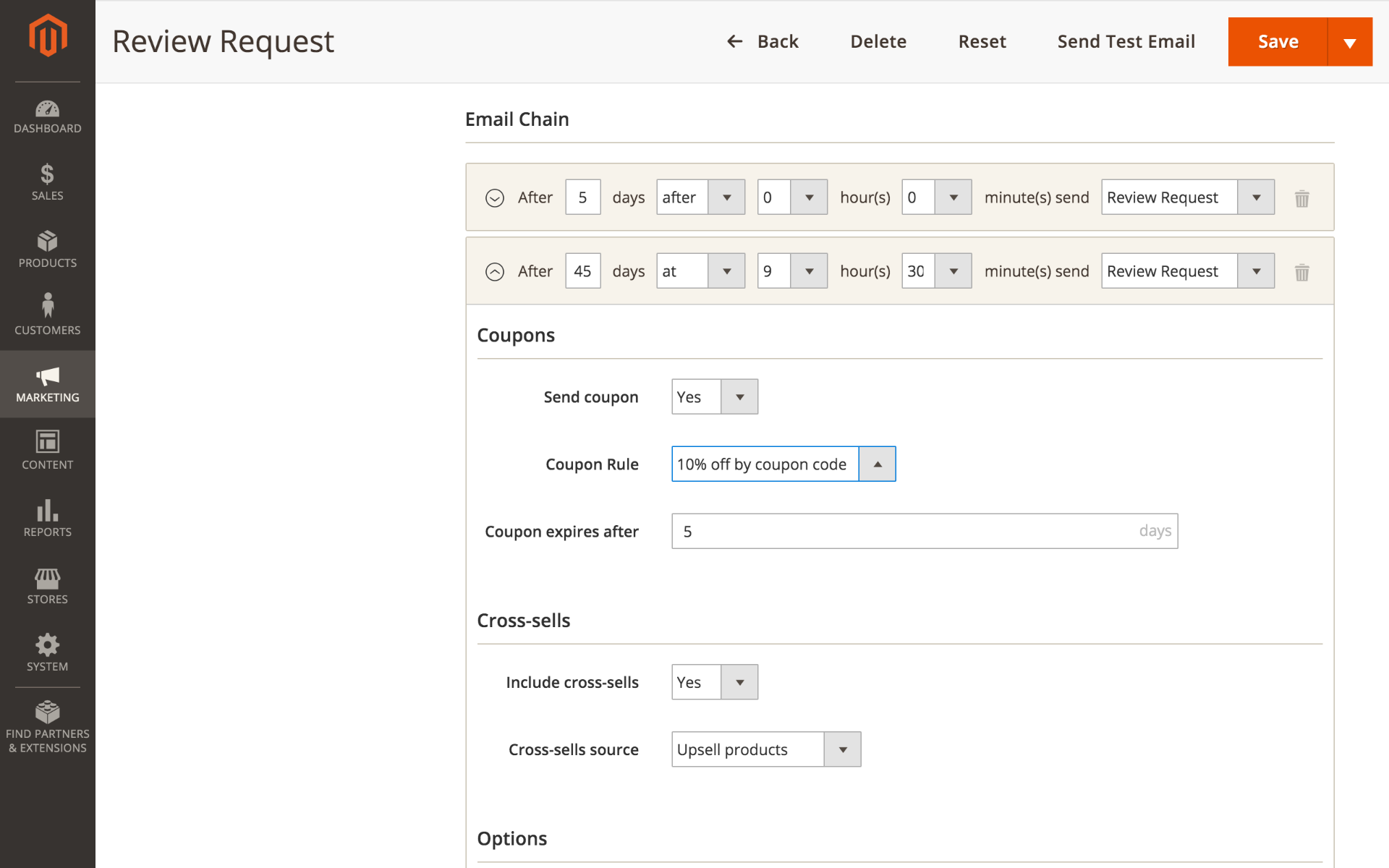 To make the customers act, give them a personal, limited time discount coupon.
The extension can automatically generate and enclose coupons with a specified discount rate and expiration time to emails. Gift a voucher now and win back your customer!
---
Stop Your Campaign Once The Goal Is Reached
Cancellation logic truly matters when we wish to gain customer trust without annoying them with outdated offers. The extension allows canceling a campaign once the goal is reached or in case of any cancellation-related event.
For example, the extension will stop the Abandoned Shopping Cart Recovery campaign once a customer places an order.
---
Automate Your Email Marketing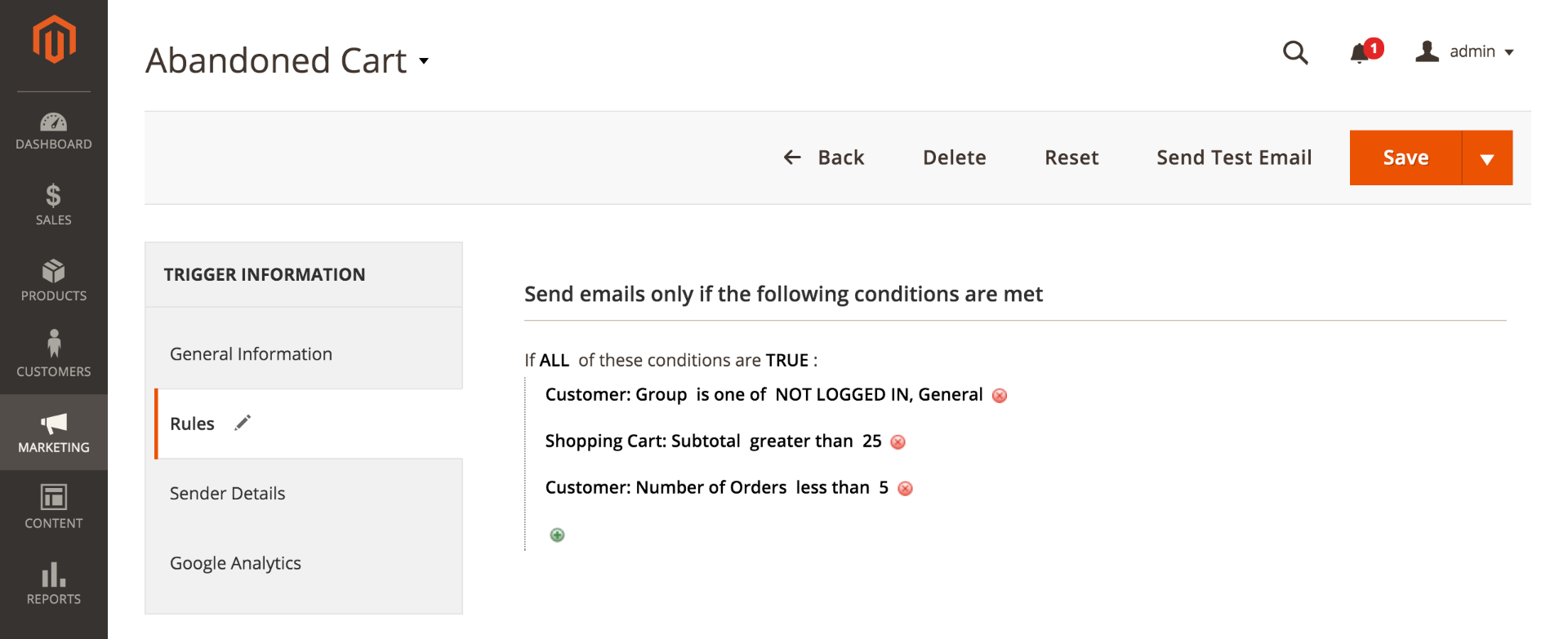 The extension acts as your email marketing automation platform.
You set up campaigns only once, and they will execute automatically without your constant supervision. You sometimes have to check the performance indicators of every campaign and adjust corresponding settings to achieve the best result.
---
Send Better Emails
Create Visually Appealing Emails with Ease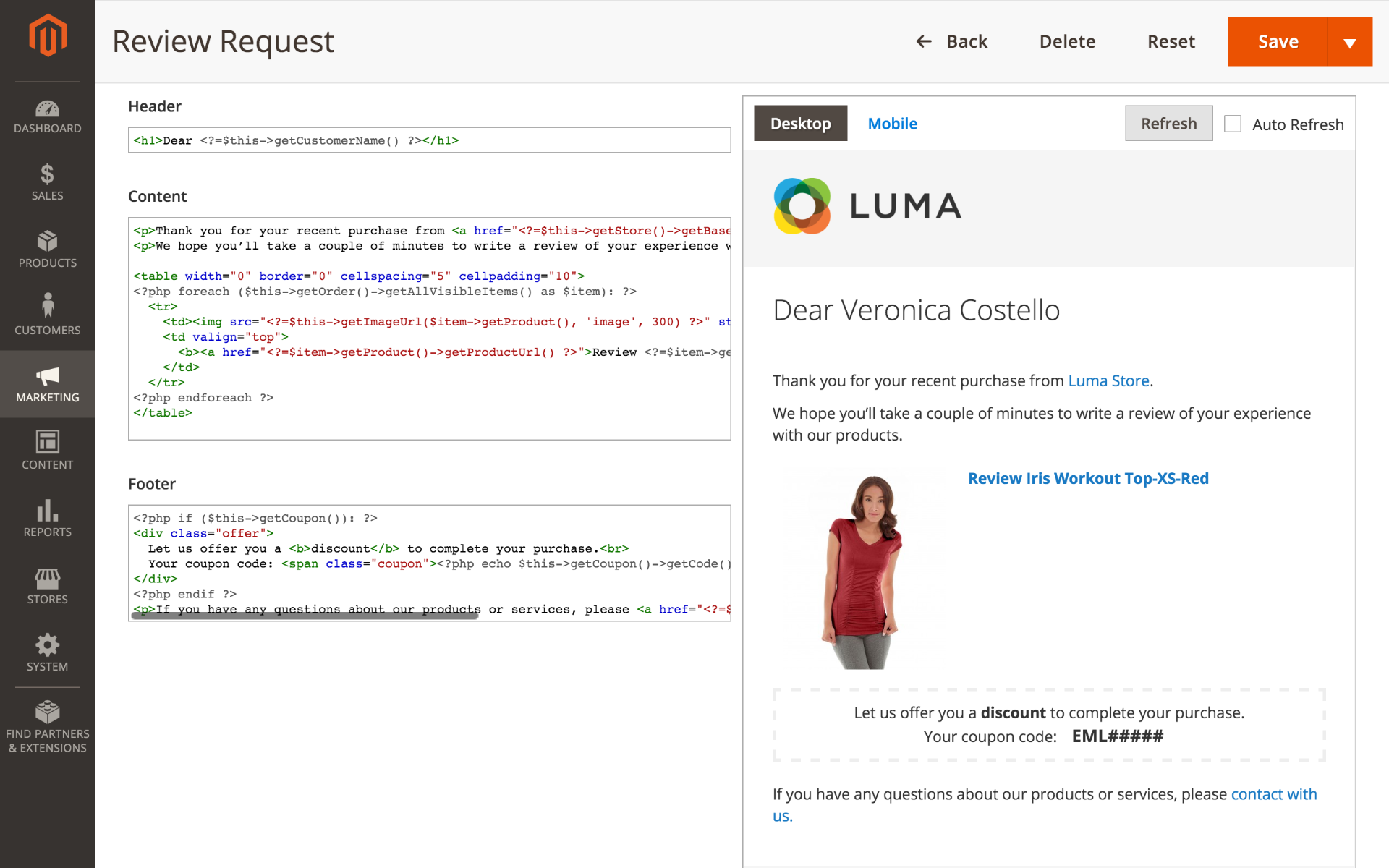 The extension has an editor that allows you to design visually appealing emails for different types of cases.
The editor allows previewing your email on desktop and mobile devices.
Using our editor, you'll be able to create a correct series of emails for your campaigns.
---
Use Variables to Personalize Your Emails
The extension provides you with over 30 variables such as customer features, order features, item properties, reviews, and so on.
You can use those variables to personalize and tailor your emails to customer profiles.
---
Insert a Link to Restore Abandoned Shopping Cart With One Click
To make Abandoned Shopping Cart Reminder more effective, use our extension to enclose a link restoring a cart with one click to email.
Thus, you will lead your customers to the abandoned shopping cart and motivate them to complete and place their orders.
---
Send Cross-Sell Offerings
The extension allows enclosing listing of cross-selling items to email. Those items will be related to the original product and may interest customers.
---
Control Performance of Your Campaigns
Performance Dashboard for Every Campaign, Trigger or Email
Check your email marketing performance using the dashboards with key indicators. Using this information, you can customize your campaign settings to achieve a great result.
Measure the efficiency with the following data:
Sent, opened and clicked emails
Open rate and Click-through rate (CTR)
Number of referred orders and reviews
---
Google Analytics Reports
The Follow Up Emails extension allows configuring specific UTM parameters for every email campaign; therefore, you can use Google Analytics along with built-in reports.
See it in action!
Pick a quick tutorial to learn about various aspects of this extension
Excellent email marketing & Followup

This beats most other tools we have tried in the past. Its easy to install and configure. The in built email templates serve all our needs.

Awesome extension

sundar

from United States

Does the job well

Powerfull Email Marketting

itechnical

from Riyadh, Saudi Arabia

it has all what you need , one of the best Follow-up email extensions in market , it has all what you need for email marketing , just need to add other channels than email in future , and it would be fantastic !

Nice working again!

S.

from Zwolle, Netherlands

Bought this extension a few years ago for Magento 1. It still look great in Magento 2.

This Extension has amazing features!

Alisher

from Wayne, United States

I used to have the same extension for M1, and they even did a better job with the M2 plugin. Great job!

Great extension for a fair price.

HappyMagento

from Nairobi, Kenya

The M2 extension got even better improvements compared to the previous M1 extension. A must buy!

very good asset

esajee

from Islamabad, Pakistan

like others, must have extension

Very useful extension

Gökhan

from Ankara, Turkey

Easy setup. Very useful extension. I like it

They will solve your problem

Kingtoys

from Haarlem, Netherlands

a very good service from the team they are happy to help you.
They will solve your problem after an e-mail

Functional and useful

A

from Melbourne, Australia

Excellent plugin and worth the cart abandonment reduction

Ridiculously Powerful when matched with Segmentation Suite

K730

from Melbourne, Australia

This extension out of the box gives you an amazing Automation suite directly in Magento, which we've found works better than trying to integrate 3rd parties via API's. Once you add the Customer Segmentation Suite your ability to create powerful, focused and targeted campaigns is incredibly granular and you can really get down to these small niches within your customer base that are interested in your marketing.

Does Everything We Need

Martin

from Ho Chi Minh City, Vietnam

I searched and tested a lot of Magento extensions to manage triggered emails and this one is the only one that met every one of our needs:

• Allows us to set cancellation events for triggers
• Lots of configuration options to limit which users receive follow up emails, such as the ability to select/limit product purchases that receive review requests
• Provided option for users to unsubscribe from receiving future triggered emails
• Easily manageable mail log queue
• Allows us to automatically add related products within email, based on customer purchase.
• Multiple emails/triggers within single campaign

There are a lot of other features included, too. By far the most versatile follow-up email extension we've found for Magento 2. There were some bugs with customizations on our site, but Mirasvit's support was very helpful in finding fixes for them.

Its a great extension to keep the customer engaged,

jajo

from Hyderabad, India

I like the extension as it gives us an opportunity to set tasks as per requirement and keep the customer engaged,

helpful to remind customers to comeback

Nice module

Nice module, we will carry on using it also for other sites.

Most used extension

Sam

from Portsmouth, United Kingdom

I would say that this extension is our most used, we have it setup to do all sorts of things like thank customers for signing up from the CEO, send order status, wish a happy birthday, prompt for a review plus MUCH more. The extension has a lot of options and triggers that fire off e-mails to entice them back or just to say thank you. There are much more expensive solutions out there that do less than half of what this extension does.

recommend the extension

Allan

from Shepperton, United Kingdom

It works perfectly fine for our needs. Really satisfied with the functionality and also have to say that the support is top notch. Very responsive and helpful. Great!

Must have module!

Push96

from Modena, Italy

We love it, once you satup it works for you and increase orders with recovery carts, special coupons etc.

very nice and usefull extension

It`s must have extension if you want to deal marketing automation.

Solid Follow Up Module

Scott

from Wilmington, United States

This extension works great and gets the job done. The campaign management can take a second to get the hang of, but all the features are useful and necessary.

The module works perfectly.

I recommend it. Really easy to use and must have for every store.
Great Job!

perfect for your store for sure

nav

from Lewes, United States

no comments, simply superb plugin

Well programmed, good support

This extension is easy to set up. Report funtion is very nice.

Awesome Features and Super fast SUPPORT

UI, Features, Code --- 5++.

Exactly what we needed!

Very smart extension

This extension is fully automated and will help you recover lost customers. good customer support from these guys.

5 stars

Shaheer

from Islamabad, Pakistan

Hi there, I've purchased two extensions first it was magento 2 follow up email extension and then Magento 2 web push notifications, I've only 2 months of experience with Magento 2 but still with that little knowledge I was able to install these extensions without any errors, these extensions work like a miracle. Compared to all other extensions from different companies my best experience was with Mirasvit I never ever had to open a ticket to get technical support on extension. When it comes to functionality
and features Mirasvitt extensions have all you need.
I'm really glad I found them somehow.

All Rounder Extension

Every Single Functionality included in this Extension - Simply Love this Extension.

Low cost conversion maker

Mike

from Echtenerbrug, Netherlands

We use this on a daily basis create perfect follow up emails for abandoned carts, unpaid banktransfers, we miss you and review request emails.
Works perfectly!

Magento 1: Love this extension

Tom

from Kenosha, United States

Extension is well put together. Love that it already comes with templates so its pretty much ready to use right away! No Problems with the extension!

Magento 1: Work Great

Steven

from Ontario, United States

Work Great but a little note: This module is not compatible with Quoting System. If you are using 3rd party quote system, the customer might get extra discount after quote.

Everything we need

Milosz

from East Rutherford, United States

If you're not looking for integration problems or issues that show up at your store after a certain time due to the modification of core magento files, then buy everything from Mirasvit. Never had an issue - Newsletter Follow-Up works flawlessly as well as 8 other modules that we use.

Magento 1: works great

Brandon

from Olathe, United States

works great

great extension but a little hard to edit templet

yuhuang

from Coquitlam, Canada

I hope you guys could have easy drop and drag editing for creating templet

works smoothly

Juana

from Lancaster, United Kingdom

I've been choosing between other company and your extension and find out the core showings are the same, but at a lower pricing. So, why waste a lot of money if 'follow up email' works great, though the interface is pretty complicated.

Magento 1: Exactly functional

Joao

from Piedade, Brazil

The module works perfectly and has met all my expectations generating smart emails with very positive results!

This is a must have if you are serious with your store

Shawn

from Long Keng, Hong Kong

work as stated. must have for every store

Magento 1: Never been easier to make more money

Gzim

from Vejen Municipality, Denmark

First of all i want to say we have been trying 2 other extensions for this, but none of them performed like this one.

We used the extensions for 2 things:

To remind customers that we are taking good care of their abandoned carts and the items are waiting go home with them.

Second we use it to remind the customers to come back, with even a coupon code with x% off or a free shipping coupon. It brings back customers. The price is ridiculously low compared that you are getting a "abandoned cart" and "follow up" extension in ONE extension.

Magento 1: Good option in emails

Fashoop

from Querétaro City, Mexico

A very useful extension for sending emails of important events that become a sale more.

The support of mirasvit is very good and attentive, they help you at all times with doubts and to solve the problems

Magento 1: the Best extension

Chris

from Lake Forest, United States

easy to instacll it

Magento 1: Best marketing tool

Alex

from Barcelona, Spain

Since we added the module to our shop the number of client reviews increased by 200%, we have used similar solutions, but no one has the value of this one.

Keep the good work!!

Magento 1: Very useful

Esteban

from Barcelona, Spain

I recommend it. Really easy to use and the support time was very kind and helpful.


AMAZING EXTENSION AND SUPPORT IS 5 STAR.

mona

from Miami, United States

This extension is a heaven sent for my business and it makes following up with customers so much easier. Support was really patient answering all of my questions. I spent months comparing this extension with multiple others and I believe this is the best. I would like the easy editor in the next update because that would make it perfect for me.

Great Product

Andries

from Johannesburg, South Africa

Thank You Mirasvit for a great product!!!

Magento 1: 8 for extension, 9 for professional support, missing 1 pls strive for perfection ;)

Mario

from Hung Hom, Hong Kong

8 for extension, 9 for professional support, missing 1 please always strive for perfection ;)

Extenstion bought:
Full Page Cache 10/10 (load time from 14 sec to 5 sec)
Follow Up Email 8/10
Reward Points 8/10
Help Desk 8/10
Product Questions 7/10
Sphinx Search Ultimate 9/10
Product Labels 7/10


Magento 1: Awesome extension.

I love it and my customers too.
The Mirasvit support was great as always.
I feel stupid that I didn´t buy this extension before, it saves so much time and money.

makes automation easy

Rudi

from Auckland, New Zealand

Brings a lot of functionality normally found in expensive marketing automation tools.
Very good investment plus it is easy to use!

Magento 1: Incredible

Erkan

from Brackley, United Kingdom

Incredible. Tried 3 different extensions similar to this. Non of them worked also technical support was terrible but this one was easy to set up didn`t even contact to tech support. Amazing extension.
Thank you guys.

Magento 1: I love it

This is a very good extension, I recommand it !

Magento 1: A Great Extension

Craig

from Yandina Creek, Australia

We have been using this extension for a long time and it has definitely helped our business.

Magento 1: Great extension with many features

Eliyahu

from Southfield, United States

Great extension with many features

Magento 1: Great extension with many features

Eliyahu

from Southfield, United States

Great extension with many features

good extension

freddy

from Homestead, United States

good extension for follow up email for review request and abandoned cart. support was great.

Magento 1: Works great

Exactly what we needed! The support team is great and very friendly staff members. The extension works out of the box.

Magento 1: Better than others email marketing provider

xavier

from La Landec, France

The best feature is :
You keep your data and you can do what you want with. You don't need to pay every month.
Thumb up.

Magento 1: I love this :)

Marek

from Chełmno, Poland

It's great extension which give me many capabilities in selling and sending email to my clients.
The technical support is great, quickly resolve my problems.

Magento 1: Email follow-up

Winston

from Newport News, United States

Another solid Extension by Mirasvit! Very pleased with their work and support. Great company to work with.

Magento 1: Great module for automating email

Sergei

from Te Awamutu, New Zealand

The visual editor is fantastic. nothing like it in other modules. Works very well..

Magento 1: Better than competition

Marvelous extension! It's working just one week and our shop and already paid for itself. The abandoned cart future worked just few hours after turning it on. Catching customer's e-mail address from any field in the shop is also perfect solution.

Magento 1: Decrease my bounce

Really helps by automatizing the following up emails and decreases the soft bounce from some e-mails servers

Magento 1: The best

Cledson

from Petrolina, Brazil

Woow. The best. Increase sales and reviews.

Magento 1: Excellent Follow Up Emails!!!

Paulo

from Uberlândia, Brazil

Hello visitors, give up searching for Supplier of Email Management module, this module Mirasvit is the best available for Magento. After we tried several others, we stopped at Mirasvit no doubt this is the best and most complete module for this purpose available for Magento. We are Customer Mirasvit from 2 years ago. Congratulations, Mirasvit is excellent.

Magento 1: Great!

Alex

from Berlin, Germany

Great extension! Very happy with our choice!

Magento 1: Amazing, this extension pays for itself.

Michael

from Vancouver, Canada

This extension is great. If you are looking for a way to save time not having to message you site visitors after they complete actions on your site (like signing up for a newsletter, adding items to their cart, or requesting reviews), then you need this extension.
In one month this extension paid for itself.
The shopping cart reminder feature is something no online store can live without, and it can be set to send out as many emails as you want.
Could be the most useful magento extension we have added to our store.

Magento 1: A MUST HAVE for all Magento store owner.

Budiono

from Jakarta, Indonesia

Since I run a rental online store, I need user to upload their required document to their account. And my life will be easier if this extension can helps me to remind me if a customer upload their data! This is not their standard feature. So I asked their support Alexey Varlamov about the possibility to create a trigger relating to this needs. Before 24 hours, He sent me an update include a file that they created a new function based on my needs! Now I have trigger Customer Account Update in my store! This is above my expectation!

Magento 1: Good product

Liked it very much

Magento 1: Great extension!

Gökhan

from Bad Vilbel, Germany

Great extension and super Support. I love this company and his extensions.

Magento 1: Great Product

Shabaka

from Gerrards Cross, United Kingdom

Great product and company will use again.

Magento 1: Can't get better

Sudheer

from Mumbai, India

Mirasvit is been the best extension provider for us. They give amazing support. We have no easily setup automated marketing mails to our customers based on their behavior.

Magento 1: Exactly what we were looking for.

axtore

from Wilmington, United States

We like the way the email templates are so easy to set up. Once you have your design layout set (you can use the one supplied and drop in your logo). It is just a matter of creating the email and triggers. More importantly is the trust we have with the developer. They are quick to reply to questions (considering the time zone difference) and willing to assist. We also just bought Sphinx Search Ultimate.

Magento 1: This is a MUST HAVE!

This is definitely a must have for EVERY Magento store. It builds customer relationships on top of the email, getting back customers who haven't visited in a while, reminding them of their abandoned cart / orders, asking for reviews or feedback, all in an automatic way. With one-time setup, I can see this extensions brings more value than any other extensions combined!

You got it, another hit!

Wladimir

from United States

I'm amazed at Mirasvit's offerings (Sphinx search, Rewards program for instance) are all all such examples. This one again "reminds" customers of past orders and invokes more customer interaction. A great tool for repeat sales. Good job Mirasvit!

Awesome Features along with outstanding Customer Service!

Viktor

from Steinbach, Canada

What can be felt, not always can be expressed in words, but I will try my best!

1. I bought almost all existing extensions for M2, while offered a very generous discount from a Sales Rep. Then, as all of us know, all the miracles stop right there, but not with these guys.

2. Installed the extensions, and as it usually happens, problems did not wait so long to arise on my horizon.

3. No fear, help is near... that is my personal Slogan... and found out the same attitude from Mirasvit guys. I asked for help, and it was near. I reported PHP7 and other compatibility issues, and a fix was ready in a blink of an eye. I asked for features improvements and suggested new features, and these came in a matter of a few days.

4. Features pack on the extensions is very reach, and these guys are always open to any sound improvements on their extensions.

5. Extensions updates are done via composer, so no manual uploads and unzips on every update release. That makes all my updates as easy like a snap of a finger,.. 10 seconds and I am all set.

P.S. In the end of the day I feel happy to be a respected customer of Mirasvit. I am hooked on this valuable M2 Solutions Provider. My $$$ spent on the extensions are secure... I feel like a part of the Team. I highly recommend Mirasvit to anyone who is seeking peace of mind and stable future for his/her Online Business.

Magento 1: Great for collecting reviews

We used this extension to collect reviews from customers shortly after dispatch of their order. It works really well and is easy to configure. Just a bit of styling of the email template and we were able to retrospectively send emails to all customers who had placed an order in the last 6 months. The default email template linked to the product page but Mirasvit change the code for us so that we could direct customers to the product review page. I would definitely recommend this extension.

Magento 1: Amazing features

Nick

from Groningen, Netherlands

Great extension with amazing features. We can create truly awesome emails to send to our customers.

Magento 1: Awesome, really generates more sales

Raymond

from Apeldoorn, Netherlands

Works exactly as advertised, easy to install

Magento 1: Great Extension

Joseph

from United States

It saved so much time for us and brought more sales.

Magento 1: Excellent!

Hashid

from Bengaluru, India

Great concept from Mirasvit! I love the cart restore button which auto logs in the customer with his cart items populated. Thank you!

Magento 1: Works great

Bojan

from Mantinge, Netherlands

Just with the abandoned cart option alone, this extension proved it's worth. I love the extensive trigger options and the wysiwyg way you can design your emails in the back-end of Magento. Highly recommended!

Magento 1: Great extension

Ivan

from Nicosia, Cyprus

Great and easy to use extension.

Magento 1: Great

Haim

from Canton, United States

If you have the time and patience to set up the proper follow up emails, you will get an unbelievable ROI.
We did it and the response and increase in sales has been amazing.
Great job by Mirasvit once again!

Magento 1: Fantastic job!

Filipe

from Martigny-Croix, Switzerland

Really really great extension! The best for us!

Magento 1: Very useful

Tatsuro

from Takasagocho-takasemachi, Japan

This extension grabs the name and email of customers, so you can send the abandoned cart emails to customers who stop the checkout process and don't create an account.

Magento 1: Great Extension

Miguel

from Hollywood, United States

I already installed and I will absolutely recommend this extension.
This will increase your seals if you do a good job with your email follow up promotion.


Magento 1: Great ROI

This module had an ROI of approx. 2 days in our shop - thank you very much for this great piece of software!

Magento 1: Increase your sales and client loyalty

Thanks Mirasvit for this great module! With this solution, we have received a few additional sales for a short time, this investment quickly pays for itself.

Magento 1: great extension

Ghio

from Echtenerbrug, Netherlands

does what it say it does!

Magento 1: formally known as the email trigger suite!!

EXCELLENT auto email responses

Magento 1: Great Extension, Great support.

Svilen

from Barcelona, Spain

Just updated the extension. It turned out that there are a lot of core improvements since the previous version that I had, because of that I lost my settings. MIrasvit support was great again and helped me recover my setup quickly. Keep the good work.

Magento 1: Good extension

Jeff

from Auckland, New Zealand

It gives us an opportunity to create another touch point with customer.


Magento 1: Nothing short of amazing

Boluwatife

from Aurora, United States

Great extension. Love you guys at Mirasvit for providing this!

Magento 1: Very complete, little technical

SN

from Amsterdam, Netherlands

Very complete and smart setup of FUE. Good work.

https://sleeve7.com and https://shirtsofcotton.com/en

Magento 1: Mirasvit is great!!

We are always so glad to see the name Mirasvit when we are looking for extensions. It is a pleasure to work with their friendly support. Any problems which occure are quickly solved. Their extensions always over-exceed our expectations but are not overloaded with useless features.

The Magento Core team could learn a lot from this extension! The Analytics-tracking feature and Email Trigger work perfectly!
When creating E-Mail templates you can view changes instantly, this eases the annoying process of designing an Email. Additionally you can directly write PHP code in the template allowing you to send dynamic emails.

Our customer is happy, we're happy, everything is great!

Thank you!!!!

Magento 1: Good product

Mallesh

from Smyrna, United States

This product has helped to automate several of events which is helping us to increase the conversions and as well increasing the returning customers rate

Magento 1: Needed this!

MA

from Maidstone, United Kingdom

Needed something like this, which will send follow up emails. After installation there were some problems but mirasvit fixed them promptly.

We gave an idea to include a new feature, after implementing that it will be even better!

Magento 1: Very useful

Matej

from Grize, Slovenia

We just started to use it and it looks very promising. Very useful extension!

Magento 1: Third time purchasing module

As headline said this is the third time I'm purchasing this module and reason is that it works great and it boost our sales.

Magento 1: Great Extension

Neal

from Dubai, United Arab Emirates

The followup email extension works well and without any issues. The only feature I would like to see added is an option to set a trigger to not repeat for the same customer over a set period of time. Otherwise customers can end up queuing multiple abandoned cart emails.

Magento 1: Great Tool

altdev

from Thousand Oaks, United States

This extension works amazingly well. So far, we have only sent a few test emails, but everything works flawlessly and as expected. We found the extension configuration to be mostly intuitive and setting up a few triggered emails was easy.
I can see this as an excellent tool for driving customers back to your store.

Magento 1: Solid and stable extension

László

from Budapest, Hungary

We have this extension now already for 1 years on our site and it has been working excellent and without any issues

Magento 1: Great way to retain customers and gain lost orders

David

from Saint Paul, United States

We use this extension to retain our customers, get reviews, and convince potential clients to order.

Magento 1: Great Extension!

albert

from Pineda de Mar, Spain

This extension works as expected. Great costumer support.

Magento 1: Enterprise Features for Community Edition

Sven

from Dortmund, Germany

This extension brings Enterprise features to your Community Edition. Congratulate your customers to their birthday, requests product reviews, take care of your customers with follow up emails. Everything is well thought, good organized and easy to use because Mirasvit knows how to do it.

Magento 1: Great module for great price

I highly recommend buying this module because it is working really great.

Magento 1: Great extension

Robert

from Oppegard, Norway

Really good quality follow up email extension. Easy to use and reliable. And as always flawless support from Mirasvit team.

Magento 1: Works perfectly

Agnieszka

from Krakow, Poland

Even the installation of version 1.0.1 was not straight forwards, , the support provided by Mirasvit was just perfect. All issues solved quickly and the extension works without any issues.

Magento 1: Fantastic!

Xander

from United States

A must have extension. Saves alot of work! Support is excelent and fast. Recommended.

Magento 1: Extension really very useful and that works very well.

Pietro

from Pordenone, Italy

Extension really very useful and that works very well.
We are very happy to have purchased. Technical support is excellent.

Magento 1: Very nice

JGH

from Groningen, Netherlands

I have installed this module for a client. It's very well put together and works great. There where some issues but the Mirasvit team fixed them in no-time.

Magento 1: Just what i wanted

George

from United States

excellent product!

Magento 1: best follow up extension you can buy

imbait

from United States

I have already bought 2 other follow up extensions from other developers.
both also have after bugfix try from support does not work with 1.8.1 on my custom store.
the developer of this plugin here were the only ones who could fix me all magento conflicts with other extensions. Support time is shorter than 24 hours.
Thanks again to Alexander :)

Magento 1: Absolutly great support team!!

Filipe

from United States

Miravist team is fantastic! Really! Their support is very professional and helpful! I had a special need with this extension, and they help me perfectly!
And they send you an email with all the detailed changes!

One word: PERFECT

Magento 1: excellent

turgay

from United States

I bought 6 modules mirasvit www.teleplus.com.tr is absolutely no problem, all is working great, very clean code

Magento 1: Love the flexibility

Daniel

from United States

This extension provides exactly what we needed. It is easy to setup an email trigger and to customize your designs. I really like it.

Magento 1: Great product with huge potential

I love the product, the support team is quick and extremely effecient.

The product could provide more default event criteria which can allow for a wider amount of triggered campaigns. While saying that with what is there you can do quite a lot, this a definite MUST HAVE for any sort business type big or small.

Would be useful if we could have input on the development roadmap.

Good job guys

Magento 1: Nice Extension

dotsquaresltd

from United States

I'm using Magento C 1.8. It looks great! and provides nice support.

Magento 1: весьма неплохо

в события, отменяющие цепочку писем, неплохо было бы добавить "оставление отзыва". если человек отреагирует на первое письмо, второе и третье будут сильно раздражать.
и ещё неплохо было бы добавить к условиям запуска наличие среди покупок клиента определенного товара (или одного из группы товаров).


Magento 1: Very professional support

Romain

from United States

the support is very good, we had an issue wi the tools, and immediately they remotely connected and resolve the issue...

Magento 1: Very interested

Looks similar to other I have seen. ;)

But I must say some of the elements really sound interesting. And to date we have only had good and fast support from Mirasvit.

Magento 1: Perfect!

The extension works very well, the support is great!
Solves all the problems of Magento's email!
Compatibility
The Follow Up Email for Magento 2 is compatible with:
| | |
| --- | --- |
| Magento 2 Community Edition (CE) | 2.0.* - 2.3.* |
| Magento 2 Enterprise Edition (EE) | 2.0.* - 2.3.* |
| Magento 2 Cloud | + |
Have a question? Ask our support team
Need more help?
Save time by starting your support request online and we'll connect you to an expert.
Contact Us Now
Refund Policy
All customers can request a refund during 30 days after purchase of our software, if customer think that our software is not suitable for any reason. To request refund, customer must remove all copies of our software from its store, servers, computers, email, etc and confirm by email such removal. After receiving a request we will proceed refund within 3 business days.
If request for refund is received after 30 days after purchase, it will be rejected. Cost of installation and customization services are not refundable.
Support and bug fixing
Mirasvit offers free 90 days support of all software sold on this site. Customers can report all bugs, which were found in our software. We can solve only the bugs directly related to or caused by our extension. Those bugs must be reproduced on fresh Magento installation without any 3rd party plugins. We will solve that bugs in order of our development plan.
We don't do any type of custom work and we have a right to reject a support request if the issue is store-specific (cannot be reproduced on the fresh Magento installation without any 3rd party plugins).
Mirasvit will not be liable to you for any damages (including any loss of profits/saving, or incidental or consequential) related to our support service caused to you, your information and your business.
Software updates
Mirasvit offers free lifetime updates if they areavaliable. Updates are limited to the Magento version branch (1.x.x or 2.x.x). Customer can download an update and install it by himself. If support period is expired, Mirasvit.com can't solve any possible problems with our software during or after updating. Mirasvit does not guarantee that it will release updates for any product.