Advanced Product Feeds for Magento 2
| | | |
| --- | --- | --- |
| Compatible with: | Community: | 2.0-2.2.* |
| | Enterprise: | 2.0-2.2.* |
This is an outstanding extension for generating and publishing your store product feeds in comparison shopping engines and marketplaces. Operates with all comparison engines.
Fast and flexible, interacts with Google Analytics to measure campaign results, has a lot of options and more than 50 ready-made configurations.
The fastest and the most flexible
Get all your online store products presented in the most popular comparison shopping engines and marketplaces to attract thousands of new customers!
Magento 2 Data Feed Manager allows you to consider all the details. All you need to do is just follow a step-by-step configuration guide and tick the options you want to set up for your product feed. Then just wait a bit and get your feed!
Feed extension has unlimited options to export product information in any format. It is not even a problem to export 100000 products for this extension!
The extension is quite flexible to meet all your requirements and needs. You can export any product attribute, different prices, use category mapping, dynamic attributes etc.
Also 2 types of flexible filters are available to set up your feed preferences: Product Filters and Performance Filters. They allow you to configure your product feed depending on products characteristics or/and their key performance indicators, like Conversion Rate or number of Orders.
10 advantages you get with Advanced Product Feeds
Easy configuration process
Flexible filters
50+ ready-made configurations are available
Upload your feed to any shopping comparison engine
High generating speed
Measure every feed performance result in Advanced internal reports
Select the right description for your products
Choose price and tax settings for your feed
Choose image options for products in the feed
Use attribute patterns to customize feeds
Feature Highlights
Ready Configurations
Install extension and generate your first feed in 2 clicks!
Use 50+ predefined shopping feed templates that relate to all required shopping search engine features and settings, any of these configurations can be run immediately after extension installation.
Also, you can run ready product feeds for Google Shopping, Amazon, Ebay, Bing, Facebook, Idealo, PriceGrabber, ShopMania, Shopping.com, Shopzilla, Twenga and many other popular and most used shopping search engines.
Just use one of the Advanced Product Feed templates and drive more sales for your online store!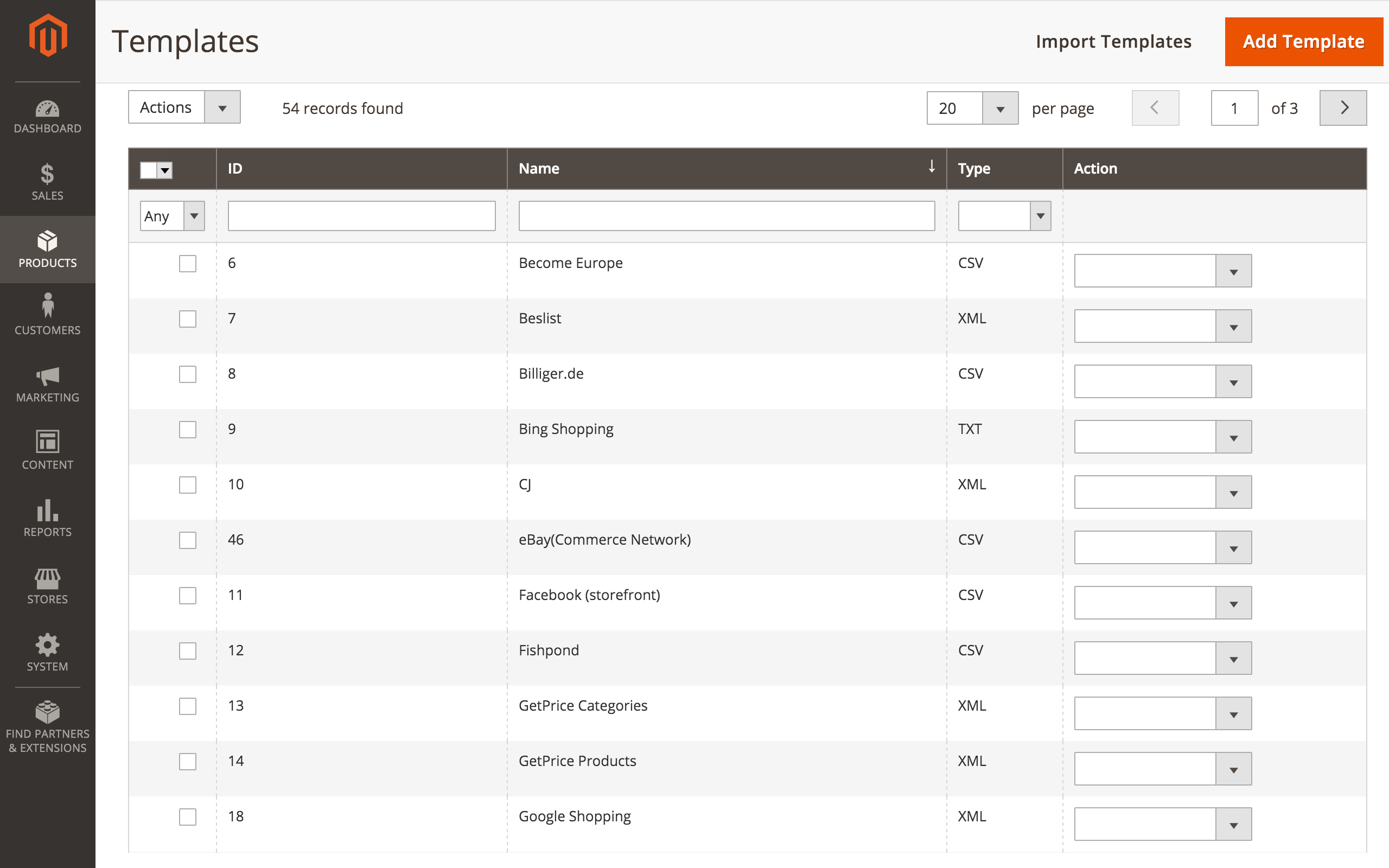 Product Exporting Options
Export your product data to feed in any format you wish using a library of patterns.
If you want to make your feed more sophisticated, you may customize it. Especially for this purpose, we created our extension based on a pattern principle: it is a kind of short codes in which you can use code of attributes, formatters, links to parent products, base php functions and calculations.
Thanks to patterns your feed becomes more advanced, more visible in shopping search engines and attracts more customers to your online store.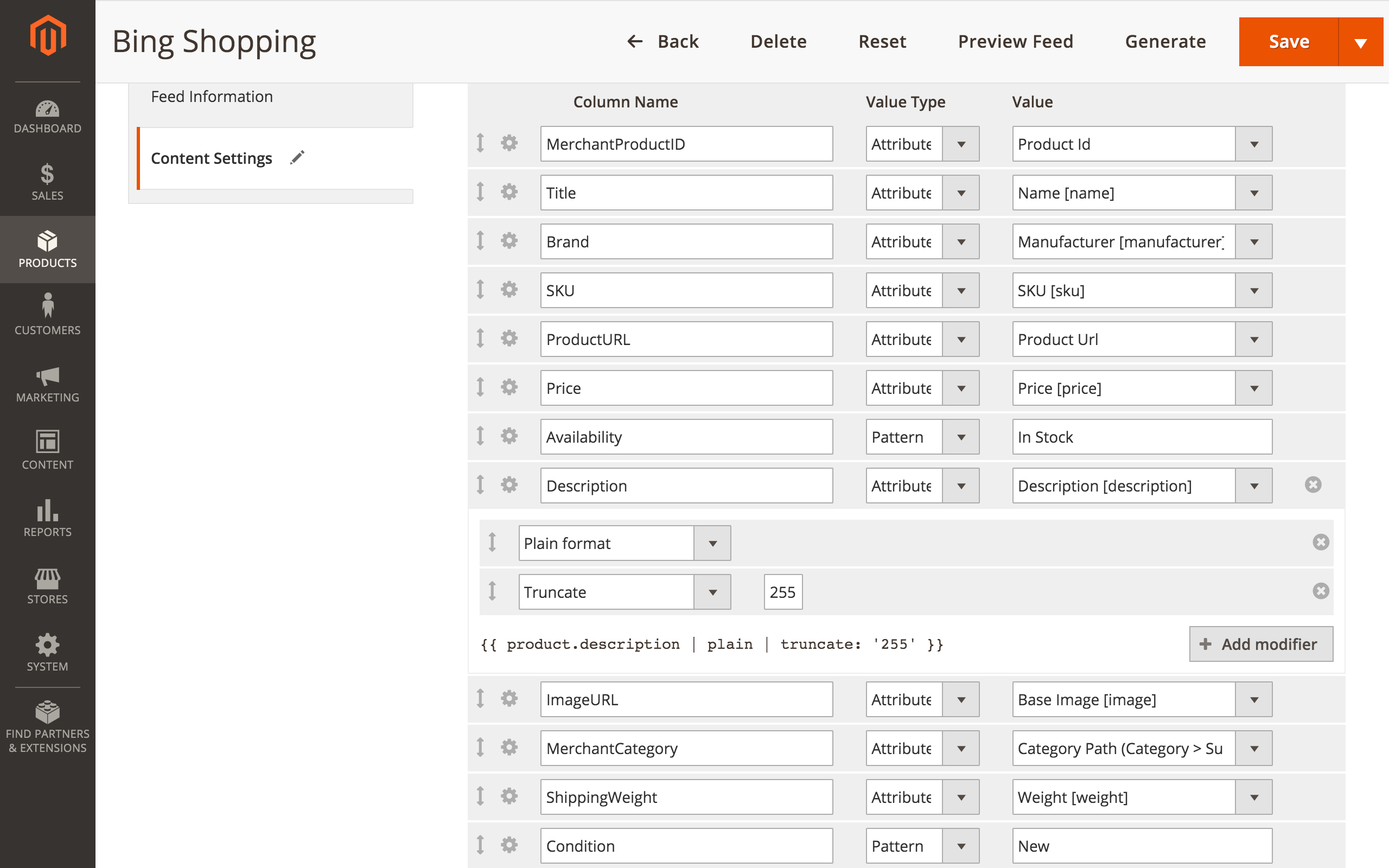 Customize Your Feed Appearance With Patterns
The most frequently used application of patterns is showing particular Parent / Grouped/ Bundle product values, for example:
Return the value of a parent product
Export simple products with the visibility attribute 'Not Visible Individually'. In this case, the product can not have a direct link, so you must use a link to the parent product
Concatenate all child product values to one string (this feature will work for bundled and grouped products)
If a product is assigned to a few categories at different levels, you may use attributes to return the name of the category, that is the most nested in the category tree
If a product is assigned to a few categories at the same level, the extension selects a category with the lowest position of the product
Another useful customizing option of patterns is using calculations, for example:
Show in the shopping search engine feed the price of your products multiplied by 1,5
Set up Free Shipping for products, that cost more than 1000 USD. You may set free shipping for any product price you need
Manage products in stock quantity
Return daily special propositions
Set price for a group of products
Flexible Filters
One of the most important processes in creation feeds is filtering.
The Advanced Product Feeds extension has 2 types of built-in filters: Product Filters and Performance Filters
Product Filter
This type of filter has various options for customizing your product feed output. It allows you to:
filter products by price
hide out-of-stock products
filter products by parent categories
filter products by sku
hide products without images
filter products by any other attribute, like color or manufacturer
filter products by parent product attributes (for grouped, bundled and configurable products)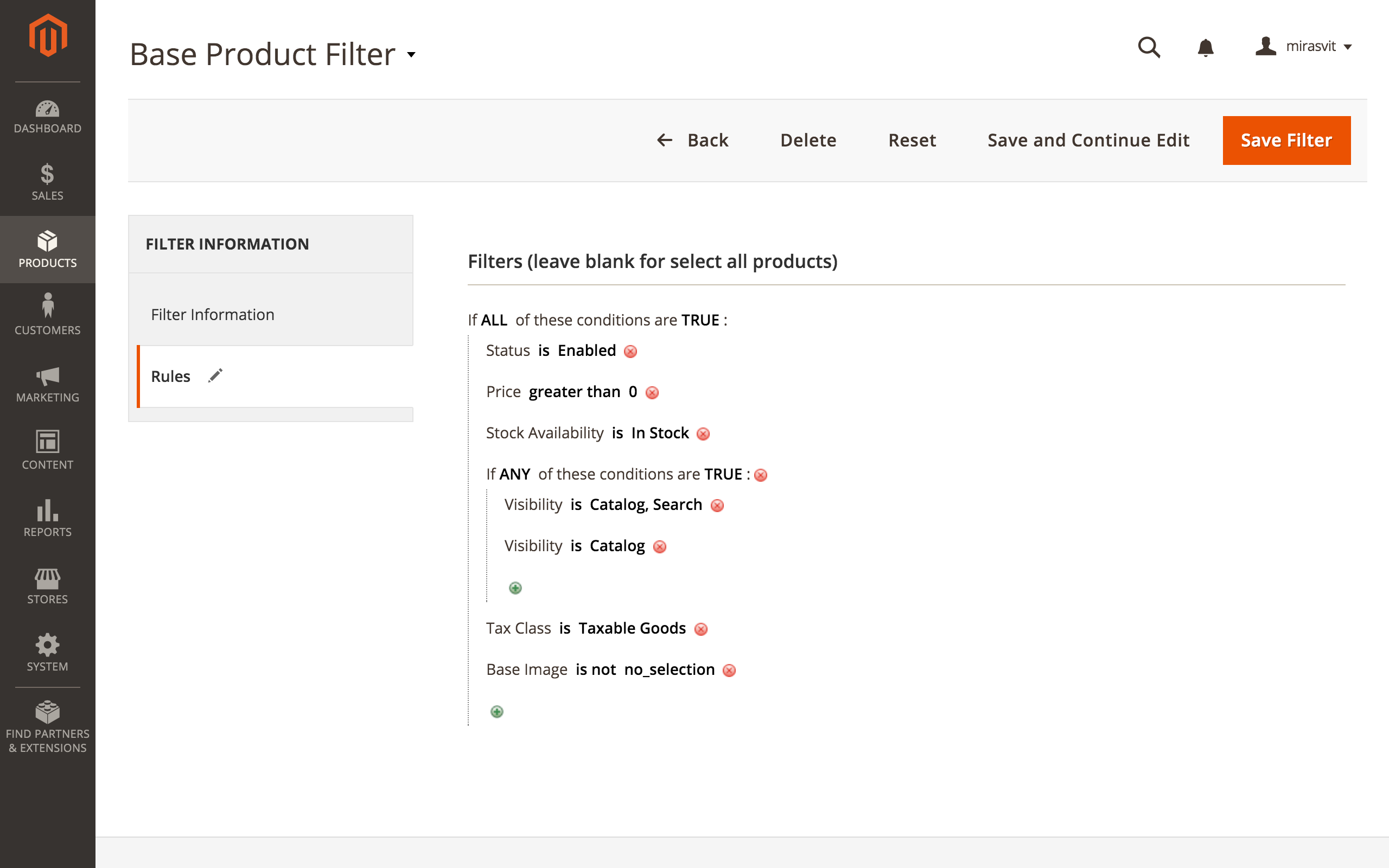 Performance Filter
This type of filter lets you use product performance, like Clicks, Orders, Conversion Rate or Revenue for filtering products.
Drive more sales for your online store by filtering products the following ways:
Show products, which Conversion Rate for the last 14 days was less than 1%. This could help you to sell more low-conversion products.
Show products with a Clicks number greater than 50 within the last 7 days. This option could help you to draw even more of your customers' attention to popular products.
Show products having a revenue less than 100 USD (you may set any amount) in the last 30 days. This option lets you drive more sales for products with low revenue.
Show products having Orders higher than 40 for the last 14 days. This will let you to sale more popular products.
Advanced Product Feeds extension gives you unlimited filtering options.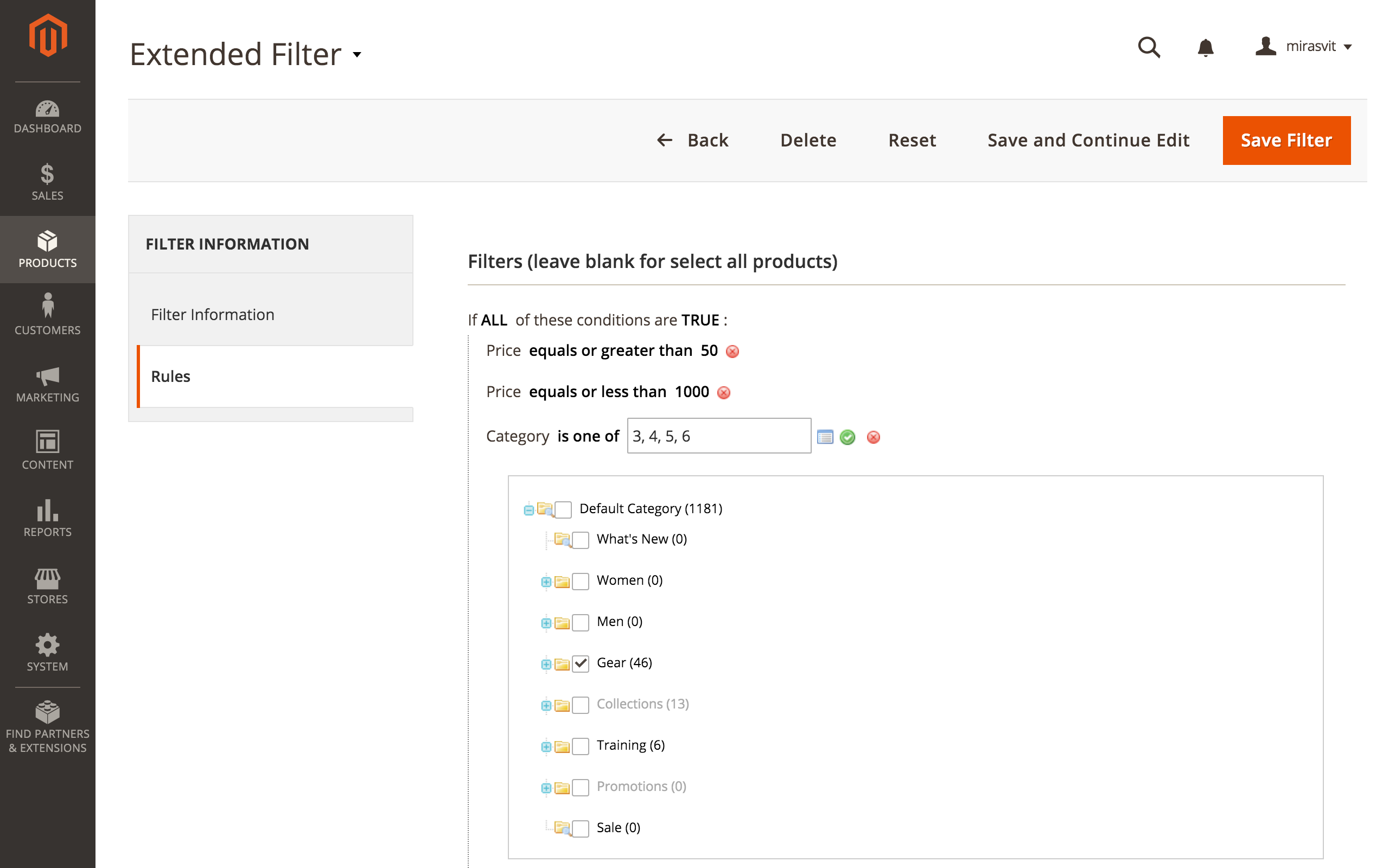 Additional Feed Features
Built-In Reports
Track each of your feed performances with built-in Reports. Analysing reports you may understand the current situation with your product feed performance: how many clicks and orders you received from a particular product in a report period.
Use analysis results to configure your product feed: enable Performance Filter and choose options to let your feed drive more sales for desired products.
Google Analytics Reports
Activate the Google Analytics feature in order to receive reports in your Google Analytics account.
If you used to track your campaigns in GA, you may continue to do it this way, but just set the desired UTM parameters and monitor them in GA reports.
Generate your feeds by schedule
For example, you want to renew the Google Shopping feed on Mondays and Wednesdays at 7 a.m. Advanced Product Feeds allows you to schedule this operation and save your time.
Deliver data feed file via FTP/SFTP/SSH
Just check the marketplace merchant account for FTP details, or ask about FTP credentials at the marketplace Support Center and the extension will deliver product feed file automatically.
Enable archiving
If this option is enabled (.zip), after feed generation, the extension also generate a zip archive of the same feed.
Set up Email Notifications
Set up Email Notifications to be aware of generation and delivery feed process statuses. The extension can send an email after each successful generation, delivery or after fails.
Dynamic Attributes
Dynamic Attributes allows you to use your own conditions to define or change the exported value.
Dynamic Variables
Dynamic Variables allows you to add your own PHP code to create/format exported value.
Install Advanced Product Feeds and drive more sales from marketplaces
and comparison shopping engines!
Predefined feed templates
Amazon Marketplace
Amazon Ads
Become Europe
Beslist
Billiger.de
Bing Shopping
CJ
GetPrice
Google Shopping
Google Shopping Reviews
Idealo.it
Bestshopping.com
Kelkoo
Kieskeurig
LeGuide.com
Newegg
Nextag
Pagineprezzi
PriceGrabber
PriceMe
Sears
ShareASale
ShopMania
Shopping.com
ShopPrice
Shopzilla
SingleFeed
The Find
TradeDoubler
TradeTracker
Twenga
Webgains
Yandex Market
PriceRunner
PriceSpy
Rakuten
eBay(Commerce Network)
Facebook
Fishpond
Here is what Advanced Product Feeds customers say:
"Mirasvit extensions are superb and their support is excellent. This extension gave us easy feeds for google shopping and idealo, etc. Our sales went up by 25% due to referrals coming from idealo and google."
"This is the best feed export extension on the market. I check 5-6 other "similar" extensions but this is the most powerful extension. You can track clicks, orders and etc. even with graphic view. Also you have more than 40 predefined feeds. Also the support is amazing."
"Easy to use and easy to setup. Includes templates for many providers"
Reasons to choose Mirasvit
Client focusing and satisfaction
It is our main goal. A big part of our new clients come from referrals from our existing clients. Our professional team of developers, marketers and support invest the best knowledge and experience, so you could come back to us again and again.
Remarkable support
90-days free and high quality support. We make an effort to satisfy you with work of every module you have purchased in our store. Helping you with installation, configuration, answering your every question, we do all our best to eliminate any possible problems.
Risk-free Investment
30-days money back guarantee. If you are not satisfied with work of our extension for any reason we provide a full refund.
Constant improvements and upgrades
We provide you lifetime free updates. We constantly add new features to all our modules. We are absolutely interested to hear your opinion and to implement your suggested features in our future developments.
Comprehensive Documentation
We provide an expanded user guide for every our extension, so you can find answers for all your burning questions.
Unencrypted source code of our products
You can customize extensions according to your needs and requirements.
Usability and Performance
Module is easy to install and easy to upgrade, just follow step by step our user guide.
Safe Magento updates
No core modifications. Just copy extension files to store root directory.