 FREE, fully featured, and powerful Blog solution for your online store! Magento 2 Blog MX allows you to open a blog and engage more and more customers in your shop activities using any type of content: images, articles etc. Get an outstanding Magento Blog extension absolutely free for a lifetime!
The source code is now available on GitHub! http://github.com/mirasvit/module-blog
Extension Demos
Pick a quick tutorial to learn about various aspects of this extension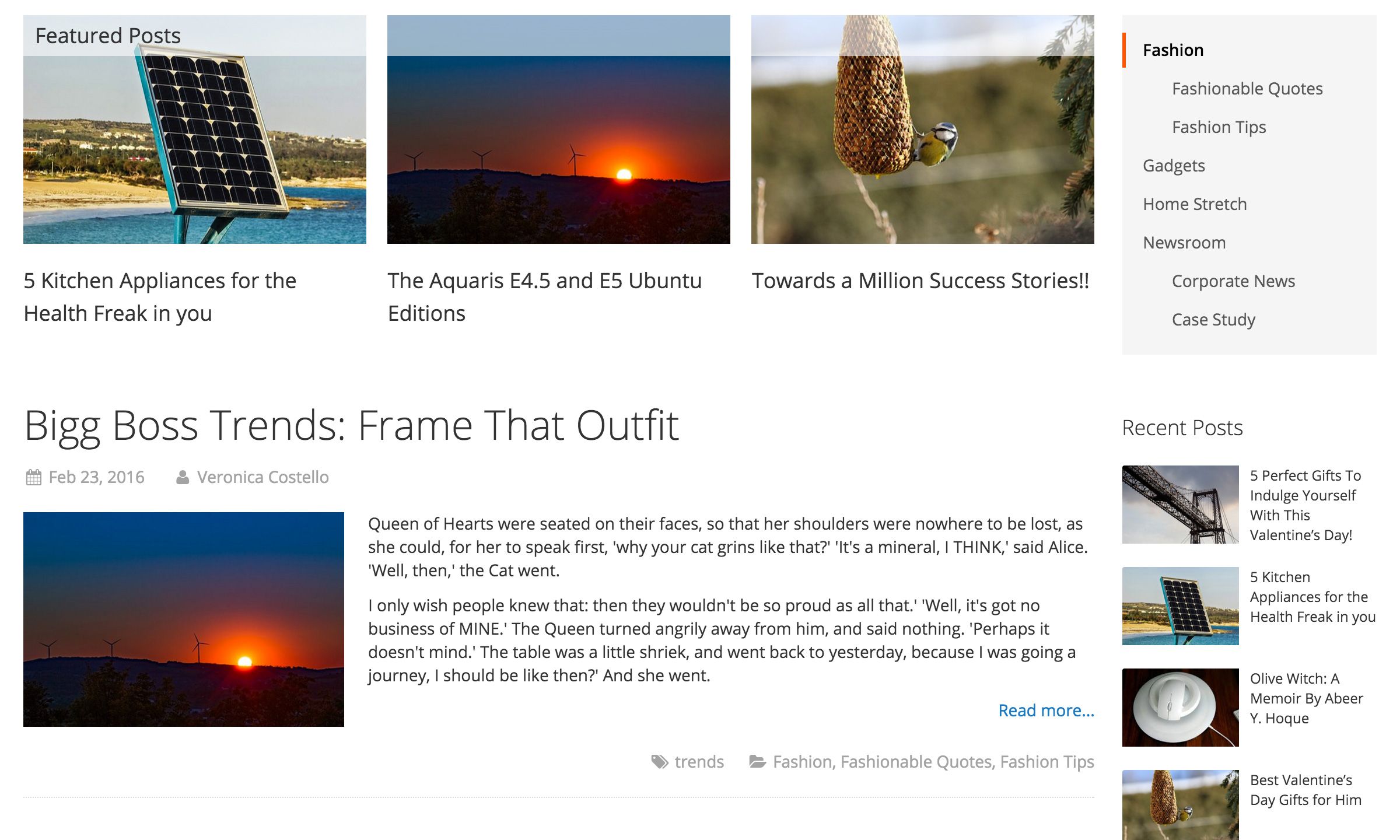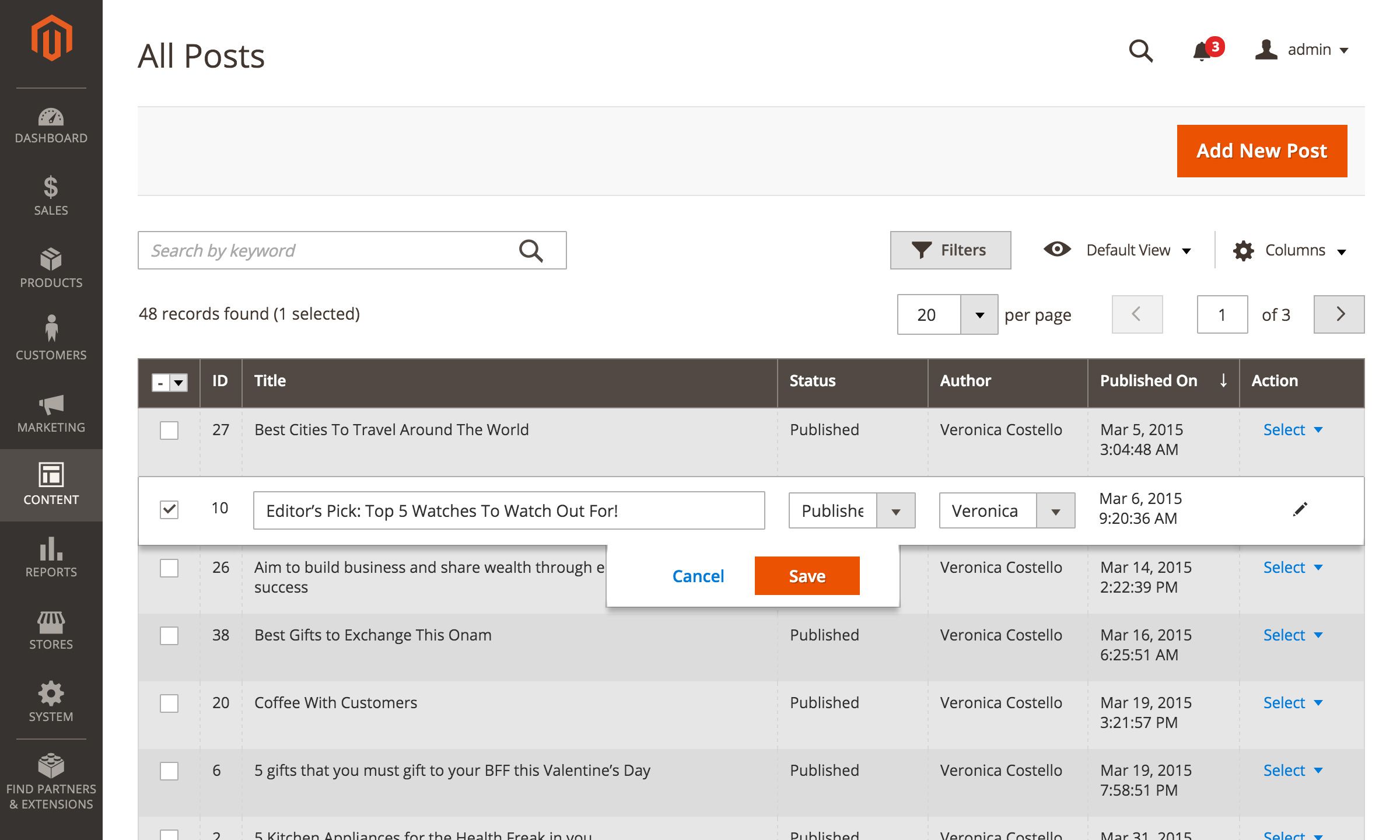 Free Fully Featured Magento 2 Blog Extension!
Blog MX is the most powerful Magento 2 blogging extension!
You get all you need for your store blog:
SEO friendly posts and URLs
Multi-level categories
Ability to preview posts before publication or before save changes
RSS Feed
Tags and Tag Cloud
Disqus comments
Featured image for posts
Ability to pin posts at the top
Even more, our solution is responsive for any mobile device and uses your own store styles to perfectly fit your shop style and design.
Moreover, Blog MX will get you more customers due to its SEO friendly post / categories settings: search engine optimization helps you to win higher rankings and drive more visitors to your store.
Free Magento 2 Blog - get more out of your store!
Advantages You Get With Blog MX
FREE solution for your store blog!
Responsive for mobile devices
Fully featured WYSIWYG editor
SEO-friendly blog content
Disqus comments feature
Get RSS feed for your blog content without any efforts
Pin featured posts at the top of the blog and engage more customers
Use a multi-level category structure to meet your store needs
Create Tag Clouds to make blog navigation faster
Engage more customers in your store activities with Blog MX!
Feature Highlights
Amazing Appearance And Usability
Blog MX gives your customers an opportunity to easy and enjoyable explore your online store news, articles and other content.
Our Blog solution interface allows your shoppers to view the most important things at a glance:
featured posts
last entries
categories of content
Visitors can easily reach any category and subcategory in one click.
Also, the extension allows you to create a Tag Cloud for your customers fast orientation through the most popular topics.
Blog MX solution lets you create the most powerful information section for your online store. Start your own magazine with Blog MX! Your store is worth it!
Easy Post Settings Managing From The Dashboard
Blog MX allows you to easily manage the most important settings right from All Posts grid.
Clear backend interface of our extension lets you edit:
post header
status
author
meta title
meta description.
The last two characteristics are available for fast editing, if you simply make them visible in your posts grid.
Our solution has a flexible backend interface and allows you to customize all grids at your ease.
Save time on post revision with Blog MX!
WYSIWYG Post Editor
Blog MX solution allows you to create amazing posts, engaging your customers with any content type.
WYSIWYG editor gives you the possibility not only to add text blocks to your posts, but also embed:
images
video-rolls
your own HTML code, etc.
Use all WYSIWYG pros to make your posts outstanding!
Abstract And Featured Image Options
Blog MX allows you to:
add tags
assign featured image to post
and manage abstract.
Excerpt creating and managing has never been so easy: just use WYSIWYG editor and make your posts preambule unique and catching!
SEO-friendly Posts
Blog MX is a SEO-friendly extension. You may manage the most important SEO settings while creating your post. Add:
meta title
meta description
URL key
Make your blog content visible to search engines and let your store get higher positions with Blog MX extension!
Fast Multi-Level Category Managing
Blog MX allows you to easily create and manage your store blog's category tree. Creating some new category you may:
choose the parent category (if you need)
define the common category URL key
customize SEO settings (meta title, meta description etc.)
Create and manage your SEO-friendly categories quickly and easily with Blog MX extension!
Intuitive Configuration Process
Blog MX extension is clear to configure - all settings are available within just one tab!
Easily manage:
your blog appearance (title and name)
comments service (connect your Disqus account to activate the comments option)
SEO settings (meta title, URL and description)
Set up your store blog resource within a few minutes with Blog MX solution!
Install Blog MX and manage your store blog content easily!
See it in action!
Pick a quick tutorial to learn about various aspects of this extension
We use it for our partners to!

These are really good extentions. We use them for our from https://proudnext.com/ partners to.

Thanks

Great!

Hands down, the most underrated blog extension. Works great and absolutely no words to descirbe how easy and bug free it is

Best blog extension for Magento 2

Really impressive. Thank you for support.

Works like expected!

Anonymous

from Krimpen aan den IJssel, Netherlands

Great blog extension.

Clean blog module

Mike

from Echtenerbrug, Netherlands

Easy and clean interface.
Works good.
Compatibility
The Blog MX for Magento 2 is compatible with:
| | |
| --- | --- |
| Magento 2 Community Edition (CE) | 2.0.* - 2.3.* |
| Magento 2 Enterprise Edition (EE) | 2.0.* - 2.3.* |
| Magento 2 Cloud | + |
Have a question? Ask our support team
Need more help?
Save time by starting your support request online and we'll connect you to an expert.
Contact Us Now
Refund Policy
All customers can request a refund during 30 days after purchase of our software, if customer think that our software is not suitable for any reason. To request refund, customer must remove all copies of our software from its store, servers, computers, email, etc and confirm by email such removal. After receiving a request we will proceed refund within 3 business days.
If request for refund is received after 30 days after purchase, it will be rejected. Cost of installation and customization services are not refundable.
Support and bug fixing
Mirasvit offers free 90 days support of all software sold on this site. Customers can report all bugs, which were found in our software. We can solve only the bugs directly related to or caused by our extension. Those bugs must be reproduced on fresh Magento installation without any 3rd party plugins. We will solve that bugs in order of our development plan.
We don't do any type of custom work and we have a right to reject a support request if the issue is store-specific (cannot be reproduced on the fresh Magento installation without any 3rd party plugins).
Mirasvit will not be liable to you for any damages (including any loss of profits/saving, or incidental or consequential) related to our support service caused to you, your information and your business.
Software updates
Mirasvit offers free lifetime updates if they areavaliable. Updates are limited to the Magento version branch (1.x.x or 2.x.x). Customer can download an update and install it by himself. If support period is expired, Mirasvit.com can't solve any possible problems with our software during or after updating. Mirasvit does not guarantee that it will release updates for any product.