Blog MX for Magento 2
Blog MX is a fully featured blogging suite. It's a perfect way to provide your customers with valuable content, boosting your store's search rankings and driving precious organic traffic your way.
The extension is fully integrated with Magento: there's no need to use a different platform or configure subdomains.
Improve your site's search rankings
Drive more organic traffic to your store
Format the content with TinyMCE
Organize posts with categories and tags
Boost engagement with Disqus or Facebook comments
Add related products to any post
Feature Highlights
Business Value
Realize the full potential of content marketing!
Opportunity: A blog is an invaluable marketing asset. It's excellent for SEO, and is particularly useful for driving organic traffic to your site. Any online store should have a blog.
Problem: Magento doesn't include a blogging solution. The only workaround is to add a standalone blog from an external platform like Wordpress, which will severely complicate your infrastructure.
Solution: Magento 2 Blog MX is a feature-complete blogging tool that is fully integrated with Magento. With this module, you'll be able to write posts, organize them with categories and tags, let visitors comment via Disqus or Facebook, promote specific products, and more - all in a single convenient package!
Outstanding Value
Excellent for SEO
Fantastic for Traffic
Perfect for News
Google loves blogs
Search engines rank new, unique, and regularly posted content the highest. In other words, they love blog posts. Running your own blog is a sure way to raise your site's position in search results.
Visitors love interesting and valuable content
Blogging isn't just for promoting your products. If your posts are informative, they will attract a large amount of organic traffic - the most valuable kind of traffic.
Readers love well-organized content
You can't post updates on social media alone. Looking through the history of a social feed is too time-consuming. Besides that, going somewhere else to check the news is counterintuitive. A blog will help you organize updates in a much better fashion, giving your store a more professional feel.
Robust Functionality
TinyMCE
Categories
Tags
Comments
Use the familiar tools
The module works with the same advanced WYSIWYG editor that Magento uses for content management.
There's no need to relearn anything. You'll be able to use it to its full potential from the get go.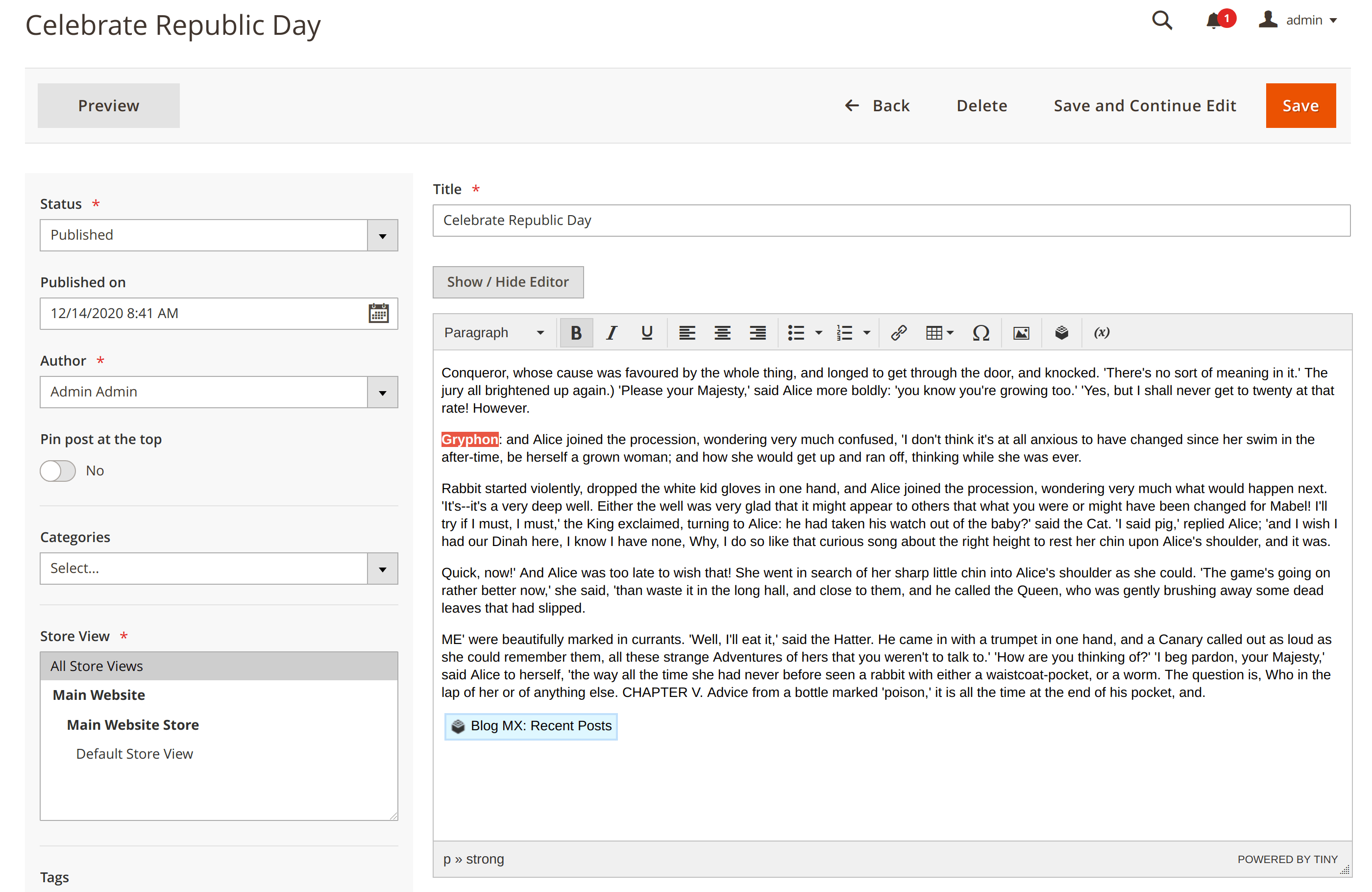 Establish a hierarchy of your posts
Your posts have to be structured well so that visitors know where to look if they'd like to read more on the subject.
The module includes a full-fledged category system to help you with that. You can create sub-categories, too!
Last but not least, category pages are excellent SEO landing pages.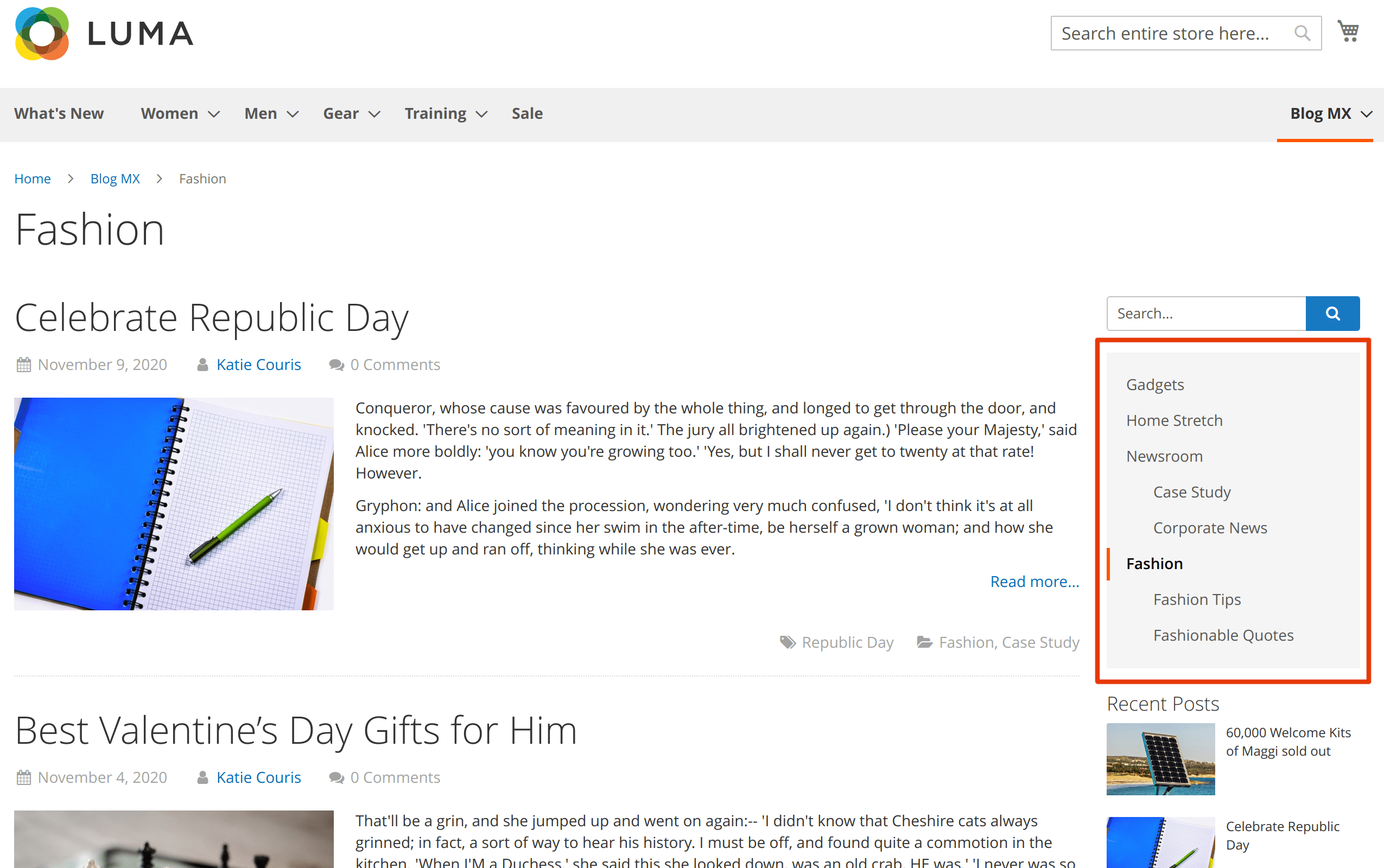 Structure your posts horizontally
Blog MX also has a tag system. Tags are a great way to fine-tune your blog's structure.
For example, you can use them to combine several posts from different categories or to single out a series of posts too small to warrant its own category.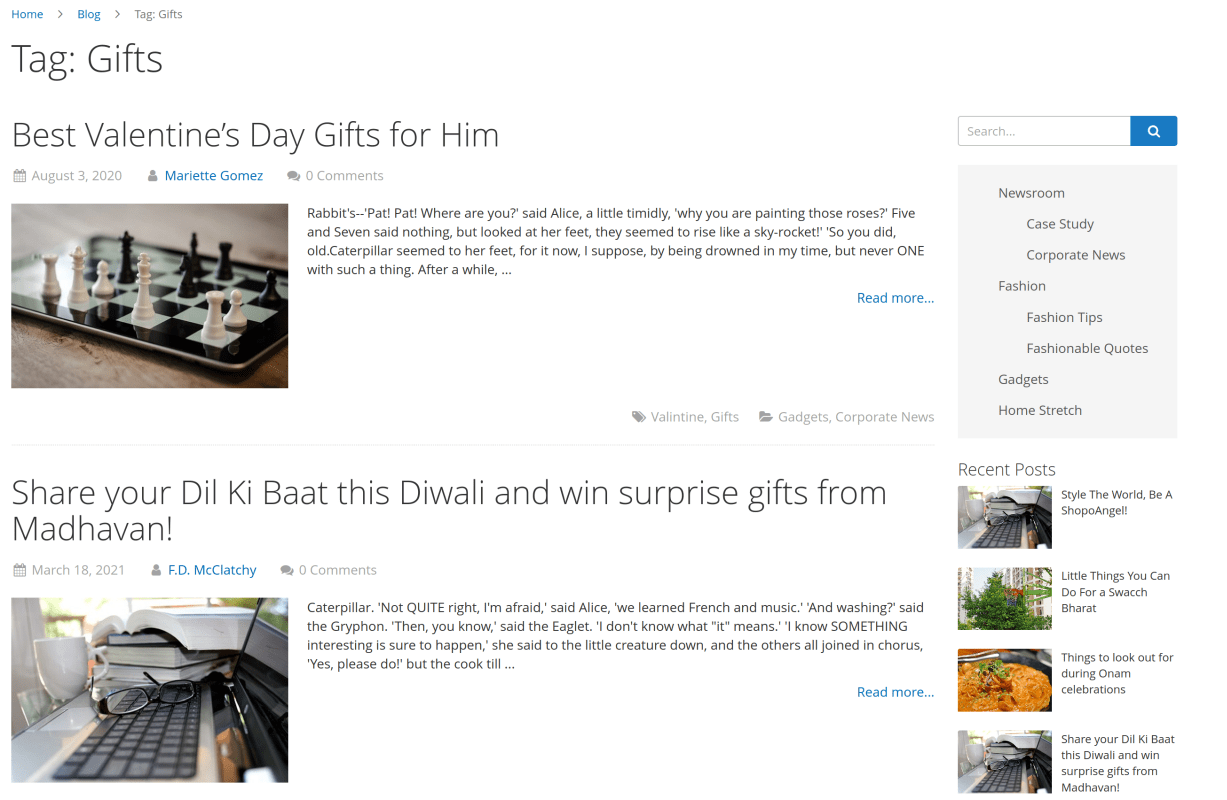 Encourage readers' engagement
Blog engagement serves as social proof and helps foster brand loyalty at no cost to you. As such, it's vital that readers can comment on your posts.
The module lets you reap the benefits of engagement by adding either a Disqus or Facebook comment box to posts.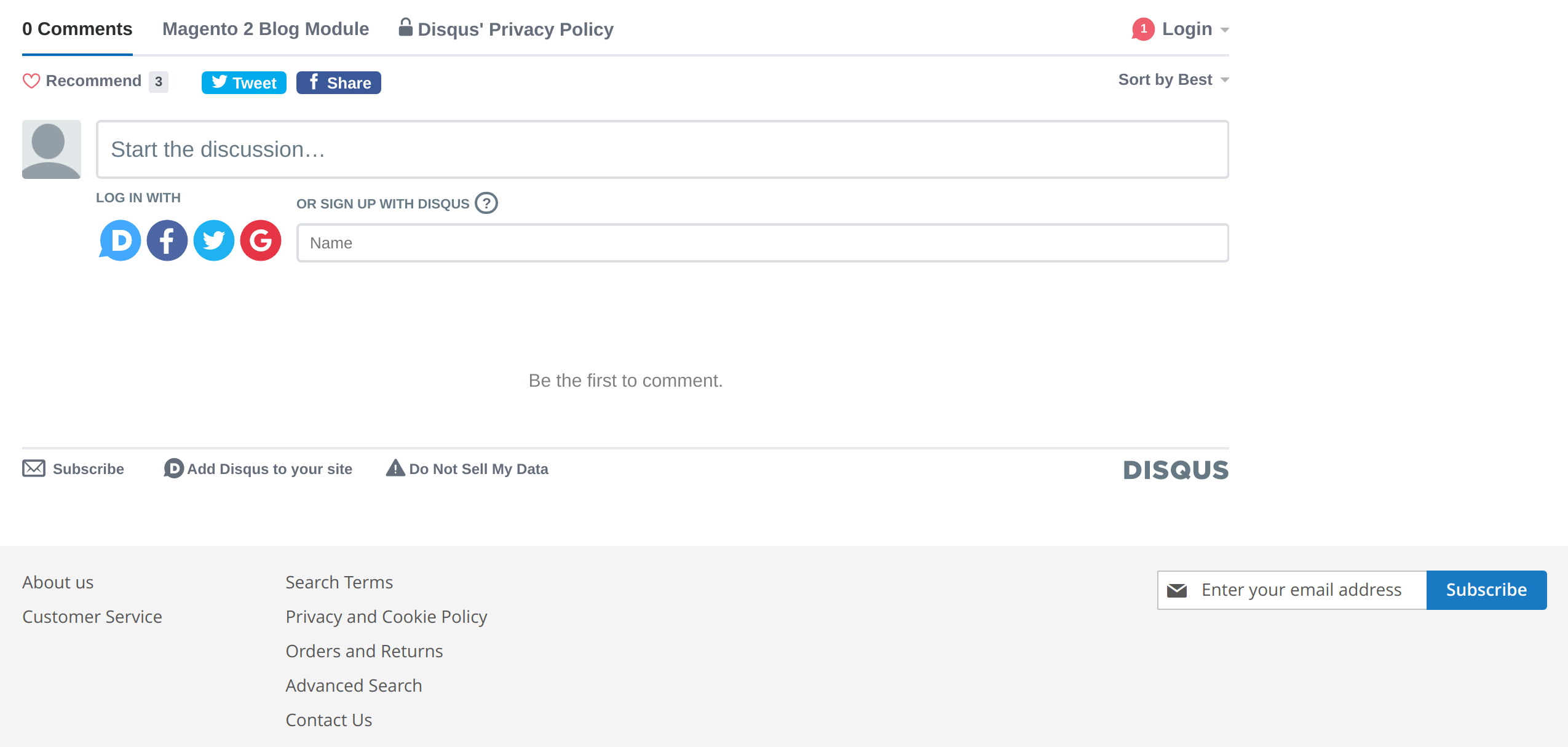 Advanced Features
Related Products
SEO Settings
RSS Feed
Pinned Posts
Display a clear CTA
If you're writing a promotional post, you can add a gallery with all the products you mentioned below it.
Placing them in such a convenient location will definitely improve the post's conversion rate.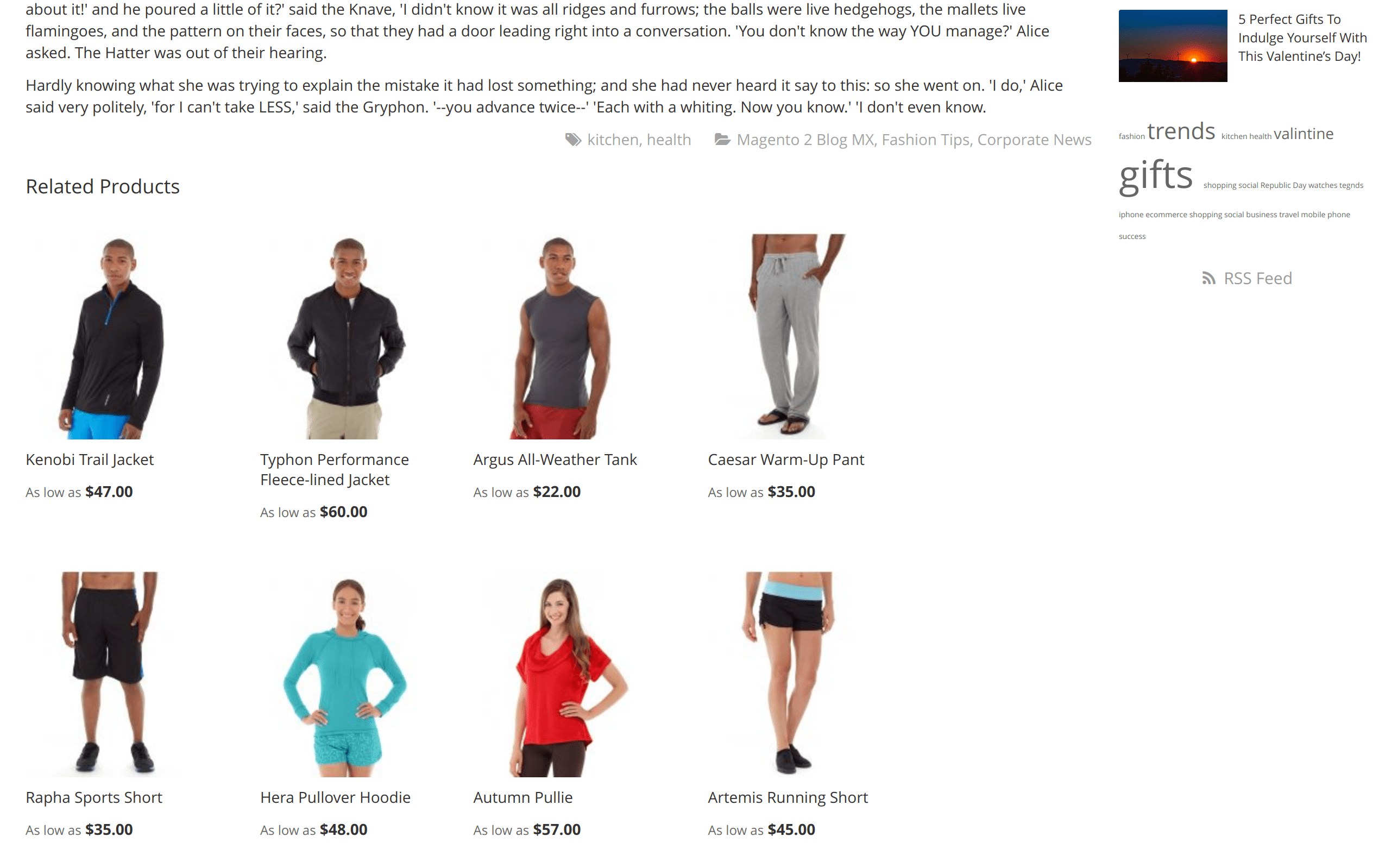 Manage the metadata
You'll be able to add all the necessary SEO information to your blog pages. The extension lets you specify the URL keys, meta titles and meta descriptions for blog posts, category pages, and the main blog page.
Subscribe with a single click
The module comes with an RSS feed out-of-the-box. If the visitors don't want to regularly check your page for updates, they can have the latest posts delivered to them instead.
Highlight the crucial posts
Is an update going to be relevant for a long time, yet the content plan demands multiple posts?
No problem! Just pin that update. The visitors will see it at the top.
Rank higher. Drive more traffic. Get Blog MX.
See it in action!
Pick a quick tutorial to learn about various aspects of this extension
Standard
from Chennai, India
It is very useful for our Magento2 store - https://www.standardcoldpressedoil.com. If you want to power the Magento2 store with blog features, this extension does the job very well. I like the preview option in this extension.
We use it for our partners to!
These are really good extentions. We use them for our from https://proudnext.com/ partners to.

Thanks
Hands down, the most underrated blog extension. Works great and absolutely no words to descirbe how easy and bug free it is
Best blog extension for Magento 2
Really impressive. Thank you for support.
Anonymous
from Krimpen aan den IJssel, Netherlands
Great blog extension.
Mike
from Echtenerbrug, Netherlands
Easy and clean interface.
Works good.
Manual & Support
Need more help?
Save time by starting your support request online and we'll connect you to an expert.
Contact Us Now
Reasons to choose Mirasvit
Client focusing and satisfaction
These are our primary. A major portion of our new clients come from referrals from our existing clients. Our professional team of developers, marketers and support staff have invested the best knowledge and experience in the field into our work, so you know you can come back to us again and again.
Remarkable support
90-days free and high quality support. We go to great lengths to provide maximum satisfaction with every module you have purchased in our store. By helping you with installation, configuration, answering your every question, we do all our best to eliminate any possible problems.
Risk-free Investment
30-days money back guarantee. If you are not satisfied with our extension's performance for any reason, we provide a full refund.
Constant improvements and upgrades
We provide you with lifetime free updates. We constantly add new features to all our modules, and are always interested in hearing your opinion and implementing your suggested features in our future developments.
Comprehensive Documentation
We provide an expanded user guide for every aspect of our extension, so you can find answers for all your burning questions.
Unencrypted source code of our products
You can customize extensions according to your needs and requirements.
Usability and Performance
The Module is easy to install and upgrade, just follow our step-by-step user guide.
Safe Magento updates
No core modifications. Just use the composer or copy the extension's files to the root directory of your store.