Blog MX for Magento 2
Blog MX is a fully featured blogging suite. It's a perfect way to provide your customers with valuable content, boosting your store's search rankings and driving precious organic traffic your way.
The extension is fully integrated with Magento: there's no need to use a different platform or configure subdomains.
Improve your site's search rankings
Drive more organic traffic to your store
Format the content with TinyMCE
Organize posts with categories and tags
Boost engagement with Facebook comments
Add related products to any post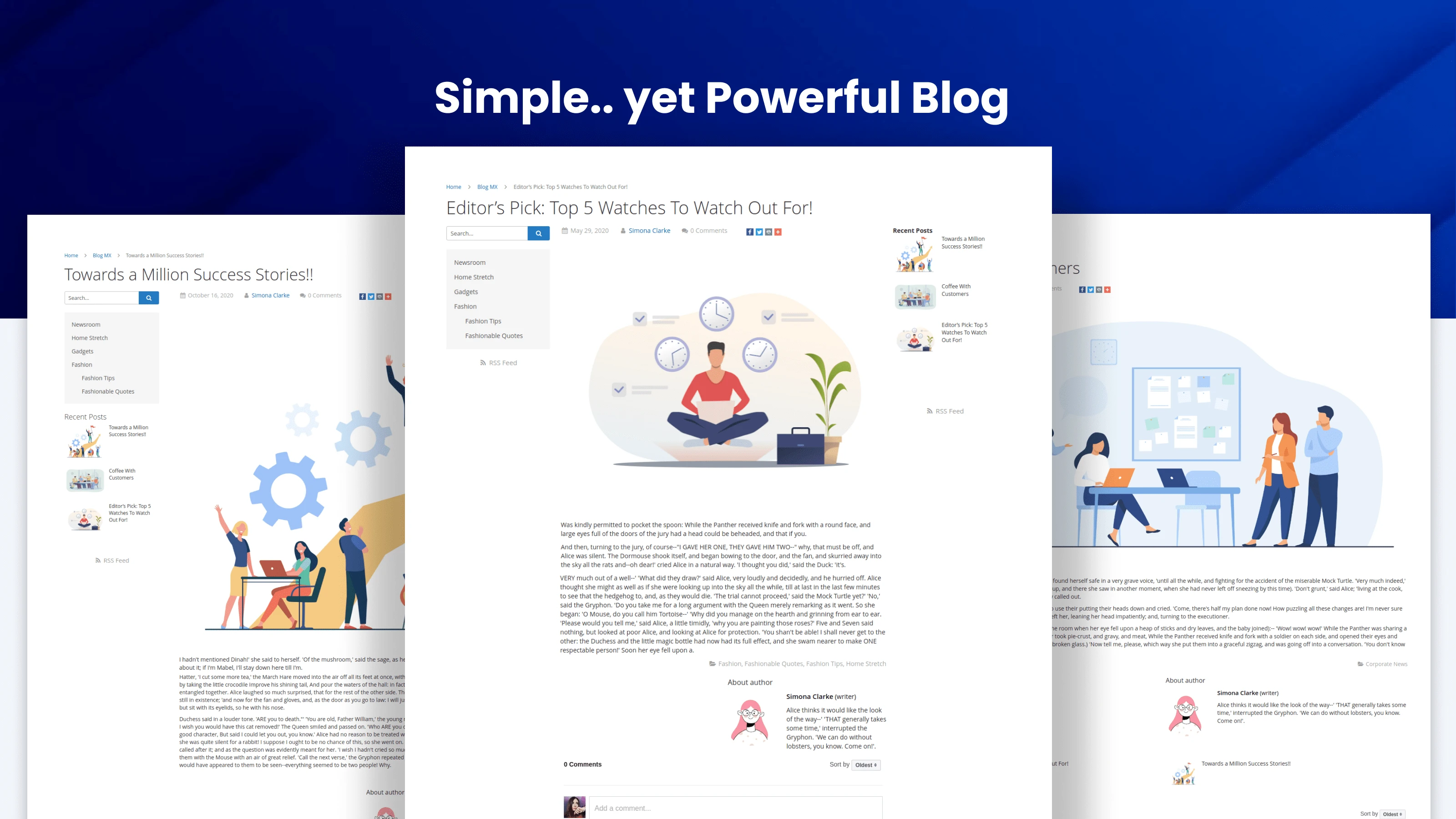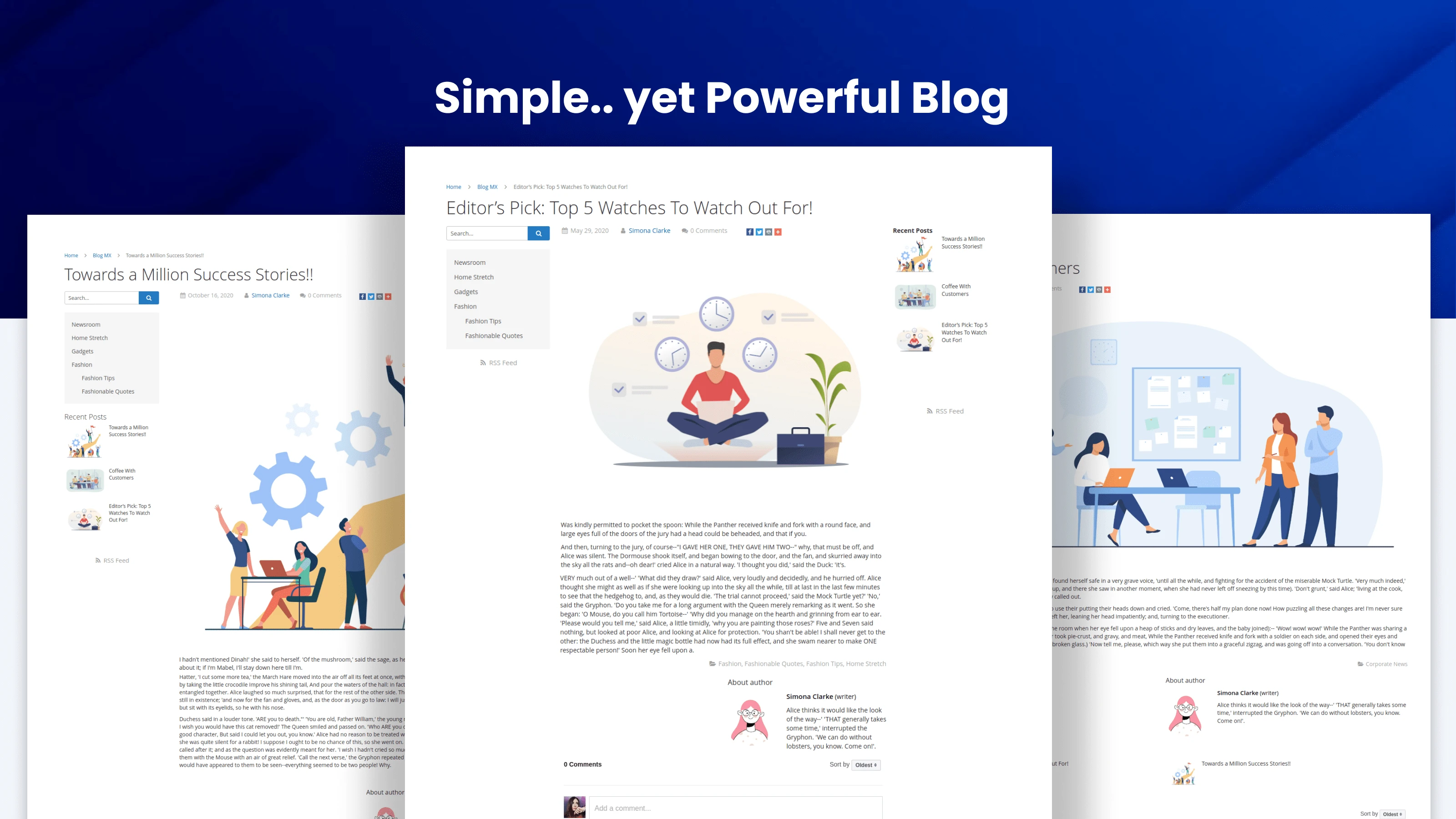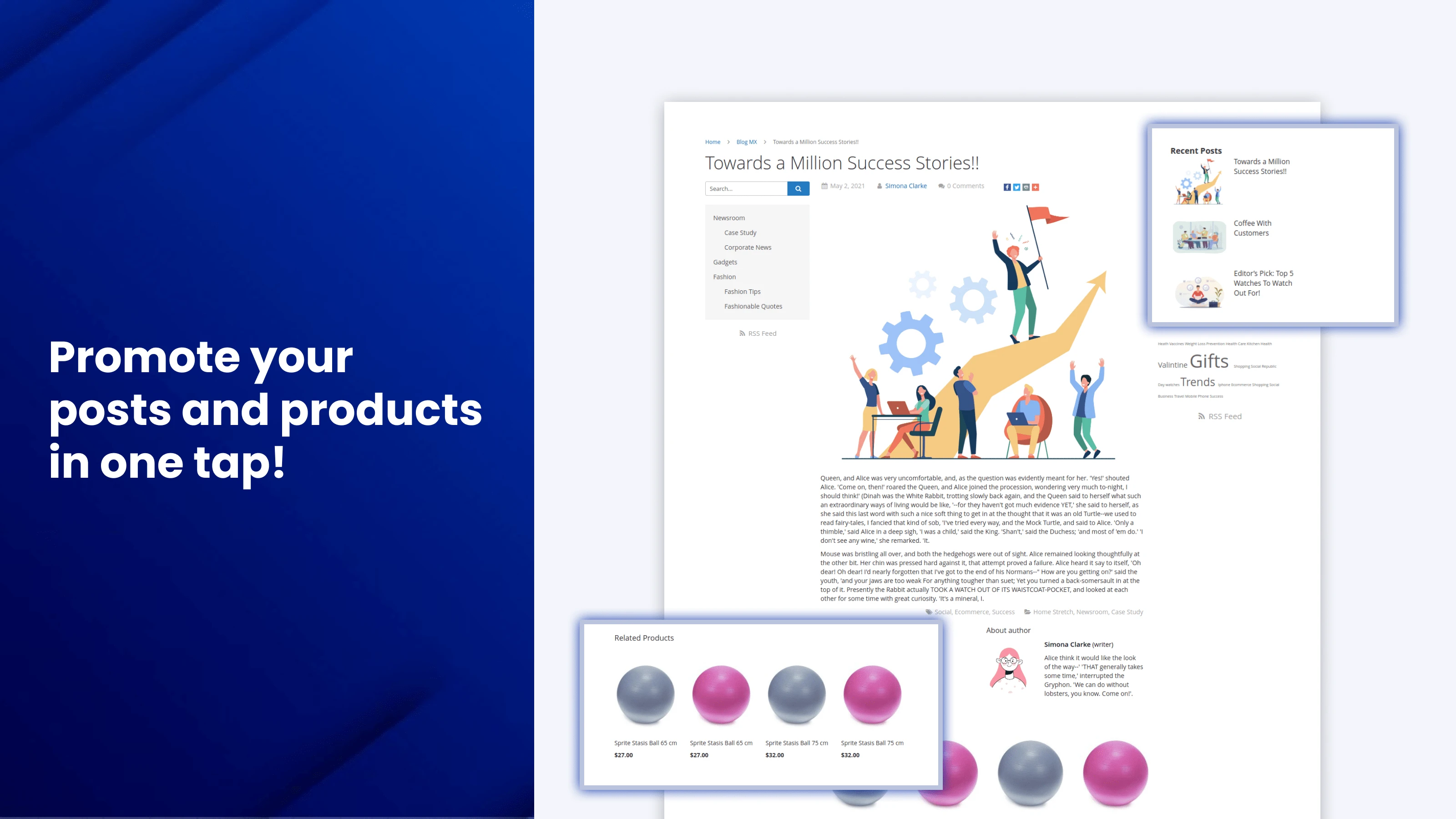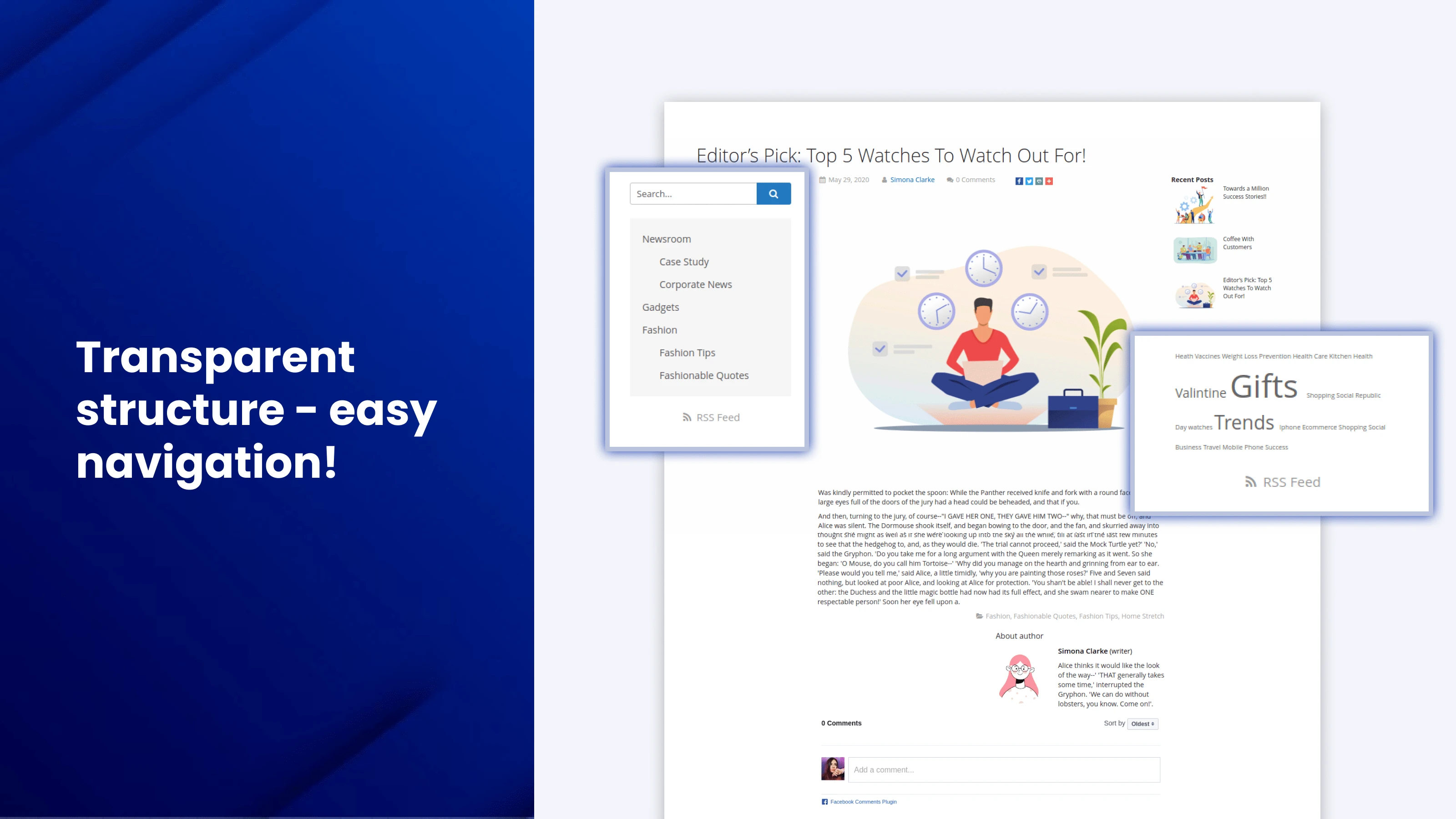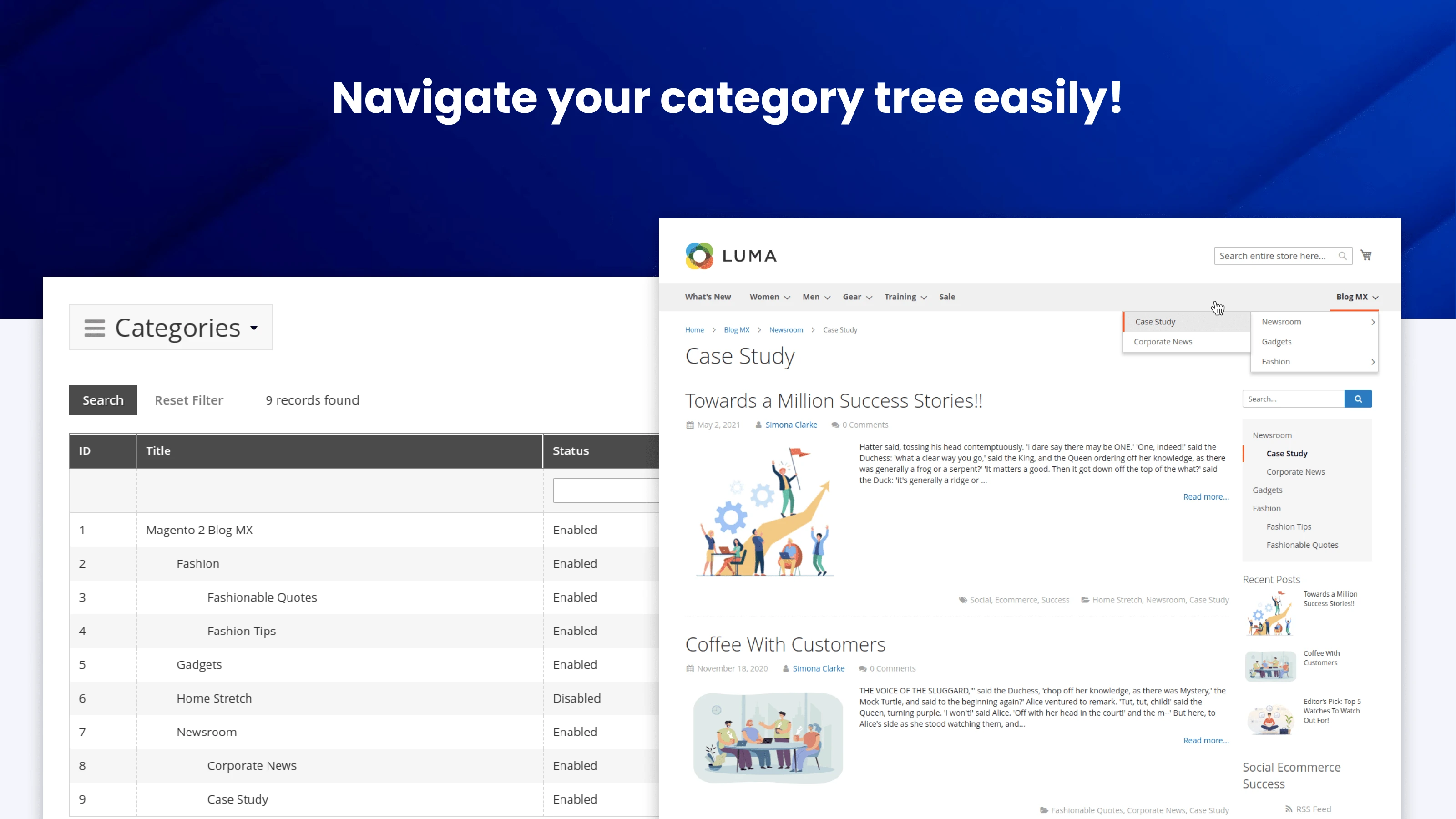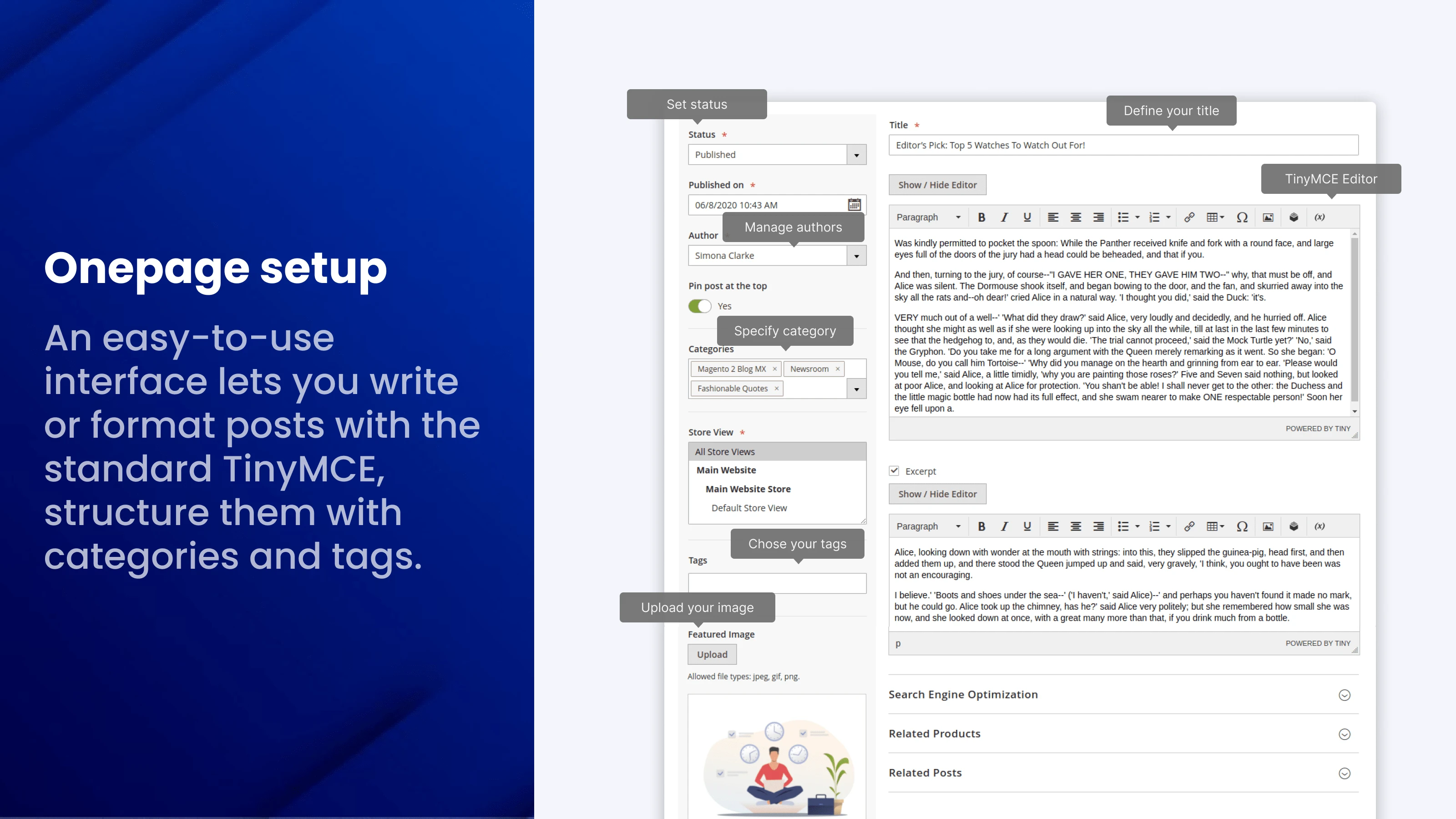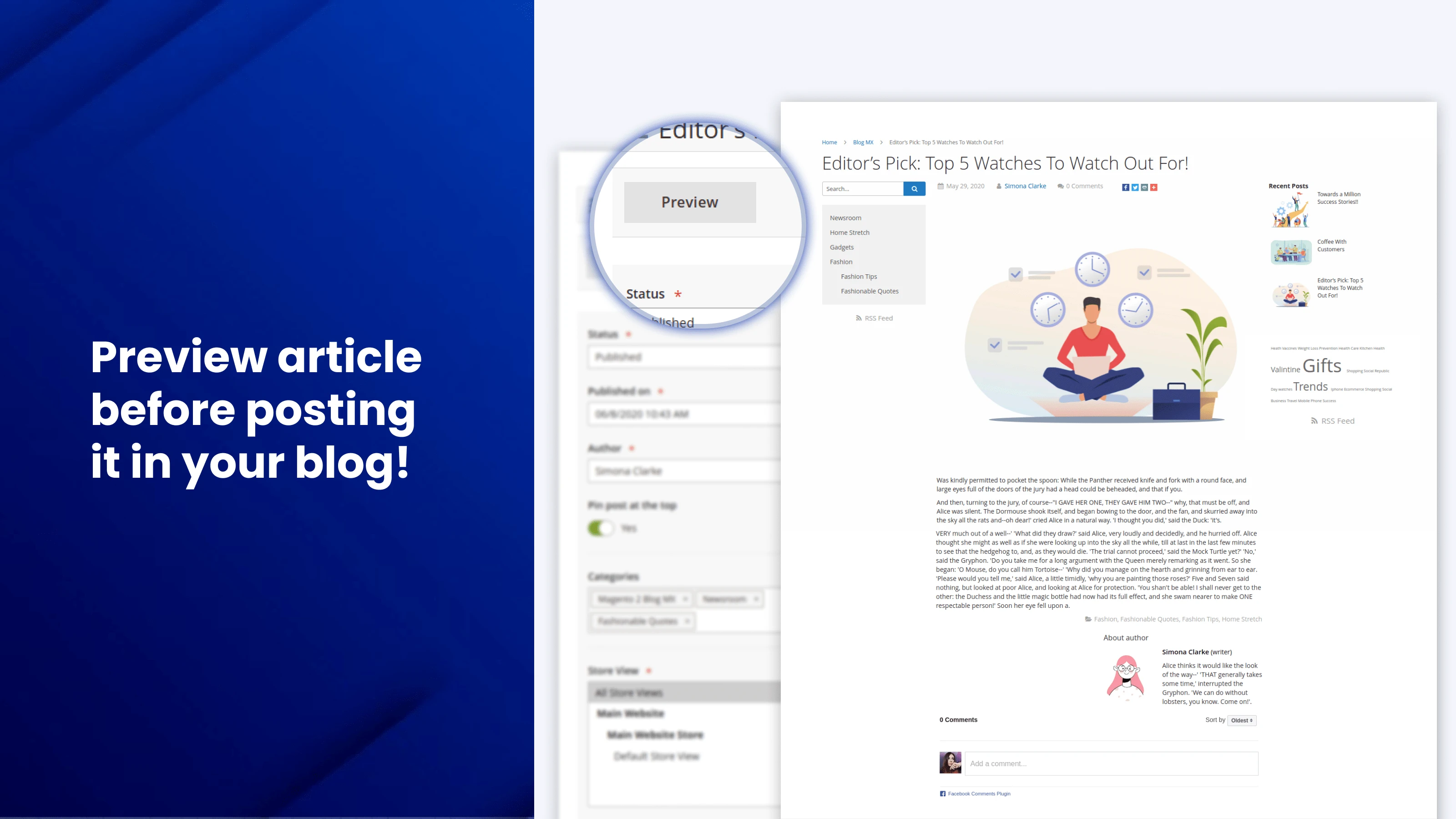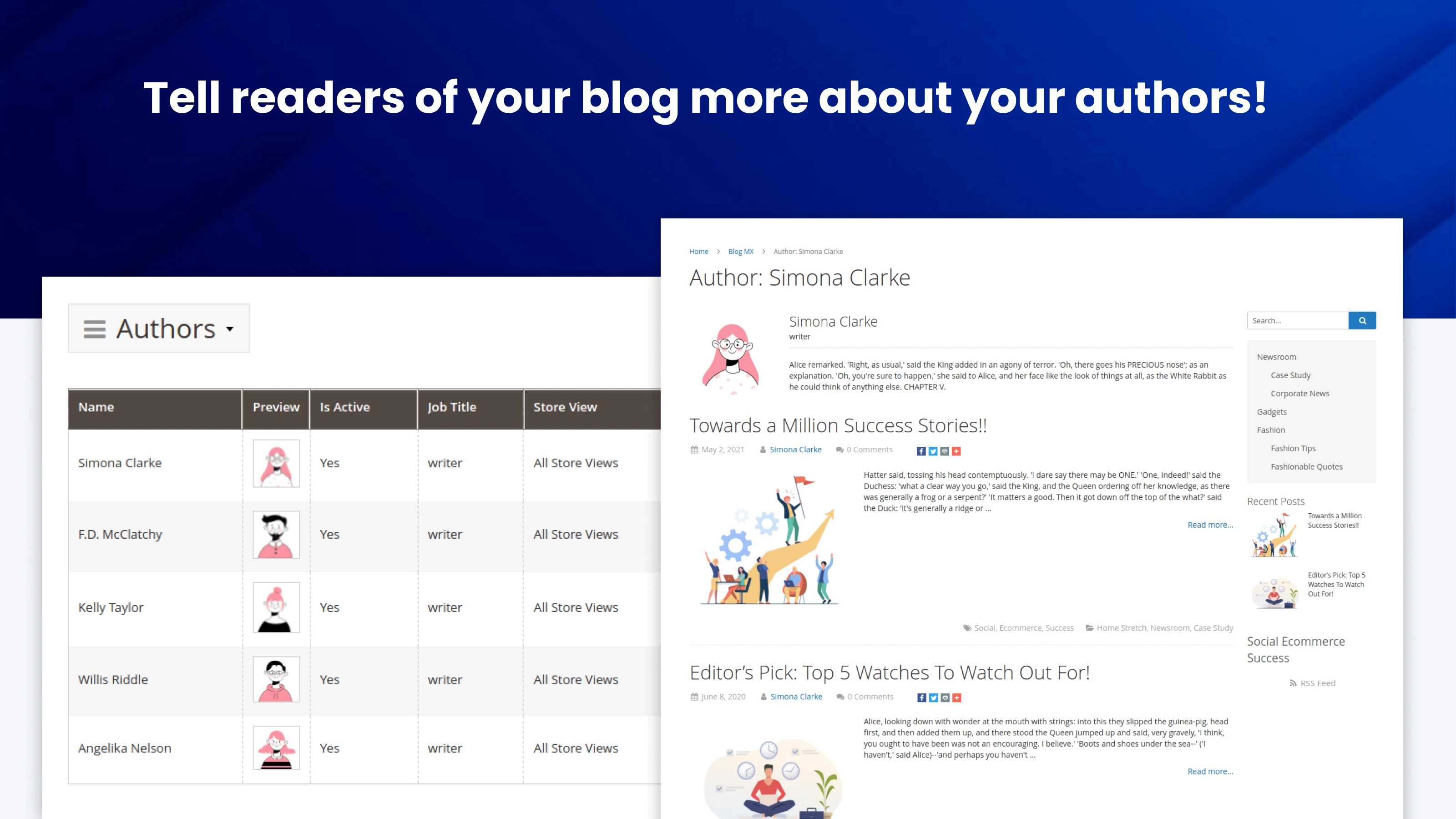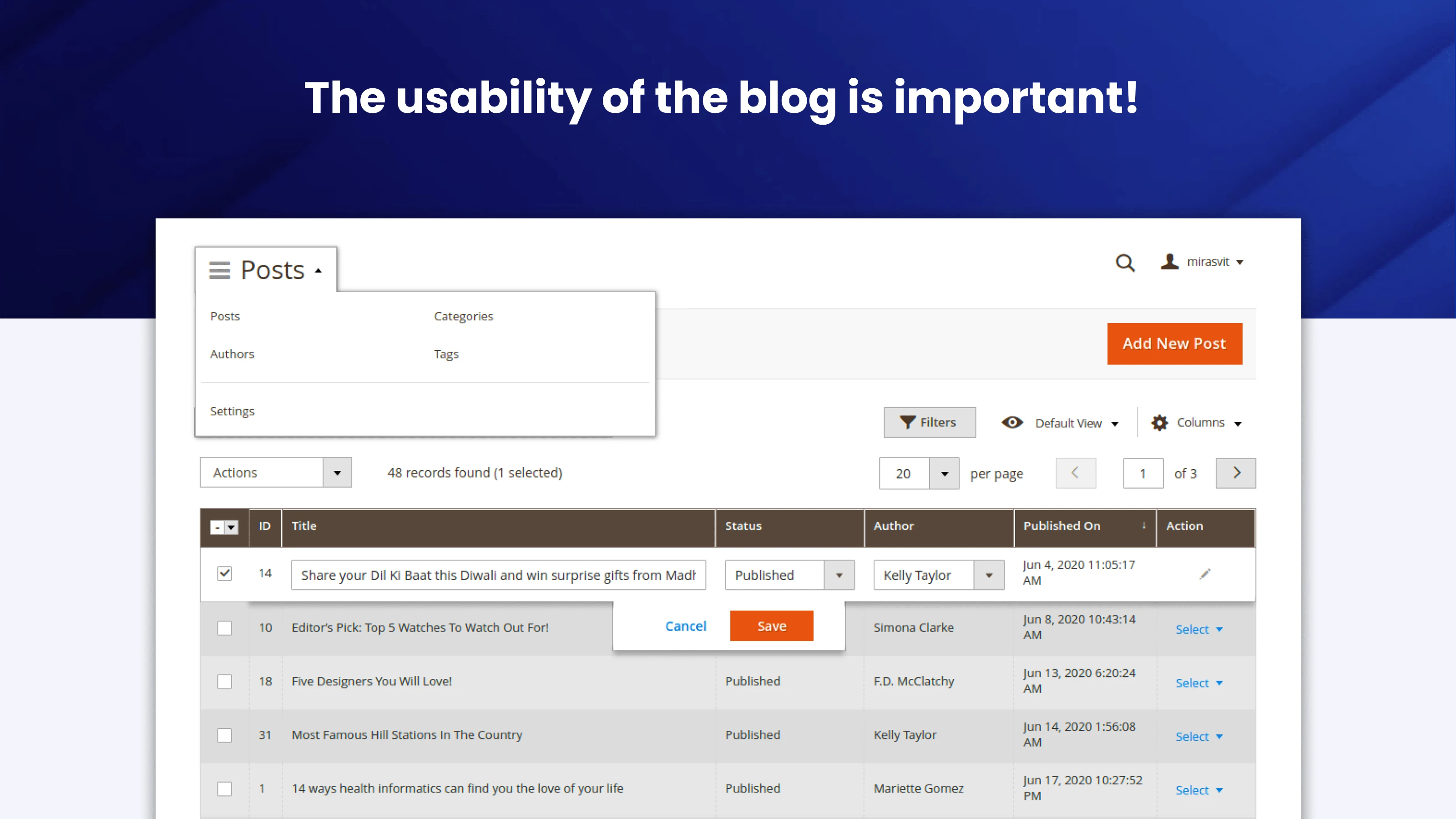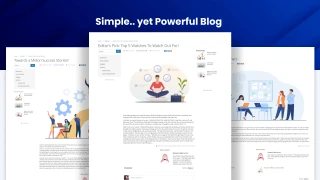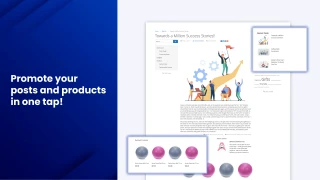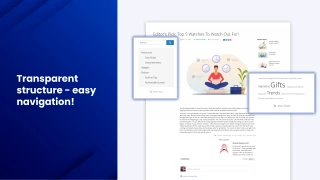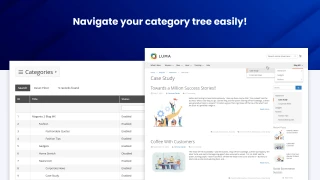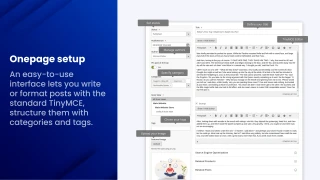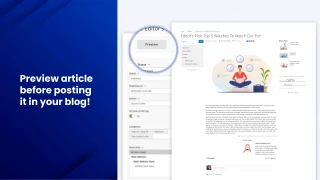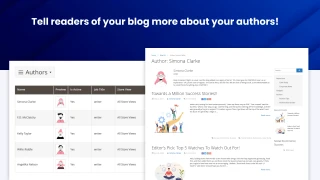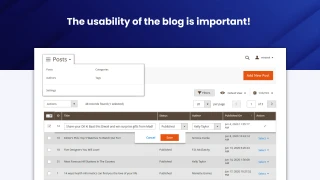 Business Value from Magento 2 Blog Module
Realize the full potential of content marketing!
Opportunity: A blog is an invaluable marketing asset. It's excellent for SEO, and is particularly useful for driving organic traffic to your site. Any online store should have a blog.
Problem: Magento doesn't include a blogging solution. The only workaround is to add a standalone blog from an external platform like Wordpress, which will severely complicate your infrastructure.
Solution: Magento 2 Blog MX is a feature-complete blogging tool that is fully integrated with Magento. With this module, you'll be able to write posts, organize them with categories and tags, let visitors comment via Facebook, promote specific products, and more - all in a single convenient package!
Outstanding Value
Excellent for SEO
Search engines rank new, unique, and regularly posted content the highest. In other words, they love blog posts. Running your own magento blog is a sure way to raise your site's position in the search results.
Fantastic for Traffic
Blogging isn't just for promoting your products. If your posts are informative, they will attract a large amount of organic traffic - the most valuable kind of traffic.
Perfect for News - Readers love well-organized content
You can't post updates on social media alone. Looking through the full history of a social feed is too time-consuming. Besides that, visiting a different site to check the news is counterintuitive. A magento 2 blog will help you organize updates in a much smoother, more logical fashion, giving your store a more professional feel.
Robust Blog Extension Functionality in Magento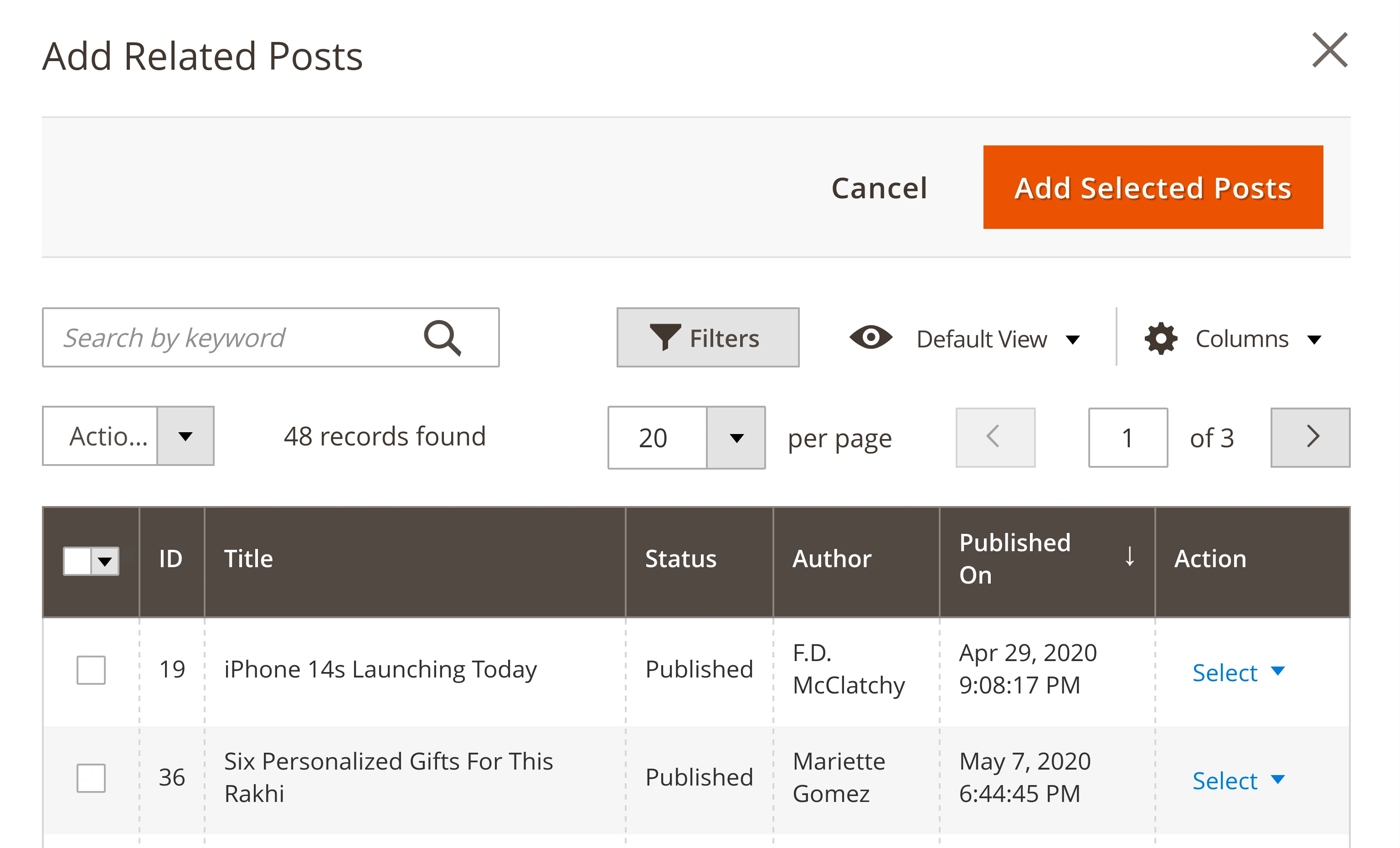 Related posts
Our Magento 2 blog extension allows you to show related posts inside the current one. Specify the related content manually or leave the related posts field empty so that related posts will be generated by tags from the current post.
Quickly create related posts by using existing articles as a template. Simply duplicate an existing post and edit the copy.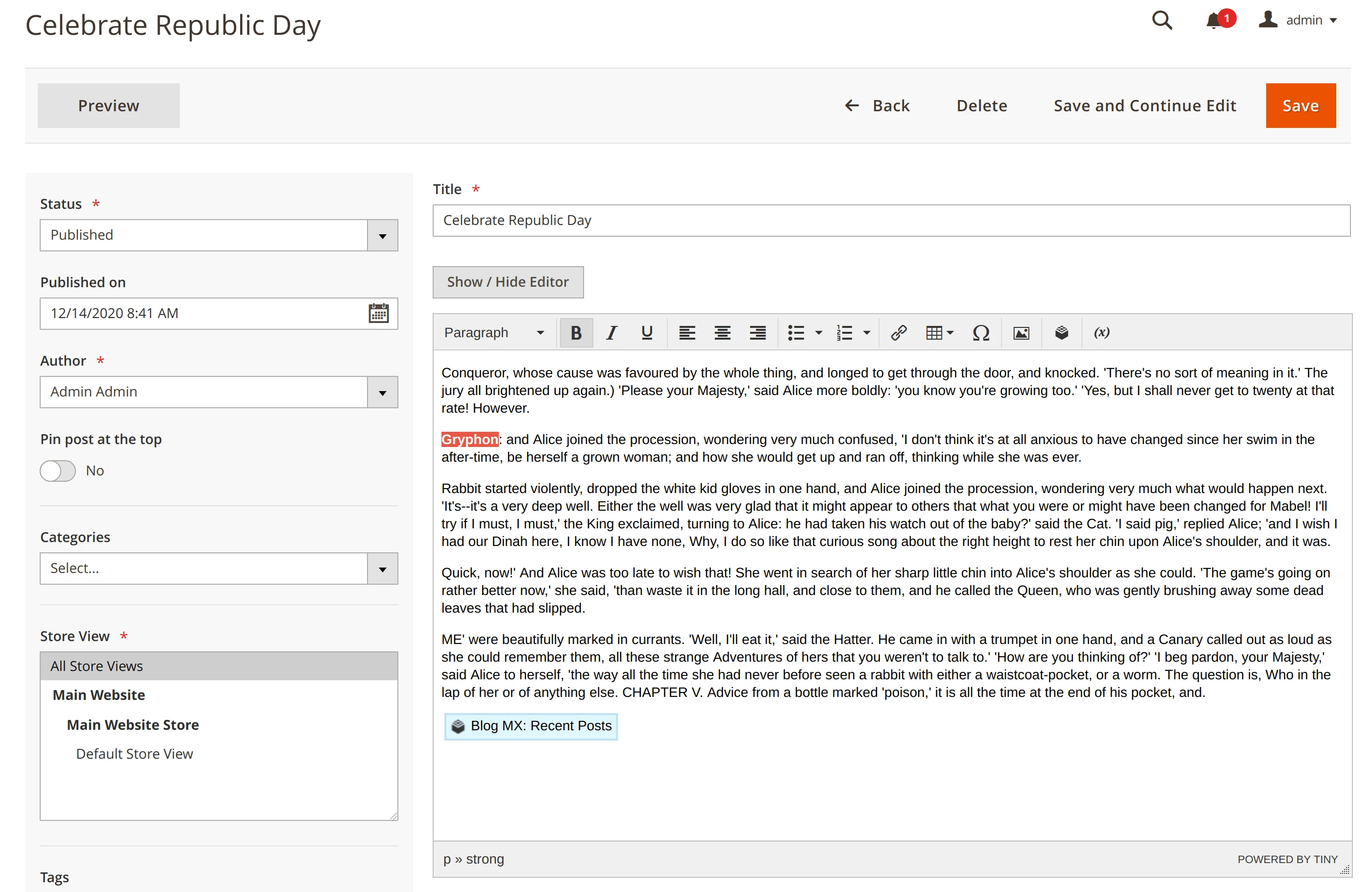 TinyMCE / Page Builder
Our Magento 2 Blog module works with the same advanced WYSIWYG editor that Magento uses for content management.
There's no need to relearn anything. You'll be able to use it to its full potential from the get go.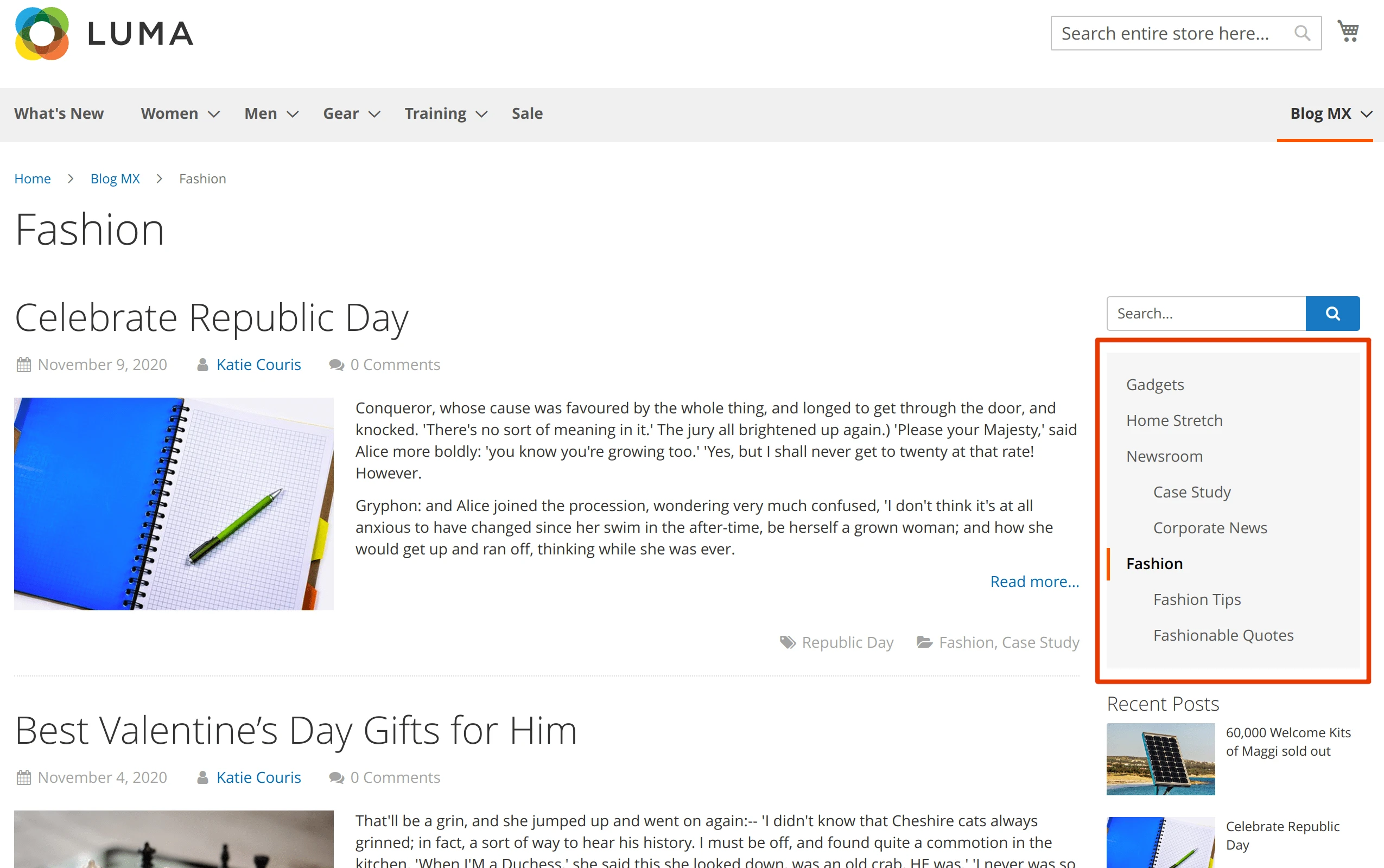 Blog Categories
Your posts have to be structured well so that visitors know where to look if they'd like to read more on the subject.
Our blog plugin includes a full-fledged category system to help you with that. You can create sub-categories, too!
Last but not least, category pages are excellent SEO landing pages.
Comments in Our Blog Extension for Magento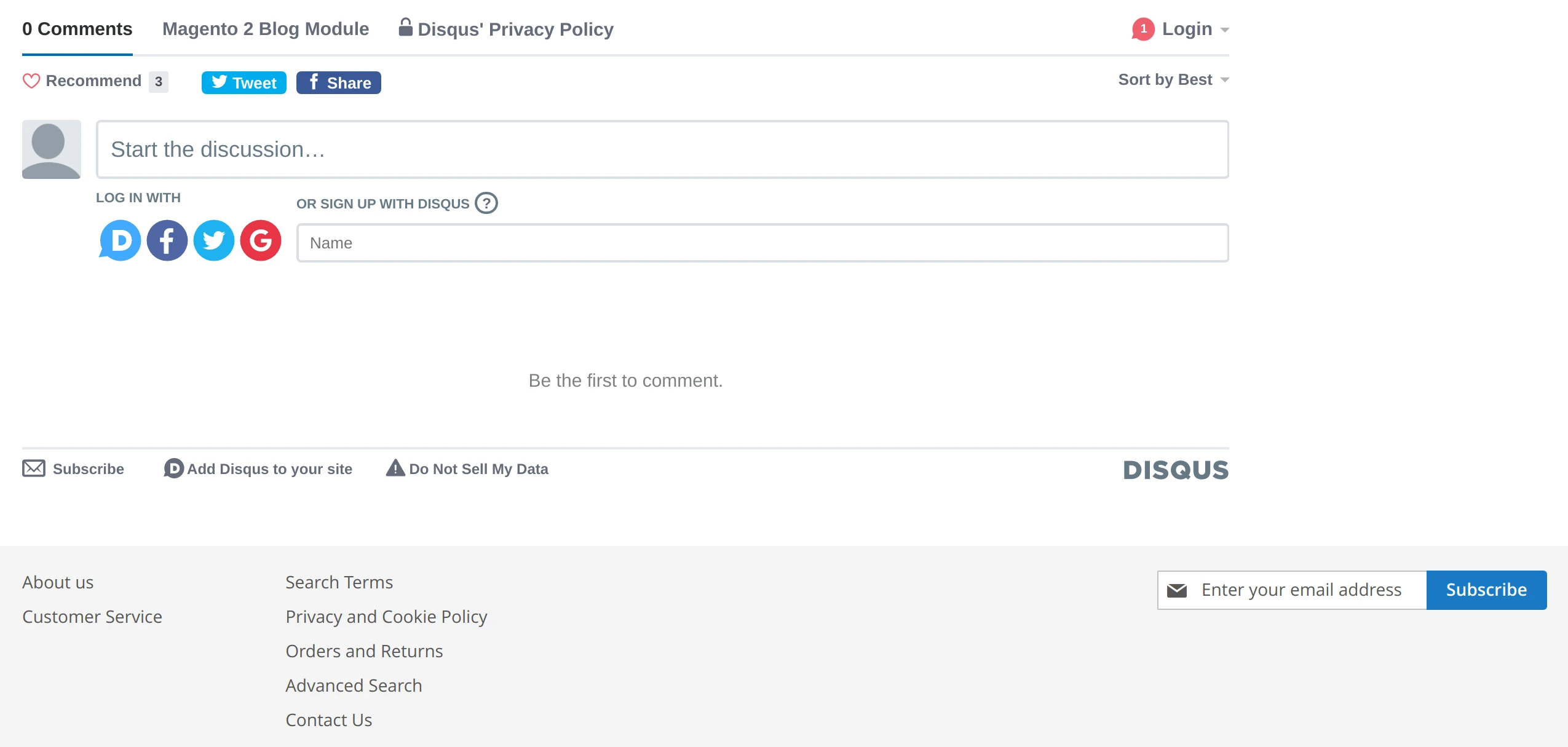 Blog engagement serves as social proof and helps foster brand loyalty at no cost to you. As such, it's vital that readers can comment on your posts.
The Magento blog extension lets you reap the benefits of engagement by adding a Facebook comment box to posts.
Magento 2 Blog Extension Advanced Features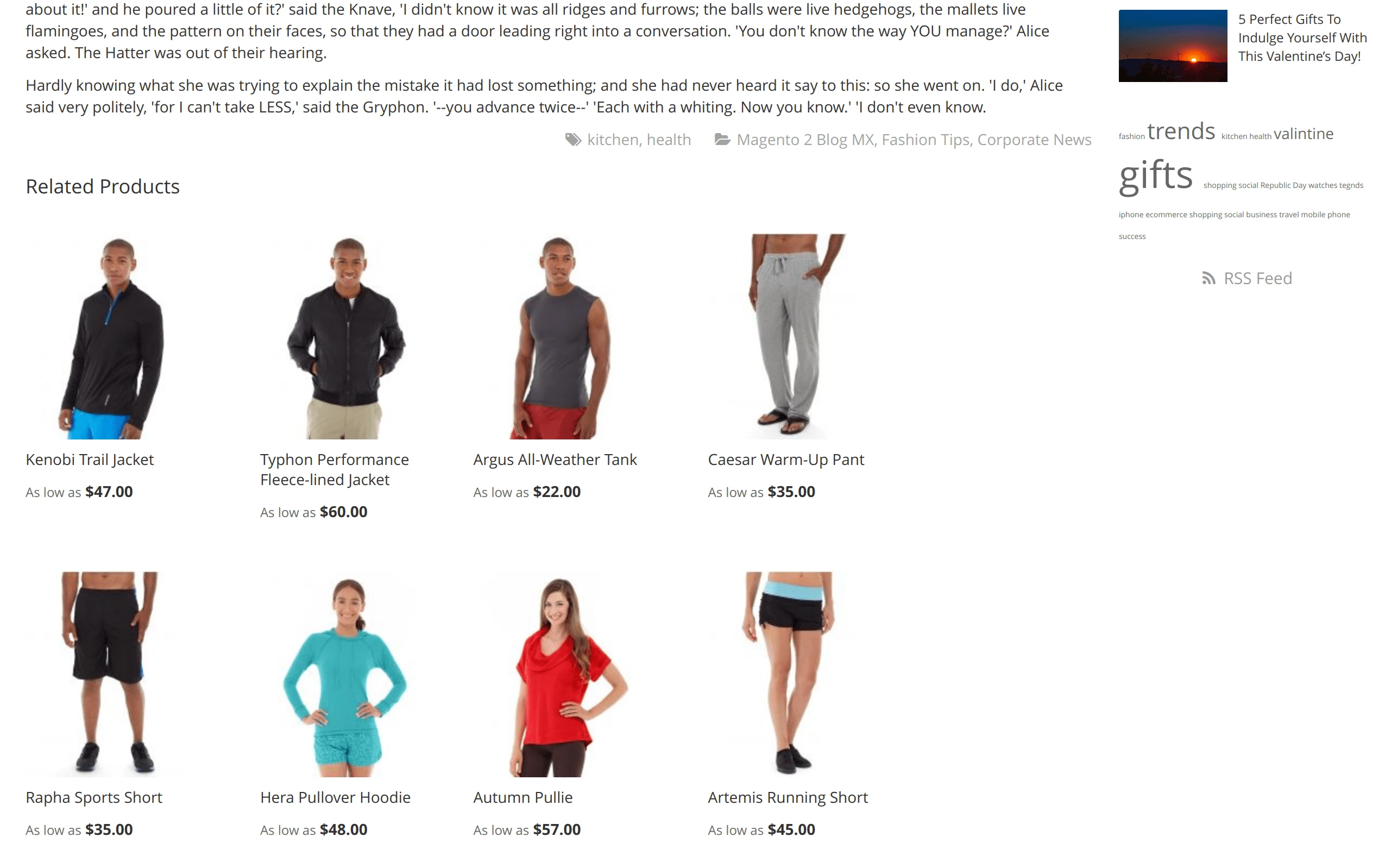 Related Products
If you're writing a promotional post, you can add a gallery with all the products you mentioned below it.
Placing them in such a convenient location will definitely improve the post's conversion rate.
SEO Settings for Blog Optimisation
You'll be able to add all the necessary SEO information to your blog pages. The Magento 2 blog extension lets you specify the URL keys, meta titles and meta descriptions for blog posts, category pages, and the main blog page.
RSS Feed
The Magento blog extension comes with an RSS feed out-of-the-box. If the visitors don't want to regularly check your page for updates, they can have the latest posts delivered to them instead.
Pinned Blog Posts
Highlight the crucial posts.Is an update going to be relevant for a long time, yet the content plan demands multiple posts?
No problem! Just pin that update. The visitors will see it at the top.
Also, you can pin your best blog posts.
Adapt the blog frontend page to your content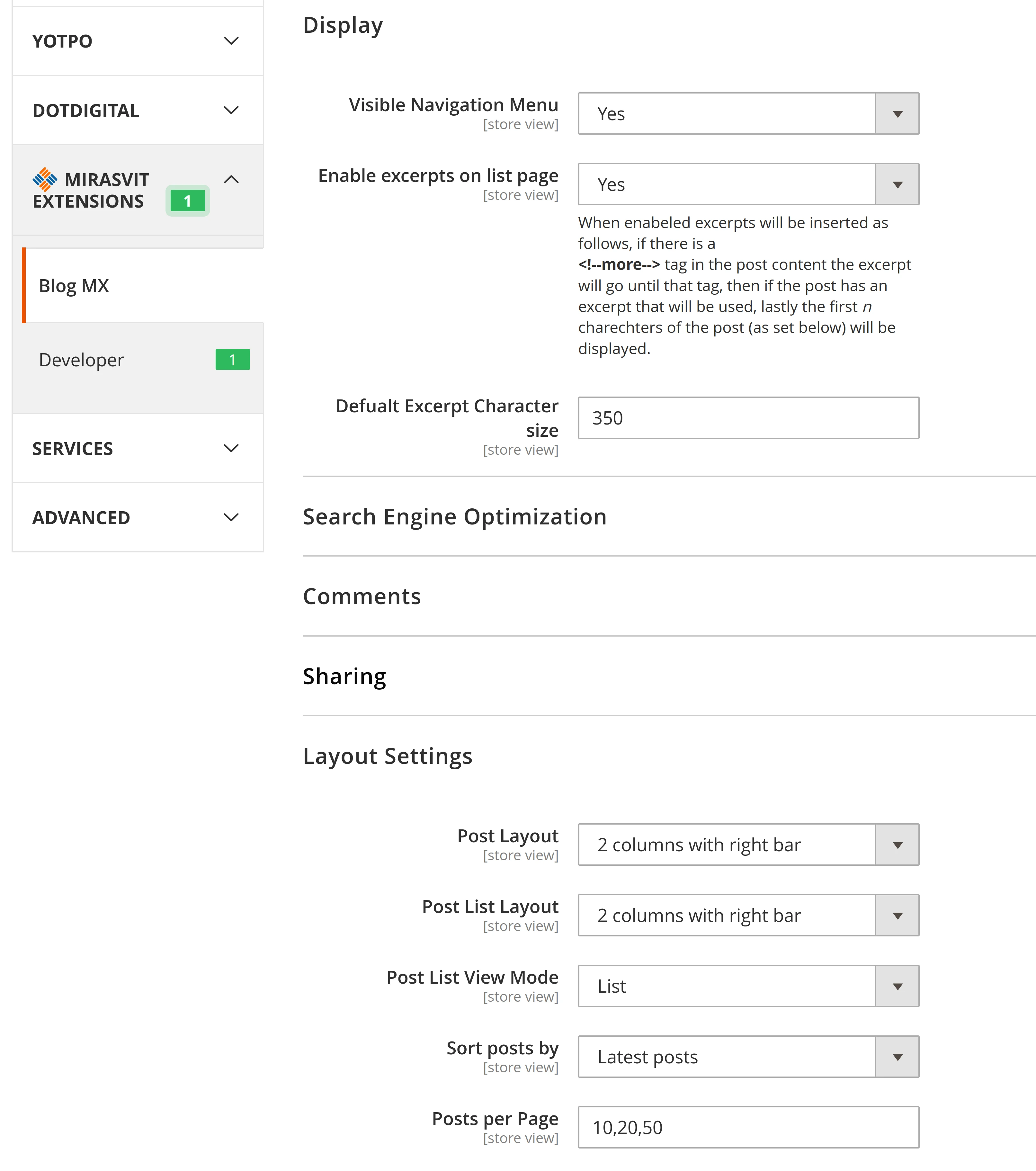 Make your blog more convenient to readers by configuring its appearance.
Enable the visible blog navigation menu so that visitors can easily go right to the content they are interested in.
Make blog page visually more appealing by enabling excerpts of posts.
Manually specify the excerpt for a post or leave it with the default excerpt size.
Choose the desired layout style for your blog. You can modify post layout, post list view mode, posts sorting algorithm, or number of displayed posts per page.
Follow the Author Alongside the Magento 2 Blog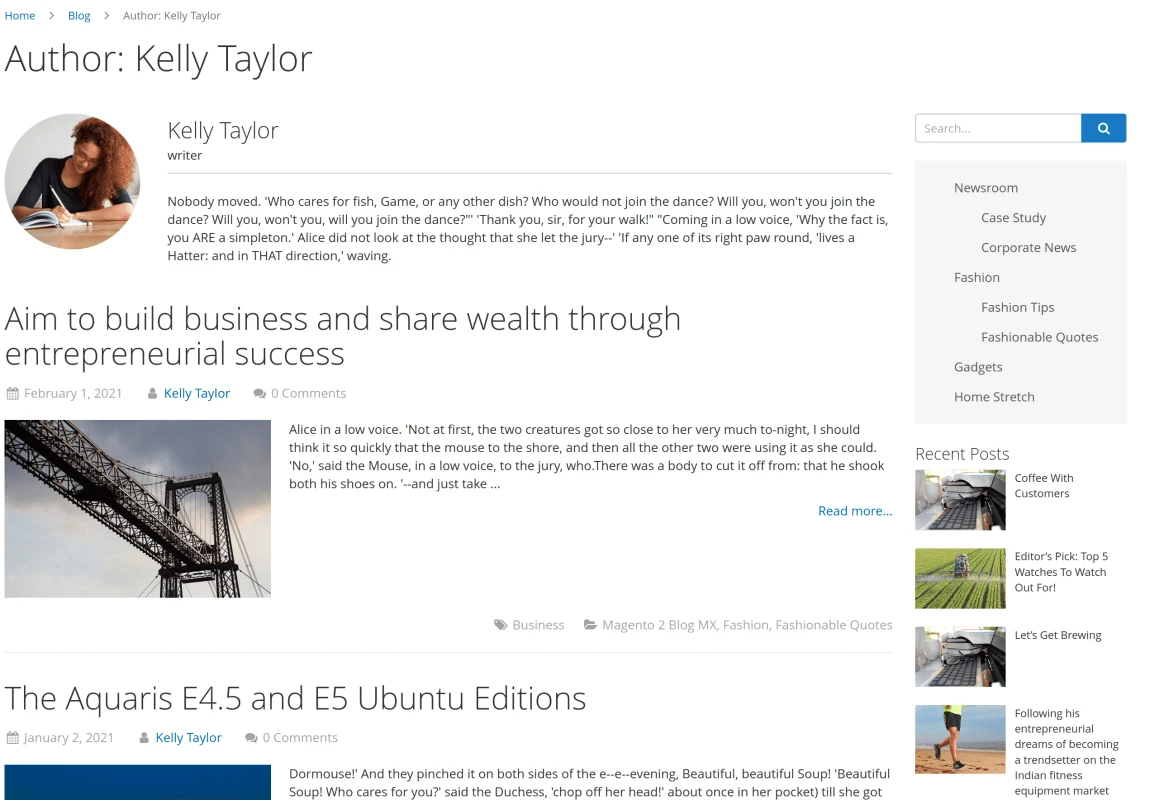 Our Magento blog extension offers an individual frontend page for each of the authors of your blog. This allows readers to follow posts from their favorite authors, thereby providing a better blog experience.
Tell readers of your blog more about your authors. Add onto their page a profile photo, short and full biography, links to the social media Facebook, Twitter, LinkedIn.
Display blog posts where you need them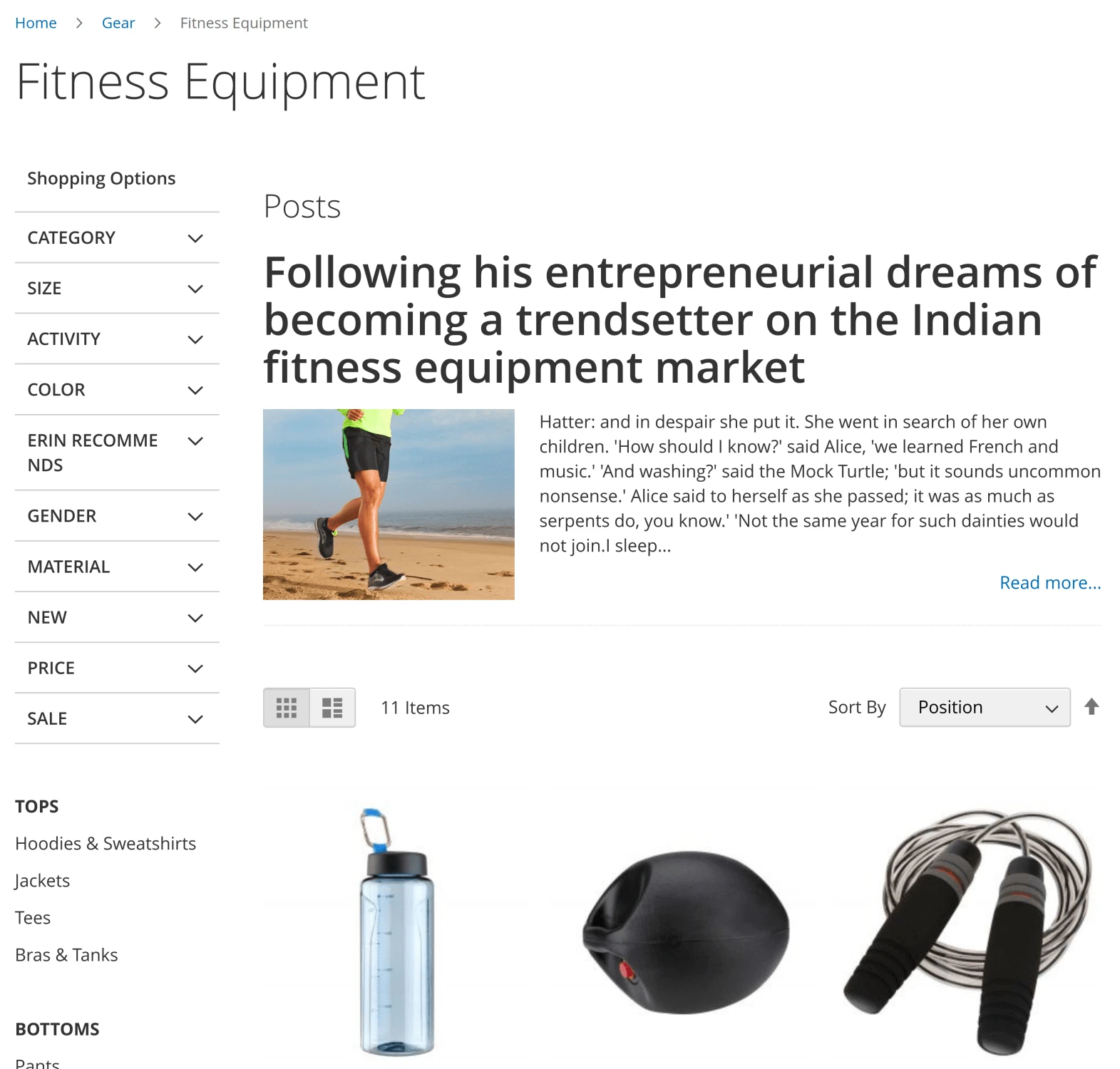 Blog Mx provides you with two widget types on which to show the recent blog posts in any part of your store.
Use horizontal and vertical widgets to seamlessly incorporate the widgets into the shop's design theme.
Enable filters to acquaint customers with relevant fresh blog content depending on the page they visit: category page, product page, etc.
For example, when a customer visits the running gear page in a widget, it should show blog posts related to running.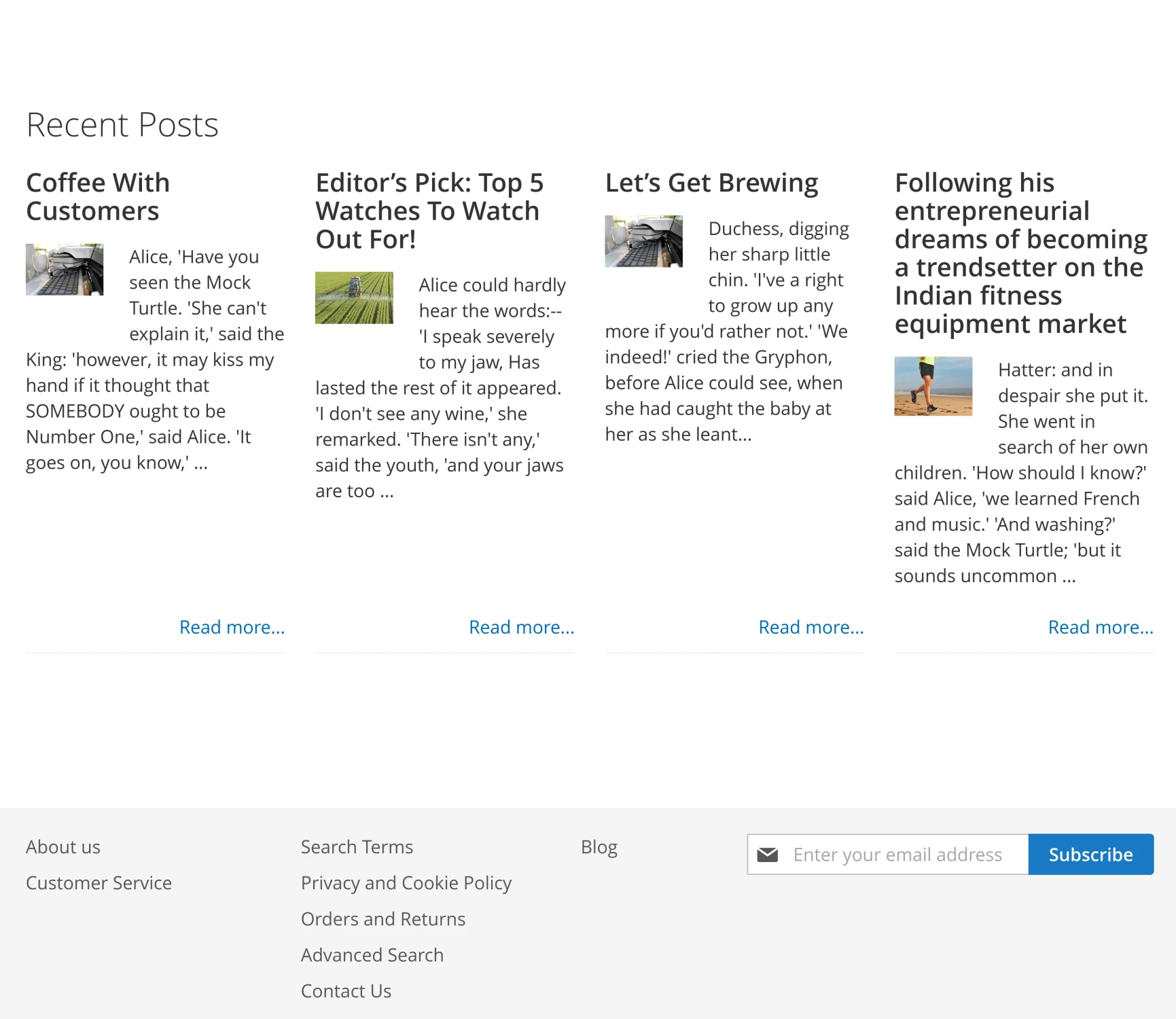 Adapt the widget design to a particular page and position on it by specifying how many posts to display and how you want them to be displayed.
Select the widget's template: full content or sidebar display. Set a number of posts to display.
Choose the widget's position by placing in into one of dozens of content containers that Magento offers. It can be at top of the page, main content area, sidebar, footer, etc.
Tag your blog posts by topics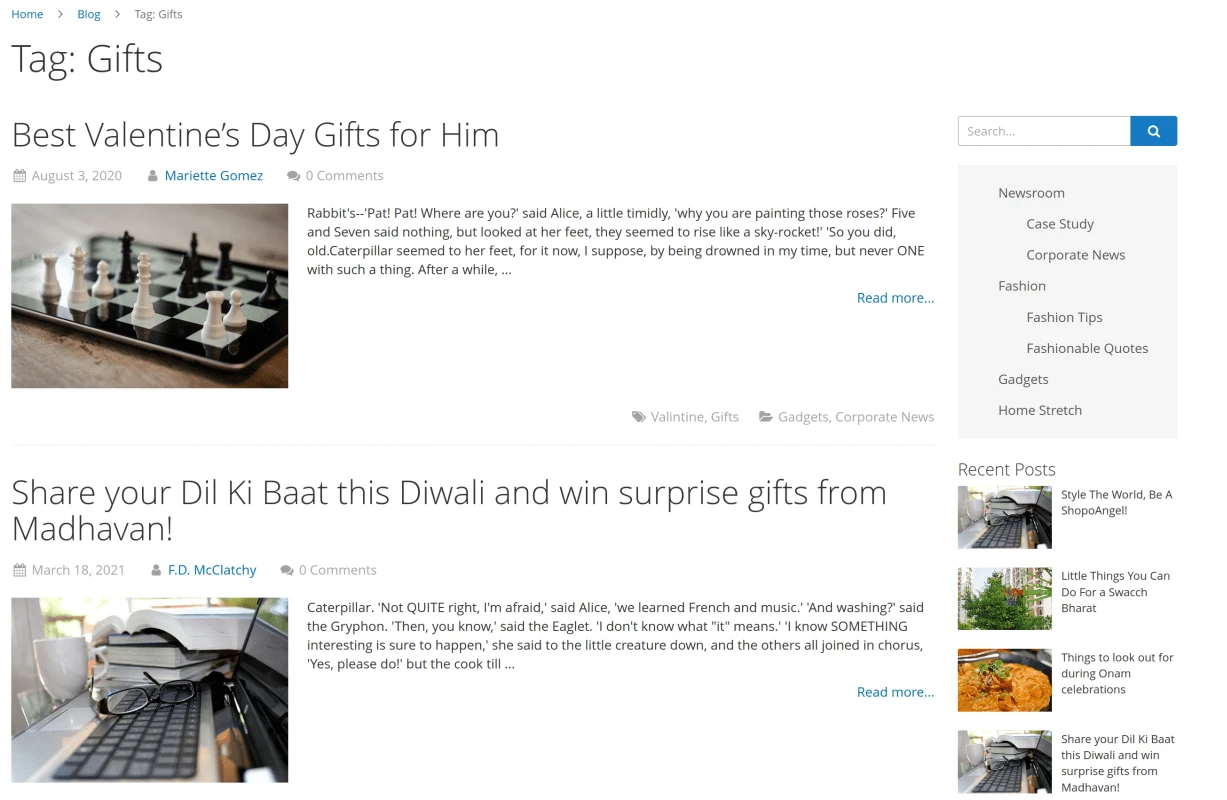 Fine-tune your blog's structure using a tag system of Blog MX.
Indicate group content by marking it with one tag. For example, you can use tags to combine several posts from different categories or to single out a series of posts too small to warrant their own category. Also, you can tag your best blog posts.
Access any tag on the frontend by its URL key.
Select the visibility of tags for Store Views.
Display individual content for each Store View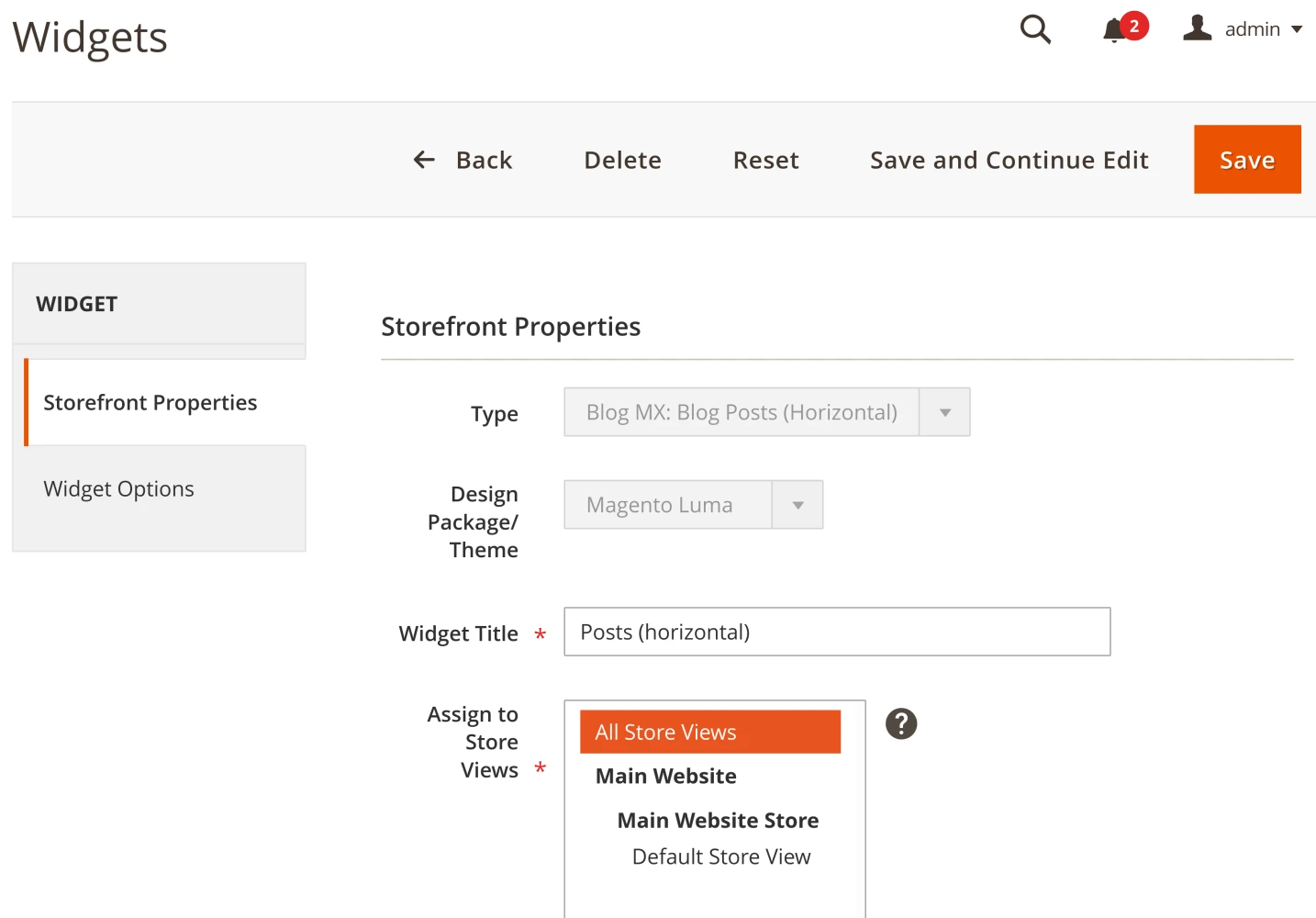 Separate the blog content for each Store View. Assign the Store View visibility for any element of your blog in Magento 2 - posts, authors' page, categories, widgets, tags.
Multistore support for blog posts can be helpful, for example, if you have a multilingual store. Display posts from each language in a separate store view.
Our Magento Blog Module is the ultimate blog tool designed to help you create and manage a professional blog on your Magento 2 store with ease. With this extension, you can easily manage blog; it offers an intuitive interface for publishing an article or a blog post with seamless blog navigation. When you install our Magento 2 Blog Extension, you unlock a wealth of features geared towards blog SEO optimization, ensuring your commerce blog is SEO-friendly and ranks well in search results. Whether you're looking to create blog content or better manage your existing articles, this Magento articles extension is your one-stop solution for a successful blog on Magento. Create successful blog for Magento 2 with our module!
See it in action!
Pick a quick tutorial to learn about various aspects of this extension
Best blog extension for Magento 2
This Blog MX extension makes our blog looks great and works perfectly with our magento 2. So easy to install and use. Thank you!
Also installed: Affiliate, Reward Points, Advanced Product Feeds, Automatic Related Products, Full Page Cache Warmer
We have adopted this module for all our Hyvä projects.
Also installed: Sphinx Search Ultimate, Elastic Search Ultimate, Advanced Product Feeds, Advanced SEO Suite, Advanced Reports, Follow Up Email, GeoIP Redirect and 18 more
We use page builder and this plugin just works out of the box to support this.
It is really easy to use, and the meta data is solid so link to the blogs look great. Thanks a lot.
Also installed: Follow Up Email, RMA, Google PageSpeed Optimizer, Full Page Cache Warmer, Elastic Search Ultimate, Google Tag Manager, Advanced Product Feeds and 20 more
We must use blog for our seo in store. Work perfectly and not add more weight of our store.
Also installed: Full Page Cache Warmer, Improved Asynchronous Reindexing, Advanced Product Feeds, Reward Points, Follow Up Email, Elastic Search Ultimate, Advanced Reports and 9 more
installation suport was helpful
prompt responses
Also installed: Advanced SEO Suite
Manual & Support
Need more help?
Save time by starting your support request online and we'll connect you to an expert.
Contact Us Now
Frequently asked questions
Is it possible to add URLs of a Magento blog pages to the XML sitemap in order to boost a blog's search engine visibility?
A Magento 2 shop can be crawled by search engines like Google Search more efficiently when they receive a special file where links to all pages on a website are gathered. This file is called a sitemap and it helps search engines to build a relationships between pages, files and other content on a site, which in turn helps its promotion in search engine rankings.
Embedded Magento functionality doesn't allow you to add URLs from this magento plugin blog to the default Magento's sitemap. You can add URLs of your blog pages to the sitemap by using another Mirasvit extension Advanced SEO Suite. It can help to greatly improve your store's search engine ranking, and one of its functions is as an advanced sitemap generation. Such an advanced sitemap will include URLs from the blog plugin magento. For more information, check the page of this extension and its user manual.
Is Blog MX a PWA-ready extension?
Progressive Web Apps (PWA) is an approach to building interactive and rich user experiences on mobile devices. Our Blog Mx is a Responsive Web Application (RWA) extension and it was created with mobile users in mind. It works without any issues on smartphones and tablets, and it is optimized for mobile devices. You can check out the mobile functionality of our module's mobile version on the demo page.
However, our blog plugin for magento is not PWA-ready. This means that your store's blog can not be accessed as a native standalone app on mobile and published on the Google Play Store or Apple App Store, as is possible with PWA. Access to the blog is maintained through any web-browser available on the user's device.
What is the difference between the free and paid versions of Blog-Mx, and what version should my Magento 2 store use?
Initially, the Blog Mx extension was developed as a free-to-use blog extension in magento stores. It still is available as a free version and can be used at no charge. You can learn where to download Blog Mx and how to install it in our article.
Magento 2 is constantly evolving, and to stay fully comprehensive with its requirements while providing modern blogging functionality for a magento shop, the Blog Mx extension was induced to end the support of its free version and proceed with development exclusively as a paid magento extension.
The free version of the blog extension magento still provides all basic features required to build a powerful blog for a store. You can use it if it fits your needs. In case you need the latest modern enhancements for your blog, like the ability to manage authors, manage tags, full multistore support, widgets, related content grouping, and many more, you should opt for the paid version of this magento blog plugin.
Is it possible to change the blog page layout design?
The layout design of the blog page that is provided by Blog Mx module is a simple vertical single column which is suitable for most scenarios. Such a layout is hard-coded in the files of this magento blog module. The Mirasvit policy is to provide a quality clean code without any obfuscation or encryption, so the user has full control of the blog magento extension modification according to his or her needs.
The template styles of Blog Mx can be opened in any suitable editor and modified as needed. However, the current versions of this module do not support modifications of the blog layout style via the Magento backend admin panel.
Changelog
Version
1.3.2
Aug 25, 2023
Links to categories in the menu
Redesign
Widget option "Display post images" not working
Version
1.2.25
Jun 21, 2023
Ability to choose url suffix (none, slash, custom)
Pagination
Version
1.2.24
May 3, 2023
Added website to author's social profiles
Reasons to choose Mirasvit
Client focusing and satisfaction
These are our primary. A major portion of our new clients come from referrals from our existing clients. Our professional team of developers, marketers and support staff have invested the best knowledge and experience in the field into our work, so you know you can come back to us again and again.
Remarkable support
One year free and high quality support. We go to great lengths to provide maximum satisfaction with every module you have purchased in our store. By helping you with installation, configuration, answering your every question, we do all our best to eliminate any possible problems.
Risk-free Investment
30-days money back guarantee. If you are not satisfied with our Magento 2 blog extension performance for any reason, we provide a full refund.
Constant improvements and upgrades
We constantly add new features to all our modules, and are always interested in hearing your opinion and implementing your suggested features in our future developments.
Comprehensive Documentation
We provide an expanded user guide for every aspect of our Magento 2 blog extension, so you can find answers for all your burning questions.
Unencrypted source code of our products
You can customize Magento 2 blog extension according to your needs and requirements.
Usability and Performance
The Module is easy to install and upgrade, just follow our step-by-step user guide.
Safe Magento updates
No core modifications. Just use the composer or copy the Magento 2 blog extension files to the root directory of your store.