Advanced SEO Suite
for Magento 2 Extension Demos
Pick a quick tutorial to learn about various aspects of this extension
This is a powerful extension for SEO compliance of your online store. Search engines want you to tune your website perfectly for users and, that may cost a lot to you.
The extension automates most of Magento 2 SEO settings and saves time and money for SEO specialists!
Manage SEO settings for pages, categories and layered navigation
Get advanced rich snippets
Generate Meta-tags by templates
Generate advanced Sitemap for Google
Control all redirects quickly and easily
Configure canonical URLs
Get SEO analysis of every page
Increase your store search engine visibility and grow your CTR
View all features
90 days free support
free lifetime updates
30 days money back guarantee
Compatible with:
| | |
| --- | --- |
| Community: | 2.0.* - 2.3.* |
| Enterprise: | 2.0.* - 2.3.* |
Overview
Advanced SEO Suite allows you to make even more SEO settings than any professional SEO specialist knows!
The administration interface gives you almost unlimited options to:
manage rich snippets and opengraph
create advanced SEO templates for results / layered navigation, categories and products
create rewrites: Rewrites Management for meta tags of product and category pages prevail over any other SEO values
manage your website redirects
create conditional rules to set all SEO workflow to meet your store needs
Bring your online store to a new quality level with Advanced SEO Suite and get more customers from organic search results!
---
Key advantages of Advanced SEO Suite for Magento 2
SEO page analysis at a glance, using the SEO Toolbar
Get advanced rich snippets for your store
Manage SEO settings for pages, categories and layered navigation
Create ultimate SEO Templates
Manage SEO Rewrites for meta tags to prevail other values
Automate Meta Tag management for your store
Generate advanced Sitemap for Google in HTML/XML format
Control all store redirects quickly and easily
Configure canonical URLs for your online shops
Increase your store search engine visibility and grow your CTR indicator!
Feature Highlights
Rich Snippets and Open Graph
Flexible Rich Snippets Settings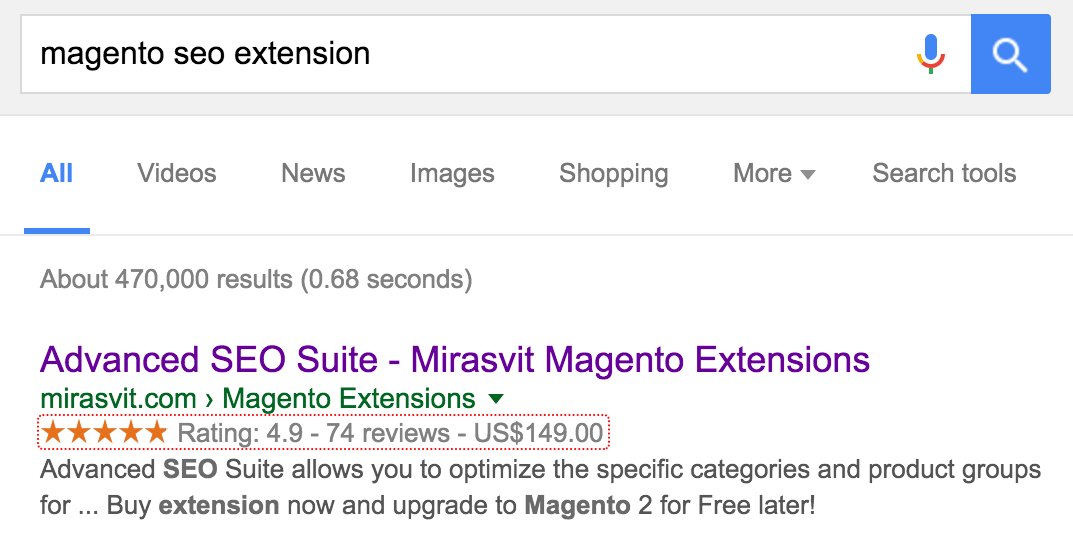 Advanced SEO Suite extension for Magento 2 gives you the ultimate options to configure your store rich snippets.
A Snippet is a description or an excerpt from your web page that follows the title and precedes the URL and Cached link.
Structured data markup for Google Rich Snippets added by our extension is implemented via JSON-LD (JavaScript Object Notation for Linked Data).
This method is recommended by Google Guidelines and is more preferable than Microdata or RDFa usage.
Our SEO solution allows you to generate snippets for store Products using many aspects of the items you sell, including:
item description
item image
availability of item
payment methods
delivery methods
product category
brand and model attributes
color, weight, dimensions, and conditions of the product
Manage settings for Category Rich Snippet, Organization Rich Snippet, Reviews Rich Snippet, Product Rich Snippet and Breadcrumbs Rich Snippet with Magento 2 SEO Suite.
Make your categories look different in search engine results - show the number of product reviews.
Implemented rich snippets and schema markups: Organization, WebPage, OfferCatalog, AggregateRating, Review, Offer, AggregateOffer, BreadcrumbList, Product
---
Breadcrumbs & Organization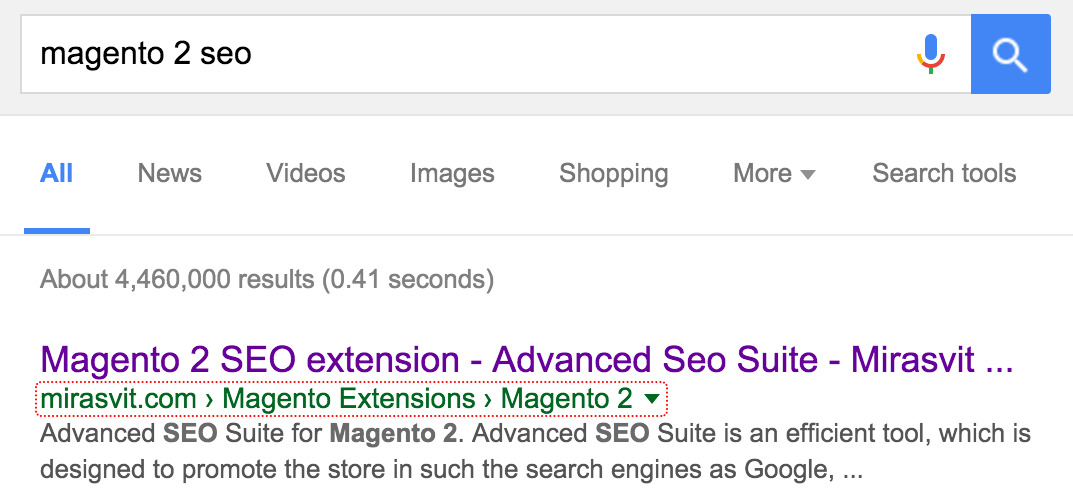 Easily add Breadcrumbs to your product's rich snippets with Advanced SEO Suite! Just click Yes in the dropdown menu and your store will stand out with its sophisticated appearance.
Also, the extension allows you to change your Organization's appearance in search engines. Show the full address and other contact information in your search results and make your company stand out among all the others.
---
Open Graph tags
Advanced SEO Suite allows you to integrate store pages into the social graph.
Social media sites are the major drivers of web traffic. Adding Open Graph tags(data format that is accepted by Facebook) to your website won't directly affect your on-page SEO, but it will influence the performance of your links on social media.
While Magento adds those tags to product pages only, with Mirasvit SEO Suite you can also add needed information on category and CMS pages fast and simple.
---
Set-up Relationship Tags Easily
Canonical URL

Advanced SEO Suite allows you to manage one of the most important Magento 2 SEO features - Canonical URL Tags - without effort!
Take control of the multiple versions of the same content within your store - use canonical tags for any page on your store/ like:
configurable products
grouped products
bundle products
cross-domain content
and many other page types
With this extension, you may define rules of adding a canonical link to most pages of your store automatically as well as manually define exceptional pages where canonical should be different or should not be added at all.
Sites having store views on different domains can utilize capabilities of our extension to automatically set Cross-Domain canonicals URL which may be crucial for some store configurations.
---
Relationship tags
Easily enable necessary relationship tags:
"Alternate" (link to an alternative version of the page, for example, printed version) and "Hreflang" (indicate to a search engine that your page has another version in a different language. For example, direct Spanish users to a Spanish version of your store right from the search results)

Using our extension you can set auto links automatically for your store(suitable for most cases) or configure needed store views as "alternates" of each other manually to handle even most complicated multilingual sites.

"Next" and "Prev" (give the search engine a hint, that it should consolidate indexing properties, such as links, from the component pages/URLs to the series as a whole. For example, links should not remain dispersed between page-1.html, page-2.html, etc., but be grouped with a sequence)
---
Optimal Meta Length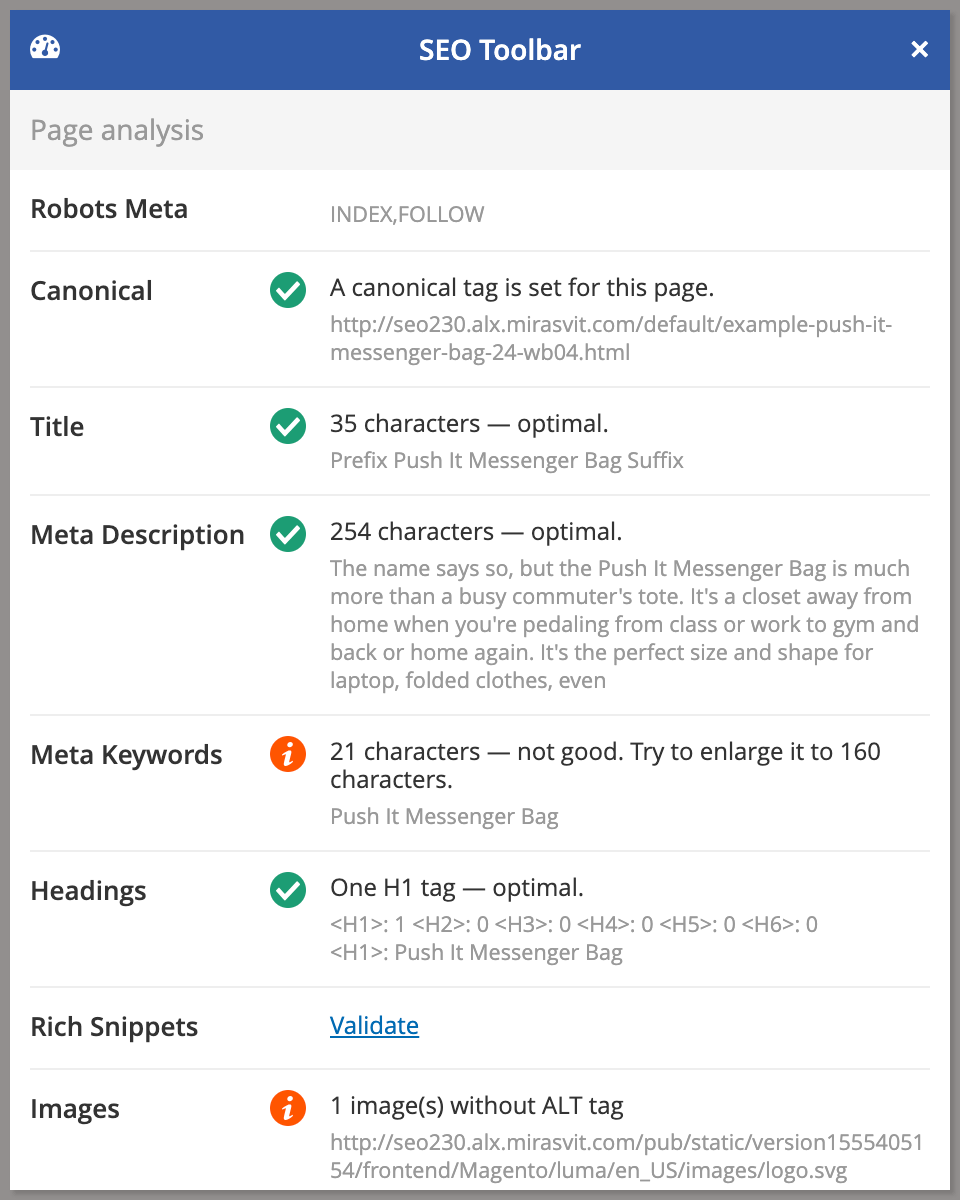 Limit meta title and description length and manage your snippets in search engine results.
Every search engine has a limitation of characters for website snippets. It is extremely important to know and set a maximum length for these indicators if you want your store to look accurate and readable in search results.
Recommended meta title length is up to 55 symbols, and the meta description is up to 90 symbols.
Keep these numbers in Magento 2 SEO settings and get clear search results!
---
Automate Cross-Linking For Your Store

Advanced SEO Suite allows you to easily manage one of the most important SEO features - cross-links.
With our solution, you may set the list of pages to add links automatically.
For example, you have a page http://example.com/laptops and you wish to promote it by the keyword "laptop". So you create an autolink and every time the word "laptop" is used in your store's CMS pages, Products or Category descriptions, etc, it will be replaced by the link http://example.com/laptops.
Of course, you can limit the number of auto-links per page to comply with the recommended word frequency.
Extension supports adding links to both internal pages of your store and external websites(like Wikipedia or partner's store page).
Just a couple of minutes with our solution - and your cross-linking strategy is ready to launch!
---
Customize Store Sitemap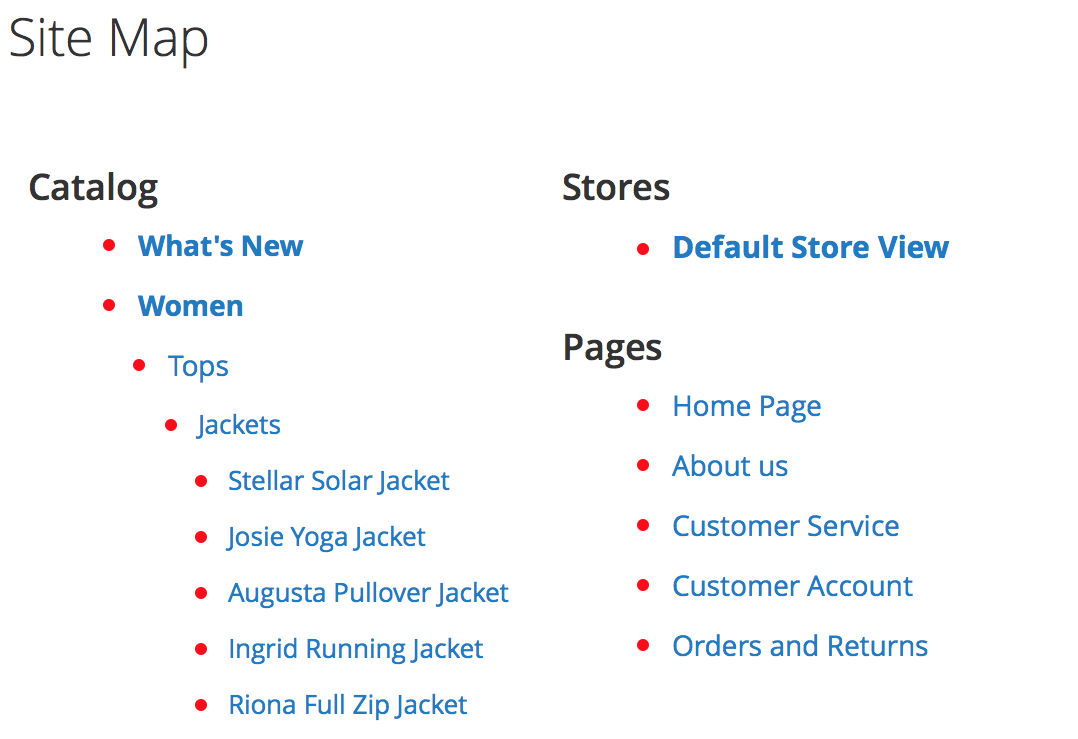 Advanced SEO Suite makes your Sitemap configuring process smooth and easy.
Extension lets you set the most important options for the Frontend sitemap of your store:
URL path
meta title and description
H1 header
the list of CMS pages to ignore etc
Also, you may define a list of links, which will be added to the frontend sitemap. For example, /promotions/, Our Promotions /customer/account/, Customer Account will add links to Our Promotions and Customer Account to the sitemap.
Our solution also allows you to define a list of patterns for links, that will be excluded from the frontend sitemap.
Master sitemap settings in a few minutes with Advanced SEO Suite!
---
Powerful SEO Templates
Create and manage powerful and advanced SEO templates with our extension in a few simple steps.
SEO templates are designed to manage meta information of your store page, based on rules defined by you.
You may create an SEO template for:
products
categories
results or layered navigation
Nevertheless, meta tags defined in SEO Templates can be overwritten by the same tags filled in SEO Rewrite Manager.
---
Simple SEO Templates Interface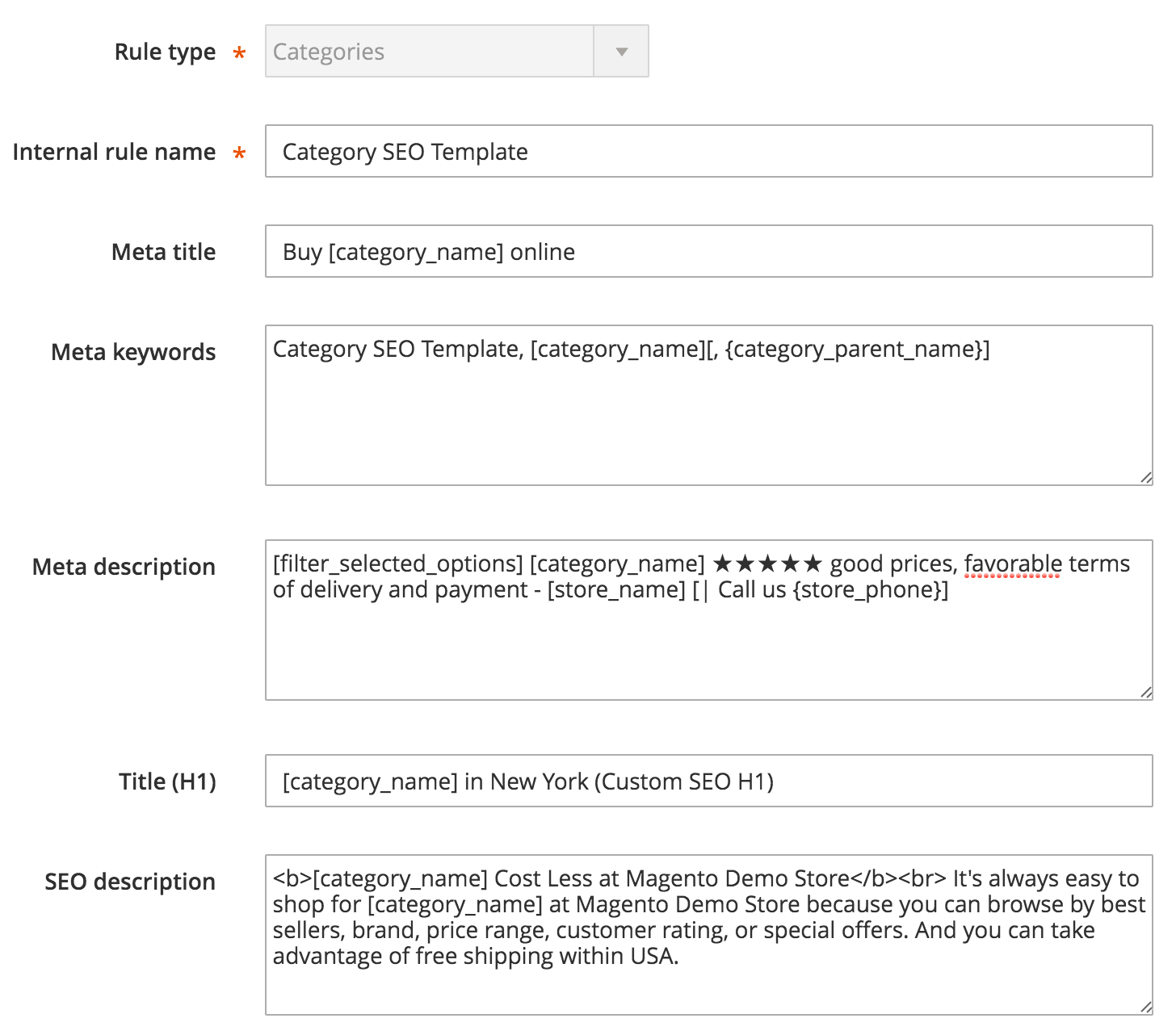 It was never so easy to create SEO templates!
Advanced SEO Suite allows you to make all the necessary settings within a few fields. Just fill out the following information:
Meta Title
Meta keywords (if you need to because search engines are not crawling this section anymore)
Meta Description
H1 title
SEO description
short and full product description templates (if you create SEO template for products)
You are free to use variable templates for any of the abovementioned fields. For example, it is a good idea to use the following statement for a Meta Description Tag:
[filter_selected_options] [category_name] ★★★★★ good prices, favorable terms of delivery and payment - [store_name] Call us [store_phone]

Also the extension automatically removes HTML tags and unnecessary whitespaces from the Description Meta Tag.
---
Flexible Rules for SEO Templates
Advanced SEO Suite allows you to define conditions, triggering the SEO template.
You may create the main condition and several sub-conditions, or create multiple-levels of sub-conditions by using a combining condition.
Our extension lets you even Stop Further Rules Processing - in this case, the template will be applied to the page, even if another rule with a higher sort order value is applicable.
---
Optimize Google XML Sitemap
Advanced SEO Suite has several options for optimizing Google XML Sitemap automatically:
making product images URLs SEO-friendly according to the template
adding product images "title" and "caption" tags according to the template
removing particular links from both HTML and XML sitemaps
adding custom links to both variants of sitemap if needed
There is no need to make all those settings manually! Advanced SEO Suite will take care of the most important aspects automatically!
---
Advanced SEO Rewrite Rules
SEO Rewrite Rules configure meta tags, H1 headers and SEO descriptions for any store URLs.
So, if you need to make special SEO settings for the defined URL (or group of URLs), use SEO Rewrites.
Those rules will be applied to URLs defined by you only, and will not affect the child categories or any other store pages.
Furthermore, Rewrites prevail over any other SEO settings from all your SEO Templates!
---
Smart Redirects Interface
Advanced SEO Suite has a very clear interface for managing all the store's redirects.
Redirects are one of the most important SEO. If your store clients will see a 404 error page too frequently, they will probably go to another shop.
Our extension allows you to efficiently manage redirects and get more orders even from error pages! For example, you may redirect all users, that were lead to a "404 Not Found" error page, to the Homepage of your site or even the page with Promotions/Sale. This way your customers will most likely be satisfied with the results!
Get more happy customers for your store with our solution!
---
SEO-friendly URLs Settings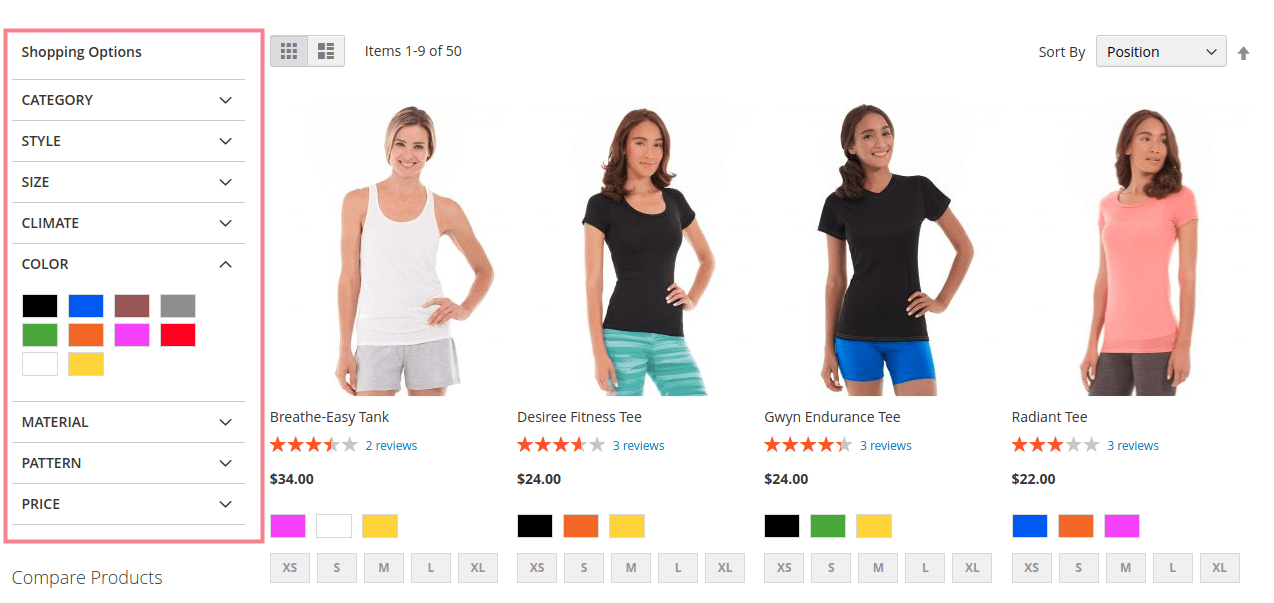 Using our extension you can make the URL structure of your store more attractive for both visitors and search engine bots.
Removing Parent Category Path for Category URLs can make category structure on the front more clean and precise.

Making product URLs more SEO-friendly via changing product URL-key by a template lets your product URL represent more needed information about an item you sell and attract more potential buyers as a result.

Extension can manage such aspects of URL structure of the store as trailing slash present or absent at the end of your store URLs. If some pages on your store end with / while others do not, with our extension you may define a single rule for most pages to either redirect to the same URL with trailing slash or contrary, to remove trailing slash on store's pages. This option helps in achieving uniformity in URLs your customers' visit.

SEO Friendly URLs for Layered Navigation links can be created by our extension, replacing too complicated Magento native filtered category URLs like www.site.com/women/tops-women.html?color=56&size=167 to much cleaner and searchable www.site.com/women/tops-women/orange/xs.

SEO Friendly URLs for Product Images (Gallery) can make product images URLs (filename) more readable for search engines: www.site.com/media/product/6991f8e/6789af8e.jpg to www.site.com/media/product/argus-all-weather-tank.jpg
---
SEO Toolbar
Our solution has a very convenient backend interface to set up optimization options and a transparent front-end interface (Magento 2 SEO Toolbar), showing the results of every page's optimization process.
With SEO Toolbar you may analyze the following key indicators:
robots meta header
canonical URL compliance
number of H1 tags, present on the page
meta title, description, and keywords with their density
images alternative description
If you customized all the settings right, you would see comments in green. Otherwise, you'll see recommendations to fix issues in red.
See it in action!
Pick a quick tutorial to learn about various aspects of this extension
Impy

installed but have not used this yet properly

Very good but complex SEO module

Christoph

from United States

Being a science on its own, Mirasvit turns SEO optimization into an easy task with this module. We are very satisfied with all Mirasvit modules we bought as of now.

The extension works great!

Perry

from Central District, Hong Kong

Save a lot of SEO works

Best SEO Extension

hardik

from Jalalpur, India

Installation was a breeze and it works out of the box. Will recommend to everyone

Exselent

Γίαννης

from Athens, Greece

The best Seo plugin!!!

All Our SEO Needs in One Extension

Martin

from Ho Chi Minh City, Vietnam

We previously had three extensions to manage SEO on our site. When we found this one, we were able to remove all of the others since it covers everything we need. A very comprehensive and valuable tool!

Works as advertised

Nice little extension that helps to keep customers

This extension fixes the SEO weaknesses in Magento 2

Sam

from Portsmouth, United Kingdom

Magento out of the box isn't very SEO friendly so this extension helps with that. The ability to setup templates for products and categories has been great, it adds all of the alt tags to images and fixes various other SEO problems. Great extension and highly recommended.

Great SEO extension

Handles all the most important SEO configurations in a good way. Support is also fast and great to deal with.

Very very useful extensions

Very very useful extensions

Excellent extension with great support

Great support and most flexible SEO extension for Magento 2.
Thank you Mirasvit !

Great

Richard

from Shepperton, United Kingdom

Lots of options, easy to understand and use

Looks great

Dodan

from Colombo, Sri Lanka

Great Extension. got what i want.
Thanks

Excellent module

This extension is great and we will use it for all our M2 websites.

Thanks!

This is It

Scott

from Wilmington, United States

Most flexible and easy SEO extension for M2. Clean code.

Best SEO for m2

Mike

from Echtenerbrug, Netherlands

I've worked with many extensions and the Mirasvit version is much better then the others.

Be happy with Mirasvit!!

Great support and great extensions that really work!

must for every magento store

Excellent module, which is must for every magento store.

Great Extension

This is a supper extension and will make your page rank well on Google and other search engines. This extension greatly improved our ranking within a very short time period. We love it!

Magento 1: Effectively Using this Extension

Rameez

from Dubai, United Arab Emirates

Effectively Using this Extension

Magento 1: Muito bom!

Gostei muito da extensão, fácil de usar, vale a pena!

Magento 1: Very happy with Mirasvit

Michael

from Sydney, Australia

Great support and great extensions that really work!

Magento 1: Possible to set auto internal SEO

If you try to SEO without this extension, you need lots of human resource.
And if Google Engine is changed, you will update this extension to cover all pages.
You need to understand this benefit.
So amazing.

Magento 1: Fantastic Boost in SEO

Jordan

from Fullarton, Australia

I would say that this is a must have!!! It saves your time with doing lots of manual operations with SEO. If you are serious about your positions in Google, this is exactly an extension you should purchase.

Magento 1: Reliable

ray

from Buffalo, United States

I have been using this extension for 5 years and it is well maintained and support is reliable.

Magento 1: Excellent Product!

michele

from Ferentino, Italy

Great and Excellent product!, fully compatibile with magento 1.9.x CE, reduce TTFB and optimize the entire site, great!!!

Magento 1: good +++

caglar

from Ankara, Turkey

this extention has all the feateres you need
just buy it

Magento 1: Easy to Use

Rudy

from Los Angeles, United States

It hits all the right fields with easy to follow instruction. The tech team is also excellent to assist when I am having difficulty to comprehend the features.

I have been using many of Mirasvit modules. There is no question if this is vendor that I visit first to consult or obtain new add-ons.

Great expansion

jim

from Los Angeles, United States

Great expansion

Great extension and support

Petter

from Stockholm, Sweden

This extension really helped our SEO-work a lot!

Magento 1: Must-have app for SEO

Nimish

from Mumbai, India

We now rank on Page 1 for several categories thanks to the plugin.

Magento 1: Extension Great, Support Great

Giannis

from Kalamata, Greece

Extension Great, Support Great

Very good and easy to use.

Steve

from Ontario, United States

Very good and easy to use.

Magento 1: Must Have Extension for Any Magento 1 Store

Alex

from Simferopol, Ukraine

Awesome Support and Features!
Each Magento Site should have this module before stating the development...
Or You must have a Dev. mode Site to View the results and compare the layout.
Site Map looks perfect it even look like bootstrap css included.
Auto Link - is extremely recommended if You familiar with the keywords and you know what you are doing.
p.s.
Hope the Extension will be updated with the list of variables for SEO templates.
I wish i have a Rich snippets and Open graph testing tool.

Magento 1: Good one

Timofey

from Chard, United Kingdom

Good extension for SEO fanatics

Magento 1: Best Extension and Greatest Customer Service

adil

from Los Angeles, United States

Let me start off with saying i got best tech support from alex, originally extension was not working correctly , alex went extra step did the research and found out my developer had put some customized codes that were messing with the extension. He fixed my issue made the extension work, Went back and forth many times to help with all the features and set them up for me. I had one of the best experience with these guys best customer service. I will definitely recommend this extension. Thank You alex and love the extension

Magento 1: Must have

Renzo

from Batatais, Brazil

Very good extension for those who are starting and intend to have a good SEO position.

Magento 1: These guys are seriously awesome!

babak

from Wolli Creek, Australia

I cannot say enough good things about the team at Mirasvit.

They have provided ongoing support long after our supported expired the tech staff are all stars.

I highly recommend this extension it works really well especially with the great support from the Mirasvit team.

Magento 1: Great extension and easy to configure!

Harry

from Parnell, New Zealand

I have not enough knowledge in SEO but with well written manual I have successfully installed and configured it without headache. Mirasvit provides a fantastic technical support so if you have any issue with their extensions, they react very quickly, and do their best to solve the problem. Currently I use 4 Mirasvit's extensions and will purchase one more extension soon. Highly recommend Mirasvit!

Magento 1: Very useful

xavier

from La Landec, France

We love this extension because you can improve your SEO very quick without needed to change your code.

Magento 1: Love it

Sandro

from Maienfeld, Switzerland

It's a great SEO Plugin!

Magento 1: Perfect!

Lukasz

from Warsaw, Poland

Perfect extension for Magento, really "Must Have"!

Great SEO module

We love using this module for both magento 1 and 2. Mirastvit gives great support for this and other modules.

Magento 1: Istvan

Istvan

from Budapest, Hungary

Super

Magento 1: It is perfect

Victor

from Hanoi, Vietnam

It is totally tired to maintain SEO for hundred thousand products. Your great extension save our business.

Magento 1: Great extension.

Marek

from Chełmno, Poland

It's great extension which give me many capabilities in SEO.
The technical support is great, quickly resolve my problems.

Magento 1: Great SEO with lots of options

Samo

from Maribor, Slovenia

I've decided to buy extension not only because of it's SEO dunctionality, but also because it includes Auto Links, which I succesfully use in combination with Sphix Search Ultimate.

Magento 1: great extension

sandro

from La Spezia, Italy

A must have extension, no problems at all and it works great!

Magento 1: Best Extension to automate Seo

naushad

from Dubai, United Arab Emirates

this suite really help you to manage your seo need for large megento catalogs,easy to install ,well docuemnted

Magento 1: Optimization ok

Ionut

from Piatra Neamţ, Romania

Very ok optimization and automation links

Very well thought out extension

Henry

from Longwood, United States

Had a previous SEO suite from a competitor and this one from Mirasvit is better, stable and good support. There is much to learn and spend time on this to maximize its potential but I am always confident any question or ticket I post Mirisvit helps answer and fix very fast. Big fan of this company.

Magento 1: Excellent service

Francis

from Central District, Hong Kong

Mirasvit is excellent in service. We are not familiar with coding and programming. They help us to do the installation and settings. Now, the module works greatly on our system. Thank you very much.

Magento 1: Jam-packed with awesomeness.

This one is a blast, installed it once for a client of ours and never wanted for anything else from a SEO extension. WARNING: may render your SEO manager useless.

Magento 1: Good SEO tool

Helps to increment more SEO data on all target pages, like products and categories. Really worth!

Magento 1: Great plug-in, works as promised

wootinun

from Bangkok, Thailand

Well made plug-in, great support

Magento 1: Great Extension!

Konstantin

from Dubai, United Arab Emirates

As promised, a great extension which helped our online business grow!

Magento 1: Nice Plugin

Congratulations, very nice plugin!

Magento 1: Excellent Advanced SEO!!!

Paulo

from Uberlândia, Brazil

Advanced SEO Module Suite very well programmed and easy to set up, Developers and Mirasvit support are very competent. We are Customer Mirasvit from 2 years ago. Congratulations, Mirasvit is excellent.

Magento 1: SEO all the way!

The extensions is great and add a lot of value to the magento store!

Magento 1: Works great!

Bojan

from Mantinge, Netherlands

No issues when installing and works great with the Ultimo theme we are using. Very satisfied with another Mirasvit extension!

Magento 1: Excellent extension, great support

Anil

from Berlin, Germany

As most Mirasvit products, this one is also amazing. it functions as described. We mainly use it for url rewrite, auto alt-tag and url generation for images, and auto linking. Overall a good product, functions as described and support is top-notch.
The only enhancement that we wish is a 404 to 301 from product pages to category pages.

Magento 1: Awesome SEO Plugins!

Budiono

from Jakarta, Indonesia

Another purchase from Mirasvit!
This plugins help me to optimize the existence of my website in Google search result. And it saves my time a lot. I don't have to input all the metas, short description, description, even rename the product image name! This plugins automate it. And I always love their support. This time Alexey who helped me to fix some issue found relating to my template! Good work and I highly recommend this SEO Plugins!

Magento 1: Great Feautures

Chris

from Rochdale, United Kingdom

Has some great features and is a real bargain. Allows you to make changes easily without getting a developer involved. Although you do need a developer to install it.

Great support too.

Magento 1: Excellent Tool

Michael

from Sydney, Australia

Great tool for customising SEO attributes.

Magento 1: Good tool

Fashoop

from Querétaro City, Mexico

Good tool, but it needs to develop some things that would be very good to integrate this tool

Magento 1: Super extention

Marc

from Beek, Netherlands

Works great! Install it on a website that's has not the best SEO. After install the website has great improvement. Top!

Good Seo

S

from Melbourne, Australia

Makes things much simpler and expands on missing features well

Magento 1: So easy !!

Jean-Hugues

from Amblainville, France

A perfect plugin to manage all the SEO in Magento. Installation was very easy and the plugin was set up in one day to start giving results some days after!! Great job from Mirasvit!

Magento 1: Great Plugin

Devon

from Fakenham, United Kingdom

Great plugin, and very easy to use.

Magento 1: Great extension

Paulo

from Amadora, Portugal

This is a great extension.
Does all that advertises

Magento 1: Does what it says on the box...

GameCode.com.au

from Cloverdale, Australia

Excellent extension and professional support provided! We will be buying a fair few extensions from Mirasvit.

Magento 1: Works well

MA

from Melbourne, Australia

Works well and simplifies all the complicated SEO stuff. For M1 absolute necessity!

Magento 1: Lives up to it's name

Mayank

from Bengaluru, India

Gives us advanced SEO capabilities on top of what Magento provides. Love the structured data tags format. It helps in making sure pages are having Microdata, og data etc just by configuring a few options.

Magento 1: Super Extension

Kasper

from Aabybro, Denmark

Very easy and powerfull extension and a must have for your Magento shop.
Great and fast support - thumps up.

Magento 1: Very useful extension, stronly recommended

Steven

from Richmond, United States

Extremely Powerful and Easy to use.


Magento 1: Very Great Extension! Great Support! I have not programmer

Very helpful and easy to configure more index by google. I already prove to check via google webmaster tool Recommend!!!

Awesome Features along with outstanding Customer Service!

Viktor

from Steinbach, Canada

What can be felt, not always can be expressed in words, but I will try my best!

1. I bought almost all existing extensions for M2, while offered a very generous discount from a Sales Rep. Then, as all of us know, all the miracles stop right there, but not with these guys.

2. Installed the extensions, and as it usually happens, problems did not wait so long to arise on my horizon.

3. No fear, help is near... that is my personal Slogan... and found out the same attitude from Mirasvit guys. I asked for help, and it was near. I reported PHP7 and other compatibility issues, and a fix was ready in a blink of an eye. I asked for features improvements and suggested new features, and these came in a matter of a few days.

4. Features pack on the extensions is very reach, and these guys are always open to any sound improvements on their extensions.

5. Extensions updates are done via composer, so no manual uploads and unzips on every update release. That makes all my updates as easy like a snap of a finger,.. 10 seconds and I am all set.

P.S. In the end of the day I feel happy to be a respected customer of Mirasvit. I am hooked on this valuable M2 Solutions Provider. My $$$ spent on the extensions are secure... I feel like a part of the Team. I highly recommend Mirasvit to anyone who is seeking peace of mind and stable future for his/her Online Business.

Magento 1: Recommended

Abiola

from London, United Kingdom

This is money well spent. Works great.

Magento 1: Excellent product, it has worked well

Jaime

from Medellín, Colombia

Excellent support and great product

Magento 1: Great Extension!

TLW

from Springtown, United States

Many helpful SEO features.
The SEO Templates are a huge time saver.

Magento 1: Invaluable Extension

jb

from Burton, United States

best extension purchased for magento! and the developers at Mirasvit go the extra mile to set up and optimize what i later found was way outside their scope of work! highly impressed many months after fact and will be a customer for life!

Magento 1: Great Product

Geneboss

from Citrus Heights, United States

Helps you improve SEO in a smart way!

Magento 1: Pretty Solid

Ricardo

from Hollywood, United States

Although i am still getting use to this, it's a pretty solid extension. It's worth the investment

Magento 1: Great SEO extension

Armand

from Miami, United States

We have been using this extension for about 6 months and had a great experience with this product and the Mirasvit support staff. If you are looking for a solid Magento Extension developer... look no further! These guys create quality code and stand behind their work.

Magento 1: FANTASTIC

Fantastic extension and great support!

Magento 1: Full 360 ° - Rich Customization - Maximum Support

Nicola

from Catania, Italy

Excellent SEO extension, feature-rich and wide selection of customizations. Very simple to use but powerful tool for the ultimate goal. Attention should be given to the support group, very qualified, timely and always solver of problems exposed. I highly recommend this extension to the quality of the same and for the whole group Mirasvit.

Magento 1: Very good and must-have extention

I am looking for an extension which help me to improve SEO quality in my e-commerce website and Advanced SEO Suite is what I looking for.

Very good extension with SEO optimization and ranking.

Magento 1: Great extension

Has all the features you can think of in terms of SEO.
After using a few different extensions for SEO i believe mirasvit's is the best one out there.
Great support!!!!

Thanks,
Yehoshua,
CTO, modli.co


Magento 1: Another MUST have extension

Jay

from Montreal, Canada

This module should come standard with Magento, it is an absolute fantastic product that every store owner should invest in. There are so many great features for the price they are practically giving this away! I ended up removing some other free SEO tools and even a custom module I wrote (with the help of stachexchange) to address page titles and I have to say that I really wish I came across this sooner.

Fantastic product and support, these guys really know what Magento needs, but this with confidence, I can't say enough about this module or this company!!

Magento 1: Regular Part of our toolset

Matt

from Lancaster, United Kingdom

I work at an agency where this is something that we use for all of our customers. It is a great timesaver.

Magento 1: Absolutely great!

Filipe

from Martigny-Croix, Switzerland

You have to have this extension! My SEO is much better now! Fantastic. Great job guys ;)

Magento 1: Real help in indexing

Flavio

from Presidente Prudente, Brazil

As much as the information realize that magento is optimized for SEO, you will only achieve satisfactory results using a well-made module like this! Can be assured...

Magento 1: Recommended for multi-lingual store!

Tatsuro

from Takasagocho-takasemachi, Japan

The hreflang tag and Rich Snippets can be supported with this extension. In default setting of rich snippets, gram isn't supported as weight, but their support team added it for me. This extension is good for multi-lingual seo. My products have chinese and japanese name in each store view, so it's more useful if product url supports unicode.

Magento 1: Great SEO

I love this extension. It is a great help. Regular updates and easy to use.

Magento 1: Powerful SEO solution

Magento doesn't offer much in terms of SEO, out of the box. With this extension we gained much more control over the pages meta information and indexing. Recommended.

Magento 1: Good Support

I am very impressed with this module. Save our time and money. Kudos to Mirasvit Team. Highly recomended



Magento 1: Excellent

Alexis

from Hampstead, United Kingdom

Excellent extension. Has saved us time and effort and great support from the team

Magento 1: Just awesome! We reached #1 position in our city

Hashid

from Bengaluru, India

This is really an ultimate extension. Sensible features.
We have become #1 on Google in our City.

Magento 1: Awesome Support and Top Extension

Iqbal

from Cromer, United Kingdom

With the constant updates i know i am in safe hands whenever the big names make change to their upload specifications. Top support as well having had a problem with the sitemap of my store, solved in under 30 minutes.

Magento 1: Amazing support

babak

from Wolli Creek, Australia

I can't say enough about the support i have received from Mirasvit very professional and patient!

I would highly recommend them to anyone!

Magento 1: Powerful

SB123

from Reno, United States

Very powerful and will save a ton of time and effort if you use feeds. Great company to work with as well.

Magento 1: exactly what it says on the tin

modules that work thanks

Magento 1: Solved all my HREFLANG issues!

Richard

from Central District, Hong Kong

We mainly purchased this product to support the new Google HREFLANG tag requirements for our multi-country / multi-language store setup. I researched many other products that claim to support HREFLANG, but after either testing them out or asking for further information from the developer, there wasn't any available for Magento Enterprise except for this extension from Mirasvit. Furthermore, their tech support was extremely helpful in working on some further customization requirements that I had. I would recommend this product to any merchant that needs to support HREFLANG tags on their website. I haven't had the chance to test out the other SEO features on this extension, but I'm sure they will definitely help in improving our website's SEO in all the countries that we operate in. One more thing, this extension also adds the product images to my Google sitemap files, so that is also a welcome surprise!

Magento 1: Must have

The page urls and images urls and alt are now great for SEO.

Magento 1: Amazing Extension!

Jon

from Fort Wayne, United States

This extension is essential for any ecommerce site looking to maximize the SEO efforts! Very simple and easy to understand, I had this extension installed and running in no time.

Highly recommend to any and every ecommerce store owner!

Magento 1: Must have

Alex

from Barcelona, Spain

An authentic Swiss knife, with lots of interesting features

Magento 1: Great plugin

Rob

from Rijssen, Netherlands

Great plugin, does everything it says it does. My third plugin from Mirasvit, more to come!

Keep up the good work!

Magento 1: Is perfect

Is perfect this plugin for Magento. Our Seo in Goddiva Fashion Dresses is better with this plugins.
Many thanks guys

Magento 1: Awesome extension even better Support

Raymond

from Apeldoorn, Netherlands

Really love the support on this extension. Extension itself required some modifications wich they made fast. Very responsive helpdesk.

Magento 1: Great Add On

Matt

from Bangkok, Thailand

The best addon specially if some one is interested to have SEO for Magento.

Magento 1: Recommended

altdev

from Thousand Oaks, United States

This extension is well written with many useful SEO features that should have been included in the base Magento. We had no problems installing it on Magento 1.9. It is also very reasonably priced compared with some similar extensions from other developers.

Magento 1: Detail Oriented yet User Friendly Extension

László

from Budapest, Hungary

Does what it says. I really love it, it fixes a lot of SEO needs for me, also love the fact that you can add default descriptions for categories also.

Magento 1: exceleny

Erick

from Laredo, United States

very good, and also outstanding product support

Magento 1: perfect plugin!

floris

from Waddinxveen, Netherlands

the plugin works easy and save a lot of time.
really happy with it

Magento 1: Easy to use

patpat

from City of Parramatta, Australia

Great extension and so easy to use!

Magento 1: Great extention

Rene

from Erlangen, Germany

This extention is great! We improved our seo results dramaticly!

Magento 1: Seo plugin from mirasvit

Tiem

from Rotterdam, Netherlands

The seo package is amazing! I have config it, and now all my link urls are seo-friendly. Love this extention! Bravo to Mirasvit!

Magento 1: amazingly fast

Gurpreet

from London, United Kingdom

mirasvit extensions are great, support is fantastic and who can complain about the free updates

Magento 1: Works well - more helpflull than expected

Andreas

from Deggendorf, Germany

Installed and managed to integrate Plugin... works fine for us.

Magento 1: Solid SEO with Customized Features

Codi

from Depoe Bay, United States

This is a very helpful extension if you want to speed up time associated with SEO optimization. However, it may require some custom integration with modified themes.

Magento 1: Magento SEO fixing problems extension

Many usuful options, never seen bugs however mirasvit do post updates very often and that's great. This Magento SEO extension save your time, coding, money & keep you far away from headaches. Just make your clicks, write your Meta Tags, description and h1's and soon you'll be opted to top-10 for sure.
That's my practice!
Keep it going fellows

P.S. It fixes SEO layered navigation problems!

Magento 1: Quite messy

Juan

from Hampstead, United Kingdom

The ideas in this extension are great and could save a lot of work. However, I had problems running it and it modifies Magento controllers too much

Magento 1: Great extension

Ferenc

from Kazincbarcika, Hungary

Very useful extension, recommended for everyone

Magento 1: simply it made my sell increse upto 70%

Milan

from Jalalpur, India

Before this extension I had hardly any order from google search. I only had to rely on paid campaign. but now, my orders from search engines are more than 72%, which was before even less than 2%, thanks a lot !!!

Magento 1: Lovely extension.

MA

from Maidstone, United Kingdom

The functions look very well thought. Worked out of the box. Still need to research more on using how to use all features.

Magento 1: This is the best Magento SEO module.

Bastian

from Hedensted, Denmark

I can only recommend :-)

Magento 1: Advanced SEO Suite - Review

Cristian

from Bucharest, Romania

Very good extension, made y work very easy, thanks

Magento 1: Easy to use for non-programmer

Kristi

from Shawnee, United States

We do not know how to code so it is great to have an extension that deals with technical things but makes it easy for non-technical people to implement.

Magento 1: great product

Albert

from United States

We purchased several extensions from Mirasvit and we could not be more happy with the quality of the product. Customer support is second to none. These guys are patient and professional.
Mirasvit is the first place we look every time we need a new extension.

Magento 1: A great SEO Solution

I like how it provides canonical URLs for products, and automatically redirects to the full product URL, which also provides full breadcrumbs by the system. Works great with Sphinx Search Ultimate, the ajax search will take the customer to exactly the product they want, and the breadcrumb helps them to backtrack and view other products in the category. Google is also happy because they don't find duplicate URLs for products, which Catalog URL Rewrite system is notorious for. Also layered navigation seo friendly URLs is a good benefit. And good control over our sitemap. Great extension!

Magento 1: AMAZING EXTENSION AND QUALITY SERVICE

Carmen

from United States

This SEO extension is beyond AMAZING! It includes everything you need for SEO plus more...it is truly a "MUST HAVE".

The customer service is OUTSTANDING. They (Alexander) really work with me to fix all my issues and to adapt the extension to my theme....very fast, professional and knowledgeable.

I am very happy and sincerely, couldn't hope for more. I am definitively buying other extensions from them again. Highly recommended!

Thank you so much!

Magento 1: Great software

This is a great software, if a problem occurs, can quickly fix it.

Magento 1: Great extension and service

Quick, professional and knowledgeable support.

Magento 1: Better Compatibility with 3rd Party Extensions than the Competition

We use Amasty Improved Nav, and had paid $400 for Mageworx seo ultimate. After back and forth, back and forth with their support trying to get better compatibility with their SEO extension, I finally said forget it. Bit the bullet, and bought this SEO extension instead. Boom, a couple days later after working with Mirasvit support, all SEO problems solved and compatible.

These guys raise the bar.

Magento 1: Excellent extension

Purchased and installed yesterday in our test environment (Magento 1.8.1.0) and rolled out to production this morning replacing a free extension we'd been using. It offers a lot of granular control and reduces our overheads in maintaining categories & products. Definitely recommended! Looking forward to seeing what additional functionality/improvements will be made but, very pleased so far!

Magento 1: Great Service and Good Quality Extension

1. The price of the SEO Extension is very reasonable compared with other competitors. Installation fees are cheaper too than others.

2.The SEO Functions are much powerful than Aheadworks. I bought a SEO extension from aheadworks, it doesn't work properly. I asked for help, but aheadworks did not fix it well ! After 3 months, the extension was not working totally ! I uninstalled it. And bought this SEO extension from Mirasvit, it works, only small issues. The technical person called Alexander Kovalchuk helped me resolve problems very professionally.

In a word, the Service and quality both are very good. I am very satisfied with this company!

Magento 1: Excellent Plugin - Exceptional Support

evan_dr

from United States

This plugin is imperative for any website using faceted navigation, and I have nothing but amazing things to say about Mirasvit's support. I have purchased a couple of plugins from this company, and I get a response within 24 hours every time, usually with the problem resolved. Fantastic!

Magento 1: Powerful PLugin & Wonderful Support

This plugin is so powerful for ecommerce sites with faceted navigation. Not only is the plugin phenomenal, the support has been so responsive and timely. I have received help within 24 hours every single time I have contacted them, and usually the problem is resolved within that time frame too. Great work!

Magento 1: Great!

Martin

from United States

Right up there with the best! In my opinion better written than the competitive one ( which I had on another site of mine ) . Maybe a few more features needed .. but surprisingly they listened to me and are developing them!

Magento 1: Great Extension! Great Support!

I've bought this module in early November. And I highly recommend it to all store owners. I would say that this is a must have!!! It saves your time with doing lots of manual operations with SEO. If you are serious about your positions in Google, this is exactly an extension you should purchase.
Mirasvit provides one of the best in class support. If you have any issue with their extensions, they react very quickly, and do their best to solve the problem.
I bought this module with instalation. To make it work correctly, Mirasvit support had to make some minor changes in my system. They sent me an email where they described all the changes they've made in details.
Actually this is a second extension I purchase from them. The first one (Advanced Product Feeds) is also very helpful and work exactly in the way it was described. So my previous positive experience with this vendor played a major role in making a decision to purchase a SEO extension from Mirasvit.
Thanks a lot, guys)))

Magento 1: Very good plugin

grindking

from United States

This extension has greatly helped us to improve our site and to position ourselves better in the search engines. The support is really excellent and we can highly recommend this plugin.

Magento 1: Крайне полезный модуль

Arthur

from United States

Большая функциональность, позволяет часть работы полностью автоматизировать. Отдельная благодарность поддержке за качественную настройку модуля

Magento 1: Great extension

Stuart

from United States

Very straightforward to install with clear easy to follow installation instructions. The extension is rammed for a excellent features. I can not wait to start integrate them into my store! The support also seems great. Very quick, responsive and helpful

Magento 1: Great Extension

victor

from United States

I bought this extension + rewrite. Just great I recommend.

Magento 1: Really a super tool with very good Service

Anonymous

from United States

The Advanced SEO Suite is really a must for any magentoshop.
At the beginning you have fear of all the new options, but with the very clear instructions you get there too.
And if there still a problem, help the support you very fast and solves the problem.
Really a super tool with very good service

Magento 1: SUPER Tool een echte aanrader

Anonymous

from United States

De Advanced SEO Suite is echt een aanrader voor iedere magentoshop .
Aan het begin schrik je wel van alle opties die er bij komen, maar met de zeer duidelijke handleiding kom je er ook uit.
En als er dan toch een probleem is help de support je zeer snel en lost het probleem op.
Echt een super tool met zeer goede service

Magento 1: Excellent Extension / Superb Support!

Emile/KingToys.nl

from United States

This module you should have for your Mageto Webshop
The extension is very extensive, but an email to mirasvit and within five minute's they solve the problem or rectify the problem.
Very good extension and great support.

Great job Mirasvit!

Magento 1: Best SEO module

I don't have this module yet but i think it's most powerful and cheap SEO module for Magento.

Magento 1: Thanks Mirasvit!

Aroab38

from United States

A really useful extension, in my opinion no Magento site should be without this if you are serious about ranking well in Google serps.
This extension solves the massive Magento flaw of duplicate content being created because product Urls are rewritten without the category in them.
For example www.mysite.com/category/product.html becomes www.mysite.com/product.html
Apart from the obvious issue of duplicate content this also puts products on the same level as categories. Google in other words will weigh product pages the same as categories. If you are trying to optimize for competitive keywords this is a true nightmare since it dilutes the value of important pages on your site.
Vladimir from Mirasvit also provided the best support I have ever received from any software I ever bought. I had some issues that was resolved instantly.
I really hate spending money on software! I try to avoid it any way possible! But this extension and the support they gave was absolutely worth the money. Well done guys!

Magento 1: Great

AndreyUK

from United States

Guys came to my individual goals and have done a great job of setting up for my site! Very good extension and great support. Tnks!

Magento 1: Great product and fantastic support

fathippo

from United States

I tried to install this on 1.7.0.2 and it did not work. I contacted their support who looked into the problem and found an issue with their update module. They immediately fixed it and updated their release within 30 minutes. It was also nice to be able to chat directly to support instead through an email system.
The product works great.

Magento 1: Excellent Extension / Superb Support!

jmolino

from United States

I purchased and installed the Mirasvit Advanced SEO Suite after tediously reviewing and analyzing a number of alternative extensions that offer similar functionality.
By far, Mirasvit was superior to the others and price was also the best value.
The Mirasvit support staff and Alex are super responsive and will go above and beyond what is necessary to make sure your site is working with their extension - even so far as fixing any bugs caused by other extensions that may affect this one.
I highly, highly recommend this extension and other Mirasvit extensions. You'll be glad you chose them.

Magento 1: Highly recommended!

I'm agreeing with techcom above - this extension is fantastic and the support is great! I had done the installation myself and couldn't get it working due to a user-error (permissions issue), the Mirasvit support team logged into my server, quickly figured out what I did wrong and fixed it for me - additionally, the even found a bug that was caused by another extension I had installed and fixed that one too! All within an hour of me providing them access!

These guys are really heading to the top of Magento extension development! You won't be disappointed by choosing them.

Great job Mirasvit! Thank you!

Magento 1: This extension is working great!

techcom

from United States

The product is amazing and support is extra super. A seamlessly powerful extension for SEO enhancement. I had an issue and contacted support. They fixed the problem in less than 24 hours.
Have a question? Ask our support team
Need more help?
Save time by starting your support request online and we'll connect you to an expert.
Contact Us Now
We found other extensions you might like!
Reasons to choose Mirasvit
Client focusing and satisfaction
It is our main goal. A big part of our new clients come from referrals from our existing clients. Our professional team of developers, marketers and support invest the best knowledge and experience, so you could come back to us again and again.
Remarkable support
90-days free and high quality support. We make an effort to satisfy you with work of every module you have purchased in our store. Helping you with installation, configuration, answering your every question, we do all our best to eliminate any possible problems.
Risk-free Investment
30-days money back guarantee. If you are not satisfied with work of our extension for any reason we provide a full refund.
Constant improvements and upgrades
We provide you lifetime free updates. We constantly add new features to all our modules. We are absolutely interested to hear your opinion and to implement your suggested features in our future developments.
Comprehensive Documentation
We provide an expanded user guide for every our extension, so you can find answers for all your burning questions.
Unencrypted source code of our products
You can customize extensions according to your needs and requirements.
Usability and Performance
Module is easy to install and easy to upgrade, just follow step by step our user guide.
Safe Magento updates
No core modifications. Just copy extension files to store root directory.