Compare Amasty SEO Toolkit Pro vs. Mirasvit Advanced SEO Suite
Discover the differences between Magento SEO extensions created by Mirasvit and Amasty. Learn more about their key features. Compare them and choose the best SEO extension for Magento 2 to suit your store.
Information about the extensions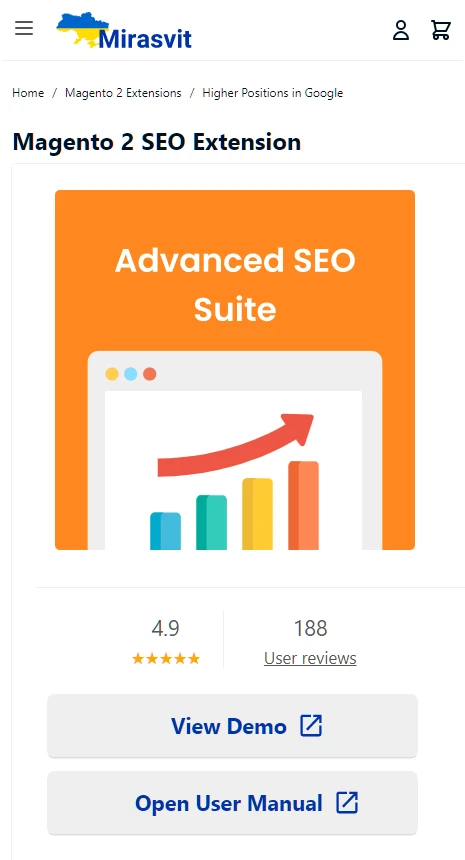 VS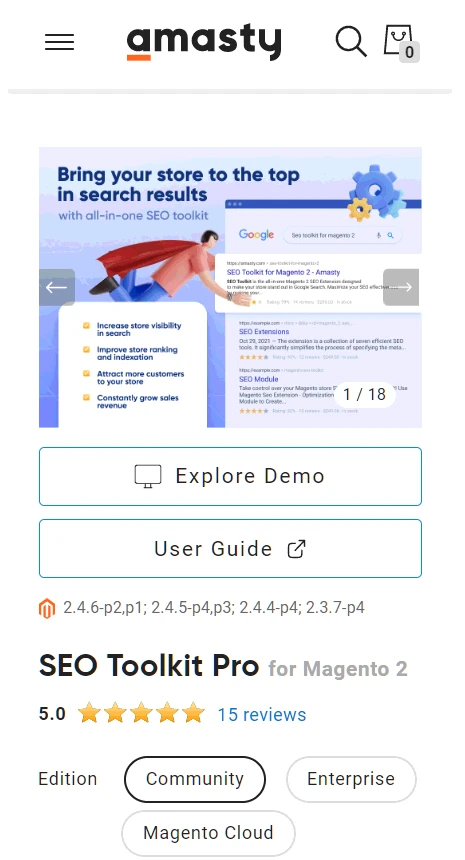 What extensions are compared
Magento SEO extension by Amasty
The Magento SEO extension made by Amasty boosts the SEO efficiency of your website. It allows you to automatically create metadata for all pages by using templates. URLs can be rewritten and regenerated into SEO-friendly forms in one click.
Crosslinks and sitemaps, which make the website more understandable for search engines, are also generated automatically. Premium SEO toolkit from Amasty offers the Facebook Pixel feature. With it, you can see the effectiveness of your Facebook ads and manage them to attract more visitors.
This package also gives you access to an SEO health check that will show the website's score and display all present SEO errors. The automatic conversion of images to a WebP format is also included only in the Premium version of the module.
Mirasvit's Magento SEO module
Mirasvit's Magento SEO module helps you to improve your website's SEO health. It adds automatic optimization tools, such as SEO templates or Rewriters. With them, you can specify metadata content for all pages on the store.
Short and full descriptions can also be changed, and SEO descriptions for any page can be created. The module will modify URLs for product pages to be more human-friendly. Complex pages with similar content, like pages with pagination, can be assigned canonical addresses to avoid duplicates.
You can set up redirects for any URL to help search engines find moved or changed pages. Crosslinks and sitemaps can also be created to help crawlers recognize website structure, improving ranking in search results.
The SEO toolbar and built-in audit will help you see the effectiveness of optimization and find potential problems. Integrated GPT AI can then use the data from the report to correct certain metadata mistakes automatically.
Key Benefits of SEO extension by Mirasvit
The Magento 2 SEO extension made by Mirasvit adds a built-in tool for SEO audit in its default edition. The automatic crawler reviews all website pages for SEO optimization. The report shows the number of optimized pages, found errors, and error distribution via a circle chart. You can also discover specific issues with the help of a detailed section of the report. There, you can see, for example, how many pages are missing certain tags or have broken links.
Mirasvit's Magento SEO plugin allows GPT AI to fix certain SEO mistakes automatically, saving you time and money. The AI uses data from SEO-audit to detect solvable problems. It can correct common metadata errors, such as duplicated fields and missing tags. The GPT also can adjust the length of meta tags. Automatic correction of errors can be switched off for manual human interference.
Feature Comparison
The SEO extension from Amasty gives users less detailed control and focuses on automation. SEO-friendly URLs can be regenerated for old pages and rewritten for new ones in bulk. The users can only decide which links should be generated. Alt tags for images are also generated automatically, but this feature is available only in the premium version of the module. The extension also adds a Facebook ads manager and SEO health check-up in the premium package.
Mirasvit's version of Magento 2 SEO extension provides the ability to track the SEO health of the website. The data from this audit can be used by an AI bot to correct mistakes on the pages automatically. You will also have more manual control over metadata on your website. For example, the module allows you to create rules for template application and rewrites. Page SEO descriptions can also be created to better represent your store in Google search results.
Key Features of SEO Suite Modules
Amasty
Rich Snippets
Show additional information about your store in Google search results to attract new customers. Show the price, rating, and stock of the searched product. Display the company logo and social profiles like Instagram, Pinterest, SoundCloud, etc. Add a search input line to search through the shop or home page from Google results.
Open Graph
Transform the looks of shared links to your store in social media and messengers to make them attractive and organized. Instead of default text and images, the system automatically generates titles and descriptions based on custom meta tags. The feature is available to use for category pages, product pages, and CMS pages.
Automatic URL Rewrites
Human-friendly URL rewrites can be automated to save time and effort. The system can rewrite links to products and categories, both newly created and old, with minimal user involvement.
SEO Toolbar
Asses the SEO optimization of the page through a toolbar for the storefront. Among the basic information, such as meta tags or applied SEO templates, the extension also shows "Schema.org" tags and in-page links. Other extensions usually cannot track these parameters.
Facebook Pixel
The premium version of the module gives you tools to enhance your Facebook advertisements. This feature helps you to track total activity and separate events triggered by the ads. Then, after gaining insight, you can change the strategy to attract more users to your store.
Image Conversion
The extension allows you to automatically convert all added images to a lightweight WebP format, speeding up the loading of the pictures. It also allows to add alt tags to pictures. This function is available only in the premium version of the module.
Health check-up
The SEO health report is only accessible in the premium version of the extension. It displays the SEO score of the website and the detailed list of occured errors.
Mirasvit
Detailed SEO Templates
Change templates not only for meta fields but also for short and full descriptions. You can also add SEO descriptions to each page that will represent your store in the search results. This way, you get more control over the page's content and can better cater to search systems and users.
Template Rules
Change the priority for applied templates and create rules for template usage. Usually, other extensions do not give users this flexibility, providing only default automatic options.
Template Preview
See how templates will change the page's content in real time with the preview feature. Variables will be highlighted for easier recognition. Preview will also show 5 different pages to which the template is applied for you to see several examples. In other modules, you are usually allowed to view the changes only after they are applied.
Manual Rewrites
Experienced users can rewrite metadata and URLs manually to fine-tune them for specific purposes.
Relationship Tags
The module supports 4 different relationship tags. Tag "alternate" directs customers to the alternative version of the page. The "hreflang" helps search engines see that the page has versions in different languages. And the "next" and "prev" tags show that the page is part of a series to group complex pages.
SEO audit
Built-in automatic crawler automatically checks every page on the website and reports the efficiency of SEO optimization. You can see how many pages are optimized and how many errors were found in a pre-built health report. Specific issues, like broken links and missing tags, can be viewed separately. With this tool, you will always be up to date with your website's SEO health without paying for an external audit.
SEO AI Helper
The system will consider the SEO audit tool data and automatically correct common mistakes using GPT AI, saving you valuable time. The feature can be turned off for manual edits.
Side-by-side features comparison
To find the best SEO extension for Magento 2, you must first know the difference between their toolkits. The easiest way to discover them is to compare all important features side-by-side in a simple table.
| | Mirasvit SEO | Amasty SEO |
| --- | --- | --- |
| SEO templates | | |
| Rules for template application | | |
| Metadata editing | | |
| SEO description | | |
| Rich snippets | | |
| Multiple social media links inside rich snippets | | |
| Open Graph | | |
| Open Graph for product page | | |
| Automatic redirects | | |
| Canonical URLs | | |
| SEO-friendly URLs | | |
| Cross-Linking | | |
| Automatic URL regeneration in bulk | | |
| Rules for rewrites | | |
| Manual rewrites | | |
| HTML & XML sitemaps | | |
| SEO Toolbar | | |
| SEO Health Checker | | |
| GPT AI automatic error correction | | |
| Alt tags for images | | |
| Relationship Tags | | |
Find the module that suits you most
The modules that improve SEO in Magento help stores appear higher in search results. They optimize metadata, such as titles and descriptions of pages, to appeal to search engines. Redirections, crosslinks, and sitemaps also help crawlers understand the website's structure and rank it higher.
The SEO modules operate by the same rules of SEO optimization. Although both extensions give users unique functions that distinguish them. Mirasvit's module's base kit lets you perform SEO audits and leave the AI to deal with common mistakes found through it. It also provides detailed metadata customization, such as creating rules for rewrites and template applications. The SEO extension by Amasty allows you to check the SEO health of your store and manage Facebook ads, but only if you buy a premium package.
Find the best SEO extension for your store by comparing their features. Learn the differences between Mirasvit's and Amasty's modules through comparison tables and pick the best one that fits your store.
Reasons to choose Mirasvit
Client focusing and satisfaction
These are our primary. A major portion of our new clients come from referrals from our existing clients. Our professional team of developers, marketers and support staff have invested the best knowledge and experience in the field into our work, so you know you can come back to us again and again.
Remarkable support
One year free and high quality support. We go to great lengths to provide maximum satisfaction with every module you have purchased in our store. By helping you with installation, configuration, answering your every question, we do all our best to eliminate any possible problems.
Risk-free Investment
30-days money back guarantee. If you are not satisfied with our extension performance for any reason, we provide a full refund.
Constant improvements and upgrades
We constantly add new features to all our modules, and are always interested in hearing your opinion and implementing your suggested features in our future developments.
Comprehensive Documentation
We provide an expanded user guide for every aspect of our extension, so you can find answers for all your burning questions.
Unencrypted source code of our products
You can customize extension according to your needs and requirements.
Usability and Performance
The Module is easy to install and upgrade, just follow our step-by-step user guide.
Safe Magento updates
No core modifications. Just use the composer or copy the extension files to the root directory of your store.