Magento 2 Layered Navigation Extension
This module is an incredible enchancement to your store's usability. It improves upon every aspect of layered navigation: performance, product filters, and visual customization.
It also lets you add standalone brand pages, an "All Products" page, and offers the ability to retool your category pages for infinite scrolling.
The Layered Navigation extension will take your store's usability to the next level!
Drastically improve your store's usability
Speed up layered navigation with AJAX
Increase conversions with smart navigation
Get clearly structured, SEO-friendly URLs
Create standalone brand pages
Set up infinite product scrolling with AJAX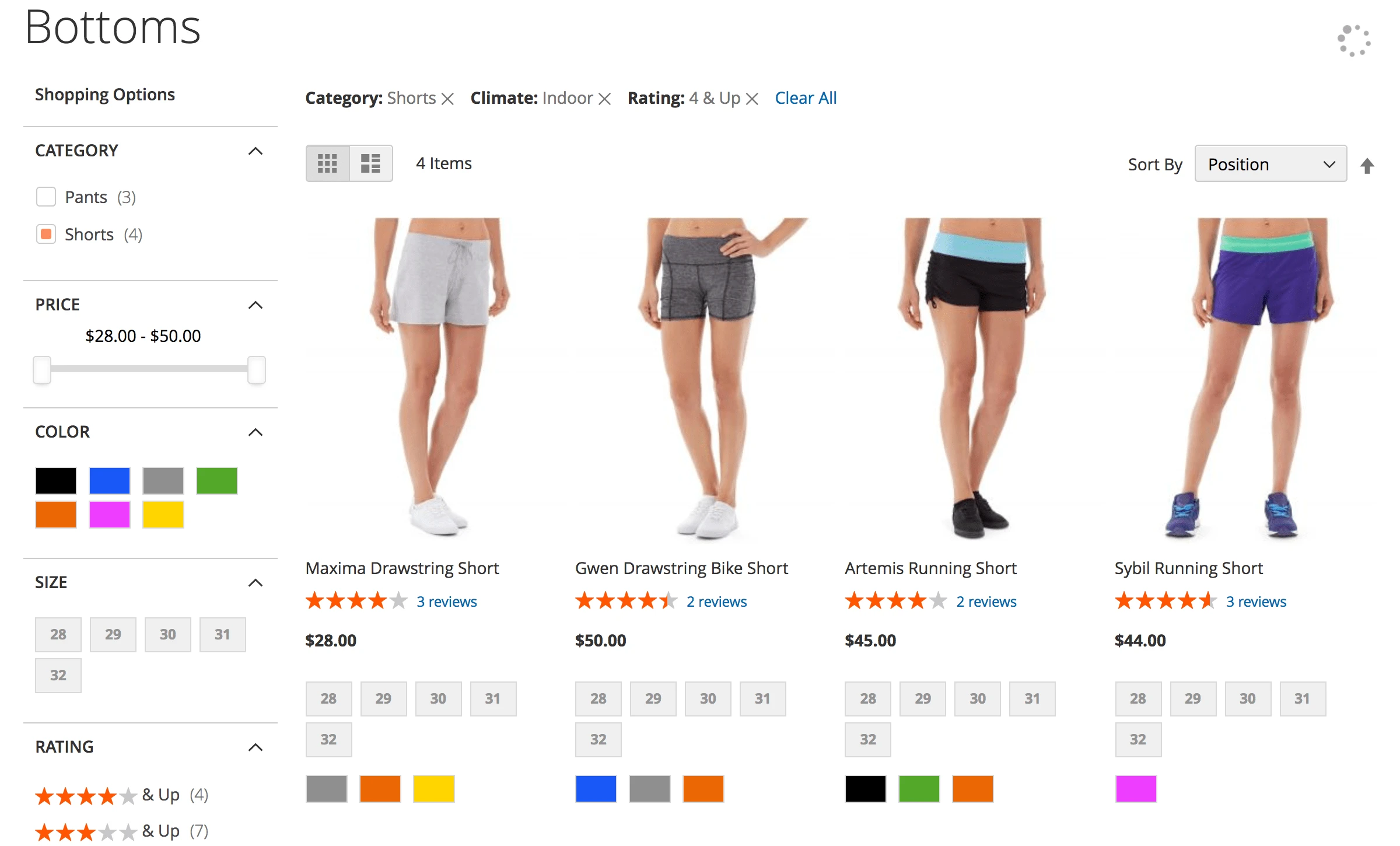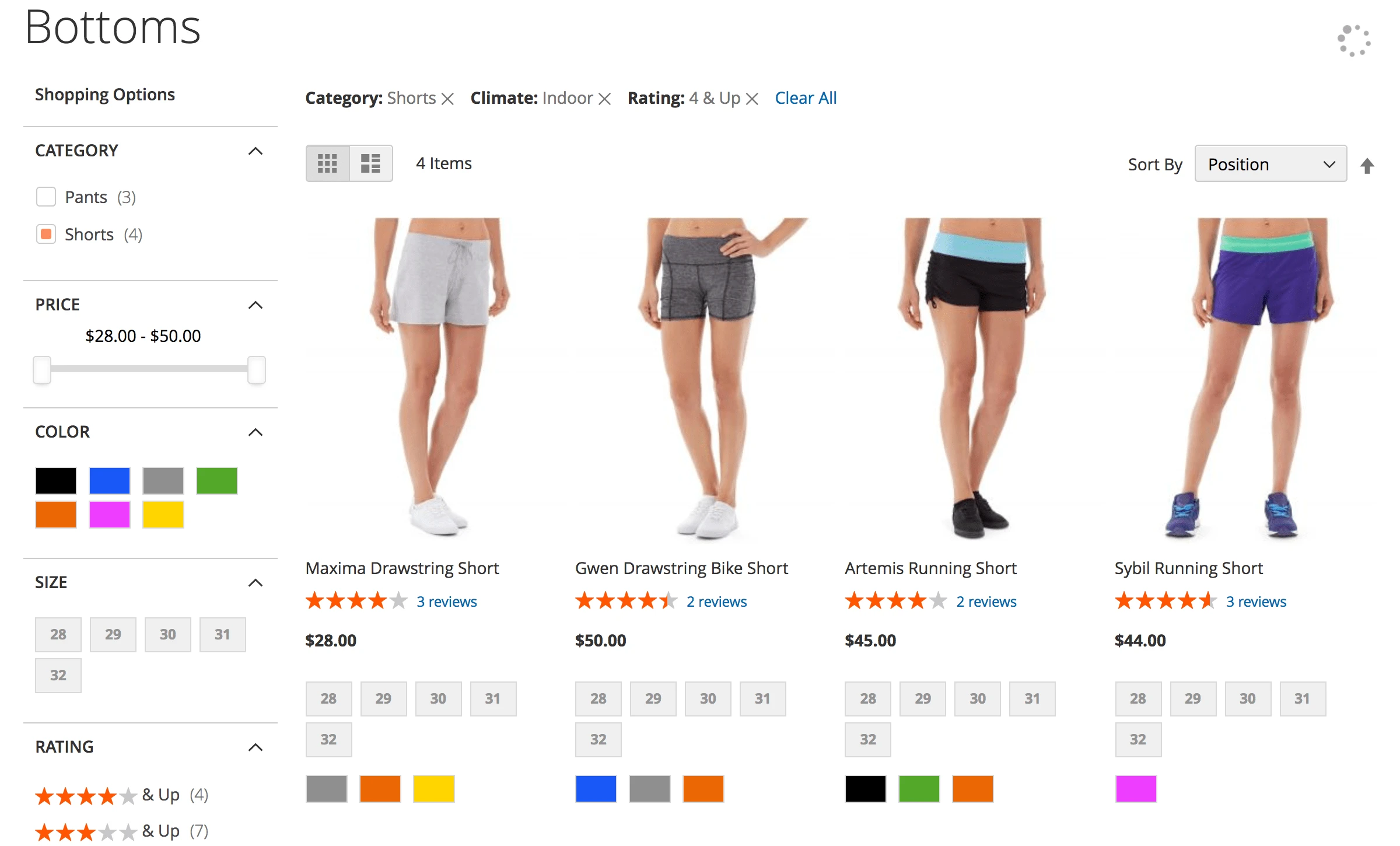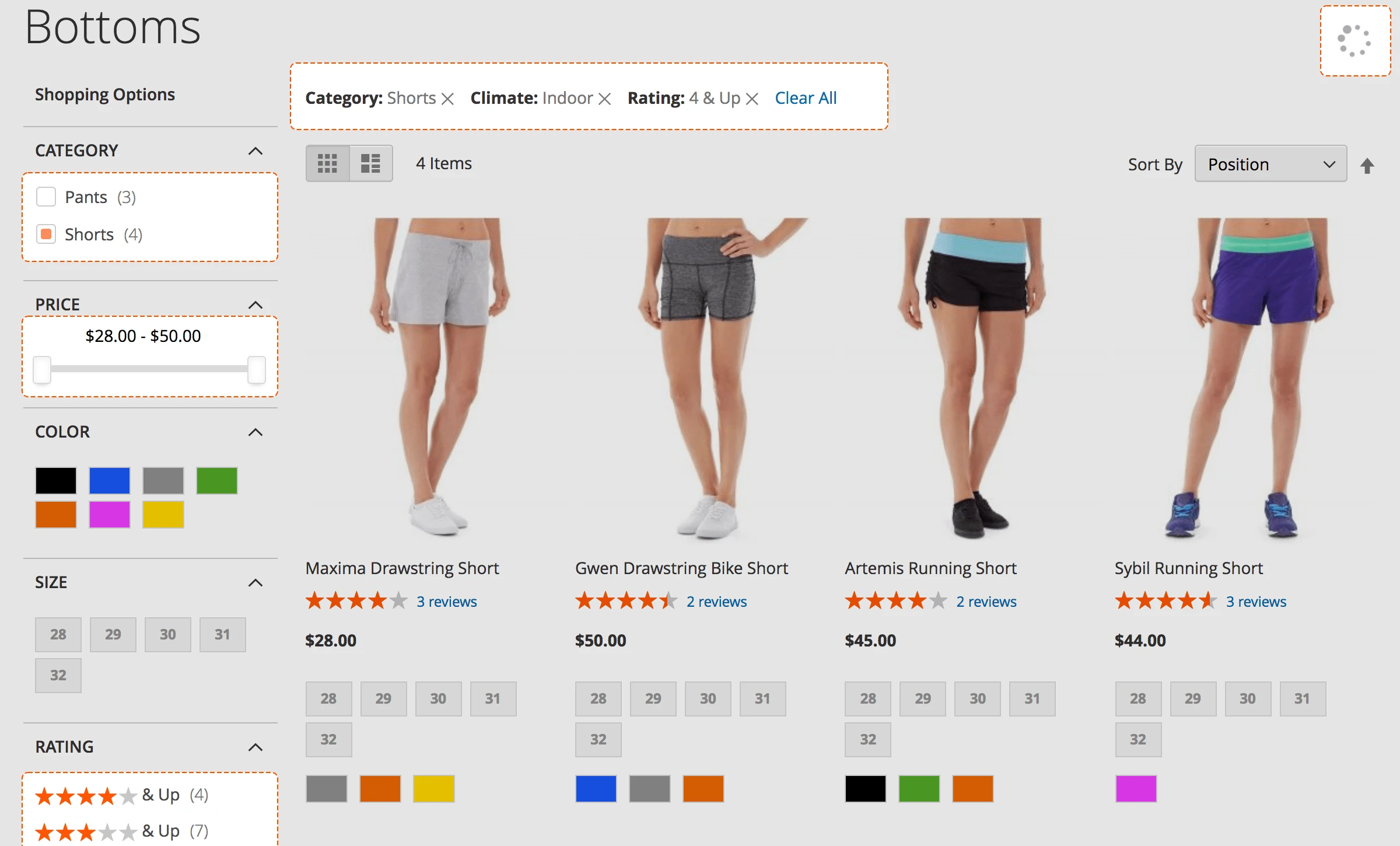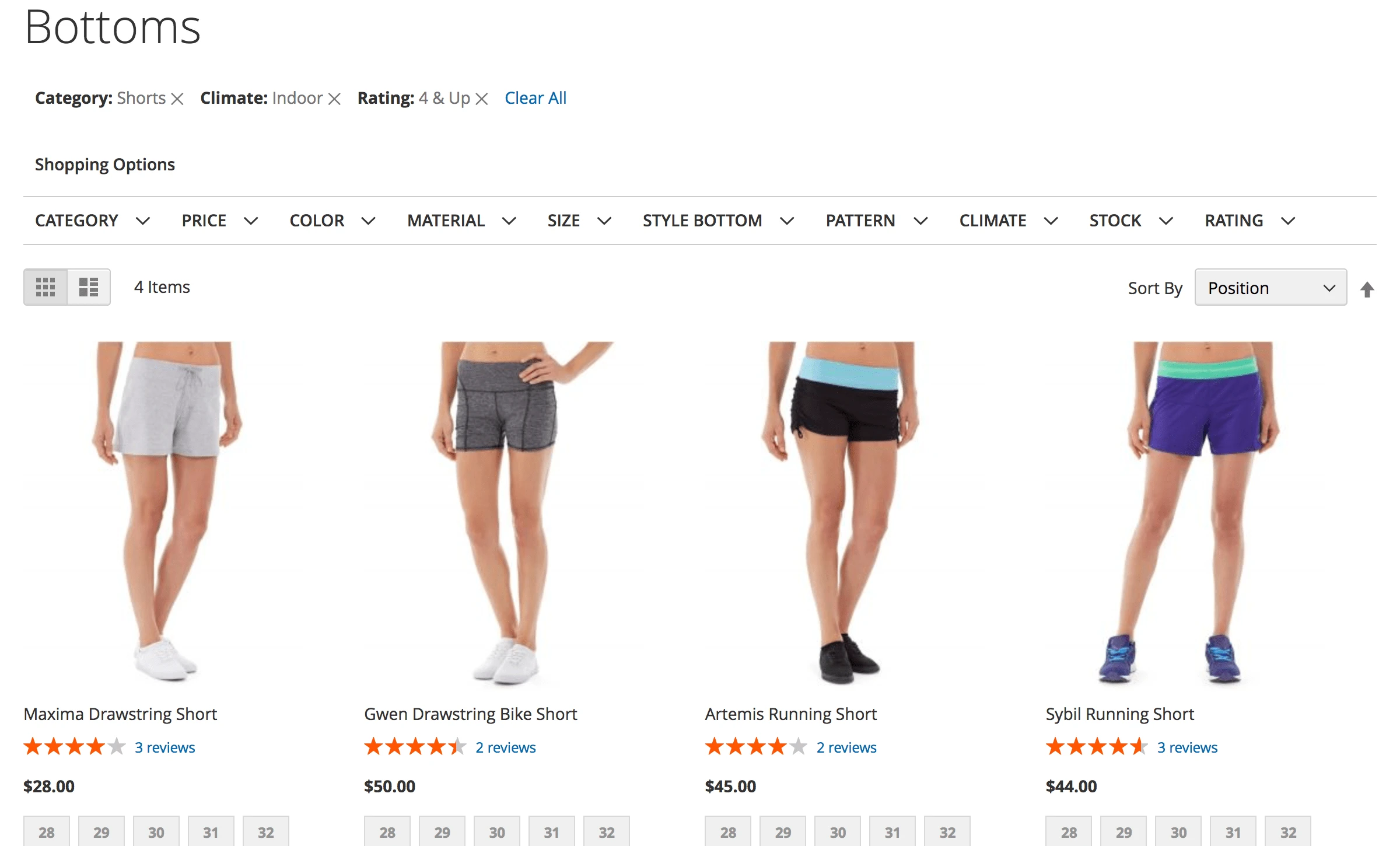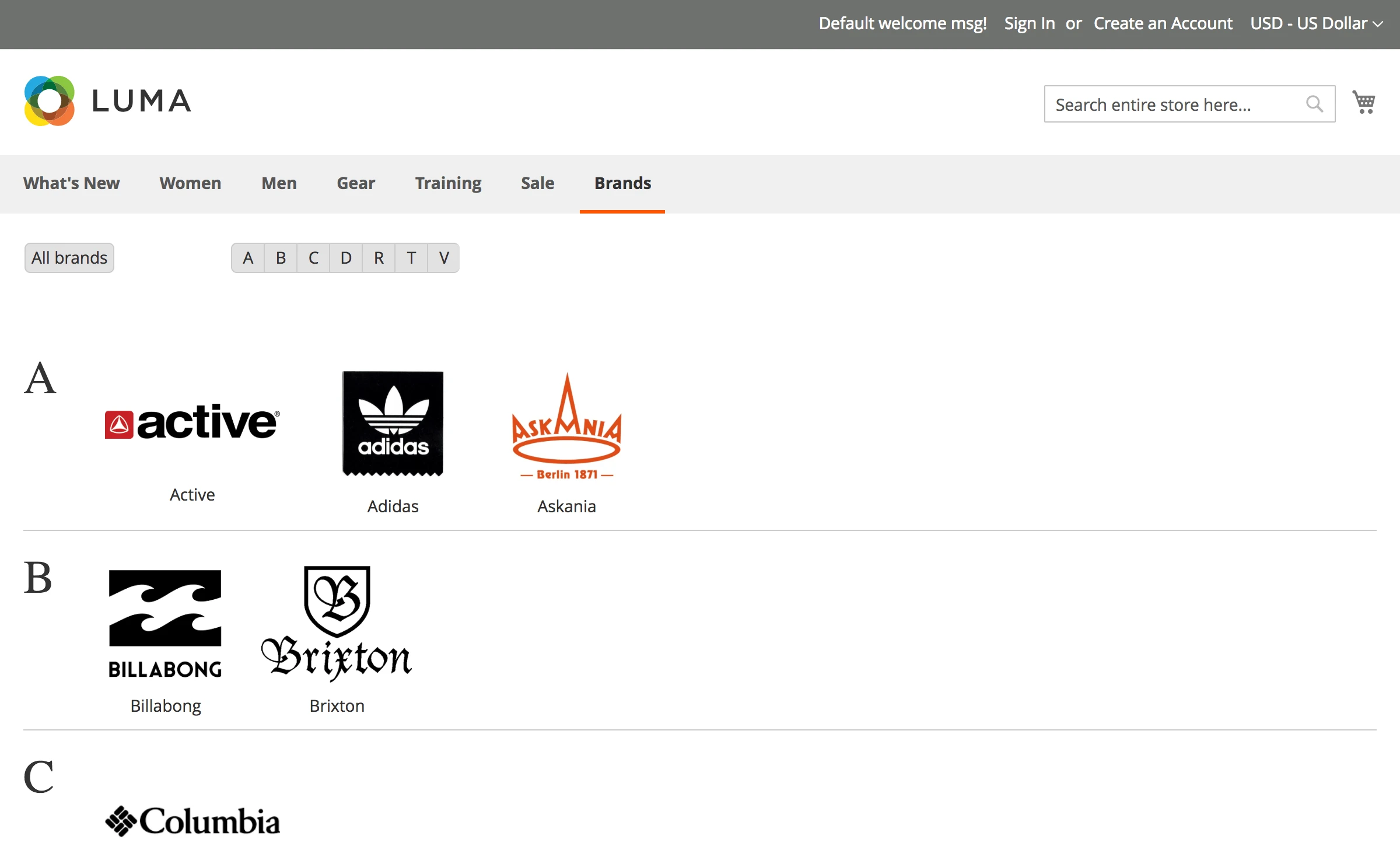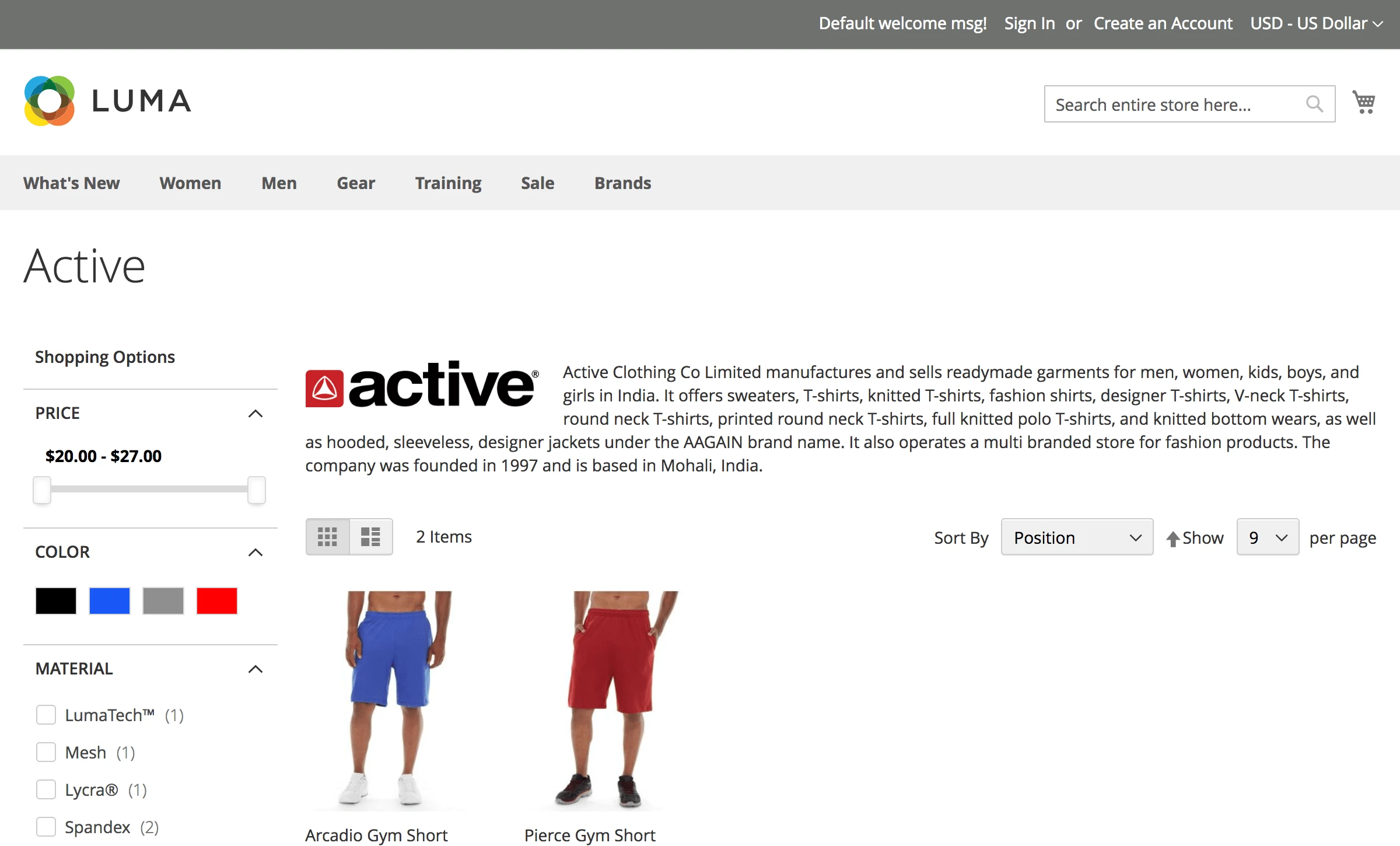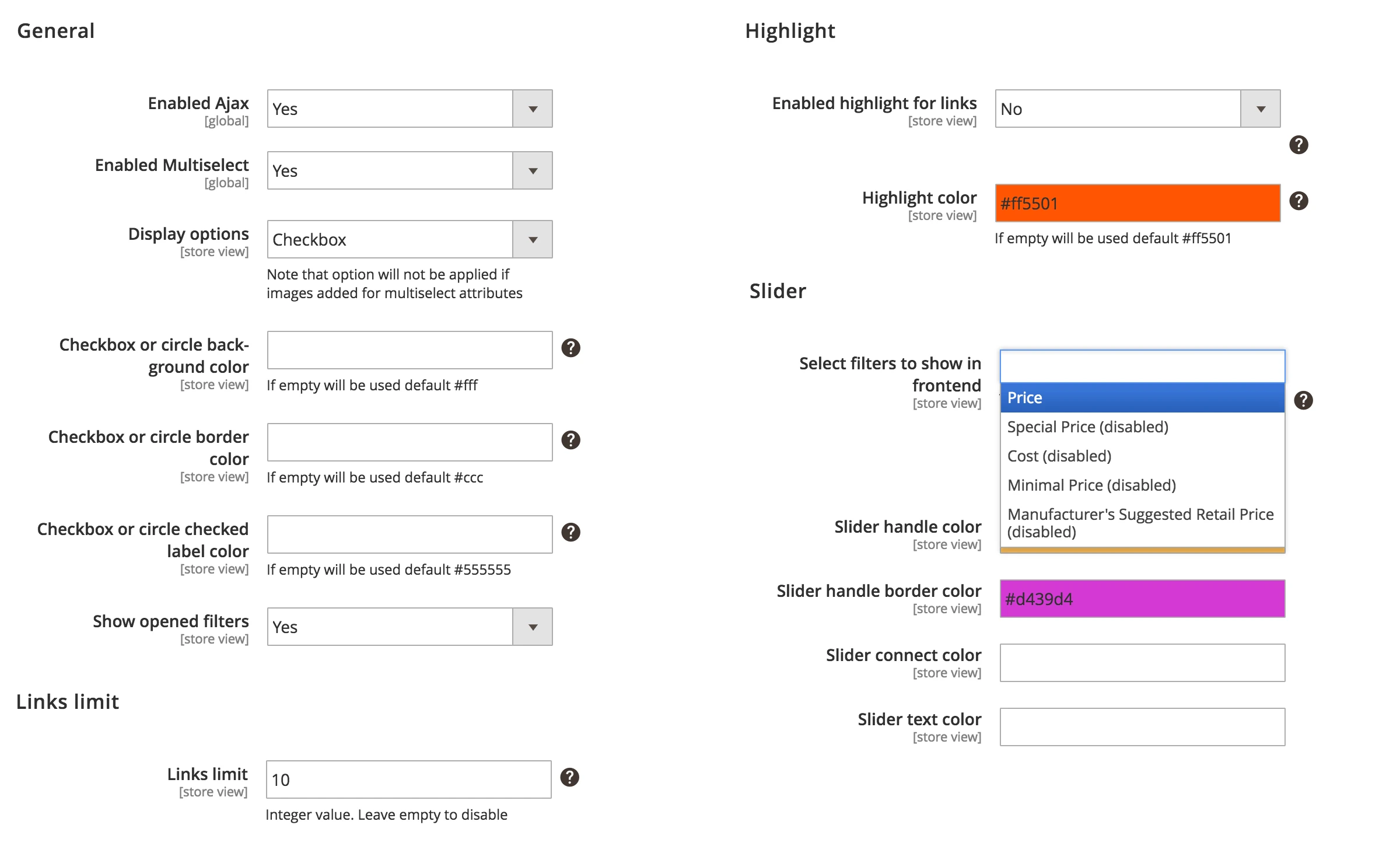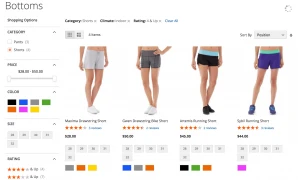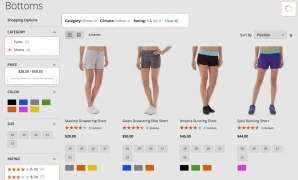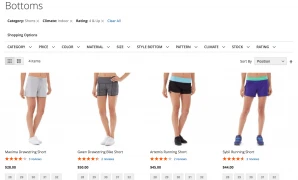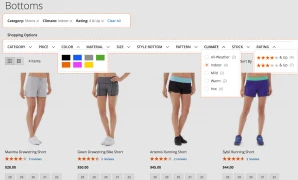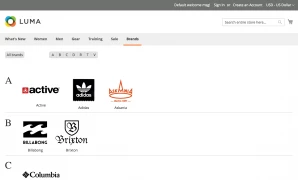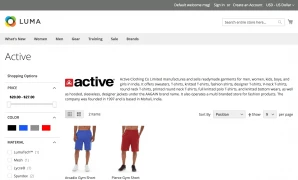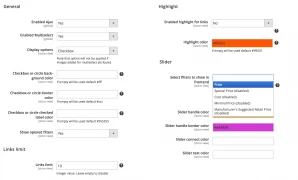 Make your store as user-friendly as it can possibly get!
Your store's usability is vital to its success. The store has to be clear, quick, and convenient to navigate to ensure the highest conversion rate.
This Magento Layered Navigation extension is an expertly crafted module that will improve your store's usability with surgical precision:
The extension completely overhauls the layered navigation. It'll load faster thanks to AJAX technology, and its product filters will be significantly easier to use. It'll also have new filters essential for any store, like stock status. You can customize the entirety of the block's visual design to perfectly fit your theme, too!

Not only that, the module lets you create new catalog pages to further streamline the customer journey. You'll be able to add an "All Brands" page, standalone brand pages, and an "All Products" page.

The Layered Navigation for Magento 2 extension also lets you use AJAX technology to switch your category pages to infinite scrolling or let visitors load more products with a "Load More" button.
Improved Filtering
Multi Select
Quick Navigation
Bulk Filtering
Filter Images
Convenient Sliders
Grouped options
Select multiple values of the same filter
By default, Magento doesn't let the customers select multiple attribute values in a single filter. They have to constantly move back and forth while shopping, which is terrible for usability.
Our extension lets customers select as many filters as they need instead. It makes layered navigation in Magento 2 store very convenient.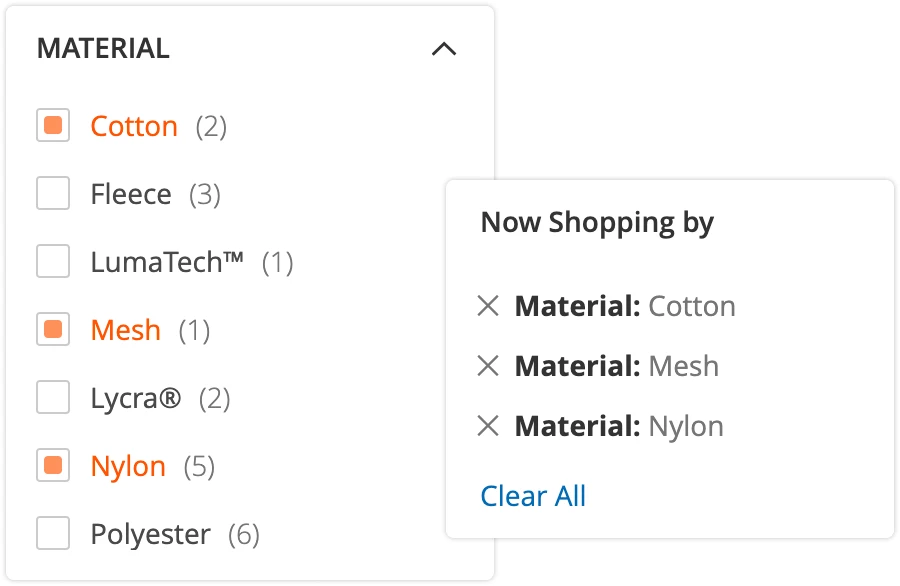 Maximize the conversion rate

The extension memorize which filters are most frequently used and displays them right above the products list.
This lets the new visitors select the most popular filters much quicker and easier, streamlining the purchase flow and improving your site's conversion rate. It's great for stores with large product catalogs and many filters in particular.
On top of that, the module ensures both smart and standard filters only show the attribute values the selected products have. Your customers will never see empty filters ever again!
Select and apply several values at once
Let the shoppers apply as many values from as many filters as possible at once instead of doing it one-by-one! This is great for most stores and all the more valuable if you have a large number of products: filtering the results can take time.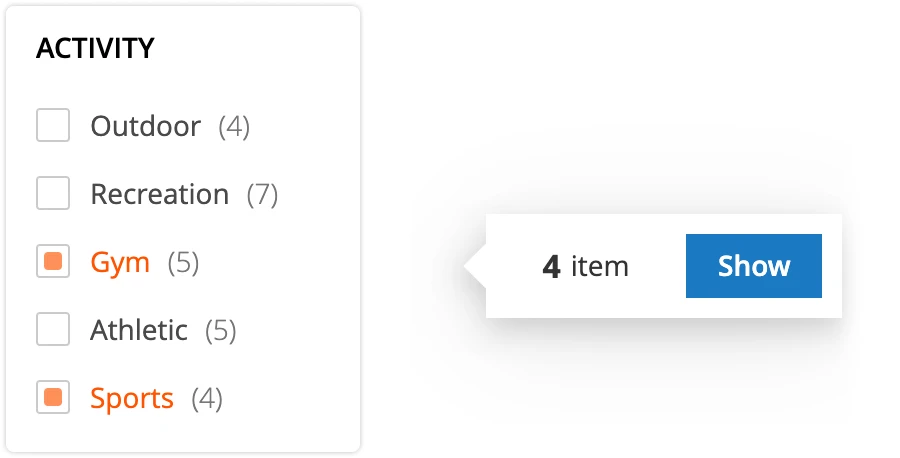 Make the filters more eye-catching
If an attribute, like Material or Brand, has multiple values, Magento will display the corresponding layered navigation filter in plain text. This may cause a lot of confusion if the customers need to choose from a wide range of attributes.
With this extension, you'll be able to add images to these types of filters. That way, customers will have a much easier time finding what they need.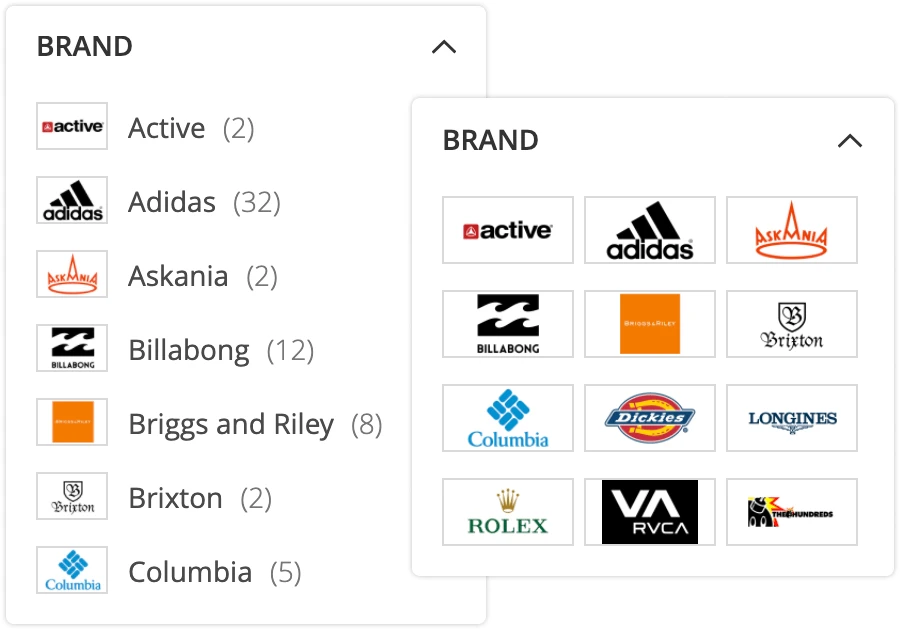 Specify an attribute range easily
The extension adds a new slider filter type. It lets you filter products by any numerical value: price, dimensions, weight, etc.
The sliders are sure to come in handy for any store!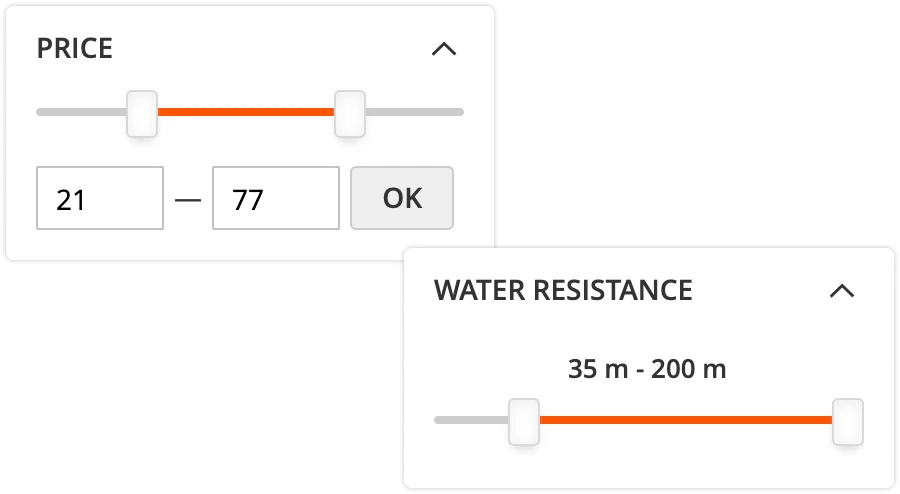 Show similar products by grouping product attributes
Let your customers view similar products when they specify the shopping filters to find the particular product they need.
This extension adds the possibility of grouping several attribute options under one grouped option.
For example, customers who are looking for red-colored apparel may be shown items with purple and orange colors.
Another example is when a customer sets a grouped filter to look for cold weather clothing, and he or she will be shown items for cold, cool, and windy conditions.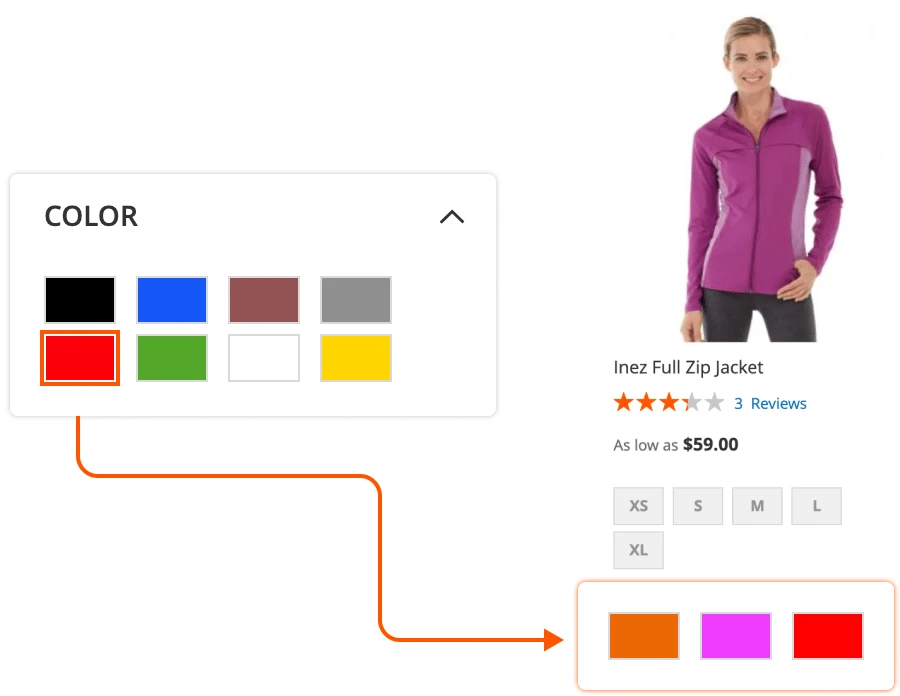 You can group options for almost any product attributes. Create an individual label or swatch for grouped options that is visible to your customers. Separately specify the label of the grouped options that is visible in the admin page of your store.
SEO-Friendly
Secure the highest search ranking by following best SEO practices

Get clearly structured, human-friendly URLs. The Magento Layered Navigation module cleans up the default convoluted layered navigation URL structure and makes it human-friendly. Human-friendly URLs help your pages appear higher in the Google search results.
Set robot meta headers and canonical tags for the Magento 2 layered navigation (layer navigation) using this module. Use robots meta header setting to control the visibility by search engine crawlers for pages with applied filters.
Choose a type of canonical link for pages with applied filters to prevent duplicate content issues.
Control the transfer of Google PageRank for filter links by setting the "rel" attribute to the follow or no follow option.
Brand New Filters For Improved Layered Navigation
Rating
New Arrivals
Sales
Stock Status
Search Filter
Harness the power of social proof
This filter displays the products with the largest number of positive reviews, which is great for increasing conversions.
The highest-rated products are among the most psychologically attractive.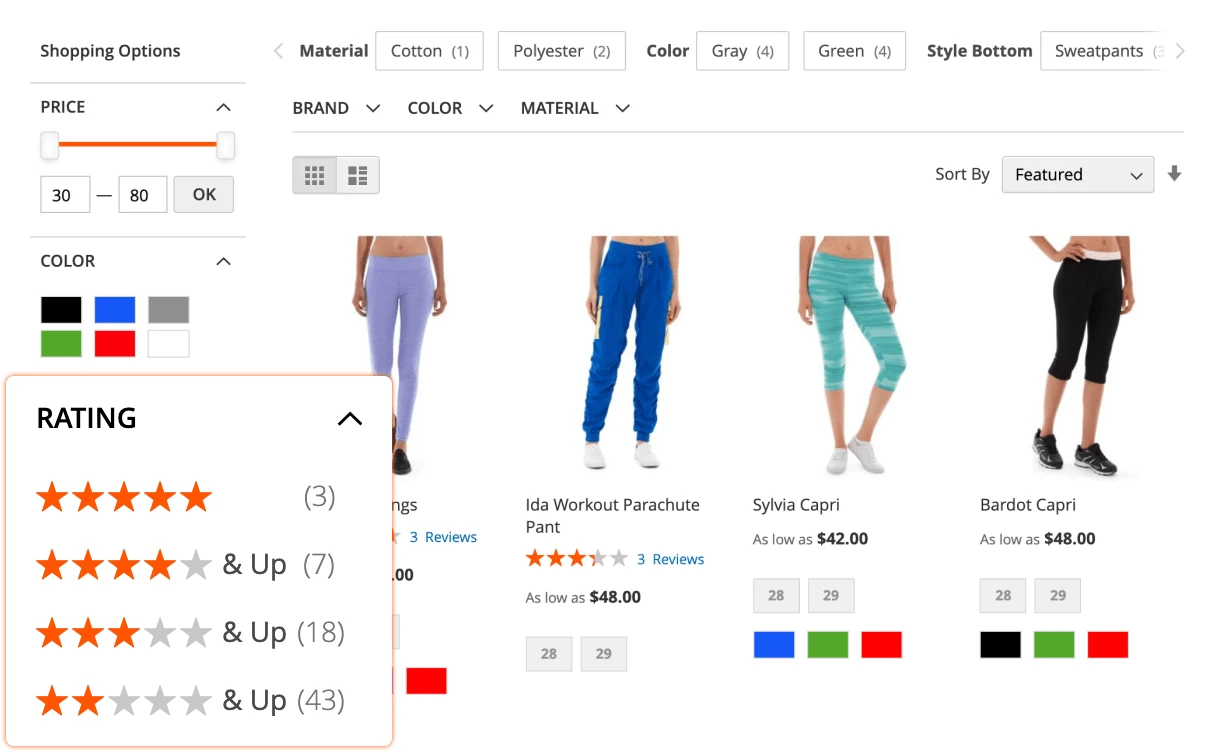 Highlight the latest updates
If you sell time-sensitive products like groceries, clothing or phones, shoppers will be especially interested in the new arrivals.
This filter will be a great help to them. It's very useful for improved layered navigation in Magento 2.
Help the customers find the active promotions
Helping visitors find your promotions is in your best interest.
Sales can be just the push they need to convert, and this filter is the perfect assistant for that.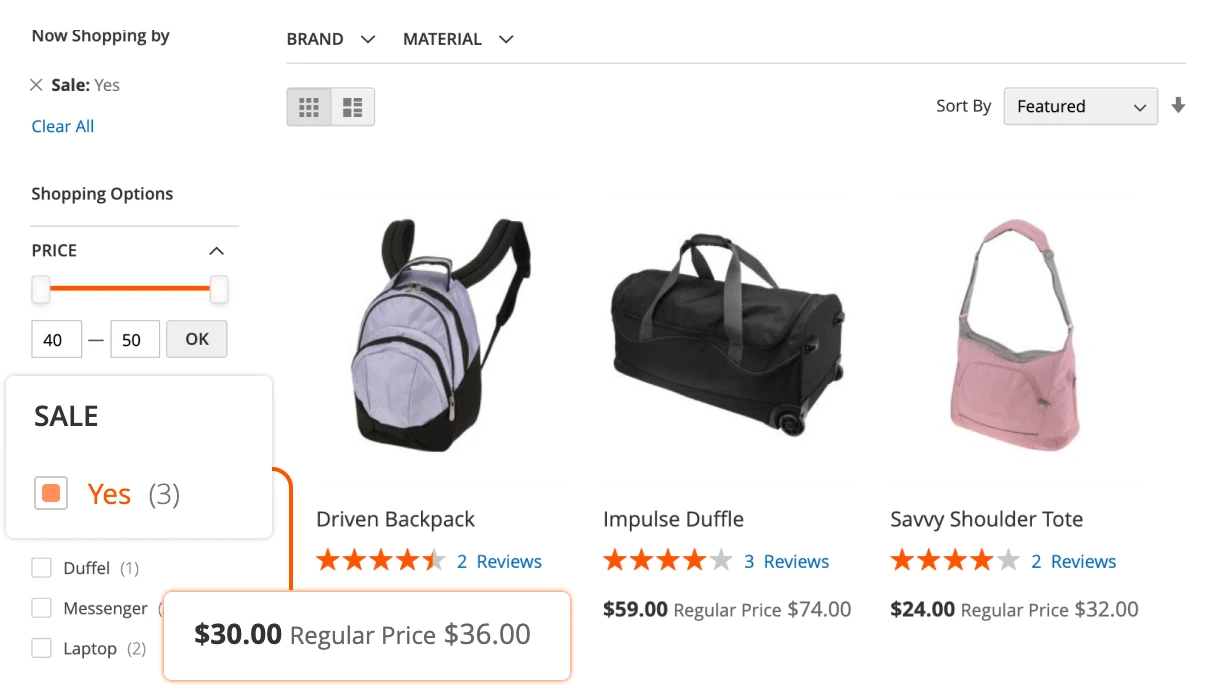 Let the customers only see the available products
You don't usually want to showcase out-of-stock products from your catalog, since customers generally aren't interested in shopping for something they can't buy.
The Stock filter is the perfect solution to this problem since it is aimed at excluding out-of-stock items from the product catalog that a shopper sees.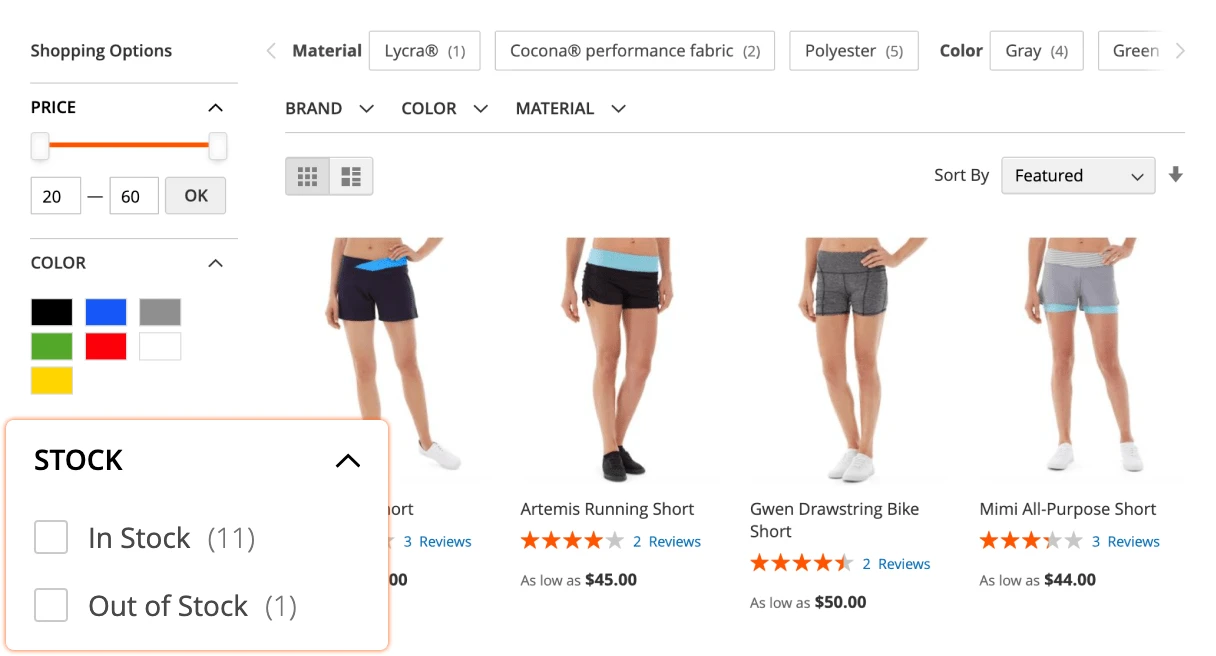 Customers gain the ability to more quickly find whatever it is they need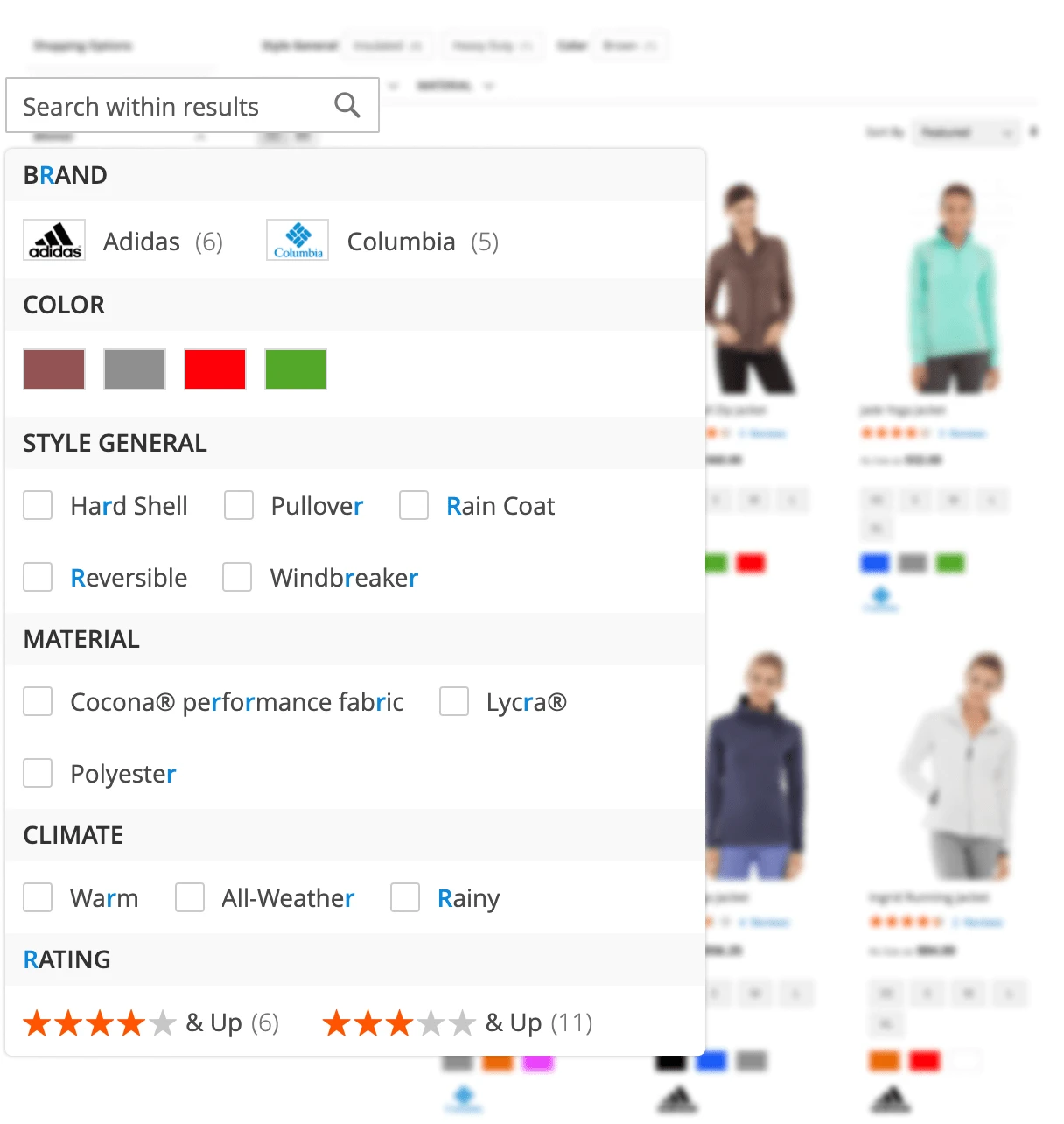 Provide your shoppers with a functionality of layered navigation for quickly finding what they need, no matter the size of your shop's product catalog.
Our Magento 2 Layered Navigation module includes a search bar in the shopping options on the category page, so as to allow customers to easily find the products they need.
This search filter can be flexibly configured to suit the shop's needs by providing several search abilities.
Its behavior can include a fulltext search on the current category page, and it can have a filter for product attribute options. The search filter can be configured so that both options are able to be active simultaneously.
With the search filter option, shoppers get the ability to filter out irrelevant product attributes without scrolling through the whole shopping options panel. This panel can be quite lengthy and overwhelming for shops with a diversified product catalog.
For example, when a customer wants to find clothing for a specific climate, he or she can simply type the word "climate" in the search field and click on the climate attributes he or she needs, like warm or all-weather. No need to scroll the page down to the climate attributes section.
Enhanced Product Catalog
Custom Branded Pages
Featured Brands
Infinite Scrolling
All Products Page
Help the shoppers find their favorite brands
Customers' brand preferences are a major driving force in their purchase decisions, so it's best that you accommodate them.
The plugin can display a list of all brands in your store on a separate page.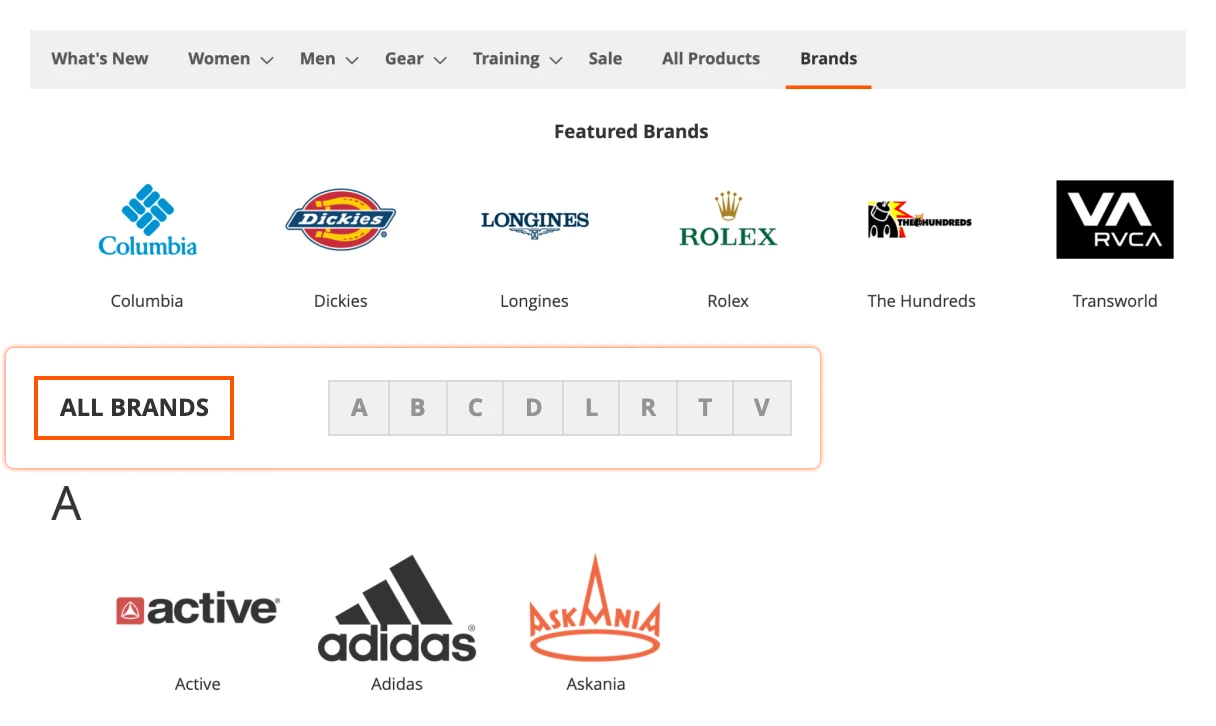 It also adds a unique page for each brand, too. You can enhance the individual brand page with a logo, a description, and a product list.
Get full control of brand page visibility for a search engine by setting its URL-key manually or automatically, applying the Store View visibility.
Set the meta information for a brand page like meta title, keywords, description. Apply alt tags and a title for a page banner.
Show the brands your store has to offer in a prominent widget
Create a Brand Slider widget to give customers quick access in your shop to the brand's pages and their products.
Place this brand widget where is suits your business needs most. Display it on any page of your store or display it with certain types of products.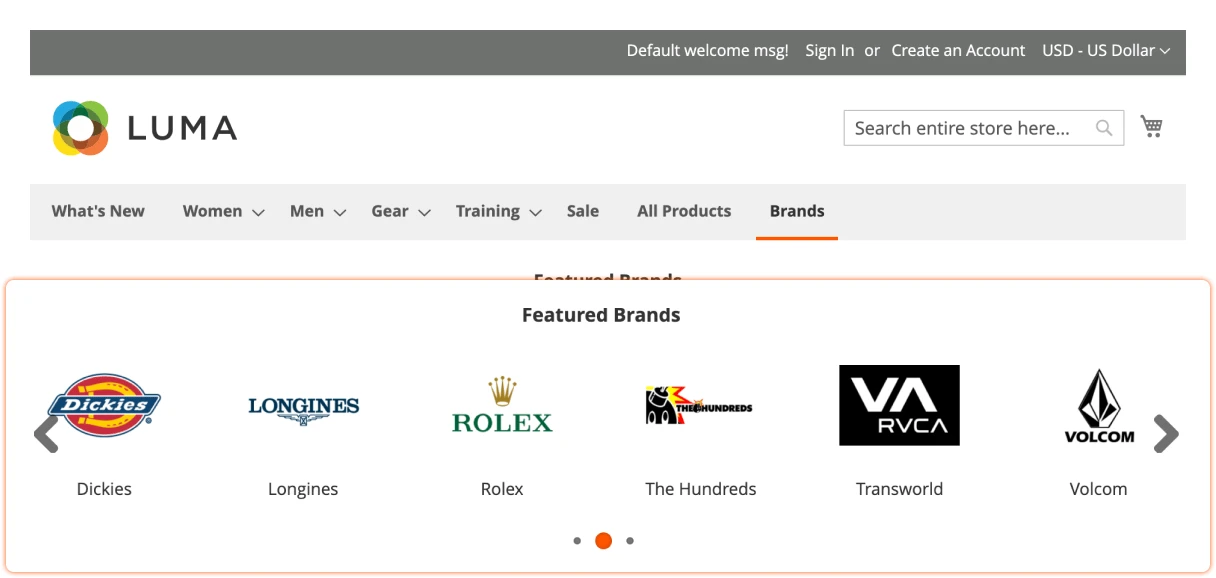 Adapt Brand Slider to your store's design theme by setting its size and the size of the brand's images.
Select the paging and navigation button colors to make the slider of layered navigation more user friendly.
Make the brand widget more interactive by enabling its animation auto play. Set the autoplay interval and activate the auto play loop.
Increase the convenience of the animated Brand Slider by pausing it when a user hovers the mouse cursor over it.
Have a separate Brand Slider for each of your Store Views with the multistore support.
Replace a pagination with Infinite Ajax Scroll
Shoppers don't like moving from page to page, so Magento 2 Ajax Layered Navigation minimizes the number of pages they have to load during their journey.
The module's Ajax scrolling feature lets you rework any category page and search results page to load more products, either automatically while scrolling or manually after pressing the Load More button.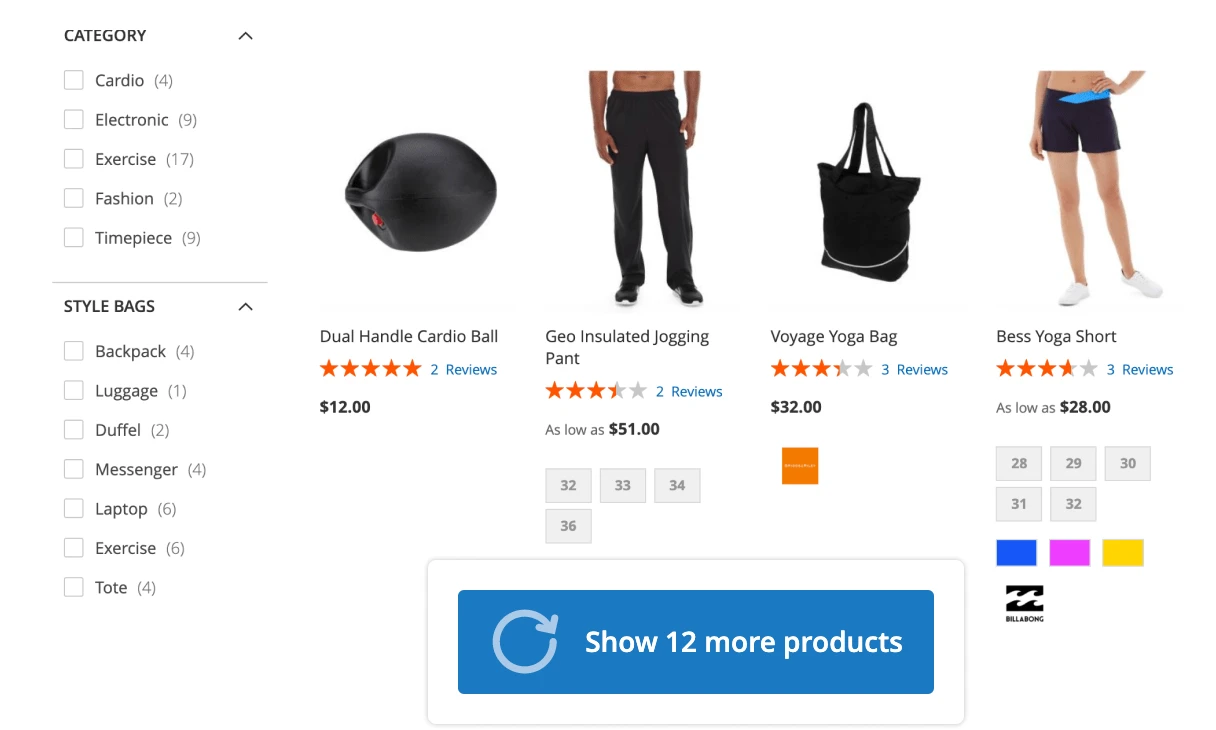 Display your entire catalog on a single page
The Layered Navigation Magento 2 extension adds a separate "All Products" page to your store.
It's more efficient to start every customer's journey through your product catalog from a single page, letting them narrow their preferences down with the layered navigation.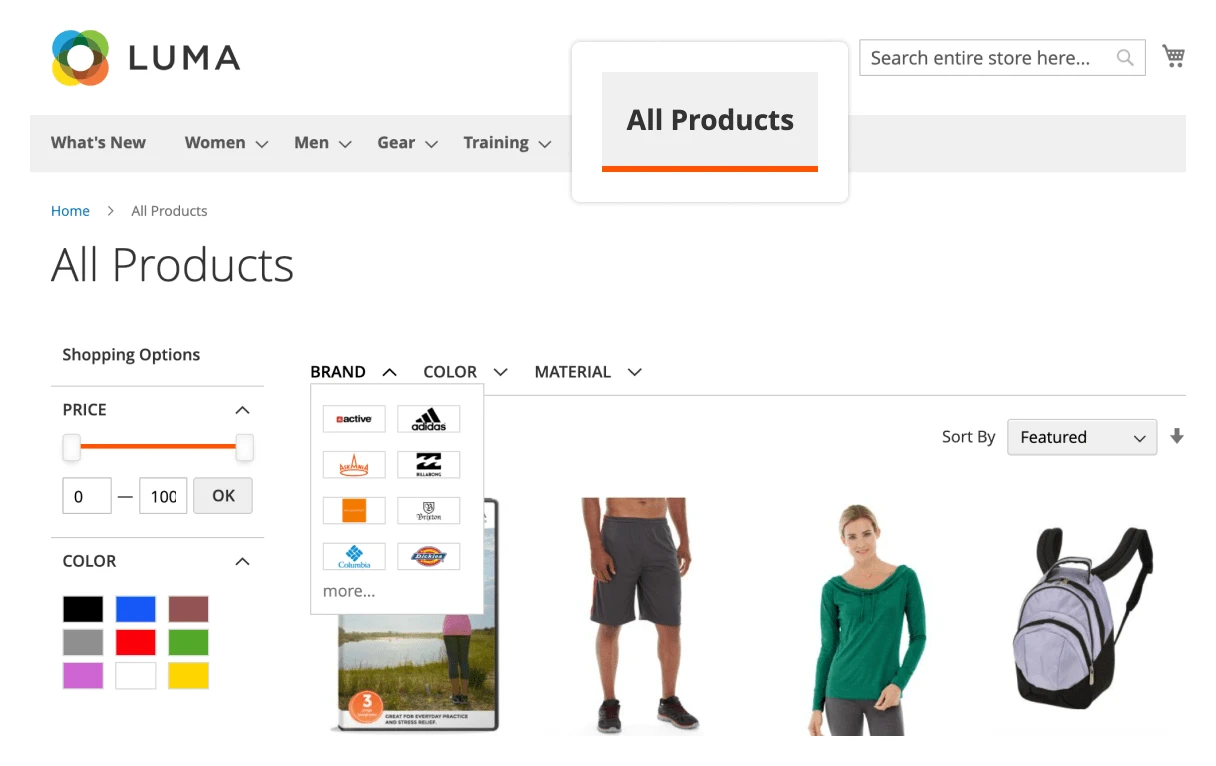 This setup will expose customers to more products and drastically reduce the number of pages they have to change.
Set a unique title, meta title, and meta description for the All Products page to make it SEO-friendly.
Completely Overhauled Advanced Layered Navigation
Superb Filters
Lightning Fast Performance
Highly Customizeable Design
Selecting the relevant products has never been easier for customers
The improved layered navigation extension enhancements take filter user-friendliness to the next level. The extension:
Suggests the most popular filters for a category automatically.
Lets the customers select and apply multiple filters at once.
Lets you add images to certain filters.
Use the layered navigation extension to get additional navigational filters. The module provides four additional filters: New Products, On Sale, Stock and Rating. They allow the layered navigation extension to:
Show only the new items
Show products which have been registered as on sale (e.g. with a discount).
Show products that are in stock and can be bought at this time
Show the rating as calculated on a customer's review. This filter also utilizes a custom widget with stars.
Choose the filter applying mode that is ideal for your store: instant or by a button click.
Speed up the navigation with Ajax
The layered navigation is rewritten in Ajax by this Magento Ajax Layered Navigation extension. The Ajax filter filters products without reloading the entire page or theme resources. As such, Ajax catalog filter will greatly improve the layered navigation's performance and responsiveness.
All other features will continue to work as well as they had prior.
Set up the store pagination mode by configuring it in one of two provided options. Use automatic infinite scroll so that the next page automatically starts loading when the user reaches down to the bottom of the current page. Or set the next block loading with a button click.
Make the advanced layered navigation fit your theme like a glove
The Layered Navigation extension Magento 2 lets you thoroughly customize the layered navigation's visual design. You can:
Display the main filter block vertically or horizontally.
Display the "reset filters" block above the main block or above the product list.
Toggle any filters.
Customize colors, borders, and other visual settings.
Manage brand's pages
Engage customers through their favourite brands
Craft the ideal pages for brands presented in your store.
Set a unique URL for each brand page and its logo. Type in the long description of the brand's information. Add the banner image to be displayed on the brand page.
To make the brand page SEO-friendly, specify additional information such as robots meta tags, canonical URL, description. Set the Meta data to improve the SEO of the page.
Choose the Store View for the page to be visible at.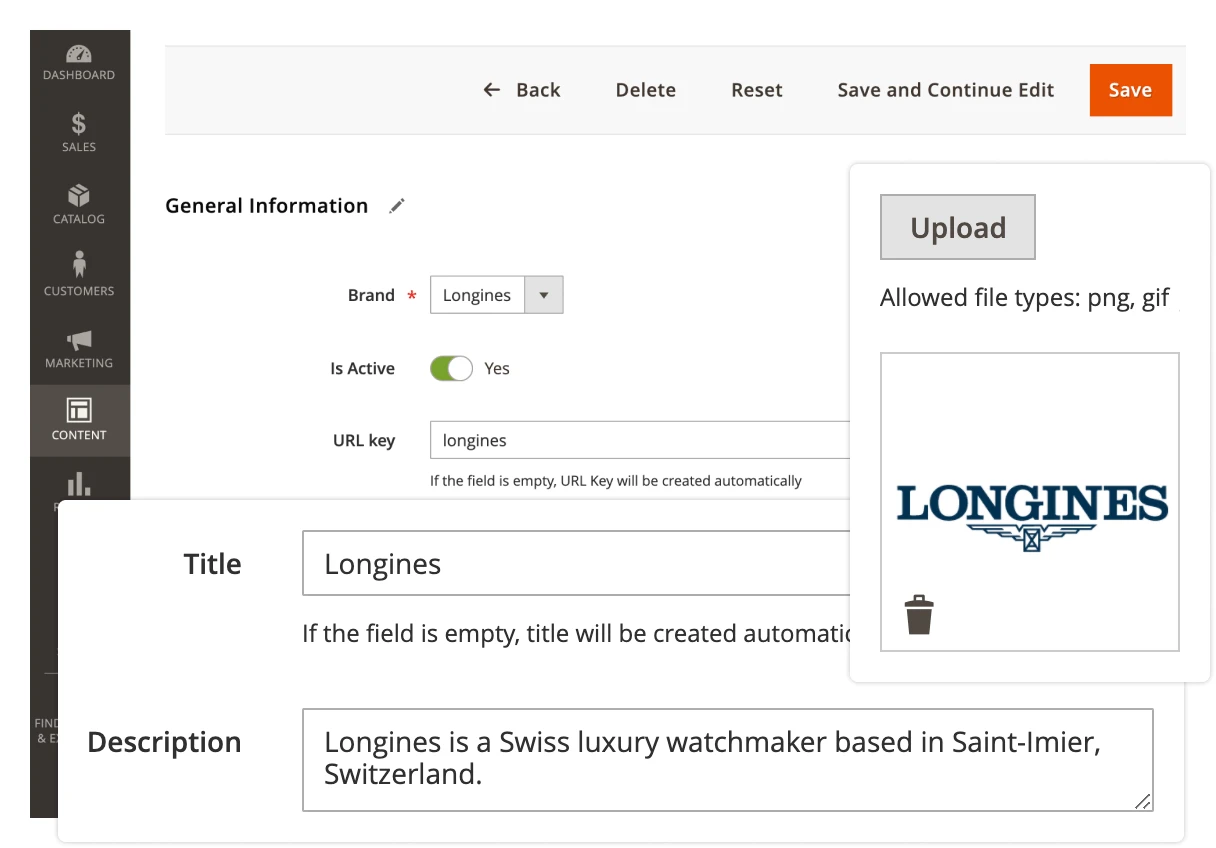 Amazing Benefits for Any Store
Higher Sales
Better Search Rankings
Increase conversions with better usability
This module is laser-focused on the most efficient usability improvements in the most important areas of your store: layered navigation, product sorting, and category page design.
Such an overhaul to its usability will work wonders for your store's conversion rate!
Create branded SEO optimized landing pages
It's very common for shoppers to only search for specific brands on the Internet. They don't particularly care which store sells them. Your site has to accommodate to these queries to truly stand out in search results by following established SEO practices.
Magento 2 layered navigation extension lets you create separate pages for each brand your store sells. They will serve as perfect SEO landing pages.
Install the module and make your store a joy to navigate!
See it in action!
Pick a quick tutorial to learn about various aspects of this extension
Layered Navigation great module
easy to use module written in clean code
I would definitely recommend
Also installed: Advanced SEO Suite, Full Page Cache Warmer, Elastic Search Ultimate, Follow Up Email, Automatic Related Products, Google PageSpeed Optimizer, Improved Sorting and 9 more
My customers could filter many better thanks to the Layered navigation from Mirasvit. The search feature in filters is amazing!
Also installed: Advanced Product Feeds, Dynamic Categories
Awesome features and Well Coded keeping performance in mind.
Also installed: Improved Sorting, Full Page Cache Warmer, Advanced Product Feeds, Improved Asynchronous Reindexing, Product Labels, Elastic Search Ultimate, RMA and 7 more
Well made navigation Extension
Very functional and well coded extension.
Also installed: Advanced SEO Suite, Help Desk MX, Reward Points, Follow Up Email, Knowledge Base, Affiliate, Advanced Reports and 23 more
Purdie20
Verified Buyer
Frankfurt am Main, Germany
Easy to install, fast ajax filters
Also installed: Full Page Cache Warmer
Manual & Support
Need more help?
Save time by starting your support request online and we'll connect you to an expert.
Contact Us Now
Changelog
Version
2.6.14
Dec 6, 2023
Ability to set link to the brand page in Product Attribute Linking
Scrolling to top when filter is applied
Price filter input auto-zooming on iphone
Brand title on brand list page
Version
2.6.13
Nov 22, 2023
Stock Filter not visible after applying
Brands grid sorting issue
Issue related with option duplication on category filter
Version
2.6.12
Oct 27, 2023
Display proper brand store label on All Brands Page
Fixed the issue with filters in Brand Page grid
Adding TrustPilot and Yotpo widgets compatibility
Version
2.6.11
Oct 20, 2023
Quick Navigation performance
Fixed the issue with the slider not being draggable on mobile
Version
2.6.10
Oct 10, 2023
Reasons to choose Mirasvit
Client focusing and satisfaction
These are our primary. A major portion of our new clients come from referrals from our existing clients. Our professional team of developers, marketers and support staff have invested the best knowledge and experience in the field into our work, so you know you can come back to us again and again.
Remarkable support
One year free and high quality support. We go to great lengths to provide maximum satisfaction with every module you have purchased in our store. By helping you with installation, configuration, answering your every question, we do all our best to eliminate any possible problems.
Risk-free Investment
30-days money back guarantee. If you are not satisfied with our layered navigation extension performance for any reason, we provide a full refund.
Constant improvements and upgrades
We constantly add new features to all our modules, and are always interested in hearing your opinion and implementing your suggested features in our future developments.
Comprehensive Documentation
We provide an expanded user guide for every aspect of our layered navigation extension, so you can find answers for all your burning questions.
Unencrypted source code of our products
You can customize layered navigation extension according to your needs and requirements.
Usability and Performance
The Module is easy to install and upgrade, just follow our step-by-step user guide. Additionally, the extension is ready to use with the Hyvä theme.
Ready for Magento Cloud
No core modifications. The layered navigation extension has been tested in a Magento Cloud environment and is fully compatible with it.