Compare Amasty Improved Layered Navigation vs. Mirasvit Layered Navigation
Learn more about Magento 2 Layered Navigation modules made by Mirasvit and Amasty. Compare them side-by-side and find out the differences between their functionality. The list will help you choose the module that suits your marketplace the most.
Solutions being compared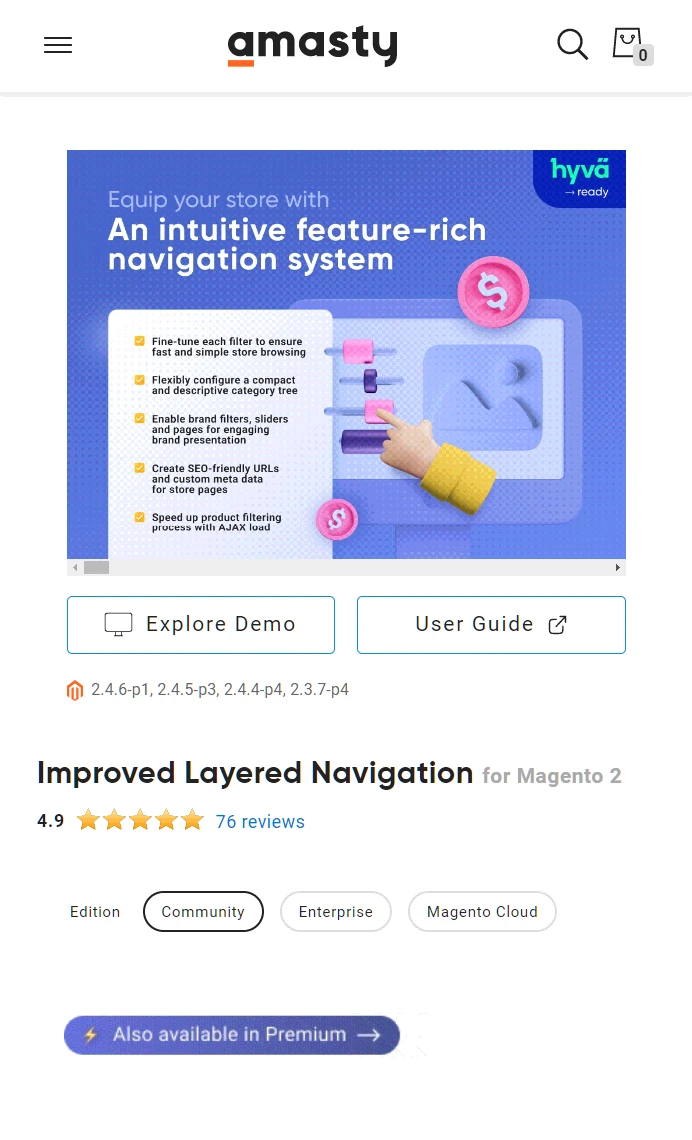 VS.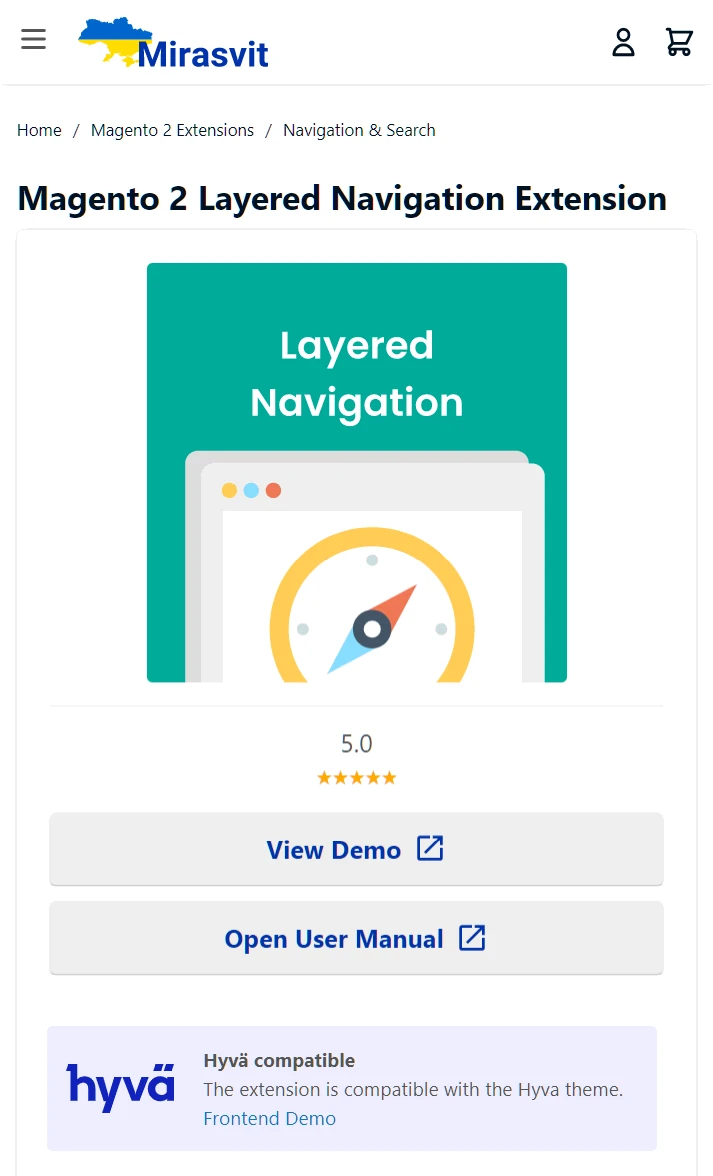 What extensions are being compared?
The Magento Layered Navigation extension from Amasty gives your website an enhanced navigation system that eases shopping for customers and helps with search engine rankings. You can manage vertical and horizontal menus, change the UI design, and create tooltips. Shoppers can filter products by various new attributes, like stock or rating. You can create brand pages with clickable logos and detailed information. The system will also optimize your store's links for better search engine visibility. The module also helps to provide customers with more search results by uniting similar attributes into groups.
The Magento 2 Layered Navigation extension from Mirasvit makes navigation through the website more comfortable and versatile. With it, you can group similar attribute options and select multiple filters at once. You can manage visible filters and customize the sidebar and panels to suit your store. The module also allows to show popular filters and alphabetical indexes for fast navigation. The extension optimizes store links, making them human-friendly for better Google visibility. An infinite search feature is available for users in different modes with AJAX technology. And you can promote branded items and catch users' attention easily with brand pages, sliders, and by-brand filters.
Key Benefits of Layered Navigation by Mirasvit
The Magento 2 Layered Navigation extension by Mirasvit provides an alphabetical index for any filtering options. It also helps users navigate the store quickly by displaying popular product filters. The module can help clients to filter items by attributes using links generated for each filterable attribute on the view page. Clicking them will automatically apply the filter.
The extension can boost Google search results for the store by making URLs for filtered pages human-friendly. You can also change how search engines will view these pages. The module allows you to add images to the non-swatch attributes. You can also fine-tune the available filters for users and shuffle them around in horizontal navigation and sidebar.
Feature Comparison
The Layered Navigation module by Amasty provides many small useful features to enhance the store's navigation. With it, you can show or hide specific filters when the one above them in the filters tree is chosen. You can add tooltips for items and brands and make the logos clickable. The module allows you to add a "More from this brand" block and move around items from the brand in the results display to promote the products better. It provides UI customization, like changing the slider's design. With it, you can also stick a sidebar to the side of the page so it is accessible while scrolling.
The Layered Navigation Magento 2 module by Mirasvit deeply enhances the comfort of navigation throughout the website. It adds new product filters and lets you decide which ones the users can use. You can turn on the infinite scrolling with different modes, such as by scrolling or pressing the "Load More" button. You can create brand pages and put brands into the animated slider. You can also make the content of the same brand pages different for each store view. The module allows for attribute linking too. You can control which pages search engines like Google can see when filters are applied. The extension also helps to avoid duplicate links by letting you choose canonical URLs.
Key Features of Magento 2 Layered Navigation Extensions
Amasty
Dependent Filters
The extension allows you to hide or show certain filtering options if the main filter they depend on is toggled.
Attribute Mapping
With this module, you can unite specific filters in groups to provide more results on a page. For example, you can group white, light-gray, and bage colors into the "white" color group. After that, all those colors will appear together.
Brands Widgets
You can set up a brand slider, dropdown menu, and tooltips. You can also add and change all brands page and individual landing for any brand.
Brand Promotion
The extension allows to show a "More from this brand" options to promote items. You can also change the order of displayed brand products, so they appear closer to customers' eye.
Infinite Scroll
With the premium version of the module, you can allow clients to use infinite scrolling. The scrolling mode can be changed, and the "Back to top" button can be switched on and off.
Subcategories
With this extension, you can add a subcategories slider to the search page, detailed with images. You can also set up a subcategory tree in the sidebar.
SEO-friendly URLs
The extension can generate concise, customizable SEO-optimized URLs for categories, products, and brand pages.
Custom Meta Data
You can set custom meta tags for pages with specific attributes. Additionally, you can include page numbers in the meta title and description.
Apply Multiple Filters
Allow shoppers to apply multiple category filters. Then, by clicking the "Apply" button, they can instantly view relevant products without the need to refresh the page every time a new filter is added.
Advanced Filters
You can enable customers to filter through categories, such as new arrivals, items in stock, and on sale. Additionally, you can include a field filter and display product ratings.
Sticky Sidebar
The sticky sidebar feature helps to keep filters in the user's view at all times, allowing them to access and update filters while scrolling.
Mirasvit
Infinity Scrolling
With the AJAX technology, users can see more products without refreshing the page just by continuing to scroll down. You can enable the "Load More" button for infinite scrolling or combine the two methods.
Added Filters
Added Filters. The module adds new options to filter products, like checking if items are in stock, product ratings, new arrivals, and items on sale.
Filters Control
This extension lets you control how filters appear. You can move them to the sidebar, choose which ones to show or hide, and limit the attribute options.
Multi Select Options
With this module, customers can now select and apply multiple filters simultaneously. The improved AND/OR search logic ensures they get more relevant results.
Linked Attributes
The module can generate clickable links for each filter option on the product page. When you click such a link, it applies the chosen filter to the products displayed.
Grouped Filters
This extension allows you to create groups of related attributes. For example, if users search for shirts, they also could see blouses and polos.
Fast Navigation
You can set up what popular filter options to display to assist customers in their search.
Custom URLs
The extension simplifies complex links, making them easy for humans and search engines to understand. It also addresses duplication issues using preferred URLs for pages with applied filters. You also have control over how search engines view pages with applied filters.
Filter Images
This extension allows you to add images to non-swatch attribute filters for a more visual experience.
Alphabetical Index
With this feature, you can sort attribute options by the first letter of their label. You can also decide how many options the filter must include for the alphabetical index to appear.
Customizable UI
You can change parts of the user interface, such as enabling brand and price sliders, displaying tooltips, and choosing between horizontal and vertical layouts.
Brands Features
You can create a page for all brands and customize individual brand pages. There's also an option to add a widget for featured brands with customizable animation settings.
Side-by-side features comparison
Looking at the features and comparing them side by side, it becomes clear what each module can provide to the users. By checking the comparison table, you can find the one that suits your online store needs the most.
| | Mirasvit Layered Navigation | Amasty Layered Navigation |
| --- | --- | --- |
| AJAX infinite scroll | | |
| Infinite scroll + "Load More" | | |
| Filters multiselect | | |
| Multiselect logic AND/OR | | |
| Limit attribute options in filter | | |
| Category, stock, sale, and rating filters | | |
| Grouped Options | | |
| Product attribute linking | | |
| SEO-friendly filter URLs | | |
| Canonical URLs | | |
| Metadata editing | | |
| All products page | | |
| Quick navigation | | |
| All brands page | | |
| Brands slider | | |
| "More from this brand" block | | |
| Different brand content for each store view | | |
| Display/hide attributes in categories | | |
| Customizable UI | | |
| Images to non-swatch attribute options | | |
| Alphabetical Index | | |
| Subcategories management | | |
| Sticky sidebar | | |
Pick the best module for your store
The Layered Navigation module improves how people use and explore your website. It makes the marketplace user-friendly by adding features like infinite scrolling. It also helps customers find what they want in your product catalog by grouping similar attributes and promoting brands with widgets and landing pages.
Both the Layered Navigation extensions for Magento 2 might have similar basic functions. However, each module has its own special and unique features to provide. For example, Mirasvit's extension adds an alphabetical index to any filter attribute. The module also creates clickable links for each filter option on the product page. On the other hand, the Layered Navigation module by Amasty provides features like complex subcategories trees, a sticky sidebar, and a "More from this brand" product block.
You can find the best extension for your online store by checking the comparison table provided in this article. It helps you see which one matches your needs the most.
Reasons to choose Mirasvit
Client focusing and satisfaction
These are our primary. A major portion of our new clients come from referrals from our existing clients. Our professional team of developers, marketers and support staff have invested the best knowledge and experience in the field into our work, so you know you can come back to us again and again.
Remarkable support
One year free and high quality support. We go to great lengths to provide maximum satisfaction with every module you have purchased in our store. By helping you with installation, configuration, answering your every question, we do all our best to eliminate any possible problems.
Risk-free Investment
30-days money back guarantee. If you are not satisfied with our layered navigation extension performance for any reason, we provide a full refund.
Constant improvements and upgrades
We constantly add new features to all our modules, and are always interested in hearing your opinion and implementing your suggested features in our future developments.
Comprehensive Documentation
We provide an expanded user guide for every aspect of our layered navigation extension, so you can find answers for all your burning questions.
Unencrypted source code of our products
You can customize layered navigation extension according to your needs and requirements.
Usability and Performance
The Module is easy to install and upgrade, just follow our step-by-step user guide.
Safe Magento updates
No core modifications. Just use the composer or copy the layered navigation extension files to the root directory of your store.