Magento 2 Custom Form Builder
Design forms for your online business, get customers' feedback easily, and without any coding skills. The extension enables the process of creating single-page and multi-page forms, improves your communication with customers, and, as a result, helps your business grow successfully with Magento2 Form Builder.
Visual drag & drop editor
Conditional Logic
Easy to create one-page and multi-page forms
Ready-to-use form templates
Quick embedding using simple widgets
Spam protection using reCaptcha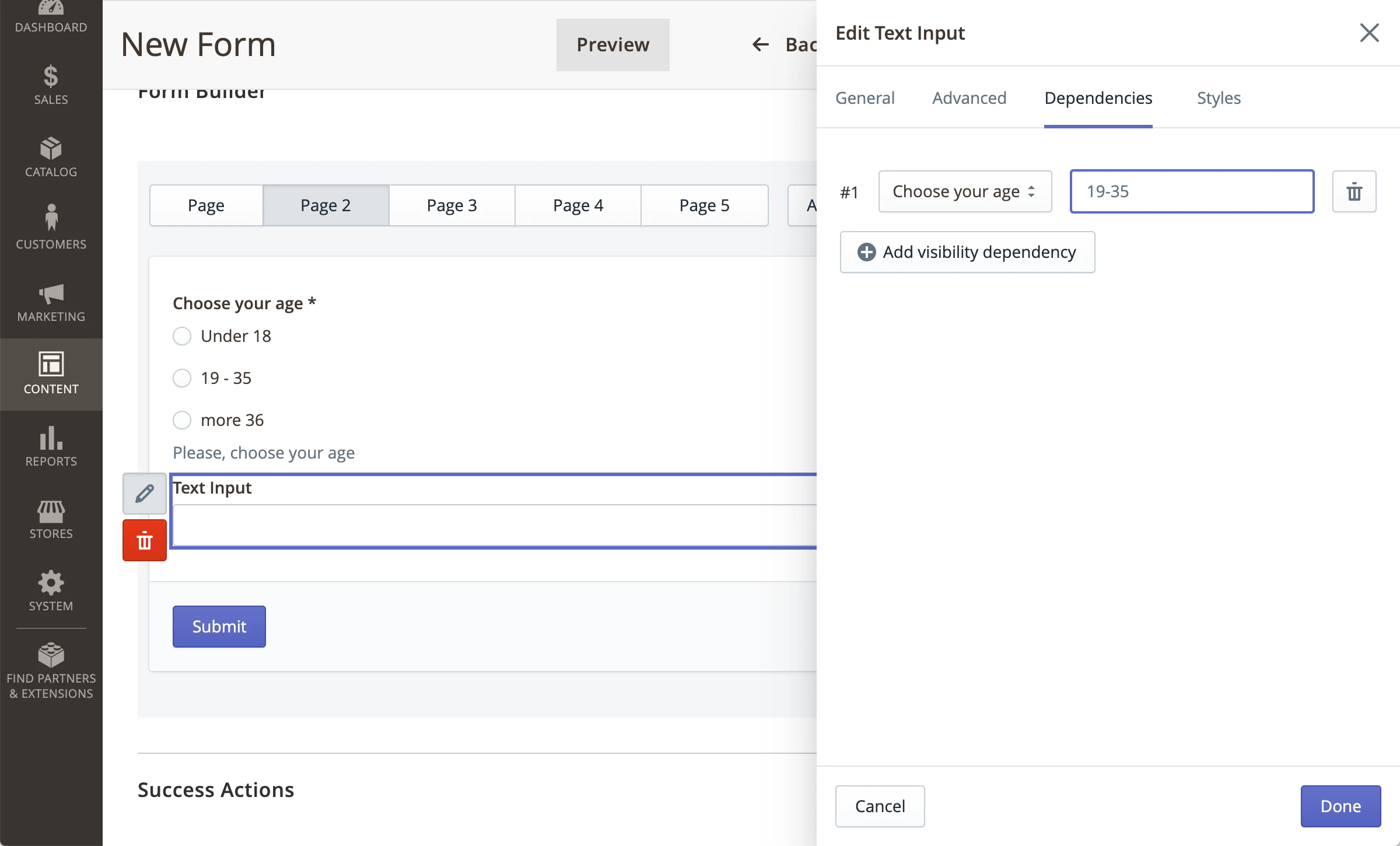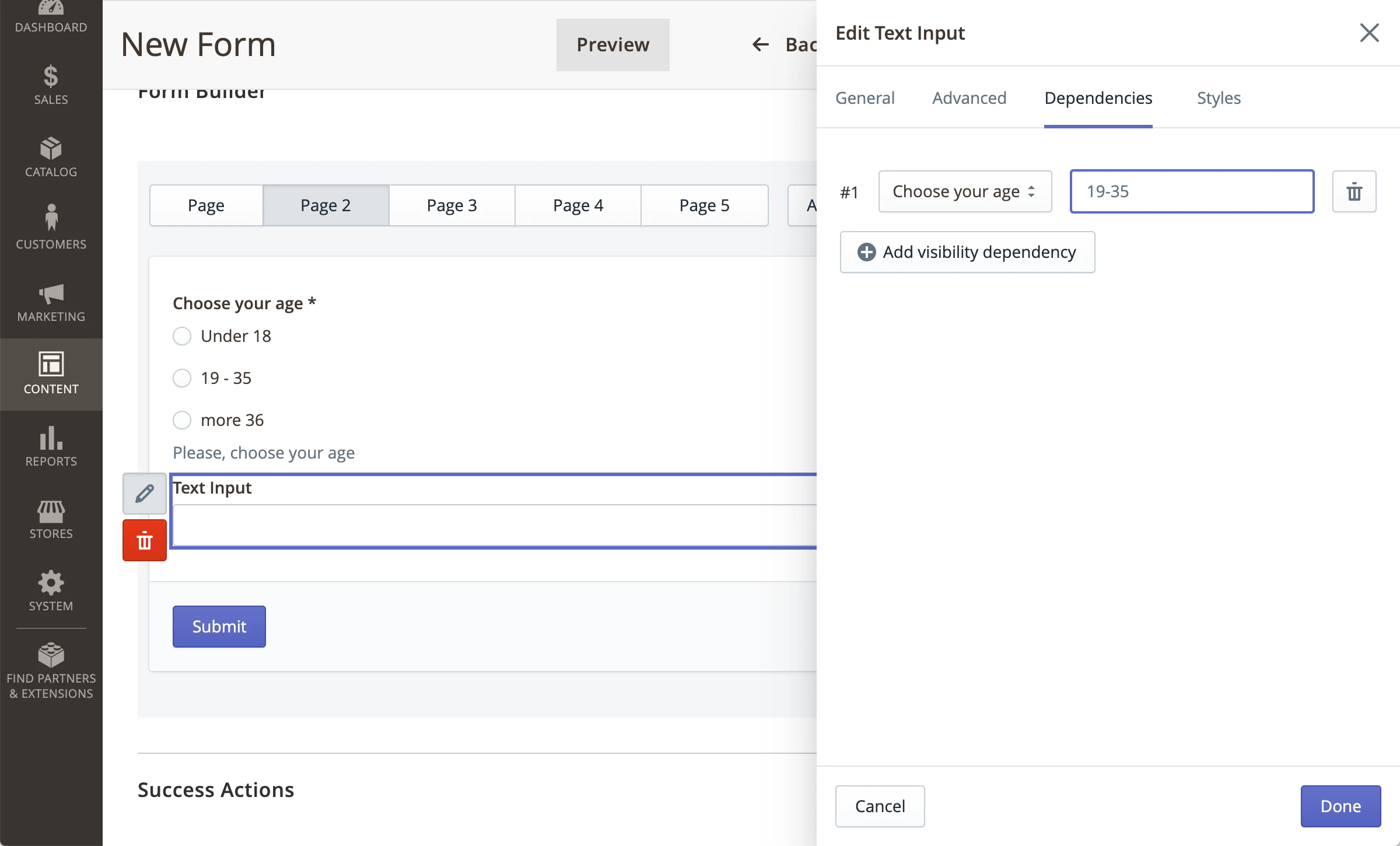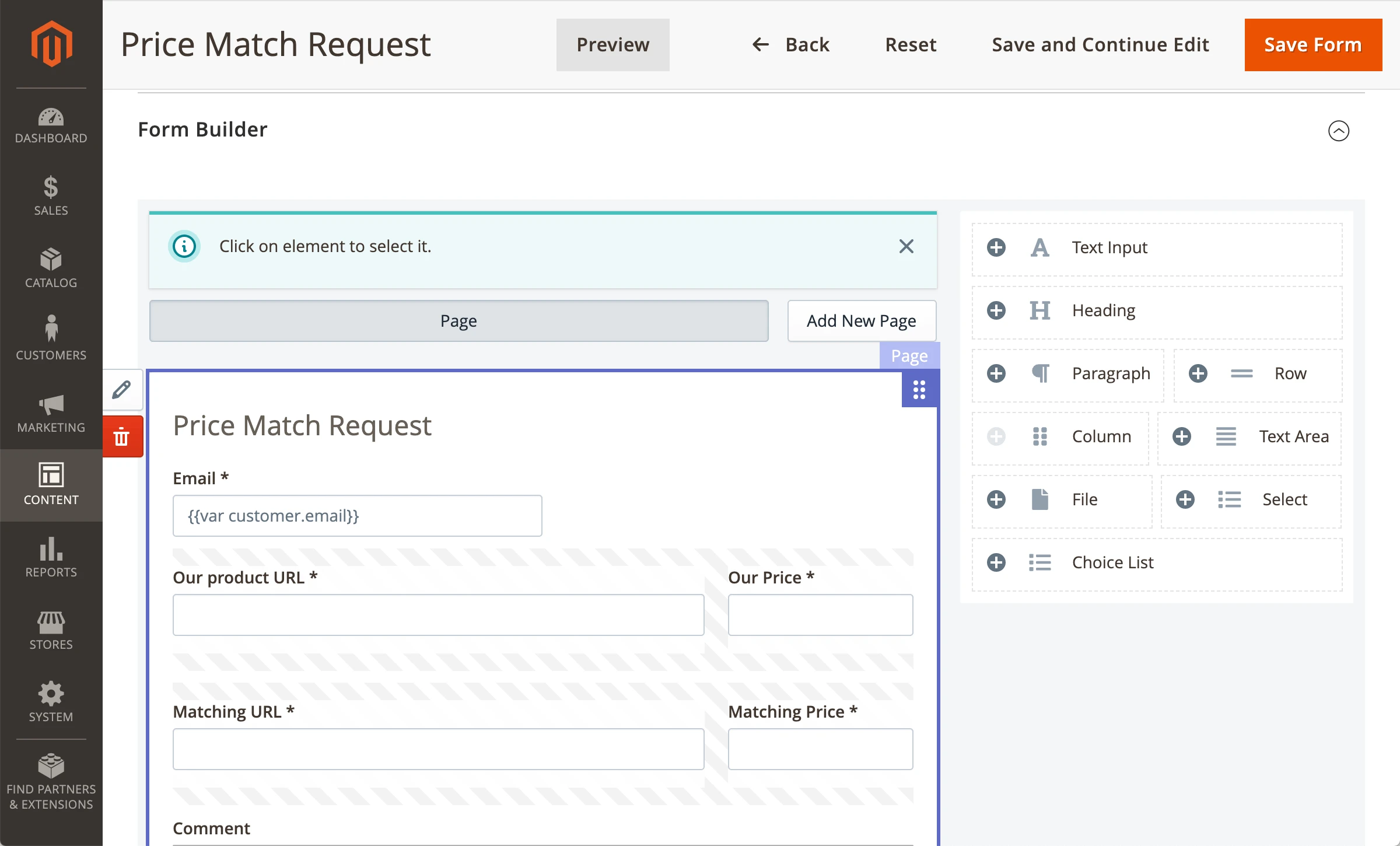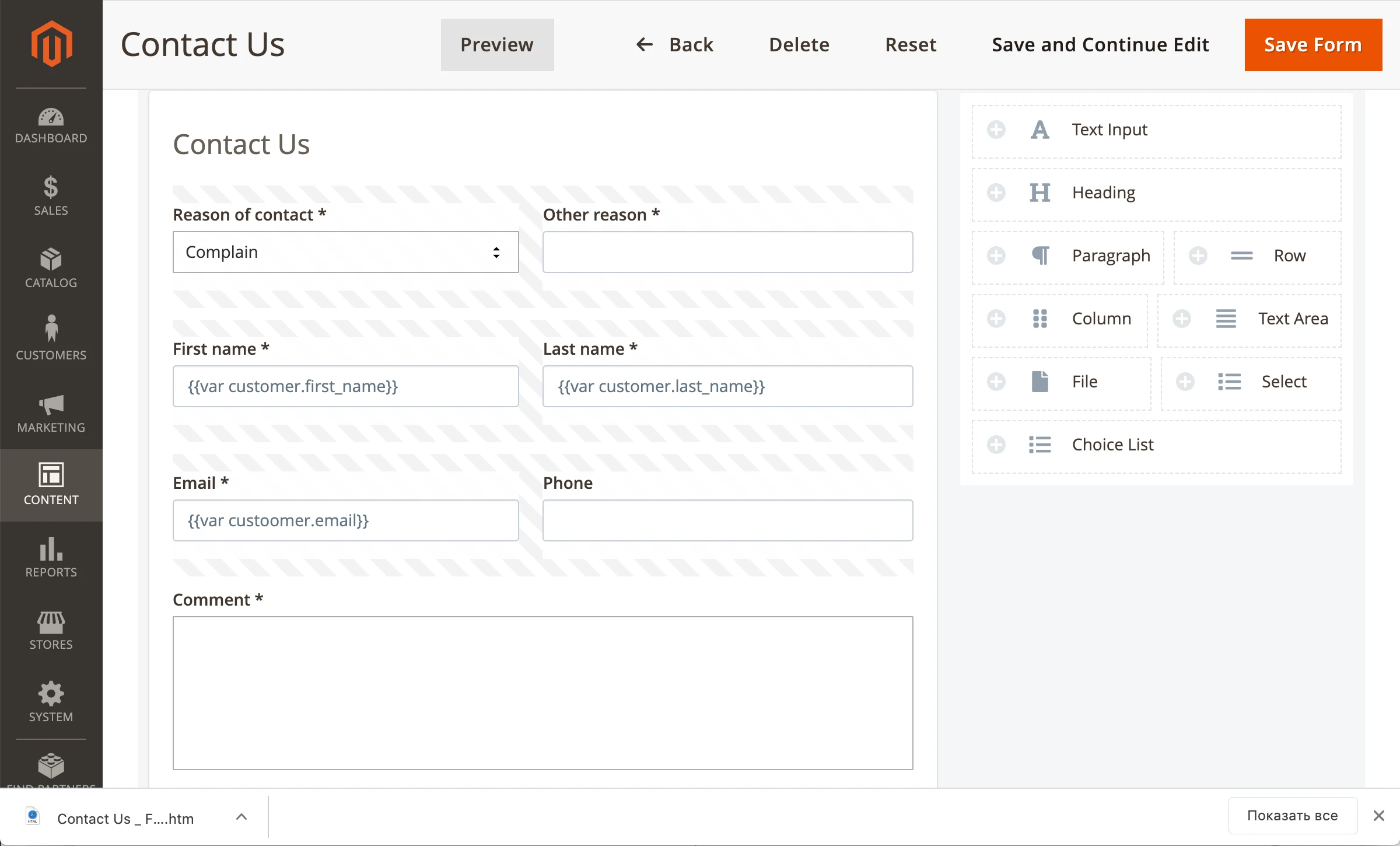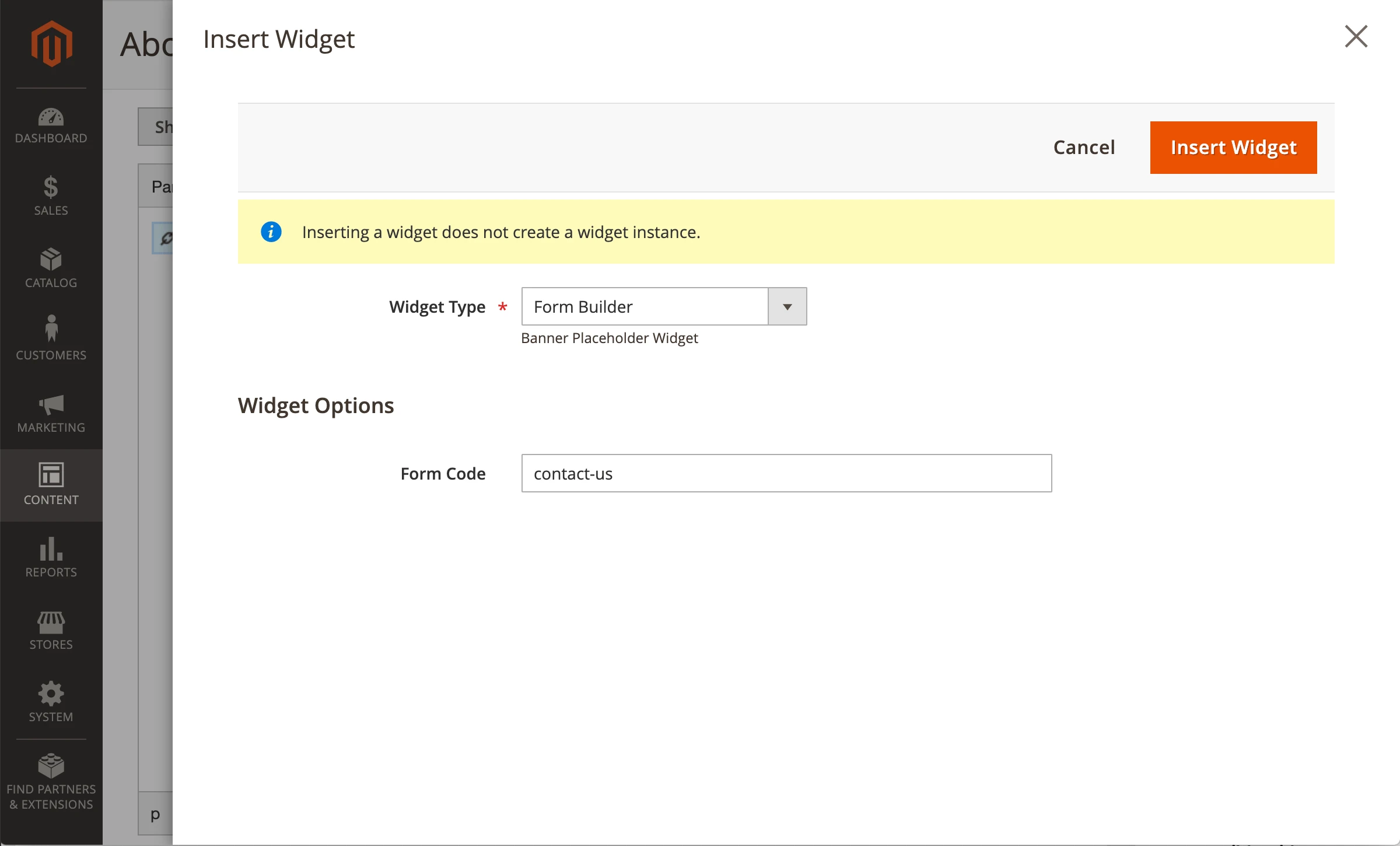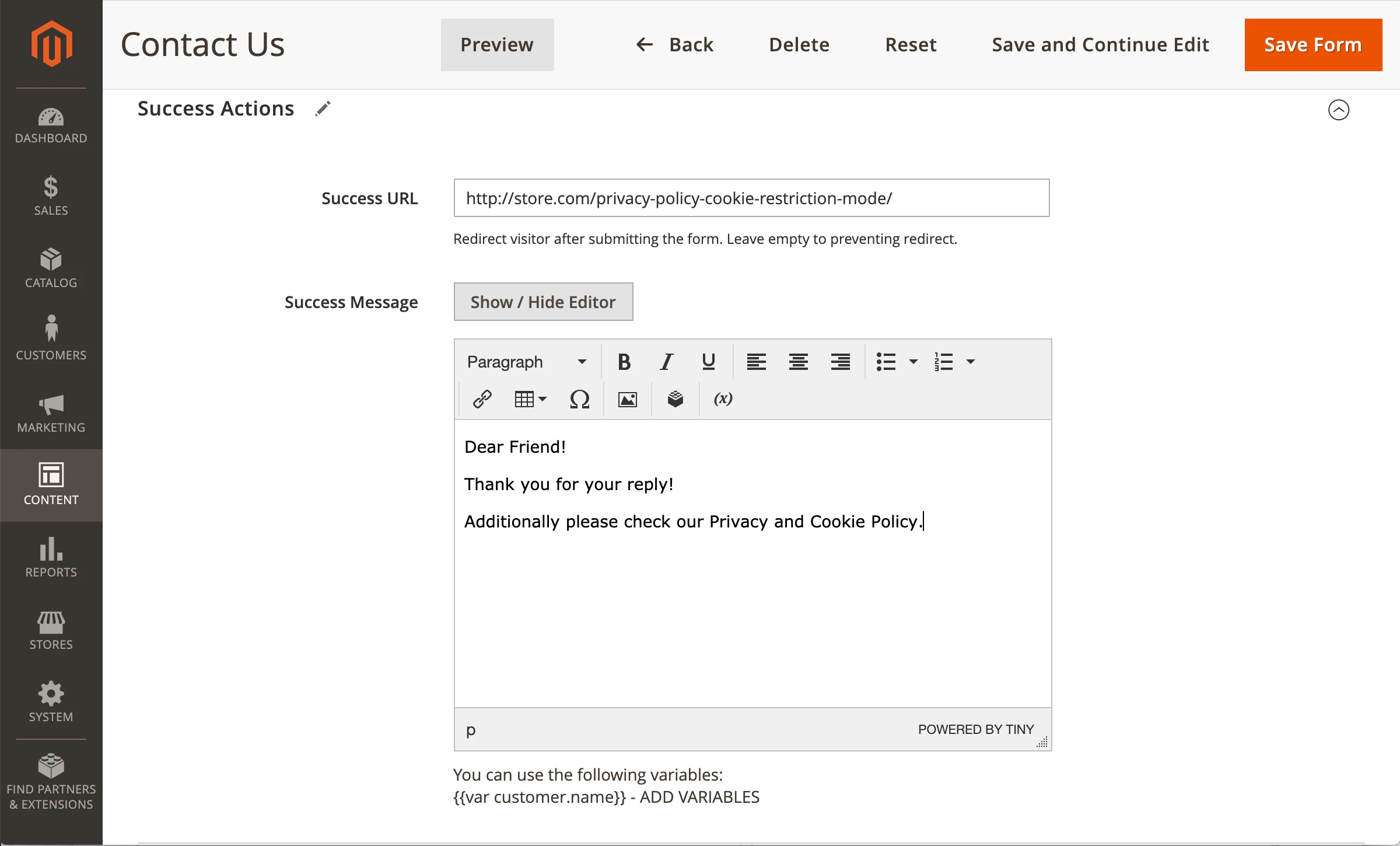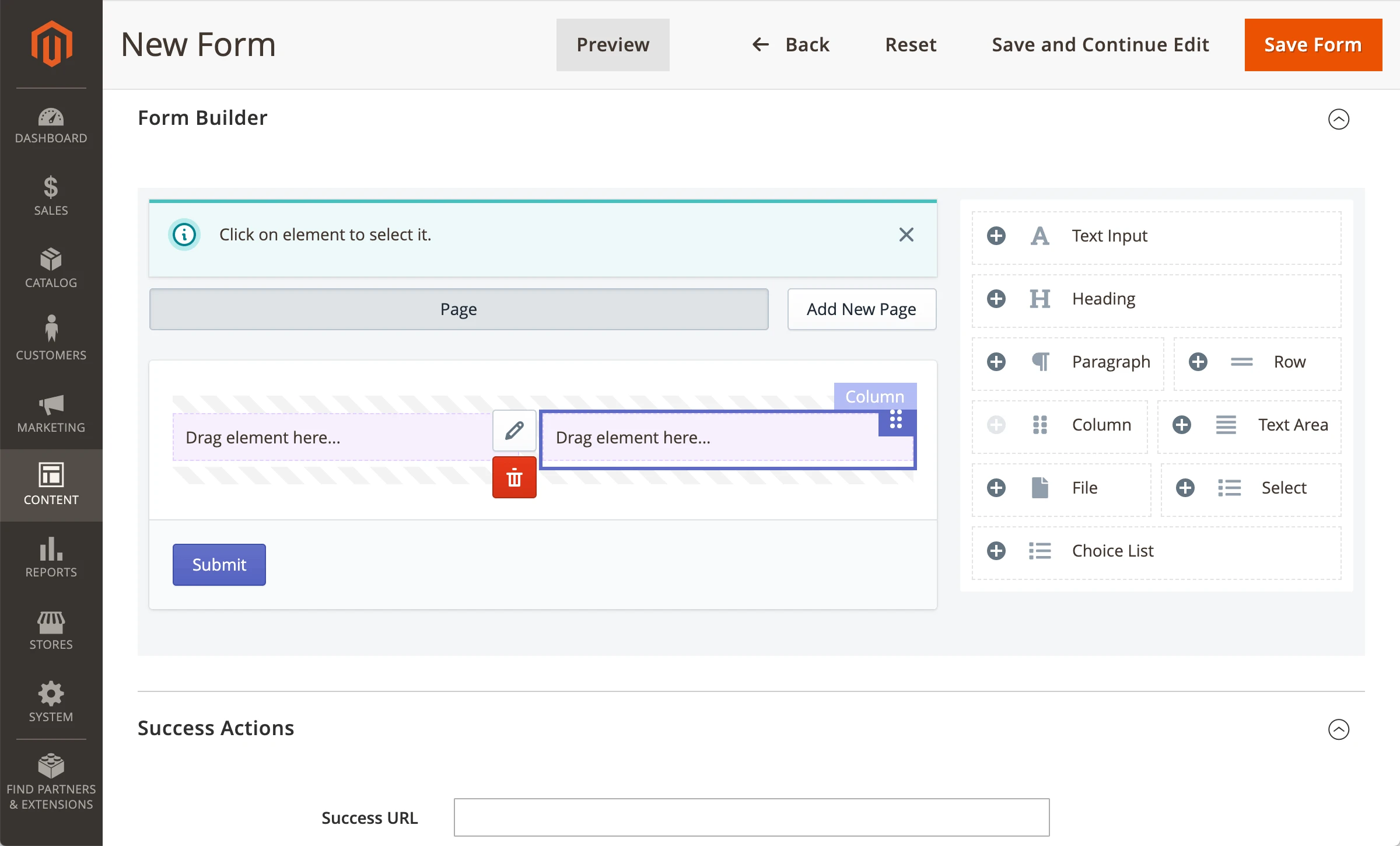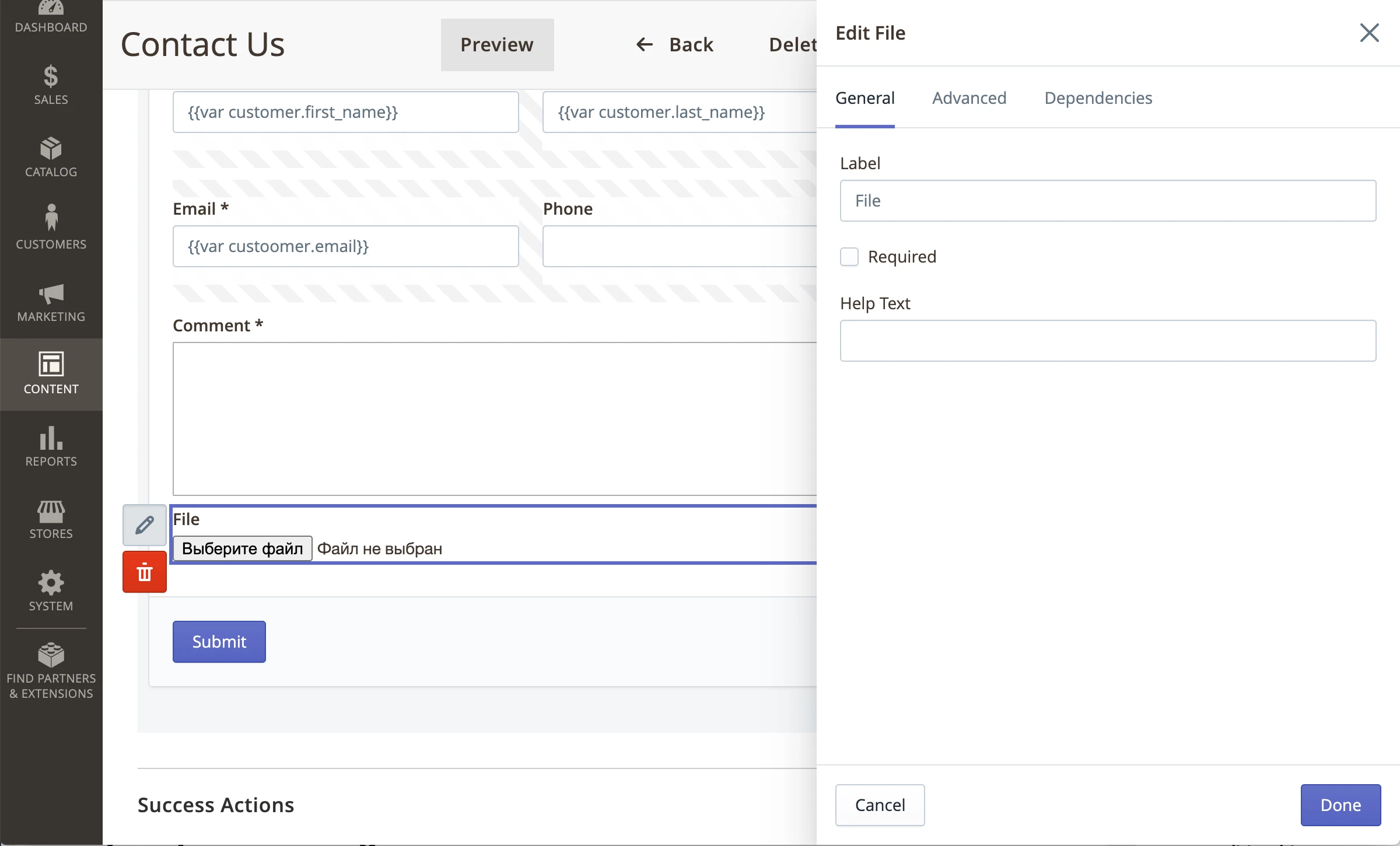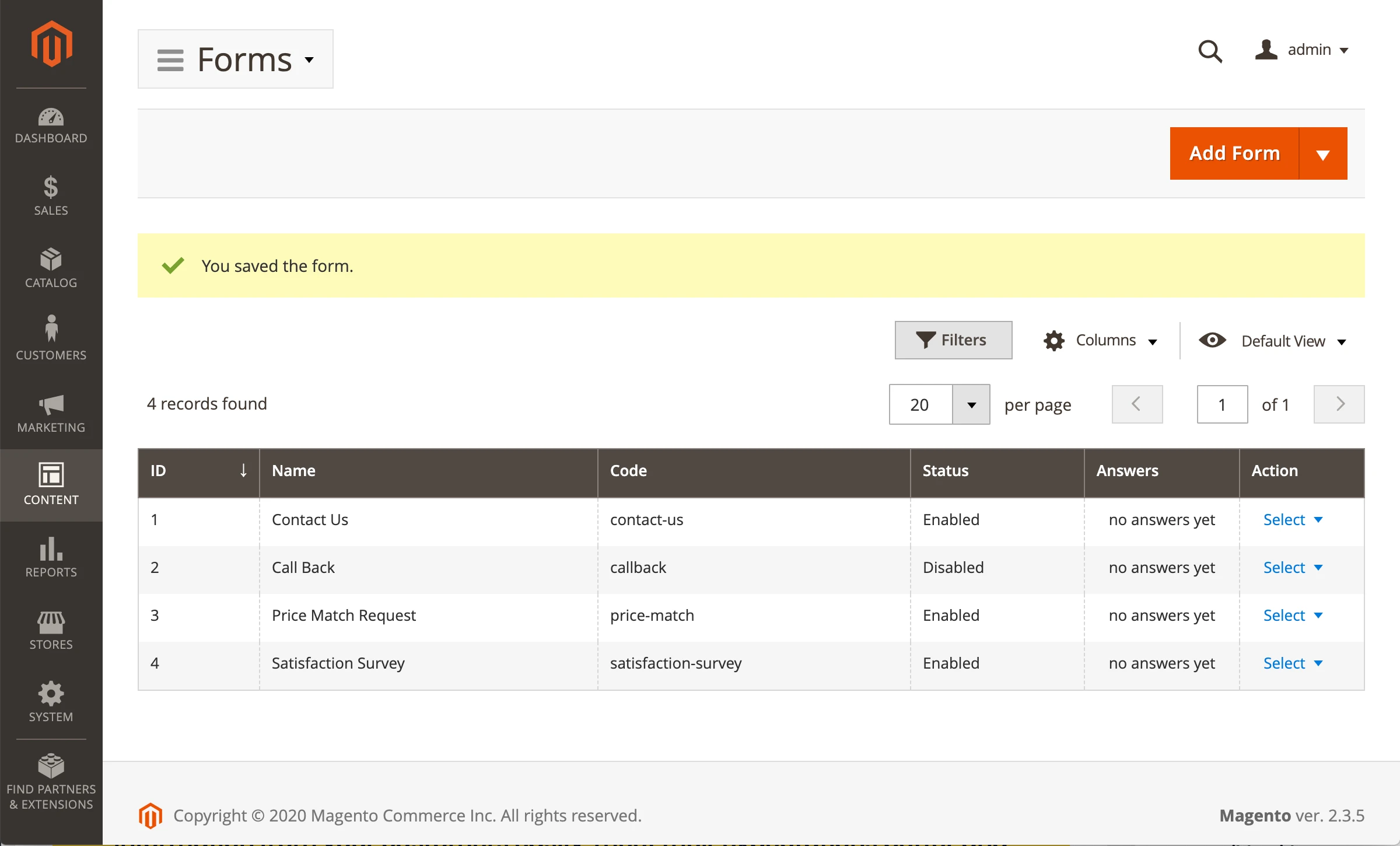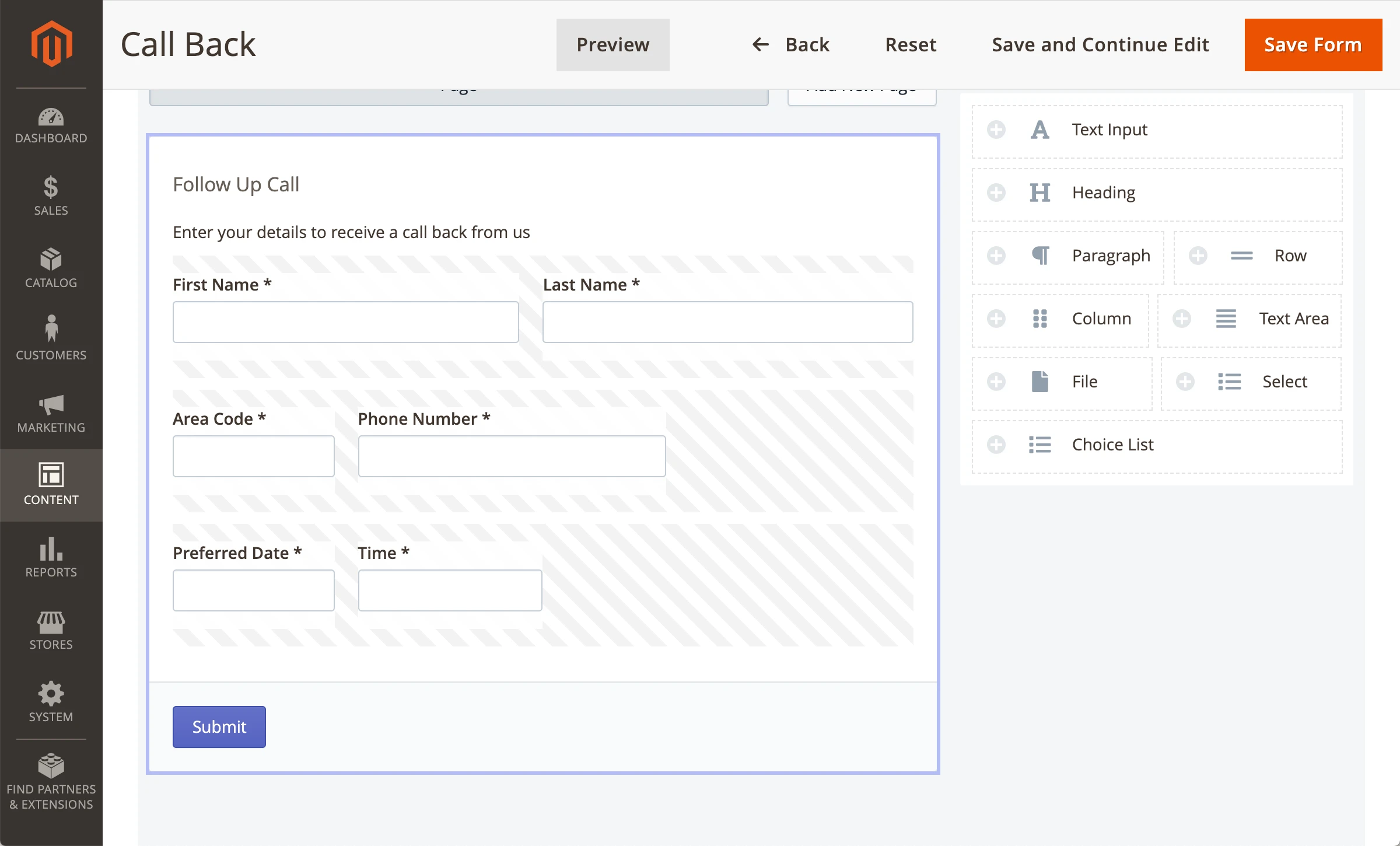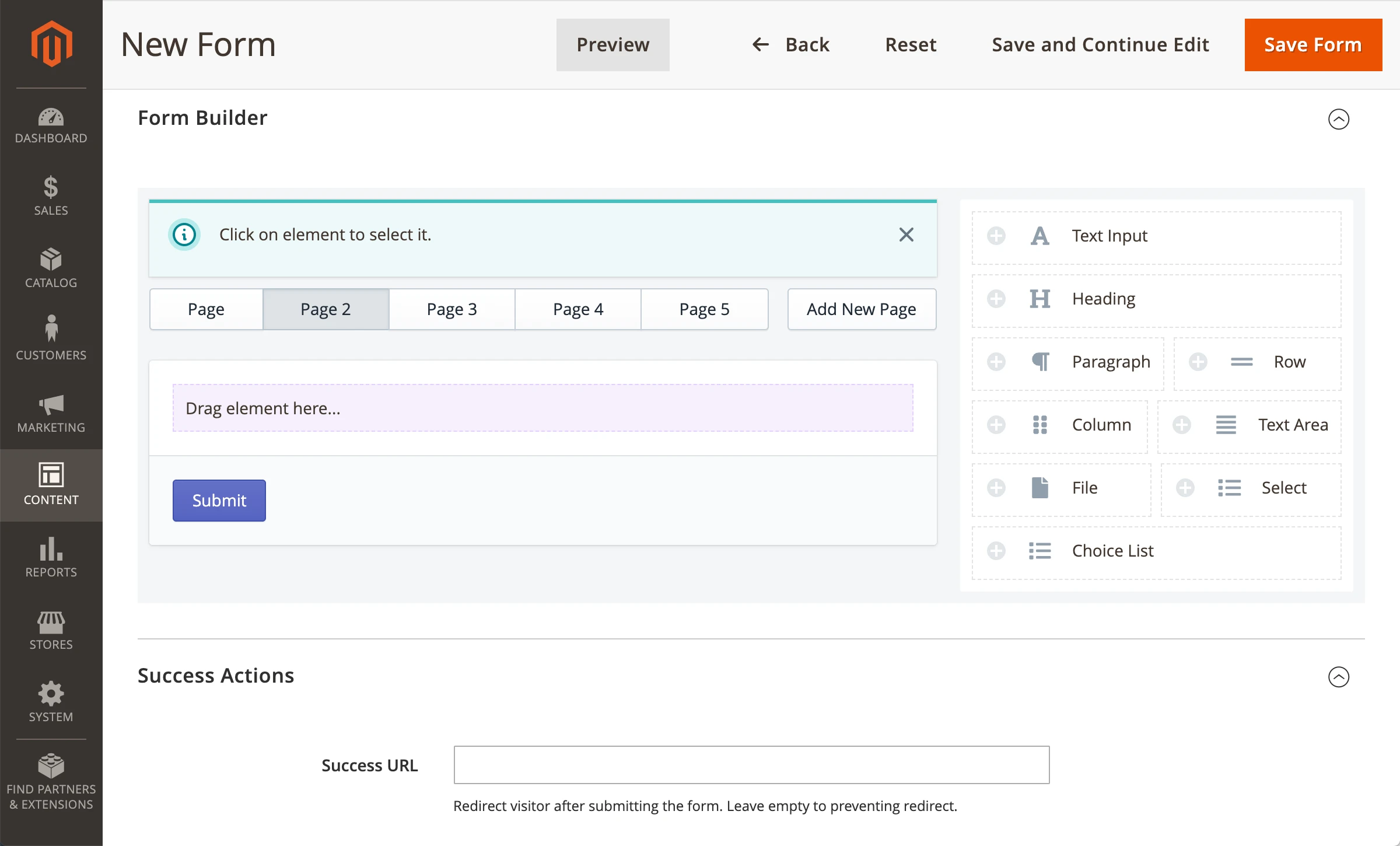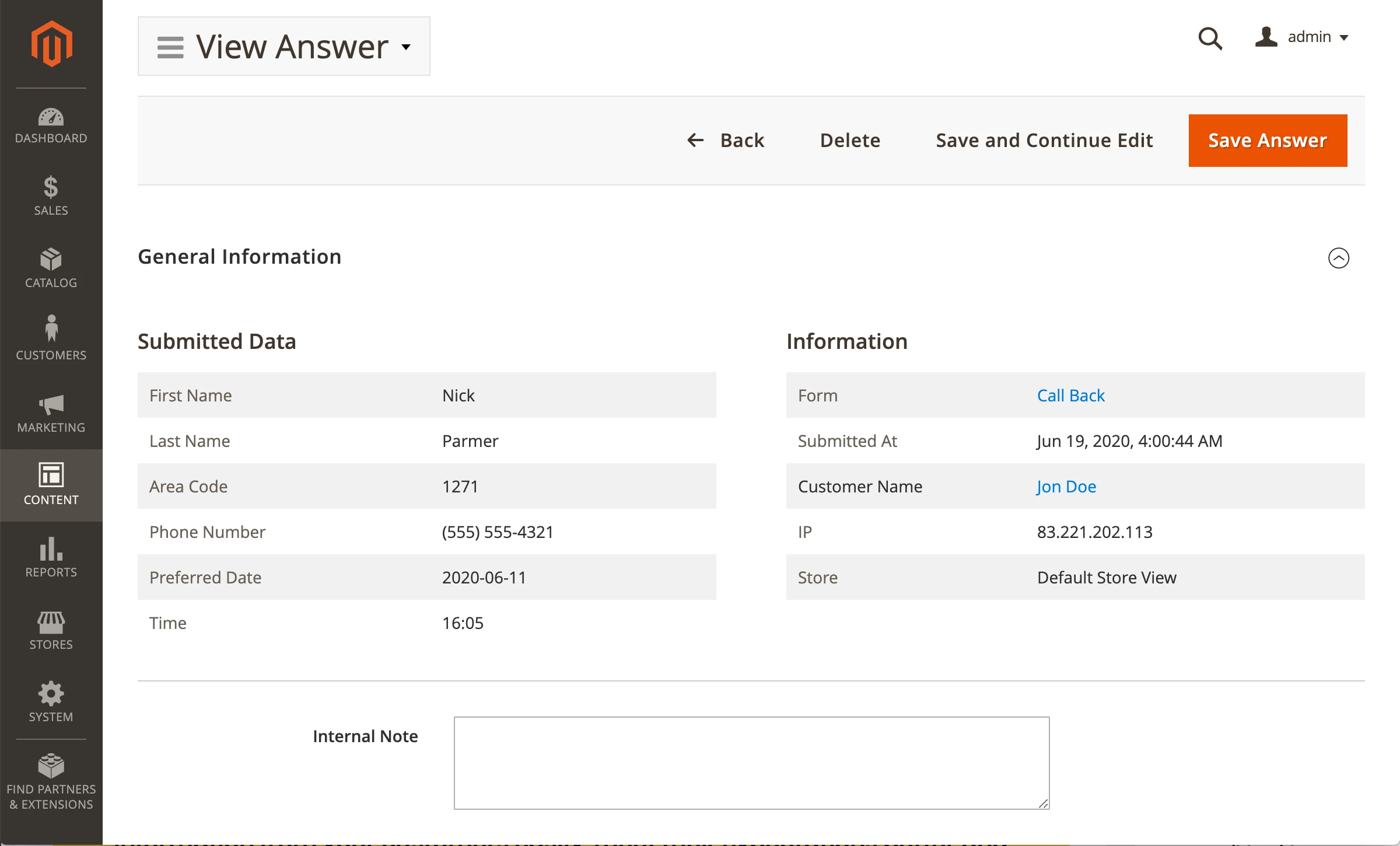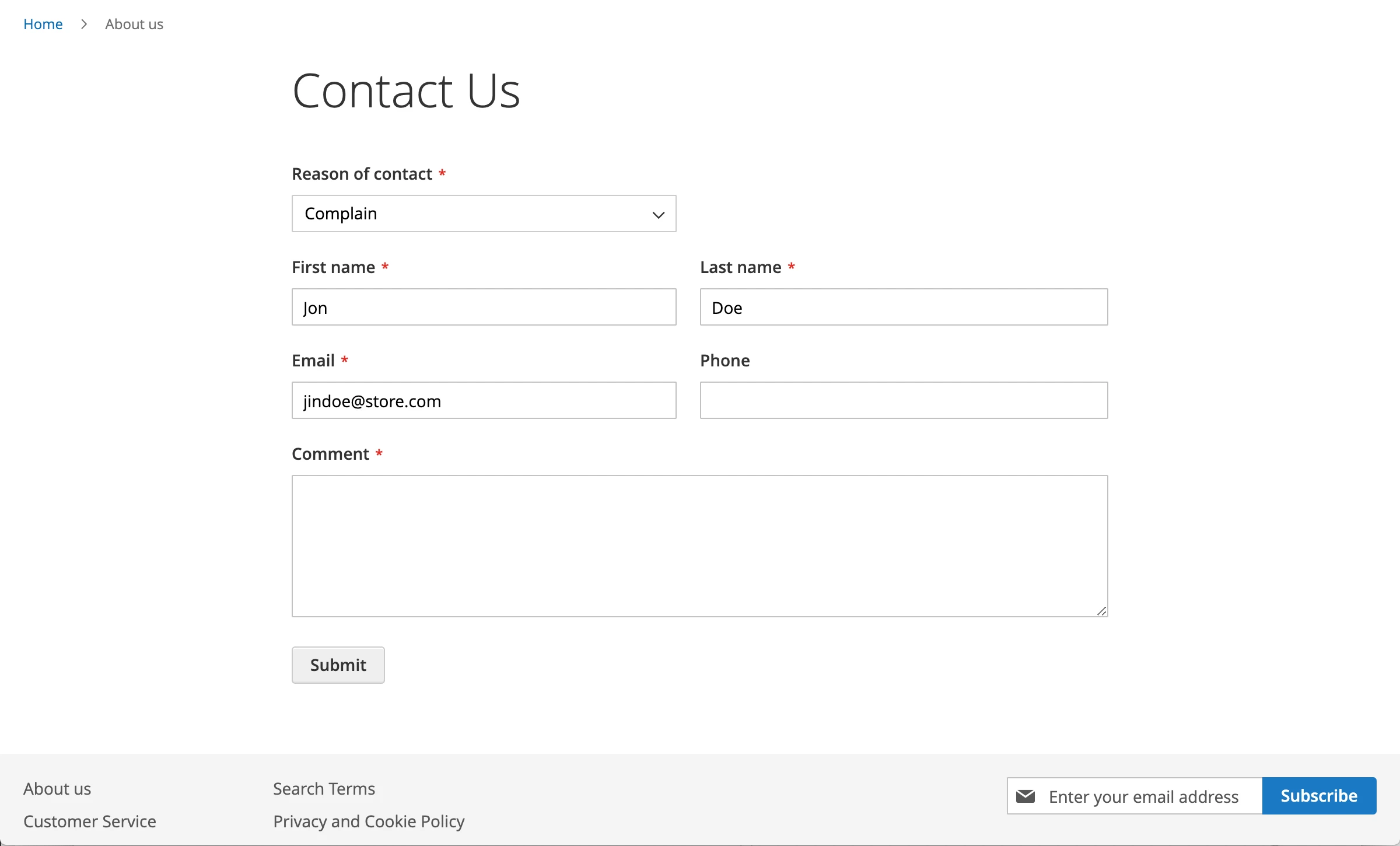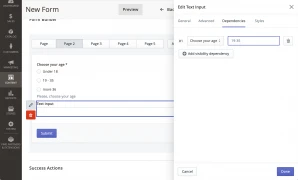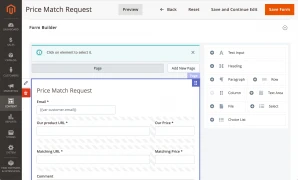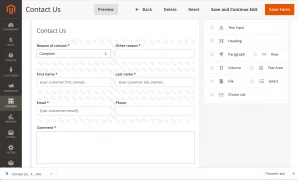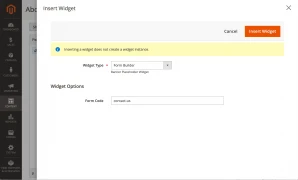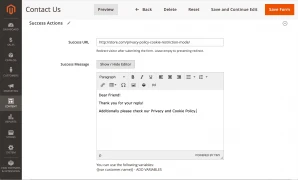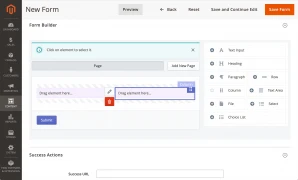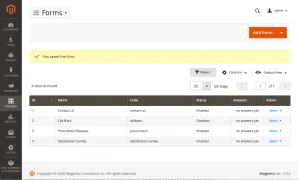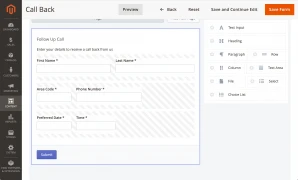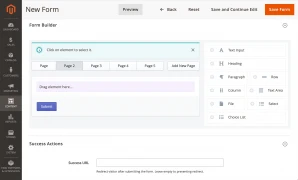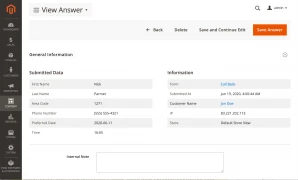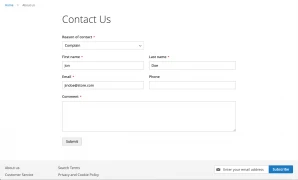 What does Magento 2 Form Builder do?
This powerful and easy-to-use extension allows for creating eye-catching forms (call back forms, price match requests, contact forms, order forms, etc.) of various complexity in a visual editor.
You can embed pages to your site by using standard widgets without writing any code. The Form Builder is very flexible and includes a conditional field logic.
All answers are grouped in the backend area. A clear and transparent system of statuses lets you analyze collected results effectively, improves your services, and increases your business efficiency.
Why do you need a Form Builder for Magento 2?
Increases the effectiveness of collecting information about customers and their decisions

Simplifies the process of creating forms, polls and surveys

Minimizes the effort required in creating a form and adding it to the site

Speeds up the processing of submitted data

Pre-fills specified fields on the forms for logged-in customers
Fully-featured form editor
Use an intuitive drag & drop editor to create an advanced magento custom contact form without touching a single line of code.
Each element comes with various custom options, and you can add, copy, or remove form fields.
Choose any type of question (open-ended questions, closed-ended questions, multiple-choice questions, etc.) to match your survey format.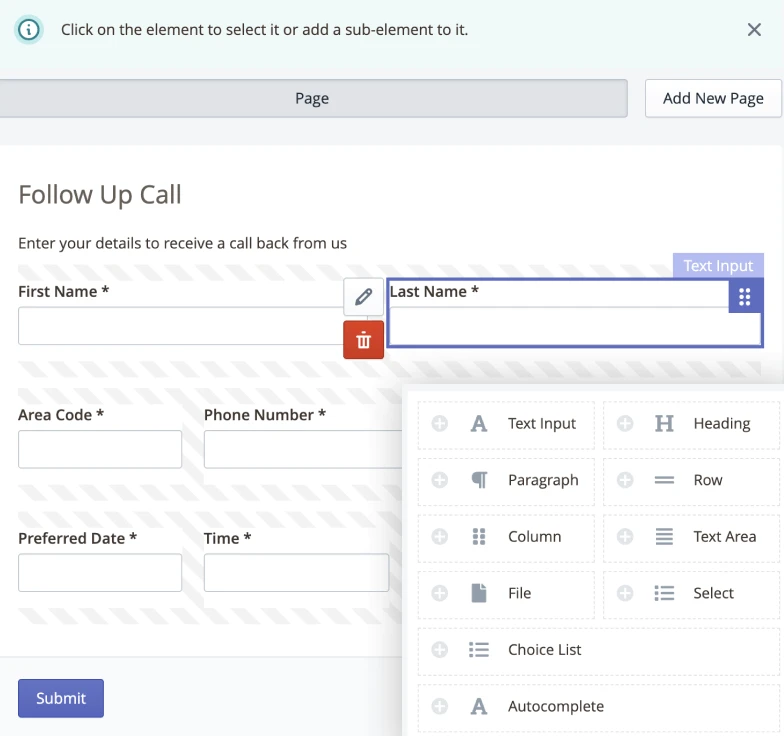 A Wide Selection of Form Elements
Our magento custom form extension allows you to customize your form to specific needs. Supported magento form elements include:
Row/Column
H1-H6 Headers
Paragraph
Text area
Text input
Number input
Dropdown
File attachment
Checkboxes
Radio List
List box
Multiselect list
Products autocomplete
Design your form creatively and motivate your customers to submit a form.
Extensive multi-column forms
Make your forms more user-friendly by dividing them into multiple columns and placing the fields next to each other.
Multi-page forms
Improve user engagement by breaking long forms with multiple fields into multiple pages.
Add pages quickly and easily with the magento contact form extension.
Conditional dynamic fields
Our extension includes dynamic fields that enable you to build a conditional logic between the fields and set up which field comes next depending on the customer's answer.
It helps to create more detailed and personalized surveys and directs customers to certain steps.
Ready-made templates
Save yourself time and create your forms faster with the ready-to-use templates our magento form builder provides.
Customize them to your needs by changing design and display options.
Pre-filled fields with customer data
Automatically pre-fill your forms with the values of the logged-in customers. The information about First Name, Last Name, email, phone, address, etc. can be taken automatically from the customers' accounts.
File uploads
While completing the form, the customer can attach files like PDFs or images.
Form embedding using widgets
The extension supports form widgets so that you can insert forms anywhere on your site. With widgets, you can select the position of the form and draw customers' attention to your form.
Customer permissions
Show your form on selected pages of your online store or for certain groups of the customers.
Customized successful messages
Create personal messages for your forms and decide on post-form actions. After filling in the form, you can automatically redirect your customers to the product page or FAQ section.
Fully responsive design
The forms are well-performed both for desktop and mobile versions.
Magento 2 Forms Builder has all the functions you would expect from a form tool. Create as many forms as you want without any coding experience, easily get information from your customers, meet their expectations better and increase your sales rates.
Additional Features of Magento 2 Form Builder
Email notification for administrator
After the customer has completed the form, the admin of your store gets notification messages automatically. Such notifications speed up the work of your online store.
Internal notes for answers
Create notes for received answers in the backend area.
Frontend preview
Using this function, you can see how your form will look before publishing it on your site. Make necessary changes and publish the final version of your form.
Backend form submission
All submitted data is kept in the backend of the extension, and you can analyze collected results by status or other criteria.
Form validation
Any field of the form can be set as required using the magento form validation this module provides. When customers omit a particular field or submit it in the wrong format, it will be highlighted, so that they can see which field needs editing.
Spam protection
The extension is empowered with integrated Google reCaptcha functionality to protect your online store against spammers and abuse.
Get the ability to add forms to your store without any coding required - install the Magento 2 Custom Form Builder!
Frequently Asked Questions (FAQ)
Get answers to the most popular questions regarding the Custom Form Builder for Magento 2 module
How do I deal with spam bot submissions of the web forms?
A functional Magento 2 store can find itself in a situation where its publicly available webforms are abused by automatic spamming bots. As an example of such public webform, a magento 2 contact form can be named. A popular way of protecting such forms from abuse is by using CAPTCHA and similar tools.
Our extension provides support for reCaptcha as a protection against spam bots. This protection service is supported by default Magento 2. The spam protection option has been available since the Custom Form Builder version 1.0.9. Please update the extension if you are a current user of this module, or control the version for a new installation.
Can a form created with a Custom Form Builder be used instead of the contact form of the Help Desk MX module?
A default Magento 2 provides a contact form for customers to reach the store's staff. This communication channel is often used as a channel for providing customer support, thus the Help Desk MX module, which is a tool for organizing a versatile support system in Magento, replaces the default contact form.
The Custom Form Builder can be used to create a contact form, however there is no HelpDesk MX and Custom Form Builder integration at this point. The form created by the Custom Form Builder will not be suitable for usage as a support channel since there is no option for adjusting the "reply to" field of notification emails for the submitted form. The Custom Form Builder sends emails from the same address as the gateway email in the Help Desk MX, meaning that the "reply to" field would have the store's email, and not the customer's email.
Can a custom form builder populate customer attributes?
The Custom Form Builder module supports magento web form creation with included variables. These variables can be used for populating customer attributes like first and last name, email, telephone, etc. in the magento form creator.
How is a form created with Custom Form Builder embedded into the Magento frontend?
Custom forms that are created using our extension are displayed through the functionality of magento widgets. In order to present a form to customers, it is necessary to insert a magento widget on a page where the custom form should be located. The Widget Type should be selected as Form Builder, in which the code of the created form should be pasted. Get an example of form embedding in the Form Builder documentation.
Who can view the data on the submitted forms?
Our magento custom form module provides a functionality of viewing the submitted data on forms. The information is available on the frontend and backend of the store. Every customer can view his or her submitted forms on the store's frontend in his or her account. The store's staff has the ability to monitor all submitted forms.
Where is the data from forms created with Form Builder stored, and is it accessible from the Magento backend admin panel?
When creating custom forms with our extension, you have full control over the data that users feed into the forms. This information can be accessed in two ways.
The data is stored in the native Magento database in a table created by the Form Builder extension. You can view and edit this table with any database manager you find most suitable.
Additionally, the Custom Form Builder extension provides a convenient user interface in the Magento backend admin panel to access the form data. Navigate tothe Content > Form Builder > Answers menu to view it.
Find additional information on the Custom Form Builder extension in its user guide page by following the link to its documentation.
Does the Magento 2 Custom Form Builder allow for grouping fields and using conditional logic to hide/show the field grouping?
Our magento form generator provides the functionality to create magento webforms that have fixed fields and representation. It doesn't provide fully dynamic forms that use several different logic paths to show/hide a number of different field groupings.
However, the Custom Form Builder module allows in some scenarios for the creation of a form that can mimic the behaviour of the dynamic form. The extension provides the option of visibility dependency that, when enabled, blocks the displaying of the form element until the specific condition are met. In this way, simple magento webforms that contain changing elements depending on the users' choice can be created.
See it in action!
Pick a quick tutorial to learn about various aspects of this extension
Dodell
Verified Buyer
Rickmansworth, United Kingdom
I've used this on a few sites now. Very easy to setup and does a great job.
Also installed: Advanced Reports, Layered Navigation
Very simple and easy to use
Also installed: Improved Sorting, Automatic Related Products, Advanced SEO Suite, Mass Product Actions, RMA, Follow Up Email, Affiliate and 10 more
Es de las mejores extensiones que hay en el mercado, la interfaz es muy fácil de usar e intuitiva creo que es el modulo de formulario mas rentable del mercado
Also installed: Help Desk MX, Google PageSpeed Optimizer
Good extension that is very powerful and useful
This is a great extension that allows for creation of all types of forms. It's quite powerful once you learn how it works. Highly recommend if you need to extend on the default contact form in Magento.
Also installed: Advanced Reports, Event Watcher & Notification, Sphinx Search Ultimate, Full Page Cache Warmer, Automatic Related Products, Health & Performance Monitoring Suite, Follow Up Email and 16 more
Easy to install and use, but requires additional functionality
Martin
Ho Chi Minh City, Vietnam
We have used a few Mirasvit extensions. I have added this module to our website. The module is easy to use, but needs additional features such as duplicate, multi pages ...
Also installed: Elastic Search Ultimate, Reward Points, Follow Up Email, Customer Segmentation Suite, Mass Product Actions, Store Credit & Refund, Product Kits and 17 more
Manual & Support
Need more help?
Save time by starting your support request online and we'll connect you to an expert.
Contact Us Now
Changelog
Version
1.1.12
Sep 1, 2023
Error "Mirasvit\FormBuilder\Repository\FormRepository::getByCode(): Argument #1 ($code) must be of type string, null given"
Version
1.1.11
Jul 18, 2023
Error "Call to a member function setTemplate() on bool in FormBuilder/Block/Form.php:135"
Version
1.1.10
Jul 10, 2023
Version
1.1.9
May 10, 2023
Unable to submit form when a file element is not required
Version
1.1.8
Feb 13, 2023
$form must be of type Mirasvit\FormBuilder\Api\Data\FormInterface, null given, called in FormBuilder/Block/Form.php
Saving of the "Email Configuration"
Displaying of the file upload errors
Reasons to choose Mirasvit
Client focusing and satisfaction
These are our primary. A major portion of our new clients come from referrals from our existing clients. Our professional team of developers, marketers and support staff have invested the best knowledge and experience in the field into our work, so you know you can come back to us again and again.
Remarkable support
One year free and high quality support. We go to great lengths to provide maximum satisfaction with every module you have purchased in our store. By helping you with installation, configuration, answering your every question, we do all our best to eliminate any possible problems.
Risk-free Investment
30-days money back guarantee. If you are not satisfied with our extension performance for any reason, we provide a full refund.
Constant improvements and upgrades
We constantly add new features to all our modules, and are always interested in hearing your opinion and implementing your suggested features in our future developments.
Comprehensive Documentation
We provide an expanded user guide for every aspect of our extension, so you can find answers for all your burning questions.
Unencrypted source code of our products
You can customize extension according to your needs and requirements.
Usability and Performance
The Module is easy to install and upgrade, just follow our step-by-step user guide.
Safe Magento updates
No core modifications. Just use the composer or copy the extension files to the root directory of your store.