 The extension provides an incredible search experience. The search returns relevant results within milliseconds It will increase your store conversion rate simply using your search results!
Superior speed and great quality of search results
Super-fast search using autocomplete
Automatic correction of typing errors during search
Search across multiple content types
Responsive & mobile friendly interface
Fastest Search
This is the fastest search autocomplete on the market
Free Installation
We offer free installation of elastic search engine
Who else use Elasticsearch
Extension Demos
Pick a quick tutorial to learn about various aspects of this extension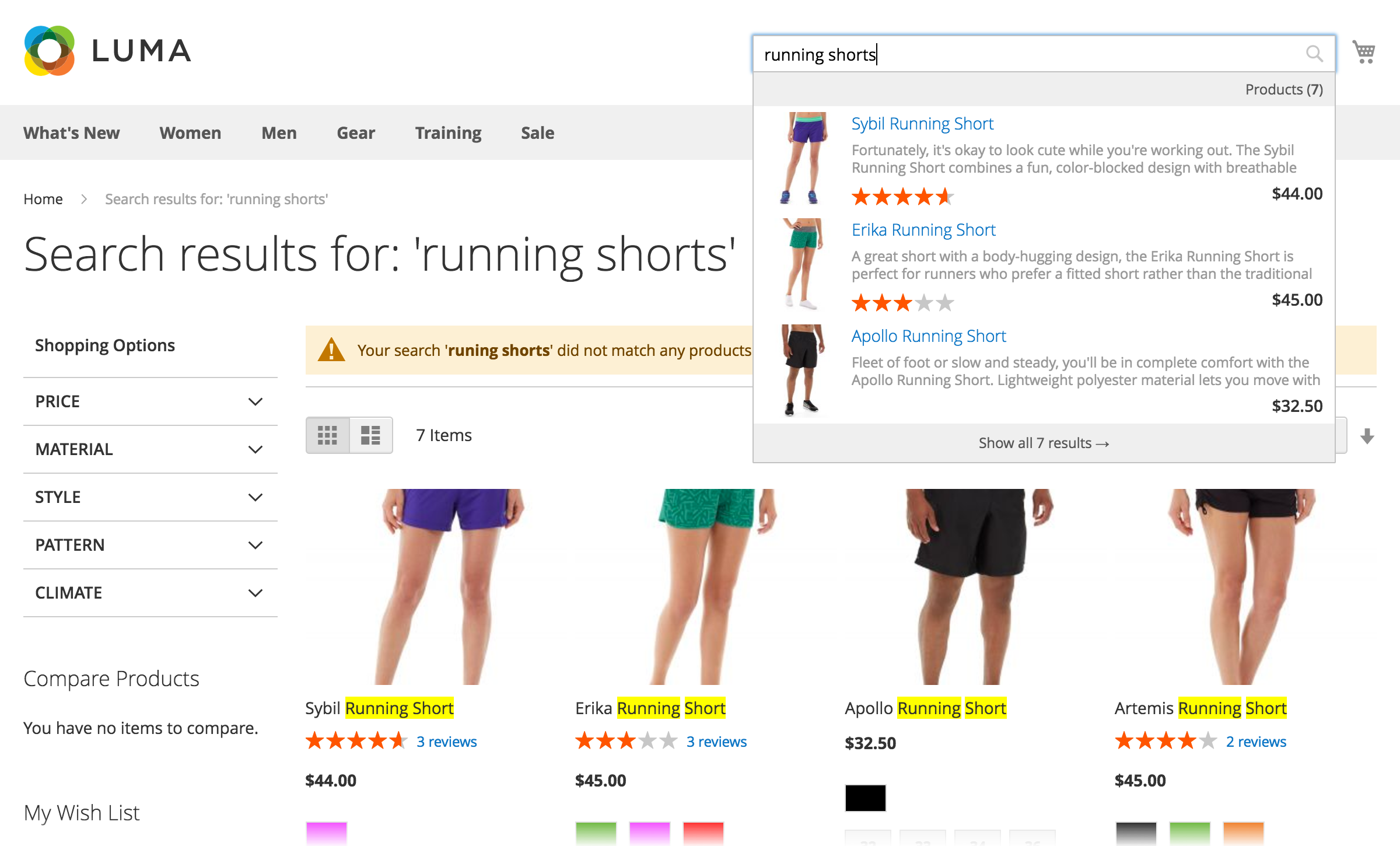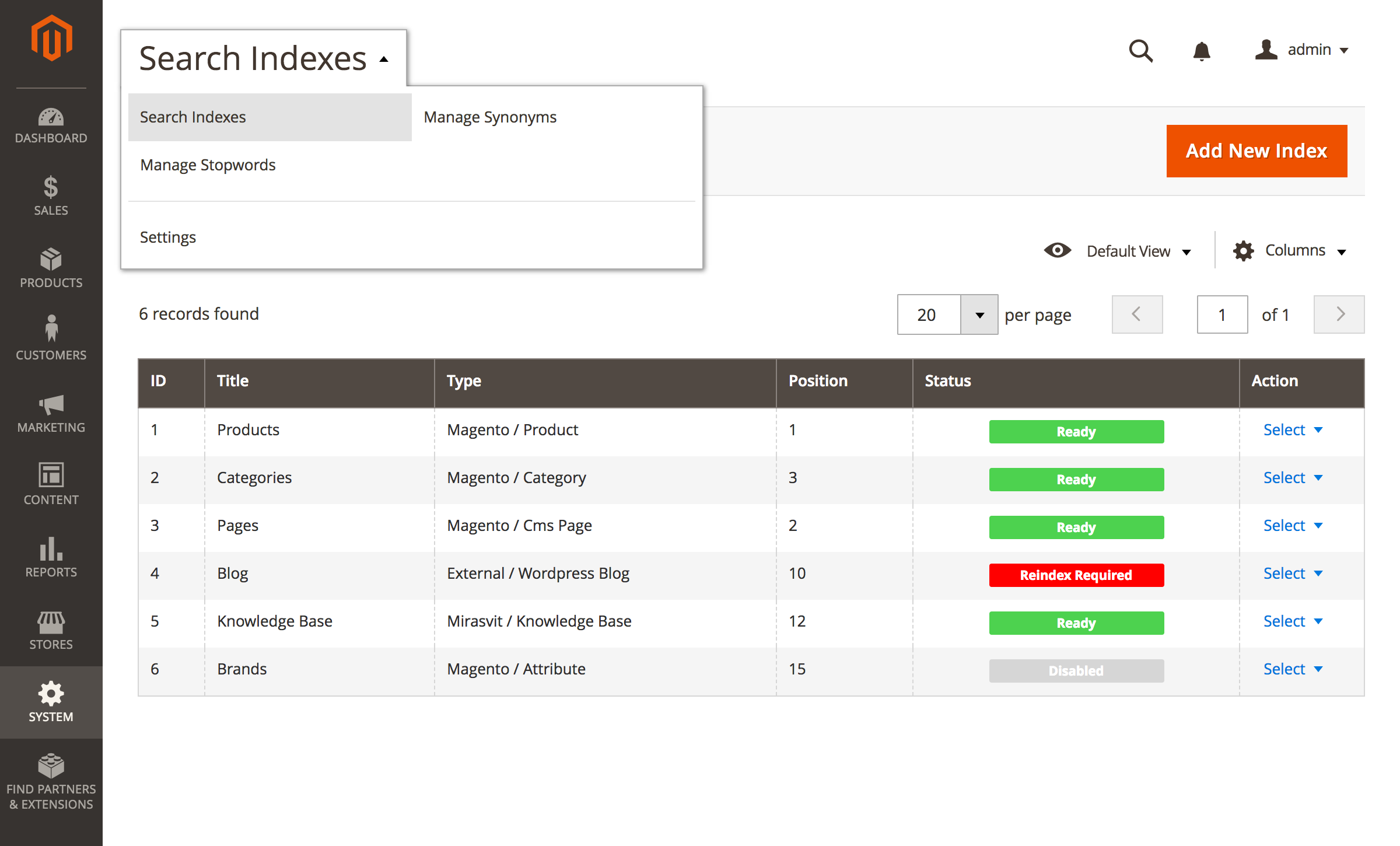 Product search is one of the most important and powerful tools in online store. If your search quickly delivers relevant results, your customers can find and buy the products of their interest. Smarter and faster product search will help you increase sales!
Elastic Search Ultimate provides your store with one of the fastest and the most powerful search features available for Magento 2.
To perform the search, our extension uses the Elasticsearch engine. This is one of the world's leading engines and a free open source product designed to offer horizontal scalability, maximum reliability, and easy management. It can fulfill the most sophisticated requirements of modern online stores. The extension connects the Elasticsearch engine to your Magento 2 store and ensures quick and relevant search.
The use of Magento 2 Elasticsearch extension improves your store's search results and lets customers perform search of any kind. Elastic Search Ultimate strives to change customer experience in your online store by speeding up the search in your store and making it more useful. The search works great both on desktop and mobile devices.
Feature Highlights
Super-Fast Search Using Autocomplete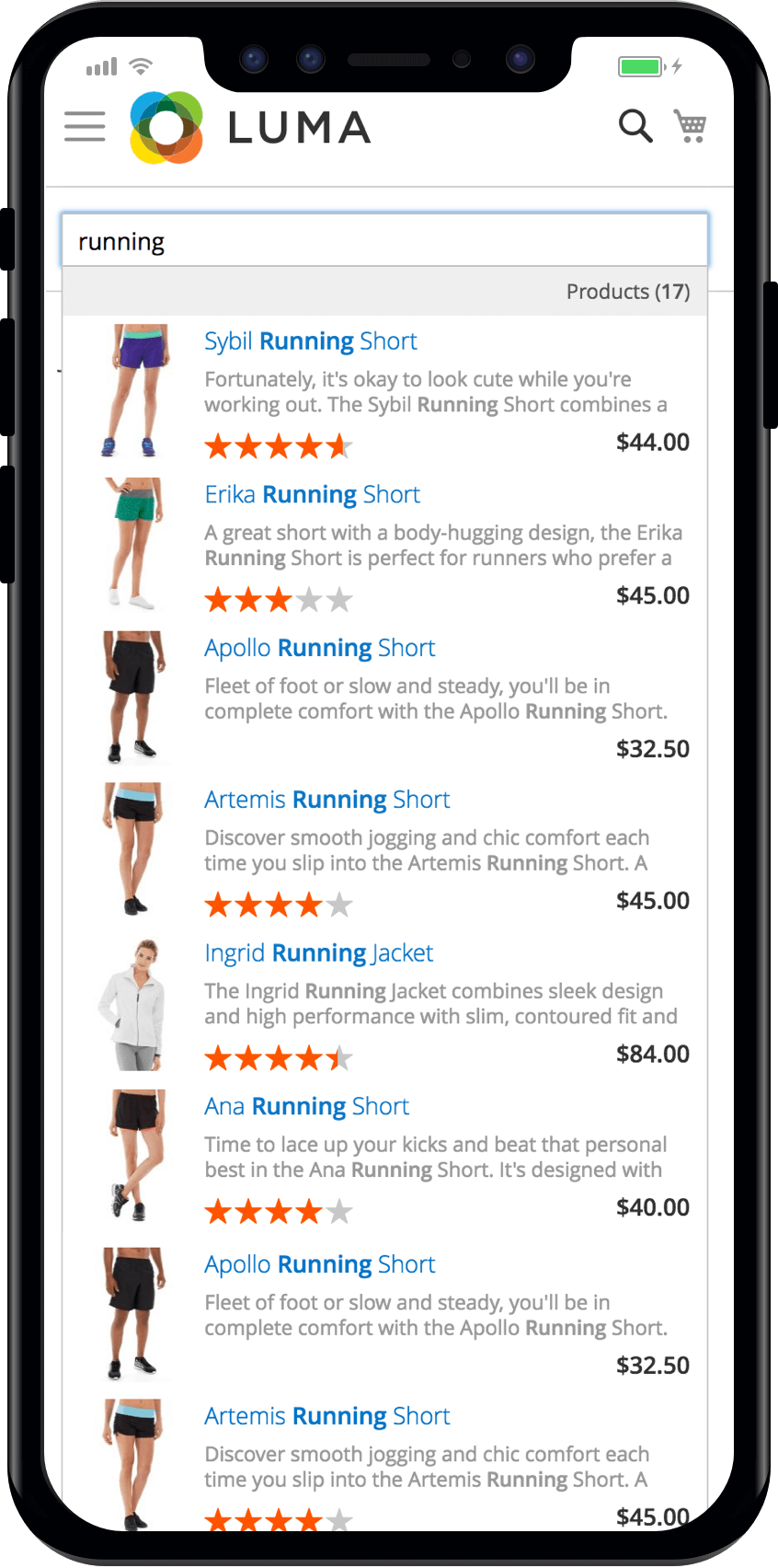 The Highest Speed of Autocomplete on The Market
Provide exceptional customer experience by adding the fastest search autocomplete on the market to the search bar of your store. Search autocomplete is the first thing used by the customers during product search. Our extension makes it perfect.
---
Full Control Over Autocomplete Appearance
The results obtained with search autocomplete include different product information. You can decide what kind of information obtained results will reflect.
---
Multiple Types of Content in Search Results
Search results obtained with our extension can show not only products, but also other types of content such as categories, CMS pages, blogs etc. For example, if your customer is looking for your shipping policy, s/he will quickly spot correct page on your website.
---
Hot Searches
Autocomplete reflects the 'hot searches'. Thus, you can promote some search queries which lead your customers to exclusive offers in your store.
---
Responsive and Mobile-friendly
Our autocomplete supports all responsive themes. It provides great user experience on mobile devices.
High Quality of Search Results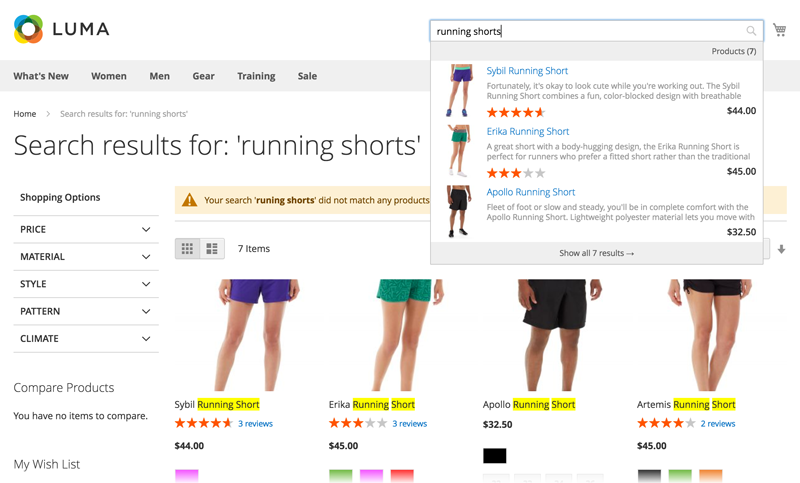 High Relevance of The Search Results
Extension sorts the search results by relevance to the search query. The goal is to show the most interesting products on the first page of the search results. Thanks to this feature, customers can instantly spot the items of their interest.
---
Full Control Over Sorting of Your Search Results
You have a full control over your search results. Establishing proper scoring rules, you can relocate certain products or groups of products such as brands or categories in search results provided for specific query or a set of queries.
---
Search Understands Language Morphology
The extension uses morphology preprocessors which allow to understand singular/plural words and different lexical properties of the search query. Thus, we are able to find products even if they does not include the exact search query of customer.
---
Search By SKU, ISBN, Abbreviations or Any Other Code with Special Symbols
The extension is equipped with a long tail search feature, that is, it can correctly search for any words with hyphens or special symbols. This is very important for E-commerce as customers very often search specific products by their SKU.
---
Applying Synonyms and Stop Words
The use of a list of synonyms and stop words allows to return correct results even when customer did not enter the query that fully matches to our products. This feature greatly improves the quality of search results.
---
Hiding Out-of-Stock Items
If product is out of stock, store owners don't wish to permanently hide it from the website because it will lose the Google search index. However, there is no use to show out-of-stock products in search results. The extension solves this issue letting the customers spot the only items that can be bought right away.
---
Correcting Misspelled Search Queries
Often customers misspell search queries. In this case, default magento search returns 'no results'. As a result, customers can't find what they are looking for in your store. Our extension has a powerful spelling corrector. It will correct all misspelled search queries and provide customers with the results they are hoping for.
---
Provide Alternatives If You Don't Have Exact Match To A Customer Query
Often customers search for some specific product. But if you don't have it in stock, offer available alternatives meeting customer requirements instead. The extension solves this task. For example, if customer is searching for 'red chronograph watches', but they are not available in store, our search extension will show results for a shorter query 'chronograph watches' and notify customer about it.
---
Return Related Search Queries in Search Results
Extension shows related search queries in search results. It allows customer to understand what other customers with similar requests are looking for, and may offer some good alternatives.
---
Full Multi-Language Support
All extension features are available for any store regardless of language of a content in question. The quality and speed of the search are equally high for any language.
Comprehensive Search All Over Your Store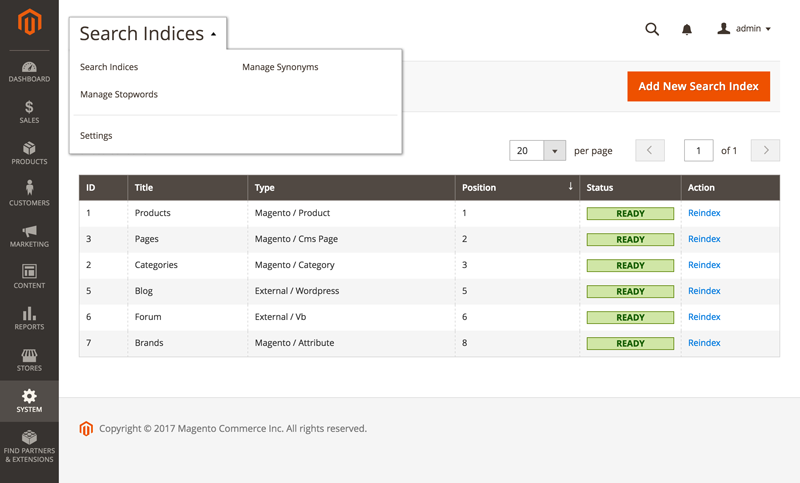 The extension allows your customer to search for almost all the types of content being present in your store. It includes the following items:
Products
Extension performs search by all the product attributes, product category names, custom options, related content, associated products and much more.

Categories
Extension shows the list of categories that match the search query.

Attributes
Extension reflects the values of some specific attribute in search results like a list of Authors or Brands matching the search query.

CMS Pages
Extension shows the list of CMS pages matching the search query.

Third Party Plugins
Extension can search by content of different plugins and even external systems like:

Wordpress Blog
Simple Press Forum
vBulletin Forum
Blog MX, Magefan Blog, Ves Blog, Mageplaza Blog, Aheadworks Blog
Knowledge Base
Blackbird Content Manager

Any Custom Content
Extension can easily incorporate your own search content in search results of your store. You can connect any data source your customers may benefit from.
Speed & Scalability
Super-Fast Indexing and Search
Extension uses Elasticsearch engine to index a content and perform a search. The speed of Elasticsearch is highest on the market. It's an enterprise-level solution.
---
Extension Improves Layered Navigation Speed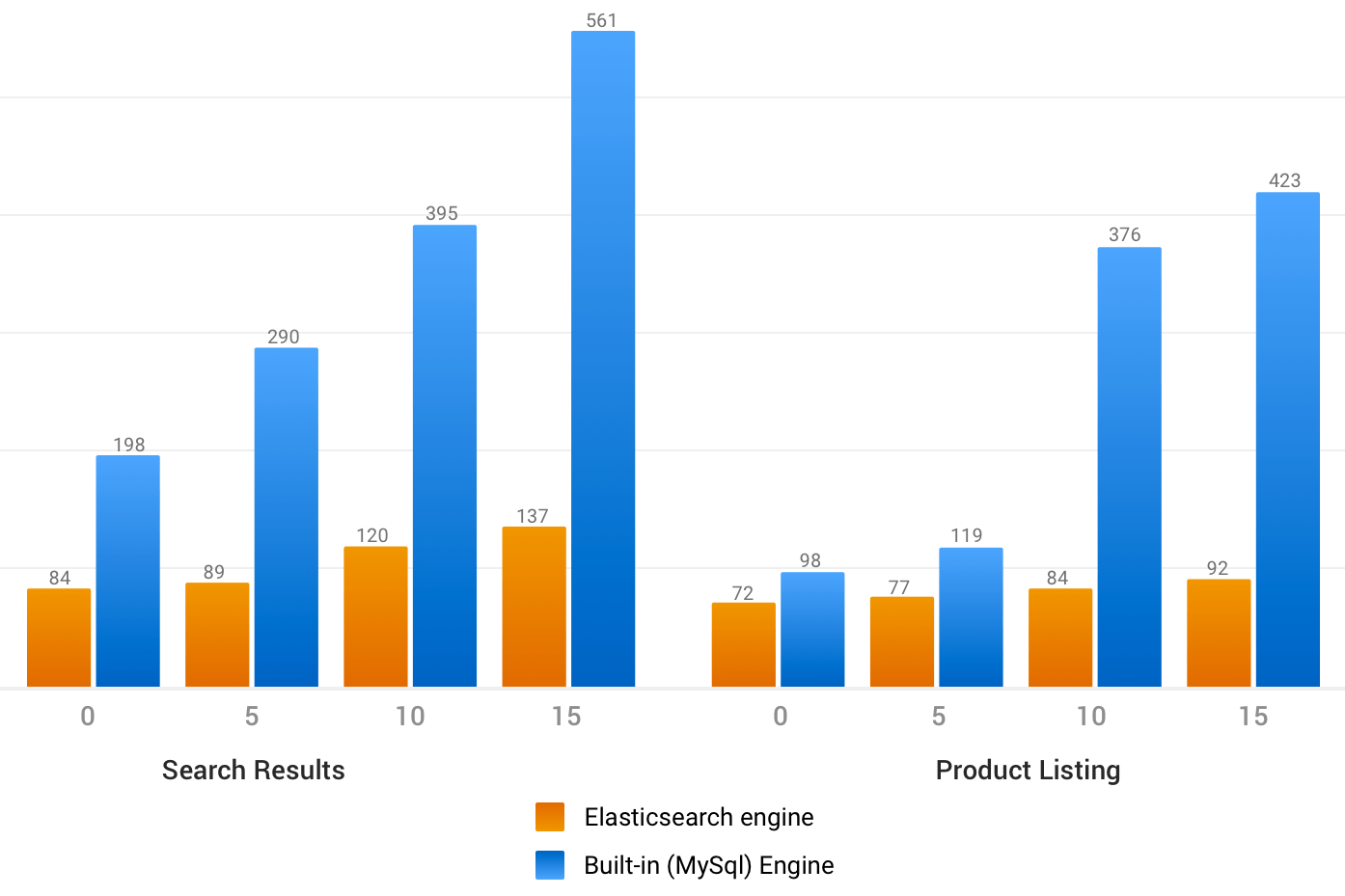 Number of sql queries to number of layered navigation attributes
Default Magento uses MySQL queries to build a layered navigation block. It is quite slow and consumes a lot of server resources as well as slows down all the catalogue pages.
Our extension solves this issue by replacing MySQL with Elasticsearch. All the complex aggregation queries are performed by Elasticsearch. Thus, it speeds up your catalogue and reduces load of your server.
---
Effortless Scaling Your Search Infrastructure
Most stores run the Elasticsearch on the same server as Magento. And it works perfectly. However, if you have a huge catalogue or a high volume of search queries or high availability requirements, you can run a cluster of Elasticsearch nodes. Cluster will distribute your load or data over different servers. And it's quite easy to archive the data with our extension.
Other Advantages
Redirecting From 404 to Search Results
Nobody likes to see 404 error pages. But when it comes to E-commerce, these things happen every now and then. To solve this problem, we redirect customer to correct search results page instead of showing 404 error page.
Say, your store had a product once and it got delisted, but Google still shows it in search results. Our extension will redirect your customers to a search results page with similar products instead of leading them to a 404 error page. In this way, you won't lose potential customers.
---
Redirecting Customers in Case of Single Result
The extension can redirect customer directly to the catalogue page in case of a single search result. For example, customer can enter a SKU of a product in the search box, hit Enter and get directly to required product page. No intermediate pages required here. It's a very convenient option.
---
Search Landing Pages
Extension can create special pages showing up search results for specific queries. But those pages will look like regular catalogue pages. They will have own SEO-friendly URL, a title and the meta tags.
For example, you can create a page 'Samsung mobile phones for ladies'. It will look like a regular catalogue page. But product list will return search results by query 'samsung mobile phones for ladies'.
Store owners with a huge number of products in their stores build their catalogue using search landing pages. They include links of those pages to the main navigation menu. It allows them to easily manage their huge catalogues.
Also search landing pages are very useful for SEO-optimization. You can create them for different search phrases with different sets of products. Their creation and support won't take up too much of your time.
---
Search Redirects
Sometimes you can show a customer your landing page instead of regular search results when s/he is looking for certain words For example, if customer is looking for the word 'apple', search can automatically redirect customer to the category with apple-related products.
---
Google Sitelinks Search
Incorporate your search results in Google search results. This is an amazing feature. Customers can search your store using Google. The search box greatly increases chances that customer will visit your website choosing it over the other links appearing in Google search results.
---
Reports
The extension offers powerful analytics of your store search. You can use the following reports:
Report by search terms, which shows the most popular search terms in your store
Report by search volume, which shows the number of search terms and engagement, that is, the ratio between number of clicks and number of search requests
---
Magento 2 Enterprise Elasticsearch
We also offer Magento 2 Enterprise Elasticsearch extension to improve relevance, add spell correction feature and speed up layered navigation.
Who uses Elasticsearch Engine
Elasticsearch is a real-time distributed search and analytics engine. It's used in projects of any size from startups to huge enterprise search clusters. Some examples:
Wikipedia
uses Elasticsearch to provide full-text search with highlighted search snippets,
and search-as-you-type and did-you-mean suggestions.
The Guardian
uses Elasticsearch to combine visitor logs with social-network data to provide real-time feedback to its editors about the public's response to new articles.
Stack Overflow
combines full-text search with geolocation queries and uses "more-like-this" to find related questions and answers.
GitHub
uses Elasticsearch to query 130 billion lines of code.
Compare with other Mirasvit search extensions
| | Search Autocomplete | Search Spell-Correction | Advanced Sphinx Search Pro | Sphinx Search Ultimate | Elastic Search Ultimate |
| --- | --- | --- | --- | --- | --- |
| Core | | | | | |
| Aucomplete | | | | | |
| Misspell | | | | | |
| Search MySQL | | | | | |
| Search Sphinx | | | | | |
| Search Elastic | | | | | |
| Reports | | | | | |
| Landing Pages | | | | | |
See it in action!
Pick a quick tutorial to learn about various aspects of this extension
Works perfectly

Swift response from customer support and an easy installation into the current Magento 2 application we are using.

Great Module

Easy to install, setup and use. Very positive feedback from users too.

Fast Search

This is an amazing module. I particularly love how fast the auto search suggestion works. You should try this.

probably the fastest auto-complete for magento 2

an4rei

from Cluj-Napoca, Romania

amazing performances when it comes to auto-complete

Overall great products

Overall great products. When we come up with good ideas, Mirasvit has already done it - so we can purchase it, and use it out of the box. The new startup company, so we're running so many tests in the beginning that we can not isolate the exact lift that Mirasvit modules give.

Good

Misravit Good

Great extension with even better support

Ian

from London, United Kingdom

We required initial support getting the extension configured correctly with the ElasticSearch engine already installed on our server, and the results and speed speak for themselves. Top support from Mirasvit as usual!

Works so well out of the box

Gecko

from Chula Vista, United States

After first trying the other Elastic Search I found this extension faster and more accurate right out of the box.

Does the job

Michal

from United Kingdom

You will get exactly what in the description and it's briliant.

Best search module

It's for sure the best search module for Magento 2 on the market and we integrate it in all our projects.

Very good extension, works also without elasticsearch engine

Murawei

from Schildow, Germany

Installation service by Mirasvit was very fast and reliable. Extension works also very well with build-in search engine (SQL) and thus do not require extra elastic search engine server.
For our system with ~ 3000 products this is sufficient, since the power of elasticsearch is not required.

Great Extension

Diecast4U

from Narre Warren, Australia

Love this extension on our large websites. The support is also amazing!

Very useful extension

Gökhan

from Ankara, Turkey

I have 5 mirasvit extension. I like this extension and campany

Excellent Elastic Search plugin

A

from Melbourne, Australia

Excellent plugin for this search engine. Many built in functions.

Insanely Quick & Powerful!

K730

from Melbourne, Australia

Brilliant extension, we deployed an AWS ElasticSearch T3.Small/2CPU/2GB instance for our stores holding around 500 SKU's and the speed at which this searches and filters is amazing. After installation we needed a little help, Mirasvit support replied in under 30 minutes and everything is working perfectly. We didn't realise how 1999 the Magento2 default search was until we installed this plugin.

excellent

jerry

from Qingdao, China

excellent extensions and excellent support

excellent

excellent extensions and excellent support

Support

Excellent support service from mirasvit team. Every time.

Pretty Good

Really nice, except for a couple of minor bugs that appear when the store has hundreds of thousands of products.

Works as advertised

Fast, good support with setup.

only good??? Its "MIND BLOWING"

hubp

from Pinneberg, Germany

We had installed another elastic search engine from a "magento quality supplier". It was totally bullshit, with no results where it should be. The developers know this and said "we will improve perhaps in the future". The frontend needed to be modified in order to show up.
After we installed mirasvits extension, we are BLOWN AWAY from this quality, speed, carefully detailed level of engineering.

Unlike some other extensions, this works without any (small) problems right out of the box - P&P - unbeliveable!

Mirasvit: we want more of this quality from you!
Improvement wish: some of the translations do not appear in the i18n...but are well in the code...should be fixed

Good search is where its at

Samuel

from Portsmouth, United Kingdom

During a recent hotjar campaign we noticed that the first things customers do is a search, so we are glad that we had this extension installed as it provides the customer with almost instantaneous search results. The search autocomplete has pictures so customers can see the product before the click to view it. Considering we have this extension setup to use mySQL for search the load has been low but the speed has been quick. Well worth it.

Elastic search is a great add-on

Elastic search is fast and does a great job of delivering relevant results for our customers. I have tried several other elastic search extensions previous to this one. But this is the only one working flawlessly! Thanks Mirasvit!

Good extension

Frédéric

from Paris, France

This extension is working and the support is very good.
Thanks for your work Mirasvit!

The best investment ever made, in the software and the support is super awesome

jajo

from Hyderabad, India

Greetings.

I think I am ready with my review of mirasvit extension and their support. The reason I am including support in the review is because any software might have glitches despite being a robust one, because generally we have a lot of other extensions installed.

Review of Mirasvit Elasticsearch Ultimate for Magento 2

Buying it
It was pretty straightforward. Login at mirasvit.com , add the product and then checkout. You can add a coupon at checkout if you have one.

Included services:-

Installation of extension

Installation of elasticsearch engine

Configuration of your magento instance to work with elasticsearch engine

Super awesome support for 90 days

Lifetime Updates

Installation
It was done by the support team and in my case it was Max Podkopaev from their support.
It was done after raising a ticket and providing all access details.

Bugs and Incompatibility and Mirasvit support

This is the most crucial part as whenever we install any extensions it might not behave the way it is supposed to, or you have a different requirement, some customisation etc.

My site is a heavily customised site and has some customised indexes( vendor search) and i needed some real work on my site. My magento developer had little idea about a search extension and even if they would have done it , it would have been at a cost.

Super duper support
I approached and raised a ticket and mentioned all the things required on my site. The support team is amazing and they worked on my site and updated me daily.Their support is pretty awesome and I feel that with that kind of support any company is worth investing in even if their extensions are little deficient( In this case the extension is very robust and covers all search needs)

Review of extension

It is a very useful extension and there are a host of features to to put us in full control . For more info you can check out the demo.

1 .it has "popular suggestions"
2. it has autocomplete
3. you can decide which product attribute carry weightage,
4. you can put stop words and synonyms
5. you can add new indexes( awesome function)
6. if you have a blog or FAQ section it will most probably search that too.
7. You can out hot searches- basically its like promoting some particular search
8. custom landing pages.

In all honesty I was not familiar with most of the terms and facilities in this extension but upon using it and seeing what it has to offer , I am very happy.

Finally this extension works flawlessly without any glitches , and even if u have a problem the customer support is the best I have ever seen.

Highly recommended.

Good module

mefjiu

from Uhowo, Poland

The module solves a lot of problems. It's written in high quality.

Better than default but still slower than pure Elasticsearch

Module still relies on Magento to print results once it gets the results from elastic.

Elasticsearch returns results very quickly (<60ms for 10,000 product result set). However this module takes the results and writes them to a temp table, which then runs through Magento to print results. So SERP takes 5-10 seconds to DOM depending.



Better Than Sphinx

Scott

from Wilmington, United States

So far having had this module and sphinx, this one performs much better for our server.

I love it

Best purchase. I have never seen so powerful search solution, that greatly improved my store speed (and for catalog))

Wonderful!

Henk

from Rijswijk, Netherlands

Great extension. Also compatible with Amasty Layered Navigation. We have been searching for a while, but the extension tops them all! Large number of indexes and support is great. We would surely recommend this extension.

Best search module for Magento 2

It is the best search solution for magento 2.
Thanks Mirasvit

Highly recommended company

Branislav

from Oswestry, United Kingdom

Mirasvit is our first choice for Magento 2 modules. Very impressive support team. Every time we have an issue they go above and beyond customer expectations. Importantly all clean code, frequent updates. Highly recommended company!

Great extension and great support

It's one of the best extension supplier I know since 5 years using magento.

Thanks for the strong extension and the friendly and fast support.

I'm just thankfull and happy with your service.

Great Extension

Franco

from Viterbo, Italy

Great Extension and Excellent Support!
Good guys from Mirasvit!

Best search for Magento 2

Alexander

from Krakow, Poland

This extension has provided very much needed search options to our Magento 2.
Works incredibly well!!!
Compatibility
The Elastic Search Ultimate for Magento 2 is compatible with:
| | |
| --- | --- |
| Magento 2 Community Edition (CE) | 2.1.* - 2.3.* |
| Magento 2 Enterprise Edition (EE) | 2.1.* - 2.3.* |
| Magento 2 Cloud | + |
Have a question? Ask our support team
Need more help?
Save time by starting your support request online and we'll connect you to an expert.
Contact Us Now
Refund Policy
All customers can request a refund during 30 days after purchase of our software, if customer think that our software is not suitable for any reason. To request refund, customer must remove all copies of our software from its store, servers, computers, email, etc and confirm by email such removal. After receiving a request we will proceed refund within 3 business days.
If request for refund is received after 30 days after purchase, it will be rejected. Cost of installation and customization services are not refundable.
Support and bug fixing
Mirasvit offers free 90 days support of all software sold on this site. Customers can report all bugs, which were found in our software. We can solve only the bugs directly related to or caused by our extension. Those bugs must be reproduced on fresh Magento installation without any 3rd party plugins. We will solve that bugs in order of our development plan.
We don't do any type of custom work and we have a right to reject a support request if the issue is store-specific (cannot be reproduced on the fresh Magento installation without any 3rd party plugins).
Mirasvit will not be liable to you for any damages (including any loss of profits/saving, or incidental or consequential) related to our support service caused to you, your information and your business.
Software updates
Mirasvit offers free lifetime updates if they areavaliable. Updates are limited to the Magento version branch (1.x.x or 2.x.x). Customer can download an update and install it by himself. If support period is expired, Mirasvit.com can't solve any possible problems with our software during or after updating. Mirasvit does not guarantee that it will release updates for any product.