Elastic Search Ultimate
for Magento 2 Extension Demos
Pick a quick tutorial to learn about various aspects of this extension
The extension creates an incredible search experience. The search returns relevant results within milliseconds. It will increase your store conversion rate simply using your search results!
Superior speed and quality of search results
Ultrafast search autocomplete
Automatic correction of typing errors while searching
Searching by multiple content types
Search results are perfect for any language
Using of stopwords and synonyms
Searching with hyphens/slashes
Responsive & mobile friendly
Speeds up navigation in your catalog
View all features
Fastest Search
This is the fastest search autocomplete on the market
Free Installation
We offer free installation of elastic search engine
Who else use Elasticsearch
90 days free support
free lifetime updates
30 days money back guarantee
Compatible with:
| | |
| --- | --- |
| Community: | 2.1.* - 2.2.* |
| Enterprise: | 2.1.* - 2.2.* |
Overview
Quick and Intelligent
By far, one of the most important and powerful tools in an online store is its ability to search among its many products. If your search delivers relevant results within a short period of time, your customers are able to find and buy the products they are looking for.
This, in its turn, directly affects your sales: Your sales increase when you use a smarter and faster search!
Elastic Search Ultimate provides your store with one of the fastest and the most powerful search features available for Magento2.
To perform the search, our extension uses the Elasticsearch engine. This is one of the world's leading engines, a free open source product designed for horizontal scalability, maximum reliability, and easy management. It has the capability to handle the most sophisticated requirements of modern online stores. The extension connects the Elasticsearch engine with your Magento2 store and gives your store a fast and relevant search.
Using of Magento 2 Elasticsearch extension strengthens your store's search results to enable your customers to search any way they want. Elastic Search Ultimate reaches to change your customer's experience in your online store by making your store's search really fast and useful. The search works great both on desktop and mobile devices.
Feature Highlights
Get Surprisingly Accurate Results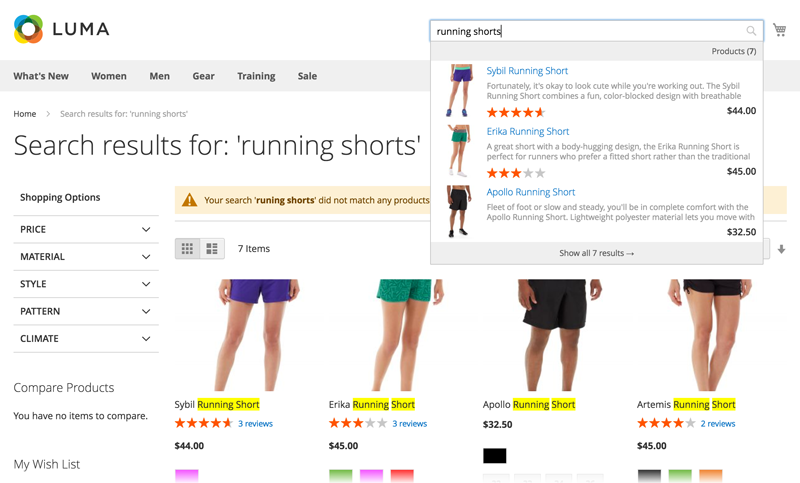 It doesn't matter how your customer types (correctly, with typos, with slashed, with dashes), the search results will come back accurate!
This extension takes advantage of the most beneficial solutions for E-commerce search:
Stemming with singular/plural words
Long tail search (search with hyphens, special symbols, etc.)
Stopwords and synonyms applied
---
Searches all Corners of your Store
This extension can find search queries from anywhere in your store including:
Catalog Categories
Catalog Attributes
CMS Pages
Wordpress Blog
Simple Press Forum
vBulletin Forum
Blog MX, Magefan Blog, Ves Blog, Mageplaza Blog, Aheadworks Blog
Knowledge Base
Any custom content
---
Change your Mode of Searching
Choose between three different modes:
a built-in search engine based on MySQL functions
with Elastic Search Engine installed on the same server
with Elastic Search Engine installed on an external server
This extension has the flexibility to be used on small online stores using shared hosting services, as well as big e-stores with complicated architecture using VPS!
---
Reports
The extension includes its own reports that allow you to analyze all important information about the search queries in your store. You can check reports by:
Search Terms - the most popular search terms in your store
Search volume - number of the search terms and engagement (the ratio between the number of clicks to the number of requests)
You can group the data according to the required time interval, built your own reports.
---
"Long Tail" Search
Customers are able to search using hyphens and slashes. This is particularly useful when customers are searching products by the SKU or MPN.
For example, we have a product "Canon SX500 IS". If a customer is searching for the "Canon SX-500IS" or "SX\500-IS", a default search will not be able to find the correct product. However, by using the advantages of long tail search, our search engine leads customers to the correct product they are looking for.
---
Uses Morphology Preprocessors
Using a base word, morphology preprocessors are applied to indexed words to replace different forms of that same word. For example, the English stemmer will normalize the words "dog" and "dogs" to "dog", returning the same results for both queries.
---
Our Extension Understands Synonyms
Our search engine is so smart, it not only searches by the specific word the customer types, but also its synonyms. They synonym directory contains a vast amount of words. It's super smart!
---
Our Extension Understands Stopwords
Understanding of the stopwords allows your search to eliminate the most common words in a language (e.g 'a', 'an', 'the') from the search query. These words are unimportant to the search and by removing them, the search is able to give the most relevant results fast.
---
Hide "Out of Stock Items"
Our extension hides your "out of stock" items by pushing them to the end of the search query list. This will give you the opportunity to promote items which are available for purchase. This eliminates confusion and again leads customers in the right direction.
---
Super Fast Indexing and Search
There is no limit to the number of products Elastic Search can handle. You can be a small or big store, Elastic Search can quickly take care of both!
---
Search Landing Pages
Being able to customize landing pages according to a customer's search query is a huge advantage! For example, if a customer searches for "high heels", you can design a page of content you want this customer to see. It will be replaced by the standard search results page.
---
Processes Filters
Our extension can process the requests of Layered Navigation (filters) resulting in reducing the load of the MySQL. This speeds up the generation time of search pages and pages of the store catalog! This is great news for stores which have more then 10K products!
---
Find Product through Different Properties
Give your customers options when they search! Search by the following categories:
category names
custom options
related content
associated products skus
Layered Navigation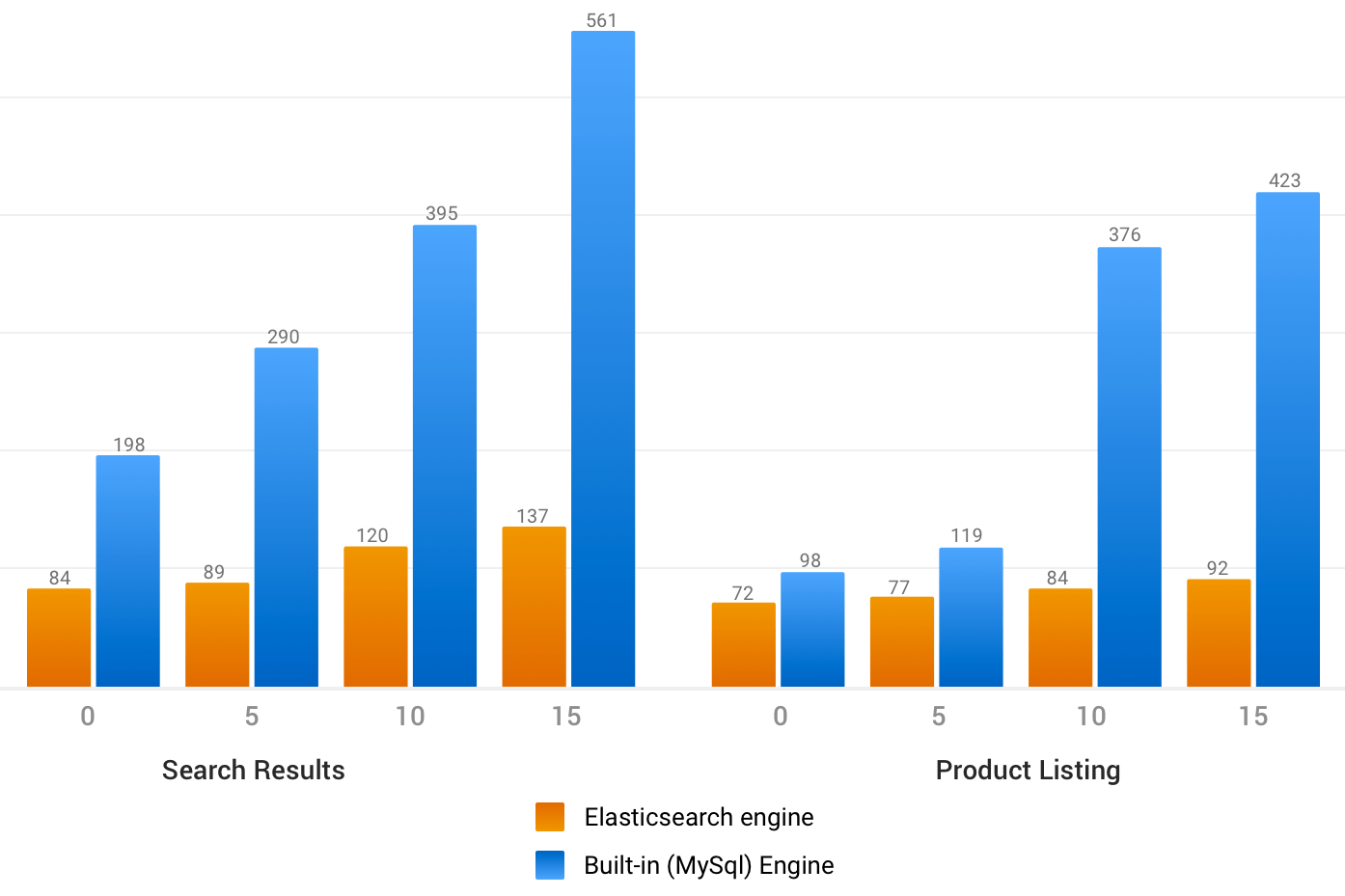 Number of sql queries to number of layered navigation attributes
Elasticsearch improves layered navigation performance.
The extension can process the requests of Layered Navigation (filters) resulting in reducing the load of the MySQL. This speeds up the generation time of search pages and pages of the store catalog! This is great news for stores which have more then 10K products!
The Magento's native functionality only displays the results, however, Elasticsearch calculates aggregation data for layered navigation attribute options. So, when a customer looks at the attributes in the layered navigation, they are able to see the number of products for each option.
With Elasticsearch, the layered navigation performs only a few SQL queries to fetch label names. It does this by building only one query that returns all the values and query times. AND it does it faster for the same product quantity!
Super Fast Search Autocomplete
Being that Elastic Search Ultimate is so smart, it is able to automatically complete the search query your customer is trying to type! The extension gives the customer a drop down menu with several suggestions to complete their query. This makes searching the store faster for the customer.
Precise product recommendations create a better user experience for your store!
---
Multiple Configuration Features
With this extension you have the ability to configure:
Ability to set the search category
Using AJAX, so the search doesn't reboot the entire web page. It makes it very fast.
Support of responsive themes
Thedrop-down box appears with the image of products and price
Minimum number of characters to search
Delay in finding
A limited number of results in the dropdown menu for every type of content
Tips in the search box
Search Spell Corrector
Corrects Typos
Elastic Search Ultimate knows that it is difficult to spell everything correctly, so customers do not have to worry about their spelling mistakes. The extension will automatically correct any misspellings typed into the search field. This works with precisely with every language!
---
Fallback Search
Don't worry if your customers do not know the exact names of your products, because with fallback search enabled, the extension can give results containing only part of the search phrase. Fantastic!
For example, if a customer is searching for "blue backpack". If the store does not have this product, then the Magento default search engine would return no results. However, with fallback search enabled, your customer would be given the option of looking at all the backpacks in your store. Perhaps they will find an even better color!
---
No Extra Software
Our extension automatically examines the content of your store and will use it to make search corrections. You don't need to add any other software, so just relax and let Elastic Search Ultimate do its job!
Multilingual
You also do not have to worry about installing additional dictionaries, our extension knows what language you are using by analyzing the content of your store. So smart!
Magento 2 Enterprise Elasticsearch
We also offer Magento 2 Enterprise Elasticsearch extension to improve relevance, add spell correction feature and speed up layered navigation.
Who uses Elasticsearch Engine
Elasticsearch is a real-time distributed search and analytics engine. It's used in projects of any size from startups to huge enterprise search clusters. Some examples:
Wikipedia
uses Elasticsearch to provide full-text search with highlighted search snippets,
and search-as-you-type and did-you-mean suggestions.
The Guardian
uses Elasticsearch to combine visitor logs with social-network data to provide real-time feedback to its editors about the public's response to new articles.
Stack Overflow
combines full-text search with geolocation queries and uses "more-like-this" to find related questions and answers.
GitHub
uses Elasticsearch to query 130 billion lines of code.
Compare with other Mirasvit search extensions
| | Search Autocomplete | Search Spell-Correction | Advanced Sphinx Search Pro | Sphinx Search Ultimate | Elastic Search Ultimate |
| --- | --- | --- | --- | --- | --- |
| Core | | | | | |
| Aucomplete | | | | | |
| Misspell | | | | | |
| Search MySQL | | | | | |
| Search Sphinx | | | | | |
| Search Elastic | | | | | |
| Reports | | | | | |
| Landing Pages | | | | | |
See it in action!
Pick a quick tutorial to learn about various aspects of this extension
I love it

Best purchase. I have never seen so powerful search solution, that greatly improved my store speed (and for catalog))

Wonderful!

Henk

from Rijswijk, Netherlands

Great extension. Also compatible with Amasty Layered Navigation. We have been searching for a while, but the extension tops them all! Large number of indexes and support is great. We would surely recommend this extension.

Best search module for Magento 2

It is the best search solution for magento 2.
Thanks Mirasvit

Highly recommended company

Branislav

from Oswestry, United Kingdom

Mirasvit is our first choice for Magento 2 modules. Very impressive support team. Every time we have an issue they go above and beyond customer expectations. Importantly all clean code, frequent updates. Highly recommended company!

Great extension and great support

It's one of the best extension supplier I know since 5 years using magento.

Thanks for the strong extension and the friendly and fast support.

I'm just thankfull and happy with your service.

Great Extension

Franco

from Viterbo, Italy

Great Extension and Excellent Support!
Good guys from Mirasvit!

Best search for Magento 2

Alexander

from Krakow, Poland

This extension has provided very much needed search options to our Magento 2.
Works incredibly well!!!
Have a question? Ask our support team
Need more help?
Save time by starting your support request online and we'll connect you to an expert.
Contact Us Now
We found other extensions you might like!
Reasons to choose Mirasvit
Client focusing and satisfaction
It is our main goal. A big part of our new clients come from referrals from our existing clients. Our professional team of developers, marketers and support invest the best knowledge and experience, so you could come back to us again and again.
Remarkable support
90-days free and high quality support. We make an effort to satisfy you with work of every module you have purchased in our store. Helping you with installation, configuration, answering your every question, we do all our best to eliminate any possible problems.
Risk-free Investment
30-days money back guarantee. If you are not satisfied with work of our extension for any reason we provide a full refund.
Constant improvements and upgrades
We provide you lifetime free updates. We constantly add new features to all our modules. We are absolutely interested to hear your opinion and to implement your suggested features in our future developments.
Comprehensive Documentation
We provide an expanded user guide for every our extension, so you can find answers for all your burning questions.
Unencrypted source code of our products
You can customize extensions according to your needs and requirements.
Usability and Performance
Module is easy to install and easy to upgrade, just follow step by step our user guide.
Safe Magento updates
No core modifications. Just copy extension files to store root directory.