Knowledge Base for Magento 2
| | | |
| --- | --- | --- |
| Compatible with: | Community: | 2.0-2.2.* |
| | Enterprise: | 2.0-2.2.* |
Knowledge Base is an online store resource center, that answers customers' most popular questions and covers most customers' self-service features.
Organize all frequent inquiries and other helpful content with our solution. Reduce your support/helpdesk loadings and save your customers time using Knowledge Base!
Knowledge Base - fully featured Store Guide solution!
Suggest to your online store customers a powerful help resource, save them time and make them happier!
Knowledge Base is the extension allowing you to organize the most asked questions or any other helpful information by means of articles which are sorted by defined categories.
Our solution makes your customers' self-service fast, easy and convenient, since it's possible to:
perform searching by single words, words combinations, exact phrases or tags
get results from categories and articles
surf through categories via breadcrumbs or right menu
get an answer within seconds
Knowledge Base for Magento 2 has a simple and intuitive user interface. Customers will enjoy your store help center!
Our extension is not only fully featured, but also fully customizable. You can make unique designs for each article using the built-in WYSIWYG editor or directly editing the HTML source code. Knowledge Base is a SEO friendly extension. You may set meta tags for your articles so the snippets you have made yourself will be visible in search engines for the relevant search queries.
Also Knowledge Base administration interface allows you to:
set article status, sort order, SEO-friendly URL key and author
assign an article multiple tags and categories
define number of votes and rating for each article
Boost your customer experience with Knowledge Base Extension!
10 advantages you get with Knowledge Base
Conveniently structured Store Help Guide.
Search by categories and article content.
Search by word combination or exact phrases.
Save your customers time with Knowledge Base self-service.
Give your customers an excellent user experience returning answers in a split second!
Customize every article with WYSIWYG editor.
Get SEO-friendly URLs and search engine snippets for your help center articles.
Get your articles available in multiple categories.
Manage article ratings and votes.
Save your support team time and save money all at once!
Feature Highlights
Clear Customer Interface
Knowledge Base interface is intuitive and clear for every customer.
Our solution allows your store clients to understand everything at a glance. All categories, questions and search strings are available at a single-click.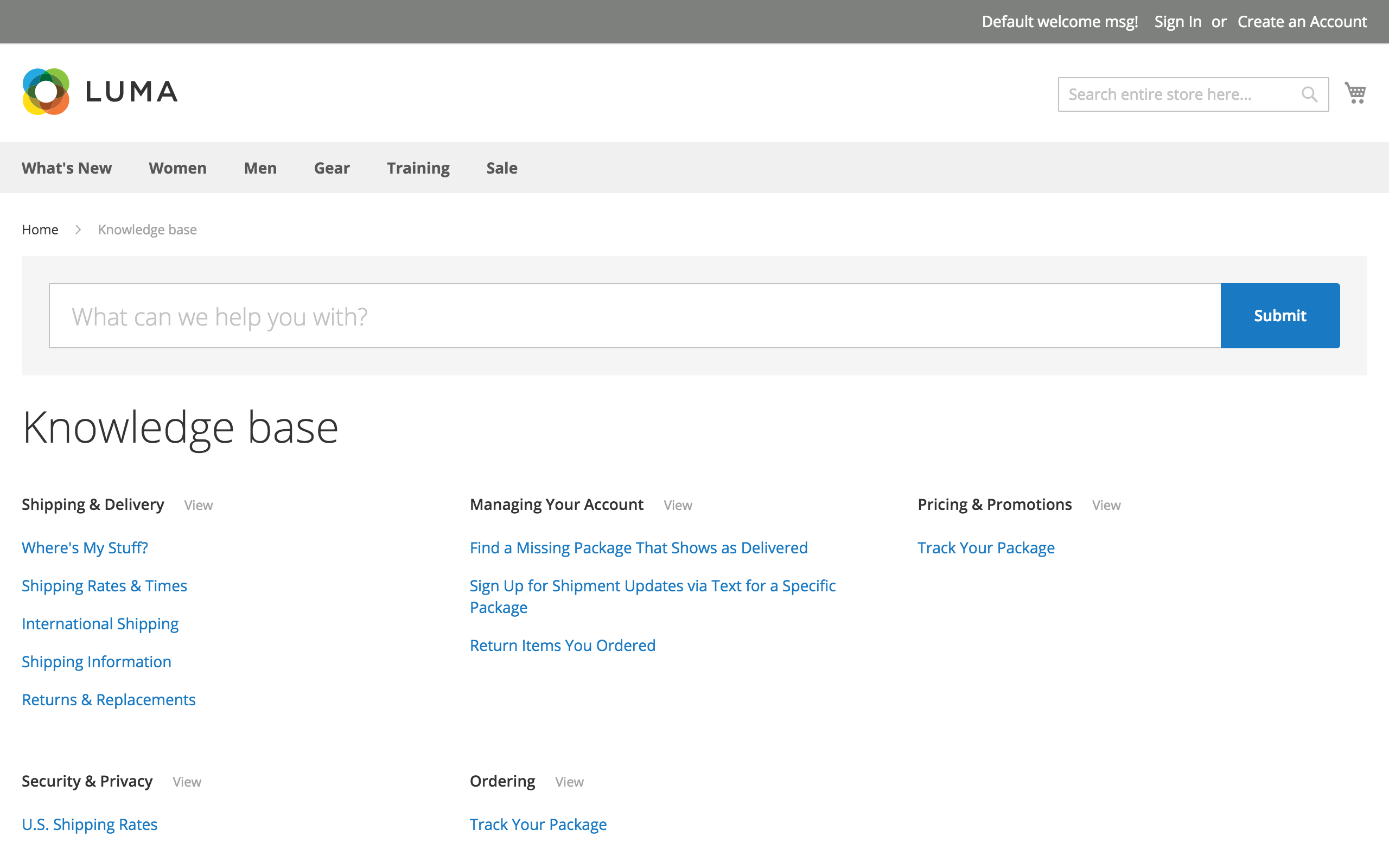 Convenient Article Page
Knowledge Base Extension allows you to organize articles in a structured and clear form intuitively understood for every customer.
The article page has a very convenient interface, which gives your store users an option to surf through the categories in two different ways:
using breadcrumbs under the main menu (it allows to return to any parent directory);
using right menu 'Categories' (it is very easy to access any related or even non-related category).
Also user can choose any of the tags assigned to the article and automatically get search results related to this tag.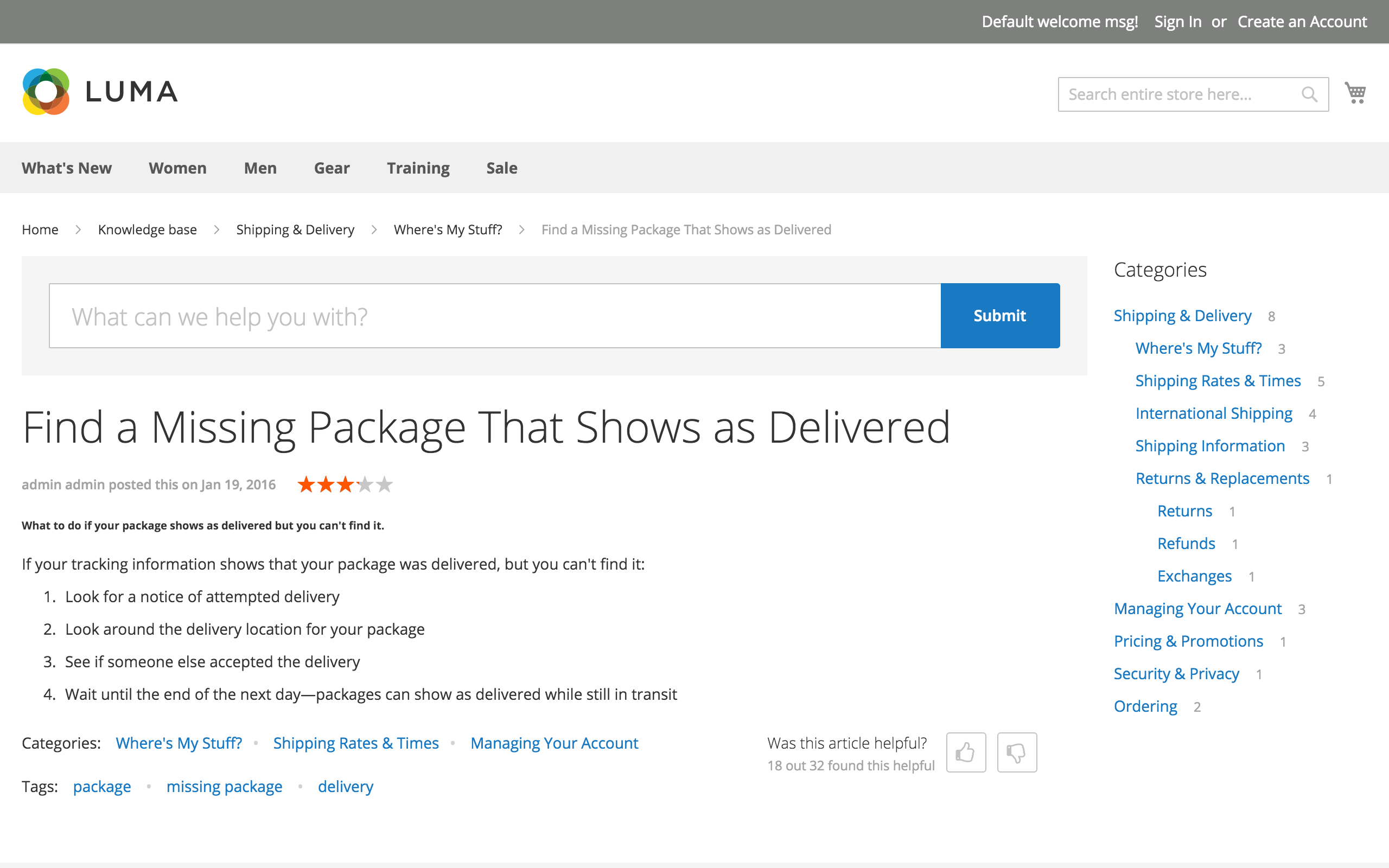 Advanced Administrative Interface
Knowledge Base interface for administrators gives you the most advanced features to make your help center easy to use and unique.
Our solution allows you to:
create articles with absolute custom design using WYSIWYG editor or editing HTML source code
make every article more visible in your help center by adding tags
assign several different categories to one article, if its content related to them
set SEO-friendly URL for each article
manage article status (active or not)
set sort order
define an article author
Manage your support articles fast and easy with Knowledge Base!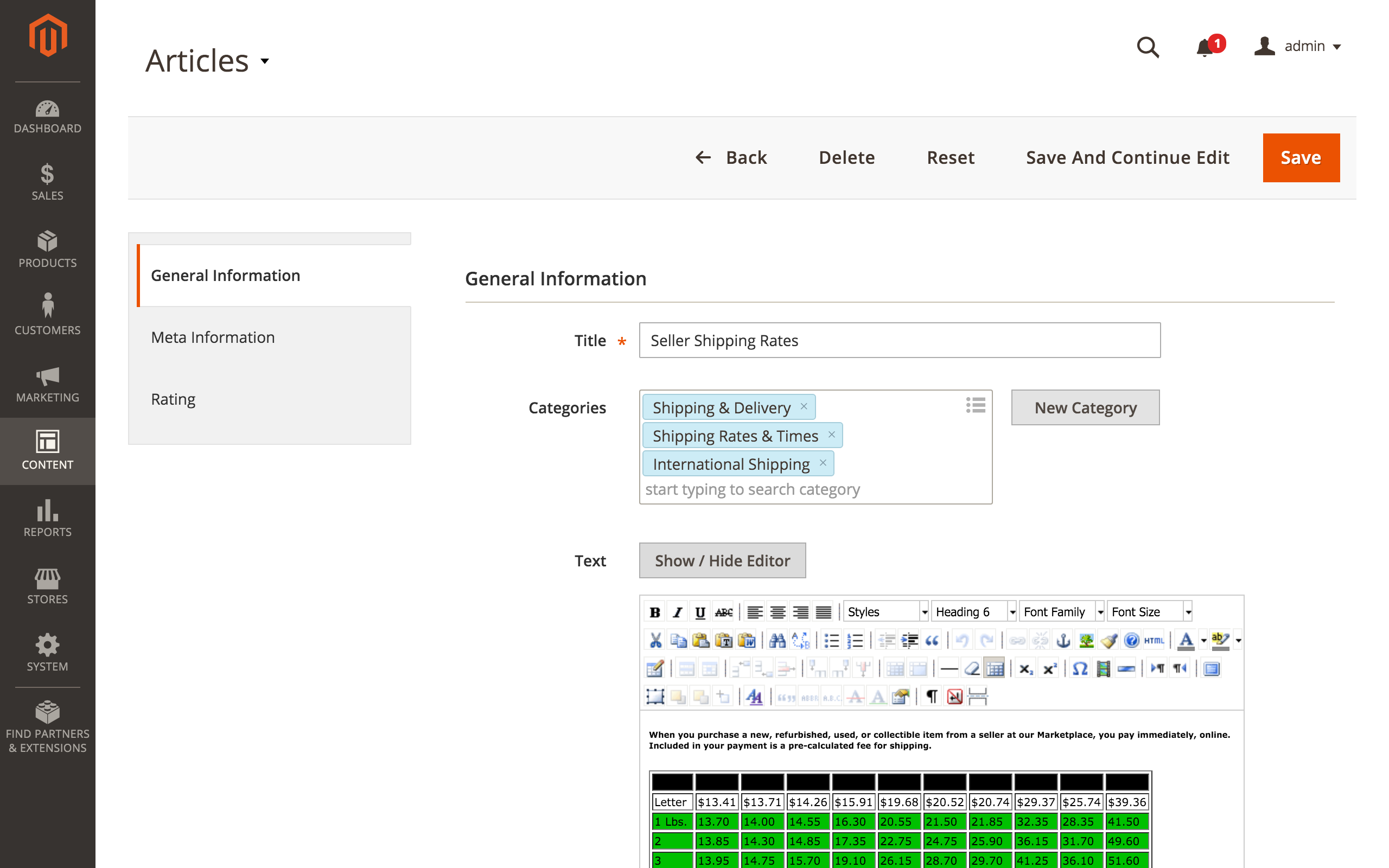 Relevant Search Results
Knowledge Base allows your customers to perform search in several modes:
by exact phrase
by single word
by word combinations
Whatever your customer enters in the search string, our solution gives the most relevant results list in a split second from:
categories names
articles content
tags
Your customer will see the most appropriate articles at a glance!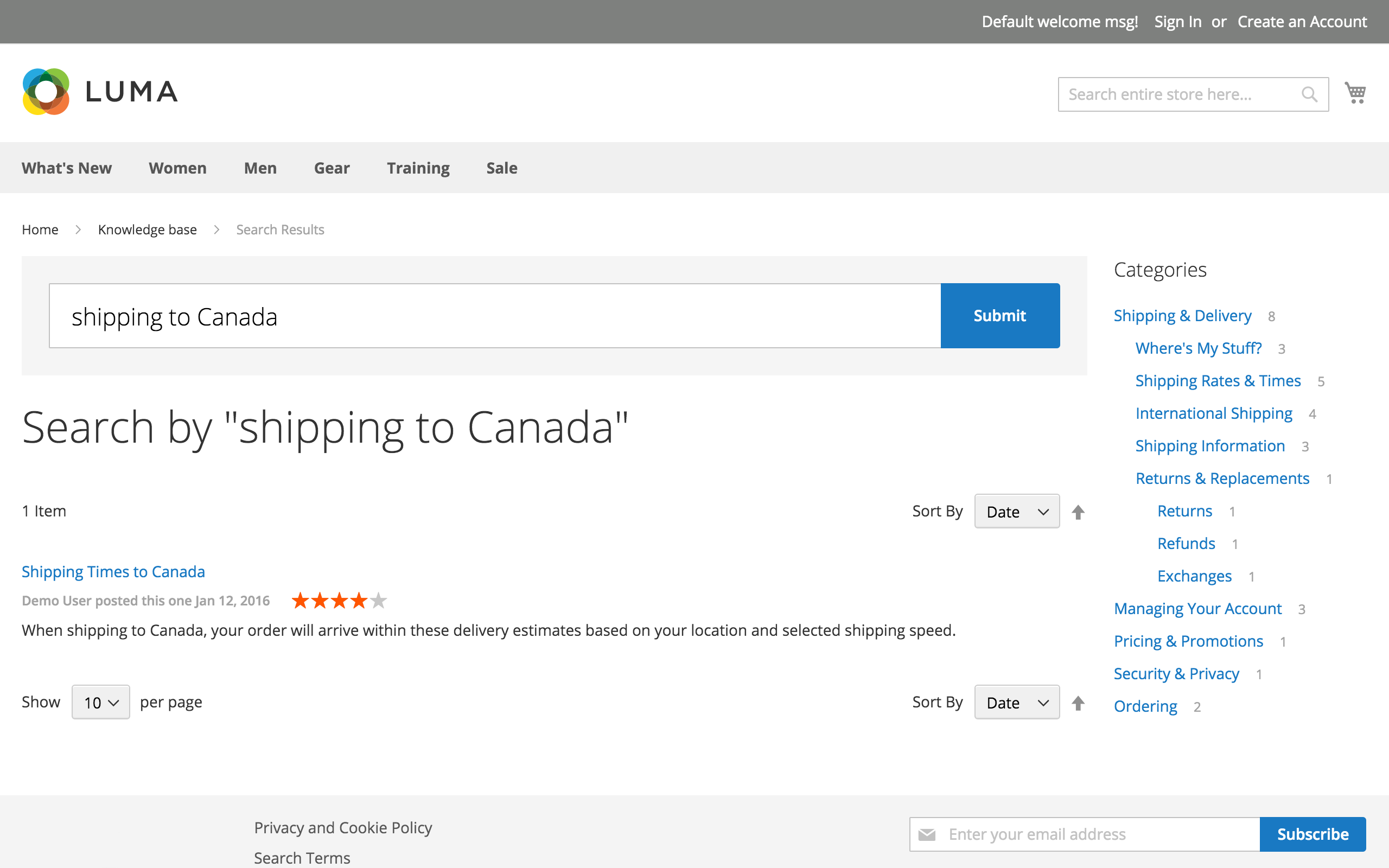 Use Ratings to sort articles by quality and relevance
Knowledge Base Extension lets you organize all articles by their quality, using rating and votes number for each article.
For example, you added some information to the article 'Shipping Fees' and published it.
Customers rate this article over some time by voting if they consider 'Shipping Fees' useful. So the more votes the article gets, the higher the rating. Therefore, the high rating establishes a ground for assigning the article good quality. If the rating is low, you need to edit the content and add some more useful and clear information for your customers.
Use ratings and votes to evaluate your help resource articles and constantly improve them!
SEO-friendly Knowledge Base
Besides SEO-friendly URLs which you may set in the administrator interface, you can also customize the appearance of your articles in search engine results (snippets).
Manage Meta Title and Description in order to make every article more visible in Google or any other search engine.
This feature is very useful, since it makes your store's unique content available in the external process and, as a consequence, can bring new leads for your online shop.
Install Knowledge Base extension and give your customers better experience!
Here is what Knowledge Base solution customers say:
"Using knowledge base we get fewer support calls and questions. Allowing our employees to help more customers to a greater degree."
"..Purchased the Knowledge base extension 4 months ago and it's a simple yet superb module which allows our site to offer more information in a organised manner..."
"Good extension, Works as expected, saved lots of my time doing this myself and it solved my problem."
1.0.42
(2017-11-23)
Improvements
Allows to create articles with the same url per store view
---
1.0.41
(2017-10-19)
Features
Allowed to exclude categories keys in article URL
Fixed
Variables for category description
---
1.0.40
(2017-10-04)
Fixed
---
1.0.39
(2017-09-27)
Fixed
Compatibility with 2.2.0
Sitemap generation for multi stores
---
1.0.37
(2017-09-15)
Fixed
sitemap generation for multi stores
---
1.0.36
(2017-09-04)
Fixed
compatibility with Magento 2.2.0rc
filter articles by customer group
---
1.0.35
(2017-08-30)
Improvements
Added ability to filter articles by customer group
Improved category tree displaying
---
1.0.33
(2017-08-03)
Fixed
---
1.0.32
(2017-07-28)
Improvements
Added categories and articles to sitemap
---
1.0.30
(2017-07-06)
Fixed
Fixed wrong parent pickup on Category creation without selecting a parent
---
1.0.29
(2017-04-06)
Improvements
Ability to add additional content to category and change layout (xml)
---
1.0.28
(2017-03-20)
Improvements
Added option that allow to show amount of articles in category that does not contain other categories on category list page
---
1.0.27
(2017-02-20)
Fixed
Fixed redirect after voting on article
---
1.0.26
(2017-02-07)
Fixed
Fixed config does not store for storeview
Fixed article view page does not display categories
Fixed search does not use tags
---
1.0.25
(2017-02-03)
Improvements
Added filters to admin artilce list page
Fixed
Fixed styles for long article's name in sidebar
Fixed js error for Single store mode when saving article
---
1.0.24
(2016-12-23)
Improvements
Added ability to hide article's date
Moved category view link under the list of categories/articles
---
1.0.23
(2016-12-08)
Fixed
Fixed an issue when "Articles not found for store with multiple root categories"
---
1.0.22
(2016-11-22)
Fixed
Varnish compatibility
KB permissions position in role resource tree
---
1.0.21
(2016-11-08)
Fixed
---
1.0.20
(2016-10-19)
Fixed
Ability to assign article to storeview
Improvements
---
1.0.19
(2016-10-17)
Improvements
Added ability to assign article to storeview
Fixed
WYSIWYG insert variable widget
---
1.0.18
(2016-10-12)
Improvements
Use the same font-awesome.min.css for all extensions
Fixed
---
1.0.17
(2016-09-20)
Fixed
bug: Remove unnecessary paging templates
---
1.0.16
(2016-09-07)
Fixed
Latest version of font-awesome
---
1.0.15
(2016-09-05)
Improvements
Update font awesome to the latest version
---
1.0.14
(2016-08-31)
Improvements
---
1.0.13
(2016-08-23)
Fixed
Fixed an issue when settings "Enable Articles Rating" and "Hide article's author" not working properly (#13)
---
1.0.12
(2016-08-05)
Fixed
Fixed an issue when 'kbase' css class is added to the body tag on every page (#11)
---
1.0.11
(2016-08-02)
Fixed
Fix article's category field in edit form for M 2.1.0
Fixed an issue when WYSIWYG contains broken images
---
1.0.10
(2016-07-22)
Improvements
Added ability to browse an existing image or upload a new image when editing knowledge base content
---
1.0.9
(2016-07-14)
Fixed
Fixed an issue when WYSIWYG is not showing
---
1.0.8
(2016-06-27)
Fixed
Fixed styles issue with categories sidebar and helpful block
---
1.0.7
(2016-06-24)
Improvements
---
1.0.6
(2016-06-14)
Features
---
1.0.5
(2016-05-20)
Fixed
KB2-42 - Fixed that inactive categories displaying in a list of categories
1.0.2
(2016-05-13)
Fixed
KB2-41 - Fixed Article 'created at' contains wrong date
---
1.0.1
(2016-04-11)
Improvements
Category Display Mode
Styles
Fixed
Issue with menu
Remove field "Url Key" for root category
Fixed an issue with showing disabled categories
Fixed an issue with tags
---
Reasons to choose Mirasvit
Client focusing and satisfaction
It is our main goal. A big part of our new clients come from referrals from our existing clients. Our professional team of developers, marketers and support invest the best knowledge and experience, so you could come back to us again and again.
Remarkable support
90-days free and high quality support. We make an effort to satisfy you with work of every module you have purchased in our store. Helping you with installation, configuration, answering your every question, we do all our best to eliminate any possible problems.
Risk-free Investment
30-days money back guarantee. If you are not satisfied with work of our extension for any reason we provide a full refund.
Constant improvements and upgrades
We provide you lifetime free updates. We constantly add new features to all our modules. We are absolutely interested to hear your opinion and to implement your suggested features in our future developments.
Comprehensive Documentation
We provide an expanded user guide for every our extension, so you can find answers for all your burning questions.
Unencrypted source code of our products
You can customize extensions according to your needs and requirements.
Usability and Performance
Module is easy to install and easy to upgrade, just follow step by step our user guide.
Safe Magento updates
No core modifications. Just copy extension files to store root directory.