Compare Mageplaza Ajax Search vs. Mirasvit Search Ultimate
Magento 2 default search provides limited help to customers. It lacks autocorrection tools, synonym search, and other user-friendly features. Extensions like Elastic Search Ultimate by Mirasvit or AJAX Search by Mageplaza address these limitations. These extensions assist users in forming their queries by providing spelling correction and auto-completion, adding search in singular and plural. They also help to interact with the store more comfortably by allowing to change search results display.
Increased speed and precision of the search by using Elasticsearch, Sphinx Search, or MySQL engines.
Customers will find the desired product quicker with implemented autocompletion and correction of search queries.
Admins can manage interface and results display via a simple menu that provides several built-in templates.
Expanded accessibility via including multilanguage search straight out of the box with no coding required.
Solutions being compared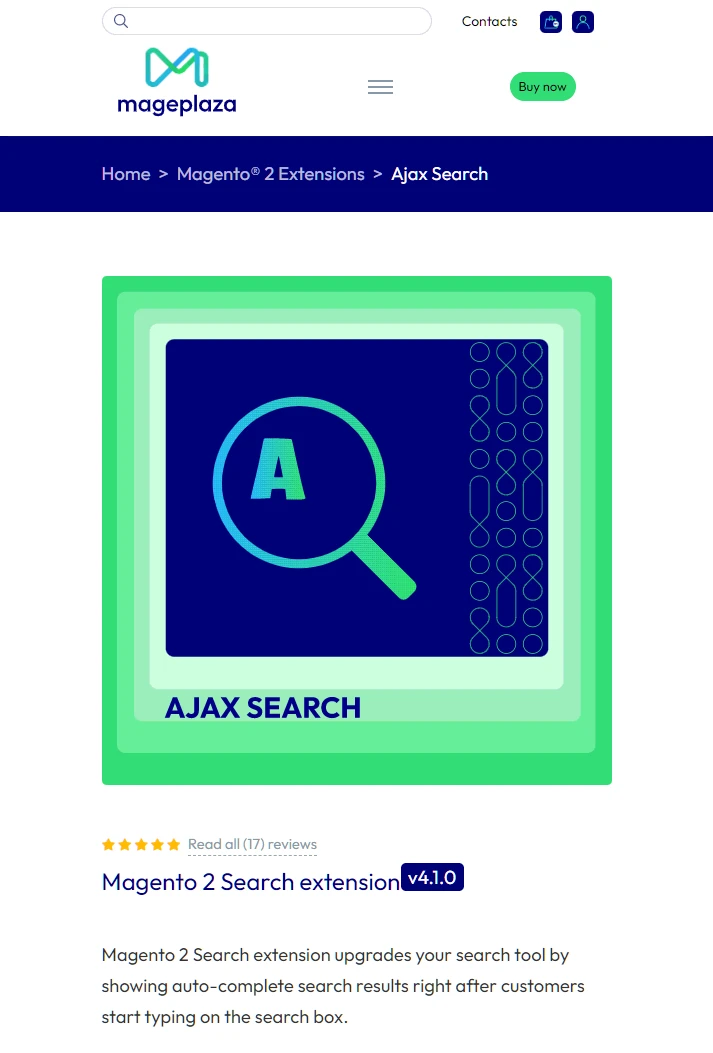 VS.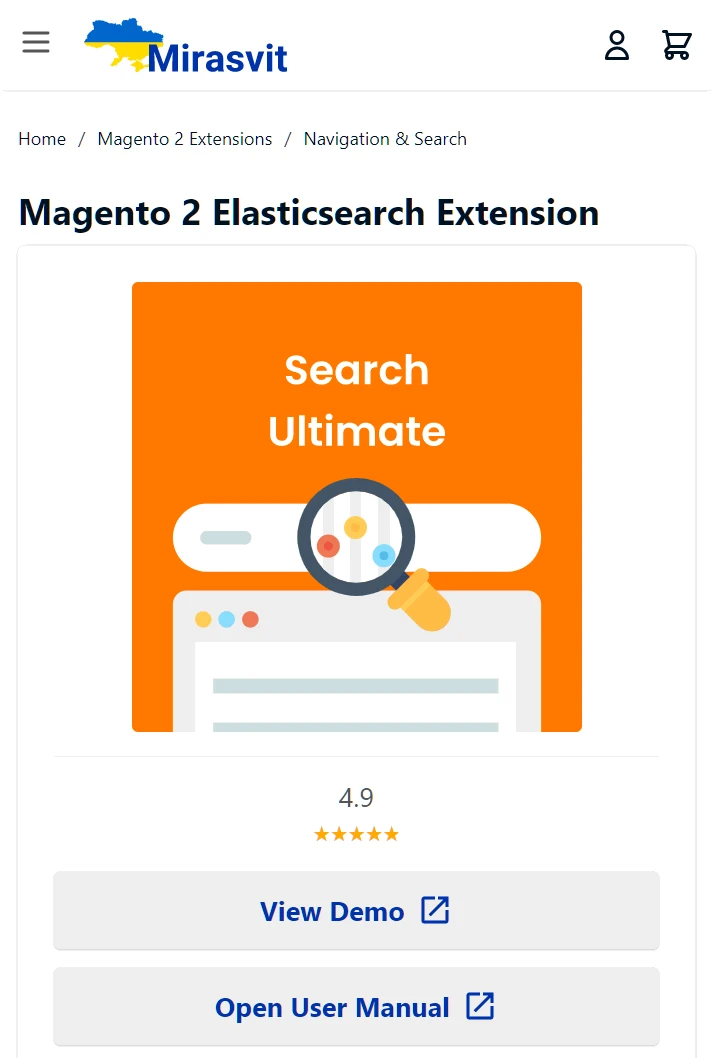 What extensions are being compared?
The Magento 2 Search extension, made by Mageplaza, works with Elasticsearch and recently, starting from module version 4.1.0, - Algolia Search is supported. It uses AJAX technology to display search results. The extension provides users with an auto-complete feature to show potential clients' search results before they finish their query. It allows users to make queries in any language. The module also enables interface modification and results adjusting to compel customers to make purchases.
The Elasticsearch Magento 2 extension from Mirasvit is a search system that uses Elasticsearch, OpenSearch, or Sphinx engines. The module helps users to form queries via auto-completion, finishing phrases and words for them. Users are also guided by autocorrection – the system will advise the correct spelling when it sees typos. The extension also improves search relevance by using synonyms to add more results. Full language support and customizable redirection tools are also available to store owners.
Key Differences of Elastic Search Ultimate By Mirasvit
The Mirasvit search module provides a few unique abilities to the users:
Autocomplete Fast mode searches without calling Magento core. It sends the query straight to ElasticSearch, thus making the process much faster.
Custom Search Indexes allow store owners to add new indexes to the search process without coding, while other extensions provide only fixed options.
Long-tail feature from Elastic Search Ultimate allows searching by SKU and reference number if a client uses different typing styles.
Admins can also fine-tune which items or attributes are more relevant to the search engine, building up desired priority.
Feature Comparison
AJAX Search by Mageplaza allows to enable automatic completion of queries for customers. The system will automatically complete phrases and words typed in the search bar. The search bar and results display can also be modified in detail. Admin can change the number of results on display, their order, shown information, and sorting method. The module also supports search suggestions and all foreign languages.
Elastic Search Ultimate by Mirasvit provides shoppers with enhanced search capabilities aimed at comfort. With auto-completion, they will receive relevant results without knowing the exact phrase or brand name to search for. Features like synonyms and stopwords, long-tail search, and stemming help to provide more relevant results. The spelling correction and redirection tools will minimize clients' experience with empty search results. All features are also easily customizable on the backend for store owners.
Key Features of Magento 2 Search Extension
Mageplaza
Search autocomplete
With this extension, customers can view search results by typing just the first letter of the phrase in the search box. The results appear in a drop-down list.
Search in singular/plural
Upon initial setup, your search engine will inherently comprehend both singular and plural forms of words in all supported languages.
SKUs search
With this extension, you can enable the search by SKUs. The module supports up to 10k SKUs at once without any slowdowns.
Search by category
You can allow your customers to search not only by the name of the products but also by their respective categories. The depth of searched categories can also be adjusted.
Search Suggestions
With the help of this module, you can enable relevant suggestions that will pop up together with the original search phrase.
Reindexing
You can choose how often and by what means the module will reindex your store. You can choose Cronjob for more than 3k SKUs after product sale or manually if the number of SKUs allows it.
Multi-language support
With this module installed, the system can understand phrases in all languages and search for results on the website accordingly.
Customizable Interface
This module lets you choose how many search results will be displayed and in what order they will stand. You can also set certain attributes that will be shown, like the price or image of the item.
Reports
The extension generates automatic reports on search activity, enabling sorting by time and presenting data. You can also export the data to CSV or XML files anytime.
Mirasvit
Autocompletion
The extension automatically completes queries in the search bar, suggesting customers with multiple potential variants. You can modify when autocompletion occurs, defining how many letters should be entered first.
Singular/Plural search
The module supports both singular and plural forms of words. There is no additional setup required – the feature works right after the installation of the extension.
Attributes search
With this extension, you can include any attribute of the products in the search. Not only can you turn on and off the default attributes in the search process, but you can also add custom ones without coding.
Wild cards
Customers can find products with only partial name recollection. By activating the wildcard mode, you can permit them to replace unknown parts with an asterisk (*), which the system will automatically fill in.
Spelling Correction
The module will detect potential phrase errors and suggest corrected alternatives to users.
Stemming
The search engine will consider word roots and account for special characters. For example, the query "paintbrush" can also include the results for "brush" or "paint".
Long-tail search
You can specify special symbols to be recognized by the search engine by adding them to a list. The system will then automatically ignore or replace those symbols with empty spaces or other defined characters.
Synonyms and Stopwords
Create and manage synonym groups containing similar words that will be uniformly utilized during searches. Additionally, you can create a list of banned words and phrases that the system will exclude automatically from queries.
Multi-store search
Customize the search indexes to specify where the search is conducted within your store or third-party data. You can also turn multi-store search on or off, allowing the system to search across all your store views.
Reindexing
The extension provides an option of automatic reindexing after each change made to the store. You can also reindex data manually.
Search Weights
Assign specific values known as "weight" to different products, allowing you to prioritize certain items in the search results by increasing their weight.
Fallback Search and Redirections
The extension will redirect clients to a default search results page if they land on a broken page. It also directs clients to a specific item page if it is the only search result available. Additionally, the module enables you to set links to landing pages for certain queries.
Google Sitelinks
The module allows you to facilitate users' interactions with your store's search bar directly from the Google search results page.
Customizable Interface
This module provides built-in options for customizing the search bar. For example, you can display all results in one or two columns and manually customize the style using code.
Reports and Analytics
The system automatically generates reports on search activity, allowing you to sort the results by time and present them as graphs or radial charts. You can access both general search volumes and specific query counts.
Side-by-side comparison of the features
By conducting a side-by-side comparison of the offered features, you can identify the differences in their abilities. This straightforward list will assist in determining which extension best aligns with the specific needs of your online store.
| | Mirasvit search | Mageplaza search |
| --- | --- | --- |
| Autocompletion of phrases | | |
| Spelling corrections | | |
| Multilingual search | | |
| Relevance rules and search weights | | |
| Long-tail search | | |
| Search in singular/plural | | |
| Interface customization | | |
| Dictionaries of synonyms and stopwords | | |
| Fallback search and redirection | | |
| Category-specific search | | |
| Analytics tools | | |
| Multi-store search | | |
| Wild cards search mode | | |
| Wild cards search mode | | |
| Google Sitelinks compatibility | | |
| Build-in third-party search indexes | | |
Choose the product that suits your store
Each Magento search module possesses distinct characteristics that set it apart from other. One provides an autocompletion feature and focuses on detailed layout customization and search through massive SKU lists. The other extension can automatically complete clients' queries and allows interface customization. It also expands the basic set of tools available for the search process. Features like long-tail search, stemming, synonyms and spelling correction provide more accurate results for the users. The multi-store search and Google Sitelinks add new functionality to the website.
By considering information about Magento 2 Search extensions, you can select the one that aligns with your preferences and needs. If a specific feature catches your attention, you will clearly understand which product can fulfill it.
Reasons to choose Mirasvit
Client focusing and satisfaction
These are our primary. A major portion of our new clients come from referrals from our existing clients. Our professional team of developers, marketers and support staff have invested the best knowledge and experience in the field into our work, so you know you can come back to us again and again.
Remarkable support
One year free and high quality support. We go to great lengths to provide maximum satisfaction with every module you have purchased in our store. By helping you with installation, configuration, answering your every question, we do all our best to eliminate any possible problems.
Risk-free Investment
30-days money back guarantee. If you are not satisfied with our extension performance for any reason, we provide a full refund.
Constant improvements and upgrades
We constantly add new features to all our modules, and are always interested in hearing your opinion and implementing your suggested features in our future developments.
Comprehensive Documentation
We provide an expanded user guide for every aspect of our extension, so you can find answers for all your burning questions.
Unencrypted source code of our products
You can customize extension according to your needs and requirements.
Usability and Performance
The Module is easy to install and upgrade, just follow our step-by-step user guide.
Safe Magento updates
No core modifications. Just use the composer or copy the extension files to the root directory of your store.