Compare Amasty Elastic Search vs. Mirasvit Search Ultimate
Mirasvit Search Ultimate and Amasty Elastic Search, give your Magento store a precise in-store search system. These extensions help users form their phrasing, adding autocorrection and auto-completion functions. They also add synonyms dictionaries, which allow users to search through similar words, expanding the search reach. With the support of all foreign languages out of the box and other useful features, they help your store keep customers engaged and thus boost conversion rate.
Customers will easily find and buy needed or similar items with automatic suggestions and correcting typos.
Increased appeal to a foreign audience with support for search queries in any language and with special symbols.
No user will run into broken pages or empty search results and leave with the help of customizable redirection tools.
Easy management of marketing strategies via controlling items' search importance and displayed results order.
Solutions being compared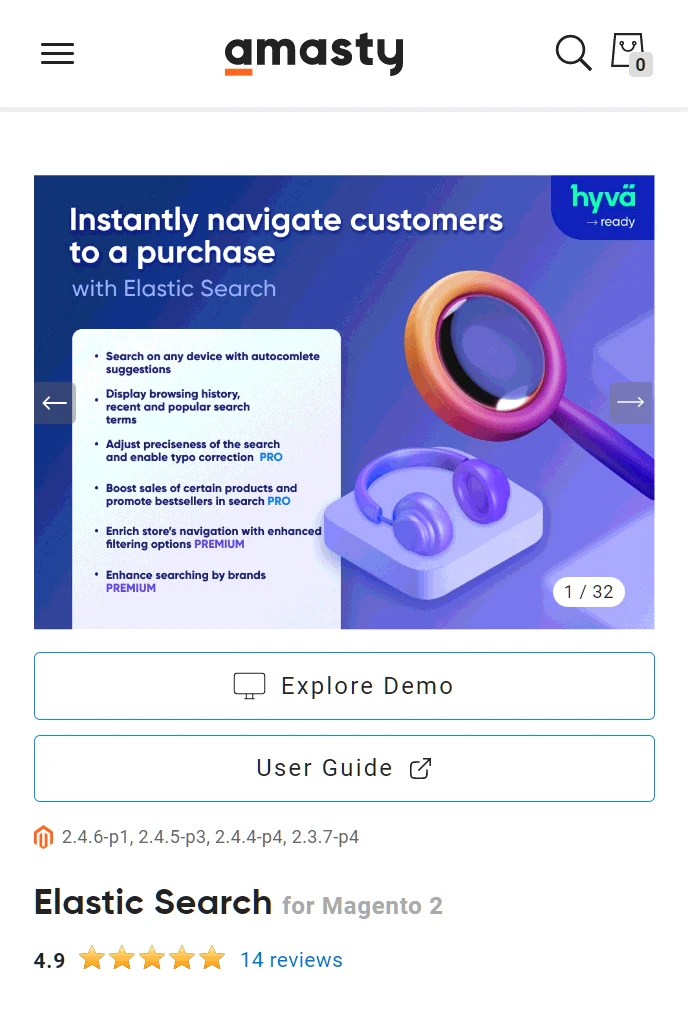 VS.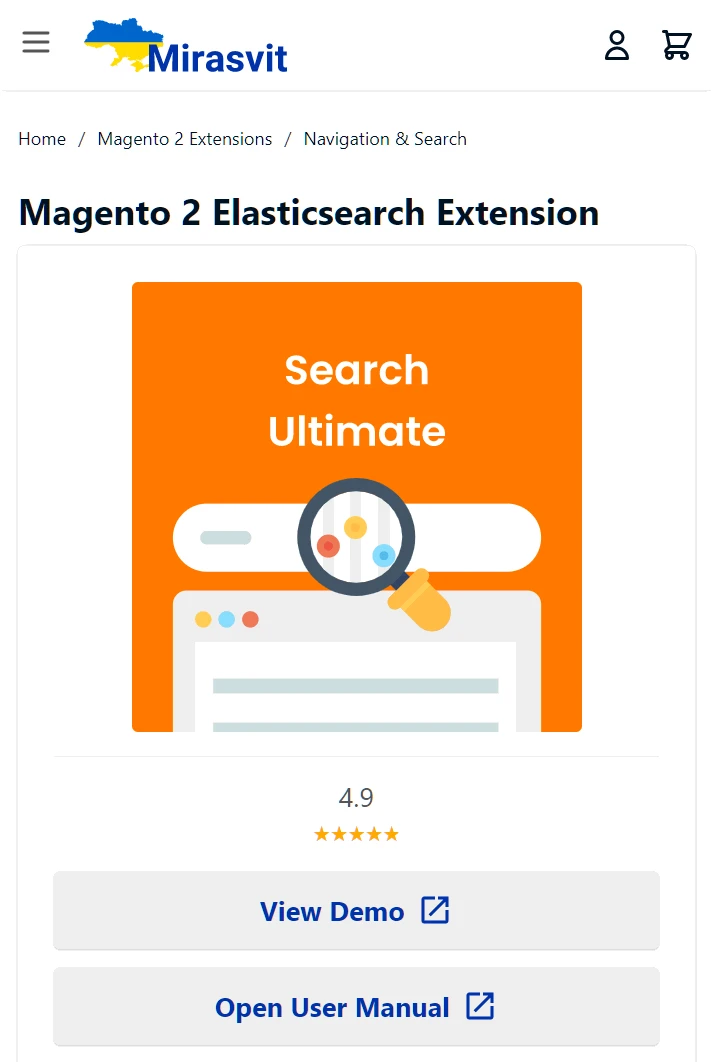 Key info on the compared extensions
The Elastic Search Extension, made by Amasty, runs on OpenSearch and Elasticsearch engines. The extension adds an auto-complete feature to show potential search results. It also supports synonym usage and autocorrection of spelling errors. The module allows redirecting users from certain queries and changing the order of the displayed results.
The Elastic Search Ultimate extension by Mirasvit is a smart search tool that uses Elasticsearch, Sphinx, and OpenSearch engines. The module uses a synonyms dictionary to help users find more results with their query. It also helps with spelling mistakes by suggesting the correct words. Additionally, it can automatically finish incomplete phrases and understand difficult morphology. The extension provides the tools for managing relevance rules and redirection of queries.
Elastic Search Ultimate main benefits
The Mirasvit's extension has special features for users. With Custom Search Indexes, store owners can toggle the default ones and add new search indexes without needing to do any coding. Other extensions usually have fixed choices and don't allow this flexibility.
Long-tail feature from Elastic Search Ultimate lets customers search using SKU and reference numbers even if they typed in different styles. Autocomplete Fast mode doesn't require Magento – it directly sends the search to Elastic Search, making the process faster. Admins also can customize which items or attributes are more important to the search engine, setting a certain priority.
Feature Comparison
Amasty's Elastic Search for Magento 2 module provides a wide range of features with detailed customization. Functions like search fields or popup layouts can be precisely tailored by hand to suit your store's needs. Adding brand showcases and dedicated pages allows you to promote certain products and sell slow-moving stock.
Mirasvit's Magento 2 Elasticsearch Extension focused on a comfortable and simple experience for the users and store owners. Features are customizable through built-in templates. Functions are turned on and off via checkboxes. The ability to search through all store views and connected third-party data also helps users to find desired products.
Key Features of Elasticsearch For Magento 2
Amasty
Full-website search
You can add, delete, or edit "fields" in which the search should happen. Changing the order of the searched attributes will affect how high they will be displayed in the results for the user.
Autocorrection
Enabling this feature empowers the system to identify errors and automatically provide users with corrected suggestions.
Autocompletion of phrases
As the client types the first letters of the product name, the system will provide autocomplete suggestions. You can also determine the type of product information included in the auto-completion.
Wildcard search
You can allow shoppers to input a half-finished phrase or word, followed by an asterisk (*) symbol, and get relevant auto-completed results.
Synonyms and banned words
You can input a set of words that the search logic will treat equally. Similarly, you can specify an array of words to be disregarded by the search engine.
Weights for product attributes
This extension lets you incorporate various product attributes into the search algorithm and assign them "weights" ranging from 1 to 10. These numbers represent their priorities in search results and can be manually changed. You can also change the priority rules for certain attributes or the entire shop.
Redirection
You can create and set up special links that send clients to a relevant page if they encounter a broken one. This feature also lets you set up links that take users to particular landing pages based on their search.
Analytics
The extension allows you to check overall statistics for views, find out how many people bought the products, and sort information about the search by dates, types of products, or their popularity. You can also see the browsing history of the recent search results.
Customizable Design
The extension presents store owners with several template options for result window customization. You can also customize the colors of the popups by using HEX color codes.
Brand Widgets
The module enables the usage of a brands slider that displays all the featured brands on the front page. It also allows the creation of dedicated brand pages and searches for items by the brand through a distinct interface.
Movable search box
The module has a search bar widget that can be seamlessly positioned on any website page. Whether it's the sidebar, footer, mini cart, or CMS page, you can place it wherever you find suitable.
Mirasvit
Search indexes
Define in what parts of your store or third-party data the search is conducted by adding, deleting, or editing search indexes. Change the index position in the results to affect how relevant are found phrases.
Multi-store search
Turn the muli-store search on or off, allowing the system to search through all your store views simultaneously.
Spelling Correction
The system will automatically check for potential phrase errors and advise users with corrected phrases.
Autocomplete
The module automatically completes phrases in the search bar, directing customers to needed items.
Wild cards
Customers can easily search for products even when only remembering a partial name. By enabling the wildcard mode, you can allow them to replace the unknown parts with an asterisk (*) symbol to fill up automatically by the system.
Stemming
The engine will search by the roots of the words and consider special characters. For example, if a user enters "xiami smartphones", the system will also automatically search for the phrase "phone", adding those results to the list.
Synonyms
Create and fill synonym groups with similar words and include them in the search process. They will be used equally throughout the search.
Stopwords
Set up a list of banned words and phrases that will automatically be excluded from queries to ease the system's work.
Search Weights
You can assign certain values called "weight" to different products. Then, if you want to prioritize specific items in the search results, you can increase their weight. These values are also added automatically by the system if not touched.
Fallback Search and Redirections
The system automatically sends users to a default search results page if they land on a 404 page. It will redirect clients to a specific item page if it is the only search result. The module also allows you to set links to landing pages for certain phrases.
Long-tail search
You can make the search engine recognize special symbols by adding them to a special list. Symbols from it will be automatically ignored or replaced with empty spaces or other characters, which you can also define.
Google Sitelinks
You can let users to interact with your store's search bar right from the Google search results page.
Customizable Interface
This module gives you a few built-in options to customize your search bar. For example, you can show all results in one or two columns. You can also customize the style manually through style codes.
Reports and Analytics
The system will automatically build reports about the search activity. You can sort the results by time and change their display to graphs or radial charts. You can also see both general search volumes and the amounts of specific queries.
Similar and contrasting features of the extensions
By comparing features of both Elasticsearch Magento modules side-by-side, you can discover every difference in their toolkit. This simple list will help to decide what extension best suits the needs of your online store based on their respective available features.
| | Mirasvit search | Amasty search |
| --- | --- | --- |
| Autocompletion of sentences | | |
| Spelling corrections | | |
| Multilingual search | | |
| Relevance rules and promotion tools | | |
| Long-tail search | | |
| Search in singular/plural | | |
| Customization of the interface | | |
| Dictionaries of synonyms and stopwords | | |
| Fallback search and redirection | | |
| Category-specific search | | |
| Analytics tools | | |
| Cross-sell functionality | | |
| Multi-store search | | |
| Wild cards search mode | | |
| Google Sitelinks compatibility | | |
| Brand presentation slider | | |
| Brands sorting widgets | | |
| Sphinx Search support | | |
| Build-in third-party search indexes | | |
Choose the product that suits your online store
Despite any similarities, every Magento Elastic Search module has special traits that differentiate them. For example, the support of Google Sitelinks can help users to interact with your store's search bar right from the Google search results. You can also easily change the core to the Sphinx Search. An all-encompassing store search can provide relevant searching through multiple store views. Brand-centric widgets for the search can boost sales for specific products and help with sponsorships.
You can easily choose the one you like using this information about the Elastic Search Magento extensions. If any particular feature looks good for your online store, you will know which product can provide it.
Reasons to choose Mirasvit
Client focusing and satisfaction
These are our primary. A major portion of our new clients come from referrals from our existing clients. Our professional team of developers, marketers and support staff have invested the best knowledge and experience in the field into our work, so you know you can come back to us again and again.
Remarkable support
One year free and high quality support. We go to great lengths to provide maximum satisfaction with every module you have purchased in our store. By helping you with installation, configuration, answering your every question, we do all our best to eliminate any possible problems.
Risk-free Investment
30-days money back guarantee. If you are not satisfied with our extension performance for any reason, we provide a full refund.
Constant improvements and upgrades
We constantly add new features to all our modules, and are always interested in hearing your opinion and implementing your suggested features in our future developments.
Comprehensive Documentation
We provide an expanded user guide for every aspect of our extension, so you can find answers for all your burning questions.
Unencrypted source code of our products
You can customize extension according to your needs and requirements.
Usability and Performance
The Module is easy to install and upgrade, just follow our step-by-step user guide.
Safe Magento updates
No core modifications. Just use the composer or copy the extension files to the root directory of your store.