Compare Aheadworks Layered Navigation vs. Mirasvit Layered Navigation
Magento 2 Layered Navigation modules by Mirasvit and Aheadworks have different functionality. By comparing them, you can find out what each extension can do and how they differentiate. Discover key features of Layered Navigation Magento 2 extensions and pick the one you like most.
Solutions being compared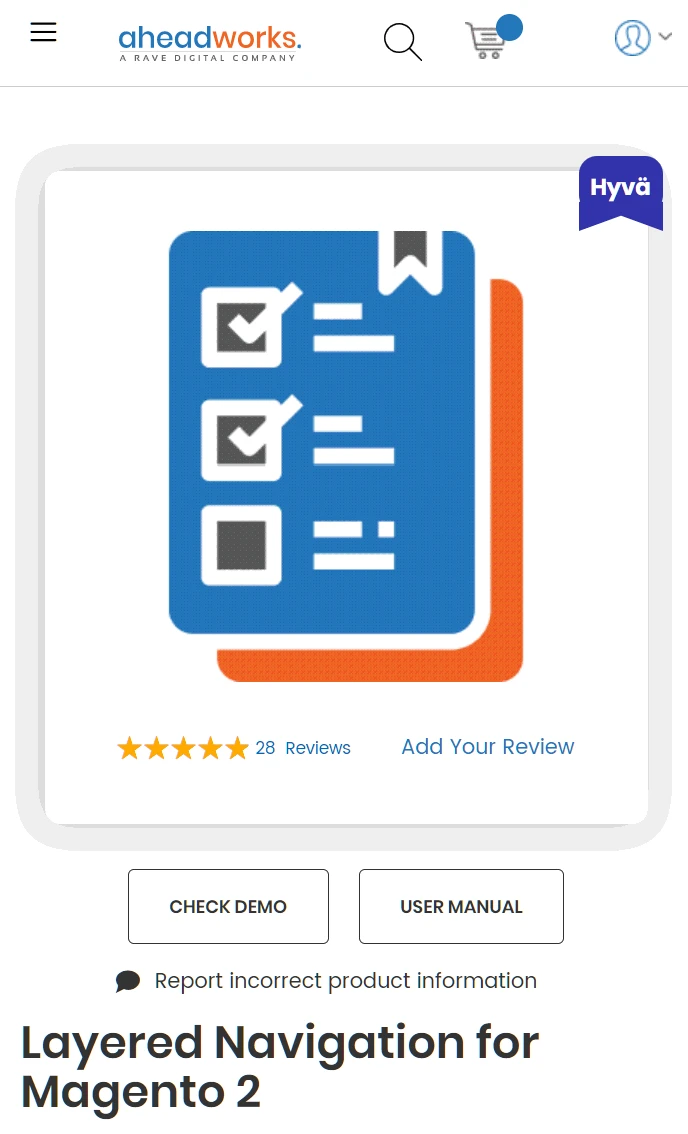 VS.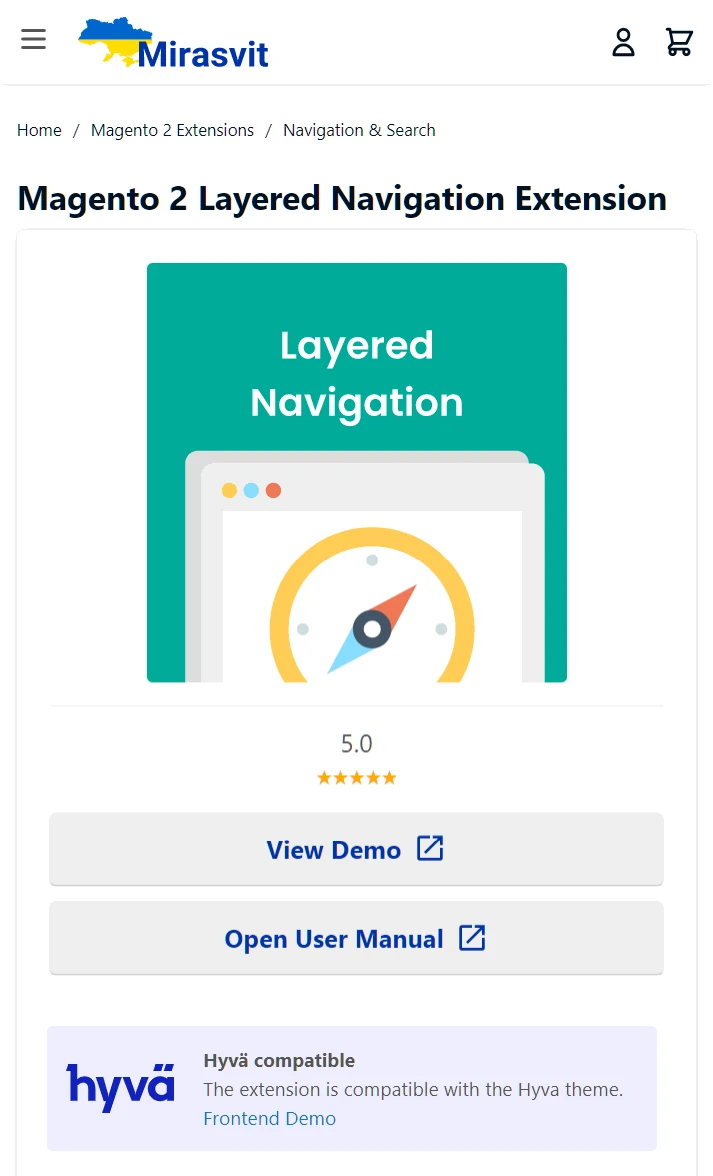 What extensions are being compared?
The Layered Navigation extension by Aheadworks provides additional customization options for the store's navigation. The module offers a variety of ways to show filters, like checkboxes, swatches, buttons, and text fields. Numerical filters can be shown as ranges, sliders, or manual input fields. More flyers, such as by price or rating, are added. Page can react in two ways after users select filters: it can refresh automatically after each filter or suggest a refresh with a popover after multiple choices. If a filter doesn't apply to the products, you can hide it to keep things clear. You can also set default filter values and states and change the design of the native swatches. The module also provides SEO improvements to the URLs and allows editing of page metadata.
Mirasvit's Magento 2 Layered Navigation module adds more comfort and versatility to basic website navigation. AJAX technology ensures the swift loading of filtered items and allows users to scroll through the results page infinitely. The extension helps users to find the items faster by displaying popular filters. It also introduces an alphabetical index for all attribute categories. To filter products the module can create links for every attribute option your clients can click on. The search process will also give more results thanks to advanced multiselect AND/OR logic and grouped filter options. The extension also helps to elevate your store's visibility on Google Search by creating SEO-friendly URLs for filtered pages. And promoting branded items is made possible through brand pages, animated sliders, and brand-specific filters.
Main Benefits of Mirasvit's Layered Navigation
The Mirasvit Magento Layered Navigation extension uses AJAX to offer users scrolling options like infinite scrolling of the results page, a "Show More" button, or a mix of these modes. The module also makes each attribute of an item a clickable link. When this link is clicked, the filter for a specific attribute is applied automatically for the client's convenience. You also have the option to change the content of brand pages separately for each store view.
This extension also creates an alphabetical index to sort filtering attributes. The module can show popular filters, so users can quickly narrow their search. You can also create an eye-catching style for your store by adding pictures to non-watch attributes. You also get the ability to adjust the visibility of filters for users and change their order in both horizontal navigation and the sidebar.
Feature Comparison
Aheadworks Layered Navigation module
Provides diverse options to display filters, including checkboxes, swatches, buttons, and text fields. Numeric filters can appear as ranges, sliders, or manual entry fields. The page can automatically refresh after each one or suggest a refresh through a popover after multiple choices. Filters that don't apply can be hidden, and default filter values and states can be modified. The module also makes URLs more SEO-friendly and allows editing of page metadata. You can choose between multi-select and single-select filtering modes. Each filter retains its chosen settings during a shopping session. Additionally, you can allow users to clear all applied filters in a specific category with just one click.
Mirasvit's Magento 2 Layered Navigation extension
Introduces new product filters and gives you control over their availability to users. You can enable infinite scrolling in different ways, either by simply scrolling the page down or using a "Load More" button. Additionally, you can establish brand pages and add brands to an animated slider. The module also allows customizing the content of brand pages for different store views. Additionally, the module transforms each item attribute into a clickable link that applies filters upon clicking it. You can manage which filtered pages search engines like Google can access. Furthermore, the extension helps prevent duplicate links by allowing you to choose canonical URLs for filtered pages.
Key Features of Layered Navigation Modules
Aheadworks
Select modes
Choose between the multi-select or single-select filtering modes. Multi-select mode allows customers to select multiple values for the same filter to compare items and discover the most suitable choice.
Display modes
Offers various filter display options, including checkboxes, swatches, buttons, text fields, and more.
Slider and "From-To" filters
Set up different modes of numerical filters, like price. They can be shown in "from-to" ranges, like sliders or sliders, with a manual number input option.
Category trees
The module allows you to set up and edit the category tree filter on every catalog page.
Reloading modes
Choose between two modes for reloading the page after users pick desired filters. The page can refresh automatically after every chosen filter. It can also show a popover suggesting users to refresh the page after choosing filters in bulk.
Hidden attributes
If a filter no longer applies to a specific product selection after the catalog undergoes filtering, you can hide it, preventing customer distractions.
Filter management
Allows setting default filter values and states, editing filters in bulk using a special grid, and specifying the number of filter values to be expanded.
SEO improvements
Turns unreadable links into SEO- and human-friendly URLs that search engines can better read.
Metadata editing
Allows you to edit metadata and choose whether or not search engines can see certain category pages and filtered pages.
Extra filters
Offers more filters than the standard kit, like filtering by sales, stock availability, or product rating.
Unselection
You can allow users to unselect all the applied filters from the individual category with one click.
Customize swatches
Native swatches can be edited and replaced to suit your store design better.
Mirasvit
Infinite Scrolling
Using AJAX technology, you can allow users to seamlessly view more products by scrolling down the page. Also, you can enable the "Load More" button for infinite scrolling or blend both methods.
Added Filters
Introduces new product filtering options, such as checking for item availability, product ratings, new arrivals, and products for sale.
Filters Control
Gives you control over the presentation of the filters. You can relocate them to the sidebar, decide which ones to display or hide, and set limits on attribute choices for users.
Multi Select Options
Customers can select and apply multiple filters at once with this extension. And the enhanced AND/OR search logic ensures more relevant results.
Linked Attributes
Clickable links are generated for each attribute on the product page. Clicking these links applies the chosen filter to the displayed products.
Grouped Filters
Unite similar item attributes into groups to display them together. For example, you can group red, orange, and pink colors into the "Red" color group.
Fast Navigation
Aid customers in finding the right products by displaying popular filters for shown items.
Custom URLs
Makes complex links simple for humans and search engines to understand. Duplicate link issues can be resolved by using preferred URLs for pages with applied filters. You also have control over how search engines perceive pages with filters.
Filter Images
Non-swatch attribute filters can now include images for a more standout visual experience.
Alphabetical Index
Allows sorting attribute options by the first letter of their label. You can also determine how many options must be present for the alphabetical index to appear.
Customizable UI
Enable brand and price sliders, display tooltips, and choose between horizontal and vertical layouts.
Brands Features
You can create a central brand page and customize individual brand pages. Also, you can add a widget to showcase featured brands, complete with customizable animation settings.
Side-by-side features comparison
Each module's feature must be put side-by-side and carefully compared to find the exact differences between extensions. The easiest way to do that is to see a comparison table and discover what functions each extension can and cannot provide.
| | Mirasvit Layered Navigation | Aheadworks Layered Navigation |
| --- | --- | --- |
| AJAX infinite scroll | | |
| Infinite scroll and "Load More" button | | |
| Filters multiselect | | |
| Multiselect logic AND/OR | | |
| Limit attribute options in filter | | |
| Category, stock, sale, and rating filters | | |
| Grouped Options | | |
| Product attribute linking | | |
| SEO-friendly filter URLs | | |
| Canonical URLs | | |
| Metadata editing | | |
| All products page | | |
| Quick navigation | | |
| All brands page | | |
| Brands slider | | |
| Different brand content for each store view | | |
| Display/hide attributes in categories | | |
| Customizable UI | | |
| Images to non-swatch attribute options | | |
| Alphabetical Index | | |
| Unselection | | |
| Reloading modes | | |
Find out what module is best for you
The Layered Navigation Magento 2 extensions enhances the navigation experience throughout your website. They allow you to tailor the UI to make users more comfortable by hiding unnecessary filters, adding images to attributes, and changing the sidebar. They also streamline the experience with advanced filter options, popular filters display, and filter multiselection.
The Layered Navigation modules can seem alike, but each has unique features and abilities. Mirasvit's extension, for example, includes different modes of infinite scrolling. It also can turn item attributes into clickable links that apply specific filters by that attribute. The module also brings extensive tools to work with brands, like all brands page, brand sliders, and individual landings. The Layered Navigation module by Aheadworks thou can add different page reloading modes, such as after each filter is chosen or manually through the popover.
To discover the best extension for your online marketplace you can take a look at the comparison table from this article. It will show you which extension is best suited to tackle your needs.
Reasons to choose Mirasvit
Client focusing and satisfaction
These are our primary. A major portion of our new clients come from referrals from our existing clients. Our professional team of developers, marketers and support staff have invested the best knowledge and experience in the field into our work, so you know you can come back to us again and again.
Remarkable support
One year free and high quality support. We go to great lengths to provide maximum satisfaction with every module you have purchased in our store. By helping you with installation, configuration, answering your every question, we do all our best to eliminate any possible problems.
Risk-free Investment
30-days money back guarantee. If you are not satisfied with our layered navigation extension performance for any reason, we provide a full refund.
Constant improvements and upgrades
We constantly add new features to all our modules, and are always interested in hearing your opinion and implementing your suggested features in our future developments.
Comprehensive Documentation
We provide an expanded user guide for every aspect of our layered navigation extension, so you can find answers for all your burning questions.
Unencrypted source code of our products
You can customize layered navigation extension according to your needs and requirements.
Usability and Performance
The Module is easy to install and upgrade, just follow our step-by-step user guide.
Safe Magento updates
No core modifications. Just use the composer or copy the layered navigation extension files to the root directory of your store.