Compare Wyomind Data Feed Manager vs. Mirasvit Advanced Product Feeds
Learn about Magento Data Feeds from Wyomind and Mirasvit. Discover their functions and unique features. Compare the information through simple tables and choose a fitting module for your store.
Information about the extensions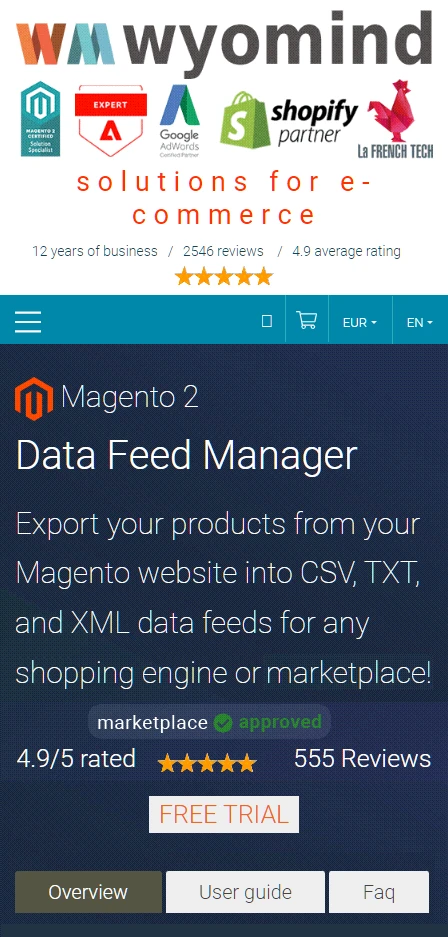 VS.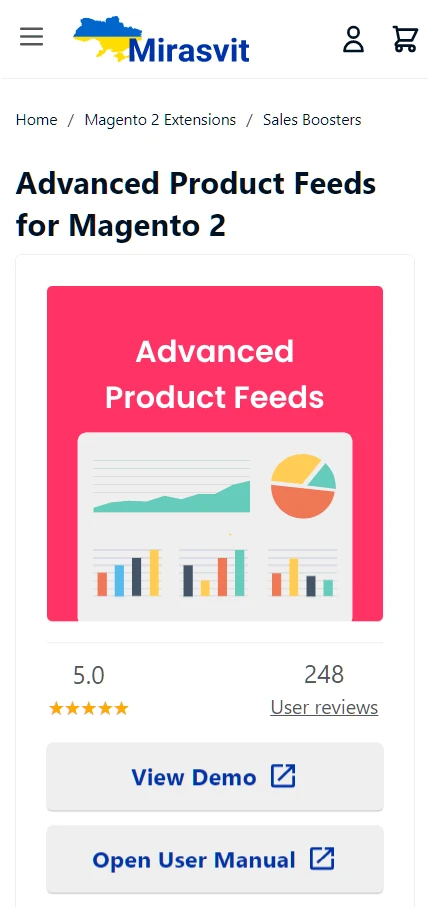 Details on compared extensions
Wyomind's Data Feed Manager
The Magento Data Feed from Wyomind helps you to expand your e-commerce into popular shopping engines. You can create item feeds with it and send them to Google, Amazon, or other platforms. Feeds support all product types, including bundles, groups, and downloadable entities.
The module allows the upload of feeds in formats such as TXT, XML, CSV, and TSV. It also provides flexible custom filters for products. These filters can be created using a simple drop-down UI. The library of attributes and patterns and the data preview feature will help with custom feed creation.
You can also schedule the generation of the feeds through the graphic timetable. You can map your products' categories to correspond with Google ones. The extension comes with 19 sample modifiable feed templates. Created feeds can also be used in different store views and with different currencies.
Mirasvit's Product Feed Magento extension
The Magento 2 Product Feed by Mirasvit allows you to represent your store on popular shopping platforms. It comes with 50 pre-made feed templates for different shopping engines. These templates are fully open to editing. You can also create custom ones for specific platforms.
Dynamic attributes that modify their values based on conditions can be added to feeds. You can also create custom dynamic variables that return string values after executing written PHP code.
Category mapping lets you tailor displayed items for the chosen shopping engine. The pattern library allows you to see and preview code patterns before usage. Built-in reports provide statistics on feed effectiveness and individual info on each feed. Clicks, revenue, conversions, and other useful data are displayed there. You can also import and export entities like templates and dynamic attributes, categories, and variables. Email notifications can also be set up for successful or failed feed generation and delivery.
Key Benefits of Product Feed by Mirasvit
The Product Feed Magento module by Mirasvit allows the creation of dynamic attributes and variables. Dynamic attributes can change their value based on predefined conditions. When used in feeds, they can display information like product availability or price with current discounts. On the other hand, the dynamic variables are custom-written in PHP and can return any string value. For example, you can get overall marketplace item stock or Global Trade Item Number from them.
With Mirasvit's Advanced Product Feeds, you can use pre-made reports to assess the performance of your product feeds. Reports can show general statistics or data about each individual feed. These reports provide insights into click rates, the number of made orders, sold SKUs, and other key metrics. Additionally, they can present data in interactive charts for better comprehension. You can also export any report in the XML and CSV format.
Feature Comparison
The Wyomind's Product Feed manager allows you to create custom filters with complex conditions. They are created through a series of drop-down lines defining attributes and their needed conditions. This feature helps to fine-tune which items will go to the feed. The module also supports the TSV file format to load the feeds. The Cron schedule of the feeds generation also has a more comprehensible UI. Instead of drop-down lists, it shows all options in one table.
The Mirasvit's Advanced Product Feeds extension enables the use of dynamic attributes and variables. Dynamic attributes can update item details based on set conditions. And the dynamic variables can return result of user-written PHP code in the form of a string. The extension also supports data export and import through YAML files. This way you can back up or transfer templates, filters, dynamic attributes, categories, and variables. Email notifications about the status of the feeds can be enabled. The reports and UTM tags can also help you to track feeds' performance.
Key Features of Magento Product Feeds
Wyomind
Advanced Filters
Create complex advanced filters for products through a simple drop-down interface. This tool lets you make new filters using a constructor with preset options. For example, you can create a filter that includes only items with SKUs different from the set number. Or add products that are cheaper than a certain price. With this feature, you can create personalized filters to determine in greater detail what products should be added to the feeds
Cron Schedule
Gain full control over the schedule of the feed generation. You can choose the days of the week and the exact hours when feeds will be generated through a simple graphic table instead of a drop-down menu. This way, you can easily fine-tune updates for your feeds to better account for the restock or incoming sales.
File Formats
Export data about your items to feeds via TXT, XML, CSV, and TSV file formats. Usually, the TSV format is not supported in other extensions.
Mirasvit
Build-in Templates
Instead of relying on custom feeds, you can use pre-built templates. The extension provides more than 50 different templates for popular shopping enginesб such as Google, Amazon, Instagram, Facebook, and others. Ready-to-use templates will help you to create feeds faster and do less manual work.
Dynamic Attributes
Create attributes that will switch values based on set circumstances. For instance, you can adjust the shipping cost based on how heavy the item is or show the product's stock status. With dynamically changing attributes, you can give customers relevant information to win their trust.
Feed Reports
Use pre-built reports to see how well your product feeds are doing. You can check overall statistics or look at each feed separately. The reports will tell you how often people clicked on your items, how many orders you got, which products were sold, and other statistics. Reports can also show data in interactive graphical charts to make it easier to understand.
Google Analytics
Set UTM parameters and track them through Google reports to determine your feeds' effectiveness. You can define the source of the campaign, its medium, name, and term. Paid keywords of the campaign can also be tracked.
Email Notifications
Receive email notifications after feed generation, delivery, or several failures. This feature lets you keep in touch with feed performance even away from the store's backend. You can also define what email will receive the notifications or turn them off.
Side-by-side features comparison
You can use a comparison table to determine which Magento module for product feeds best fits your store. By looking at the features of each module side by side, you can see how they differ and decide which one works best for your store.
| | Wyomind Feeds | Mirasvit Feeds |
| --- | --- | --- |
| Feed templates | | |
| Feed templates for Instagram, Facebook, Yandex Market | | |
| TSV template format | | |
| Custom feeds | | |
| Attribute modifiers | | |
| Feed generation by schedule | | |
| FTP/FTPS/SFTP feed upload | | |
| Product filters | | |
| Advanced filter creation | | |
| Dynamic attributes | | |
| Dynamic variables | | |
| Parent product values | | |
| Category mapping | | |
| Feed Reports | | |
| Google Analytics Integration | | |
| Import/Export data | | |
| Command line | | |
| Pattern library | | |
| Pattern preview | | |
| Individual URLs for feeds | | |
| Email Notifications | | |
Find a suitable module for your store
The Magento Data Feeds are useful to expand your e-commerce to other shopping platforms. They allow you to create product feeds from templates or from scratch to export your item list to shopping engines like Google and Amazon. With them, you can automate feed generation using Cron schedule. And category mapping can help to align your stock with chosen platforms.
>Product feeds can have similar functions. However, they also often have unique defining traits that differ from one another. The Wyomind extension enables you to create custom advanced filters for product export. With it, you can also upload TSV files with your feeds. The Mirasvit module has more than 50 pre-built templates for feeds. It adds custom dynamic attributes and variables. You can set up email notifications and import and export different feed data. It also brings built-in reports on feeds' performance.
See the comparison tables for the Wyomind and Mirasvit modules. Compare their key features side-by-side and discover their differences. Find the best feed extension for your e-commerce.
Reasons to choose Mirasvit
Client focusing and satisfaction
These are our primary. A major portion of our new clients come from referrals from our existing clients. Our professional team of developers, marketers and support staff have invested the best knowledge and experience in the field into our work, so you know you can come back to us again and again.
Remarkable support
One year free and high quality support. We go to great lengths to provide maximum satisfaction with every module you have purchased in our store. By helping you with installation, configuration, answering your every question, we do all our best to eliminate any possible problems.
Risk-free Investment
30-days money back guarantee. If you are not satisfied with our extension performance for any reason, we provide a full refund.
Constant improvements and upgrades
We constantly add new features to all our modules, and are always interested in hearing your opinion and implementing your suggested features in our future developments.
Comprehensive Documentation
We provide an expanded user guide for every aspect of our extension, so you can find answers for all your burning questions.
Unencrypted source code of our products
You can customize extension according to your needs and requirements.
Usability and Performance
The Module is easy to install and upgrade, just follow our step-by-step user guide.
Safe Magento updates
No core modifications. Just use the composer or copy the extension files to the root directory of your store.