Compare Mageplaza Product Feed for Magento 2 vs. Mirasvit Advanced Product Feeds
Discover the differences between Magento Product Feed by Mageplaza and Mirasvit. See their toolkits compared side-by-side and decide which module is better for your e-commerce
Information about the extensions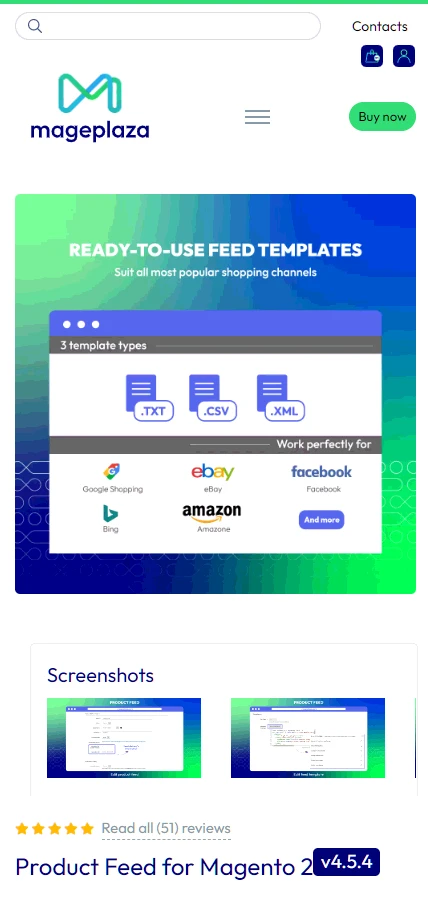 VS.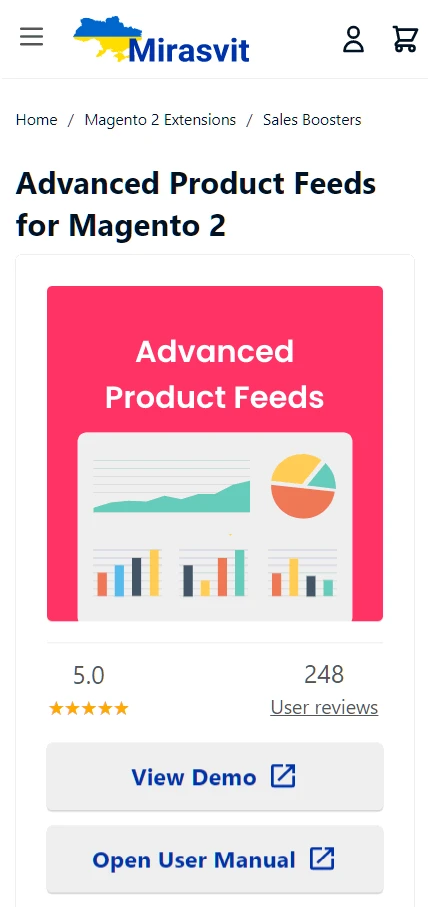 Details on compared extensions
Mageplaza's Magento Product Feed
Mageplaza's Magento Product Feed extension allows you to create and send product feeds to different shopping platforms. Use 5 pre-built feed templates for popular shopping engines like Amazon, Google, eBay, Facebook, or Bing. Upload them in XML, TXT, CSV, XLS, and TSV formats.
Templates can be customized, and you also can create feeds from scratch. The extension enables you to search and add any type of item to the feed with the help of flexible filters. Feed data will be uploaded to the platform via FTP or SFTP sending methods. You can also use the HTTP Server Post to URL method. Generation of the feeds can be scheduled and done automatically.
The module lets you set up email notifications when the feeds are regenerated. After uploading the feed, you can check its logs to see if it was delivered correctly and works properly. Then, ready-to-use reports can give you statistics about revenue made by feeds.
Mirasvit's Product Feed Magento extension
The Magento 2 Product Feed by Mirasvit helps you manage trading through popular shopping engines. The extension provides more than 50 pre-built templates for feeds. They can be edited, and you can add custom dynamic attributes and variables.
The manual creation of the feeds is also possible. You can discover and preview all available code patterns in the pattern library before usage. For example, see how the URL Keys of items will look in the feed. The ".parent" suffix can be used to get variables for simple products from configurable products. For example, it can be used to get the Parent URL for a not visible individual simple product.
The data, like feed templates and dynamic entities, can be imported and exported. This way, you can always create a backup or transfer setting to a different store. Built-in reports can show general effectiveness, clicks, orders, what products were sold, and how much money is made from each click. The reports can be exported in files in CSV and XML format.
Key Benefits of Product Feed by Mirasvit
The Product Feed Magento module by Mirasvit provides users with more than 50 pre-built feed templates. Most popular platforms like Amazon, Google, and eBay have their own dedicated templates. You can also find a variety of templates for other shopping engines, including Instagram, Shopzilla, Fishpond, and more. While other modules rely on custom feeds, this extension brings ready-to-use templates for any occasion. The default and edited templates can be exported to other stores with importing tools.
Mirasvit's Magento Product Feeds supports dynamic attributes and variables. Dynamic attributes allow you to create custom attributes that change depending on the pre-defined conditions. Using them in feeds, you can show buyers the item's availability or the correct shipping price, depending on the product weight. The dynamic variables, coded in PHP, are even more flexible. They can allow you to get more complex data, such as item stock in the entire marketplace.
Feature Comparison
The Magento Data Feed module by Mageplaza allows uploading templates in TSV format. It also allows you to deliver the feeds through the HTTP Server Post to URL method. Each feed will have a log that shows if the feed is working, if it got delivered, what kind of file it is, and how it was created. With this extension, you can also choose the length of the category path for product URLs. The longest path includes all the subcategories in the web address. The shortest one cuts out as many subcategories as possible.
The Product Feed extension created by Mirasvit allows the usage of dynamic attributes and variables. They can help you to show dynamically changing item fields and complex data. For example, with the dynamic attributes, you can let customers see if the product is in stock. The dynamic variables can show how many exact items are available in your marketplace. The extension also lets you to export and import data via YAML files. This way, you can back up or transport templates, filters, dynamic attributes, categories, and variables. The style of the product feed can also be changed through programmatic patterns in the pattern library.
Key Features of Magento Product Feeds
Mageplaza
Templates for Feeds
After the module's installation, pre-made feed templates for Google Shopping, eBay, Amazon, Bing, and Facebook can be used. Templates can also be edited and created from scratch. The extension supports XML, TXT, CSV, XLS, and TSV template formats. Usually, TSV cannot be used in other modules.
Feed Logs
Track the status of each feed to catch and correct errors with feed logs. There, you can see if the feed is working, whether it was delivered, its file, and its creation type. This tool lets you always keep in touch with your feeds' activity.
Multi-channel Delivery
Can deliver your feeds through standard FTP, FTPS, or SFTP methods. Unlike other extensions, you can also use HTTP Server Post to URL delivery method.
Categories Path URLs
Define the category path for product URLs. The default option represents standard Magento paths. The longest shows all the subcategories in the URL, and the shortest path excludes as many subcategories as possible. This setting allows you to either help customers with navigation or optimize URL for search engines.
Mirasvit
Pre-build Feed Templates
Choose from over 50 ready-made templates to make product feeds for online shopping channels. The extension has ready designs for Facebook, Instagram, Shopzilla, eBay, and other shopping engines. Feeds can be delivered through FTP, FTPS, and SFTP methods. Other modules usually offer fewer pre-made templates or just custom feeds.
Dynamic Attributes
Add attributes to the templates that will change their values depending on the specific conditions. For example, change the shipping price according to the item's weight. This feature can help you attract more customers by showing them dynamically changing relevant information about the products.
Dynamic Variables
Utilize PHP coding to create user-defined dynamic variables for the templates. For instance, you can get the GTIN ID of a certain item. Or make a variable that will store the quantity of a certain item from all available stocks.
Import/Export Data
With this extension, you can import or export templates, filters, dynamic attributes, categories, and variables in the YAML format files. With this tool, you can create backups or transport settings and information between websites.
Pattern Library
The pattern library allows you to see all shortcodes for variables. You can also see how they will look before you use them with the help of the preview feature. These variables can help to make custom feeds stand out more.
Parent product values
Suffix ".parent" from product attributes can return the value of the parent product. For example, you have a configurable bag with different colors and sizes. This suffix can help you get the URL of the simple bag with no options chosen that otherwise don't have a visible link. This suffix can help you to fine-tune the feed output of complex items.
Side-by-side features comparison
You can use a comparison table to determine which Magento module for product feeds best fits your store. By looking at the features of each module side by side, you can see how they differ and decide which one works best for your store.
| | Mageplaza SEO | Mirasvit SEO |
| --- | --- | --- |
| Feed templates | | |
| Feed templates for Instagram, Shopzilla, Yandex Market | | |
| TSV template format | | |
| Custom feeds | | |
| The suffix ".parent" in product attributes | | |
| Feed generation by schedule | | |
| FTP/FTPS/SFTP feed upload | | |
| Product filters | | |
| Dynamic attributes | | |
| Dynamic variables | | |
| Parent product values | | |
| Category mapping | | |
| Feed Reports | | |
| Detailed statistics about clicks and sold SKUs | | |
| Feed logs | | |
| Google Analytics Integration | | |
| Import/Export data | | |
| Command line | | |
| Pattern library | | |
| Individual URLs for feeds | | |
| Define the length of category paths for product URLs | | |
Find a suitable module for your store
The Product Feeds Magento extensions allow you to promote your products on popular shopping platforms. With these modules, you can make product lists using pre-made templates and send them to the shopping engines. You can change these templates to fit your marketing plan or create your own. And the built-in reports will help you track the effectiveness of the feeds.
Product feeds have a few common features, but each has its own distinguishing functions. The extension made by Mageplaza adds logs for you to track the status of each feed. It also provides an extra format for uploading templates and sending feeds. The Mirasvit module enables the usage of custom dynamic variables and attributes. It allows you to import and export entities from the store. With this extension, you can also use the ".parent" suffix and programmatic patterns to customize the style of your feeds.
Compare the modules by Mageplaza and Mirasvit side-by-side via tables to learn more about their differences. Find out which is better for your marketplace.
Reasons to choose Mirasvit
Client focusing and satisfaction
These are our primary. A major portion of our new clients come from referrals from our existing clients. Our professional team of developers, marketers and support staff have invested the best knowledge and experience in the field into our work, so you know you can come back to us again and again.
Remarkable support
One year free and high quality support. We go to great lengths to provide maximum satisfaction with every module you have purchased in our store. By helping you with installation, configuration, answering your every question, we do all our best to eliminate any possible problems.
Risk-free Investment
30-days money back guarantee. If you are not satisfied with our extension performance for any reason, we provide a full refund.
Constant improvements and upgrades
We constantly add new features to all our modules, and are always interested in hearing your opinion and implementing your suggested features in our future developments.
Comprehensive Documentation
We provide an expanded user guide for every aspect of our extension, so you can find answers for all your burning questions.
Unencrypted source code of our products
You can customize extension according to your needs and requirements.
Usability and Performance
The Module is easy to install and upgrade, just follow our step-by-step user guide.
Safe Magento updates
No core modifications. Just use the composer or copy the extension files to the root directory of your store.