Magento 2 Abandoned Cart Email Extension
The cart abandonment rate is very high for any online store. You need to lower it if you want to see your store grow.
The common tactic to reduce the abandonment cart rate is to send emails to customers to recover their carts with some reward.
Abandoned cart emails are a tried-and-tested way to maximize conversions.
Reduce your cart abandonment rate
Segment your contacts
Run multi-stage email campaigns
Analyze the performance
Personalize templates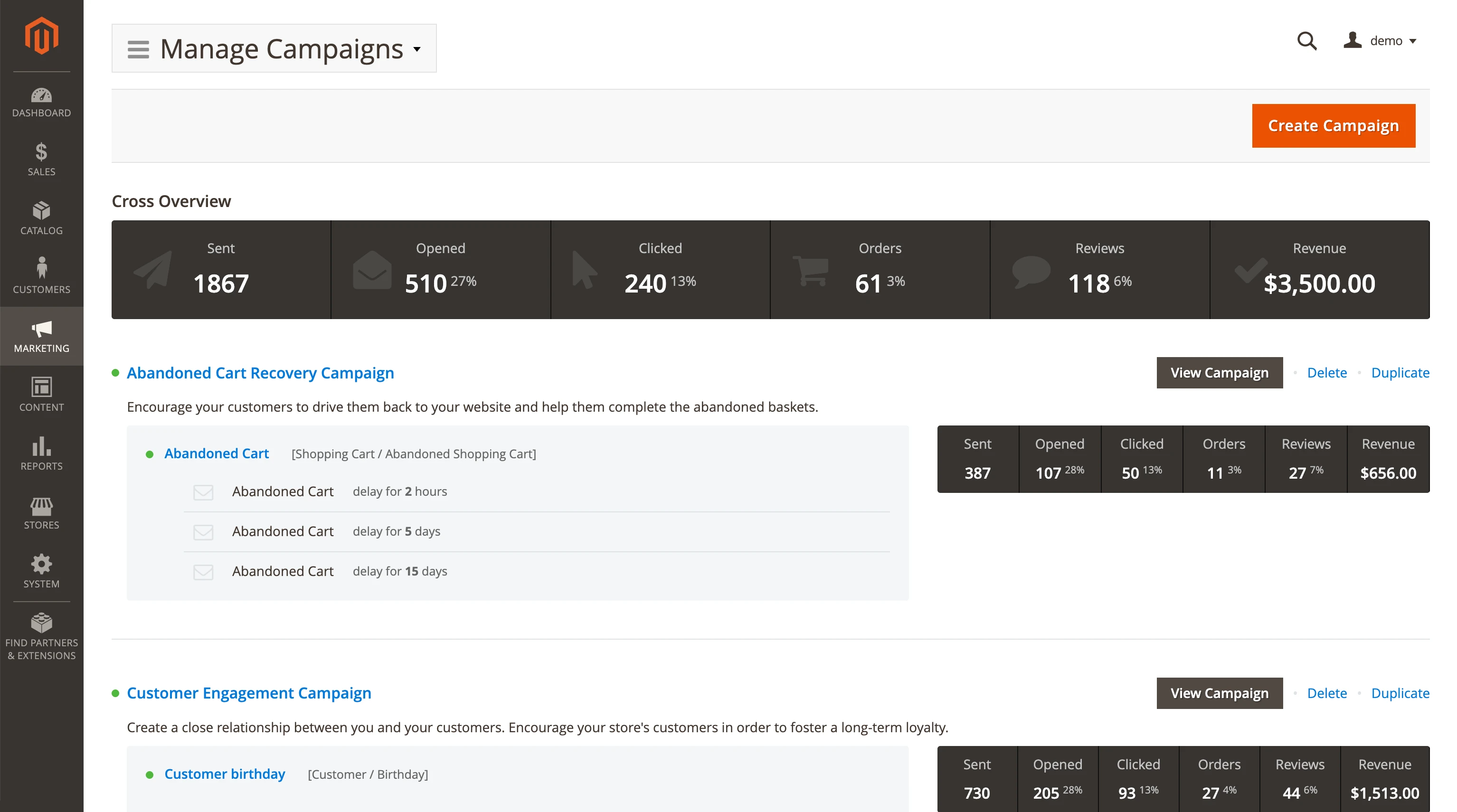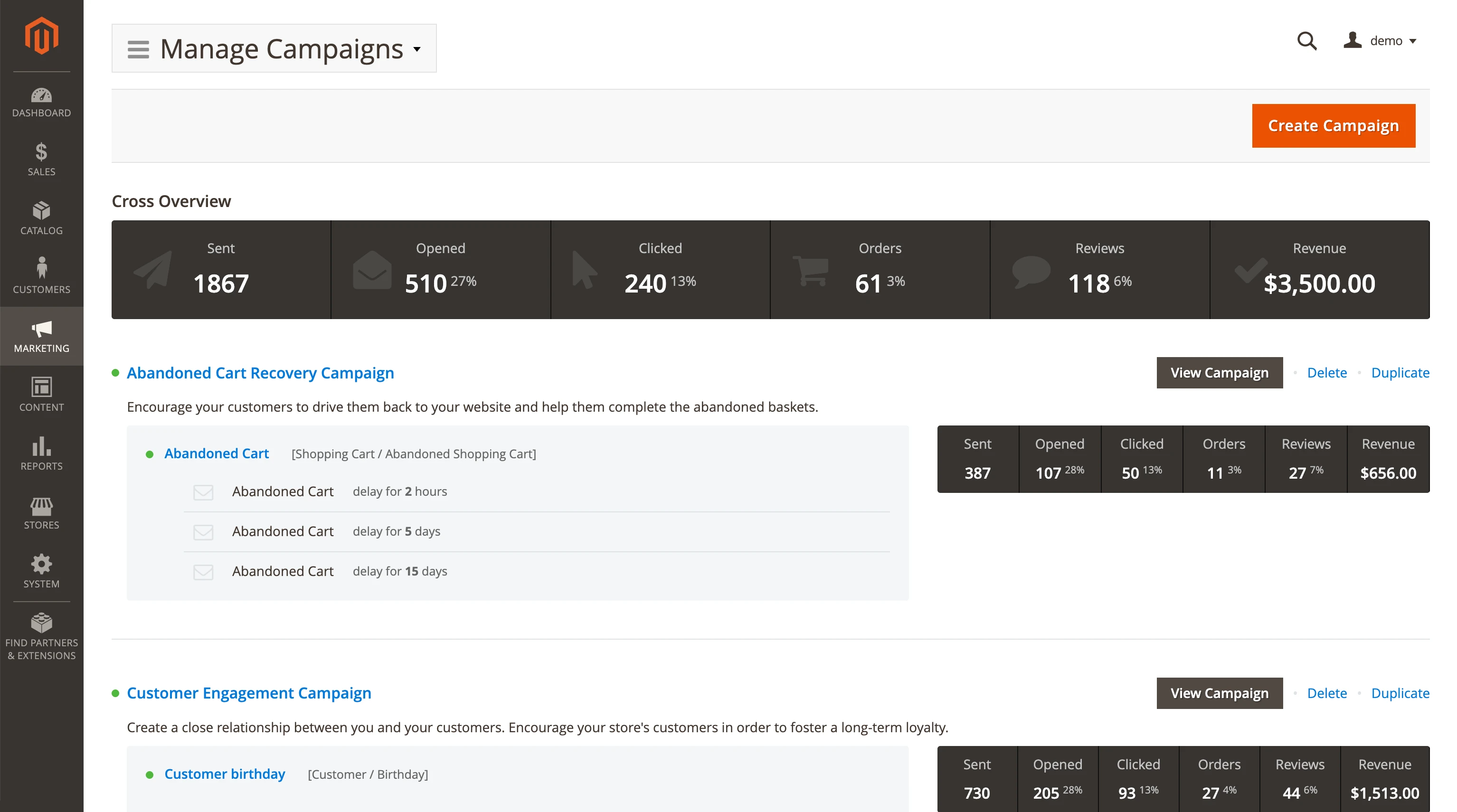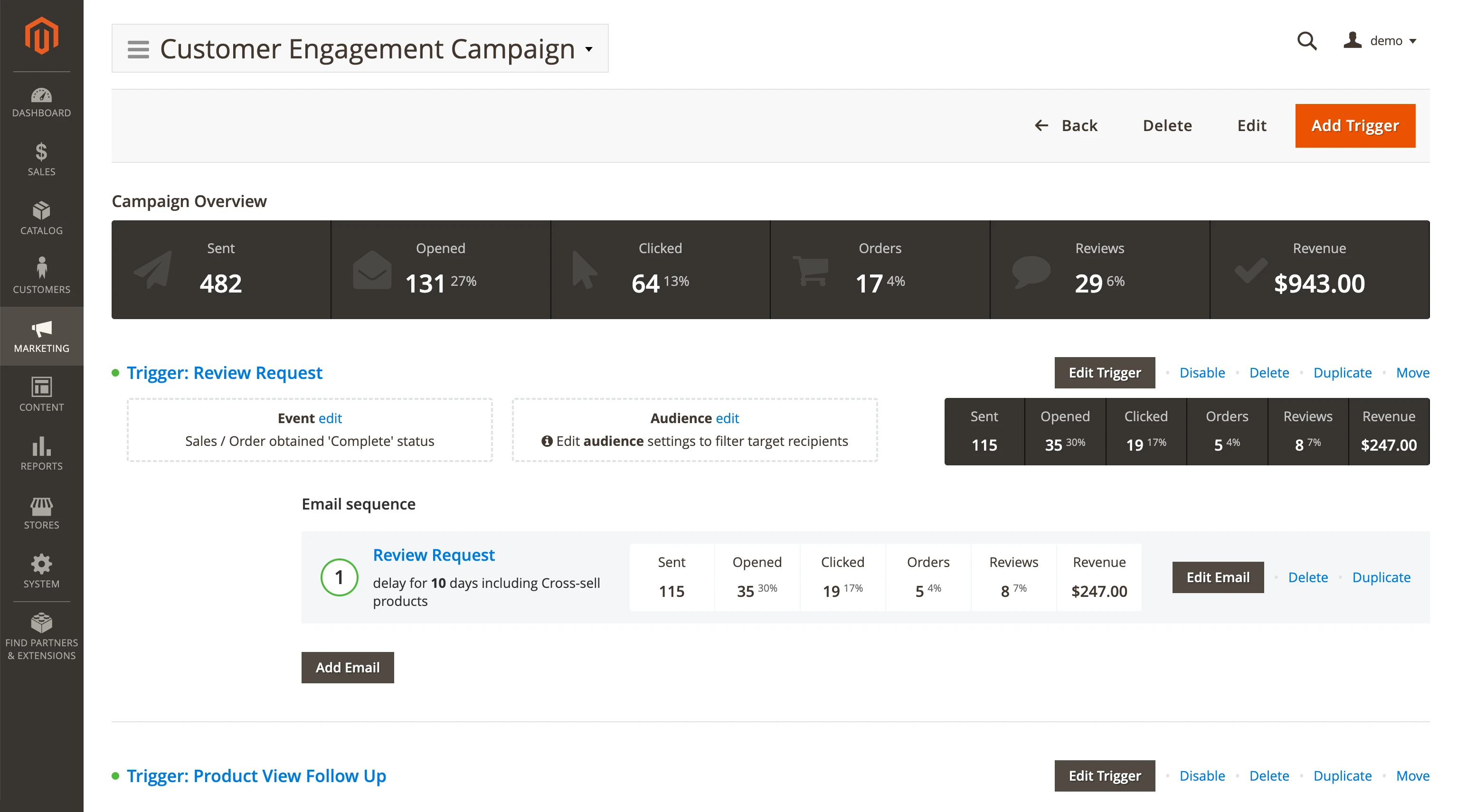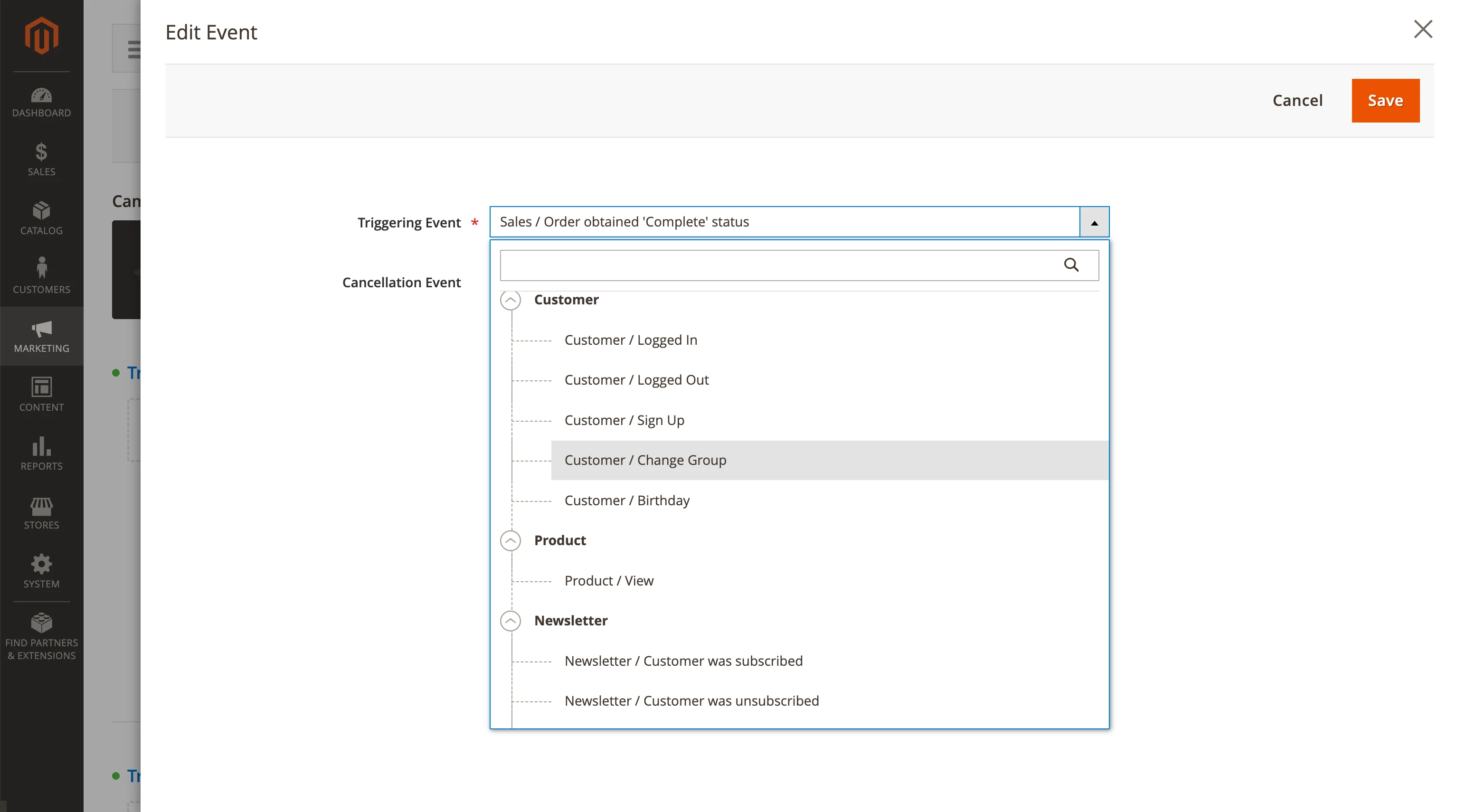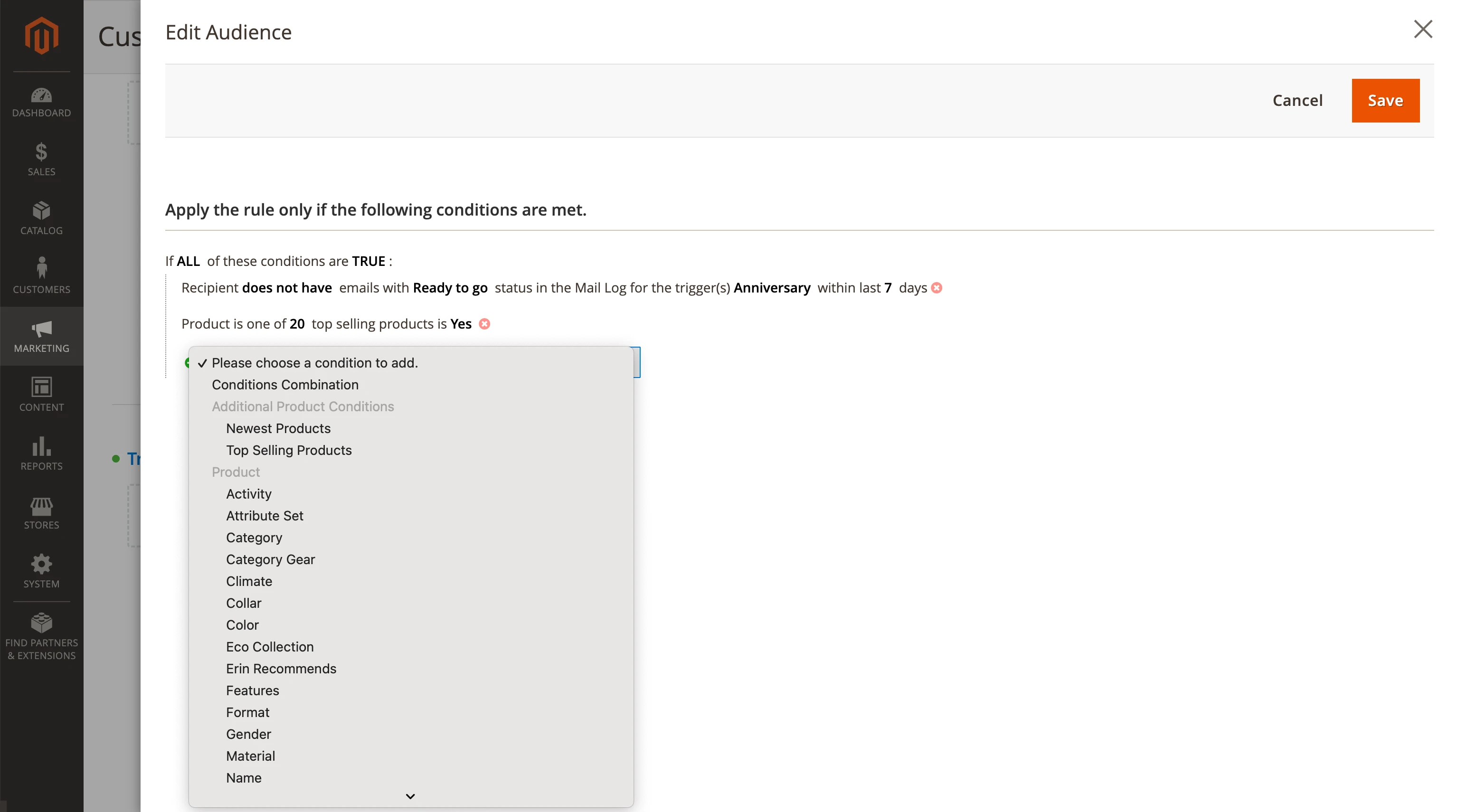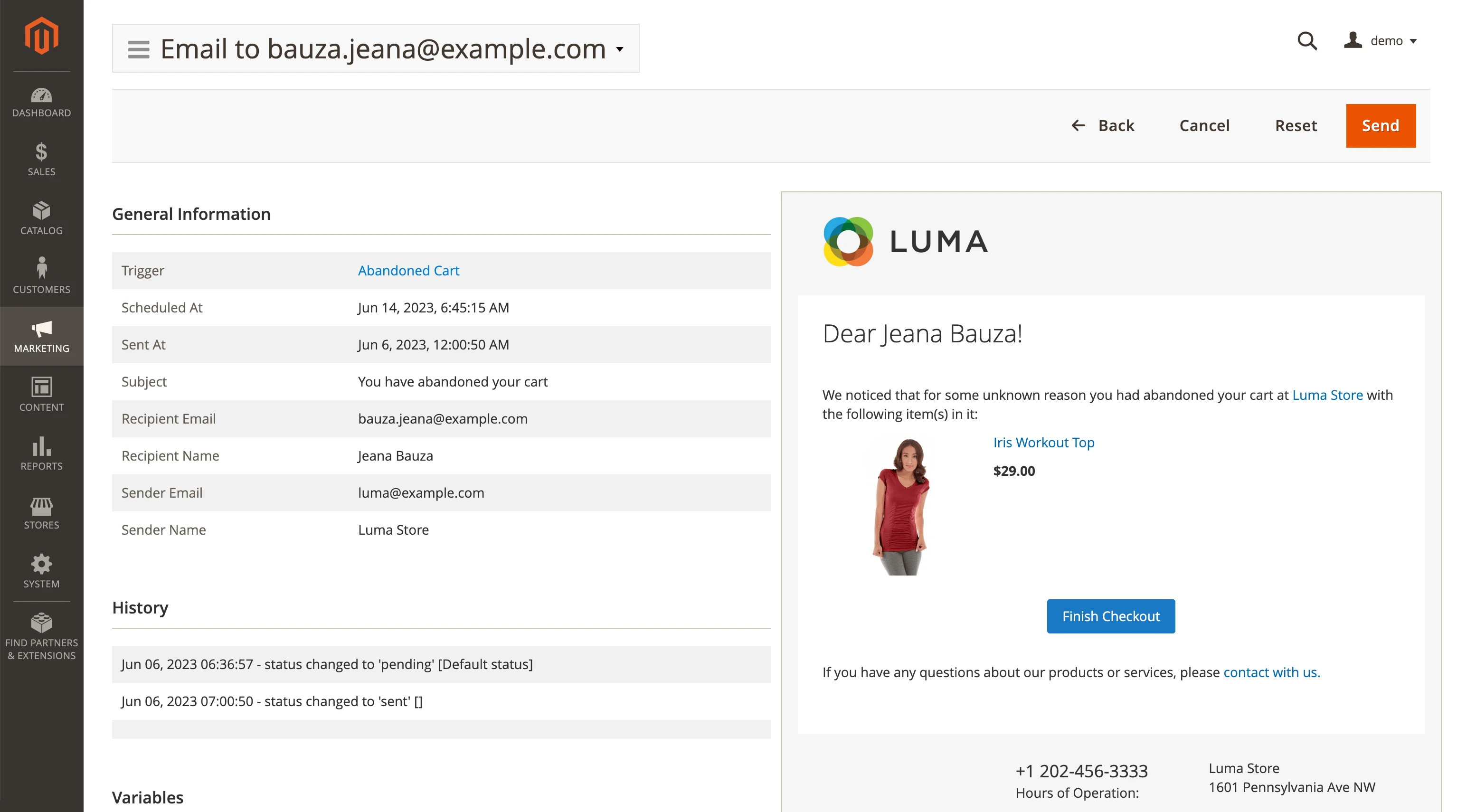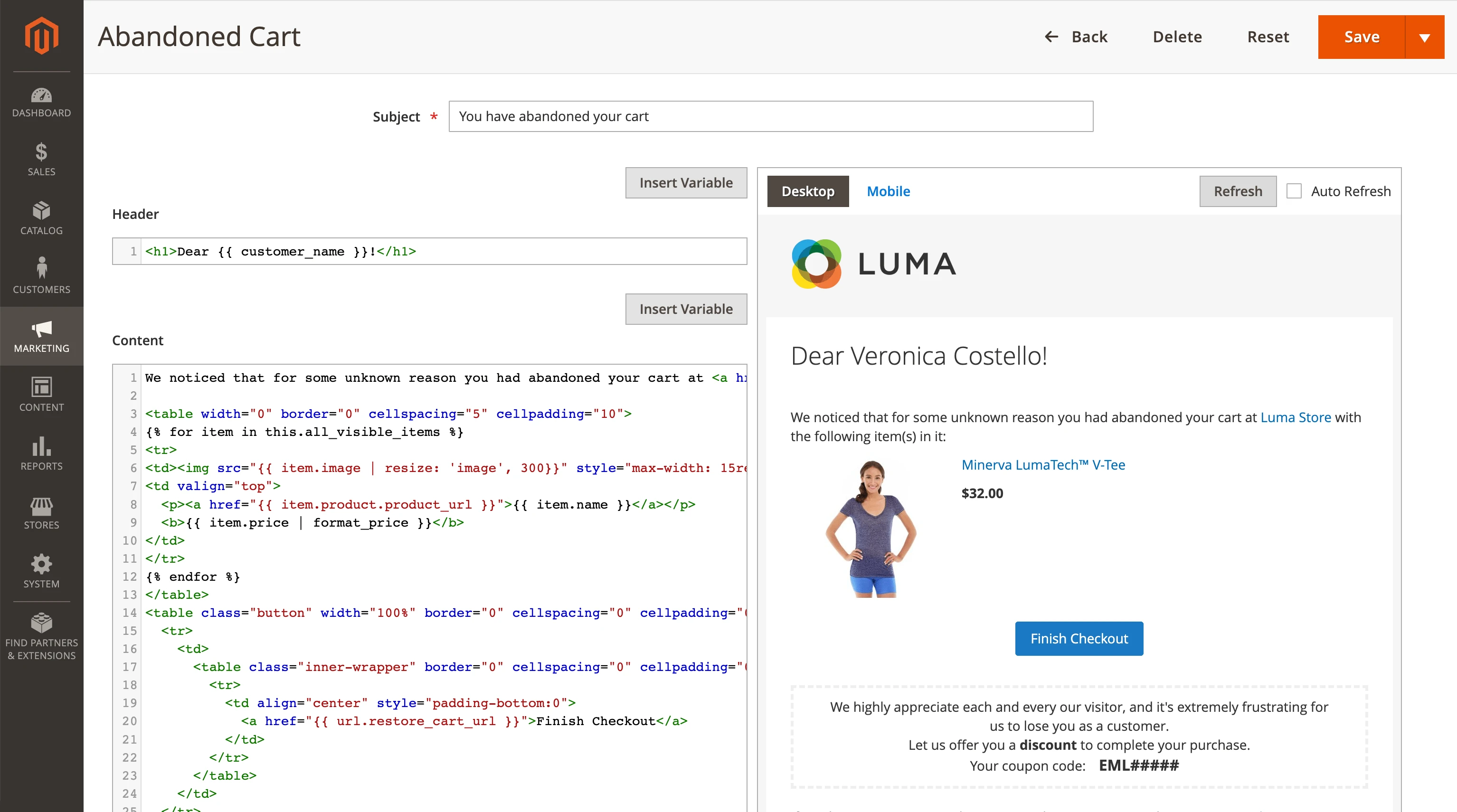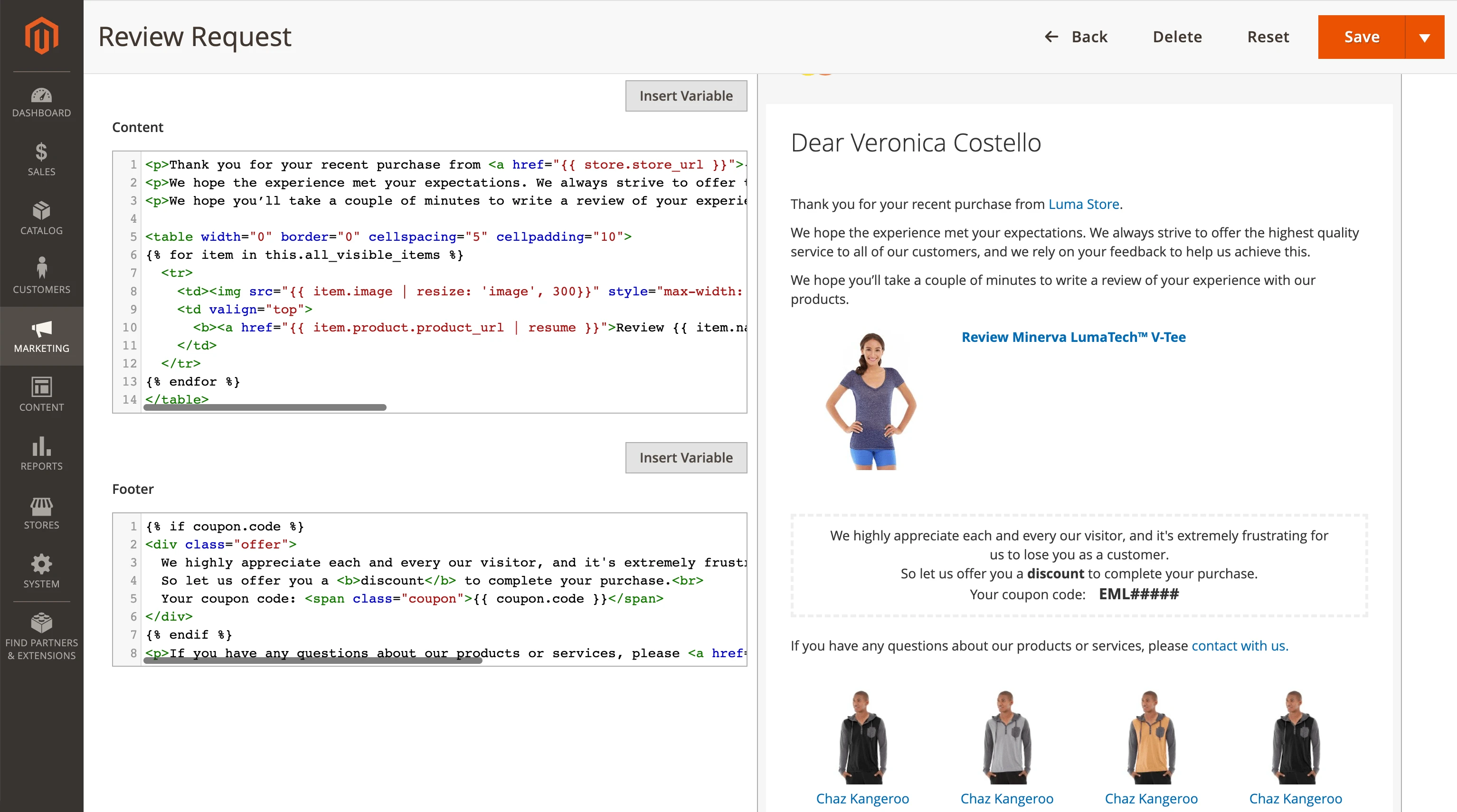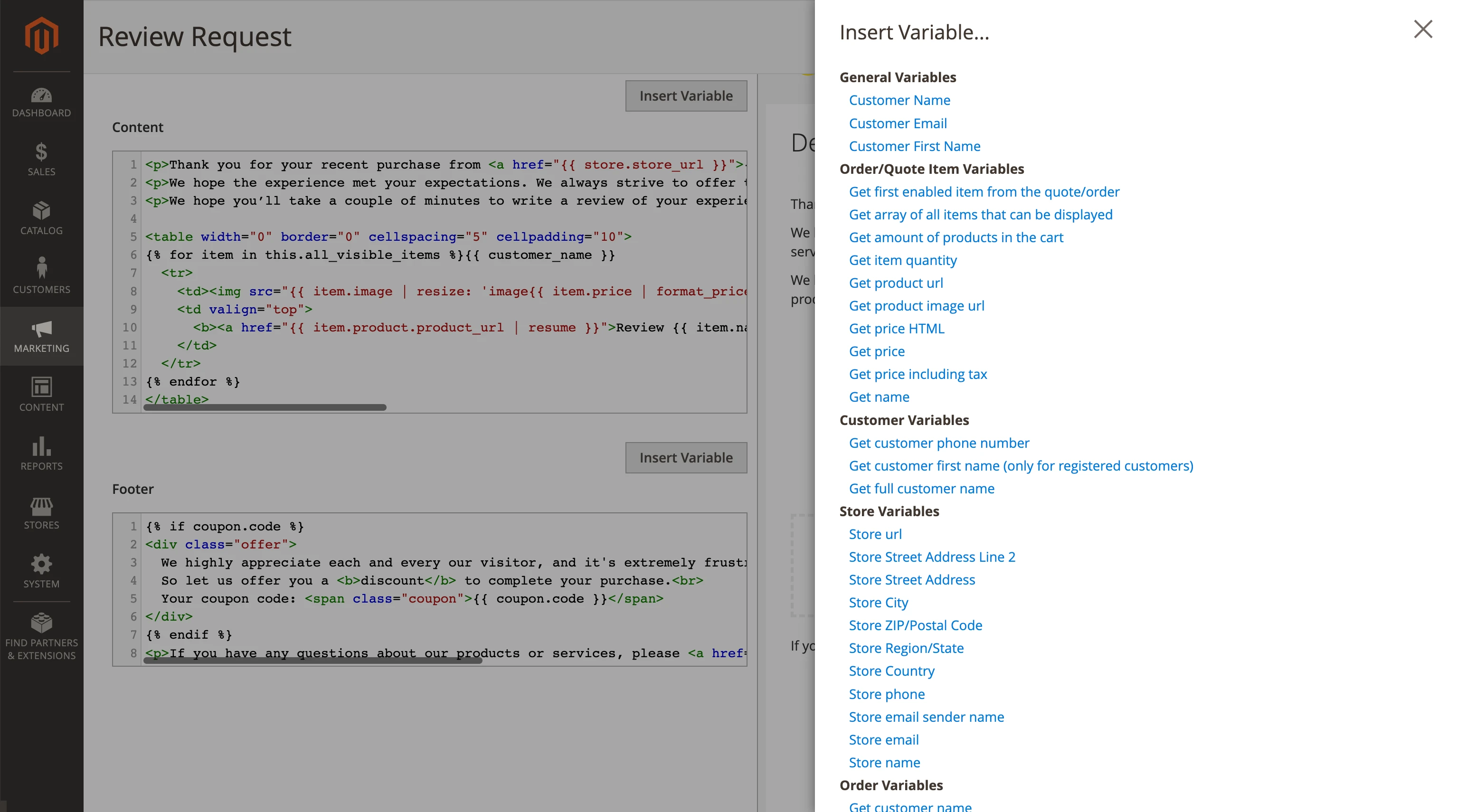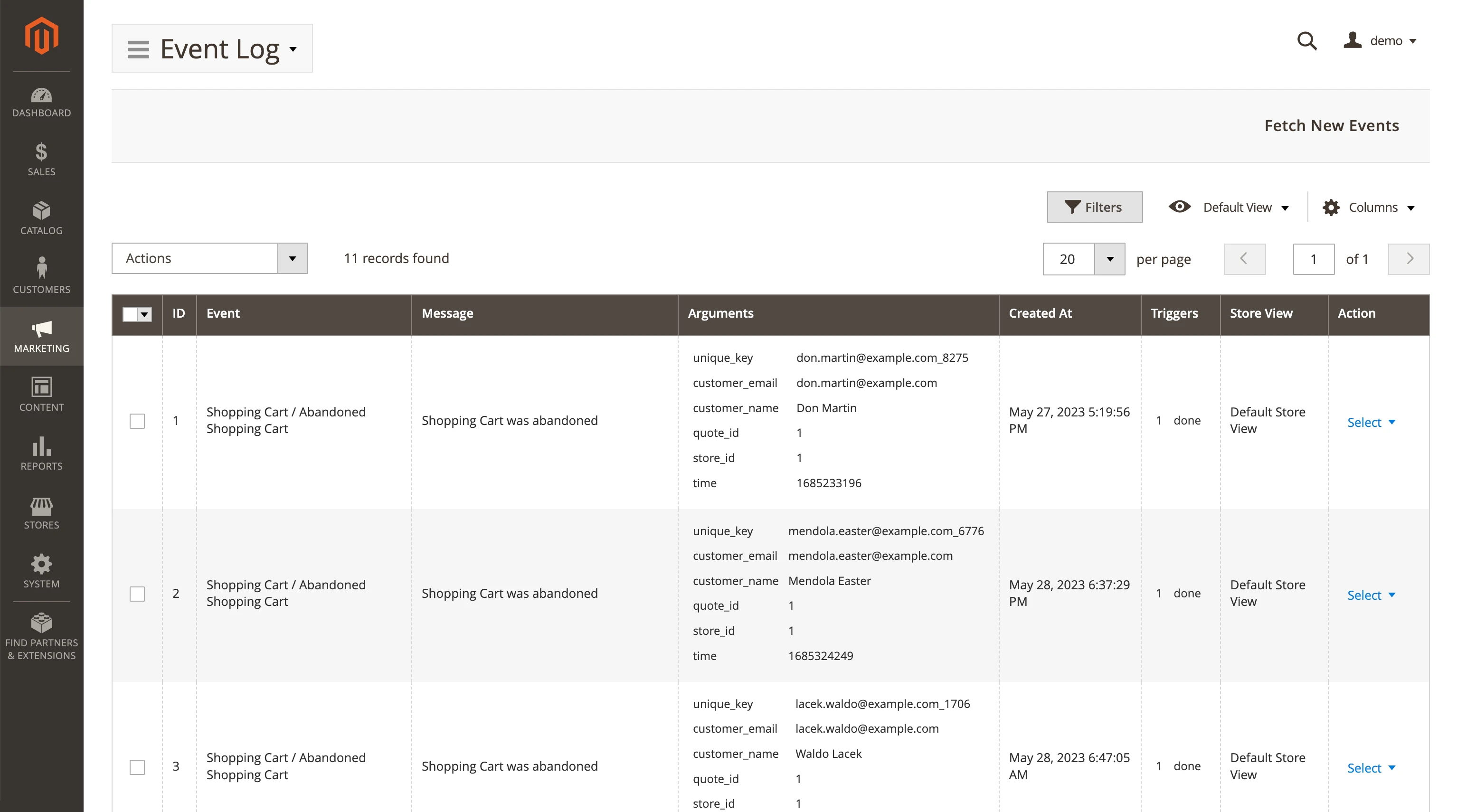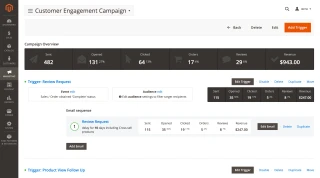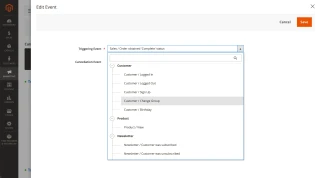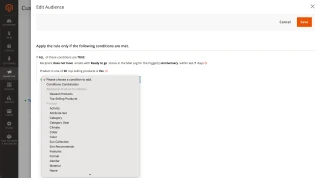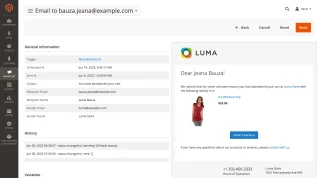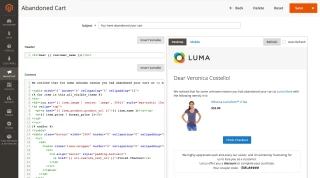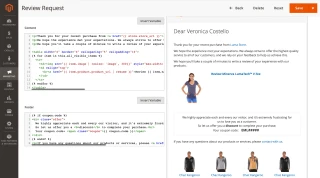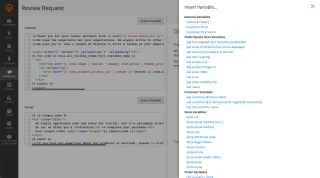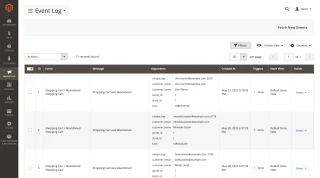 Business Value
Abandonded carts are both a problem and a growth opportunity for any online store. Baymard Institute found out that the average cart abandonment rate is nearly 70%. However, visitors who haven't finished their purchase have a much higher conversion potential, too. They're definitely interested in your products.
Cart abandonment emails are a proven recipe for conversion. According to Barilliance's study, an average conversion rate for abandoned cart emails is about 19%! You can improve your cart abandonment rate even with basic messages, but our module lets you reach the full potential of Magento 2 abandoned cart emails.
How It Works
This feature sends automated emails to customers who abandoned their shopping carts without making a purchase. It also provides advanced targeting, scheduling and customization options for these messages.
Keep in mind that the module has to know the relevant email. It will only send a message if a visitor was logged in or they entered their email at the checkout.
---
Main Advantages
Segment Your Contacts
Campaign targeting works great with promotional emails. It's just as good for abandoned cart recovery, too! With audience filtering, you can segment your contacts in order to maximize your efficiency. This feature lets you perform A/B tests as well.
Run Multi-stage Email Campaigns
One email is not enough to get the most out of the lead's conversion potential. Our extension lets you send your visitors several reminder emails.
Analyze the Performance
Our built-in analytics lets you see how your messages performed. You can make the most efficient changes after that.
Personalize the Templates
Each abandoned cart is unique, so you have to personalize the email well. The template editor lets you use a set of variables in order to make your follow-ups as personal as possible.
Frequently asked questions
What are abandoned carts?
Carts become abandoned if a visitor adds products to their cart and leaves the site without making a purchase.
How do I improve my Magento 2 cart abandonment rate?
You have to reduce the amount of abandoned carts or try to recover some of them.
How do I reduce my quantity of Magento 2 abandoned carts?
You have to understand why your visitors would rather not purchase the products and eliminate those reasons. Among other things, they could be comparing prices, they might find the checkout process confusing or they might not trust you.
How do I recover my Magento 2 abandoned carts?
You can use either email reminders or ad trackers. The former send a message to the visitor's inbox, and the latter show them the products they added while they browse other sites.
Reasons to choose Mirasvit
Client focusing and satisfaction
These are our primary. A major portion of our new clients come from referrals from our existing clients. Our professional team of developers, marketers and support staff have invested the best knowledge and experience in the field into our work, so you know you can come back to us again and again.
Remarkable support
One year free and high quality support. We go to great lengths to provide maximum satisfaction with every module you have purchased in our store. By helping you with installation, configuration, answering your every question, we do all our best to eliminate any possible problems.
Risk-free Investment
30-days money back guarantee. If you are not satisfied with our extension performance for any reason, we provide a full refund.
Constant improvements and upgrades
We constantly add new features to all our modules, and are always interested in hearing your opinion and implementing your suggested features in our future developments.
Comprehensive Documentation
We provide an expanded user guide for every aspect of our extension, so you can find answers for all your burning questions.
Unencrypted source code of our products
You can customize extension according to your needs and requirements.
Usability and Performance
The Module is easy to install and upgrade, just follow our step-by-step user guide. Additionally, the extension is ready to use with the Hyvä theme.
Ready for Magento Cloud
No core modifications. The extension has been tested in a Magento Cloud environment and is fully compatible with it.