"unknown column" error while Sphinx reindex
Long reindexing time
1) Whether you have Elastic or Sphinx search Ultimate extension, and use a built-in engine with over 20K products, consider using external search engines. To check your engine settings you may find at System -> Search Management -> Settings -> Mirasvit Extensions -> Search.
2) In case you already use an external search engine, you may check if it has a unique Index Prefix for your store for Elastic Search
or try to stop and restart Sphinx Daemon, then run reindex.
3) You have a Fast Mode enabled at System / Settings / Mirasvit Extensions / Search Autocomplete section: the disadvantages include the increased indexing time of the search index. Otherwise, disable this feature to speed up reindexing time.
4) Additionally disable some options in Product Settings content appearance such as Show Thumbnail, Rating, etc at System / Settings / Mirasvit Extensions / Search Autocomplete section.
5) Make sure there are no duplicate searchable attributes or searchable attributes with search weight = 1 at the Product Index in System -> Search Management -> Search Indexes, otherwise delete those searchable attributes and try reindex.
6) Take a look also on Magento Best Practices for reindexing here.
Error: Please make sure you use different sphinx ports for all these instances
When happens: We installed on our staging/dev/test site and configured different ports on staging and on live. But the sphinx engine is not connecting on our staging site, keep getting the error message: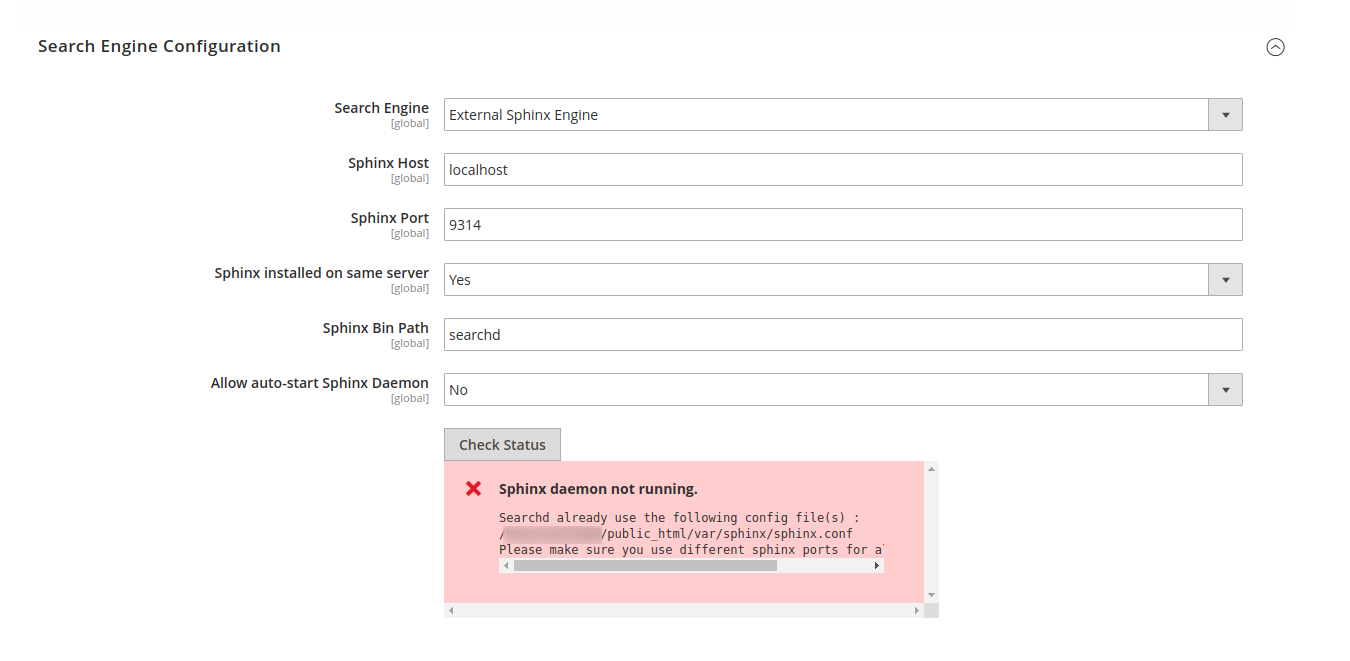 How to solve: 1) turn off "Allow auto-start Sphinx Daemon", put a different Sphinx Port (any free port, like 9811, 9812) for each instance; 2) specify the "Custom Base Path" in Additional configuration (for example, for dev store: /home/dev/sphinx/bin/searchd); 3) separately run reindexes on the instances, and then enable "Allow auto-start Sphinx Daemon".
Strange search terms
Sometimes you can see unwanted, strange search terms in Reports, Hot searches in the autocomplete or in the Related Search Terms and think it is spam or generated by our extension.
Actually, they are the most searched Search Terms in your Magento, more details find in official Magento documentation here. You can clear some of the search terms and it won't appear: go to Marketing > SEO & Search > Search Terms, find the necessary term and delete it, otherwise, you will need to delete them in the database.
No alive nodes found in your cluster
Usually, it is a server error. The cause for the problem can be found in the server logs at /var/log/elasticsearch/ directory. First of all, make sure it is configured properly, reset elastic search indicies from the console curl -XDELETE localhost:9200/* and run re-index bin/magento indexer:reindex catalogsearch_fulltext. Also, here is the best Magento practices to resolve elastic search problems.