Setting Up a Notification
Notification purpose is to send messages to the specified recipients when some certain event has occurred in your system.
In this context, an event is the certain action of a visitor of your site (e.g., login, registration, placing an order) or an action of a system (e.g., change order status, cron job execution).
All notifications are located at System -> Event Watcher and Notification -> Manage Notifications section. There you can edit existing notification, or create a new one.
Event watcher & notification for Magento 2 works for different store views.
How to Create New Notification
Visit System -> Event Watchers -> Manage Notifications and press Add New Notification button to open creation page. It breaks into two subsequent stages:
On the first stage, you need to configure general settings:

Title - name of a notification.
Is Active - activate a notification.
Event - an event which should trigger a notification. They are grouped in the drop-down menu. Select it and press Continue to proceed to the next stage.

Note

After you had selected the Event, it can not be undone later. You will need to create a new notification, bound to another event.

On the second stage, you need to configure details, which break into two sections:

Notification Details

Recipient - select recipient of a notification.
Notification Template - select existing template or create a new one by editing an existing.
Do not send more than - here you can limit the number of sent messages within a specified number of minutes. Messages, which exceed this limit will be muted.

Conditions: It allows you to send messages only if the selected conditions are met for the target event.

Make sure that rules are activated and press Save to complete.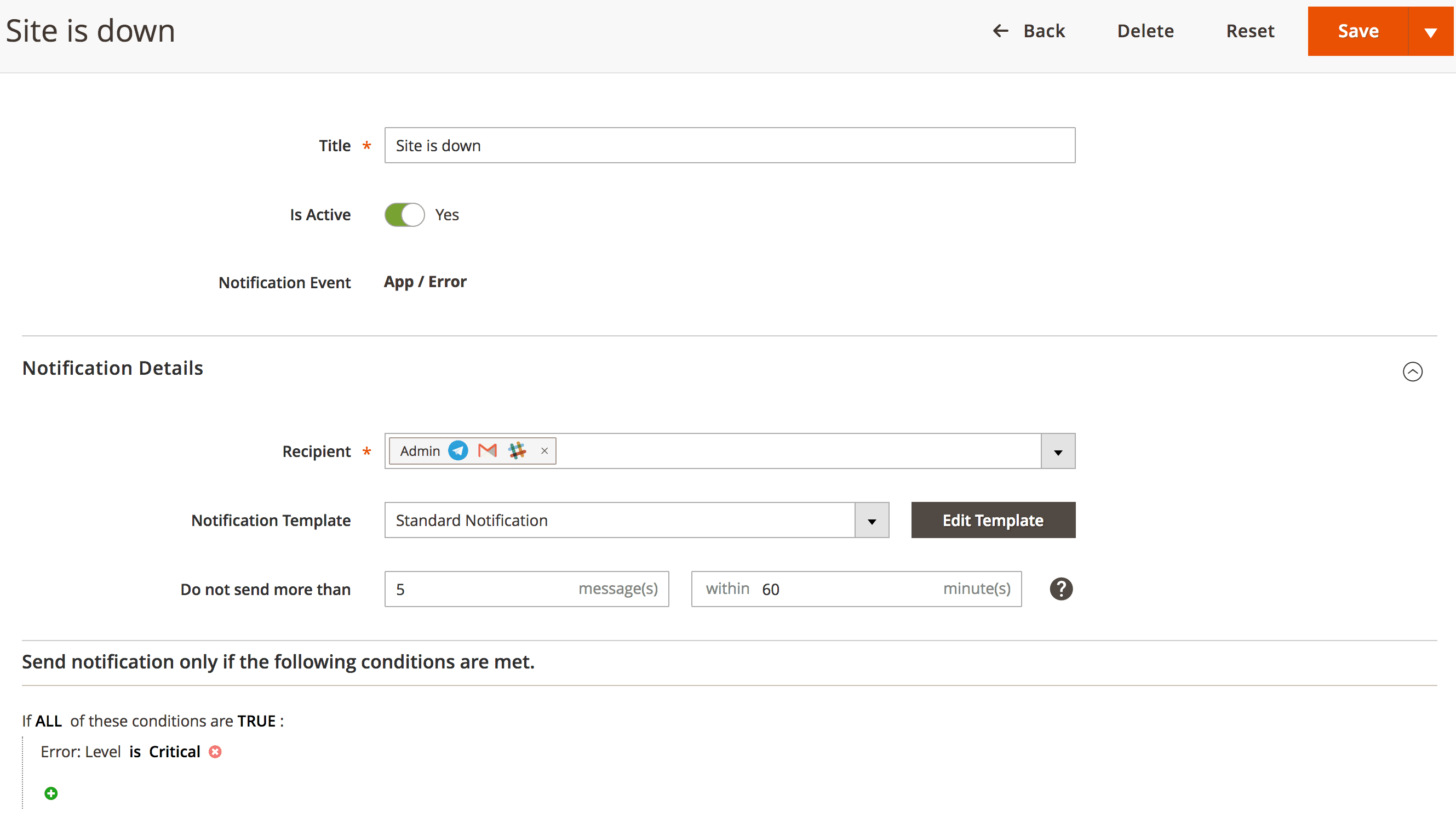 Adding Conditions to Notifications
Each notification has Conditions section, where you can set conditions that define when notification should be sent.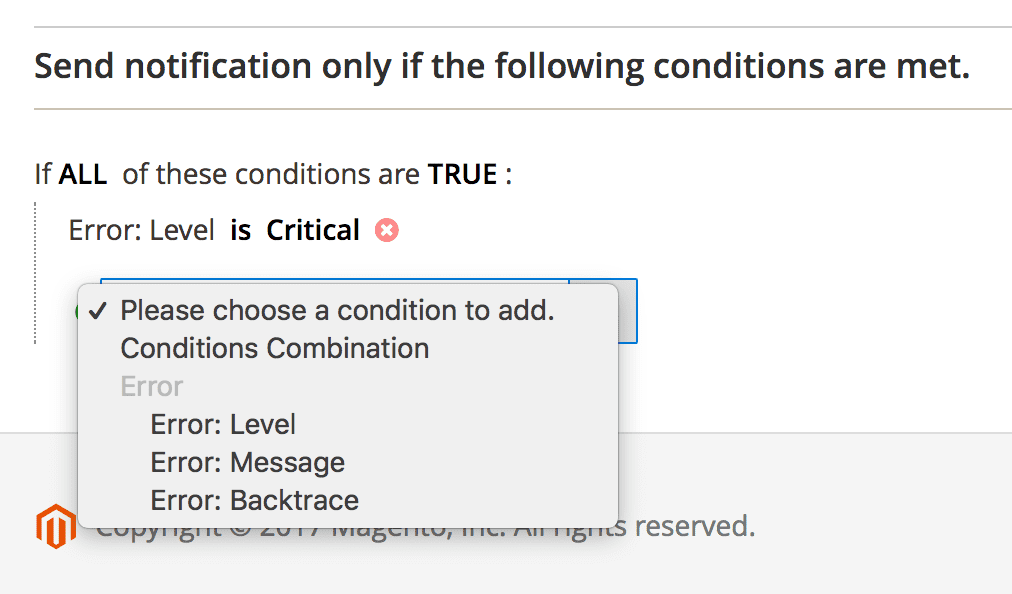 All conditionals should be enclosed in the global mode block. They have four possible global modes of applying, shown in special header If *[apply mode]* of these conditions are *[validation mode]*:
Applying modes define, when rule shall be triggered:
ALL - implies, that rule will be executed only when strictly all conditions were met;
ANY - implies, that rule will be executed only when one or more (but not all) of conditions were met;
Validation modes define, which result can produce each condition to be counted as "met":
TRUE - implies. that conditions should be valid.
FALSE - implies, that conditions should be invalid.
You can also define multiple nested mode blocks by selecting the Conditions Combination option. These modes allow creating flexible condition sets to satisfy a policy of any complexity.
Once you had selected global mode (or left it as default), press the green (+) button, and pick up a condition type.
There are many possible conditions, which depend on the every Event field. Here is their list, depending on event types: