Gift Registry for Magento 2
Let your customers' wishes come true with the Gift Registry extension! Our solution makes your customers happier. They can share and refer friends to their Gift Registries, thus receiving all their desired gifts. Regardless of your store's product mix, you can grow your conversion rate, since specified gifts from your store are likely to turn into the fastest of orders!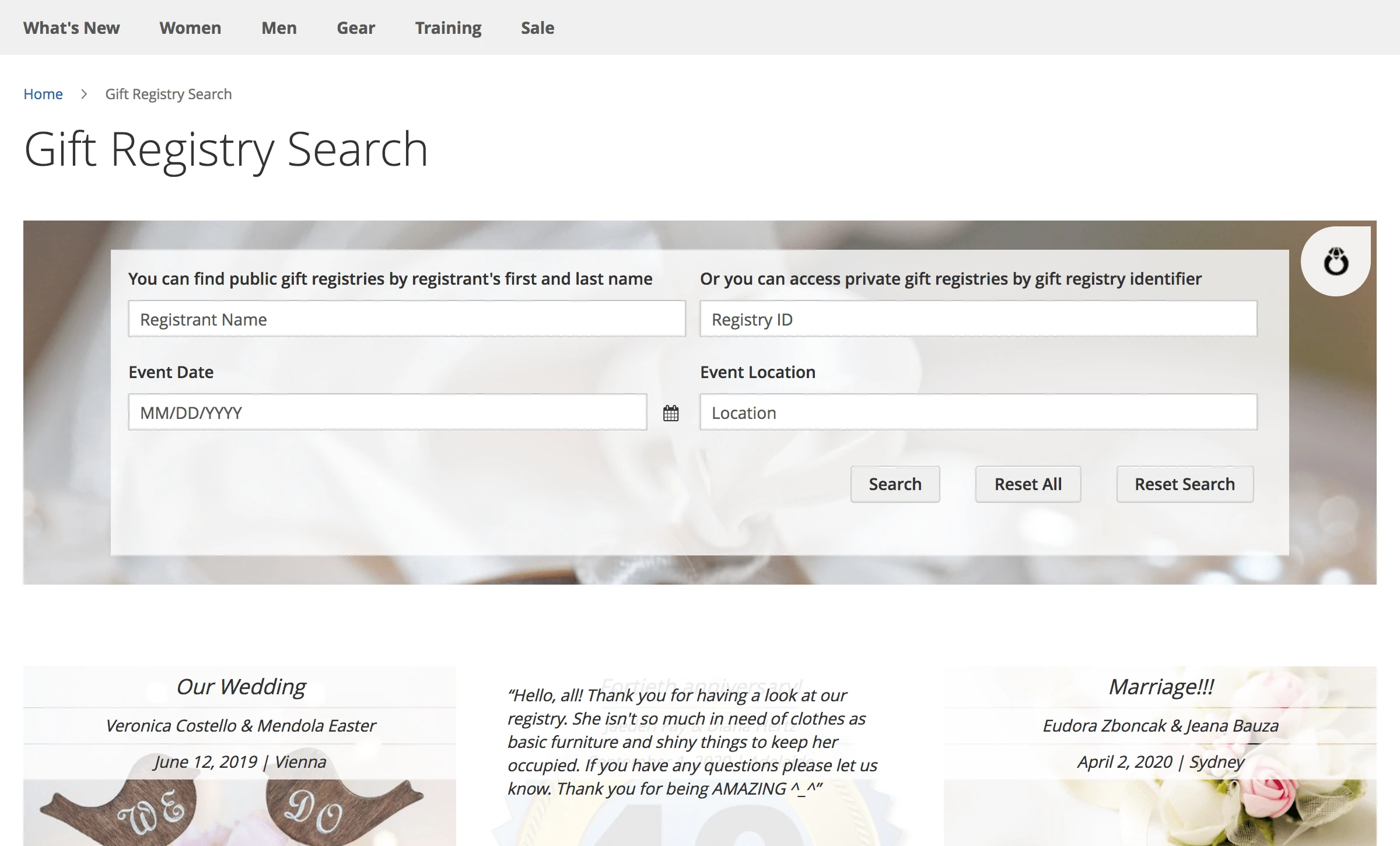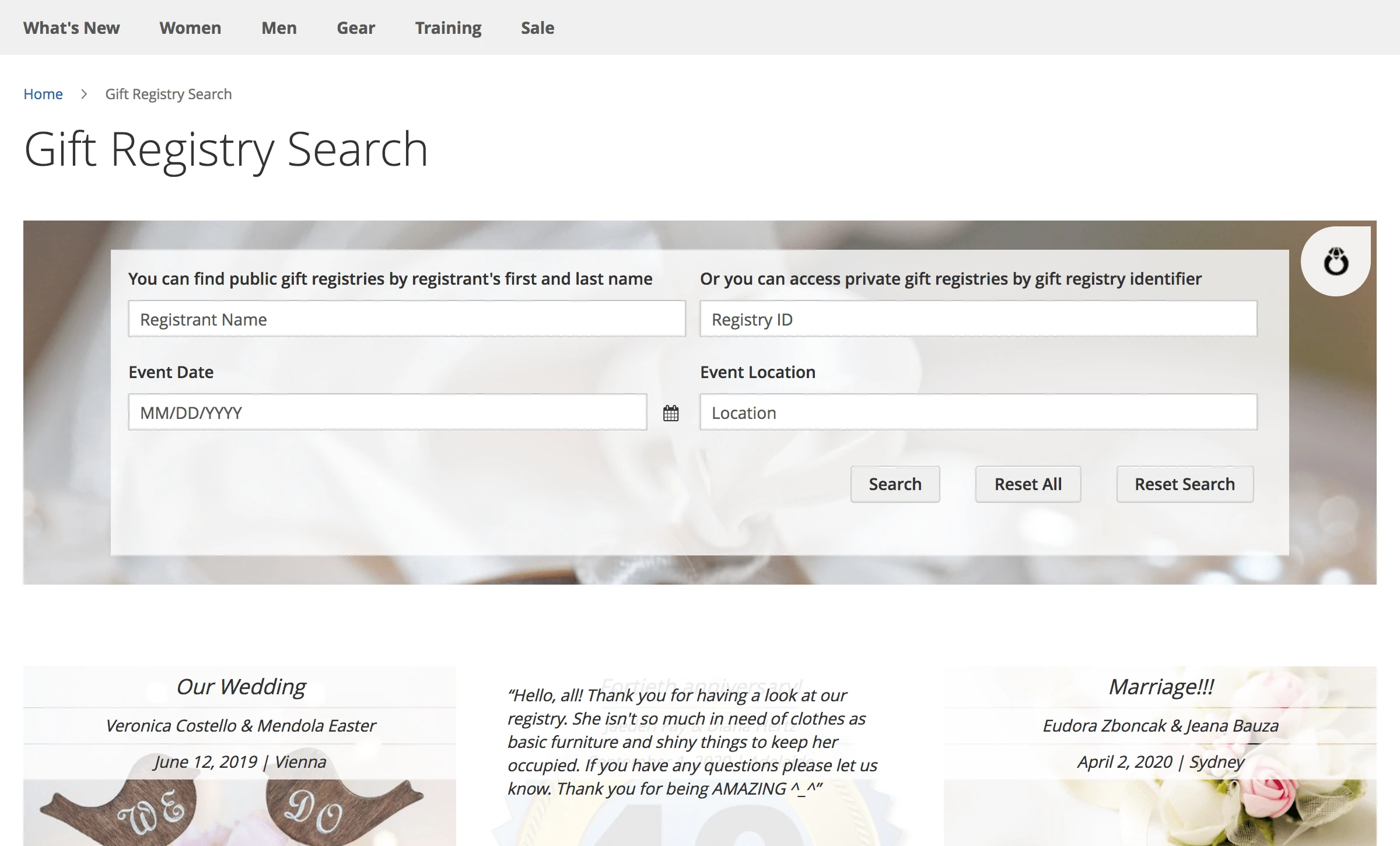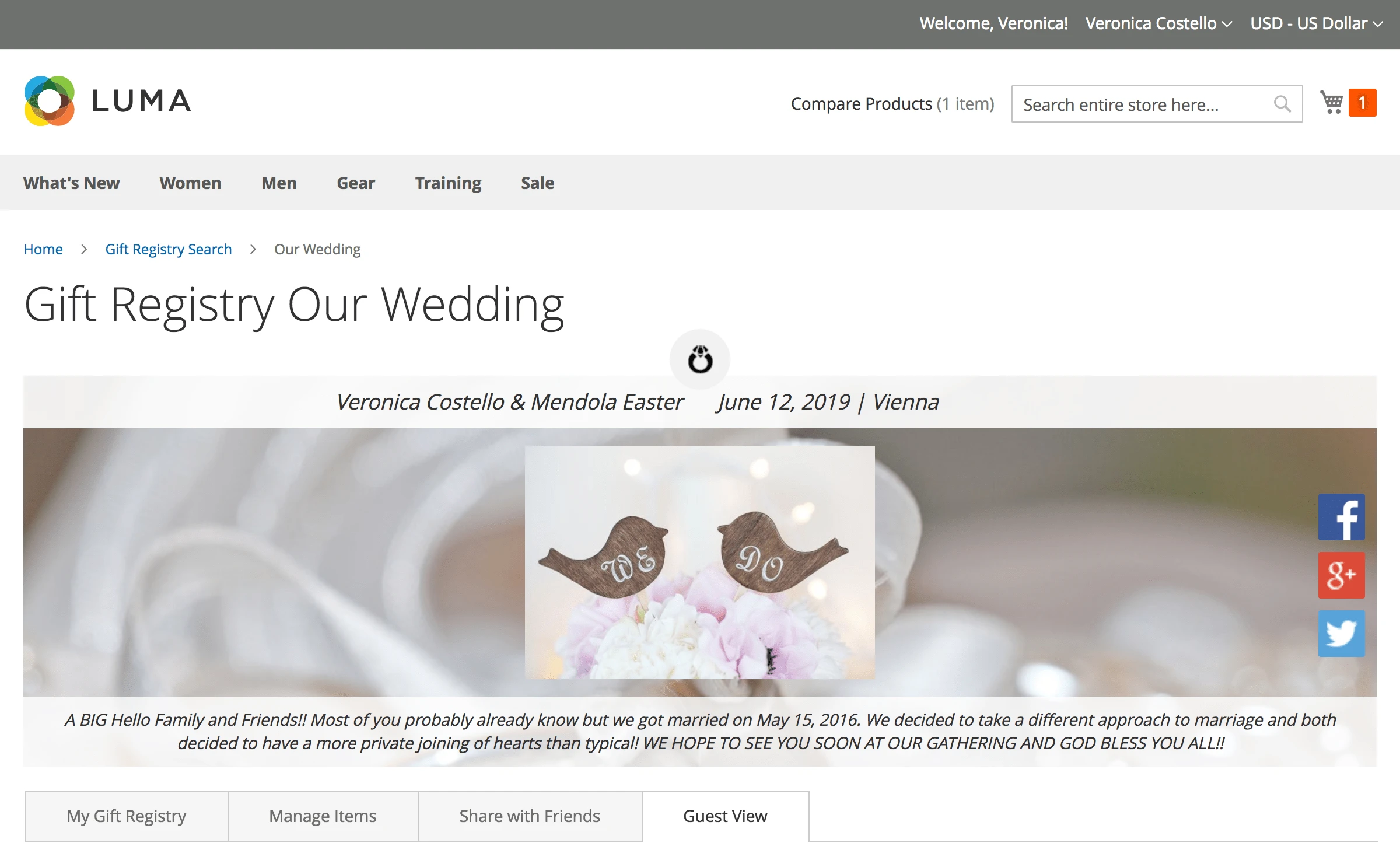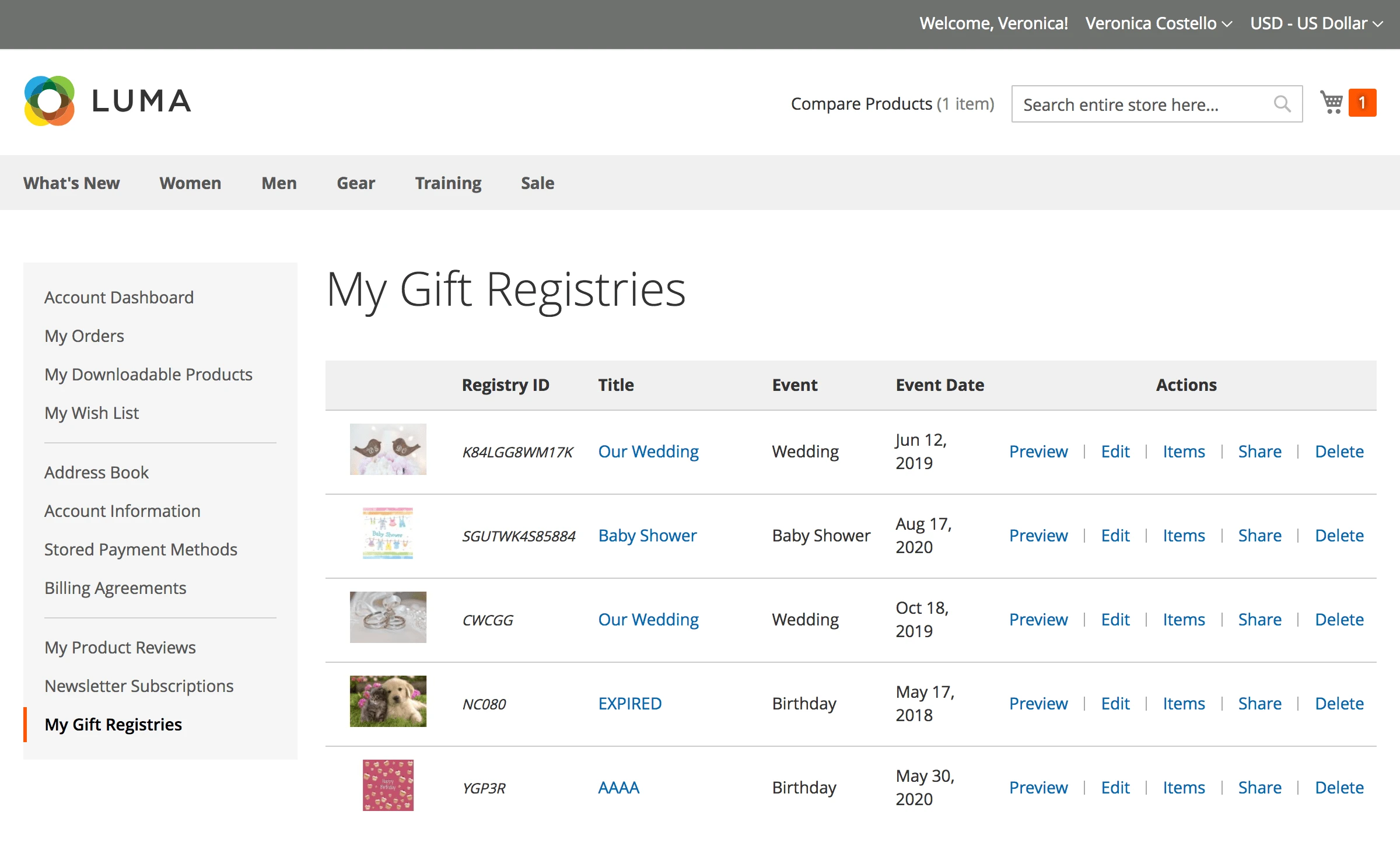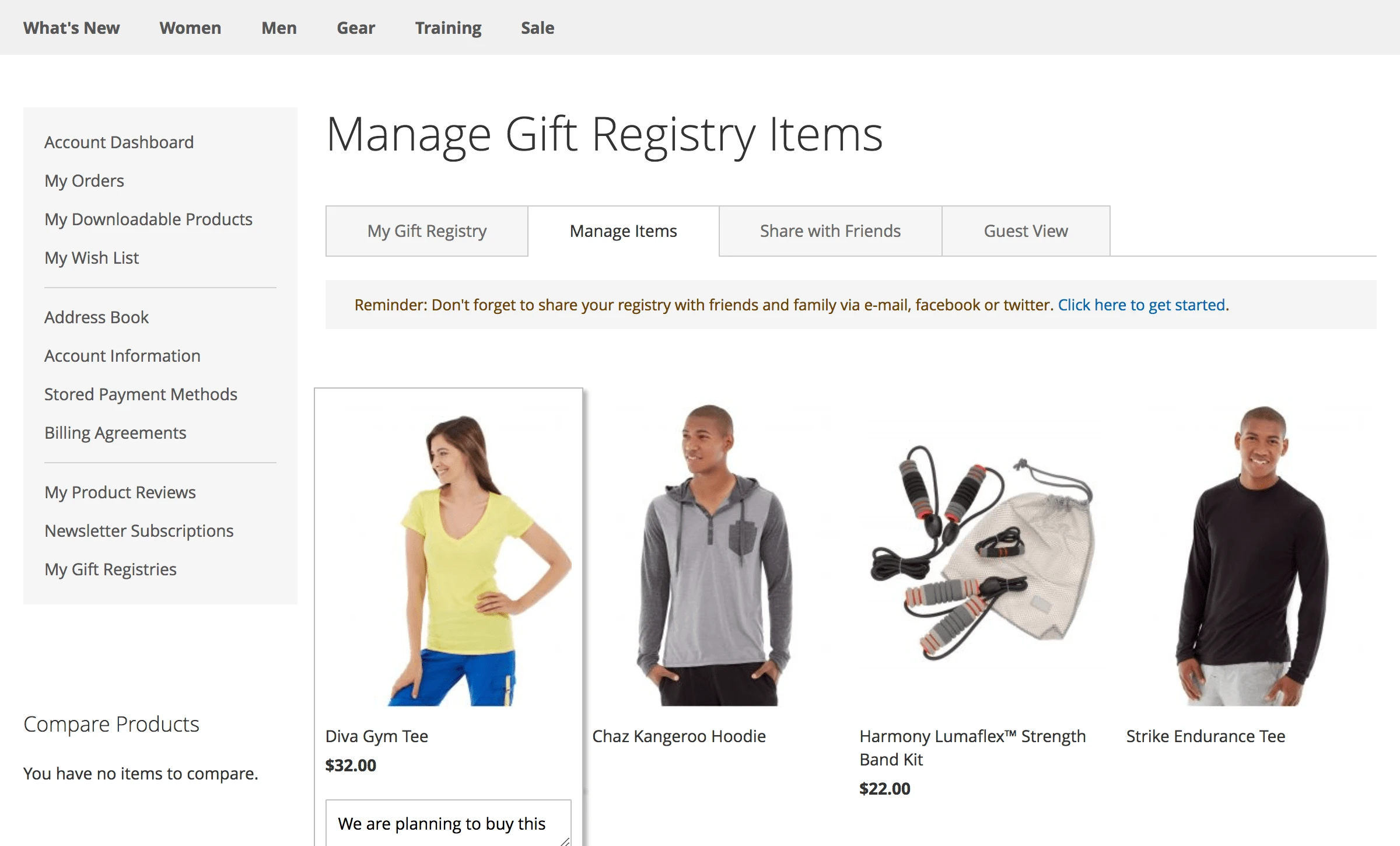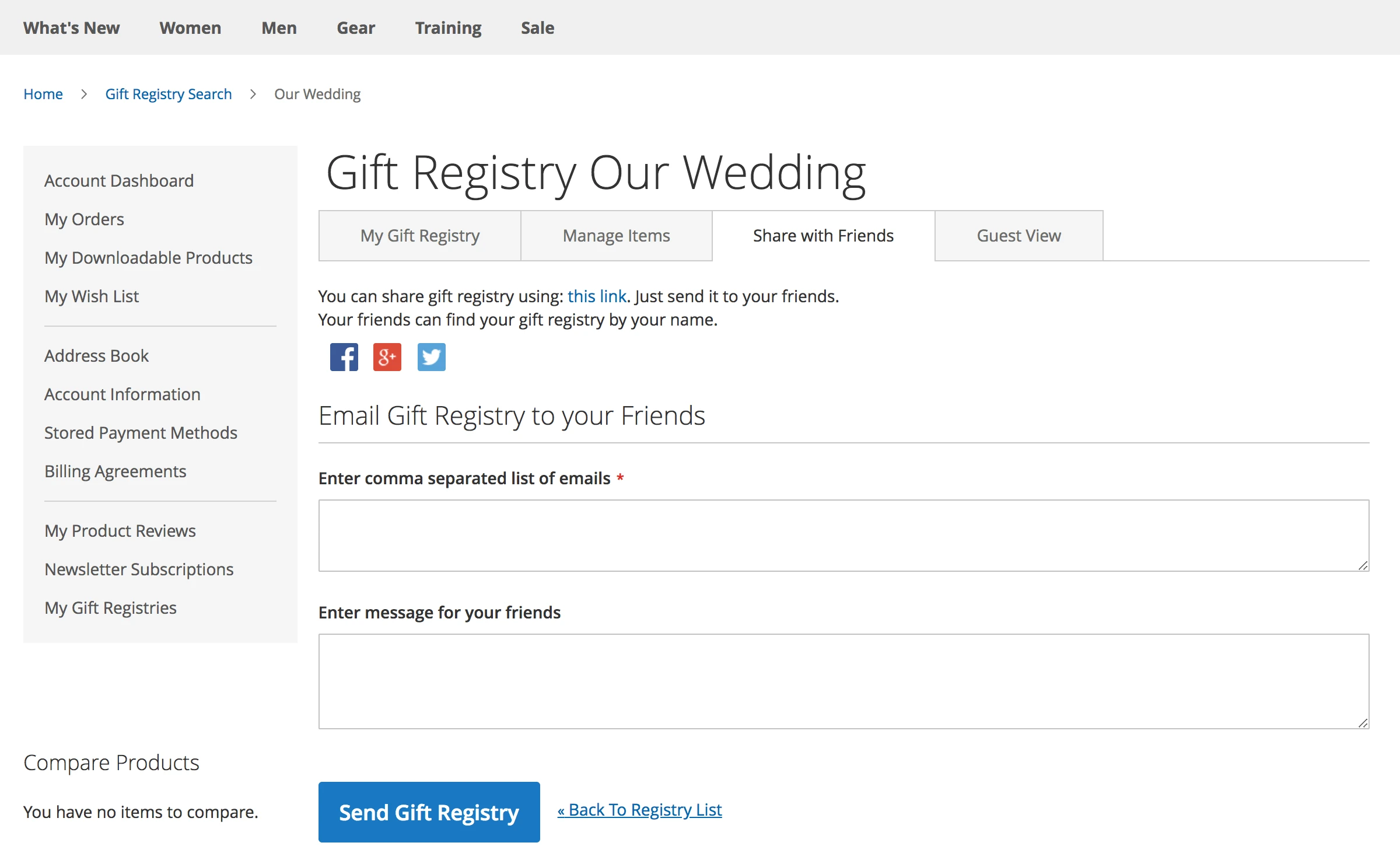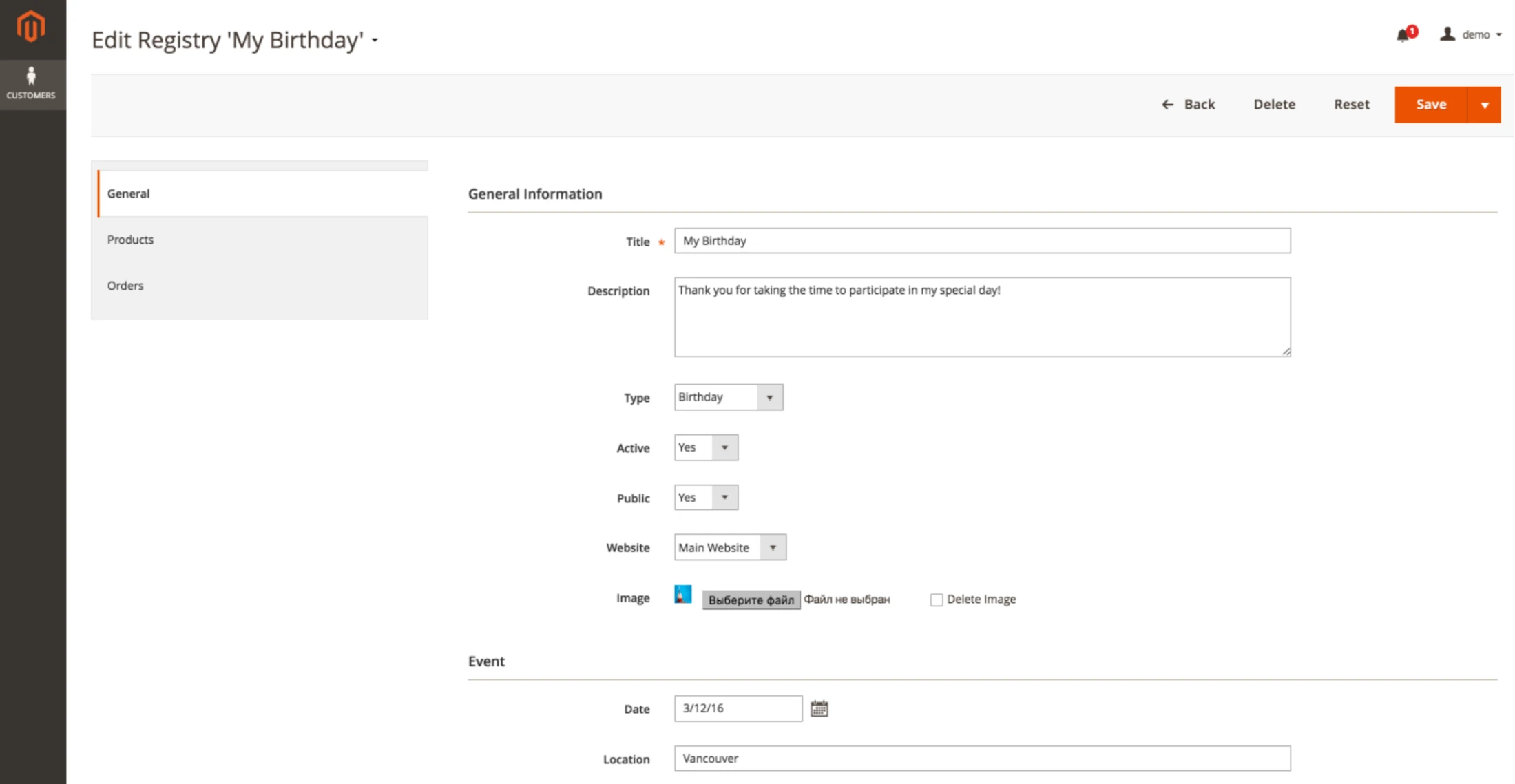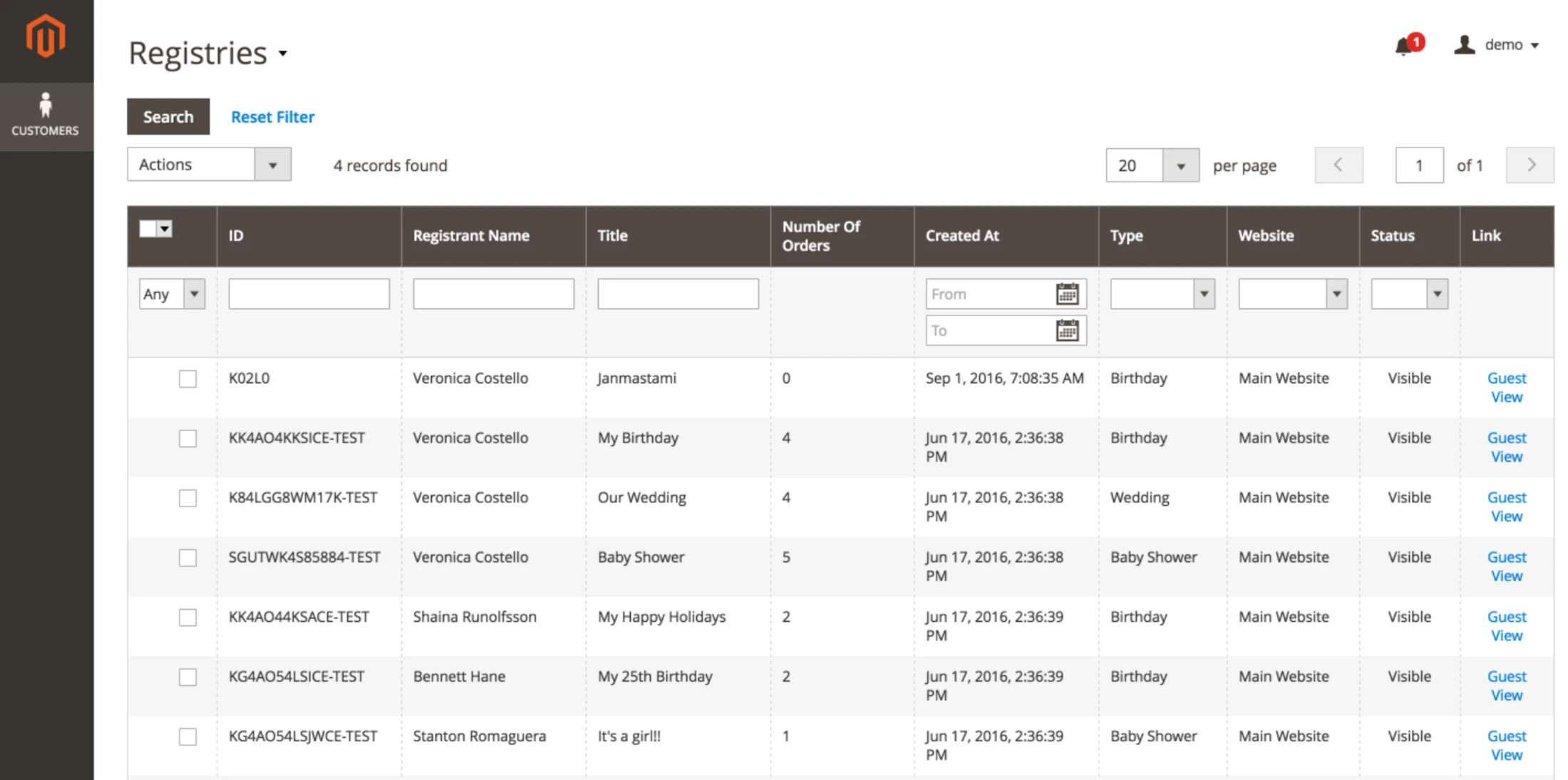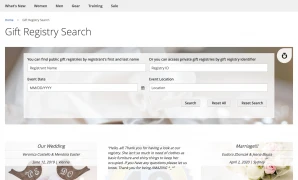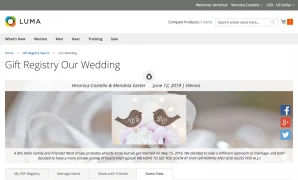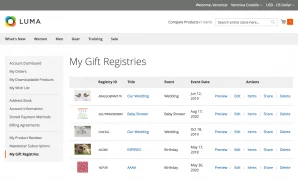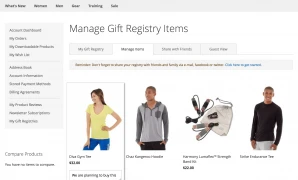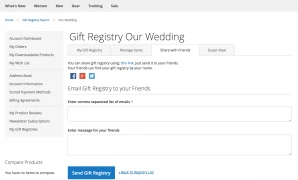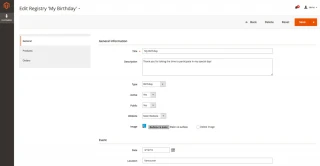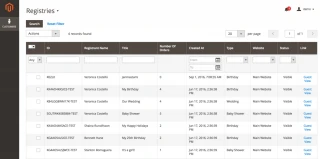 Flexible And Powerful Gift List Solution!
Gift Registry is a flexible and advanced extension for implementing a customer gift list. If your store specializes in the sale of toys, clothes, sporting goods, etc. - this is the perfect solution for you!
Everyone wants something special for their important occasions (Baby Shower, Birthday, Wedding Anniversary, etc.), but sometimes it's not easy or convenient to ask friends to give a specific gift.
Gift Registry helps your customers make their dreams come true in 3 easy steps:
create a gift registry
choose the desired gifts and put them into the gift list
share the list with their friends!
It is the perfect decision for every shopper who wants to give a polite tip about their wishes to their family and friends!
Moreover, with Gift Registry, your store's Conversion Rate will grow, since friends and relatives are invited to buy gifts directly. After all, they are generally the most available converters.
Expand your quantity of returning customers and store conversion rate with our Gift Registry!
---
10 Advantages You Get With Gift Registry
Customers can select their wishes and manage them easily
Shoppers may share their Gift in the gift registries with friends or relatives to receive desired gifts from them
Customers can share their gifts via Facebook, Twitter, Google+
Customers' friends do not have to guess any more as everything is handled for them!
Add an unlimited number of events and occasions to your visitors' gift registry.
Customers can add their own events and occasions
Add different gift priorities to help customers in ranking their gift importance
Easily customize your Gift Registry look
Get more new customers (friends and relatives are the best converters)
Increase sales for your store!
Create Multiple Gift Registries For Different Occasions
A gift Registry allows your customers to create multiple gift lists for different events or even a few lists for the same occasion!
For instance, our extension lets your shoppers create several lists for a Birthday or Wedding Party. It could be useful if a customer wants to group all desired gifts in some specific characteristic:
This can be convenient for customers who do not like to group all gifts together.
Gift Registry extension lets every customer organize their wishes the way he or she wants!
---
Clear And Intuitive Customer Interface
Gift Registry's frontend interface is clear, intuitive, and user-friendly. Every customer can easily manage all gift lists by:
creating a new gift registry
managing items in each list
sharing with friends or relatives
viewing how friends/relatives/guests see the list
Our extension allows your customers the chance to specify in their gift registries the following important details:
event type
occasion description
date and location of the event
registrant and co-registrant names (very convenient for weddings to specify bride and groom names, for instance)
shipping address (delivering gifts)
Gift Registry allows your customers to arrange their gift lists fast and easy!
---
Manage Gift Registry Item Properties
Gift Registry provides your customers with the ability to manage item features on their gift lists.
All your shopper has to do is place the mouse over each item and enter the desired characteristics: * Select items by priority * Desired quantity * and some notes!
So your customer's friends or relatives can now see whether items 1 or 2 are wanted or not and how important each gift is.
---
Share Gift Registry in 1 Click
The most important Gift Registry feature is sharing gift lists with family and friends!
Your customers can share their gift registries in just one click by doing the following:
Share via Facebook (just click on FB icon)
Post in Google+ (click on G+ icon)
Tweet via Twitter (use Twitter logo)
Enter the direct emails of all their family and friends to share via email message
All these sharing options are just a click away and intuitive to every customer.
Gift Registry - excellent sharing features!
---
Add Products to the Gift Registry Easily
Gift Registry perfectly integrates with any Magento theme (including responsive ones) and allows your customers to add items to their gift list with just one click!
Every product card will contain the option of adding the current item to the gift registry. All your customer needs to do is click on the 'Gift Registry' and choose the list to add to it (or create a new one).
---
Simple and Fast Search Through Gift Registry
Gift Registry extension has a search feature. Two search modes are available to your customers:
finding public gift registries by registrant's first and last name
access private gift registries by gift registry identifier
This may be especially useful if your customer has a lot of different (private and public) gift registries, but needs to find just one specifically.
For example, a shopper wants to find a public registry. He or she should just enter the registrant's first and last name and receive the search results.
Or, for instance, your customer wants to access some specific private registry. Thus, he or she should enter into the search box an assigned and a unique registry ID while creating the gift list.
Gift Registry gives your customers a smoother shopping experience!
---
Simple Guest View Mode
Gift Registry provides your customers with a clearer and transparent Guest view mode.
The guest view is supposed to present your customer's friends or relatives with a specific occasion gift list. All 'Guests' receive the link in this view after a customer shares it publicly via social networks or by email.
So, every guest can buy the customer's desired items right from this page! Just place the mouse over any gift and click Add to Cart! Gift Registry solution is convenient both for the customer and for their family and friends. What's more, a customer's friends or relatives invited to buy gifts from your store are among the highest converters.
Increase the sales in your shop with Gift Registry!
---
Manage Item Priorities Easily
Gift Registry allows you to easily manage all gift list settings using a clear and transparent backend interface.
One of the most remarkable features you can take control of is the Item Priorities. You may create any number of them and name them as you wish. The standard solution suggests three optional priorities:
However, if your online store's corporate identity allows you to be less formal, you can rename priorities as you wish!
Gift Registry is a flexible solution in customizing your shoppers' gift list!
---
Customize Gift Registry Frontend Grid
Gift Registry is a flexible and powerful extension that allows you to customize the gift list in a frontend grid view.
Using a user-friendly backend interface, you can activate or deactivate, add or delete fields on the customer's gift list. Also, you can set the sort order and mandatory fields the way you want to.
Our Extension allows you to create different fields for each event. For example, you may include a section titled 'Co-registrant' for a 'Wedding' event, while for other occasions, this section might be disabled.
Manage all important options easily and make your customer experience smoother with Gift Registry!
---
Create an Unlimited Number of Occasions
Gift Registry solution allows you to create many different events to fit your store's specialization.
You are free to extend the list of occasions to fit your store's needs. For instance, if your shop specializes in baby products, you can add the following events:
Baby Shower
Diaper Shower
Sprinkles
Blessingways
Newborn Party etc.
With Gift Registry, you can customize and extend the event list to comply with your store's product mix and prompt your customers to add more items to their gift lists!
---
> Install Gift Registry extension and increase your store's Conversion Rate!
Such a great module to have on our site - our customers love it. Module has worked well and support excellent.
Also installed: Sphinx Search Ultimate, Improved Sorting, Advanced Reports, GDPR
Great to create all kids of gift lists .... everything for a better customer expierence
Also installed: Extended Shopping Cart Rules, Reward Points, Google PageSpeed Optimizer, Google Tag Manager
An extremely useful application for the store administrator, boosts sales, adds customer loyalty. Thank you!
Also installed: Health & Performance Monitoring Suite, Full Page Cache Warmer, Reward Points, Follow Up Email, Advanced Reports, Help Desk MX, Advanced SEO Suite and 21 more
Works as expected and it is very useful, we´ve been using it on our site for a couple of years now and still very happy with it :)
Also installed: Product Labels, RMA, Elastic Search Ultimate, Layered Navigation, Advanced Product Feeds
Makes gifting easy and marketable function
Also installed: Advanced SEO Suite, Help Desk MX, Reward Points, Follow Up Email, Knowledge Base, Affiliate, Advanced Reports and 24 more
Manual & Support
Need more help?
Save time by starting your support request online and we'll connect you to an expert.
Contact Us Now
Changelog
Version
#1.2.45
May 4, 2023
Added variable "gifterName" to the "Owner Notification Template email"
Version
#1.2.44
Nov 2, 2022
Customer address validation
Version
#1.2.43
Aug 25, 2022
Image loading issue in registry edit page
Version
#1.2.42
Mar 25, 2022
Version
1.2.41
Apr 20, 2021
Remove unexisted plugin CustomerAddressValidatorPlugin
Reasons to choose Mirasvit
Client focusing and satisfaction
These are our primary. A major portion of our new clients come from referrals from our existing clients. Our professional team of developers, marketers and support staff have invested the best knowledge and experience in the field into our work, so you know you can come back to us again and again.
Remarkable support
One year free and high quality support. We go to great lengths to provide maximum satisfaction with every module you have purchased in our store. By helping you with installation, configuration, answering your every question, we do all our best to eliminate any possible problems.
Risk-free Investment
30-days money back guarantee. If you are not satisfied with our extension performance for any reason, we provide a full refund.
Constant improvements and upgrades
We constantly add new features to all our modules, and are always interested in hearing your opinion and implementing your suggested features in our future developments.
Comprehensive Documentation
We provide an expanded user guide for every aspect of our extension, so you can find answers for all your burning questions.
Unencrypted source code of our products
You can customize extension according to your needs and requirements.
Usability and Performance
The Module is easy to install and upgrade, just follow our step-by-step user guide.
Safe Magento updates
No core modifications. Just use the composer or copy the extension files to the root directory of your store.