How To Set Up Customer Emails In Magento Store?
An email setup in CMS Magento starts with template settings. There are a wide variety of Magento templates types to set up a different types of events. For instance, let's divide templates for certain groups, such as:
?
- templates for customers (to create a new account, to change password etc.);
- templates for sales (new order, new shipment)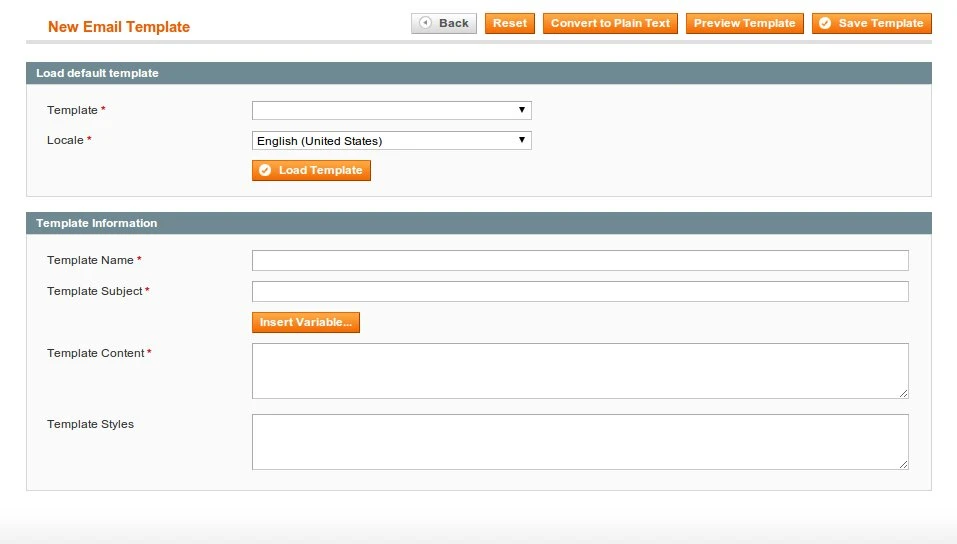 For instance, let's create a template for customer. Go to admin panel and press System > Transactional Email. In a popup window add an email template. Click "Add New Template" and select from the list a template: "New Account". Select a location in the ?Locale? window and click "Load template". You will find your template to download in HTML format in "Template Content". Due to the fact that the visual editor for this form is missing. One of the visual editor for instance would be www.onlinehtmleditor.net-on web site. There you can clearly see how the template looks like and to edit it, if needed. As only you done with editing the template, click "Save Template". Once template is created you need to activate it - go to System> Configuration. In the Current Configuration Scope window select the "Main Site". Then go to the tab Customers -> Customer Configuration-> Create new account options. In "Default Welcome Email" field, choose the created template "new account".
Let us create a template for another ?group ?(templates for sales) - new order.
Go through the all actions described above, up to "Save Template". As only you create and edit the template for the new order, go to the tab System> Configuration> Sales> Sales Email. Here in the "New Order Confirmation Template" select templates that you have created.
Magento email set up is implemented well enough, and is engaged with a number of events. However, it does not allow admin to create and use templates for an additional events, such as a reminder about the product in cart, birthday greetings, etc. Therefore, a setup of all this additional events would help you to build a customer loyalty and increase revenue. All the tools to generate this opportunities can be provided by our extension - Trigger Email Suite ? an extension is very easy to install and configure.

You can track and analyze data as part of your internet marketing strategy and to use Trigger Email Suite every time more effective and deliver all messages to drive the revenue and expand Magento email tools.