Compare Aheadworks Advanced Reports vs. Mirasvit Advanced Reports
Learn more about two Magento Reports extensions, created by Mirasvit and Aheadworks. Read about their features, and compare functionality to find out the best Magento Advanced Reports module to suit your e-commerce.
Information about the extensions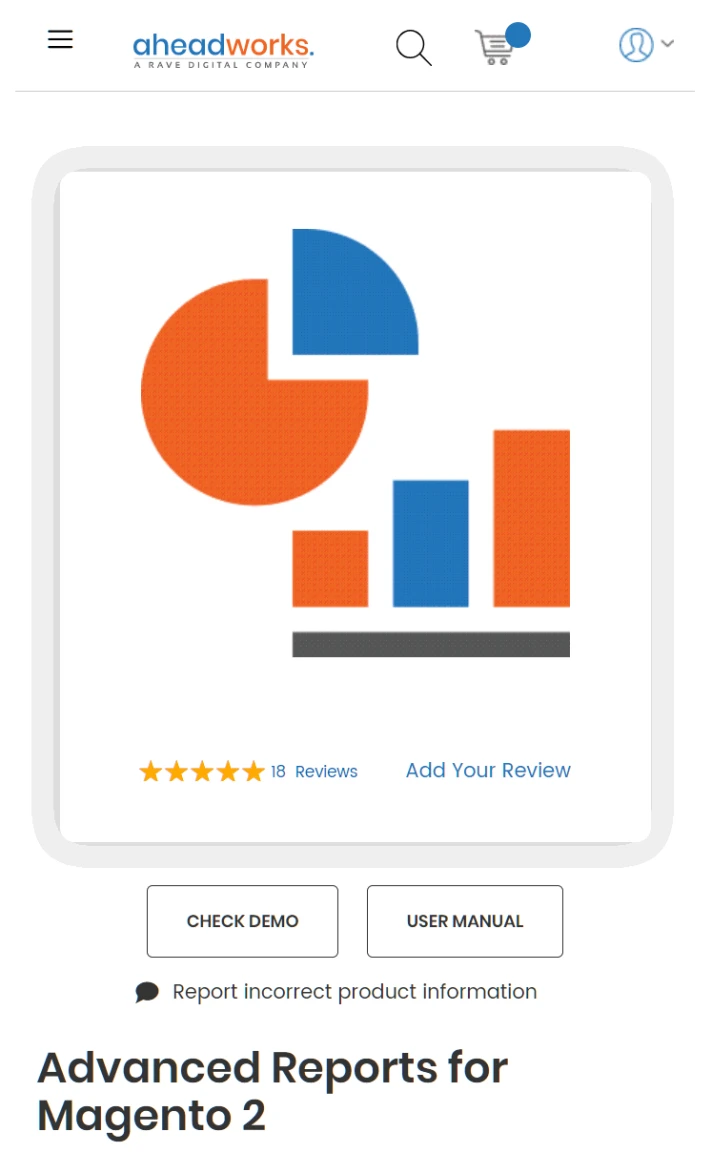 VS.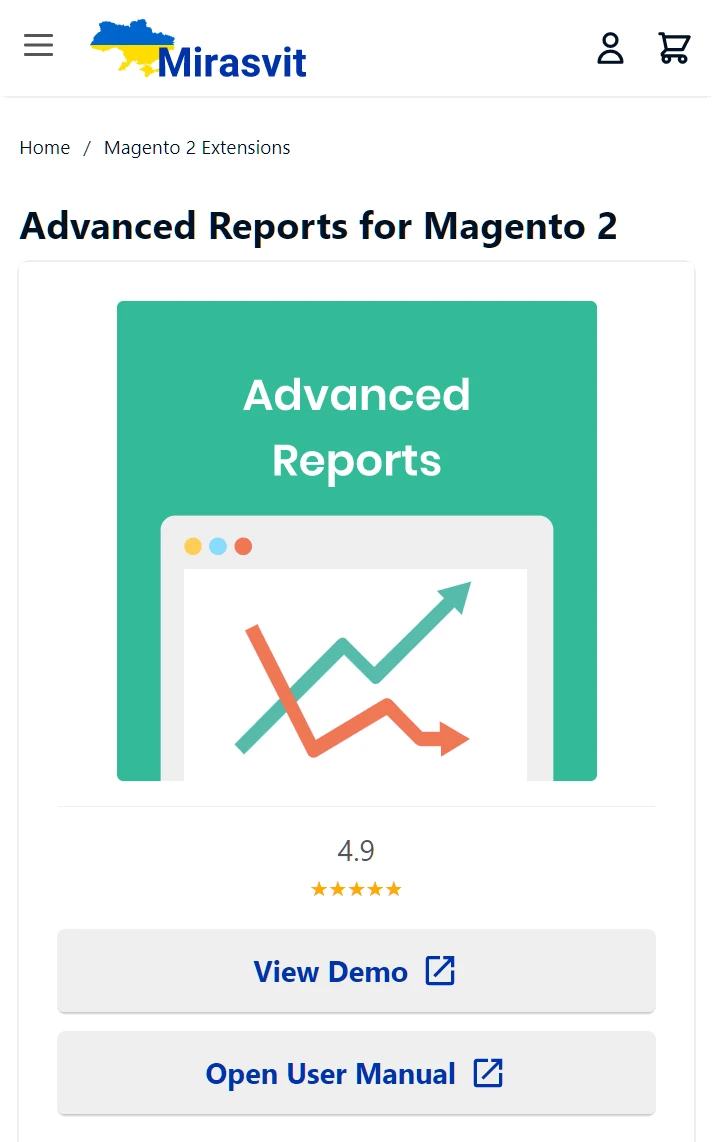 Details on compared extensions
The Magento Advanced Reports module from Aheadworks
The Magento Advanced Reports module from Aheadworks adds more options for statistics customization. It allows you to change some aspects of the dashboard. You can switch certain widgets on and off and change their order on the screen while keeping a general layout. Multiple dashboards can be saved to sort the information.
The extension adds pre-built reports, like customer sales and abandoned carts. It also allows to change some attributes in reports in bulk. For example, you can add new price ranges to use in all reports.
Some reports have nested sub-reports. You can click on attributes, such as item names or price ranges, to see the nested report. For instance, to discover individual item performance.
The Reports extension by Mirasvit
The Magento Reports extension made by Mirasvit provides users with extra control over received analytical data. After installation, you will have built-in advanced reports, such as the geographical data of users. Also, the module allows you to build your own unique reports.
Use any data in your database and make reports that cater to your personal view. The ability to create custom columns and table connections with config builder will further help craft new detailed statistics. Thanks to the multi-dimensional grouping feature, you can group reports by any attribute and a few attributes at once.
Dashboards can also be finely tuned. The layout can be changed via a drag-and-drop interface, and widgets can be added, deleted, or changed in size. Dashboards can be private or shared through links and QR codes.
Custom columns can also be created and used in reports or for groping them. Grouping with several attributes is allowed as well. Any reports, including custom ones, can then be displayed on customizable dashboards or automatically shared via email.
Main Benefits of Mirasvit's Advanced Reports
The Mirasvit's Magento Advanced Reporting module extends report capabilities, allowing you to craft custom reports. This feature helps analyze specific statistics, for example, the most popular color of the shirts in stock. You can also make custom columns with config builder and add them to reports. These columns can use all data from your store, providing more options for creating unique statistics.
Magento reporting extension by Mirasvit enhances the comfort of working with analytical data. The extension allows you to set up multiple dashboards to divide statistics for easier comprehension. Every dashboard can also be fine-tuned. You can switch widgets on and off, rearrange them, and change their size. Both reports and dashboards can be shared. Reports can be sent via automatic mailing and dashboard through QR-code or direct link.
Feature Comparison
The Magento Reports extension by Aheadworks brings pre-built reports, such as statistics on traffic and conversions. It also gives you the ability to change some of the attributes for reports in bulk. This feature includes order status, price ranges, and manufacturer attributes. Dashboard customization is added as well, allowing to change widgets' order and availability and create several dashboard layouts. Reports, such as product performance, have nested reports. They open when you click on linked attributes. Automatic reports mailing is also available.
The Mirasvit's Advanced Reports Magento extension lets users tailor statistics to their needs and tastes. It allows you to craft custom data columns and reports and set up new connections between tables. Reports can be groped by any attribute or a few of them at once. Dashboards can be customized in detail by adding or deleting widgets and changing their position and size. The extension also provides safe means to share data. Reports can be mailed and dashboards directly accessed through URLs or QR codes, without giving anyone admin permissions.
Key Features of Advanced Reports Modules
Aheadworks
Dashboard Customization
The dashboard allows you to switch widgets on and off and change their order on the screen for your convenience. Presets of different views can also be saved to sort the displayed data. The size of the widgets is fixed, though, as well as the general layout of the dashboard.
Interconnected Reports
Attributes, such as periods, price ranges, and product names, can be clicked, like links, to send users to related nested reports. For example, clicking on the item in the "Product Performance" report will load performance statistics for this specific product. This feature helps navigate through detailed analytics.
Customizing Reports in Bulk
You can change attributes such as order status, price ranges, and manufacturer attributes for reports in bulk. This feature speeds up report management. Other extensions usually require individual changing of these parameters.
Email Exportation
All reports can be scheduled to be automatically sent by email. You can choose when emails will be sent and how they will be grouped. By setting up automatic mailing, you can free up some time to do other important business activities.
Unique reports features:


Customer Sales. This pre-built template allows you to see how many items of a certain price range were bought. With it, you can determine paying capacity of your auditory and adjust marketing accordingly. Usually, standard reports show individual prices, instead of ranges.
Traffic and Conversions. See how many individual users entered your website, and how many of them actually bought something. This kind of report usually has to be built manually.
Mirasvit
Custom Reports
Build Magento 2 custom reports in a user-friendly report builder. It supports any kind of columns, and all made changes can be seen in the live preview. With the report builder, you are not limited to pre-build templates.
Config Builder
Create unique columns for all of the reports, that can use any type of data from your store. Table connections can also be featured as data for custom columns. This feature, together with custom reports, further expands the user's control over the analytical data.
Enhanced Report Grouping
Tables can now be grouped together by several different dimensions at once. Moreso, you can choose any column, including custom ones, as a grouping dimension. Usually, other extensions have only limited grouping options by time.
Filters Toolbar
Certain filters for reports can be added to the toolbar. This way users can quickly filter any reports without doing so manually for each individual report.
Detailed Dashboards Customization
Widgets on the dashboard can be moved with a cursor, changed in size, added, or deleted to suit your vision. Custom reports can also be placed on the dashboard. More than one dashboard can be made to sort all available information.
Data Sharing
Set up automatic report sending via email to free up some time or share entire dashboards using QR codes or URLs. Sharing a dashboard does not require admin access for the viewer, retaining the safety of data.
Totals in Reports
Without any additional customization, all reports by default have a total row. It shows the total values for all data in the table. Usually, you must add new columns or create custom reports to see all total values for data.
Unique reports features:


Geographic Reports. See an interactive map of sales throughout the countries, cities, and individual postcodes. Discover detailed statistics about buyers' locations to better cater to your customers or plan the expansion of your commerce.
Abandoned items. You can discover not only how many carts are abandoned, but also what specific items are dropped. This way, you can discover slow-going products and change your marketing strategy. For example, set up a sale for often abandoned products.
Side-by-side features comparison
You can easily distinguish between each module's functions by using a side-by-side comparison table. With it, you can distinctly see what features are provided. Compare the possibilities and choose the module that will fit your e-commerce best.
| | Aheadworks Advanced Reports | Mirasvit Advanced Reports |
| --- | --- | --- |
| Report builder | | |
| Multi-dimensional grouping | | |
| Config builder | | |
| Row with each column's total value in every table | | |
| Interconnected reports | | |
| Report customization in bulk | | |
| Custom columns can be used for all reports | | |
| Dashboard customization | | |
| Dashboard widgets modification | | |
| Multiple custom dashboards | | |
| Dashboard sharing | | |
| SaaS Advanced Reports availability | | |
| Thumbnails for items in reports | | |
| Mobile Compatibility | | |
| Report exporting | | |
| Geographic built-in report reports | | |
| Reports by cities and postcodes | | |
| Interactive map for geo-data | | |
| Customer Sales built-in report | | |
| Traffic and Conversions built-in report | | |
| Abandoned items built-in report | | |
Pick the best Advanced Reports module for you
The Magento Advanced Reports extensions make working with statistics more comfortable and versatile. They add pre-built report templates, that are absent in base Magento. With them, you can modify your dashboards, create custom report templates and effortlessly share statistics.
Both Advanced Reports extensions from Mirasvit and Aheadworks let you change your dashboard's layout. They allow you to move, add, and delete widgets to set up a comfortable workspace for yourself. With them, you can also easily set up automatic emails with relevant reports to free up some time.
Advanced Reports by Mirasvit give you the ability to craft unique to your store reports. They can use custom columns and table connections, that can also be created through the config builder. Reports can be grouped with several attributes, including custom ones. And widgets on a dashboard can change size and position. Advanced Reports for Magento 2 by Aheadworks allows you to customize some report attributes in bulk. It also introduces nested reports, available through linked attributes.
By checking the tables in the article, you can compare two extensions and choose which one suits your needs the most.
Reasons to choose Mirasvit
Client focusing and satisfaction
These are our primary. A major portion of our new clients come from referrals from our existing clients. Our professional team of developers, marketers and support staff have invested the best knowledge and experience in the field into our work, so you know you can come back to us again and again.
Remarkable support
One year free and high quality support. We go to great lengths to provide maximum satisfaction with every module you have purchased in our store. By helping you with installation, configuration, answering your every question, we do all our best to eliminate any possible problems.
Risk-free Investment
30-days money back guarantee. If you are not satisfied with our extension performance for any reason, we provide a full refund.
Constant improvements and upgrades
We constantly add new features to all our modules, and are always interested in hearing your opinion and implementing your suggested features in our future developments.
Comprehensive Documentation
We provide an expanded user guide for every aspect of our extension, so you can find answers for all your burning questions.
Unencrypted source code of our products
You can customize extension according to your needs and requirements.
Usability and Performance
The Module is easy to install and upgrade, just follow our step-by-step user guide.
Safe Magento updates
No core modifications. Just use the composer or copy the extension files to the root directory of your store.