Compare Amasty Full Page Cache Warmer vs. Mirasvit Full Page Cache Warmer
Learn all about Full Page Cache Warmers for Magento 2 created by Mirasvit and Amasty. Compare their main features, and discover similarities and differences. Find the best cache warming module for your store.
Information about the extensions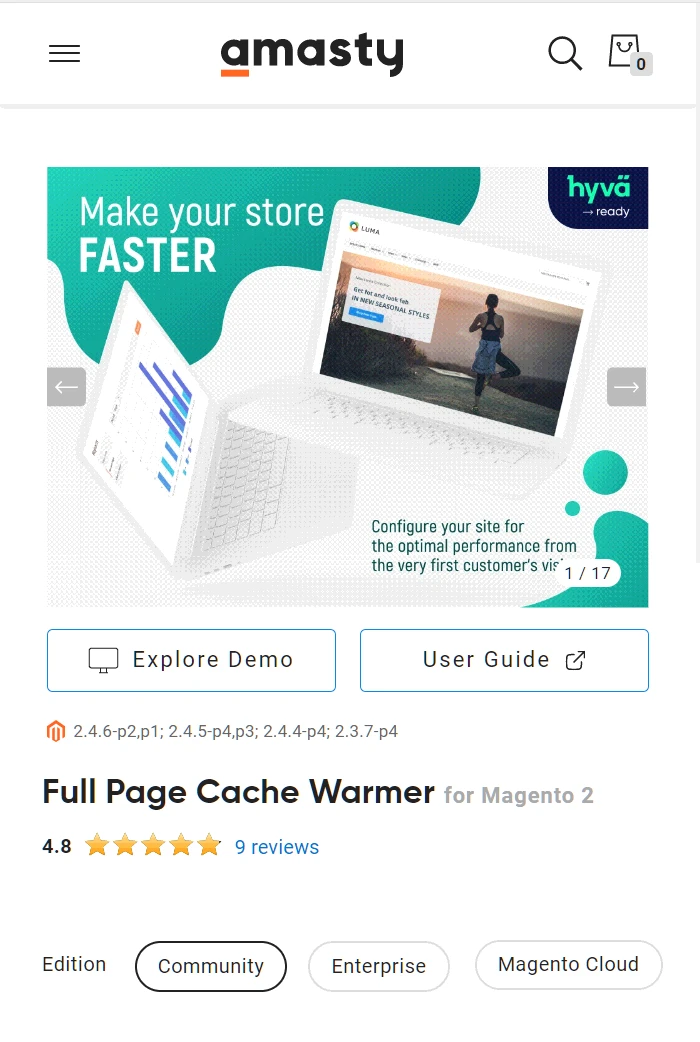 VS.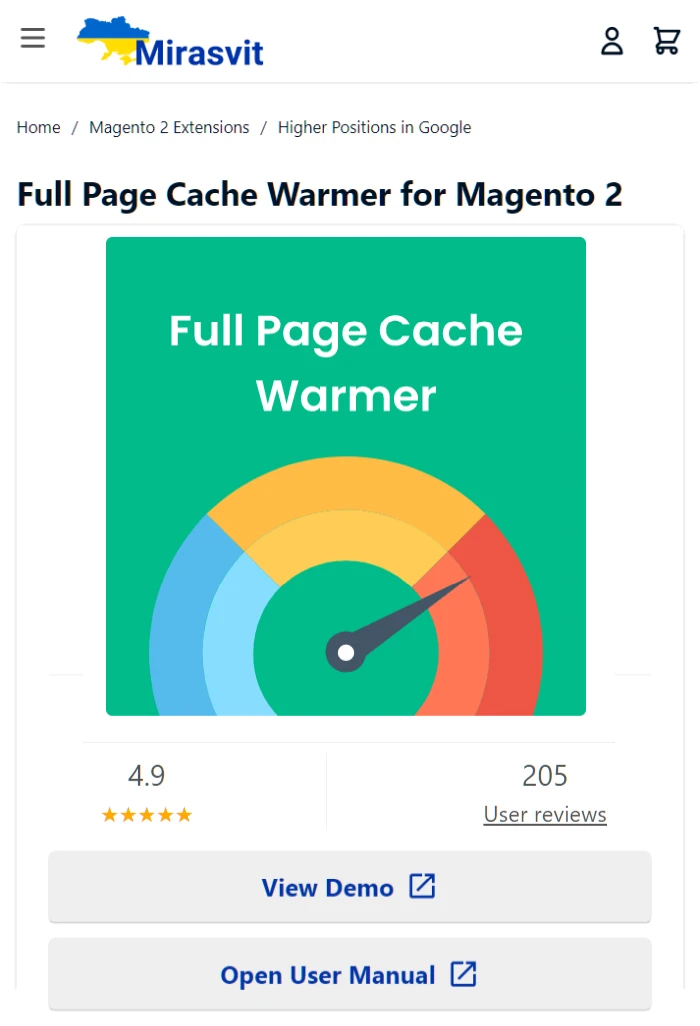 Information about the extensions
The Magento Full Page Cache extension from Amasty
The Magento Full Page Cache extension from Amasty provides flexibility in warming settings. It allows combining sitemap with file sources and files with page types sources. Different sources can also be chosen for different store views from a single admin panel.
Skilled users can adjust the warming process in detail through the command line and detailed schedule settings. Mobile website layout and user agents with specific devices can be warmed specifically. The extension also provides a pre-built page status report to track errors and a Varnish cache coverage report to check its activity.
The Full Page Cache Warmer for Magento 2 by Mirasvit
The Full Page Cache Warmer for Magento 2 by Mirasvit tracks pages without existing cache and warms them for users. Fast page loading is possible only if the URL is cached. However, in default Magento pages are cached only when users open them. This leaves a lot of pages uncached.
The extension finds pages without cache and warms them according to a schedule. You can pull URLs for warming from website crawler, file import, sitemaps, or through default tracking of customers activity. To lower server load, you can pick pages, page types, and users that will not be included in warming.
Three performance presets allow you to balance the server load. If they are not enough – expert mode allows detailed manual fine-tuning. Warming rules also provide more flexibility to customize warming process. For example, you can define the priority of warming certain pages. And new built-in reports allow you to see caching efficiency, history, coverage, and fill rate.
Key Benefits of Mirasvit's Cache Warming module
The Magento 2 Full Page Cache Warmer module by Mirasvit allows users to use multiple sources. You can add unlimited files with URLs and sitemaps as sources, together with one crawler and default visitors' activity tracking. Pages can be forcibly cashed. You can exclude certain URLs, page types, or user agents from the warming process. Warming rules can then help to specify warming priority.
Mirasvit's Cache Warmer module lets you choose a warming strategy and performance settings to balance server load. If preset options are insufficient, you can switch on the expert mode. It allows you to manually customize the schedule, used threads, delay, and maximum job run time. Automatic cache flushing when items and categories are changed can also be disabled for more manual control over the processed cache.
Feature Comparison
Amasty's Full Page Caching module
The Amasty's Full Page Caching module provides users with tools to inspect and manage the warming process. It adds pre-built reports that allow users to monitor the warming process, see how many pages returned errors, and check Varnish cache type performance. With the help of the command lines, it allows users to fine-tune the schedule. It also allows combining sources like files, sitemaps, and page types.
Mirasvit's Magento Page Cache Warmer
The Page Cache Warmer extension by Mirasvit gives users built-in automatic settings to enhance store page caching. Users can choose between different performance options and warming strategies. There are default sources for caching and a schedule for updates. It also provides tools for detailed management. Multiple files and sitemaps can be used as sources. Warming certain pages or users can be avoided. And the expert mode allows to change more technical nuances of the warming process.
Key Features of Page Caching Modules
Amasty
Source Options
Choose the source for the warming queue generation. The algorithm can cache pages according to their type or user activity. You can also upload a list of page URLs for caching from text files, sitemaps, or both simultaneously. Page types and text files can be combined as sources. These options give you more control over what exact pages are being cached.
Independent Sources
Different sources can be set up for different store views. This feature allows you to manage cache warming for the entire marketplace in one admin panel.
Precise Time Management
Manage the exact time for updating warming sources and cleaning the cache. Unlike other extensions, you can choose both date and time interval.
Command Line
Queues and data for warm-up can be generated manually through the command line. This way, experienced users can tailor the module's functionality in precise detail, impossible with default options.
Disable Certificate Verification
You can switch off certificate verification if the extension has trouble caching HTTPS pages.
Mobile Compatibility
Choose whether or not to cache mobile-view pages to speed up loading on mobile phones. You can set the header text that will be sent on mobile requests. User agents with certain devices for whom pages will be cached can also be specified. This way, you can cater to mobile users to boost conversion rates.
Page Status Report
View the status of cached pages to see the percentage of normally loaded and invalid pages. With this feature, you can discover when and how many errors occurred and take action to avoid potential problems.
Varnish Cache Coverage Report
The extension allows you to check how much Varnish cache type was processed. See the performance of the feature divided from other types of cache.
Mirasvit
Source Combination
Add multiple sources for cache warming and enable them all at once. The extension automatically uses user activity as a source to receive a list of URLs. An unlimited number of files and sitemaps can also be created to ensure all-encompassing coverage.
Warming Strategy
The module can process URLs according to warm rules and popularity of pages. It can also add a background process to the default one, to warm up pages from the current job queue.
Warming Intensity
Pick the intensity of the warming to manage the loading of servers. You can choose high intensity for low load rate servers. Medium intensity is a default setting, good for most Magento stores. Low intensity is for the high load rate servers.
Expert Mode
Warming strategy can be manually tailored in expert mode. This way, experienced users can fine-tune the module's settings to fit their needs better.
Warming Rules
Change the priority for page warming by editing the priority value. Sent request headers can also be changed. By managing the priority, you can decide what pages should be warmed first to improve the performance of important URLs.
Force Caching
Make the system cache pages that usually are unavailable for caching in default Magento. This feature gives you more control over what pages can be sped up for users.
Forbid Cache Flushes
Disable cache cleaning when changing data on the website. This way, the system will not reprocess cache with every change.
Ignored Pages and Users
Choose which pages or page types will not be cached to avoid loading the system with unpopular URLs. You can also forbid warming up pages for certain users, like search bots. Lift the load from the server by ignoring pages and users that don't require warming.
Considered Design Rules
The extension can differentiate between different website themes. With this feature, you can speed up loading for different layouts, like mobile or custom themes.
Side-by-side features comparison
You should compare each Warm Up Cache extension's key features to understand their differences better. The best way to do this is through a simple side-by-side comparison table.
| | Mirasvit Cache Warmer | Amasty Cache Warmer |
| --- | --- | --- |
| Performance presets | | |
| Manual performance customization | | |
| Page type cache source | | |
| Crawler cache source | | |
| Add multiple cache sources | | |
| Manual schedule customization | | |
| Warming rules | | |
| Ignore pages | | |
| Ignore page types | | |
| Ignore user agents | | |
| Mobile users managing | | |
| Forbid cache flushes | | |
| Forcibly make pages cacheable | | |
| Varnish Cache support | | |
| Redis Cache support | | |
| Hole Punch feature | | |
| One cached page for several store views | | |
| Cache flushing statistics | | |
| Varnish Cache coverage report | | |
| Page status report | | |
| Caching efficiency report | | |
| Average system load report | | |
| Support for any cache system | | |
Pick the best module for yourself
The Full Page Cache Warmer modules speed up the loading process for websites by preparing cache for certain pages. They allow you to pick which pages out of hundreds or thousands should be warmed to load faster. You can also decide what pages must never be warmed to save server resources. The extensions also provide statistics on cache loading.
The Cache Warmer extensions can provide similar core functionality. However, each brings unique tools and has a different approach to users. Mirasvit's extension gives default options for performance, strategy, and sources. But it also allows detailed manual customization of those parameters. It also enables forcible caching and exclusion of certain users and page types from the warming process. The Full Page Cache Warmer by Amasty adds pre-built reports on page statuses and Varnish Cache activity. It also enables separate caching for mobile users.
Find out what is Cache Warming module can give to your store. Discover differences between Mirasvit's and Amasty's extensions through comparison and choose the one that suits you most.
Reasons to choose Mirasvit
Client focusing and satisfaction
These are our primary. A major portion of our new clients come from referrals from our existing clients. Our professional team of developers, marketers and support staff have invested the best knowledge and experience in the field into our work, so you know you can come back to us again and again.
Remarkable support
One year free and high quality support. We go to great lengths to provide maximum satisfaction with every module you have purchased in our store. By helping you with installation, configuration, answering your every question, we do all our best to eliminate any possible problems.
Risk-free Investment
30-days money back guarantee. If you are not satisfied with our extension performance for any reason, we provide a full refund.
Constant improvements and upgrades
We constantly add new features to all our modules, and are always interested in hearing your opinion and implementing your suggested features in our future developments.
Comprehensive Documentation
We provide an expanded user guide for every aspect of our extension, so you can find answers for all your burning questions.
Unencrypted source code of our products
You can customize extension according to your needs and requirements.
Usability and Performance
The Module is easy to install and upgrade, just follow our step-by-step user guide.
Safe Magento updates
No core modifications. Just use the composer or copy the extension files to the root directory of your store.