Full Page Cache Warmer for Magento 2
The Full Page Cache Warmer solves the issue of cache updating. Whenever your customer or Google visits a page, the most recent will be loaded in a fraction of seconds!
This extension introduces a unique robot designed to monitor cache status. Once the page caches is cleared, the robot visits this page and warms up the cache for it!
A store page's loading speed is now several times faster
The latest page version is always in the cache
Google ranking of your store is improved due to better page loading speed
Free Installation
We will install the extension in your store and configure it for your requirements.
1/6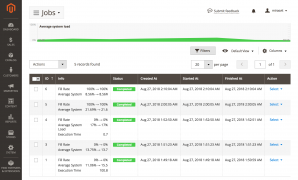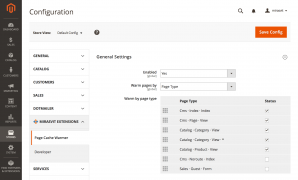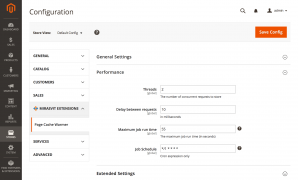 Feature Highlights
The Best Solution To Accelerate Your Store's Speed!
To make your online store run faster, you should use several types of Magento 2 cache. One of the most effective sorts of cache is the Full Page Cache. Of course, Magento 2 provides this type of cache: when opening the page for the first time, it is automatically added to the cache, and then after refreshing the page content, returns out of the cache in little to no time!
But there is still one significant issue: cache is frequently cleared. It can happen when:
you make changes to the product pages or categories
you make any other changes within the store
cache is cleared by its lifetime (usually every X hours)
In the instance mentioned above, if your online customers visit your store and observe that the pages are loading slowly (for the first time, at least), those customers may get disappointed by such a browsing experience, thereby, decreasing your number of orders and revenue.
The same occurs when a Google bot visits your online store, sees pages running slowly, and lowers your shop SERP ranking.
Magento 2 Full Page Cache Warmer prevents all these issues from occurring and increases your Magento store page's speed several times over!
Our cache warming solution for Magento 2 works with the following types of store pages:
Product pages
Category pages
Layered Navigation
CMS pages
Page Cache Warmer is compatible with Varnish Cache, default File Cache, Redis Cache, and others.
Fully Automated Extension Workflow
Full Page Cache lets you configure all settings right after installation, and then kick back and relax.
You don't need to reset anything while using our solution every day as our extension is fully automated and restores your store's cache automatically.
No more complicated manual settings! Just enable page types to cache, and that's it!
---
Tasks Run In The Background By Cron
Full Magento 2 Page Cache warmer operates in the background!
You are free to make any changes to the interface, and it won't affect the extension functioning in any way since all the module's workflows are carried out in the background run by Cron.
This feature can be quite useful if you don't like viewing an excessive number windows and reminders on your desktop.
---
Create & Cache At Once
A Full Magento 2 Cache Warmer can create a cache version of any newly saved page!
For example, you create a new product (or category, or any other store page) or edit existing ones. Next, you have to save it, and our extension automatically makes a cache for it right after saving.
No manual actions are needed! There's no need to configure settings whenever you make changes to any page. Just create pages/categories/products, and the Full Page Cache Warmer will do the rest for you.
---
Control Which Pages to Warm
It can often be very time-consuming to warm all of the pages in your store. In these instances, you're probably eager to speed up the warming process, warming only high priority pages. The extension allows you to create your own lists of pages for warming.
For example, the extension can warm pages from your sitemap. Alternatively, you can create a CSV file with the most important pages. You can also use your own lists of pages in warming rules of our extension. For example, the extension can warm high priority pages in the first turn, and later all other pages.
The flexible control on page lists for warming allows you to speed up that warming as well as decrease the server load.
---
Flexible Performance Optimization Settings
Full Page Cache Warmer performance settings are entirely adjustable. This way, you may configure the following:
the number of concurrent requests made to your store (threads)
maximum run time
frequency of running cron jobs.
Get the most out of your store without any performance issues with our cache solution!
---
Easy Priorities Management
Full Page Cache Warmer allows you to manage the priority of cached content with great efficiency.
There are a few types of priorities available in our solution:
Page popularity (number of visits)
Page type (category, product, CMS page, layered navigation, etc.)
Product type
Customer Group
Cache Prioritization allows you to put the right stress on the most highly-demanded pages. For example, one of the most visited store pages might be your Sale/Promotion page. As such, you could set a higher priority for it and provide your customers with the best loading speed for this content!
The Full Page Cache Warmer extension helps you win more satisfied buyers by providing them with a better shopping experience!
Provide customers with the best shopping experience due to Full Page Cache Warmer!
See it in action!
Pick a quick tutorial to learn about various aspects of this extension
Manual & Support
Need more help?
Save time by starting your support request online and we'll connect you to an expert.
Contact Us Now
We found other products you might like!
Reasons to choose Mirasvit
Client focusing and satisfaction
These are our primary. A major portion of our new clients come from referrals from our existing clients. Our professional team of developers, marketers and support staff have invested the best knowledge and experience in the field into our work, so you know you can come back to us again and again.
Remarkable support
90-days free and high quality support. We go to great lengths to provide maximum satisfaction with every module you have purchased in our store. By helping you with installation, configuration, answering your every question, we do all our best to eliminate any possible problems.
Risk-free Investment
30-days money back guarantee. If you are not satisfied with our extension's performance for any reason, we provide a full refund.
Constant improvements and upgrades
We provide you with lifetime free updates. We constantly add new features to all our modules, and are always interested in hearing your opinion and implementing your suggested features in our future developments.
Comprehensive Documentation
We provide an expanded user guide for every aspect of our extension, so you can find answers for all your burning questions.
Unencrypted source code of our products
You can customize extensions according to your needs and requirements.
Usability and Performance
The Module is easy to install and upgrade, just follow our step-by-step user guide.
Safe Magento updates
No core modifications. Just use the composer or copy the extension's files to the root directory of your store.