Compare Aheadworks Magento 2 Reward Points vs. Mirasvit Reward Points
Magento 2 Reward Points by Aheadworks or Mirasvit – what module is better? You can answer that question only by comparing extensions together. Tables and detailed descriptions of their features will help with that task.
Information about the extensions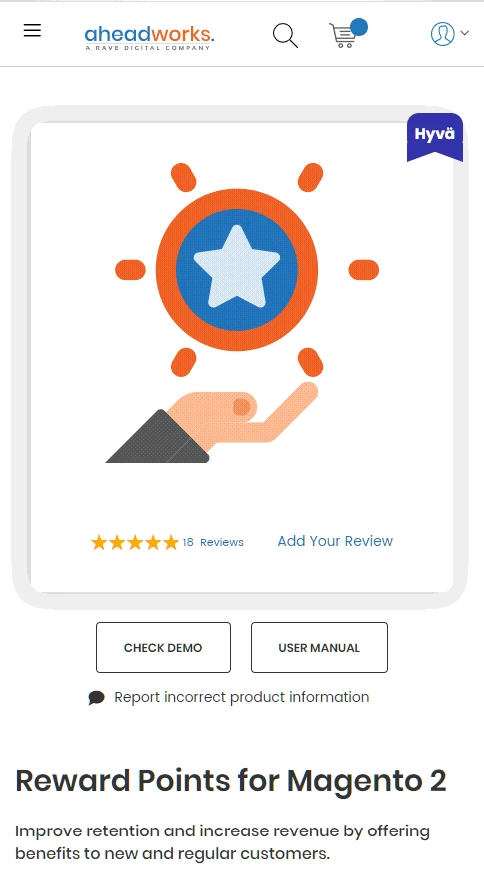 VS.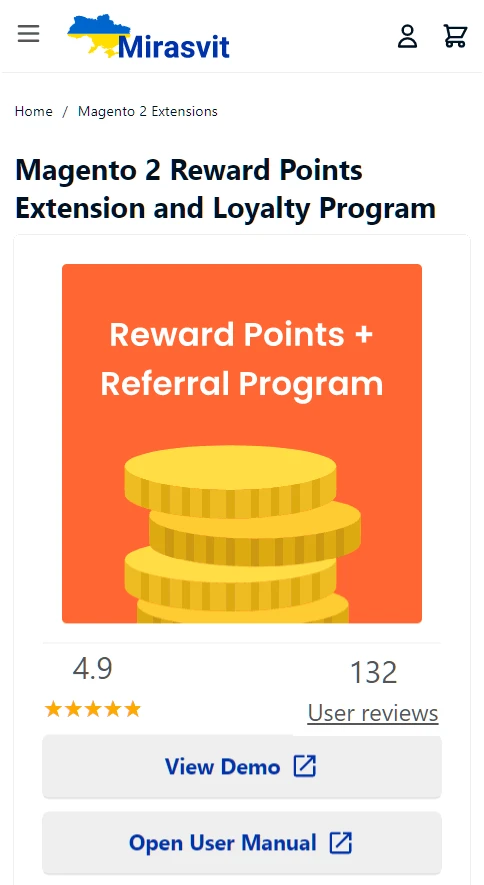 Details on compared extensions
Rewards Program by Aheadworks
The Magento Rewards Program by Aheadworks helps to capture clients' interest and ensure their return. Boosted interest is achieved through the addition of reward points. You can define what actions will give users bonuses and how they can be spent.
Create rules for earning and spending rewards by using templates for behaviors. Choose the conversion rate for points. Decide whether bonuses will be added flat or multiplied for certain orders. If some categories are not supposed to have discounts, choose an exception for them or a needed subcategory.
Allow customers to share your store on social media and provide rewards for that. Create coupon codes and issue them on special occasions to invigorate sales. With the ConnectPOS support, your clients will have access to their bonuses in physical stores, alongside e-commerce. To prevent hoarding of the Magento 2 reward points, make them expire and refund them with the refunded orders.
Reward Point system by Mirasvit
The Magento 2 Reward Point system by Mirasvit retains customers' trust and helps build a larger user base. It allows to reward buyers with bonuses for any actions made in the store.
You can use behavioral templates to create basic rules for earning and spending reward points. But you can also add custom conditions, which adds more flexibility. For example, you can give bonuses for checking current sales to entice clients to buy something. Conversion rates for points can be changed.
You can also create loyalty tiers for clients, achieved through certain actions. Reward users for reaching new tires to incentivize them to buy more at your shop. Give rewards for referring new users for free promotion through warm leads. Add bonuses for sharing information about your products on social platforms to attract new customers. Check out the pre-build reward points Magento 2 report to assess the effectiveness of your strategy.
Key Benefits of Mirasvit's Magento Reward Points
Magento 2 Reward Points extension from Mirasvit offers new promotional opportunities via a referral system. Clients can send referral links or codes to other people, advertising your store. To encourage them to do so, you can reward them for referring someone. For example, give them bonus points for newly registered referred accounts. The referred newcomers can also be motivated to buy your products by increasing their conversion rate of the bonuses.
Magento Reward Points extension by Mirasvit helps you keep in touch with the efficiency of your reward program by using a built-in report. It can show you different statistics in different periods. For example, you can track how many points were earned versus how many were spent to see if clients actually use this feature. Skilled users can add new columns to the report to see specific important data.
Feature Comparison
With the Magento 2 Rewards Points from Aheadworks you can create coupons for clients. These coupons can give different amounts of bonuses. You can also set an earning rule for the multiplication of the points and not just adding a flat amount. The Reward Point Magento extension by Aheadworks allows customers to use their rewards in online and offline stores alike. This is achieved through the usage of cloud technology.
The Mirasvit's Magento Loyalty Program extension enables you to create loyalty tiers for users. Each achieved tier will reward clients and give them special bonuses. Customers can also promote your store by sharing referral codes and links. They are encouraged to do so by reward points given for sign-ups and placed orders of the referred newcomers. Magento Reward Point module by Mirasvit also allows to create custom rules for earning and spending points. And the pre-built report can help you to assess the system's performance.
Key Features of Magento 2 Rewards Points
Aheadworks
ConnectPOS
Enable customers to use their Magento 2 reward points in physical stores. With the help of cloud technology, all operations will be processed through one system, regardless of their location. With this feature, you can incentivize customers to spend bonuses in offline shops to increase revenue.
Coupons
Create coupons that can give customers a certain amount of reward points. Define the length of codes and value of coupons. Oversee all generated codes through the simple grid. You can create promotional campaigns with prizes in the form of coupon codes to attract more clients. Coupons can also be issued as gifts for loyal buyers to retain their interest.
Multiplication Rule
Multiply earned points for orders instead of adding a fixed amount. For example, create a rule that triples the standard bonuses for buying bags of certain brands. Multiplied rates can help you to promote specific products.
Exceptions
Specify whether customers can pay with Magento rewards points for certain categories and subcategories. This tool can help you restrict discounts to items. Usually, in other extensions, you need to create separate rules for this manually.
Mirasvit
Tiered Loyalty Program
Create tiers for the Magento 2 loyalty program to reward customers for choosing your store. Specify how many tiers there are and what is needed to achieve them. Give clients bonus points for each checkpoint reached. You can also set up other rewards for different tiers. For example, allow higher-tiered users of the Magento loyalty program to spend more points at once on their orders.
Custom Events and Conditions
Establish custom events and conditions for earnings and spending. For example, reward users for viewing certain categories of items. Or add bonus points to the accounts that were inactive for a long time to renew their interest. By fine-tuning custom rules, you can award users for desirable actions that will help your commerce to grow.
Referral Bonuses
With this extension, clients can bring friends, family, and acquaintances to the store for reward points. Define how referral bonuses are earned: through sign-ups or placed orders from the referred accounts. You can also choose the reward for both sides of the program. Add points to the referring user and increase the conversion rate for the newcomer, for instance.
Rules for Notifications
Change messages and conditions for receiving them to improve communication with the user base. Create custom rules that will trigger notifications. For instance, you can notify users about the amount of points they have when they form an expensive order.
Reward Points Report
The module has a built-in report that shows statistics about bonuses and the Magento 2 loyalty program. There, you can see total earnings, how many points were spent, referred friends, and other useful information. The report can be modified by adding or deleting columns. For example, you can add a column that indicates the user's tier in the Magento loyalty program module. Data can also be sorted by the time period.
Side-by-side features comparison
When it comes to deciding between Reward Points systems, the answer lies in comparing the two extensions. Using a simple comparison table, you can discover differences in their toolkit. Then, you can pick the best module for you.
| | Aheadworks Points | Mirasvit Points |
| --- | --- | --- |
| Earning rules | | |
| Custom behavioral events | | |
| Multiplication of earned points without custom rules | | |
| Spending rules | | |
| Spend points partially | | |
| Set maximum\minimum points to earn/spend | | |
| Include tax in calculations | | |
| Include shipping in calculations | | |
| Direct rewards from admin panel | | |
| Tiered loyalty program | | |
| Referral reward program | | |
| Built-in report | | |
| Customer activity monitoring | | |
| Email notifications | | |
| Notification rules | | |
| Social media integration | | |
| "AddThis" feature | | |
| Import/Export data | | |
| ConnectPOS support | | |
| Coupons | | |
Find the best module for your store
The Reward Point Magento 2 extensions are retaining a user base by engaging clients with bonuses. They allow to reward users for buying items and allow them to spend points to lower the price of the next order. You can award points for different actions and guide clients to certain desirable behaviors with them.
Magento loyalty programs and rewards extensions can offer some comparable features. However, they always have distinct tools that separate them from one another. For example, with the module by Aheadworks, you can create coupons and issue them to the users. It also allows clients to use rewards in any store in the marketplace, whether physical or digital. The extension from Mirasvit features a tiered loyalty program Magento 2 system. The module also brings referral links, custom rules, and a pre-built rewards report.
Evaluate the features of each module side by side using tables. Learn more about their toolkit and discover their differences. Pick the right extension for your e-commerce.
Reasons to choose Mirasvit
Client focusing and satisfaction
These are our primary. A major portion of our new clients come from referrals from our existing clients. Our professional team of developers, marketers and support staff have invested the best knowledge and experience in the field into our work, so you know you can come back to us again and again.
Remarkable support
One year free and high quality support. We go to great lengths to provide maximum satisfaction with every module you have purchased in our store. By helping you with installation, configuration, answering your every question, we do all our best to eliminate any possible problems.
Risk-free Investment
30-days money back guarantee. If you are not satisfied with our extension performance for any reason, we provide a full refund.
Constant improvements and upgrades
We constantly add new features to all our modules, and are always interested in hearing your opinion and implementing your suggested features in our future developments.
Comprehensive Documentation
We provide an expanded user guide for every aspect of our extension, so you can find answers for all your burning questions.
Unencrypted source code of our products
You can customize extension according to your needs and requirements.
Usability and Performance
The Module is easy to install and upgrade, just follow our step-by-step user guide.
Safe Magento updates
No core modifications. Just use the composer or copy the extension files to the root directory of your store.